As any chicken owner will tell you, knowing a few chicken terms is essential to successfully raising chickens.  This complete list of chicken terminology will have you using chicken terms like a pro.
This post may contain affiliate links at no additional cost to you.  By making your purchases through the links on this website, IMSL may make a small percentage at no direct cost to you. IMSL only promotes products we use & truly believe in. Please refer to my Privacy & Disclosures for further information. IMSL thanks you for your support!
Oh, I remember it well.  The first time I heard the word "wattle" in a discussion about chickens. 
What the heck is a wattle?  I literally had to go home and google it 😅
Lo and behold, the vast array of chicken terms out there definitely came as a surprise.  Especially when just beginning to raise & care for baby chicks.
Sharing Is Caring ❤️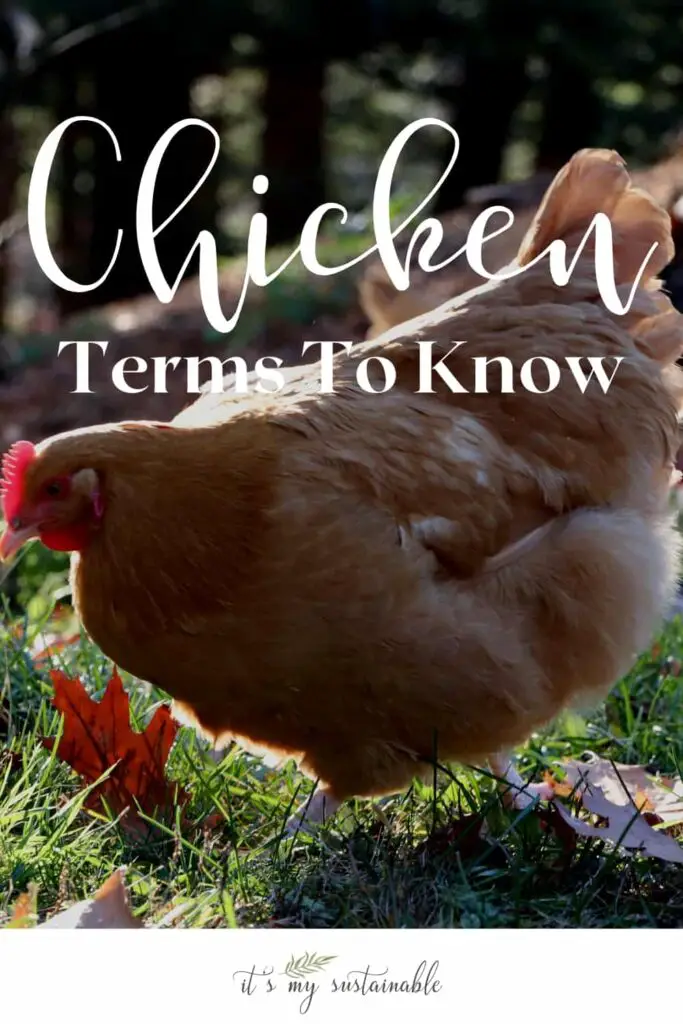 … and I thank you for it 🤗
Hopefully this comprehensive primer of chicken terms, aka chicken terminology every chicken owner should know, will help demystify confusing chicken terms 🐥
CHICKEN TERMS DEFINED
What are chicken terms?  Chicken terms are just words.  Words used specifically for anything to do with, well, chickens 😅
Learning the lingo associated with chickens will help chicken owners and chicken lovers alike traverse the world of chickens with ease.
CHICKEN TERMS VS CHICKEN TERMINOLOGY
Are chicken terms and chicken terminology the same?  Pretty much.  Yes.
These terms are interchangeable and many are used in the same ways.
CHICKEN TERMS ESSENTIAL TO KNOW
I keep this list of chicken terms essential to know on hand and at the ready to refer back to each year we acquire new chicks.
Think of it as the ABC's of chicken terms or chicken terminology every chicken owner should know.
ADDLED EGG
Addled eggs are eggs which have been fertilized but the embryo has perished.  Often addled eggs are also referred to one's which have turned or gone bad.
AIR SAC
The air sac, air pocket, cell, or space refers to a space which is naturally created within the shell of an egg.  This sac is located in the rounded end of the egg and is what provides the developing baby chick with its air supply prior to breaking through its shell.
For an in-depth look at eggs themselves, especially how to determine its freshness, check out my post on How To Test Eggs For Freshness.
ALBUMEN
The albumen is the white portion of a cracked open egg.  The albumen surrounds and protects the yolk of the egg.  It also consists of 4 thicker layers along with thinner layers and boasts about 40 different proteins along with water.
ALL FLOCK FEED
All flock feed is just that.  Feed specifically made for mixed breed flocks of poultry.
AMPROLIUM
A medication which is used to block the uptake of thiamine in coccidia, thus helping to prevent and/or treat coccidiosis (an intestinal parasitic infection).  Amprolium will often be found in medicated chick feed.
AVIAN INFLUENZA
A virus, commonly known as the "bird flu" is highly contagious and affects chickens and other poultry.
According to the U.S. Fish and Wildlife Service …
"Highly pathogenic avian influenza (HPAI) viruses can severely affect domestic animals, wildlife, and sometimes human health."
AUTOSEXING
The term refers to breeds of poultry in which the sex of newly-hatched chicks can be determined just by the color or markings of its downy feathers.
AXIAL FEATHER
A short wing feather located between the secondary feathers and the primaries.  
BANTAM
A chicken breed, typically on the smaller side & roughly ¼ the size of a standard chicken. 
A bantam is also affectionately referred to as a "banty" at times.
BEARD
Feathers located directly under the chicken's chin.

BEDDING
A covering for the floor or ground in confined spaces, typically straw, hay, shavings and the like.
Bedding serves several purposes: for insulation during the colder winter months, and for cleanliness of the coop.
BIDDY
No, a biddy is not referring to an old lady, at least this time 😅  
A biddy refers to a chicken which is young in age.  Think chick or baby chicken here.
BLASTODISC
A tiny, white'ish colored spot (germinal disc) on the egg yolk which has not been fertilized.  Once fertilized, the blastodisc then becomes a blastoderm.
BLOOM
A protective film surrounding a freshly laid egg.  The bloom, also often referred to as the cuticle, is the last layering the hen produces on the egg to protect unwanted bacteria from entering the egg.
BROILER
Refers to a chicken specifically raised for its meat.  Broiler's are typically processed between the ages of 7 to 12 weeks old & usually weigh between 2.5 to 3.5 pounds.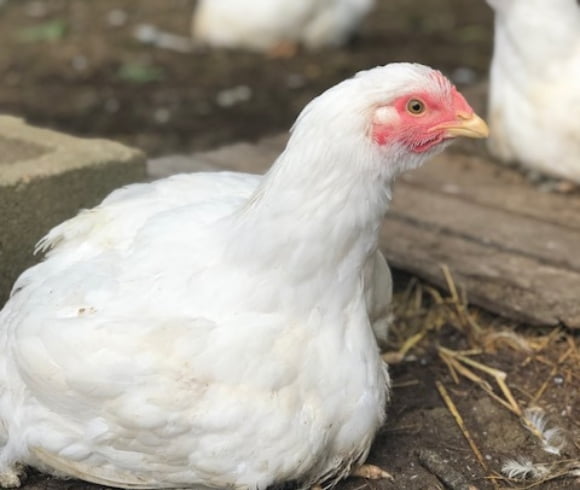 BROODER 
Also known as a brooder box, a brooder is a type of enclosure which is heated for use in raising newly hatched baby chicks.
My favorite brooder can be found 👇🏻👇🏻👇🏻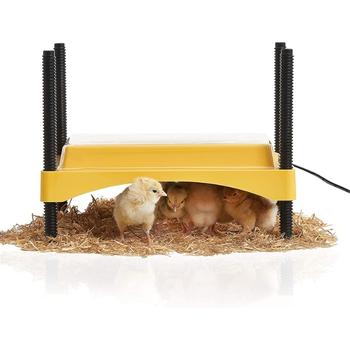 BROODING PERIOD
The span of time between the baby chick hatching until they become fully feathered.  This period typically lasts from birth to the first 8 to 10 weeks of life.
BROODY
Refers to a hen's instinctive urge to sit on eggs to hatch them naturally.
BUMBLEFOOT
A bacterial staph infection which affects a chicken's foot.  This inflammation can occur in both feet at the same time. 
Antibiotics are needed both internally as well as topically along with anti-inflammatories to treat bumblefoot.  Depending on the severity, the feet in question may never go back to normal.
CANDLING
The process of shining a light on the egg to be able to inspect the interior of the egg for fertilization and/or progress of chick development.
HAVE YOU VISITED OUR ETSY SHOP?
CAPE
The long, narrow feathers which grow along the base of the neck of the chicken where the neck meets its back, or its shoulder area.
CAPON
Castrated 4 to 8 month old meat birds which typically offer increased white meat and fat content than other chickens.
CHICK
A baby chick.  This stage of life lasts from birth until about 12 weeks of age, or until they molt the last of the fuzzy down.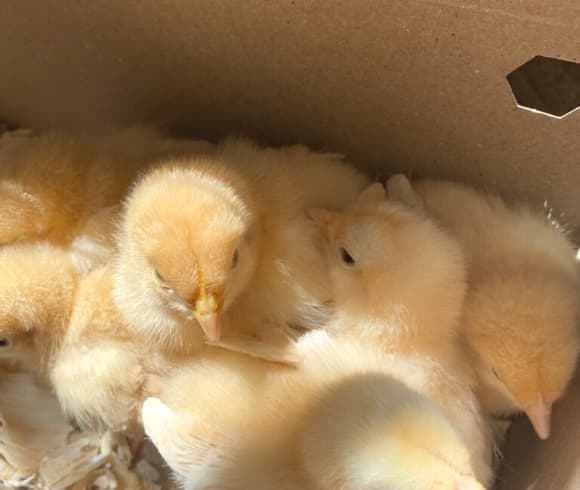 CHICK TOOTH
The hard, sharp area at the end of a chick's beak.  This tooth-like formation, also known as an egg tooth, allows the chicks to break through their shell during the birthing/hatching process.
CHICKEN TRACTOR
A portable chicken coop with no flooring which allows the chickens to "free-range" while not actually being free.  The chicken tractor is movable letting you guide the chickens to new locales often.
CHICKEN WIRE
A wire netting made of thin galvanized steel with hexagonal gaps, which is used in the chicken coop or run for keeping predators out and chickens in.
CHRONIC RESPIRATORY DISEASE
Also known as CRD presents itself with weepy eyes, head shaking, and swelling around the head and sinus areas.  Often caused by a mycoplasma bacteria, CRD causes open mouth breathing, gurgling, and an odorous pus build up in the oral and eye cavities in the more advanced cases.  CRD is contagious and is treated with the use of antibiotics given in feed or drinking water.
CLEAN LEGGED
Chickens which have no feathers on their feet or legs.
CLOACA
An area consisting of 3 main sections in the rear of the chicken; the coprodeum, the urodeum, and the proctodeum, the outermost area also known as the vent.  It's this general area which is responsible for releasing waste and laying eggs.
CLUTCH
A grouping of eggs, typically about 12, which a broody hen will sit on to incubate.
COCCIDIOSIS
Protozoan parasites within the intestinal tract which creates diarrhea, weight loss, and often death.
COCK
An adult male chicken over the age of one.
COCKEREL
Male (rooster) chicken under the age of one.
COMB
The red flappy growth along the top of the chicken's head, a fleshy crest.  The appearance of the comb may vary in color, shape, and size with different breeds of chickens.  Roosters will usually have a larger comb than that of the hen (female).
COOP
A chicken house that shelters the flock.
COVERTS
Small feathers located on the wing and tail area at the base of larger feathers.
CREST
The crest is found on ornamental chicken breeds known as crested chickens.  These chickens are known for the crest or tuft of upward pointing feathers on the head.
CROP
A digestive area located at the base of the chicken's neck, slightly to the side of its right breast muscle.  The crop is a small pocket which stores food, allowing the chicken to slowly release the food to the gizzard where it is ground into small pieces.
CROSS BREEDING
Different varieties of chickens are mated, the result being a crossbred chicken.
CUSHION COMB
A small comb which grows close to the chicken's head.  It's shape looks very similar to that of a cushion sitting on top the chickens head 😅
DAM
The term used to describe a mother hen.
DEBEAK
The procedure where part of the top beak is removed to prevent pecking and cannibalism.
DIATOMACEOUS EARTH
Aka, DE, is a fine powder made from fossilized corpses of tiny aquatic organisms; diatoms.  These skeletons are made of a natural substance; silica.  Over the ages, the diatoms have accumulated amongst rivers, streams, lakes, and ocean sediment.  These silica deposits are now mined. 
Food grade DE is used as a natural treatment for both external and internal parasites.
DOUBLE-LACED
Contrasting in color narrow lines which run parallel to one another found around the edges of a feather.
DOWN
The soft, fine, fluffy feathers on baby chicks.
DUAL PURPOSE
A specific breed of chicken which has been bred for two purposes; egg laying and meat.
DUB
The process of trimming the comb, wattles, and earlobes, leaving a smooth head.  This practice is most often used for exhibition birds.
DUST BATH | DUSTING BATH
A container or small hole in the ground where dried sand, earth, sawdust or wood ash is placed.  Chickens commonly roll in the provided bath or dirt to rid any external mites and parasites as well as groom plumage.
EAR TUFTS
The feathers which grow from the earlobe area.  Specific for some breeds only.
EGG BOUND | EGG BINDING
A condition in which the oviduct fails to pick up an egg yolk when the hen's ovary releases it.  The yolk is laid internally instead of externally via the shelled egg. 
EGG TOOTH
Another name for chick tooth.  A small hooked growth on the chick's beak which they use to break out of its shell when hatching.  The egg tooth disappears with age.
EMBRYO
A group of cells within a fertilized egg that eventually develop into a baby chick.
EXTERNAL PIP
The first small, external crack or hole in the shell during the hatching process.
FEATHER PICKING | PECKING
The term for chickens picking or pulling one another's feathers.  This harmful activity is often due to aggression, stress, or even nutritional issues.
FEATHER LEGGED
Feathers which grow down a chicken's legs.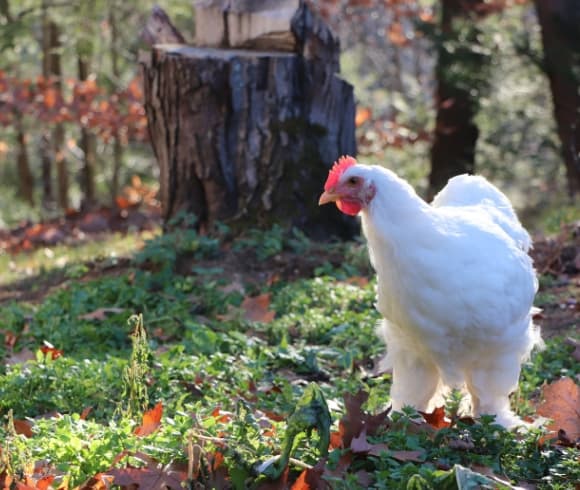 FEATHERING OUT
The process of baby chicks losing their fuzzy down coats and growing their first feathers, right around the 6 to 12 week age bracket.
FLIGHT FEATHERS
The long primary feathers located on the wing. 
FLUFF
Soft feathers similar to down some breeds have on their thighs.
FOUNT
A watering device or water fountain.
FOWL
A common word used for birds such as but not limited to chickens, duck, and geese.
FOWL POX
A viral disease, presenting itself with skin lesions and can affect the respiratory and upper GI area.
FREE RANGE
The act of allowing chickens to roam freely in a yard or pasture where they graze on insects and other foods.
FRIZZLED | FRIZZLING
Feathers which curl up and out from the body instead of lying flat.
GIZZARD
An organ located within the chicken's digestive system which holds grit for breaking down food from the crop.
GRIT
Essential to a chicken's diet, grit may consist of bits of rock, oyster shells, sand, and even crushed egg shells which the chicken consumes to use in the gizzard for breaking down food.
GROWER FEED
Feed which is specifically formulated for growing chickens.  Typically this food is fed when they are between 9 to 20 weeks of age.
HACKLES
Long feathers found growing on a chicken's neck area.
HARDEN OFF
The process of weaning chicks from a brooder or broody hen.
HATCH | HATCHING
The birthing process of baby chicks coming from the egg.
HEN
A one year or older (following her first adult molt) female chicken.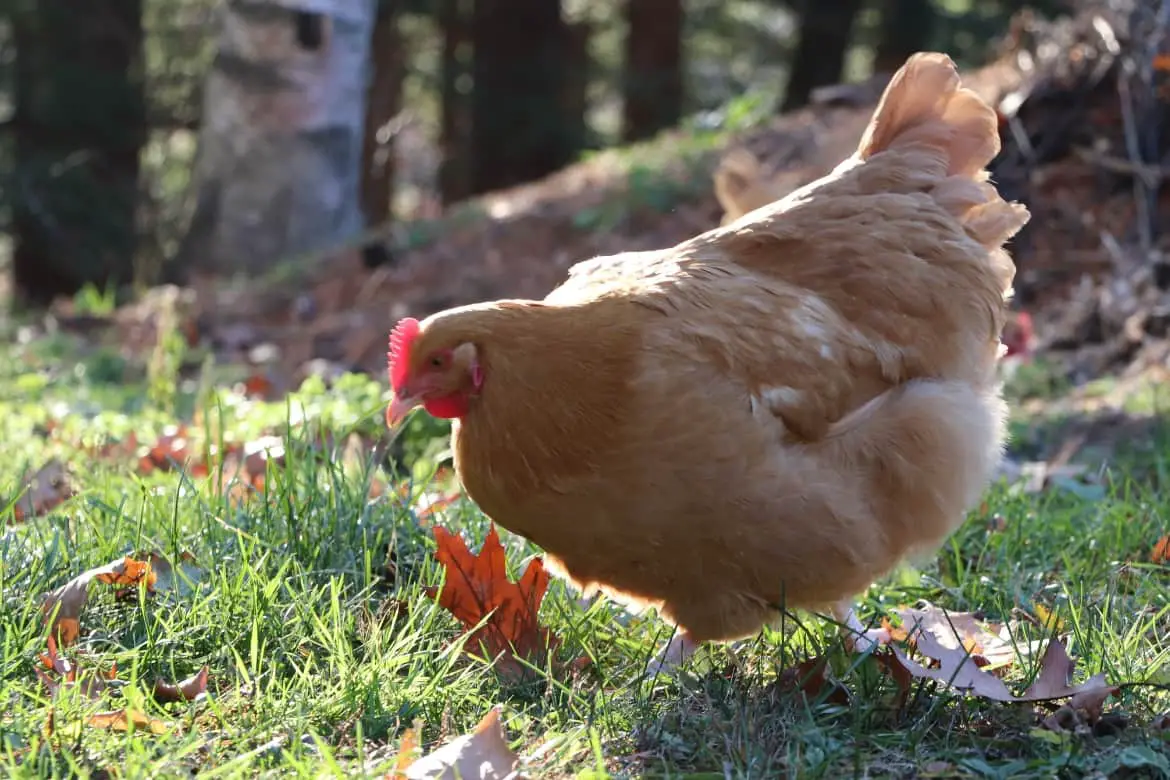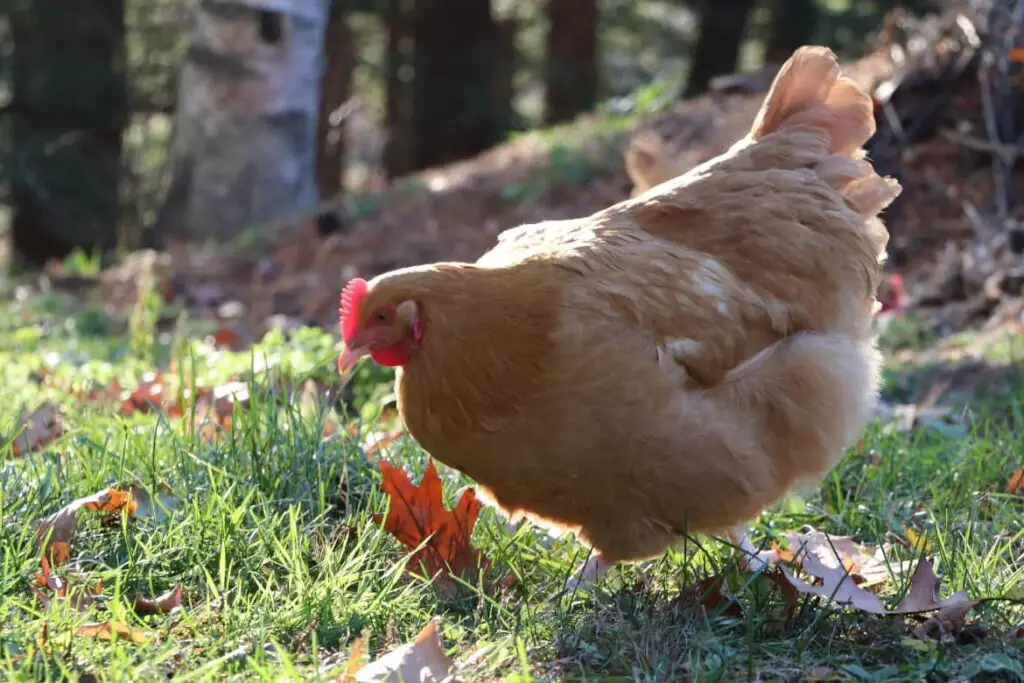 HERITAGE BREEDS
Breeds which are considered "old-fashioned breeds" and meet the American Poultry Association guidelines.
INCUBATION
The period of time where the eggs are kept at an ambient temperature of 99°F to 103°F either by an artificial heat source or a broody hen.
INCUBATOR
An enclosed device used to simulate the heat a broody hen would normally provide for hatching eggs.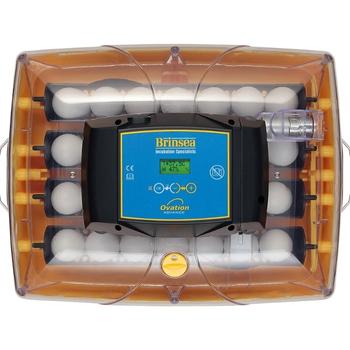 INTERNAL PIP
An internal pip is where during the hatching process a hole is poked through the membrane, known as an internal pip.
HARDWARE CLOTH
A strong mesh-like material, typically made of metal or plastic, which is utilized on or within the coop for keeping them contained.
JUVENILE
A general term for a young chicken, regardless of the sex.
KEEL BONE
The chicken's breastbone or sternum.
LAYER
Hen that is actively laying eggs, known as a laying hen.
LAYER BREED
A specific breed of chickens raised for their egg laying capabilities.
LAYING FEED | LAYER FEED
Feed which is specifically formulated for laying hens, offering extra calcium for shell strength.  Laying hens are fed this type of feed around 20 weeks old.
LEG FEATHERS
Feathers growing along the legs of certain breeds.
LICE
Lice, aka poultry lice, are tiny, flat insects with 6 legs and round heads which live on the chicken and can cause many health issues.
LITTER
Bedding, usually shavings, straw, shredded paper, and even shredded hemp, used to cover the flooring of the chicken coop or house.  Litter acts as both a protective layer catching waste as well as insulation during colder months.
MANDIBLES
Upper and lower parts of the chicken beak.
MAREK'S DISEASE
A viral disease which can be prevented through vaccination upon hatching.
MITES
Very tiny bugs that feed off the blood of the chicken at night.  During the daylight hours, these pesky bugs may hide in the cracks, woodwork, dirt and/or manure of the chickens living quarters.
MOLT | MOLTING
The process of shedding feathers and regrowing replacements.  This phenomenon occurs annually and during this time laying hens will typically stop producing eggs.
MUFF
Clusters of feathers which stick out from both sides of the face and under the beak area on certain chicken breeds.
NEST | NESTING BOX
A space, usually considered a "box" which is made specifically for hens to feel secluded and safe to lay their eggs in.
NEST EGG | NESTING EGG
An egg, either real or an artificially made one from wood, plastic, or the like, which is left in the nesting box to encourage hens to lay their eggs there.
NEWCASTLE DISEASE
A respiratory, viral disease which is highly contagious and can spread rapidly within a flock.  VND, virulent newcastle disease, affects the respiratory, nervous, and digestive systems, and can be prevented with vaccinations.
ORGANIC FEED
Organic chicken feed which follows the high standards set by the USDA.  This feed is grown and produced using no GMO's, animal byproducts, antibiotics, fertilizers or any other inputs which are not considered organic.
ORNAMENTAL BREED
Breeds of chickens raised for show or exhibition purposes.
OVIDUCT
An internal tube which the egg travels through from the ovary.
OVUM | OVA
Reproductive cells, a hen will possess several thousand tiny ova upon hatching, which eventually develop a few at a time into yolks.
PASTY BUTT
A condition in newborn chicks where the vent becomes clogged and covered in feces.
PEA COMB
The small comb of a chicken which has 3 tiny rows of pea-like fleshy growths.
PECKING
Chickens get bored, get stressed, and sometimes are just down right ornery.  When they do, they begin to show aggression toward other coop mates by make little stabs at them with their beaks.
PECKING ORDER
The hierarchy of the flock.  The pecking order is just as it sounds, the natural & instinctual "ranking" within the flock.  The pecking order is a natural way in which the flock creates its own system of coexisting peacefully.
PERCH
A pole set at an elevated height & horizontally, usually in the chicken coop where chickens will sleep or rest.  Chickens naturally search out high places to rest and sleep to keep predators at bay. 
PICKING
Chicken picking, no not the kind you do with a guitar, is where chickens begin to pick and pull at one another's feathers.
PIN FEATHERS
A feather which is just beginning to develop from the skin resembling pin heads.
PIPPING
Baby chicks task of breaking out of its shell when hatching is known as "pipping".
PLUMAGE
All the feathers which cover the entirety of a chicken.
POINT OF LAY PULLET
An adolescent female chicken that is just about to begin laying eggs, usually right around 5 months of age.
POULTRY
A comprehensive term which covers all types of domestic birds.  This generic term is used for chickens, ducks, waterfowl, guinea fowl, quail and the like which are raised for either food, eggs, pets, or show.
PRIMARIES
The large feathers on a chicken's wing.  These large feathers are stiff and allow the bird to fly.
PRODUCTION BREED
Specific breeds of chickens raised for their production of either eggs or meat.
PULLET
A young female chick, under one year of age.
QUILL
The central rachis or the vertical center or column of a feather which is strong and feels almost like plastic.  This stem or column is hollow and is what attaches the feather to the body of a chicken.
ROASTER
A chicken being raised for its meat, typically weighing about 4 to 6 pounds that is over 12 to 14 weeks of age.
ROOST
Another name for a perch where the chicken rests, but is also the term for the actual act of a chicken resting.
ROOSTER | ROO
An adult male chicken.  "Roo" is the common nickname of a rooster.  Roosters are also referred to as a cock when over the age of 1 year.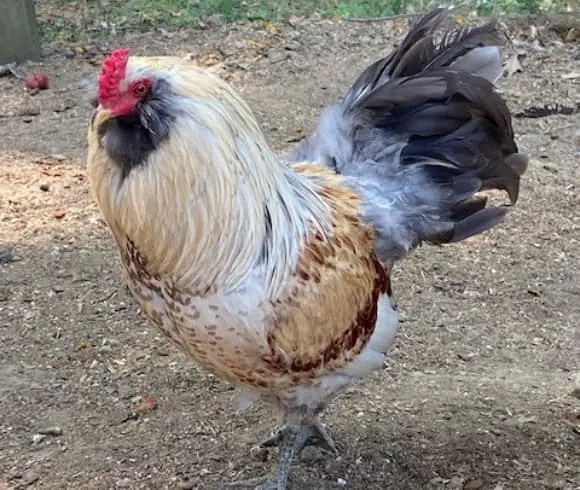 ROOSTING
The act of a single or group of chickens resting on a perch usually elevated.
ROSE COMB
A type of comb, very similar in shape to a rose petal.  This type of comb grows flat to the head, covered with small raised bumps, and extends to a point toward the back of the head.
RUN
An enclosed area attached to the chicken coop allows chickens to roam freely with protection from predators.
SADDLE
Saddle refers to feathers which grow on both the rooster and the hen with only a few slight differences. 
Roosters grow saddle feathers which are longer, softer and pointier in shape that grow on the lower part of the back just before the tail feathers.  The female (hen) saddle feathers appear before the cushion area at the base of the tail, and are not often referred to as such.
Saddle is also a reference to a piece of material made into an actual saddle which is placed on the hen's back to protect its skin and feathers from damage when mating with a rooster.
SALMONELLA
A bacteria in chickens which causes more food borne illnesses than any other bacteria.  Chickens will become weak, lethargic, have decreased appetite and increased thirst, and often suffer with diarrhea when infected.
SCRATCH
As chickens have a natural tendency to "scratch" the ground to un-earth insects, seeds, and the like, this type of supplemental feed made of whole or cracked grains encourages this behavior by spreading it around the soil.
SCALES
The small, hard flakey covering on a chicken's legs and toes which are replaced each molting period.  
For an up close look at chicken scales, be sure to check out my post on preparing chicken feet for use.
SEXING | SEXED
The act of determining the baby chicks sex and separating them according to their gender.
SHANK
The section of a chicken's legs located just above the foot area.
SICKLE
The long feathers on a rooster's tail.  Showy in nature, the sickles are the tail feathers which grow along the side of the tail, and curve in the shape of a sickle, typically curving downward.
SINGLE COMB
The type of comb with distinct, upright points at the peak of its growth.  My Rhode Island Red, affectionately called "Big Red", as seen below has a single comb.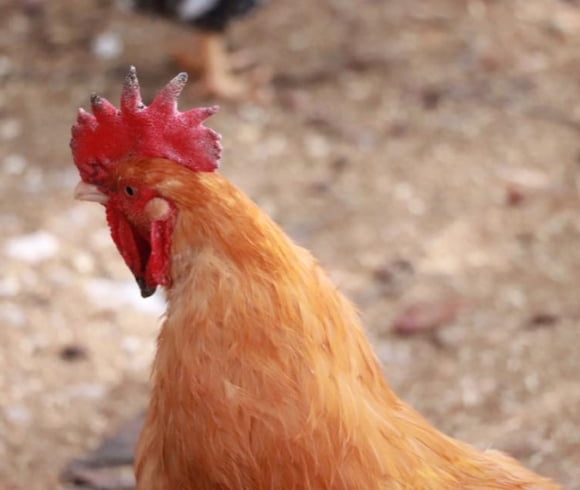 SPUR
A sharp projection made up of keratin, the same substance found in fingernails and hair, located along the shank bone.  More prominently found on roosters, spur's are used for protection of the flock.
STARTER FEED
Specially formulated commercial food for the dietary needs of baby chicks.  Starter feed is fed to newborns for the first 6 to 8 weeks of life.
STARTED PULLETS
Pullet which has begun the process of feathering out but has not begun to lay eggs.
STRAIGHT RUN CHICKS
Chicks for sale which have not been sexed. 
STRAWBERRY COMB
A compact, low growing comb which extends no farther than the middle of the head.  Strawberry combs resemble, you guessed it; strawberries. 
TAIL COVERTS
Make up the base of the primary tail feathers which are soft & usually curved.
TERTIARIES
Wing feathers that are located very close to the chicken's body.
TURN
The process of physically turning incubated eggs to prevent the embryos from sticking to the membranes of the shell.
UNTHRIFTY
Birds which are in poor health, unable to put weight on or are failing to thrive.
UTILITY 
Utility chickens are those that are being raised for a purpose, whether that be for its meat or eggs.
VENT
The opening in the backside of a female chicken, under the tail, in which both the waste and the egg is expelled. 
WATTLE
The fleshy growth under a chicken's chin (under the beak, alongside the throat) on either side which wobbles & jiggles.  Typically red in color, although not always, and are much larger in roosters or male chickens.
WRY TAIL
The term for a tail which is permanently leaning or held to one side.  Can be caused by genetics or possible injury, and is purely cosmetic.
YOLK
The yellow, rounded center of the interior of an egg.  The yolk is not only the main source of nutrients when consuming eggs, but also is where a fertilized egg hosts & feeds the embryo while it develops.
GET CREATIVE WITH THOSE EGG CARTONS!
Tired of plain ole' gray or brown egg cartons? Share your farm fresh eggs with others? Consider giving those egg cartons a sprucing up!
Labeling those cartons adds a bit of whimsy, and just puts a smile on my face 
Easy to download, easy to print, and reusable year-to-year, I hope you enjoy using this egg carton label template as much as I do 
Download yours by clicking the image below …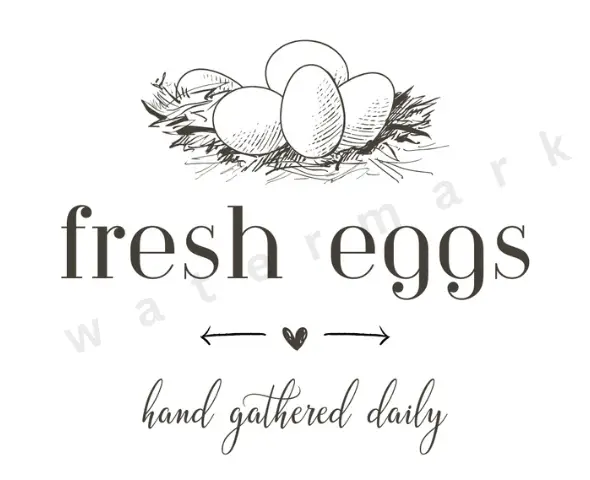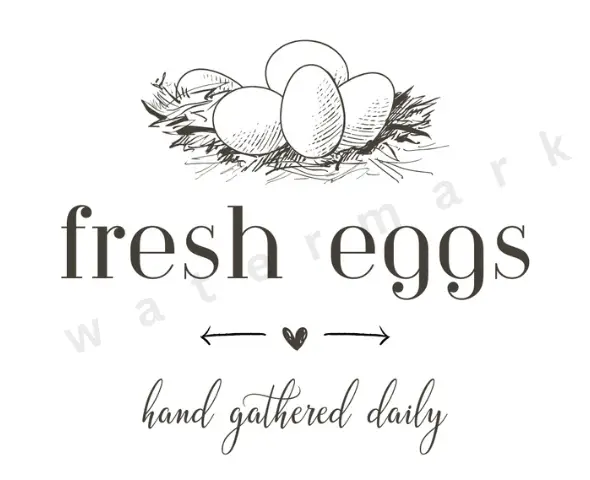 There you have it, all the chicken terms essential to know.  I highly recommend bookmarking this page for future reference.  I can speak from experience, you may need to brush up on your chicken speech from time to time 😊
Whether you are a first time chicken owner or a seasoned one, these chicken terms essential to know allow you to care for them with knowledge and love.
Love, Light, & Laughter ~

SHOP THIS POST
Enjoy this article? Please consider sharing it on your favorite social media channel! Want more? Subscribe below for the occasional update with all the "happenings on the hill"!