Fire cider, made using the traditional fire cider recipe generously shared by Rosemary Gladstar, may be the best fermented food you will ever take. This immune-boosting master tonic will have you energized & healthy throughout the seasons.
This post may contain affiliate links at no additional cost to you.  By making your purchases through the links on this website, IMSL may make a small percentage at no direct cost to you. IMSL only promotes products we use & truly believe in. Please refer to my Privacy & Disclosures for further information. IMSL thanks you for your support!
WHAT IS FIRE CIDER?
Fire cider, also known as a master tonic, is a vinegar-based health tonic. Made with a healthy dose of herbs, vegetables, & fruits, fire cider is a spicy, tangy, & pungent oxymel (vinegar & honey-based) concoction used prominently in this house to keep all its inhabitants healthy throughout the year.
Fire cider is a warming, invigorating tonic that is a must-have for any home apothecary. This fermented brew is filled with naturally occurring probiotics. Healthy gut anyone? Fire cider contains many organically sourced vitamins & nutrients (when made organically making it chemical & preservative free as well), & gluten-free to boot.
WHY CHOOSE FIRE CIDER OVER CONVENTIONAL PRODUCTS?
If you are anything like this house, finding ways to reduce chemical exposure both externally as well as internally, is of the utmost importance. That includes over the counter medications that contain processed & often synthetic ingredients. Why do we choose fire cider over conventional products?
Anytime a natural remedy made with FRESH organic ingredients is available & works we grasp it.
Easily made with organic ingredients that consist of all nature's healing nutrients.
Versatile in that you can adjust making this spicy tonic to suit you & your family's tastes.
Long-term storage will not affect its efficacy.
Full of gut-healing probiotics.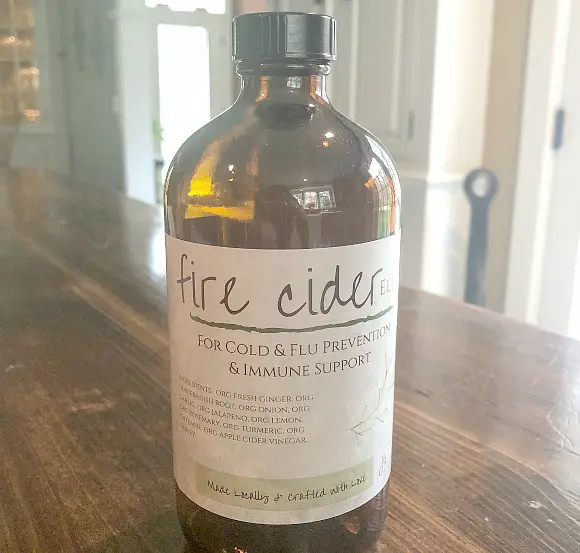 BENEFITS OF FIRE CIDER
So what are the benefits of taking fire cider? Plenty. Here are a few that we know of. It's all in the ingredients…literally.
Antibacterial/Natural Antibiotic – Garlic, horseradish, & ginger all have strong antibacterial properties making this tonic a wonderful remedy for strep throat, chest infections, coughs, and congestion brought on by the common cold & flu.
Improves Immune System – The alliin, a compound found within garlic, turns to allicin when crushed or chewed is known to provide multiple health benefits. This compound has been found to kill fungus & bacteria. In addition, once allicin is stimulated, it turns quickly into "sulphur-containing compounds thought to give garlic its medicinal properties". These sulphur compounds also known as thiosulfinates, "play an important role in the antimicrobial activity of garlic" according to Oregon State University. In addition, horseradish contains glucosinolates, isothiocyanates & sinigrin, which stimulate the body's defenses. All this adds up to the body's immune defenses go on high alert for any incoming viruses.
Antifungal – Fire Cider's ingredients, garlic, onion, & ginger, all possess strong antifungal properties. The active ingredient in ginger, (gingerols & shoagols) also assists the liver in halting the overgrowth of Candida in the body.
Antiviral – The allium family consisting of garlic & onions have been found to be "a useful compound in the treatment of arthritis, toothache, chronic cough, constipation, parasitic infestation, snake and insect bites, gynecologic diseases, as well as in infectious diseases (as an antibiotic)" according to this study.
Improve Heart Health – The sulphur rich antifungal properties of garlic & onion assist in lowering high blood pressure, removes plaque from arteries, raises the HDL levels (positive cholesterol), and lowers the bad (LDL). Horseradish and hot peppers are known to improve the circulatory system & energize the body.
Antioxidant – Fire cider is jam-packed with allyl cysteine, alliin, allyl disulfide, glucosinolate, Polyphenols, Vitamin C, Flavonoids, tannins, and curcumins, all known to possess antioxidant properties.
Anti-inflammatory – Why are anti-inflammatories so useful? As stated in our article, "Golden Paste! Why You & Your Pets Will Benefit", "Inflammation is the body's response to injury, infection, disease, and exposure to chemicals.  Chronic inflammation is when the body's response hangs around long after the ailment itself is resolved". Horseradish and turmeric are among the best anti-inflammatory agents Mother Nature has to offer.
Pain Reduction –   Turmerics Curcumin, a bioactive compound, is a natural pain reducer. Curcumin can reduce pain much the same as Ibuprofen/Tylenol and acts like anti-inflammatory drugs called cox-2 inhibitors.
Digestive Aid – Horseradish strongly stimulates the digestive juices, ginger eases stomach upset & nausea, and cayenne is a digestive aid to stimulate gastric juices.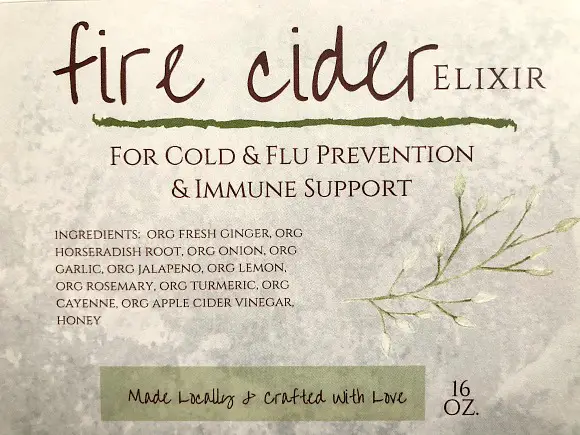 HOW TO MAKE FIRE CIDER
Fire cider may be the easiest of all natural remedies to make as the majority of ingredients are simply put into your food processor and pulsed to a pulp-like consistency. It is highly recommended that only the freshest organic ingredients are used when possible for making this remedy. With a few ingredients and time to ferment properly, this healing tonic will be available in your home apothecary when needed.
INGREDIENTS
1 Medium to Large Onion (peeled & quartered)
1/2 Cup Horseradish (fresh)
1/2 Cup Ginger (fresh/grated)
10 Cloves Garlic (peeled)
2 Jalapenos (fresh)
1 lemon (juice & zest)
1 Tbl Turmeric powder or 2 Tbl fresh root
1/4 Tsp Cayenne Pepper
2 Tbl Rosemary (dried) or 2 Fresh Sprigs
Apple Cider Vinegar (with mother)
1/4 Cup Organic Raw Honey (or more to taste)
DIRECTIONS FOR MAKING FIRE CIDER
Should you have access to a food processor, grate the fresh horseradish, ginger, rosemary, and turmeric root and place in a quart jar. If doubling the recipe, place in 1/2 Gallon size jar such as these. Change your blade in the processor to a chopping blade and roughly chop the onion, garlic, and jalapeno. Add all to your jar. Add to the jar your lemon juice and zest (can add the remaining peels if you like) as well as the cayenne pepper. Cover the pulp by several inches with ACV.
You can certainly obtain the same results without a food processor. Just follow the ingredient list options for each item. Once you have all your ingredients (except the honey) added to your jar, cover. Plastic covers like these or the ones found below are recommended as the vinegar will rust traditional metal covers.
Should you not have access or want to purchase plastic ones, be sure to line the top of your jar with a piece of overhanging parchment paper or wax paper to discourage rusting.
Store the jar in a dark cupboard for a minimum of 4 weeks (8 weeks is preferred here) being sure to shake the contents of the jar every day or two. As stated, this is a fermented food. For further information on fermenting, be sure to take a look at The Craft Of Fermenting Food In A Mason Jar.
Strain the pulp through a fine-mesh sieve or cheesecloth, being sure to squeeze as much juice from the pulp as possible. Add honey, 1/4 cup to begin with and mix well. Taste the tonic and add additional honey if desired. It should taste hot, spicy, and sweet.
The fire cider is ready to use. Continue to store in a dark cupboard, no need to refrigerate.
WHAT TO DO WITH FIRE CIDER PULP
Have your cider completed but don't want to just discard all that fermented pulp? Save it and use as you would any other ferment. Add to a stirfry or spring roll, top your salad with a tablespoon or add a bit to a salad dressing, add it to a veggie juice, or simply compost it! It can even be enjoyed in a Bloody Mary! The possibilities are endless for what to do with fire cider pulp.
WHEN TO TAKE FIRE CIDER
There are no hard and set rules for taking this healing tonic. Some take a shot daily first thing in the morning in lieu of coffee or other caffeinated beverage. Others take only when the first sign of illness hits. Either way, you can be sure you will be on the receiving end of healthy nutrients.
Here on the hill, we take fire cider at the first signs of colds & flu, 1 Tbl every 3 hours. If taking as a daily dose immune builder & energizer, take 1/2 to 1 Tbl.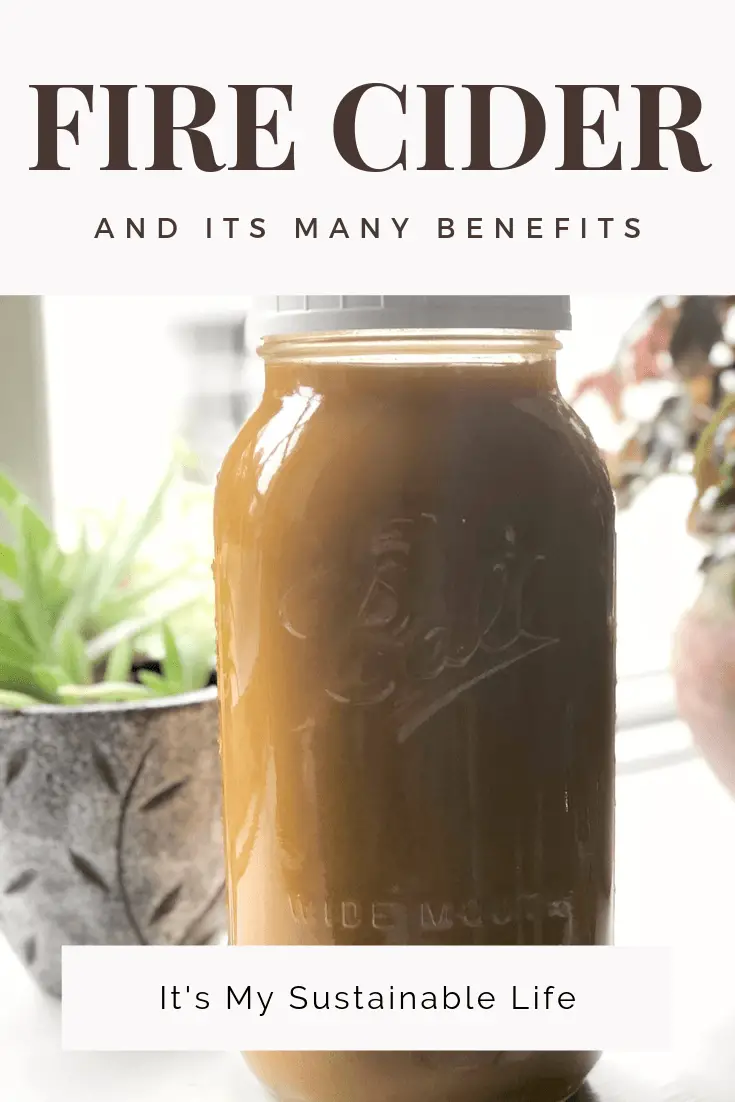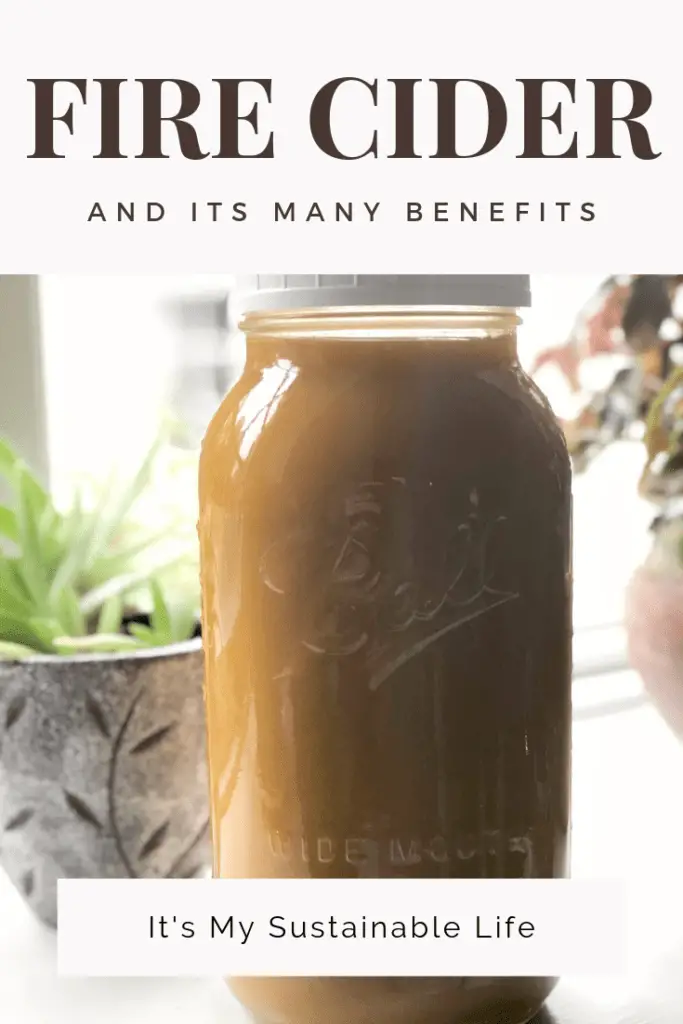 FIRE CIDER'S VERSATILITY
There are no hard and fast rules when making your own fire cider. As the founder of this wonderful remedy, Rosemary Gladstar, states, "It's a very fluid formula, so adjust it until it tastes right to you. You can add turmeric if you want another anti-inflammatory element, echinacea if you have a cold, more horseradish if you a sinus infection, or more honey if you don't like sourness."
Play with your recipe. Find what works for you and your family. There is no right or wrong way of making it.
Fire Cider Precautions
As with any potent home remedy, there are very few precautions for taking fire cider. It is always encouraged that prior to beginning any home remedy due diligence in your research be completed prior to taking.
Pregnancy – This fire cider recipe utilizes raw apple cider vinegar. The jury is still out whether raw is safe for pregnant women. Err on the side of caution, and consult with your medical professional prior to taking fire cider.
Sensitive Stomachs – As this is an acidic concoction, those with sensitive stomachs may want to take only with meals.
ACV Medication Precautions – Apple cider vinegar has been found to possibly interact with certain medications. If you are on medications for hypertension, diabetes, or taking insulin, or on any blood-thinning medication, it is recommended that you consult with your medical professional prior to taking.
With a little time & effort as well as a few ingredients, fire cider can be made and ready to use in your home. Don't have the time or the desire to make your own? Fire cider can be purchased here through IMSL in our Etsy Shop. We are always happy to share 🙂 .
Join the conversation below with any and all your experiences making fire cider. As always, be sure to subscribe and follow IMSL on all social media to stay up to date with the "happenings on the hill". Stay healthy, y'all!
Love, Light, & Laughter ~