You don't have to be an expert seamstress to make your own tea towels, aka kitchen towels. This simple DIY kitchen towel tutorial will have you making your own cotton or linen dish towels in no time.
This post may contain affiliate links at no additional cost to you.  By making your purchases through the links on this website, IMSL may make a small percentage at no direct cost to you. IMSL only promotes products we use & truly believe in. Please refer to my Privacy & Disclosures for further information. IMSL thanks you for your support!
Kitchen towels, tea towels, or dish towels, no matter what you may call them, are always the last on the list to be replaced when needed here on the hill. The need to replace these towels was put off far too long as the exact fabric pattern for them couldn't be found anywhere! What's the saying…"necessity is the mother of invention"?
Necessity definitely was the driving force behind these DIY tea towels. The existing towels were either extremely stained, full of holes, or just plain ratty, it was time…time to take action 🙂 . Time to find the material needed to make replacements. The beauty of this tutorial? They are easy to make, fast results, saves $$$, and can be made using your choice of fabrics & patterns. Holiday gifts anyone?
CHOOSING FABRIC FOR MAKING TEA TOWELS
Probably the most difficult part of making these dish towels is deciding what fabric to use for making them. The options are endless, the designs, colors, and patterns overwhelming. A few tips & considerations to follow when deciding on the fabric for your tea towels are:
Absorbency – Choose fabrics with natural fibers such as linen or cotton. The tighter the weave of the fabric, the more absorbent they will be.
Stay Clear Of – Staying clear of fabrics with polyester or other man-made fabric will ensure a good absorbent towel.
Fabric Pattern – This is likely the toughest decision…there are so many to choose from. Any pattern or color will due, but consideration of what the towel will be used for (hard kitchen chores with lots of stains?), is it a holiday theme? or a gift? will help narrow those choices down.
Sourcing fabric can be challenging, I found fabric that can be found very reasonable here. This fabric wash chosen as it was inexpensive and the pattern/color was what was wanted, I'm sure they're many options out there now.
CHOOSING THE BEST SIZE FOR TEA TOWELS IN INCHES
The standard size for tea towels is 18″ x 28″. This results in a generously sized kitchen towel. When making this size towel, 1 yard of 54″ x 36″ material will render 3 towels.

This being noted, you can play around with any size you like. To increase the number of towels created to 4 from 1 yard of 54″ wide fabric, cut into quarters. Cut four 18″ x 27″ pieces resulting in four towels measuring approximately 16 1/2″ x 24 1/2″ after hemming (size dependent on hem size).
MATERIALS & TOOLS NEEDED TO DIY TEA TOWELS
Gather the following materials for making your own tea or kitchen towels.
Gather the following tools for making your own dishtowels.
Iron
Sewing Machine
Needles – for hand stitching when machine is not available
Fabric Fusion Glue – for making a no-sew version (found here)
Fabric Fusion Tape – another no-sew option for finishing edges (found here)
HOW TO SEW A DISH TOWEL OR TEA TOWEL
STEP 1 – Cut your yardage according to the measurements you chose. For this tutorial, the fabric was cut into 3 18″ x 27″ rectangles as this was as many towels as were needed.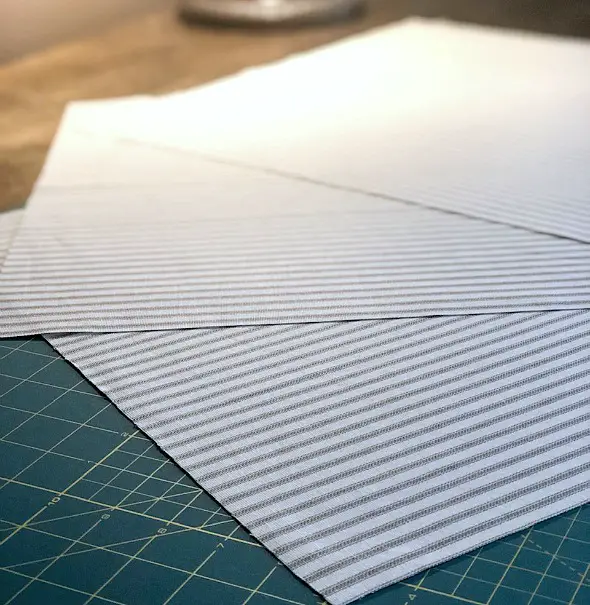 STEP 2 – Press the raw edges over 1/2″ first on the long sides and then the short ends. Your corners will look like below.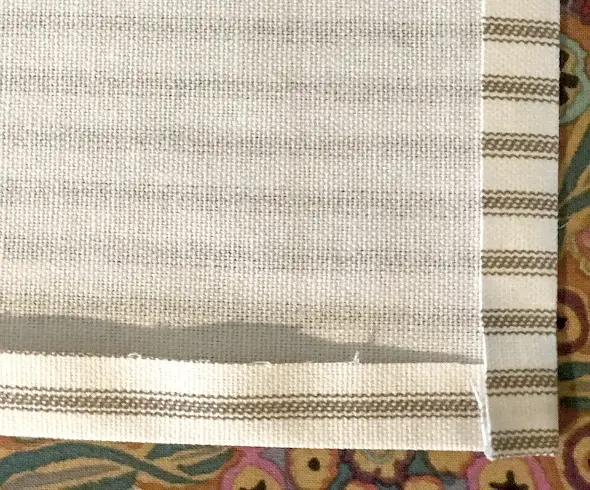 STEP 3 – To create a "mitered corner", at your pressing table, fold one corner over as shown below.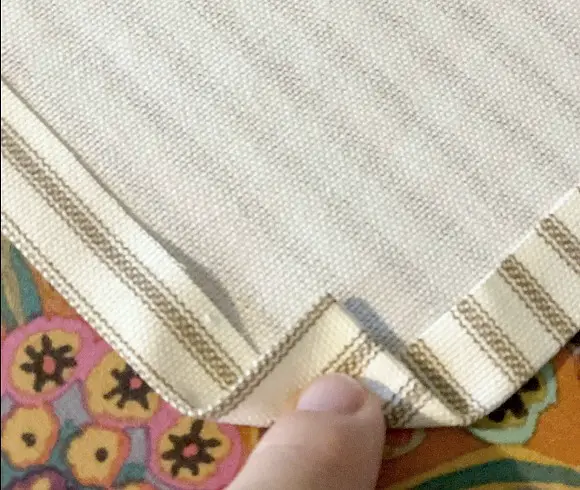 STEP 4 – Trim the tip of the corner off with sharp scissors as shown.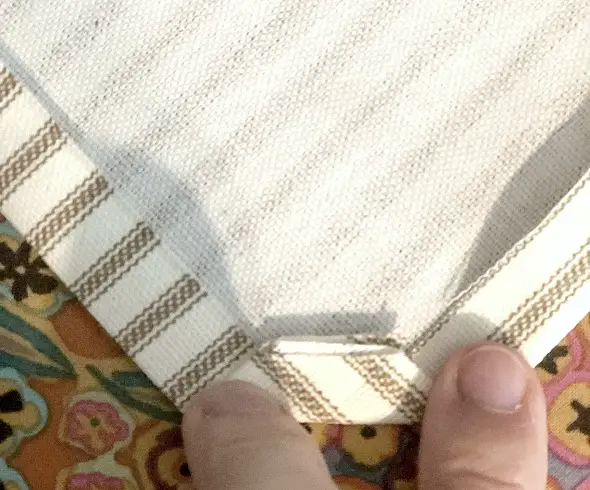 STEP 5 – Fold over the edges again, pressing as you go.
STEP 6 – Create your mitered edges by making sure the corners edges meet diagonally in the center of the corner (mitered corner), pressing as you go.
STEP 7 – Pin or use a clip to hold the mitered corners securely. Highly technical sewing clips have been used for this purpose 🙂 .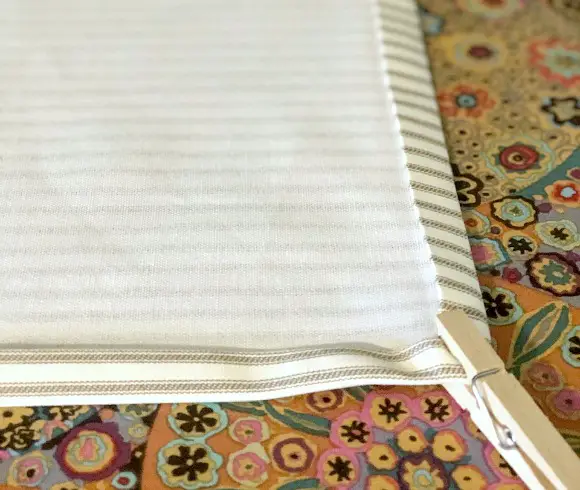 STEP 8 – For the sew method, stitch around the edges, being sure to catch the mitered corners well, using a 1/4″ seam allowance.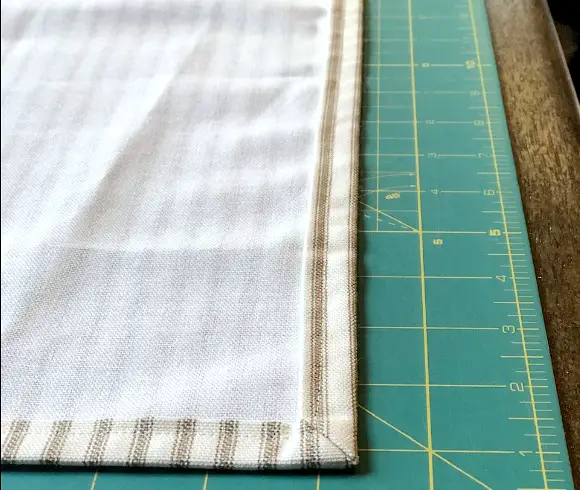 NO-SEW METHOD – To use the no-sew method for making your own DIY kitchen towels, the friends over at Instructables has a great tutorial on how to use fabric glue. Although fabric glue or tape will work, it's best used for those towels that don't get a lot of wear and tear as the stitching method is by far a sturdier towel.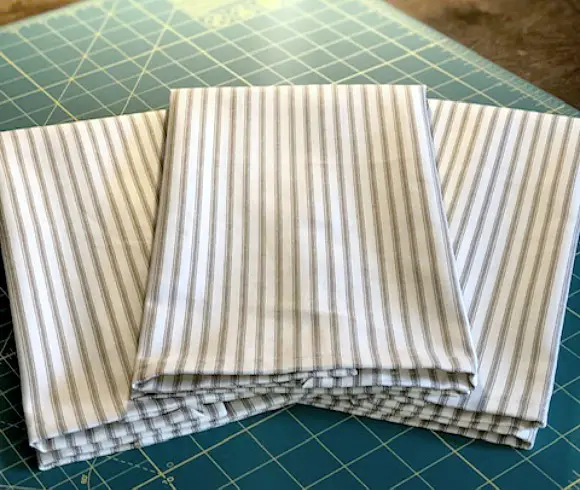 OPTIONAL – Make your towels complete and add a "hanger". Simply add a piece of grosgrain or twill ribbon tucked under a corner prior to stitching. As the towels here on the hill are not hung using a hanger, this step was not included.
Sharing Is Caring ❤️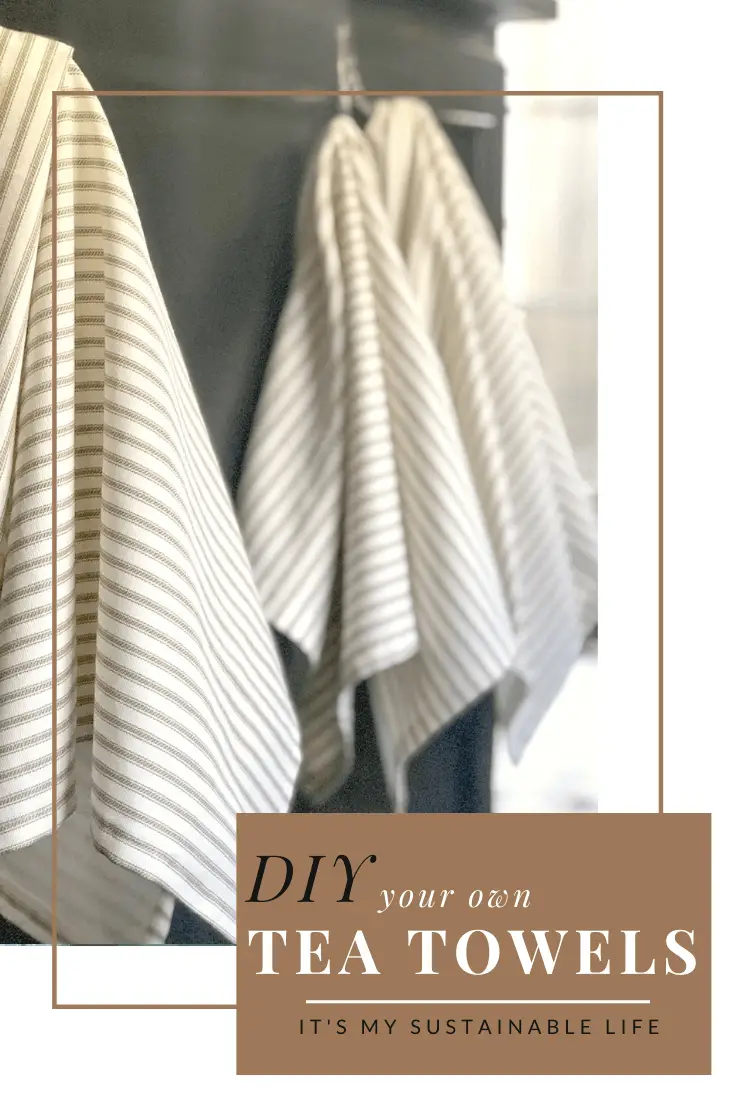 … and I thank you for it 🙏🏻
WHAT ARE TEA TOWELS USED FOR?
Custom tea towels can be used for so many things other than just as a drying dishtowel. A few of our ways to sustainably utilize them to their full use are:
Cover the bowl of dough rising (think pizza or bread) to keep from drying out…great alternative for those looking to reduce plastic usage.
Line a basket of rolls, bread, or biscuits when serving
Line a basket for delivering food goods (think dinner parties, gatherings, those in need)
Place a dampened tea towel under your cutting board to keep slippage at a minimum
Use as wrapping for food to it keep warm
Line your crisper drawer in your refrigerator
Place between pots or dishes to keep them from being scratched
Use as extra large napkins or placemats
Wrap a gift and make it a part of the gift itself
These towels are so quick to make and can be made reflecting any personality or holiday. Give them a try and be sure to come back and share yours with IMSL!
Follow It's My Sustainable Life and all the happenings here on the hill on all social channels. Happy stitching!
Love, Light, & Laughter ~