For those who have used a weighted eye pillow, also known as a dream pillow, either in a yoga class or in meditation, know how soothing they can be! These DIY eye pillows are quick to make, and to share as wonderful gifts.
---
This post may contain affiliate links at no additional cost to you.  By making your purchases through the links on this website, IMSL may make a small percentage at no direct cost to you. IMSL only promotes products we use & truly believe in. Please refer to my Privacy & Disclosures for further information. IMSL thanks you for your support!
---
WHY USE WEIGHTED EYE PILLOWS
The utilization of eye pillows may very well be the greatest tool we have available to us to heal, calm & balance our nervous systems. WHY?  The vagus nerve. The vagus nerve is one of twelve cranial nerves that runs from the brain down the back of the neck into the heart and lungs and then on to the abdomen and digestive track.
According to a review from Front Psychiatry in 2018, "Vagus Nerve as Modulator of the Brain-Gut Axis in Psychiatric and Inflammatory Disorders", the vagus nerve is largely responsible for the modulation of our parasympathetic nervous system and responds favorably by light acupressure on the eyelids.

The vagus nerve represents the main component of the parasympathetic nervous system, which oversees a vast array of crucial bodily functions, including control of mood, immune response, digestion, and heart rate.
It establishes one of the connections between the brain and the gastrointestinal tract and sends information about the state of the inner organs to the brain via afferent fibers.

– Review NCBI
This light acupressure on the eyes creates a reflex of lowering the heart rate. This reflex is known as an Oculocardiac Reflex or the Aschner-Dagnini reflex. According to an article in Open Anesthesia, "Oculocardiac reflex: afferent path", the definition & history of this term was developed in 1908.

In 1908, Aschner described a decrease in heart rate as a consequence of applying pressure directly to the eyeball. This phenomenon would eventually be termed "the oculocardiac reflex" and is defined clinically as a decrease in heart rate by 10% following pressure to the globe or traction of the ocular muscles.

– Open Anesthesia


BENEFITS OF USING AN EYE PILLOW
Relaxation!
The gentle acupressure from the weight on the eyelids stimulates the vagus nerve which in turn creates a deep sense of relaxation and ease within the body & the mind. The relaxation achieved through eye pillow use extends to relieving anxiety, depression & fatigue.
Weighted Eye Pillows Ease Insomnia!
The deep relaxation created through the continued use of eye pillows, lays the foundation for a restorative sleep, allowing you to wake feeling refreshed and energized.
Weighted Eye Pillows Soothes The Eyes!
When your eyes are feeling itchy, tired & strained from over-use or extended screen time, relief can be had by placing the weighted eye pillow on for ten or more minutes.
Eye Pillows Reduces External Stimuli!
Dream pillows or weighted eye pillows effectively curtail all external stimuli. Bright lights & any visual stimuli are blocked, allowing the senses to turn inward and fully relax.
WHY CHOOSE FLAXSEED FOR YOUR WEIGHTED EYE PILLOW
Flaxseed creates the perfect weight needed to stimulate the vagus nerve via the eyelids. Flax also holds temperature very well, both warm & cold. By placing a cooled or gently heated eye pillow over the eyes, relief for headaches & migraines, pain, high stress, and sinus pressure can all be relieved.

LAVENDER BENEFITS WHEN MAKING EYE PILLOWS
The benefits of lavender essential oil are many. Not only is lavender considered to have antiseptic & anti-inflammatory properties, but it's aromatherapy benefits include treating insomnia, creating a sense of relaxation, treating restlessness, depression, and anxiety. And if that weren't enough, it just plain smells amazing!
HOW TO MAKE WEIGHTED EYE PILLOWS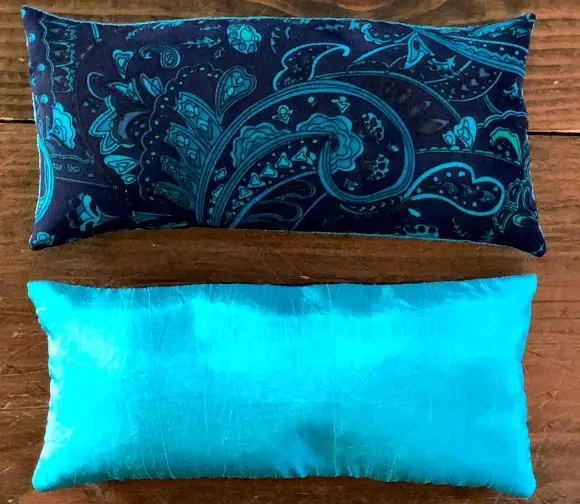 FIND THE PERFECT MATERIAL
I find the hardest part of creating an eye pillow is finding the perfect material! I made these two pillows as gifts this past holiday. I love using contrasting material for the two sides giving the pillow a bit more dimension. My go to fabric for eye pillows is silk/silk blend. I find this material to be cooling & soft when resting on the eyes.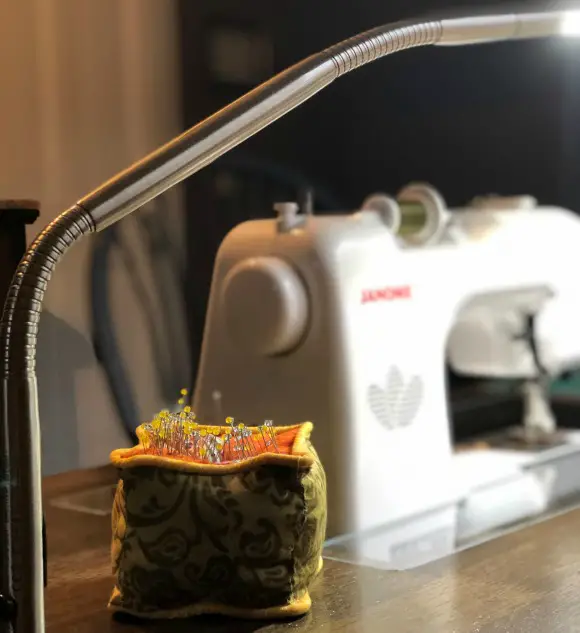 BREAK OUT THE SEWING MACHINE
My finished pillow measures 8.5 inches by 4 inches. I find this size to be perfect for most face sizes. You can always adjust your sizing as needed. Working with silk/silk blends can be a bit tricky as the material is so slippery & soft, it wants to shift easily. With this in mind, give yourself a good 1/2 inch seam allowance all the way around. Therefore, add 1 inch to your desired finish size.
Once you've decided on the material, time to break out the sewing machine and supplies needed to stitch one up! You will need a rotary cutter or scissors, a cutting mat if using a rotary cutter, and a ruler.
I cut a rectangle for the "top" and the "bottom" measuring, 9.5 x 5 inches. Again, once stitched with the seam allowance this will leave me with an end size of 8.5 x 4 inches.

Many prefer to line their pillows with an additional layer of cloth. I find this an unnecessary step and when I have tried that, the pillows are not as pliable and soft. Therefore, I only use the two rectangles per pillow. As you can see in the above right photo, I am making two pillows.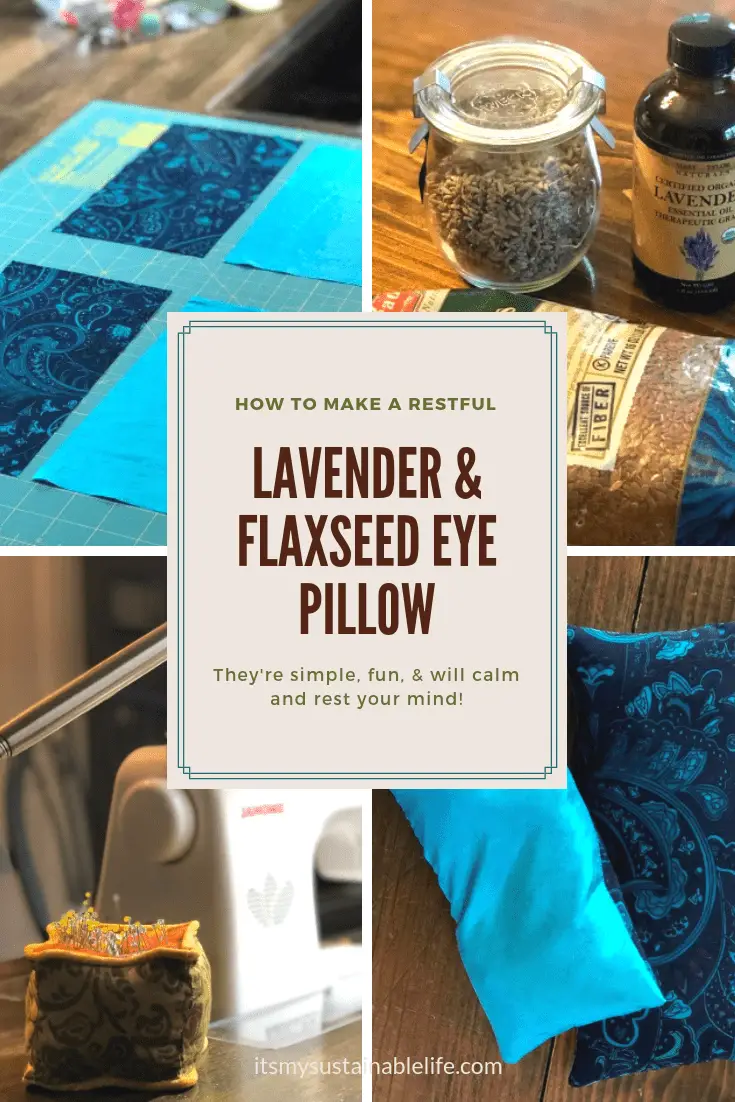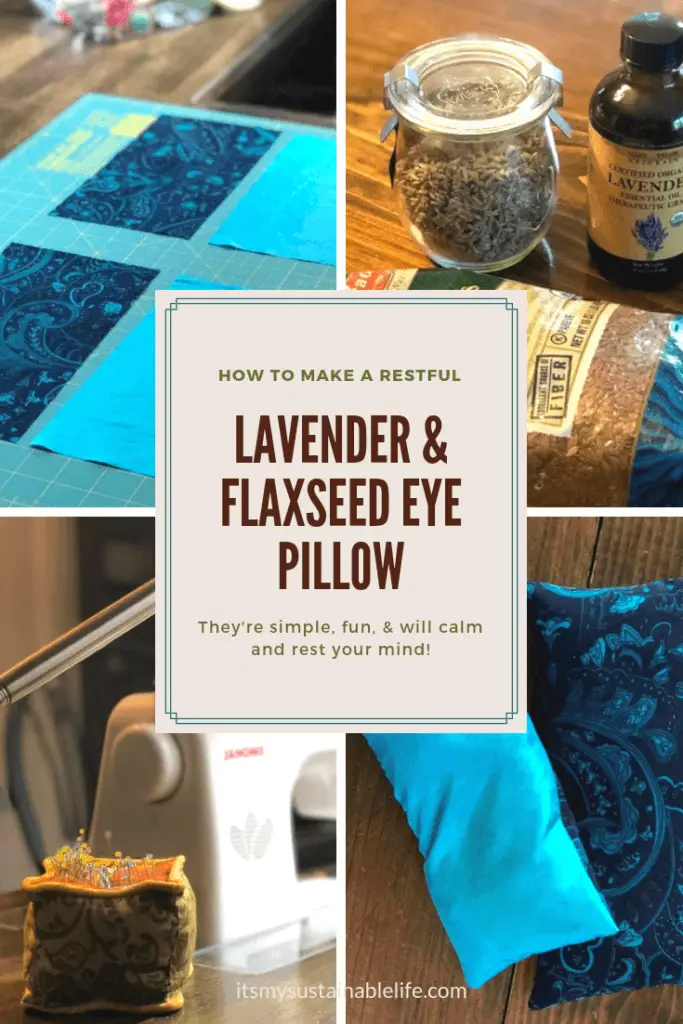 With right sides of your material facing each other, stitch around all sides, leaving a 2 inch opening on one end of the pillow. Trim your corners to remove bulk. Turn right side out and gently use a pencil to push the corners out.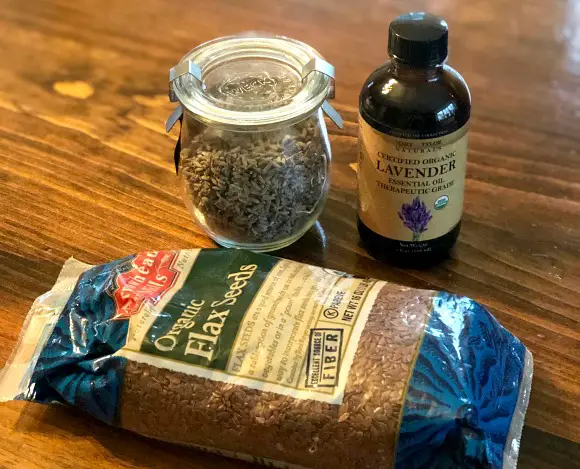 GATHER YOUR FILLING INGREDIENTS
For the filling, mix flaxseeds, dried lavender, and lavender essential oil. I am able to grow my own lavender & dry it (I love using my own as it makes the pillow extra special when giving as a gift). If you are not able to grow your own, it can be purchased here. The lavender essential oil I display in the picture is no longer available, but another recommended brand can be found here.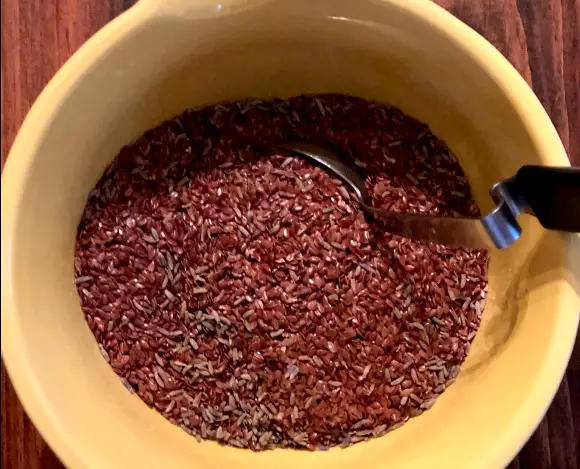 I recommend using a large bowl with a pour spout, and I generally estimate the amounts. For these two pillows, I used a little more than one 16 oz bag of flaxseeds and approximately 3 oz. of dried lavender flowers. Add 10-15 drops of lavender essential oil, or to your "smaste" (smelling taste :)) and stir to combine.
FILLING YOUR DIY EYE PILLOWS
Remember that 2 inch hole we left at one end of the pillow when stitching? Insert the funnel end into the hole & fill the pillow approximately 3/4 way full with the flax and lavender mixture or to your desired weight. Remove the funnel and blind stitch the hole shut.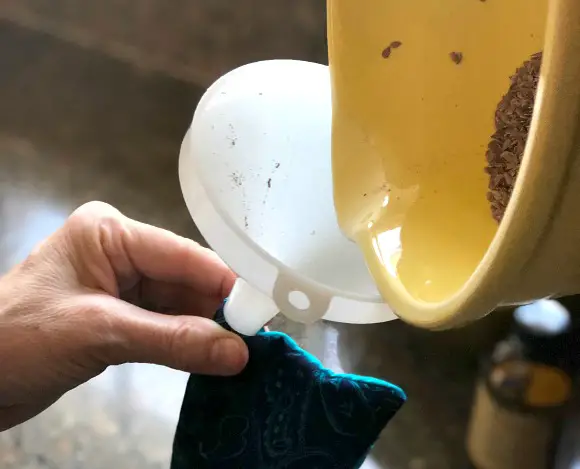 Don't have the time or desire to make your own restful eye pillow? IMSL offers made to order eye pillows for your convenience. Click the button below & see our beautiful products and organizational tools!
Have you made them? I would love to see your pictures & hear about your process! Comment below & be sure to subscribe to receive my monthly newsletter, "happenings on the hill".
Happy Stitching!