DIY linen bread bags are a wonderful solution for keeping homemade bread fresh longer.  This easy to follow tutorial for creating your own DIY linen bread bag will have you saying bye, bye to stale bread in no time flat!
This post may contain affiliate links at no additional cost to you.  By making your purchases through the links on this website, IMSL may make a small percentage at no direct cost to you. IMSL only promotes products we use & truly believe in. Please refer to my Privacy & Disclosures for further information. IMSL thanks you for your support!
DIY linen bread bags to the rescue! Finding ways to keep bread fresh longer, especially when we take the time and effort to make our own from scratch, can be challenging to say the least! Why? Because homemade is not filled with the plethora of yucky preservatives & additives used for shelf-bought breads.
Making your own DIY linen bread bags literally takes minutes to complete, are a sustainable option when working toward a no-waste kitchen, and extends the shelf-life of breads of all kinds (keep an eye out for reviving sourdough starter from the refrigerator and how to make sourdough bread coming soon!).
DIY LINEN BREAD BAGS DEFINED
If there is one thing I love about the modern farmhouse craze, it's that it has made many more conscientious about choosing a more sustainable lifestyle!
Being old-fashioned has become the goal, bringing it home by keeping it organic and sustainable. It's now cool to make it from scratch once again. YAY!
Case in point, many are now returning to making their own breads from whole grains or sourdough starters. The challenge? Keeping them fresh for as long as possible.

What are linen bread bags, and why are they a viable option for keeping your breads from becoming stale & moldy too quickly?
WHAT ARE DIY LINEN BREAD BAGS
Linen bread bags are just that, bags made using linen material (usually with a drawstring closure) that are used to store fresh bread in.
This french method of storing fresh bread is now once again trendy to use and are pretty to display on farmhouse kitchen counters for keeping homemade bread products fresh longer.
By no means is this storage option one that will keep your breads from eventually turning stale & moldy. However, it is a better option than non-renewable choices like plastics!
WHY LINEN HELPS TO KEEP BREAD FRESH
Linen, a fabric that's typically made using fibers from the flax plant (but now is being made using hemp & other renewable, non-flax fibers), is breathable, strong, and absorbent.
All good reasons why linen makes a wonderful choice of cloth to use for DIY bread bags! The closely woven fibers of linen cloth work hard at keeping your bread fresh while still being able to breathe!
BENEFITS OF LINEN BREAD BAGS
Recommendations for keeping bread of any kind fresh longer are simple. Store in a dark, cool, and dry environment.
The benefits of using linen bread bags are multi-fold ….
KEEPS IT IN THE DARK – Literally 😊. Keeps your bread in the dark just like bread boxes used to do. Excessive light can cause premature drying and lead to molding issues should your bread become moist somehow. That and I don't know about you, but I really don't care for large bulky items to be kept on my kitchen counters!
KEEPS IT FROM DRYING OUT – Linen naturally wicks away and absorbs moisture. Moisture you definitely don't want to expose your bread to!
RE-USEABLE – For those who are concerned with the use of plastics (plastic wrap & zip bags), tinfoil, and other harmful kitchen products, these bags are re-useable, made from renewable materials, perfect for the zero-waste kitchen!
EASE OF USE – DIY linen bread bags are easily washed AND serve other purposes! You can use your linen bread bags to store produce in, pack shoes in when traveling, use as a travel hamper, use in lunch boxes, and I'm sure you can think of a few more uses! HINT: Use this same tutorial to make different sized bags for your intended purposes!
EASE OF STORAGE – Your filled bread bag can easily be stored on hooks, in a dark drawer or cupboard (win, win when it comes to preserving your bread!), or on display on your counter! Bread bags are portable & take up little storage when not in use.
DO COTTON BAGS KEEP BREAD FRESH
Although linen far surpasses cotton in storing artisan homemade breads, cotton will do in a pinch. Cotton is definitely more inexpensive to purchase, and more readily available in some areas.
Cotton, like linen, is made from natural fibers. However, pay close attention to the weave of the cotton, as it has direct impact on how breathable the cotton is. I would also recommend when choosing cotton to purchase organic only.
According to the World Health Organization, cotton is considered hazardous. Cotton crops consume more pesticides than any other crop worldwide, 360 pounds of fertilizer per acre (some which release greenhouse gas 300x more potent than CO2), and a whopping 100 billion (yes, billion) gallons of water globally!
No wonder cotton is considered the worlds "dirtiest crop".
Should you be looking for a sustainable, renewable, fabric option, choose linen 😊
DO LINEN BAGS KEEP BREAD FRESH
No method is sure-fire in keeping your breads long-term. What linen bread bags do accomplish is in HOW they keep your fresh breads.
Unlike storing your bread in plastic which can turn your homemade baked bread a bit tough and doughy, linen will allow the bread to breathe. Thus ensuring your crust will remain, well, crusty, while the inside remains soft.

Honestly, bread was not meant to last forever. In year's past, it was traditional to have a communal bread bake, where locals would gather to bake their bread in a single oven that was heated appropriately for the day.
Freshly baked bread = healthier bread to consume, in my opinion.
HOW LONG WILL HOMEMADE BREAD LAST IN A LINEN BREAD BAG
How long your homemade bread lasts using a linen bread bag really depends on humidity levels & temperature in your home. Obviously, those residing in high humidity area's will need to adjust where they store their product. I would recommend slicing your homemade bread (for ease of use), wrapping in freezer paper and storing in your freezer.
Sharing Is Caring & I Thank You For It ❤️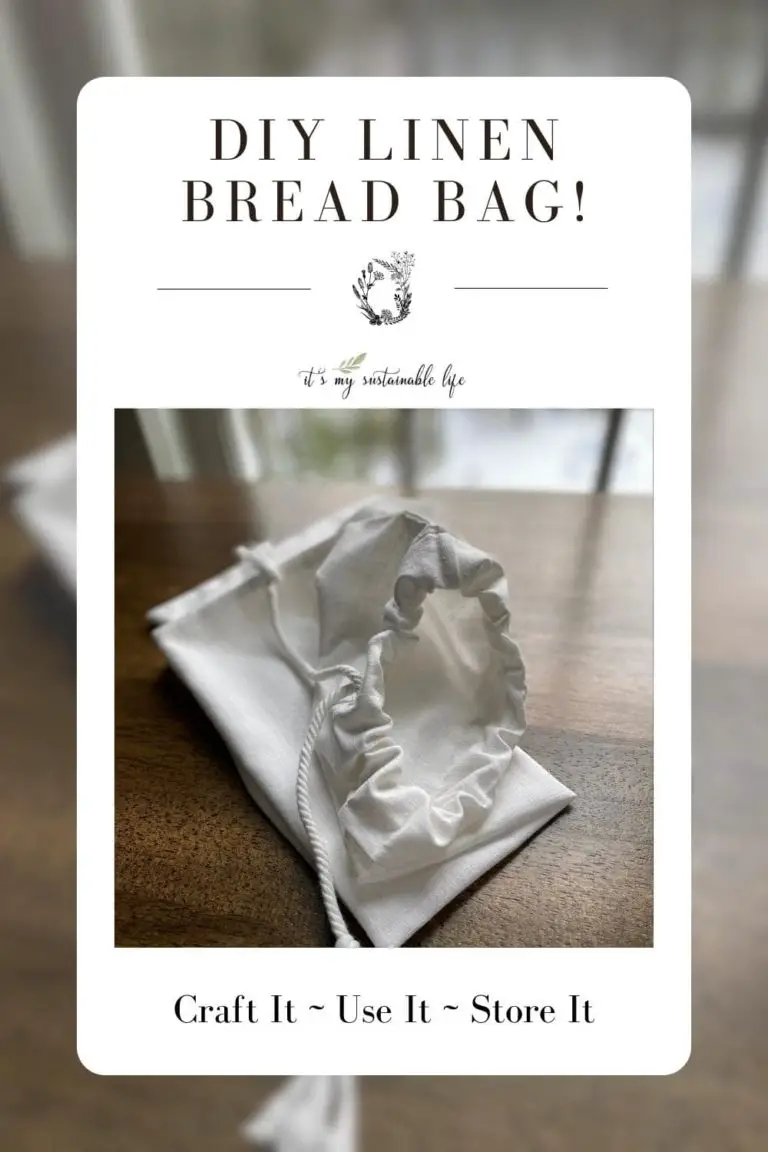 Artisanal breads which tend to be thicker and crustier which are stored in linen bread bags can last anywhere from 2 to 6 days for fresh eating. Thereafter, make breadcrumbs 😊
Softer breads, easy homemade biscuits, and homemade english muffins are all good candidates for storing in a linen bread bag. Just beware they will most likely dry out after a couple days.
Again, plan on freezing any bread you need to last and extended period of time. Unfortunately, to freeze you will need to use either plastic, foil, or freezer paper to wrap the bread prior to freezing.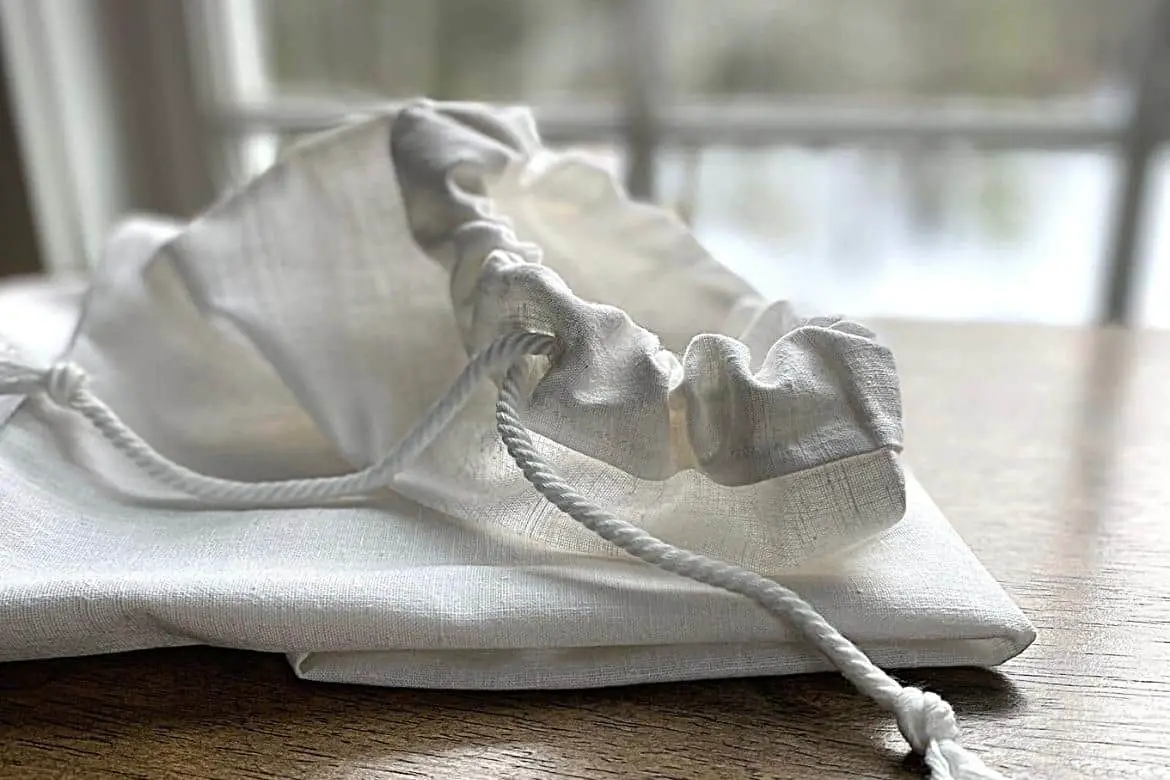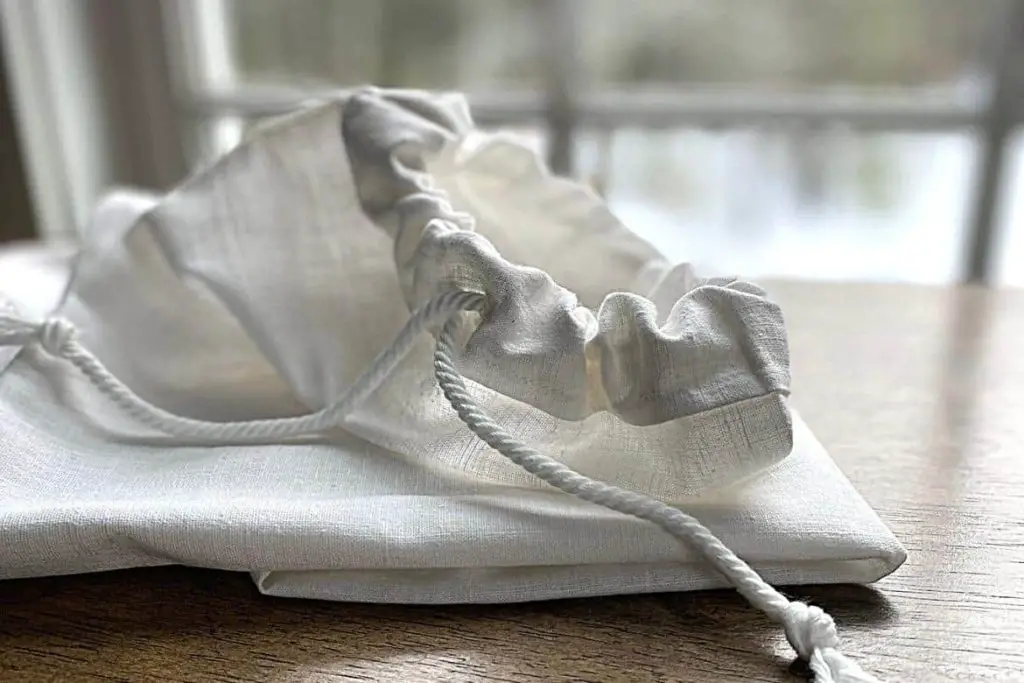 COMMON DIY LINEN BREAD BAG SIZES
Depending on which breads you will be storing in your linen bread bags, the size of the bag itself will need to be adjusted.
Here are a few finished linen bread bag size recommendations…
COMMON – 13 x 15 inches
BAGUETTES – 8 x 25 inches *I've made mine longer to allow a roomier bag
CHALLAH – 17 x 11 inches
BOULE – 12 x 12
SANDWICH – 15 x 12 inches
Remember, should the bag you create be too large for the loaves you are storing, tie the sewn end closer to the loaf size you need.
DIY LINEN BREAD BAG – EQUIPMENT NEEDED
Very little specialty equipment is needed to make your own DIY linen bread bags. A few of the suggestions you may or may not already have on hand. Obviously, when it comes to stitching, a sewing machine is ideal, but you can make these completely by hand should you not have one available.
The following recommendations are for a long bread bag, one that you would use for baguettes in their entire length. Adjustments are easily made for making bread bags more conducive to sourdough boules, sandwich loafs etc. Above you will find recommended sizes for each.
Gather the following, *=optional:
LINEN – 5/8 yard will be needed for this long bread bag. Optionally, you could use 22 x 22 inch linen napkins or even linen tea towels.
THREAD – Matching thread is always a good idea 😊
1 INCH SQUARE INTERFACING* – This is optional but recommended when making a button hole for the drawstring
CORDING* – I used 3/16 inch cable cording that I had on hand from a repurposed antique crib which I turned into a settee with cushions and pillows
SAFETY PIN – Use a large one if possible for ease
ROTARY CUTTER* – Scissors would work just fine
CUTTING MAT* – Needed when using rotary cutter
IRON & IRONING BOARD –
DIY LINEN BREAD BAG INSTRUCTIONS
Follow these simple instructions to create your own DIY linen bread bag 😊
I. Prewash your linen using a mild soap, ensuring that all stabilizers and/or chemicals have been removed prior to beginning. Prewashing also "sets" the material, making it more stable to work with.
II. Press the fabric, removing all wrinkles
III. Cut a piece measuring 19 x 27 inches
IV. Fold wrong sides together (if your linen has right and wrong sides) lengthwise, pinning the raw edges together, matching perfectly, as shown below. Your piece of fabric should now measure 9.5 x 27 inches
V. Sew a scant 1/8 inch seam along the 2 open, raw edges only (bottom and long pinned side). As we will be making a french seam, yup, this is a very small seam allowance as shown below.
VI. Trim a small bit of fabric away from the sewn corners without going too close to the stitching itself. This will allow for a sharp corner to be made.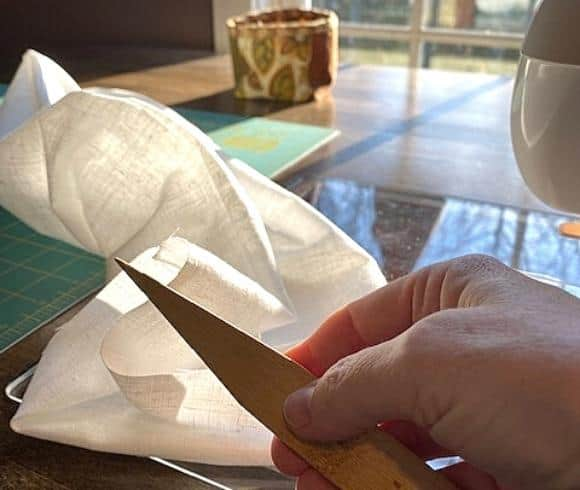 VII. Turn the material inside out.
NOTE: If you had a wrong and right side of material when you began, once turned inside out, the WRONG side should now be outside.
Using a point turner if you have one, a pencil, chopstick or other pointy device, gently push the corners out of the sewn areas.
VIII. Press
IX. To make a french seam, using a 1/4 inch seam (it's helpful to use a 1/4 inch foot if you have one) stitch along the same sides as you previously stitched using the 1/8 inch seam (the same two edges previously sewn).
X. Clip the corners once again as you did before to remove a bit of bulkiness.
XI. Turn your material right side out, pushing the corners neatly out once again using the point turner.
XII. Press.
XIII. To make the casing for the drawstring, turn the top edge under 1 inch and press.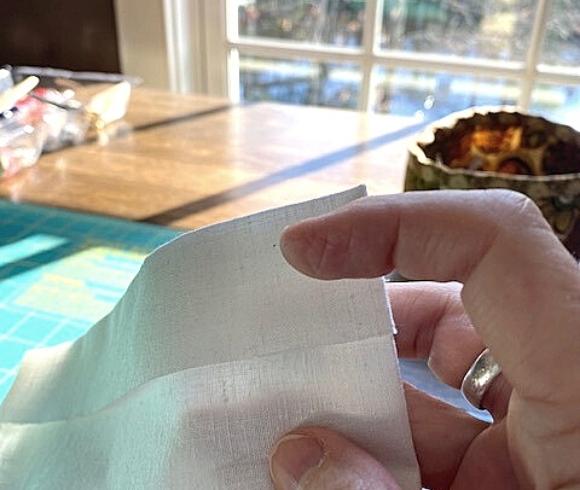 XIV. I recommend making a buttonhole in the casing where your drawstring will be pulled in and out. If doing so, I also recommend using interfacing to stabilize and strengthen the area where you will be placing the buttonhole. If choosing to do so, place a 1 inch square piece of interfacing in the fold of the casing, placed in the middle of one side of the bag. Turn material down once again, to just over an inch. This will provide the sewn buttonhole extra layers of protection.
Using the buttonhole function and foot for your sewing machine, sew roughly a 5/8 inch buttonhole through both turn downs, cutting the slit open using a seam ripper.
Should you not wish to make a buttonhole, skip the interfacing & complete number XV (15) instructions leaving a 1/4 inch opening on either end of the casing as you sew. Just enough to pull your cording through.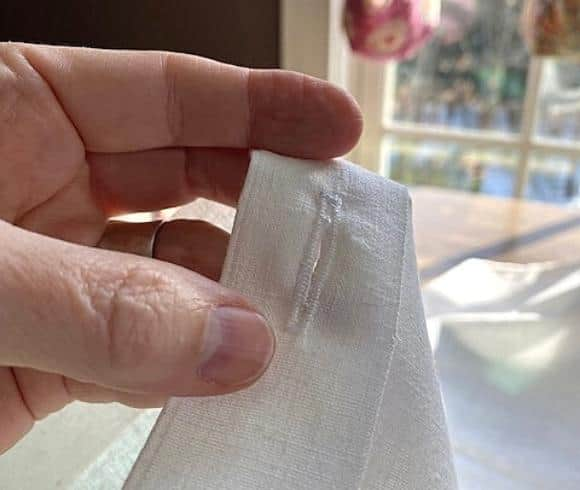 XV. Once your buttonhole is complete, press the casing once again.
XVI. Using a 1/4 inch seam allowance, stitch the bottom edge of the casing to the bag.
HINT: This is where that 1/4 inch foot comes in handy in keep a nice straight line all the way around the bag 😊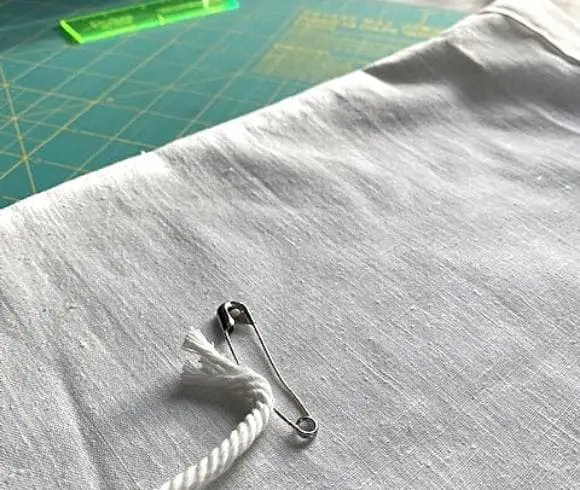 XVII. To make your tie you have a few options. You can use ribbon, twine, make your own, or use cording as I've done. Your tie should measure approximately 1/4 to 1/2 inch wide and 27 or 28 inches in length.
Attach a large safety pin (I've used my quilting basting pin here) to one end and thread through your casing, coming in one end of the buttonhole/opening and emerging from the other end.
I've tied a knot in each end of the cording and unwound the cording to create a bit of a tassel look. This not only creates a decorative look to the tie, but also keeps the tie from making its way back into the casing.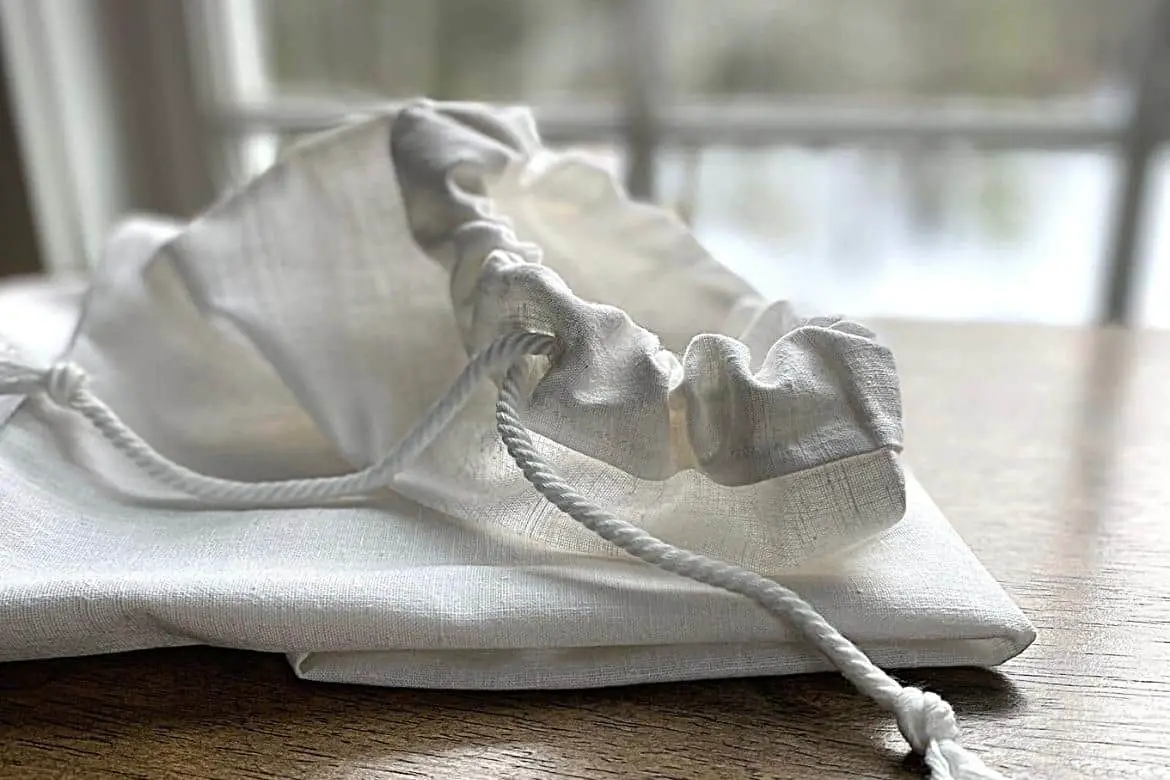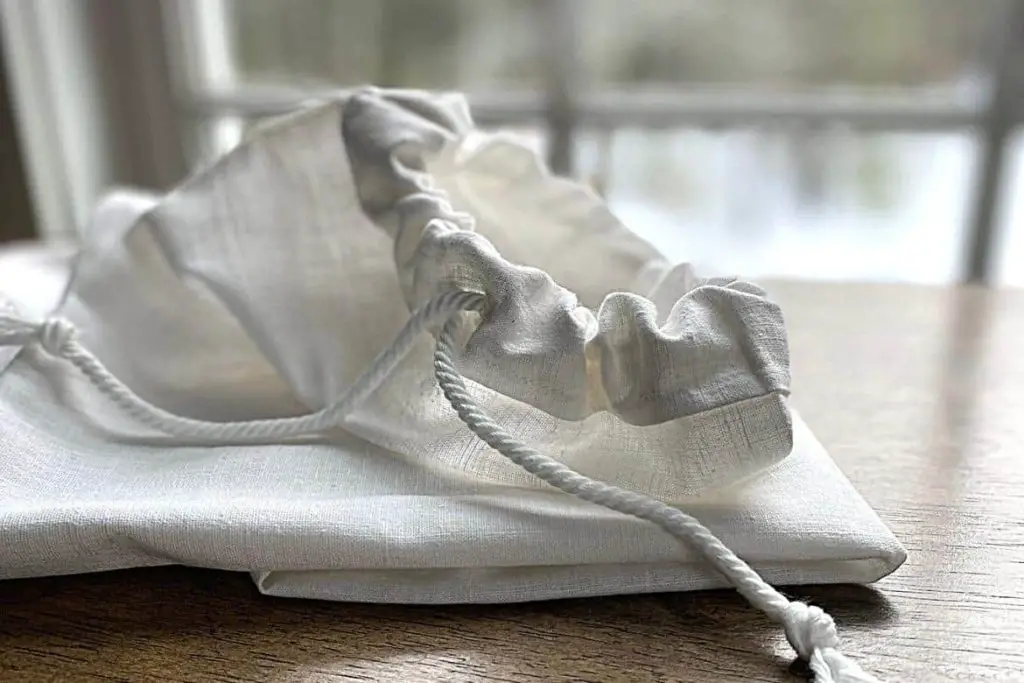 How easy and quick was that DIY linen bread bag to make? It literally took me about 15 minutes to put together!
GET CREATIVE WITH YOUR DIY LINEN BREAD BAG
I'm not one for over embellishing or adding "bling", but I've seen some pretty cute bag decorations out there!
Get creative! Think stenciling, fabric painting, applique' or embroidery here to finish off your bread bag.
Now if I only had a Cricut or a digital cutter …. hint, hint😊
COMMON DIY LINEN BREAD BAG QUESTIONS
TIPS FOR KEEPING HOMEMADE BREAD FRESH LONGER
The yin and yang of keeping fresh bread. Here are a few tips of what should be done to keep your bread fresh and a few suggestions of don'ts too 😊
COOL – Before storing your bread there is one thing that's a must. Cool it!
CENTER – To keep your bread fresh longer and prevent drying out, slice down the middle first. When storing, place the cut sides together.
FREEZE – When it comes to soft breads such as rolls, biscuits, and sandwich breads, fresh is best. If you plan on eating these types of breads any longer than fresh to 1 day old, prepare your bread how best to suit your family (sliced? whole?) and freeze. To freeze be sure to wrap tightly first.
REFRIGERATE? – Everything lasts longer in the refrigerator. Well, everything except bread that is 😂. Refrigerating bread will actually, lead to the dreaded stale bread 3x faster than breads stored properly!
BEST WAY TO STORE – You got it. Wrapped in a linen bag will keep your bread ready to eat longer. Place the wrapped linen bag in a dark, cool (around 68°), cupboard or bread box and you've got double the protection!
HOW TO REVIVE STALE BREAD
Can you revive or refresh bread that has gone stale? Yup, by you will need to plan on eating the refreshed breads immediately and not store once again.
CRUSTY LOAVES
To revive crusty loaves (sourdough, french breads, baguettes) that have gone stale, dampen the outer crust thoroughly, wrap in aluminum foil, place into a cold oven, turn the oven to 350° F and steam bake for 20 minutes. Remove the foil and return to the oven to crisp the crust for 5-8 minutes longer.
SOFT BREADS
For soft breads such as sandwich bread, my recommendation is to toast. Toasting revives old bread making it taste like it was just baked!
Should you want to revive a whole loaf, follow the directions for crusty loaves above and leave out the dampening of the bread completely.
CAN YOU DOUBLE WRAP BREAD WHEN USING A LINEN BREAD BAG
Yup. Should you purchase your breads and want to utilize the paper wrapper it came in, simply place it in the linen bread bag and store. Your linen bread bag will remain clean and your bread will have double coverage 😊
CARING TIPS FOR DIY LINEN BREAD BAGS
The beauty of linen is that it washes beautifully. Throw your soiled linen bread bags in the washer along with your whites. I recommend line drying your linen bread bag to prevent any further shrinkage. Optionally, you can iron your cleaned bread bag if you like.
There you have it. Your own DIY linen bread bag to keep your homemade breads fresh longer!
Will you be making your own DIY linen bread bag?
Love, Light, & Laughter ~

Enjoy this article? Please consider sharing it on your favorite social media channel! Want more? Subscribe below for the occasional update with all the "happenings on the hill"!