Is it me or does it seem like all my kitchen dishcloths need replacing at the same time? Fortunately, it doesn't take any time to whip up a few of my favorites when using easy to knit dishcloth patterns for beginners. I have compiled a list of my favorites just for you, well….and me too. These simple & beautiful dishcloth patterns, some with great tutorials & pictures, are ones you can easily create for yourself or to give as gifts, are all beginner level, no experience required, and fun to make.
This post may contain affiliate links at no additional cost to you.  By making your purchases through the links on this website, IMSL may make a small percentage at no direct cost to you. IMSL only promotes products we use & truly believe in. Please refer to my Privacy & Disclosures for further information. IMSL thanks you for your support!
When your dishcloths look like the ones below (I must really love you to show you these), it's time to break out the knitting needles and a few skeins of cotton yarn and create a few replacements. All the patterns I have linked are easy, beginner friendly patterns using just two stitches; knit & purl.
This is my go-to pattern that I use almost always as it's one of the easiest knit dishcloth patterns I have come across and literally takes me (a pretty slow knitter) only a few hours to complete, and is perfect for beginners. This style also seems to hold up well and survive many a washing.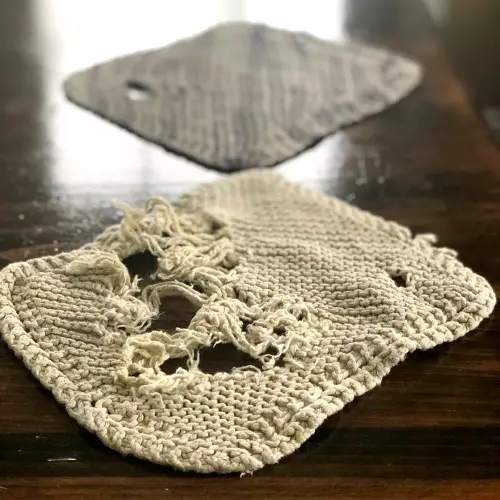 MY FAVORITE PATTERN
Instead of re-creating the wheel, you can find a wonderful tutorial from Penolopy Bulnick over at Instructables for the exact pattern I used for a couple of the ones I created below and can be found HERE. The other dishcloth shown in the picture is a crocheted one I threw together. Again, this knitted pattern is extremely simple and works up mighty quickly.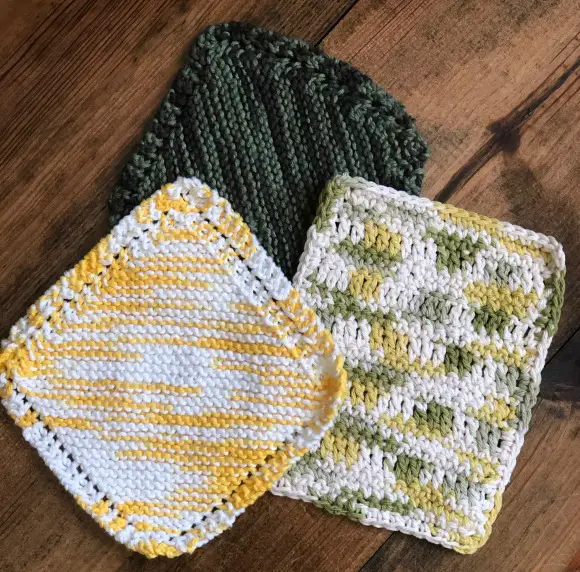 For this same pattern, I came across a wonderful video tutorial, for all you visual learners, from Staci at Very Pink Knits. A BIG shoutout to Staci for making this video. I have added it here for you to enjoy as well.
TEXTURED PATTERN
This beautiful textured pattern knit cloth is one I will be making next time I need more dishcloths. I love the textured look and believe it will be a great one for scrubbing those tough pots 🙂 .
This pattern variation was shared Kara over at Petals To Picots and can be found HERE. A beautiful one and love the color.
Another textured cloth was shared by Nina over at Mollie Makes. Similar to the one above with just a few variations. UPDATE: Unfortunately the tutorial can no longer be found 🙁 but the pattern is wonderful!
BASKET WEAVE PATTERN
Shelly posted this simple but beautiful knit pattern with easy to follow directions over at The Yarn Tart and appropriately named the pattern, "Berry Basket". This pattern can be found HERE.
BROKEN RIB PATTERN
Stacey at The Soccer Mom Blog shared the Broken Rib Pattern. This pattern can be made easily with beginner level skills, cast on, knit, purl, and bind off. Easy peasy!! The pattern can be found HERE.
SEED STITCH PATTERN
This simple pattern was shared by Alaina at Ravelry and gives another great texture to choose from utilizing only beginner level skills. This pattern is made up of single knit and purl stitches that alternate horizontally & vertically resulting in a texture similar to small raised seeds. This pattern can be found HERE.
KNIT & PURL
A simple square made up of knit and purl stitches make for a wonderfully full textured cloth. This pattern was shared by Brittany Coughlin at All Free Knitting. You can find the pattern HERE.
DIAMOND BROCADE
I love the brocade pattern with this. Definitely my list of ones to give a try. This pattern has been shared via Knitting Unlimited and can be found HERE.
RAISED RIDGES
This pattern shared by Brittany over at Just Be Crafty aptly named "Farmhouse Kitchen Knitted Dishcloths", as they were inspired by, you guessed it, the queen of the farmhouse style herself, Joanna Gaines from Fixer Upper. You can find the pattern HERE.
SCRUBBY
Here is a bit different pattern using a special yarn made for "scrubbing" those dishes by Mary Maxim. I have no association with Mary Maxim other than loving this "yarn"! This pattern was shared by Little Miss Stitcher and the pattern can be found HERE.
I hope you have been inspired to give one or two of these free patterns a go. I know there are several on my to do list! Have another pattern you love? Please share below. Made one of these already? Share your pics, we would love to see them!
Be sure to subscribe to IMSL's monthly newsletter, "happenings on the hill" to stay up-to-date with the latest!
Love, Light, & Laughter ~