Cover crops, aka green manure, are an inexpensive way to build the quality of the soil in your garden. Planting fall and winter cover crops consisting of legumes, grains, or grasses directly into your garden offer the soil the nutrients and organic matter it may be lacking and so much more.
This post may contain affiliate links at no additional cost to you.  By making your purchases through the links on this website, IMSL may make a small percentage at no direct cost to you. IMSL only promotes products we use & truly believe in. Please refer to my Privacy & Disclosures for further information. IMSL thanks you for your support!
Gardeners know that in order to increase harvest yields in the vegetable garden, successful flowers in the perennial garden, and amazing herb production in the herb garden, success largely depends on the health of the soil. Soil needs to be fed. Offering garden soil the organic matter it needs to maintain a healthy balance of bacteria & fungi that earthworms & other forms of life within the soil feed on is imperative to creating healthy, fertile soil.
As organic matter is quickly consumed by living organisms within the soil, planting cover crops ensures a much needed continual supply of the organic matter needed when planted routinely. Other inputs consisting of composts, manure, sawdust, & bark dust all offer good sources of organic matter as well.
KNOW YOUR SOIL
When choosing which cover crop to plant, it is important that you know your soil. Determining what type of soil you have and its pH levels is a good first step. Most state extensions offer soil testing. A great resource of state soil testing services can be found HERE.
Nitrogen is an important component of healthy yields. Knowing your garden and watching for telltale signs of deficiency are key to maintaining balance. According to The Permaculture Research Institute, visual symptoms of nitrogen deficiencies include:

• Pale green to yellow leaves: This is a consequence of insufficient production of chlorophyll in leaves. Nitrogen is a key component of chlorophyll in plants therefore its deficiency reflects in chlorophyll production. Chlorophyll is the substance responsible for the green pigmentation in leaves and stems.
• Stunted plant growth: A visible sign in a nitrogen deficient soil is the stunted growth of plants. Nitrogen is necessary for cell division and enlargement. Shortage of this nutrient slows growth and development.
• Reduced crop yield and protein content: This is a consequence of poor growth and development during the plants life cycle. Low protein is especially devastating in grain crops such as bread wheat; where the grain quality is judged by the protein content.

The Permaculture Research Institute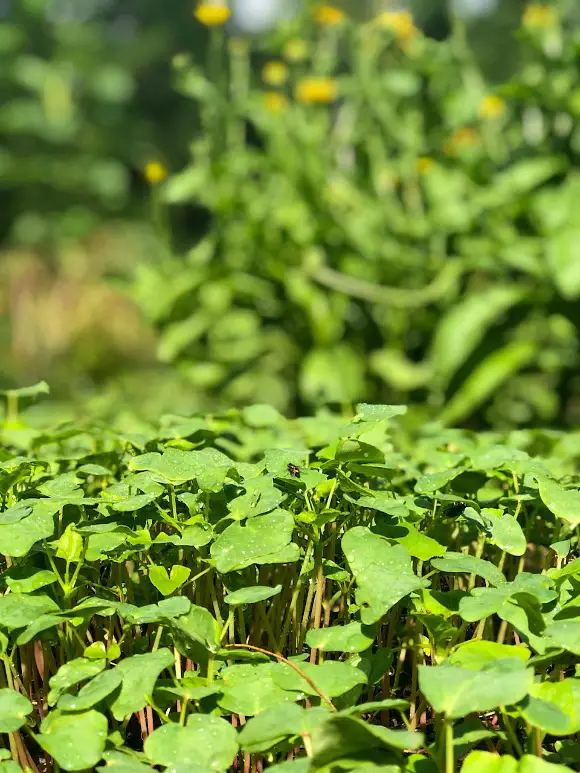 TYPES OF COVER CROPS
According to the Rodale Institute, the best cover crops, especially for a no-till garden such as ours, include the following characteristics:
– They produce a lot of biomass, at least 3 tons above-ground dry matter per acre.
– They are readily killed by mowing, rolling or other mechanical means, forming a mulch.
– Their residues are sufficient to provide effective weed control.
– They provide habitat for natural enemies of vegetable crop pests.
– They have favorable (or at least neutral) effect on levels of available soil N, P and K.
– They do not suppress the vegetable through chemical (allelopathic) or microbial effects.
– They do not present serious weed, pest, disease or other management problems.

Rodale Institute
The Sustainable Agricultural Research & Education, aka SARE, has a wonderful synopsis on how to select the best cover crop for your needs. They advise:
Clarify your primary needs

 Identify the best time and place for a cover crop in your system

 Test a few options

SARE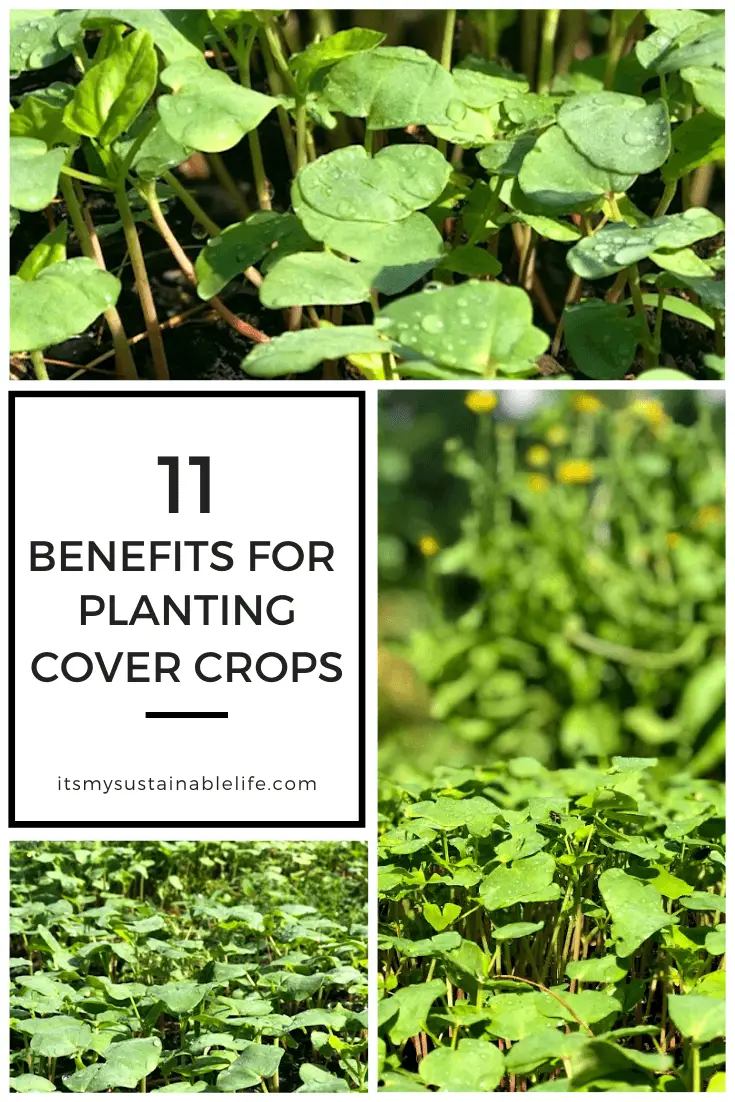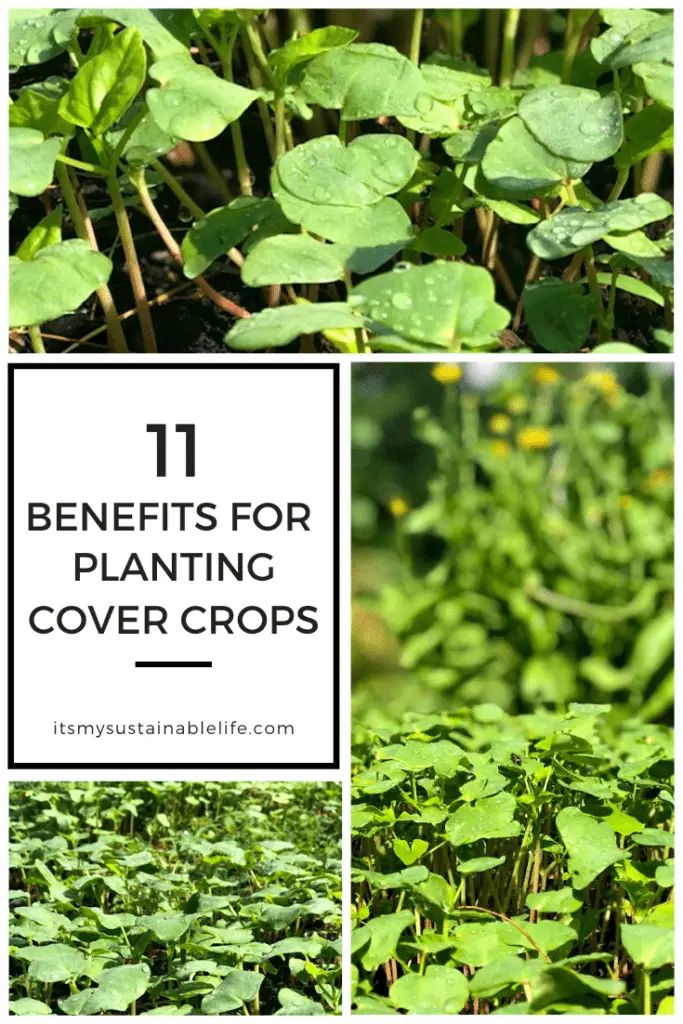 SARE also advises to "narrow your goals to one or two primary and perhaps a few secondary goals" as this "will greatly simplify your search for the best cover species". What are a few of the goals they recommend for cover crops? Your choice of green manure should provide the following:
Provide nitrogen

 Add organic matter

 Improve soil structure

 Reduce soil erosion

 Provide weed control

 Manage nutrients

 Furnish moisture-conserving mulch

SARE
Common cover crops are as follows:
Annual Rye Grasses – Utilizing a thick mat of these grasses assists in erosion prevention & reducing weed totals. These grasses are not hardy and die over winter. It should be noted that the chemicals released as the grasses decompose may inhibit small seed from germinating, such as carrot or lettuces.
Buckwheat & Rapeseed – Grow quickly in the warmer months and help to smother weeds. Buckwheat flowers are an amazing source of bee nectar (why we grew this crop). Self-seeding if allowed. Buckwheat has no frost tolerance, rapeseed may survive mild winters.
Clovers – This somewhat winter hardy plant may survive winter and is known to fix nitrogen levels. The large variety known as Ladino makes an exceptional cover crop.
Hairy Vetch & Alfalfa – These plants also fix nitrogen and are winter hardy.
Peas, Beans, & Soybeans – Known as legumes, these plants fix nitrogen and are edible crops. After harvesting, turn the plants under.
Winter Wheat & Winter Rye – These grains are cold & winter hardy and are good for areas you will be planting warm-weather plants such as tomatoes, peppers, & squash. Turn the green manure under early spring (mid-May) and then plant your warm-weather plants. Rye can develop a tough root system which can make planting difficult.
It is often beneficial to often combine cover crop seed. For instance, you can combine a legume such as peas along with a grass such as rye to encourage nitrogen production and reduce weed growth.
One of the best sources of organic & heirloom varieties of cover crops is True Leaf Market. Their seed quality and germination rate are bar none. We have had wonderful success here on the hill using seed from this company and we highly recommend giving them a try.
TOP 12 BENEFITS OF COVER CROPS
Cover crop benefits are many. In addition to the ones listed above, here are our top 11.
Prevents soil erosion
Improves soils nutrient content, physical makeup, & biological makeup
Increases nutrient supply and feeds organic matter to living organisms within the soil
Improves soils water availability; both water infiltration and the soils holding capacity
Breaks pest cycles
Adds organic matter to the soil
Breaks soil consistency (compacted soil)
Increased crop yields
Decreases workload (suppresses weeds)
Feeds the bees when using certain flowering crops such as buckwheat
An economical way to improve soil organically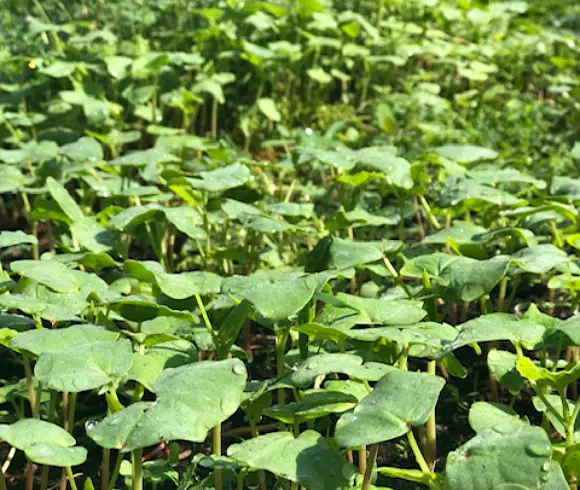 WHEN TO PLANT COVER CROPS
Cover crops can be planted throughout the growing season. Here are a few suggestions for seasonal crops you can plant and when to till. Always follow the instructions on your seed packets for sowing dates.
BEST SUMMER COVER CROPS
A few of the best crops to plant in the warmer months include alfalfa, barley, buckwheat, clover, fava beans, and oats. Most need to be tilled under come the cooler months of fall.
BEST FALL COVER CROPS
A few varieties to sow in the fall include Australian field peas, barley, garden peas, oats, annual rye, hairy vetch, and winter wheat. The majority of these varieties will be left over the winter and turned under in the spring.
BEST COVER CROPS FOR IMPROVING NITROGEN
When it's nitrogen you are looking to add to your soil look to legumes such as vetch, Australian winter peas, and clovers. These varieties capture nitrogen from the air and transfer it into soil N.
HOW TO PLANT COVER CROPS
Planting occurs mid-August through September leaving plenty of time for growth before cold weather arrives. At least a 4-week window of growth should be aimed for. If you have a garden filled with fall crops still, consider planting cover crops along the sides of pathways, walkways and between rows.
Generally speaking, to plant large-seeded cover crops such as peas, vetch, and wheat, plan on planting in shallow furrows closely together. Small seed such as rye and buckwheat can be broadcast (as you would grass seed) and lightly covered or raked over. If your soil is dry, irrigate and keep moist until germination has occurred.
Come springtime as soon as the ground has thawed and drained sufficiently for working it, turn the crop under. To allow for sufficient decomposition, plan on turning under the crop at least 3 weeks prior to spring planting time. If the cover crop is too tall to turn under easily, mow and then turn. Do not allow any cover crop to go to seed as many such as vetch will spread and turn to weeds. Hopefully, not what you are aiming for 🙂 .
Creating and maintaining healthy soil is a continuing necessity. Supplying sufficient organic matter through annual planting of cover crops will feed the soil and its organisms the necessary nutrients to create the biodiversity needed to ultimately feed you.
Do you already plant cover crops? What are your favorites to plant and why? Get the conversation going by commenting below. Happy planting!
Love, Light, & Laughter ~