Pine needle tea, a nourishing, vitamin filled tea, offers a plethora of benefits.  Fortunately, learning to identify, forage, and make your own pine needle tea is as easy as stepping out your door.
This post may contain affiliate links at no additional cost to you.  By making your purchases through the links on this website, IMSL may make a small percentage at no direct cost to you. IMSL only promotes products we use & truly believe in. Please refer to my Privacy & Disclosures for further information. IMSL thanks you for your support!
Here in the Northeast we are blessed to be surrounded with nature's healing gifts. One of my favorites? The Eastern White Pine, Pinus Strobus, also commonly referred to as the Northern White Pine. Making pine needle tea from this pine tree during the colder months is one way we capture the amazing nutritional benefits of this flavorful pine.
EASTERN WHITE PINE – A TREE STEEPED IN HISTORY
The Eastern White Pine, from here on out in this article to be referred to as EWP (I'm a lazy typer 😅), is steeped in history.
Evergreens have been utilized throughout millennia for rituals & festivals, decorations, and its medicinal healing properties.
During winter solstice celebrations evergreens were often used to decorate their homes as a way to remind that spring is near. Today, evergreens are a preferred window box decoration during the winter months!
Since the Middle Ages, pine has been revered for its medicinal properties & benefits.
Sharing Is Caring ❤️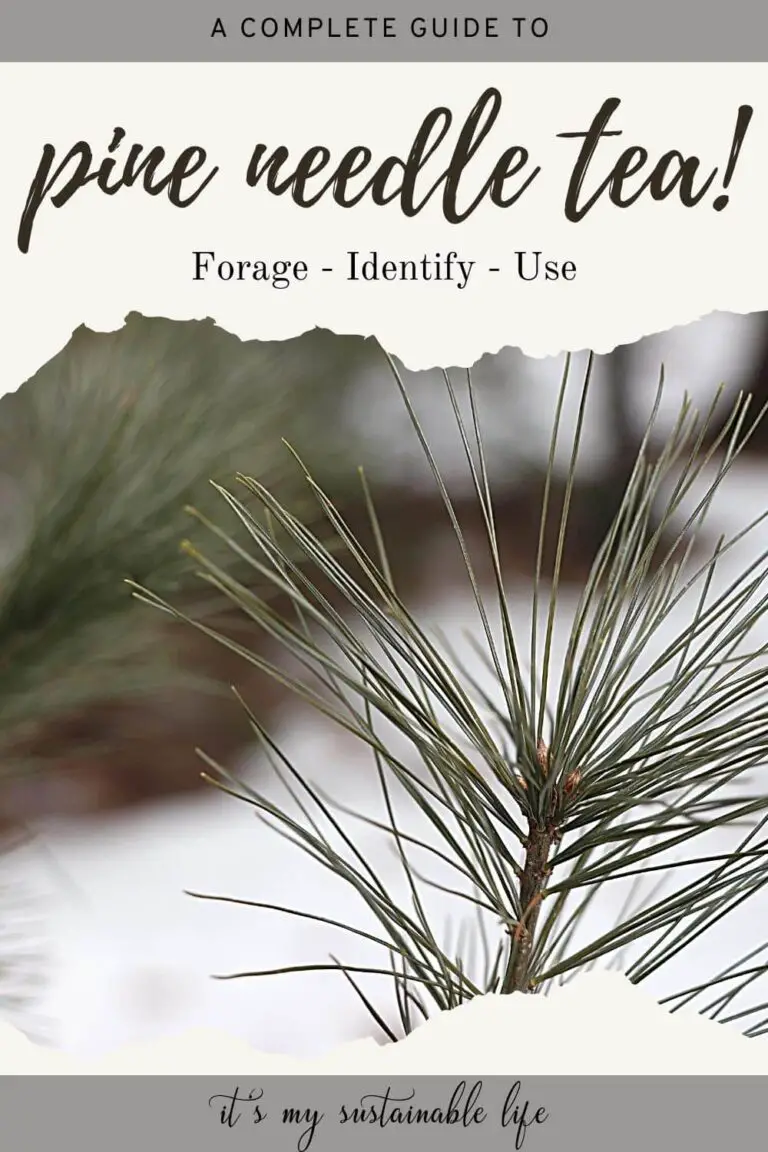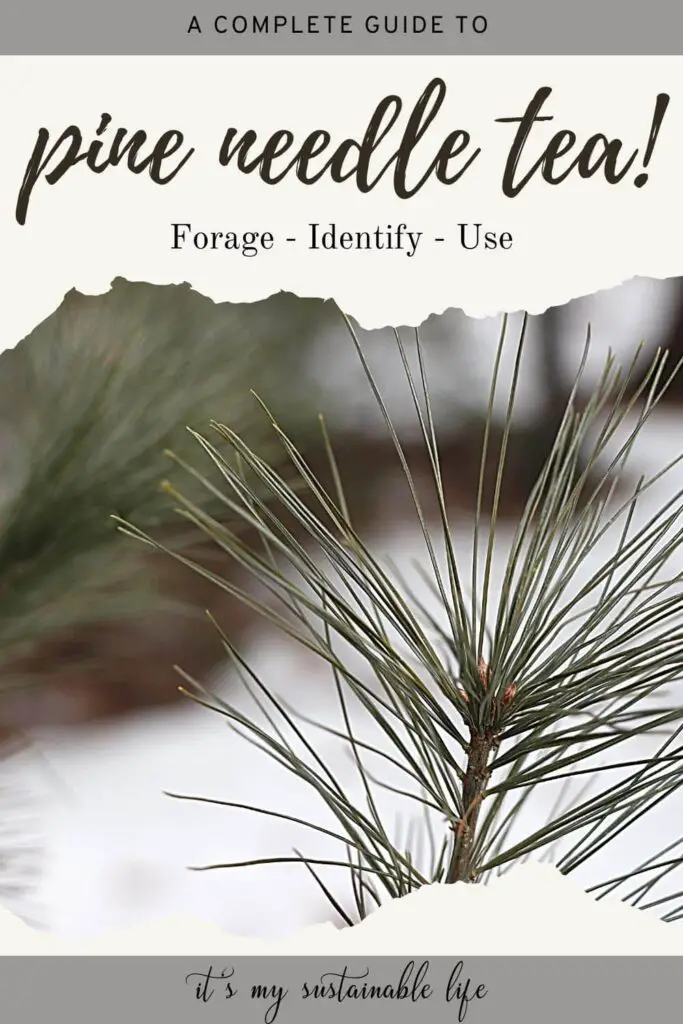 Where did we first understand the many useful health benefits this tree offers here in the NE? We can thank the Native Americans once again for their vast knowledge of the nature around us.
Native Americans in this area generously shared their knowledge of pine's numerous medicinal uses with those who first settled here. Many of which were suffering from lack of Vit C, also known as "scurvy".
Interestingly, the word "Adirondack" itself comes from the Mohawk work "atirú:taks" which literally translates to "tree eaters".
The benefits of utilizing this healing tree offer so much more than just a warm cup of free tea however. After all, even Henry David Thoreau proclaimed that "there is no finer tree".
EASTERN WHITE PINE HEALING BENEFITS
The needles (full of Vit C), resin/pitch/sap and cambium (the tissues of the inner white bark) are all utilized in healing medicine. The outer bark is full of antioxidants (protection for cells from free radicals) & tannins (everything you need to know about tannins can be found here) and is actually being sold in health food store's today. In fact pine bark flour which is made using both the inner and outer bark of the tree is still a traditional food used today in Scandinavian cuisine.
White pine's intense flavor and taste is a great indication of the plants healing capacity. It's taste is surprisingly fresh!

The EWP needles themselves boast more Vitamin C than that of lemons or oranges by a whopping 4 to 5 times, as well as vitamin A (great for eye & immunity health), and make an amazingly healthy herbal tea.
Not only chuck full of vitamins C & A, white pine contains many different acids, essential oils (terpenes, monoterpenes, sesqueterpenes), resin, & starch. The pine needles also boast of a compound referred as alpha or beta pinene. This compound acts naturally as a decongestant and has anti-inflammatory, antibacterial, antimicrobial, and anxiolytic properties.
These healing properties when used properly can act as an expectorant, a circulatory stimulant, a mild diuretic, an immune stimulant, and even as grief support!
And these claims have been studied! Studies showing pine's effectiveness in cardiovascular health, in treatment for anxiety & depressive behaviors, & according to this study, pine needles demonstrate & exhibit…
---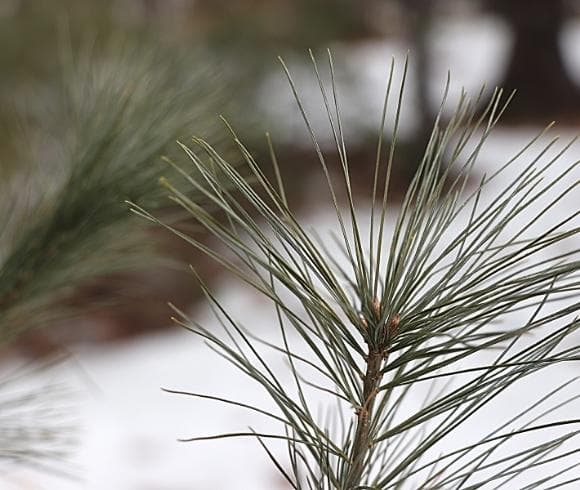 "strong antioxidant, antimutagenic, and antiproliferative effects on cancer cells and also antitumor effects in vivo and point to their potential usefulness in cancer prevention."

–NCBI
---
A few applications for harnessing the benefits of the pine are…
INFUSIONS – Pine needle tea infusions can aid with fevers, coughs, increase urination, and aid with immune support especially during the winter months, honey infusions, herbal oxymels, and tinctured infusions are all beneficial
SALVES & BALMS – Making a drawing salve or balm from the pine pitch itself will assist in drawing out infections, splinters, and toxins
SALTS – Preparing salts infused with pine can aid with muscle & joint relief and acts as a warming circulatory stimulant. Likewise, the salts make for wonderful salt scrubs
FOODS – Pine can impart huge flavor and nutrients when prepared. Think pine infused vinegar, pine infused honey & pine needle tea here
DRINKS – If you are a gin lover then you will rejoice by making a pine shrub, pine cocktails, and pine needle syrups to enjoy
STEAMS – Pine needles and twigs make an amazing steam when congestion in the lungs is present
GRIEF SUPPORT – White Pine encourages lung support and expansiveness. Grief is held & gets stuck by many within the lungs. White Pine aids and encourages the grief to move within us instead of becoming stuck. Grief is still a process, and often one can feel like there is no other option other than collapsing into a fetal position. White Pine can offer those grieving a bit of lightness and resiliency in those times
IDENTIFYING WHITE PINE
As with any foraging endeavor, it's imperative that you identify, identify, and identify any matter you are harvesting. Let the motto to leave nature better than you found it be your anthem. And always, forage only from area's that are clean from any harmful chemicals & be sure you have permission to do so from any landowner when applicable.
When it comes to properly identifying the EWP or white pine, it's pretty straight forward. Distinguishing the pine as a true pine and not a fir or spruce or other evergreen tree's such as Cypress or Yew (both toxic) is as simple as taking a look at the needles or the leaf of the tree.
It's also imperative to note that not all pines are edible. The Ponderosa Pine, Pinus ponderosa, is not recommended for ingestion, especially for women who are pregnant or may be pregnant.
Pine needles, which are round and can be rolled between your fingers, grow in clusters and attach themselves to the branch or stem of the tree by a papery sheath or cap. You can see the darker brown caps at the base of the needles along the stem in the image below.
Alternatively, spruce and fir needles will be attached directly to the branch, not in clusters.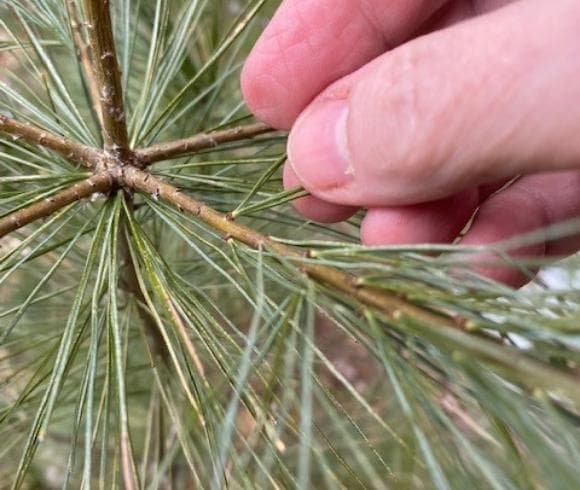 The needles of the pine, Pinus spp., can range in clusters of 1 to 6, with the most common being clusters of 2-5. Most all pine will have needles that tend to be on the longer side. White pine needles range from 3-5″ in length and in clusters of 5.
The color of white pine leans toward a bluish-green as opposed to other pines which lean toward a deeper true green color.
Another telling indication you have discovered white pine is the row of "stomata" along each needle. This stomata will show itself on the needle as a faint white line on the underside of the needle itself. You can see in the above image the white highlights shown on the needles.
Again, the EWP will have needle clusters of 5 as shown in the image below.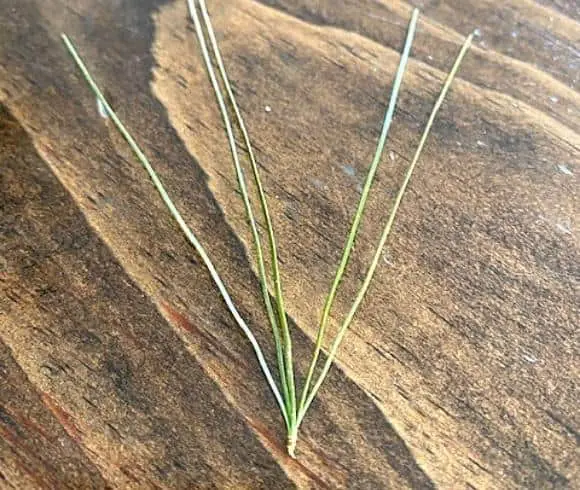 Visit here for an in-depth article on identifying conifers, pine included, should you still be in question. Or just watch the video below 😊
WHEN TO FORAGE & HARVEST WHITE PINE
Fortunately, this evergreen can be foraged throughout the year for its needles. That being said, when collected during the summer months, the white pine needles will possess a higher essential oil content. However, the ascorbic acid content (vitamin C) of the needles tend to be higher when harvested during the cold winter months!
I prefer to forage for the inner bark (used when making my white pine cough syrup, recipe coming soon!), the tender white parts only, in the spring when the tree is reawakening and sending energy outward toward new growth. Be sure to keep an eye out in the coming weeks for an in-depth look at how to forage and use white pine bark (often used for making preparations, treating flesh wounds & insect bites)!
HOW TO HARVEST PINE NEEDLES
Now that you've foraged and identified your pine, it's time to harvest the needles. When harvesting in the wild, I again, we encourage you to do so mindfully.
Have you joined the Organically Rooted Garden Group yet?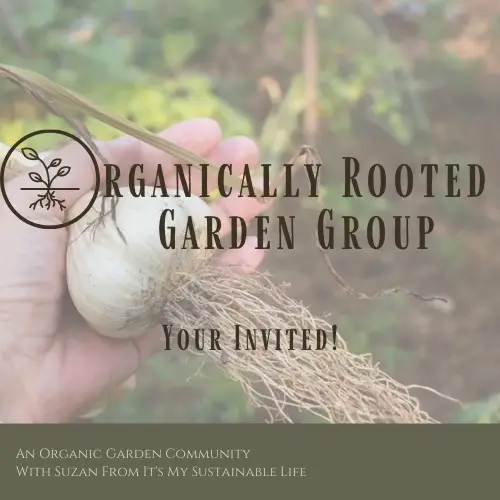 As I have EWP that literally grows EVERYWHERE, often in places where we really don't want them, I'm not so picky about harvesting mindfully. I can snip off entire branches if I choose (and I often do 😊), as these saplings would be removed anyway.
When harvesting in the wild, however, I recommend being a bit more finicky and mindful of how you harvest your needles. To harvest pine needles is simply a matter of removing a few clusters or fascicles from the stem and leave the rest to continue about their merry way.
Remove any brown ends or brown needles from the needles you will be harvesting first. Next, remove the green needles from the stem by grabbing a few clusters at a time and pulling downward. They will easily come off.
With anything nature provides us, I give a quick thanks for the tree or plants offerings, giving a bit of gratitude toward nature & the bounty she provides us.
PREPARING PINE NEEDLES FOR USE
With any foraged material, you will want to be sure it is clear of debris & dirt by thoroughly washing. Be sure to dry thoroughly, especially if you are interested in storing your material long-term.
If you like as you prepare your needles for use or for storage, cut the needles into roughly 1″ lengths.
PINE NEEDLE USES IN THE HOME
In addition to the list above, pine needles can be used not only for their medicinal & healing properties, but also in the home as well!
DIY PINE CLEANING SPRAY
All purpose pine needle cleaner can be made easily once you have infused vinegar & or alcohol with your pine! This cleaner not only smells amazing but works effectively in bathrooms, kitchens, and floors!
To make simply take infused vinegar (use good ole white vinegar here) and add distilled water, rubbing alcohol, and place into a 16 oz spray bottle. Optionally, you can add a bit of baking soda and or castile or dish soap if you need a bit stronger cleaning solution for those stubborn spots!
DIY PINE NEEDLE FURNITURE & WOOD CLEANER AND POLISH
Turn the above all purpose cleaner into an amazing furniture and wood cleaner or polish by leaving out the soap and baking soda and substituting the rubbing alcohol with organic EVOO!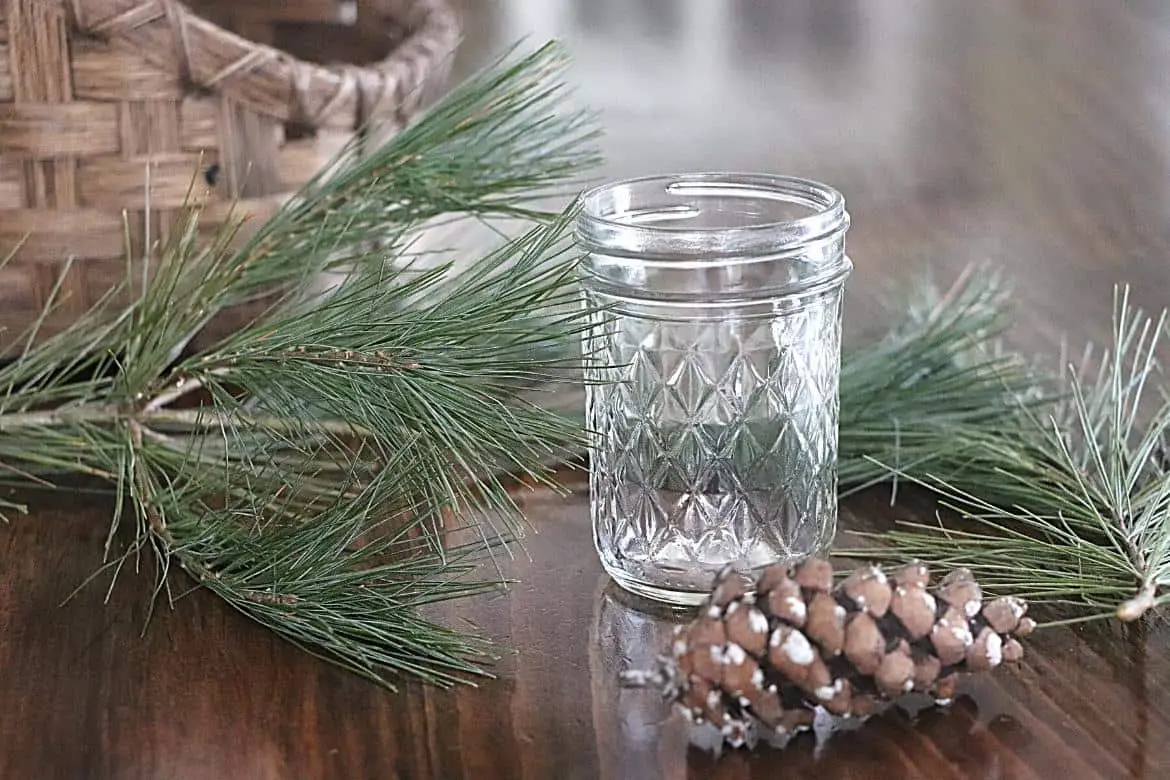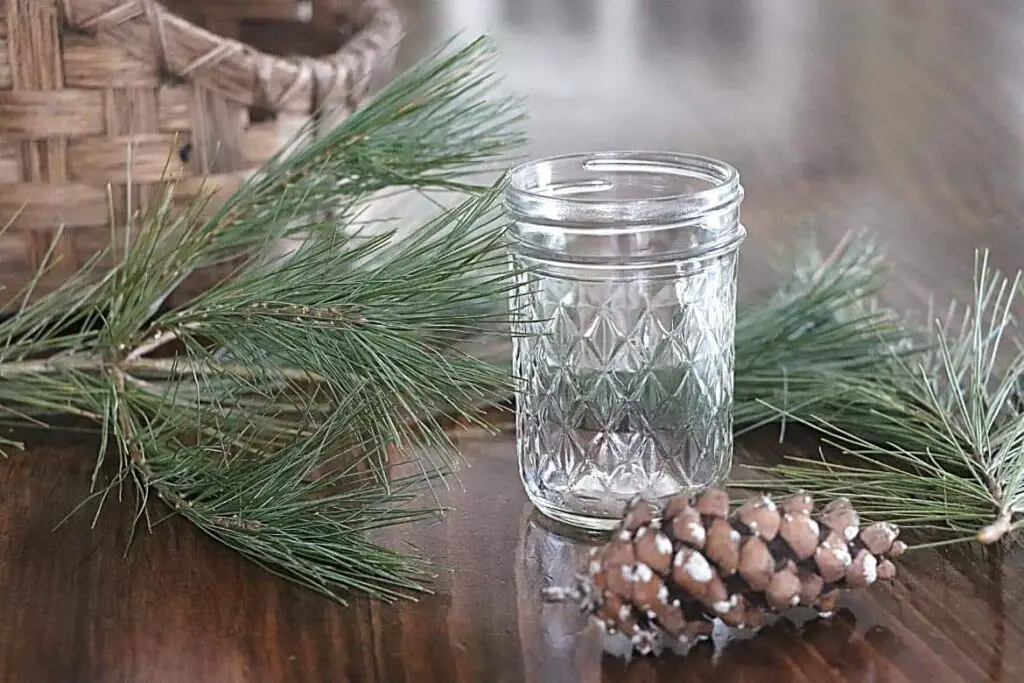 DISCLAIMER
Recommendations and or suggestions made by this blog regarding husbandry and or herbal remedies etc. are not meant to replace solid advice from qualified professionals.  None of the information on this blog has been evaluated by the FDA.  Products or remedies mentioned are not intended to diagnose, treat, cure or prevent disease.  Please do your due diligence.  Research, talk to qualified professionals and proceed at your own risk.
PINE NEEDLE TEA RECIPE
Pine needle tea is straight forward to make and probably the quickest way to utilize all the healing properties of white pine.
To make your tea, take a small handful of your prepared pine needles and add to your favorite mug. Pour boiling water that has cooled for a minute or so over the pine needles and cover your mug with a small bowl, another cup (a measuring cup works well) or a small plate to encourage the essential oils and beneficial properties to remain. Allow the mixture to steep for 15 to 20 minutes infusing the hot water fully with the essence of pine.
NOTE: Never boil the pine needles. Boiling the pine needles decreases the efficacy of the Vit C AND releases more of the terpenes, resulting in a bitter tea.
Your "tea" should turn a very slightly colored reddish brown and/or your pine needles should sink to the bottom of your mug. Strain through a fine mesh strainer if you like, although not necessary, and enjoy! Alternatively to avoid having to strain, infuse the pine needles cut small by using a tea ball, a tea spoon, or a tea bag.
PINE NEEDLE TEA OPTIONAL FLAVORINGS
Personally, I love the taste of herbal tea's as is. No sweetener, no nothing else added. Should you prefer a bit of sweetener, add a bit of honey.
Want to alter the flavors a bit? Add other herbs as well, and reap their benefits too! Considerations include thyme, peppermint, or chamomile. Or give a lemon a squeeze and add to the mix! The options are endless!
HOW OFTEN SHOULD YOU DRINK PINE NEEDLE TEA?
With any herbal preparation, too much of a good thing can quickly be turned to a bad thing. Although pine needle tea can be enjoyed every day, starting out slow by taking only about a half cup the first time will allow you to monitor any reactions or side effects.
PINE NEEDLE TEA CONTRAINDICATIONS
As with any herbal preparation, when in doubt consult with your primary care before taking. That being said, there are few contraindications for drinking pine needle tea.
IS PINE NEEDLE TEA DANGEROUS?
Pine needle tea is generally considered safe to drink.
That being said, women who are pregnant or nursing should refrain from consuming pine needle tea.
I've also heard that those taking the prescription drug "warfarin" (used for those with blood clotting issues) should not drink pine needle tea. Those who are scheduled for surgeries or other medical procedures should also refrain from consuming the tea for the same reason.
WHY MAKE PINE NEEDLE TEA?
Hopefully by now you are convinced of the benefits of making and giving pine needle tea a try! Need a couple more reasons to give it a go?
PINE NEEDLE TEA IS FREE! Where else can you get a daily dose of Vit C and so much more that's FREE and hopefully right in your own backyard?
PINE NEEDLE TEA IS DELICIOUS! Did I mention the flavor? It's fresh, it's unique, it's refreshing!
Hopefully I've given you a bit of inspiration for brewing up your own cup of pine needle tea by identifying your pine tree, foraging your needles and making the tea!
Will you be making pine needle tea today?
Love, Light, & Laughter ~

SHOP THIS POST
Enjoy this article? Please consider sharing it on your favorite social media channel! Want more? Subscribe below for the occasional update with all the "happenings on the hill"!