Violet tincture, an effective method for preserving violet flower and leaf and capturing the many violet healing properties it has to offer.
This post may contain affiliate links at no additional cost to you.  By making your purchases through the links on this website, IMSL may make a small percentage at no direct cost to you. IMSL only promotes products we use & truly believe in. Please refer to my Privacy & Disclosures for further information. IMSL thanks you for your support!
Some may call them "weeds".  I prefer to think of them as beneficials.  Beneficial to both humans and native pollinators alike.
Both edible and medicinal, the wild violet blooms right alongside the first dandelion blooms.
And I put both to good use.  From infused oils to infused vinegars, both of these "weeds" healing properties are a staple in my cupboards, both my apothecary and kitchen!
Join Us!

Keep an eye out for an upcoming tutorial on creating your own healing violet infused oil!
VIOLET BENEFITS
Why violet you may ask?  For the many benefits both the flowers and the leaves offer! 
Here are just a few of my favorite violet benefits … 
high in rutin, a plant pigment found in fruits, vegetables, and flowers (elderflower, rose hips), which offers antioxidant, anti-inflammatory, and a bunch of other "anti" properties to boot
contains salicylic acid, an organic compound often found in topical skin treatment products (think acne, psoriasis, dermatitis, and even dandruff and scalp issues) due to its anti-inflammatory and pain relieving properties
high in vit C and A
acts as a demulcent by creating a protective coating, making violet a great option for aiding with sore throats and coughs.  Think of violet as an amazing support to anything lung related
offers lymphatic support
violets are nourishing (think vitamins here), soothing (think throat issues), cooling (think inflamed, hot skin issues), and moisturizing (think dry, itchy skin or scalp)
Sharing Is Caring ❤️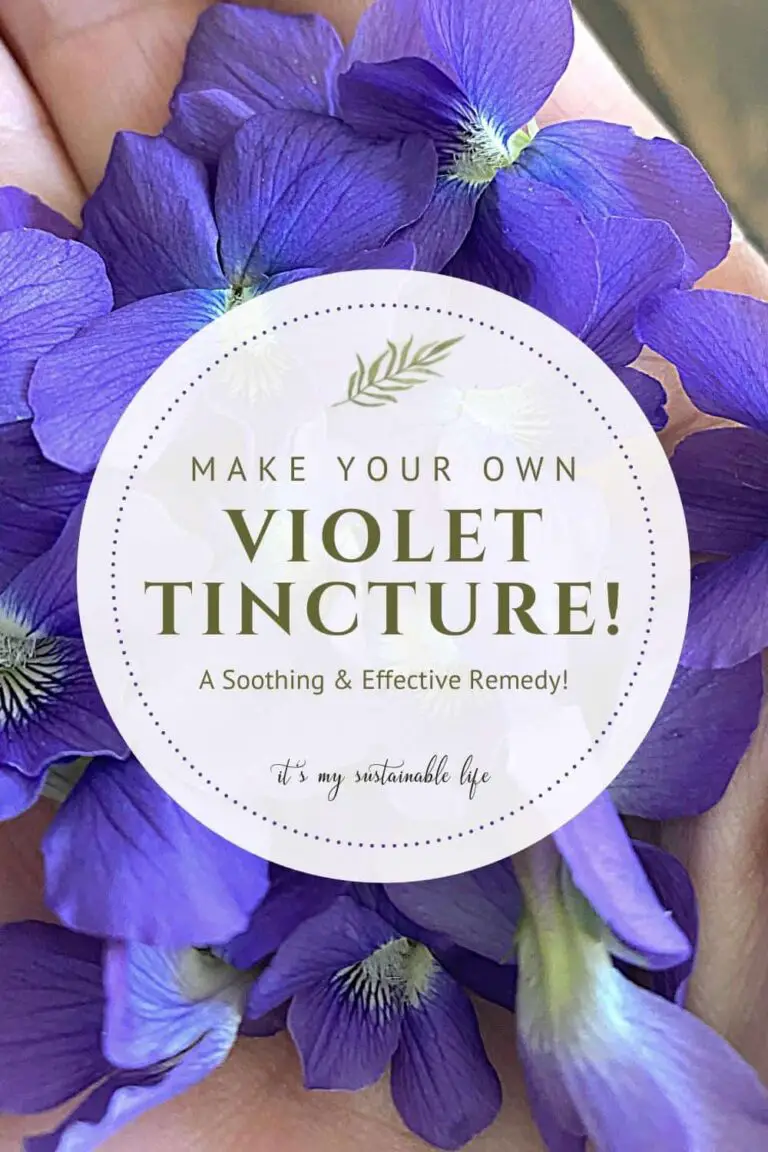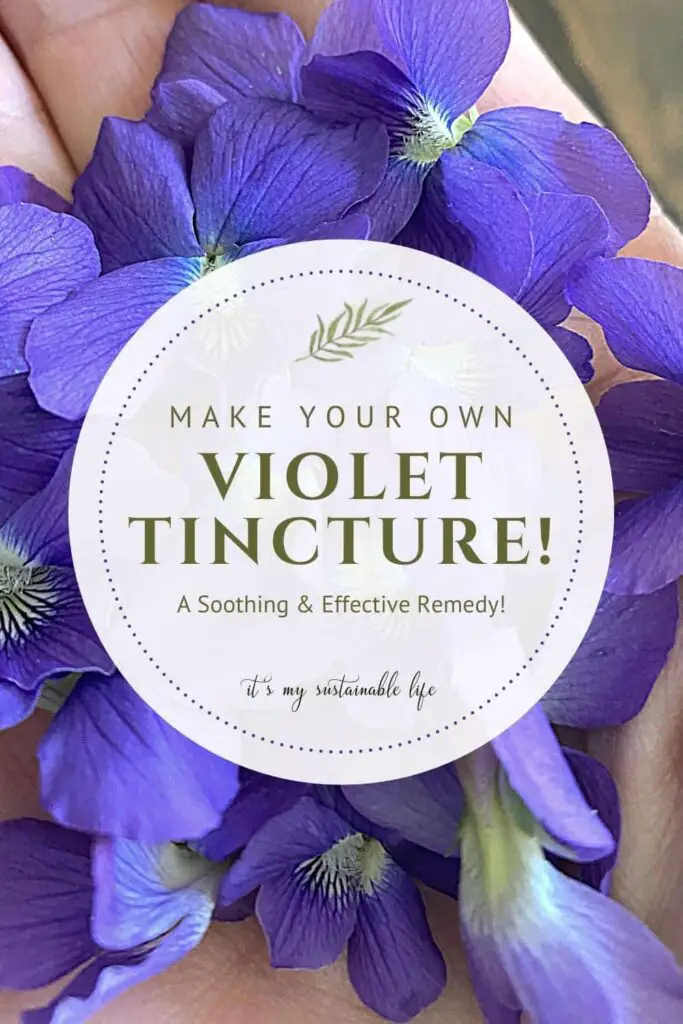 WHAT IS A TINCTURE?
Tinctures are a powerful herbal preparation which is made utilizing a menstruum, aka solvent, the most common being alcohol but can also use vinegar or glycerin as its extract.
In my article "Herbal Tinctures – Folkloric & Measurement Method" I describe tinctures as …
"a concentrated herbal extraction of the herbs essence using alcohol as a solvent." 

IMSL
WHY A TINCTURE?
Tinctures may be the easiest way for any home apothecary to capture and utilize herbal healing properties.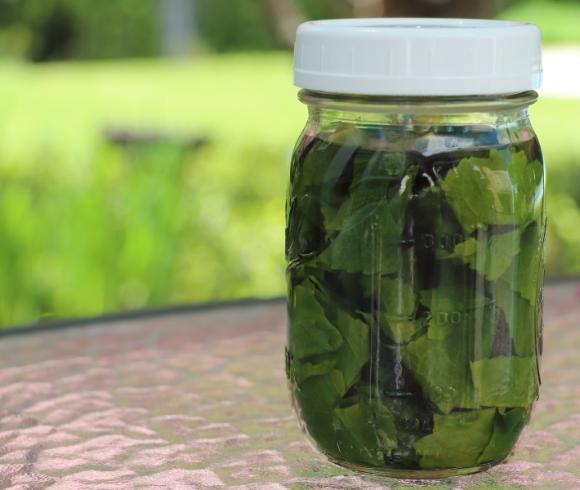 Why do I prefer a tincture?  Oh so many ways….
tinctures are readily absorbed into the bloodstream quickly
they capture the healing components of the herb or plant
the potency created allows for smaller dosages
they are easy to store
are simple to consume
easily transported
shelf-stable and long lasting
simplicity of making
cost effective to make
HOW TO HARVEST VIOLET FOR TINCTURE
As always, steer clear of any areas that have been sprayed or laden with chemicals.  Violet is so low growing most times that I also am conscious of where any four-legged furry friends may be relieving themselves and go elsewhere to harvest violet. Just sayin' 😅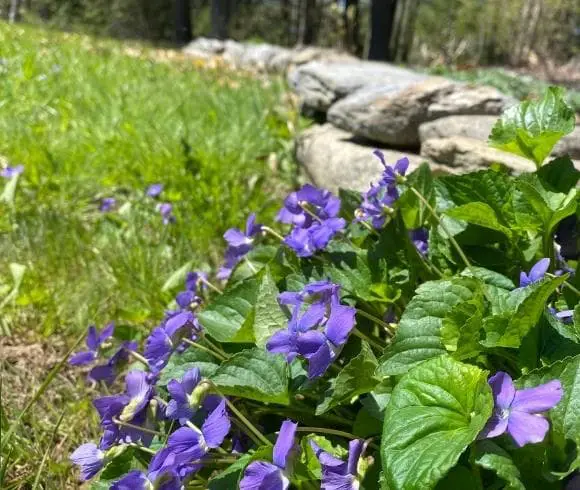 Choose only those flowers & leaves that are as clean looking as possible.
Harvest late morning once any dew has dried as violet is a delicate flower and will not last long.  
Choose flowers & leaves from the top 25% of the plant, making sure that the leaves are still a bit curled.
Take only what you need and leave the rest to self-sow for continued yearly harvests.
VIOLET TINCTURE – HOW TO MAKE
Once you've collected the flowers and leaves (I utilize mostly the leaves as I feel this is where the most healing properties come from), you are ready to make your violet tincture following these 5 easy steps.
STEP ONE:
Using plant material that is not wet, moist(refrain from washing), or showing signs of any other debris, coarsely chop them, allowing the alcohol to better connect with its healing properties
STEP TWO:
Place the coarsely chopped plant material into a clean jar of choice.  I utilize mason jars (I recommend using a wide mouth as it's easily filled) along with reusable lids.
STEP THREE:
Fill the jar with at least ½ full of a combination of leaves and flowers (roughly a 3:1 ratio), but I encourage filling ¾ way with loosely packed material.
STEP FOUR:
Using 100 proof alcohol (I recommend Vodka as it imparts no flavor), fill the jar full, leaving at least 1 inch headspace.  As a rule of thumb utilize a 1:3 ratio of plant material to menstruum.
A menstruum by definition is a "solvent".  When extracting a plant's healing properties using a menstruum we are in essence encouraging these properties to cross from the plant into the liquid, aka, an osmotic reaction.
STEP FIVE:
Should you not be using the reusable mason jar lids as recommended, make sure to place a square of parchment paper between the jar and any metal surface as corrosion may occur.
Agitate the jar a bit to ensure all the plant material has come into contact with the menstruum and that the plant material is completely submerged and that all air bubbles have dissipated.  Add more solvent if needed to create the 1 inch headspace.  
Place the tightly sealed jar into a dark, cool cupboard away from light.  Shake or agitate the jar every 2-3 days during the extraction period, typically between 4-6 weeks, but can extend that time if you wish. 
I prefer to allow at least a 6 month extraction period for my tinctures.

A BIT ABOUT SOLVENT CHOICES FOR TINCTURES
When considering what you will be using as a solvent for your tincture making, I get a lot of responses in regard to utilizing alcohol as the menstruum.
For a strongly concentrated healing tincture, alcohol is the best in my opinion.  Using 100 proof alcohol (1:1 ratio of alcohol to water) works best in my opinion, especially when you are looking to add time to the extraction process.
Should you be sensitive to alcohol, you can use glycerin as a base.  Be aware however, that the shelf-life is greatly reduced down to about 1 month when using glycerin as the menstruum.
You can find a complete tutorial on creating a glycerite based extraction HERE.  The process is the same when using violets.
DECANTING THE VIOLET TINCTURE
Once the extraction period has ended, you can now strain the plant material through a cheesecloth* or piece of muslin*.  Be sure that you have removed any remaining solids from the liquid so that the tincture will have a long shelf-life.
Give the plant packet a good squeeze, getting all you can from the spent flowers and leaves.
Using a dark amber glass bottle, decant your violet tincture, making sure to label with the contents and the date.
Tinctures properly prepared (remember that no plant material left?) can last upwards of 2 years!
Voila!  Your violet tincture is ready to use.
DISCLAIMER
Recommendations and or suggestions made by this blog regarding husbandry and or herbal remedies etc. are not meant to replace solid advice from qualified professionals.  None of the information on this blog has been evaluated by the FDA.  Products or remedies mentioned are not intended to diagnose, treat, cure or prevent disease.  Please do your due diligence.  Research, talk to qualified professionals and proceed at your own risk.
VIOLET TINCTURE – HOW TO USE
You can be sure come seasonal illness time of having ready at hand relief from your prepared violet tincture.
Here are a few of my favorite ways to utilize this efficacious tincture …
SEASONAL ILLNESSES – When lung, cough, and sore throats come a callin', it's time to break out the violet tincture.  Thanks to the mucilage found within this tincture, relief can be felt by soothing & coating hot, inflamed tissues, expelling mucus from the lungs, and easing sore throats.
Consider using the violet tincture in the making of a throat spray to ease pain by placing 2 Tbl of violet tincture along with 1 Tbl warm water and 2 Tbl of raw honey.  Mix well and place into a spray bottle.  When not in use, store in the refrigerator.  Spray the throat up to 3x per day with 2 to 3 sprays each time as needed.
LYMPHATIC ENCOURAGEMENT – Encourage an increase in the lymphatic system circulatory system by using the tincture either applied topically or taken orally
STRESS AID – Taken in an herbal tea or herbal infusion, this tincture can help reduce and calm stressful periods & anxiety issues
HEART HEALTH – Violet not only aids in soothing an emotional heart, the bioflavonoid "rutin" has been shown to aid in blood circulation, strengthen blood vessels, aid in blood clot prevention, and help overall heart health by lowering heart attack and stroke chances 
PAIN RELIEF – Salicylic acid & rutin works as a painkiller as well as an anti-inflammatory agent, making violet tincture a wonderful aid for those suffering from arthritic issues and the like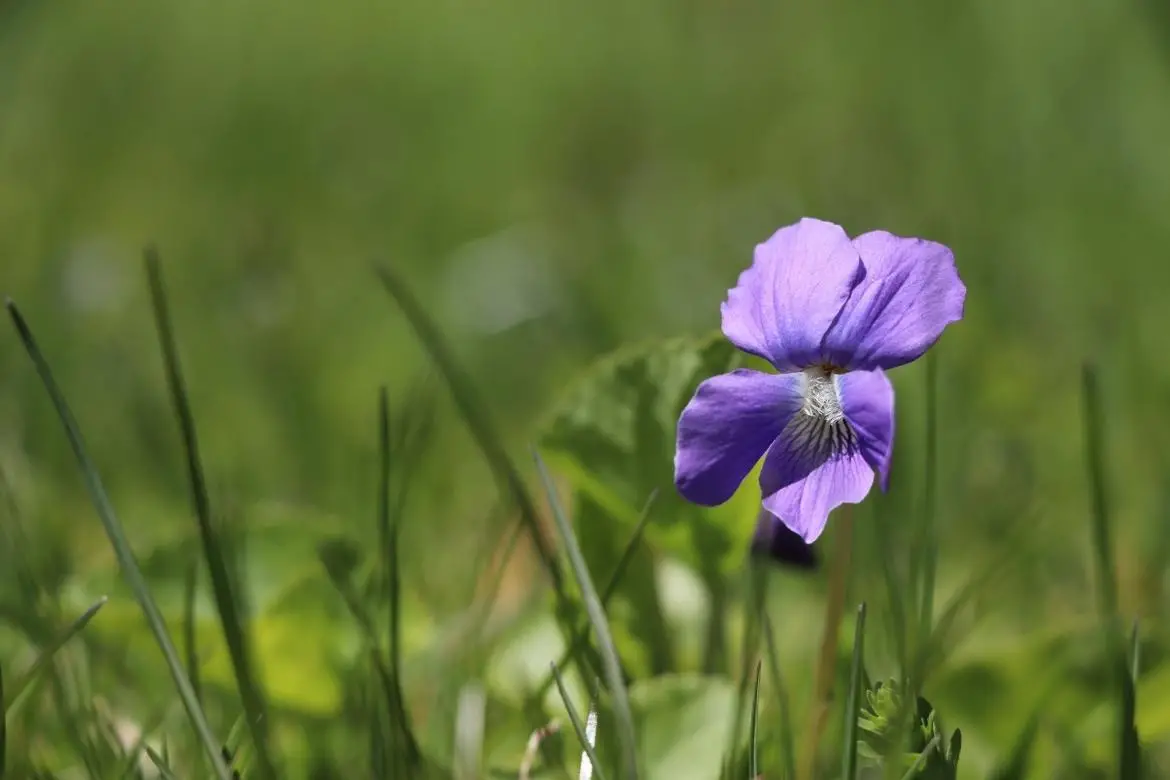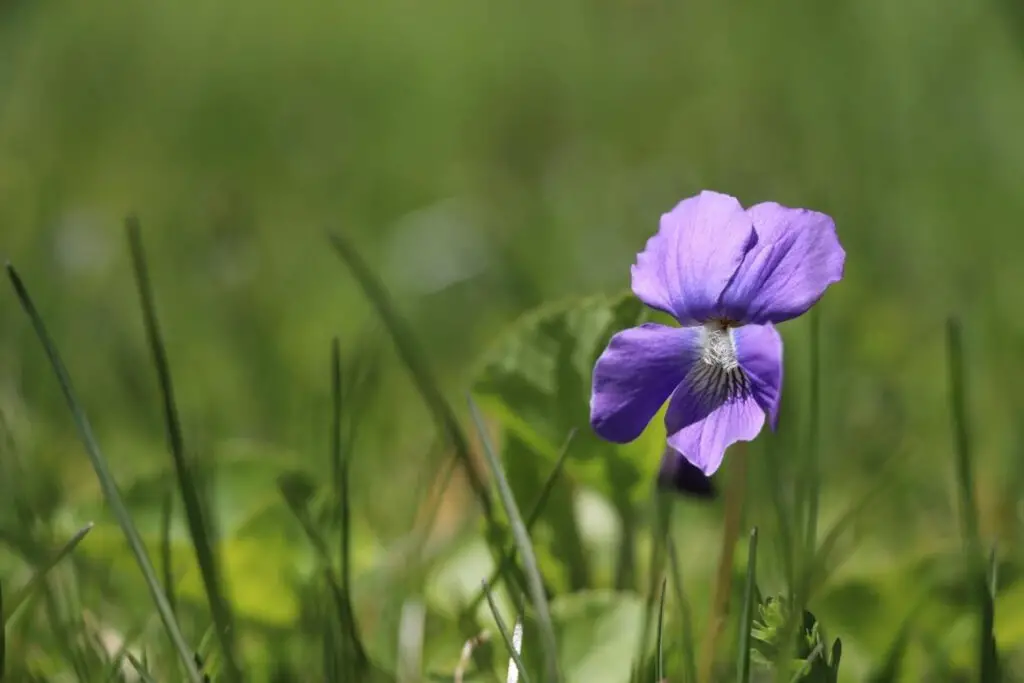 HOW TO TAKE VIOLET TINCTURE
As stated, tinctures are a concentrated, highly efficacious supplement with many uses.
As always, before beginning any new herbal regime, do your research & consult with your physician.
As a rule of thumb, violet tincture is typically taken in 2 to 3ml amounts 2 to 3x per day.
How you take the tincture is up to you.  You have a couple options.  Personally I like the direct method of taking it directly under my tongue for quick absorption.
This may be too strong for some.  If so, dilute with water or juice or adding it into a warm tea are also options.
SOURCING WILD VIOLET FOR VIOLET TINCTURE
Should you not be inclined to spend a bit of time foraging & harvesting violet, I understand.  They are a small flowering plant and take a bit of time to gather.
Fortunately you can source organic, dried flowers HERE.
Another of my favorite herbal sources is Mountain Rose Herbs where you can easily source the violet leaf.
Although not as potent, in my opinion, when using dried plant matter you will still end up with an effective tincture.
Now that you've discovered how easy it is to make and use violet tincture, hopefully you too will be heading out to gather violet and put it to good use in your cabinets!
What will you be using violet tincture for?
Love, Light, & Laughter ~

SHOP THIS POST
Enjoy this article? Please consider sharing it on your favorite social media channel! Want more? Subscribe below for the occasional update with all the "happenings on the hill"!