Stinging Nettle Root Tincture offers many potent health benefits.  Learn to safely and sustainably harvest stinging nettle root, how to make your own Stinging Nettle Root Tincture, and how to utilize this home remedy to its fullest.
This post may contain affiliate links at no additional cost to you.  By making your purchases through the links on this website, IMSL may make a small percentage at no direct cost to you. IMSL only promotes products we use & truly believe in. Please refer to my Privacy & Disclosures for further information. IMSL thanks you for your support!
Stinging Nettle Root Tincture is just one of the many applications we create from this efficacious plant.  Used for promoting hair growth and health, as an aid for men's prostate health (BPH), as a lymphatic strengthening aid, a home remedy for hemorrhoids (astringency helps to tighten blood vessels), as an adrenal support, and as a kidney and liver aid, Stinging Nettle Root tincture made from the root is a staple in our home apothecary cabinet.

Should you not be familiar with this amazingly beneficial plant, be sure to take a look at our comprehensive guide to stinging nettle!
WHY DOES STINGING NETTLE "STING"
This plant is aptly named for its memorable "sting", due to the tiny, stinging hairs located along the leaves and stems of the plant which creates a burning sensation or sting when rubbed.
Interestingly these tiny needle-like hairs (trichomes) pointy tips break off when touched releasing an irritating histamine mixture.  This histamine concoction results in a burning sensation, almost like you're being stabbed with many small needles.  For some, this burn or sting can progress into a full blown bumpy, red rash known as urticaria.
The ending result of the sting of this plant fortunately doesn't last long for most.
Ultimately, stinging nettle's "sting" has resulted in this plant getting a bad rap over time.  A rap we hope to debunk with a few tips for safely and sustainably foraging your own.
STINGING NETTLE ROOT CAUTIONS AND BENEFITS
Stinging nettle root's chemical composition has many benefits with few cautions.  Its roots also seem to have different therapeutic effects than that of its leaves & seeds.
As with most herbal plant preparations, stinging nettle power lies in the roots.  The roots are where the majority of the plant's energy rests.  
Sharing Is Caring ❤️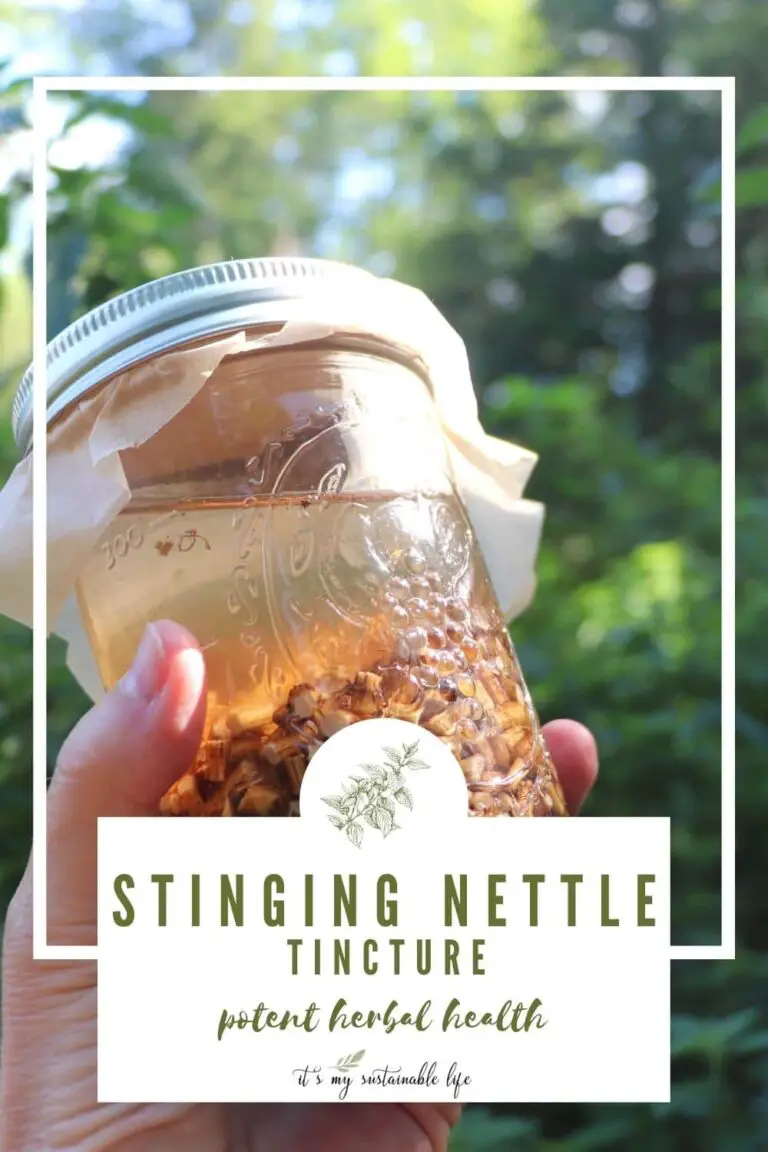 When you are looking for a gentle, everyday nourisher, the leaf of stinging nettle may be sufficient. 
When a stronger and more therapeutic result is called for (like myself with EBV), turn to the root of the plant.  
With few cautionary issues, stinging nettle root tincture is an easy way to create an efficacious and beneficial home remedy with a long shelf-life.
DISCLAIMER
Recommendations and or suggestions made by this blog regarding husbandry and or herbal remedies etc. are not meant to replace solid advice from qualified professionals.  None of the information on this blog has been evaluated by the FDA.  Products or remedies mentioned are not intended to diagnose, treat, cure or prevent disease.  Please do your due diligence.  Research, talk to qualified professionals and proceed at your own risk.
STINGING NETTLE ROOT TINCTURE CAUTIONS
Although few, there are a couple of cautions for utilizing stinging nettle root tincture …
NOT for use in pregnant women
Caution is advised for those with diabetes
Caution for those with bladder or kidney issues
Stinging nettle may interfere with some blood clotting medications
As always, when in question, consult with your healthcare provider before taking or beginning any herbal program.
STINGING NETTLE ROOT SIDE EFFECTS
Fortunately, stinging nettle root is considered safe when taken as directed. Although few and pretty rare, there are a few side effects of taking stinging nettle root.
Some have experienced…
Mild stomach upset
Sweating
Diarrhea
Fluid retention
Hives or rash (allergic reaction)
BENEFITS & USES FOR STINGING NETTLE ROOT  
As stated, when the immune system is under severe stress such as auto-immune issues like my EBV or constant exposures to harmful chemicals, stinging root tincture may help.
Help in what ways?  Here you go …
Urinary System Strengthener/Stimulant.  Nettle root infusions & tinctures may help ease urinary discomfort and promotes strong kidney function
Men's Prostate Health | BPH.  Stinging nettle root tincture may assist men with prostate health by reducing enlarged prostate, prostate disease prevention, and assisting with complete urination issues.  More on BPH (benign prostatic hyperplasia) below
Urinary Tract Issues. SN root contains beta-sitosterol, a secondary plant metabolite full of potent antioxidant properties, which has been shown to assist with UTI symptoms
Hair And Scalp Tonic.  SN tincture to the rescue for those with thinning hair, dandruff, & scalp infections may find assistance from rubbing the scalp 2x per day
First Aid.  Nettle root infusions may help dysentery, loose bowels, hemorrhoids, and diarrhea
As an aid for pain.  Sore muscles & joints, those suffering from arthritis and gout, or other painful issues can all benefit from stinging nettle
Seasonal allergies.  When seasonal allergies are an issue, stinging nettle root can help offering its anti-inflammatory properties and adrenal supporting nutrients
As a menstrual & skin support.  SN can help improve menstrual cycle issues as well as those dealing with acne & oily skin in women with elevated testosterone levels (hyperandrogenism)
Although nettle can be taken in various ways, teas and infusions, or eaten, it's the tincture that we find easiest & most efficacious to make and use.  Fortunately, making it is pretty straight forward.
STINGING NETTLE ROOT AIDS BPH IN MEN
BPH, benign prostatic hyperplasia, aka enlarged prostate in men which is not cancerous (benign) has been shown to benefit from taking stinging nettle root tincture.

BPH is also known by other names …
"Benign prostatic hyperplasia is also called benign prostatic hypertrophy or benign prostatic obstruction."
Stinging nettle root tincture is widely used in Europe to aid BPH symptoms including enlarged prostate, prostate cancer prevention, as well as helping complete urination in men.
A randomized double-blind study states that the use of nettle is now commonly used to aid men with BPH, stating that …
This same study overview states that in clinical trials of "287 patients who had been treated with nettle (Urtica dioica) showed significant reduction in IPSS, serum PSA and prostate size".
When used alongside other herbal remedies, saw palmetto being one, stinging nettle root tincture has been closely looked at as an effective aid for relieving urinary flow issues, incomplete bladder relief, post urinary drip, and constant urinary urges.
As with ANY herbal remedies, it's not recommended to self treat without the supervision and consultation of a medical care provider first. Especially to rule out any chance of a more serious illness.
HOW TO HARVEST STINGING NETTLE ROOT SAFELY & SUSTAINABLY
To enjoy all the benefits of stinging nettle root, get ready to dig.  But first dress appropriately as any contact with this plant will result in an instant jab and sting.
I recommend wearing a good, heavy pair of work gloves that cannot be easily penetrated by the prickly stingers.  Leather work gloves are my go to.
In addition, you will want to protect any exposed skin areas on the body.  The torso and arms by wearing a long sleeved work shirt made out of a dense material.  A denim long sleeved shirt works great for me.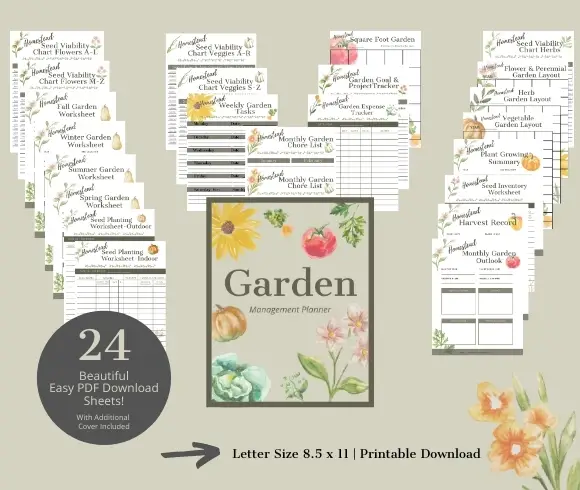 I also wear denim or similar long pants when harvesting stinging nettle roots as the top growth of the plant needs to be dealt with in order to access them.
Should you want to take harvesting the SN root one step further, consider harvesting by the moon cycles, waiting until just after a full moon.  The waning moon cycle.  After all, moon gardening is a biodynamic gardening method used by savvy gardeners throughout time 🤗
Why?  Folklore has it that during this phase of the moon cycle, the plant's energy has turned downward at this point.  Moon energy redirecting the plants energy into its roots. 
Once you've armed yourself with the proper protective attire, harvesting the nettle roots is pretty straight forward.  The best time to harvest the stinging nettle root is either in early spring before new roots begin to show or in the fall when the plants energy begins to turn inward toward creating additional roots.
Let's dig in.
Realize that harvesting the nettle root will most likely kill the plant.  Therefore, harvest sustainably by taking no more than ⅓ of the roots from any given nettle patch.  As always, waste not want not, and utilize as much of the plant as possible, its leaves (eaten or infused into oil) seeds (save, tinctured or dried) and stems (added to the compost pile or made into a garden fertilizer) 
Before digging, remember the nettle stalk can be quite tall.  Personally I don't want this stinging plant to fall on my head as I begin to dig 😅 Take a pair of sharp garden snips and cut the stalk near to the ground to avoid this.  Remember to utilize as much of the plant as possible & always compost any unused plant material, an amazing nutrient rich addition to any garden bed
It's recommended to begin digging at least a foot (31 cm) away from the foliage area to harvest as much of the root system without damaging them.  Once you begin digging, you will find 2 layers of roots; the surface roots will be the youngest & reside near the surface level, will be lighter in color, and the thicker fibrous roots which tend to be darker in color, grow vertically below them.  The thicker roots are what we are looking to harvest
NOTE: When looking to harvest the roots, find an area with loose soil for ease of digging.  In heavier soil the roots may be closer to the surface while looser, sandier soils deeper.  I'm fortunate to have my stinging nettle patch growing very near to my compost pile making it a quick and simple job.
I like to use a pitchfork to lift the roots from the soil, allowing me to easily separate them out
Once you've removed the desired roots, replace the removed soil around any exposed plants to ensure next year's nettle harvest. Although nettle is pretty hard to eradicate. For me as it grows prolifically in my compost pile, pulling up the majority of plant and roots at growing season's end is a must as I don't want it growing in my garden 😊
HOW TO CLEAN NETTLE ROOTS
Once harvested, use protective gloves & shake as much dirt from the roots as possible.  Snip any leaves and stems which may be remaining.
Wash the roots several times, removing any dirt or debris left.  Allow the washed roots to air dry for several hours. If you are looking to store just the dried root, allow them to dry completely which may take several weeks or more. Alternatively, you could utilize your dehydrator at 100°F until dried.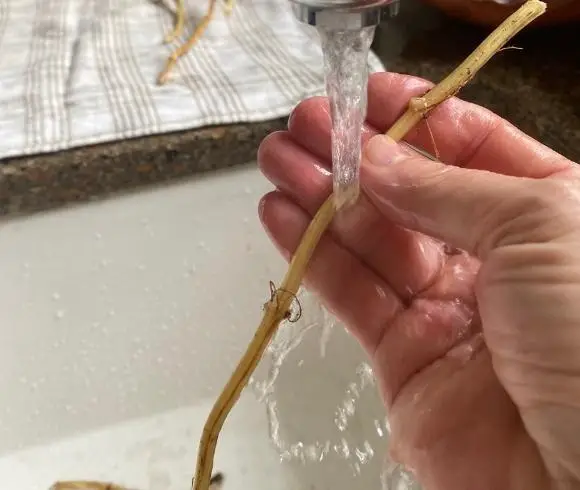 The roots are now ready to use in the making of stinging nettle root tincture or extract.
HOW TO MAKE STINGING NETTLE ROOT TINCTURE
When creating a tincture you have several methods you can utilize; the folkloric method or the measurement method.
Complete description and all the pro's & con's of each can be found HERE.  For ease, and quite frankly cuz' I'm a bit lazy and have seen no difference between using either method, we'll go with the folkloric method 😊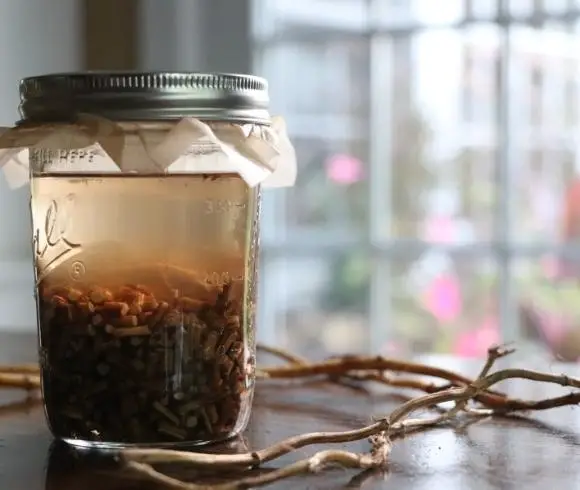 Prepare the stinging nettle root tincture by …
STEP 1
Gather your equipment for making the extraction …
Alcohol of choice (100 proof is recommended, vodka imparts little to no flavor)
Cutting board & sharp knife or scissors
Jar with *cover
Label & marker
*NOTE:  Should you be using a metal cover for the jar, place parchment paper between the lid and the jar as it can rust otherwise.  Optionally, use a leak-proof reusable plastic cover on the jar.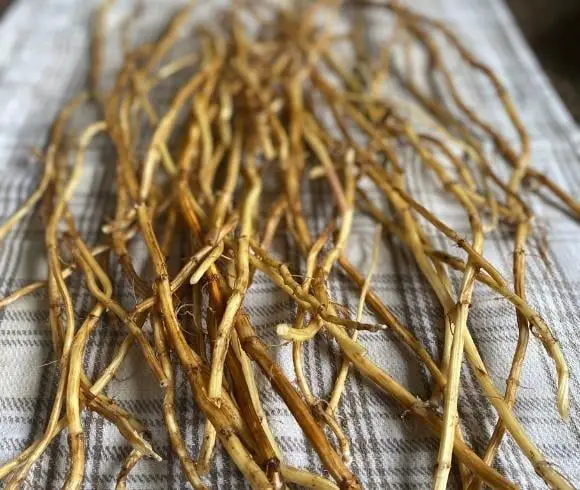 STEP 2
Prepare the stinging nettle roots which have been washed and dried by cutting them into smallish sized pieces.  As a general rule of thumb, the smaller in diameter the root the larger the length cut, the larger in diameter the root, the shorter in length cut.
STEP 3
Using a rough ratio of 2:1, prepared stinging nettle root to alcohol, place the roots into a jar of choice.  That being said, the amount of prepared nettle root you use is up to you. I prefer to use a bit more and will often fill the jar to almost 3/4 way full and cover with alcohol. I prefer mason jars for all my tincturing, but recycled jars work well too.
STEP 4
Cover the roots with the alcohol, sticking to the 2:1 ratio.
STEP 5
Cover tightly as described above, using a metal cap with parchment paper between the cap & jar or use a reusable, leak-proof cap.
STEP 6
Using a waterproof marker, label & date the jar.
STEP 7
Place the jar into a cool, dark cupboard, and allow it to sit for a minimum of 6 weeks (I prefer a much longer sit time of 6 months).  Plan on giving the tincture a shake every 2 to 3 days during the extraction time.
STEP 8
Once your preferred infusion time is up, through a fine mesh sieve, strain the plant material from the liquid giving the plant material a hard squeeze to remove as much of the beneficial properties and reserving as much of the liquid as possible.  Utilizing a potato ricer or press works wonders for this.
As there may be some degree of debris missed through the washing period, lining the fine mesh sieve with a layer or two of cheesecloth may be warranted.
STEP 9
Store the tincture in a dark amber colored jar.  I prefer to use tincture bottles with dropper for ease of use.  Make sure to label the contents and store the tincture in a cool dark cupboard or apothecary cabinet.
When prepared and stored properly, the stinging nettle tincture will remain viable for years.
USES FOR STINGING NETTLE ROOT TINCTURE
Stinging nettle root tincture can be taken in several ways.  When taken internally, diluted or straight up.  When taking it straight up, should you be able to tolerate it, take it under the tongue for faster absorption.
The suggested use amounts for this tincture is traditionally 1 to 3 droppers (1 to 3 ml),  2 to 3 times per day or as prescribed.  One dropper full is equal to approximately 20 drops or 1 ml.
Should you find taking it straight up too much for you, dilute the above amounts in a small glass of water or fruit juice.
Used topically, stinging nettle root tincture can be applied directly or made into creams, salves, and balms which are especially helpful for sore and painful joints and muscles.
Making your own stinging nettle root tincture is an easy and fun way to have access to this beneficial plant in your home apothecary.
Will you be making stinging nettle root tincture?
Love, Light, & Laughter ~

SHOP THIS POST
Enjoy this article? Please consider sharing it on your favorite social media channel! Want more? Subscribe below for the occasional update with all the "happenings on the hill"!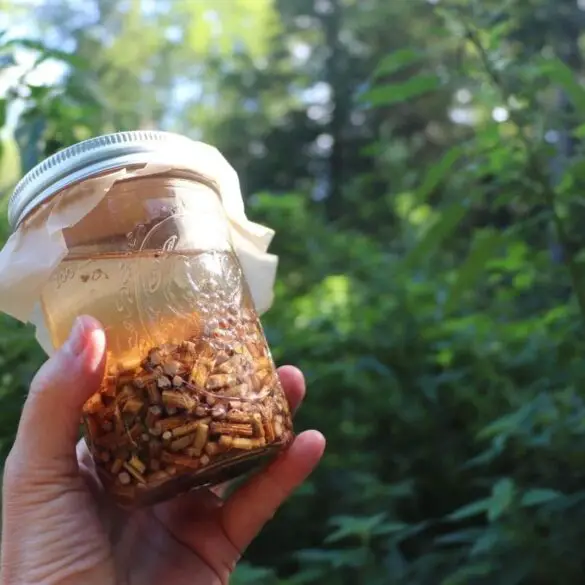 Instructions
Stinging Nettle Root Tincture
Stinging Nettle Root Tincture offers many potent health benefits.  Learn to safely and sustainably harvest stinging nettle root, how to make your own Stinging Nettle Root Tincture, and how to utilize this home remedy to its fullest.
Equipment
1 Pair sharp scissors or snips

1 Jar of choice

1 Lid (leakproof)

1 Alcohol of choice (100 proof is recommended, vodka imparts little to no flavor)

1 Cutting board

1 Label & marker
Ingredients
Prepared Stinging Nettle Root
Instructions
Prepare the stinging nettle roots which have been washed and dried by cutting them into smallish sized pieces.  As a general rule of thumb, the smaller in diameter the root the larger the length cut, the larger in diameter the root, the shorter in length cut.

Using a rough ratio of 2:1, prepared stinging nettle root to alcohol, place the roots into a jar of choice.  That being said, the amount of prepared nettle root you use is up to you. I prefer to use a bit more and will often fill the jar to almost 3/4 way full and cover with alcohol. I prefer mason jars for all my tincturing, but recycled jars work well too

Cover the roots with the alcohol, sticking to the 2:1 ratio (or until plant material is covered by at least 2 inches

Cover tightly as described above, using a metal cap with parchment paper between the cap & jar or use a reusable, leak-proof cap

Using a waterproof marker, label & date the jar

Place the jar into a cool, dark cupboard, and allow it to sit for a minimum of 6 weeks (I prefer a much longer sit time of 6 months).  Plan on giving the tincture a shake every 2 to 3 days during the extraction time

Once your preferred infusion time is up, through a fine mesh sieve, strain the plant material from the liquid giving the plant material a hard squeeze to remove as much of the beneficial properties and reserving as much of the liquid as possible.  Utilizing a potato ricer or press works wonders for this.

As there may be some degree of debris missed through the washing period, lining the fine mesh sieve with a layer or two of cheesecloth may be warranted

Store the tincture in a dark amber colored jar.  I prefer to use tincture bottles with dropper for ease of use.  Make sure to label the contents and store the tincture in a cool dark cupboard or apothecary cabinet
Notes
When prepared and stored properly, the stinging nettle tincture will remain viable for years