Making your own magnesium oil using this simple DIY spray recipe, will have you on the receiving end of its many benefits and uses.
This post may contain affiliate links at no additional cost to you.  By making your purchases through the links on this website, IMSL may make a small percentage at no direct cost to you. IMSL only promotes products we use & truly believe in. Please refer to my Privacy & Disclosures for further information. IMSL thanks you for your support!
Feeling tired, achy, and not getting proper sleep? It may be due to magnesium deficiency. With only 40% of Americans meeting the adequate intake values for magnesium, you may not be alone, according to WHO (World Health Organization).
Magnesium deficiency in this country has been dubbed the "silent epidemic", according to Dr. Jennie Ann Freiman. It doesn't matter what your lifestyle may look like, its extremely difficult, even with eating the healthiest of real food diets, to receive the proper amount of magnesium our bodies need.
MAGNESIUM DEFINED
So what exactly is magnesium & why is it crucial for proper bodily functions?
According to the National Institute Of Health, magnesium can be defined as the following….
Its been said that every cell in the body needs magnesium & should your body not have enough of this important mineral, the blood will do anything it needs to to replenish it. Including stealing it from your cells, according to Dr. Steven Gundry.

Unfortunatly, blood tests are not the most accurate as only 1% of the bodies magnesium is stored in the blood.
So how do you know if you are low in magnesium? According to Dr. Gundry, look for the following indicators.
Low mood
Irritability and confusion
Frequent migraines
Loss of appetite
Nausea
Weakness
Numbness and tingling
Muscle pain and cramping
Irregular heartbeat
It's always a wise choice to meet with your physician if there should be any question regarding magnesium deficiency, known as hypomagnesemia and is the 12th element on the periodic table of of elements, for yourself or your loved ones.
So what is magnesium oil exactly? Well, first, it's really not an oil but what I would consider more of a suspension.
It's labeled an oil due to its oil-like feel when applied to the skin.
WHY WE ARE LACKING IN MAGNESIUM
So why are so many today lacking in this vital mineral? So many are low due to dietary intake of whole, fresh foods such as spinach, broccoli, walnuts, beets, and yes, even dark chocolate. Never mind the lack of sleep, high stress levels, and consumption of alcohol, caffeine, and sugar which contribute to depleting our magnesium levels.
Even with the healthiest of diets, it's difficult to increase your magnesium levels. Why? Because of what's being done with our soil and water.
Conventional farming practices and high pesticide useage has depleted our soil of many nutrients. Including magnesium.
According to Dr. Gundry, a major source of our magnesium could be acquired through our food. Sadly, our soil worldwide, but especially here in the United States, has "become profoundly depleted in magnesium".
Evidence now show's that the current spinach levels contain only about 13% of the magnesium that it had in the 1950's. That about sums it up. Getting our daily source of magnesium from our foods is near to impossible.
In addition to all that good news? The mineral levels in our water supply are greatly diminished due to the water filtration systems.
Some good news for those living close to the shore, however. We can still replenish and take advantage of all the sea has to offer, both trace minerals and magnesium. But for many, finding other sources of replacement is necessary.
MAGNESIUM REQUIREMENTS
So what are the daily requirements for magnesium?
Adult women should be getting about 310-320 mg of magnesium. Those that are pregnant should add an additional 40-50 mg per day to that recommendation.
Adult men should aim for 400-420 mg of magnesium.
With food not being a reliable source of magnesium replacement, many like myself are turning to other sources. Magnesium oil being one of them.
MAGNESIUM OIL BENEFITS & USES
One of the easiest ways to increase magnesium levels is transdermally, or through the skin.
Why not an oral magnesium supplement? Many can experience adverse reactions when taking magnesium internally. Loose bowel movements and diarrhea being the most common.

Using magnesium oil is one of the quickest ways I've found for increasing my magnesium levels. The skin on our body is our biggest organ and can absorb at much faster rate than that of which goes into our body via the digestive tract. Increasing our magnesium levels doesn't have to be a long-term endeavor 😊
Simply spray it on the body after a shower or bath and go. One and done! Here are a few of the benefits you can receive when using magnesium oil regularly.
INCREASED MAGNESIUM LEVELS
Well, duh 😂 . This may be an obvious benefit from using magnesium oil, but it's one worth mentioning. In one pilot study conducted resulted in participants which "showed a larger percentage rise in both serum and urinary markers from pre to post intervention compared with subjects using the placebo".
Utilizing the magnesium spray, I can be sure that my levels are at least supplemented and increased over and above what I am receiving from my food intake.
MAGNESIUM OIL CAN HELP REDUCE PAIN
This may be one of the biggest reasons many begin utilizing magnesium oil. Magnesium oil "continues to play an "an evolving role in pain management" according to many studies.
When applied topically, magnesium oil can reduce pain & provide relief from issues such as localized back pain, tendonitis, carpal tunnel, menstrual cramps, restless legs, and even gut pain.
I can attest to this fact personally. My daughter who suffers from gluten & lactose intolerance will spray magnesium oil on her belly when having a reaction. Within a few minutes, the pain is greatly reduced, if not diminished completely.
One pilot study has shown positive results for those suffering from fibromyalgia.
MAGNESIUM OIL HELPS WITH SKIN ISSUES
Looking for smoother skin? Or help reducing acne issues? Using magnesium oil can assist.
Many opt to dry brush, shower then apply the magnesium oil for smoother, unblemished skin.
Dermatologists have long used magnesium to treat many skin issues like acne, rosacea, seborrheic dermatitis, psoriasis, and eczema.
MAGNESIUM OIL CAN IMPROVE DENTAL HEALTH
Sprayed orally, it's noted that magnesium oil can assist with reducing plaque that can build up as well as promoting healthy gums.
NOTE: You may not want to ingest it but rather spit it out as it can cause intestinal discomfort for some.
In fact in this research, a deficiency in magnesium has been shown to correlate with periodontal disease.
MAGNESIUM OIL CAN HELP REDUCE MUSCLE SORENESS
Have tired and sore muscles? Give them a spray with magnesium oil.
Athletes of all levels have long utilized magnesium spray for their tired and overworked muscles.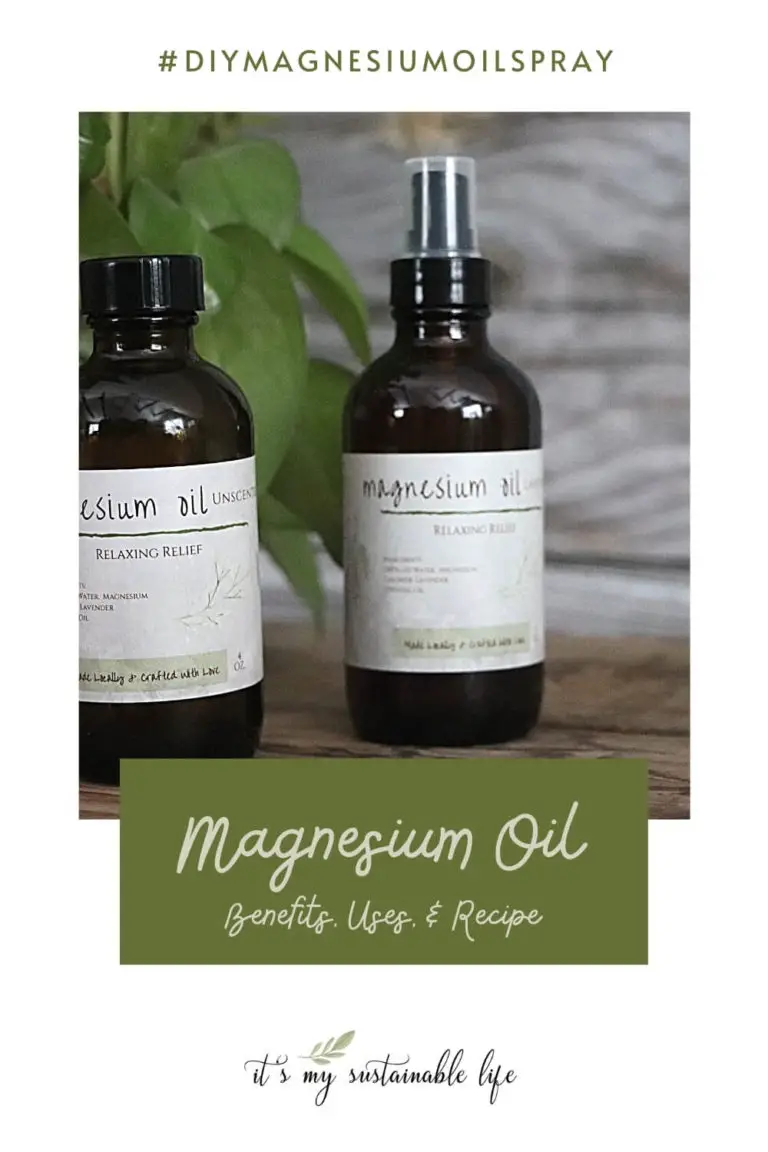 By utilizing the spray, relief can be had for cramping, tense and sore muscles, and replenishing magnesium levels that may have been depleted through sweating.
MAGNESIUM OIL CAN REDUCE HEADACHES & MIGRAINES
Much research is being done with using magnesium for those suffering with migraines and headaches. Although not an acute treatment, those who supplement regularly with magnesium show reduced frequency of migraine episodes & headaches.
MAGNESIUM OIL CAN ASSIST WITH STRESS REDUCTION
Now more than ever we can all use a little help when it comes to reducing overall stress levels.
Magnesium levels have been shown to greatly impact overall stress levels, mood, and even depression.
According to this abstract…
With magnesium levels greatly depleted from the use of pharmaceuticals, caffeine, and alcohol, upping our dosage of magnesium oil during stressful times may lower the risk of developing major depression.
MAGNESIUM OIL CAN ASSIST WITH SLEEP
Did your Grandmother recommend taking an Epsom salt bath when some relaxation was warranted? If so, for good reason!
According to this article..
I know I for one can tell when I've forgotten to use my magnesium oil spray or my levels are low. It's reflected in my nights sleep.
Maintaining proper magnesium levels has been shown to improve overall sleep time and to greatly shorten the time it takes to fall asleep.
NOTE: It's always good to experiment when taking any supplement. Some may experience the opposite affect from using the spray where sleep is concerned and wake more easily from using it. Obviously, those who experience this should not use magnesium oil spray before bed. Just sayin' 😊
These are just a few of magnesium oil benefits and uses. Should you suffer from hypertension, diabetes, and even PMS, you may wish to research the use of magnesium to increase your levels.
HOW TO USE MAGNESIUM OIL
Using magnesium oil could not be easier to use in order to reap the benefits for all the uses listed above and more. I typically use between 10-15 sprays per day after my shower, and approximately 5 sprays on the bottoms of my feet nightly, rubbing into the skin well. I moisturize with my favorite homemade moisturizer for dry skin thereafter, leaving the oil on.
Here are a few simple guidelines and suggestions for how to use magnesium oil. For best results apply to clean skin (ideally after a shower or bath), concentrate on affected areas, and definitely avoid broken or delicate skin!
HOW TO USE MAGNESIUM OIL FOR SLEEP
Should you suffer with sleep issues, simply spray the magnesium oil on the bottoms of the feet every night before bedtime. Rub the spray into the feet well and leave on for at least 20 minutes.
Washing your feet after application is a personal choice. I simply leave it on and am drifting off in no time flat.
HOW TO USE MAGNESIUM OIL FOR PAIN
For localized pain, focus the spray liberally on those areas, rubbing in well, and left to absorb completely.
HOW TO USE MAGNESIUM OIL FOR HAIR
One possible benefit of using magnesium oil is for use in treatment of hair loss.
Magnesiums ability to prevent calcium buildup on the scalp and its ability to help protein synthesis adds up to healthier hair with normal hair cycles (growing and resting stages).
MAGNESIUM OIL SIDE EFFECTS
With all the benefits and uses of magnesium oil listed here, there are very few side effects to make note of.
Most notably, when first beginning to use magnesium oil expect a slight tingling or stinging sensation to occur. This is normal and you can expect this reaction to be greatly reduced if not completely faded as you continue.
Should this be bothersome to you, you can always dilute the spray.
Your skin will soften with use but may feel a bit sticky to some. I find that by moisturizing after application, this sensation dissipates.
DIY MAGNESIUM OIL RECIPE
Making your own DIY magnesium oil spray couldn't be more simple. Gather the following supplies: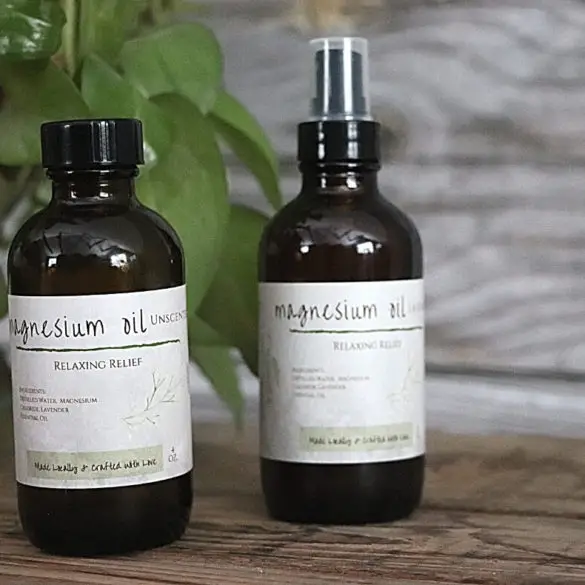 Ingredients
1 C Magnesium Chloride Flakes

1 Cup Distilled Water
Instructions
Place the distilled water in a sauce pan and bring to the boil.
Place the magnesium chloride flakes into a glass pyrex measuring 
Pour the distilled water over the flakes
Stir until completely dissolved
Allow to cool completely
Transfer to your glass spray bottle 
Store at room temperature for six months or more
Notes
For convenience, store the spray bottle in the bathroom or shower and use daily. Add essential oils such as lavender if wanted.
COMMON MAGNESIUM OIL SPRAY QUESTIONS
Some common questions that many will have concerning the use of this magnesium oil spray are hopefully addressed here.
WHY IS THIS SPRAY CONSIDERED AN OIL WHEN THERE IS NO OIL IN IT?
Well, actually because as stated it's more about how it "feels" when applied to the skin. This magnesium oil is considered a suspension and is definitely highly saturated with magnesium.
DO EPSOM SALTS WORK TO REPLACE THE MAGNESIUM CHLORIDE FLAKES?
I think not, and here's why. Epsom salts are actually magnesium sulfate and can be drying when used in a spray form. They also are not as readily absorbed into the skin as the chloride flakes.
Let's listen to Grandma here and keep the Epsom salts for our baths and maybe our peppers 😆
SHOULD I CHECK WITH MY PHYSICIAN PRIOR TO USING?
It's always wise to check in with your physician prior to beginning any new regimen. This especially holds true for those who are pregnant, nursing, or for children and animals. Obviously you would converse with your vet in that case 😂
CAN THIS BE USED AS A DEODORANT?
YES! Magnesium is a wonderful replacement for conventional deodorants many of which contain harmful chemicals.
I would not recommend spraying on freshly shaved underarms as it could irritate the skin.
Learning to make your own DIY magnesium oil spray couldn't be easier. Using the magnesium oil will have you on the receiving end of nothing but its benefits.
Don't feel like making your own magnesium oil spray? I've already done the work for you! Visit my Etsy shop and grabs yours today!
Do you already use magnesium oil? Let me know your experiences in the conversation below!
Will you be making this magnesium oil?
Love, Light, & Laughter ~

DISCLAIMER
Recommendations and or suggestions made by this blog regarding husbandry and or herbal remedies etc. are not meant to replace solid advice from qualified professionals.  None of the information on this blog has been evaluated by the FDA.  Products or remedies mentioned are not intended to diagnose, treat, cure or prevent disease.  Please do your due diligence.  Research, talk to qualified professionals and proceed at your own risk.