Elderflower tincture is a must have on hand, powerful home remedy we make each year.  Fortunately, making elderflower tincture is simple to do when following the elderflower recipe here!
This post may contain affiliate links at no additional cost to you.  By making your purchases through the links on this website, IMSL may make a small percentage at no direct cost to you. IMSL only promotes products we use & truly believe in. Please refer to my Privacy & Disclosures for further information. IMSL thanks you for your support!
Anyone who follows IMSL knows how much the Elder plant is put to use here on the hill.  Making elderflower tincture is just another tool in our home apothecary tool chest that we couldn't do without.

Each year you can find us utilizing the Elder plant along with its berries for the many healing properties it offers.  Whether harvesting elderflower for its many benefits or the elderberry for its many offerings, making elderflower tincture as well as a tincture from the elder's berry itself, or creating our own elderberry syrup to have on hand, we use every part of this medicinal plant we can for as many uses as we can.
WHAT IS ELDERFLOWER
Elderflower is the flower of the Elder plant, Sambucus Nigra.  It's the same shrub/tree of which we harvest our beloved elderberry.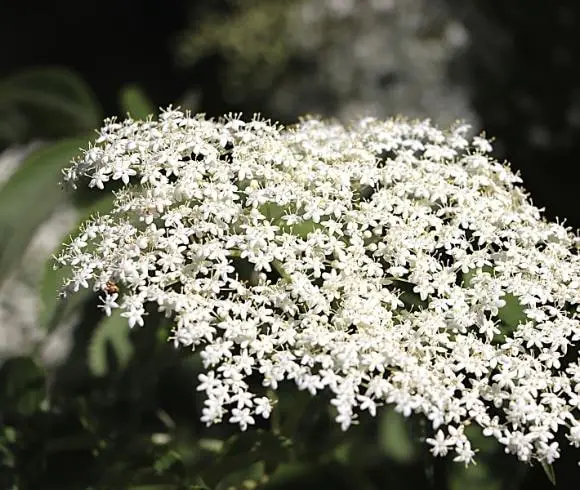 Elderflower is the first to appear early summer, and shortly thereafter the elderberry itself begins to develop.
"Elderflowers appear here in the NE right around mid-June.  The flowers themselves grow in a cap-like or flattened formation that's lacey in nature, creating a beautiful cluster of tiny white or cream colored flowers that tend to be star-shaped."

IMSL
The elderflower is easy to spot, growing in large umbels of star-shaped flower clusters, which can reach a lofty 4 to 12 inches in diameter!  Each individual flower within the cluster possesses 5 petals along with 5 pale yellow thin filaments which grow from the center of the flower.
Not only are these delicate flowers beautiful, full of a light, sweet scent, but are also chock full of many healing properties & benefits.
ELDERFLOWER BENEFITS
Ok.  I know.  I'm an elder snob.  I believe that the magical elder plant can offer some pretty amazing health preventatives & aids.
So much so that I wrote an entire article about just that.  Elderflower benefits.  
A few of which are …
CALMS THE NERVOUS SYSTEM
AIDS RESPIRATORY ISSUES
EASES JOINT & MUSCLE PAIN
OFFERS DIGESTIVE RELIEF
SOOTHES IRRITATED EYES
IS ELDERFLOWER GOOD FOR THE IMMUNE SYSTEM?
You betcha!  Elderflower boasts some pretty amazing properties!  The elderflower is a diuretic, laxative, antiviral, antiseptic, as well as hosts a plethora of anti-inflammatories.
In addition to all that, they are known to contain beneficial antioxidants and Vitamin C, both great for supporting the immune system.
WHEN TO FORAGE FOR ELDERFLOWER
Elderflowers are ready to be foraged for a short time here in the Northeast sometime during mid to late June.  However, it's largely dependent on the weather conditions. This year with our colder spring, harvesting elderflower was early July.
Take a look at the video below for the progression of elderflower growth.  It's one of my favorite times of the growing season, foraging & harvesting elderflower.
With any foraging endeavor, proper identification is key.  Take an in-depth look at how to identify elderflower before you head out on your own if you're unsure.
When it comes to harvesting the elderflower, take only from the caps which are fully opened, making sure that the centers are fully flushed out.  Take only the freshest in looks, and avoid any clusters with browning or dark yellow in color.  
Be forewarned, however, that when the flowers are removed from the cluster, the fewer berries will develop and be available for harvest later in the growing season.
As always, when foraging, take only what you will be using and need for your preparation, and always take no more than 25% of the plant.
Watch the short video below for a few harvesting elderflower tips.
Aren't able to forage your own? Consider purchasing dried elderflower from my favorite source, Mountain Rose Herbs.
WHAT IS ELDERFLOWER TINCTURE?
An elderflower tincture is a tincture made using the elderflower.  To fully understand what an elderflower tincture is, it's best to understand what a tincture is 😊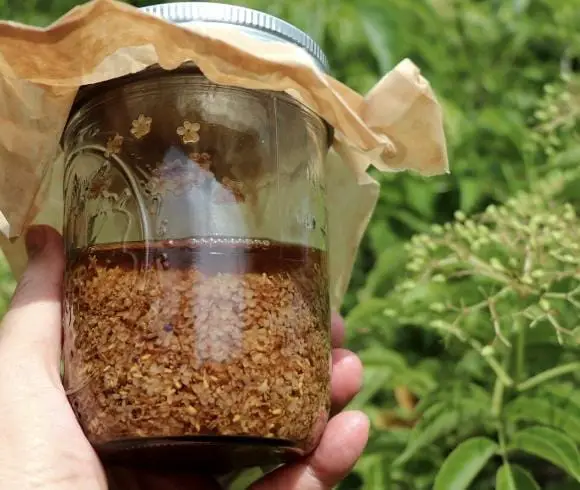 According to "Herbal Tinctures – Folkloric & Measurement Method", a tincture is in its simplest form …
"powerful herbal preparations that are made using a solvent".

IMSL
In this case, the herb (elderflower) is added to a solvent (alcohol) and allowed to sit for an extended period of time (minimum of 6 weeks up to 6 months).  This process draws the efficacious healing properties from the elderflower and infuses them into the liquid.  Thus creating a tincture!
ARE HERBAL EXTRACTS THE SAME AS TINCTURES?
These terms are often interchangeable.  Consider a few differences between the herbal extract and the tincture.  
TINCTURES – Tinctures made using alcohol are always considered tinctures.
EXTRACTS –  When alternative menstruums or solvents are used (vinegar or glycerin), they are often referred to as extracts and not tinctures.
Picky?  Maybe.  No matter what you call them, herbal extracts or tinctures, you can be sure of one thing.  They are an awesome addition to any home apothecary!
ELDERFLOWER CAUTIONS
As with many of Earth's healing offerings, caution should be used.  It can be easy to be cavalier when it comes to herbal remedies.  However, it should be remembered that they are powerful.  
And as always a disclaimer is warranted.
DISCLAIMER
Recommendations and or suggestions made by this blog regarding husbandry and or herbal remedies etc. are not meant to replace solid advice from qualified professionals.  None of the information on this blog has been evaluated by the FDA.  Products or remedies mentioned are not intended to diagnose, treat, cure or prevent disease.  Please do your due diligence.  Research, talk to qualified professionals and proceed at your own risk.
When it comes to the elderflower itself several cautions should be noted.  Braun & Cohen stated the following (taken from "Herbs And Natural Supplements – Vol 2″) …
PREGNANCY – Elder is safe to use when pregnant "in dietary amounts" but go on to state that "safety is not known when used in larger quantities"
ALLERGIES – As with many herbs, those suffering from allergies may also be allergic to the elderflower
ELDERFLOWER TINCTURE BENEFITS
Traditionally, elderflower is utilized to relieve and treat the common cold & flu.  However, many who experience seasonal allergies may find relief from it as well.

The amazing powers of the elderflower doesn't stop at just respiratory relief.  In addition to many elderflower preparations, it can be utilized for use in cosmetics and food too!
Here is a bit of breakdown…
ELDERFLOWER FOR HEALING
Considered to have expectorant, decongestant, and diaphoretic properties, elderflower boasts just about every "anti" out there.  "Exhibiting antiviral, anti-inflammatory, antioxidant, antibacterial, anti-proliferative, diaphoretic, diuretic, and anti-diabetic properties", according to Braun & Cohen.  In addition, elderflower boasts useful actions including as an astringent, decongestant, and as a nervine.
That covers a LOT of healing possibilities!  My favorite still remains utilizing elderflower tincture when the sniffles and chest congestion present themselves, helping to relieve excess mucus issues.
ELDERFLOWER FOR COSMETICS
Elderflower has long been utilized throughout the centuries for keeping wrinkles at bay, lightening freckles and age spots, and giving most all skin rash issues, including eczema outbreaks, measles eruptions, diaper rashes, chapped skin, and even easing sunburns a bit of aid.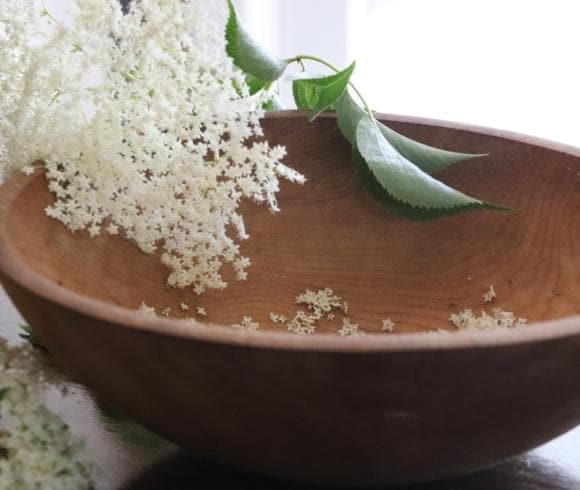 How?  Through a simple infusion of elderflower.  Infusions are simply herbs or plant material which has been steeped for long periods of time in water, oil, vinegar, etc.  For complete information on all things herbal infused, take a look HERE.
These infusions are wonderful for using in skincare regimens utilizing as a facial spritz/toner, added to a soaking tub, or even added to a facial steam.
Be sure to store your infusion in the fridge.  It will last only a couple days.
ELDERFLOWER FOOD IDEAS
Elderflower's light scent and flavor makes for some pretty delish dishes, syrups, tea, cordials, cocktails, wine, desserts, baked goods, and even ice cream!
The edible elderflower can even be made into a delectable fritter!  Be sure to visit my friend's, Ursula & David , for their appetizing Austrian version of elderflower fritters.
THE SCIENCE BEHIND THE ELDERFLOWER
Inflammation in the body is directly related to a wide variety of issues.  These issues can negatively impact almost every vital bodily organ, and in most cases more than just one at a time.  Auto-immune issues?  Yup.  Big time.
Fortunately for those of us who suffer auto-immune issues, more and more studies are now being held at how to reduce inflammation in the body naturally.  Step in the elderberry & the elderflower.
It's now believed that the elderflower & elderberry, which possess magical "phenolic compounds", offer "diverse biological activities" including anti-inflammatory, antioxidant, and anti-diabetes effects.  And not just suggested by our Grandmother's folklore.  Now by the scientific community as well.
HOW TO MAKE ELDERFLOWER TINCTURE
Typically tinctures utilize a 1:5 ratio of herb to alcohol. Personally, I'm not that specific and prefer the folk method of placing the plant material in a jar and covering it completely with 100 proof alcohol.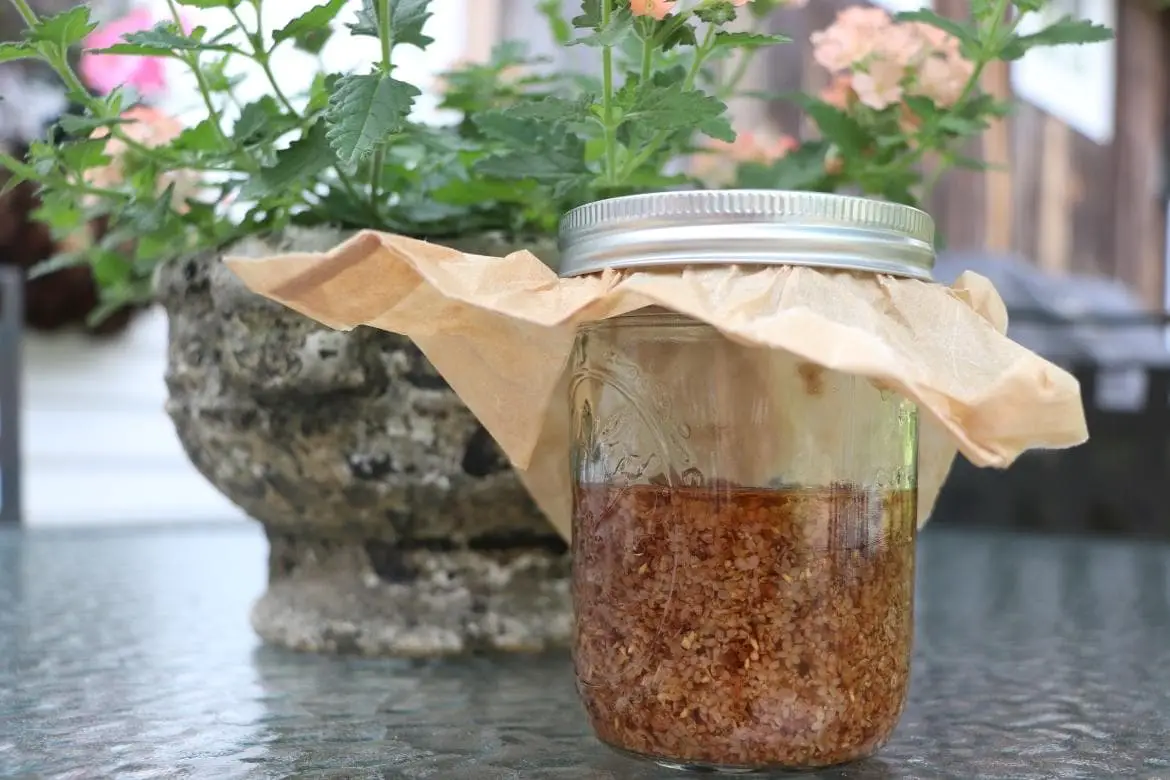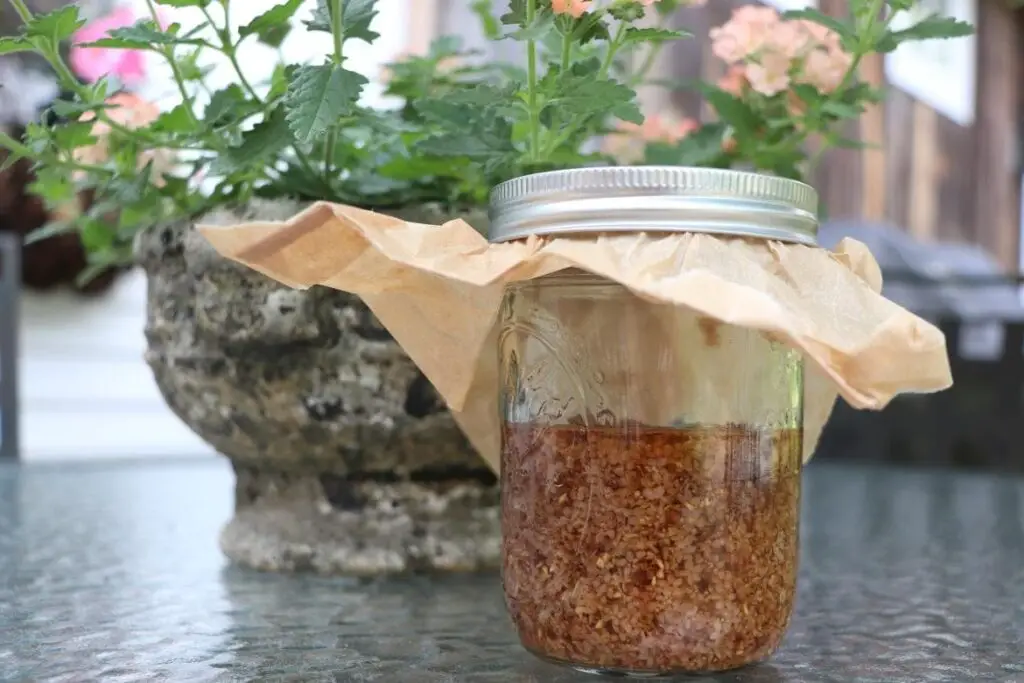 To make your own elderflower tincture follow these simple steps …
Harvest the elderflower (refer to the video above for tips), making sure they are clean and no hitchhikers are present
Place the flowers in a jar of choice, making sure it is clean, until its approximately ¾ full of flowers
Fill the jar with 100 proof alcohol, I prefer vodka as it imparts no flavor
Cover & label and date the jar, placing into a cool dark cupboard & giving the jar a shake every few days.
Allow the tincture to remain for a minimum of 6 weeks.  I prefer to allow mine to marinate and infuse for at least 6 months or longer.
When ready, strain the liquid from the plant material through a fine mesh strainer, nutbag, or cheesecloth, making sure to squeeze all the liquid possible from the material
Store the tincture in a dark jar.  I like amber glass bottles with a convenient dropper top, making sure to label appropriately
ELDERFLOWER TINCTURE – WHEN TO USE
When do you know when it's time to break out the elderflower tincture?  Here are a few thoughts …
As a general immune support
When you feel "off" or as though you are coming down with something
To aid congestion & to help stimulate the sinus
When you're feeling energetically depleted & fatigued
Allergy flares (think runny nose here)
To ease respiratory issues due to seasonal viruses or allergies
When you are experiencing auto-immune flare-ups
For pain relief
To help ease coughs & soothe the chest
ELDERFLOWER TINCTURE DOSAGE RECOMMENDATIONS
When you are experiencing any of the above and need a little help, take one teaspoon of elderflower tincture in either water or juice, 1 to 2 times per day as needed.
Alternatively, you can add a few drops of tincture directly onto a sugar cube and allow the sugar cube to dissolve in the mouth.
Should you be concerned with the little alcohol within the tincture due to aversions or children, you can promote the release of the alcohol by bringing 7 ounces (200 ml) water to a boil.  Remove from the heat and allow the water to cool to 176°F (80°C).  Add the dosage drops of tincture to the water, allowing it to rest for a further 20 minutes.  This allows the alcohol content to evaporate.  Drink the liquid as is.
ELDERFLOWER & HERBAL COMBINATION SUGGESTIONS
As powerful as elderflower tincture is, there is room for adding an additional boost from combining other herbal allies along with it.
A few suggestions are below with links to help you along the way …
Add yarrow, a natural remedy for seasonal viruses
Add an infusion of rose hips for an added immune support and pain relief
Add golden paste (turmeric) and create a powerhouse anti-inflammatory ***Not for use with those with gallbladder issues, liver issues, ulcers or pregnancy.
Add echinacea to aid ear infections or pain
Add stinging nettle to help ease seasonal allergies
Elderflower tincture is versatile, easy to make, and beneficial to use.  
Will you be making elderflower tincture?
Love, Light, & Laughter ~

SHOP THIS POST
Enjoy this article? Please consider sharing it on your favorite social media channel! Want more? Subscribe below for the occasional update with all the "happenings on the hill"!