Making & using elderberry tincture is easy to do and is considered one of the best home preventative & remedies for seasonal illnesses.
This post may contain affiliate links at no additional cost to you.  By making your purchases through the links on this website, IMSL may make a small percentage at no direct cost to you. IMSL only promotes products we use & truly believe in. Please refer to my Privacy & Disclosures for further information. IMSL thanks you for your support!
The old Latin proverb dating from the 1600's, "forewarned is forearmed", is never more applicable than when preparing for the cold and flu season.   The immune-boosting benefits of elderberries is something I take full advantage of when building my arsenal of cold, sinus, & general seasonal illness prevention methods.
Elderberry
Black Elderberries are the fruit from a flowering shrub known as Sambucus and is part of the the Adoxaceae family.  Here in the Northeast, they can be readily found growing near wet, boggy areas.  The fruit is ripe for the picking between mid-July and early August, weather depending.
ELDERBERRIES BENEFITS
Elderberries are nature's immune-boosting nuggets.  The berries are nutritious, rich in flavonoids, and high in vitamin C, vitamin A, bioflavonoids, beta-carotene, iron, and potassium. (Gladstar, 2012).  
Elderberry fruits are an excellent source of anthocyanins, vitamins A and C and a good source of calcium,
iron and vitamin B6 (Table 1). They also contain sterols, tannins, and essential oils (Anon. 2005) and can readily be considered a healthy food.

D. Charlebois
Sambucus is a medicinal plant steeped in rich folklore. Today, the berries are mainly harvested for creating seasonal remedies as well as prevention.
Interest in the benefits of this plant has increased in the last few years.  Research is now being conducted.  One such study led by a group of Australian scientists utilized 312 airline passengers on an extended flight.  The results showed that those passengers taking the elderberry supplement experienced greatly reduced intensity and length of colds as opposed to those who took the placebo.
My personal experience as someone dealing with an auto-immune issue, when taking this tincture, I am able to ward off cold and flu's even when my family is experiencing the viruses.  When I do contract a virus, it is indeed shorter and less intense.
HARVESTING ELDERBERRIES
As stated, the berries are ready for harvest mid-summer when they turn a deep purple/black.  They will become heavy and appear to hang upside down on the bush.  Only harvest the ripe, dark berries as green berries, like the ones shown below, can be toxic.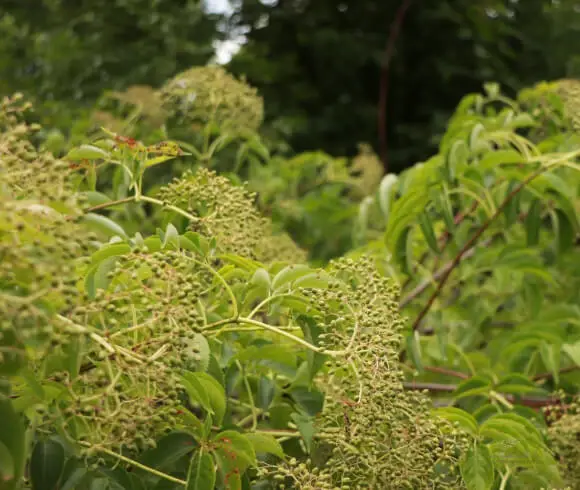 Elderberries will ripen in stages, usually within a few days of each other.  When they begin to ripen you may need to harvest every day or so.  To pick, simply cut at the stem base of the berry head, where the stem meets the leaflets.
Plan on processing your berries the day they are picked as they will begin to ferment within 12 hours or so. 
Give the berry heads a quick swirl in water to release any debris, insects or dirt.  Let dry for 15-20 minutes before removing from stems.
To remove the berries, I like to use the "fork method".  Simply hang the berry head over a large bowl and use the tines of the fork to release the berries from the stems.  You can then remove any stems remaining from the bowl.
I was able to harvest about one gallon of berries this year and chose to freeze for future use as I already had enough tincture made for this winter.
Don't have access to elderberries for harvesting?  You can order dried berries here or here.
PROCESSING ELDERBERRIES
Once your berries are harvested and you have determined their use, time to process.  As stated, they can easily be frozen for future use or processed immediately. 
They can be made into jams, jellies, pies, wine, or syrup and tinctures.  I have my grandmother's handwritten recipe for wine from the early 1900s that I want to try making, maybe next season!  I personally prefer to tincture mine as the tincture makes a great base and lasts the longest.
WHY ELDERBERRY TINCTURE
As stated, it lasts.  It lasts a long time without worry. 
It's easy!  Making tinctures is one of the easiest processes for herbal remedies that I do. 
I find that tinctures also seem to be more efficacious for me.  As the tincture is taken under the tongue, it's medicine enters the bloodstream quicker than having to digest it.  If taking it under the tongue is too intense, it can be diluted with a bit of water and ingested.
The tincture (about 1 Tbl) along with local honey (about 1 Tbl) makes a wonderfully powerful prevention and soothes the throat.  Simply mix together and take a teaspoon as needed throughout your day.
HOW TO MAKE ELDERBERRY TINCTURE
When I make the elderberry tincture, I make a quart at a time.  Simply fill the quart mason jar 1/4 of the way with dried or 1/2 of the way with fresh berries.  Pour 80 proof vodka into the jar until almost to the top. 
Cover with a lid, give a good gentle shake and place in a dark cupboard for at least 4-6 weeks at a minimum.  I like to let mine marinate much longer if possible.  Give the jar a gentle shake every now and then while infusing.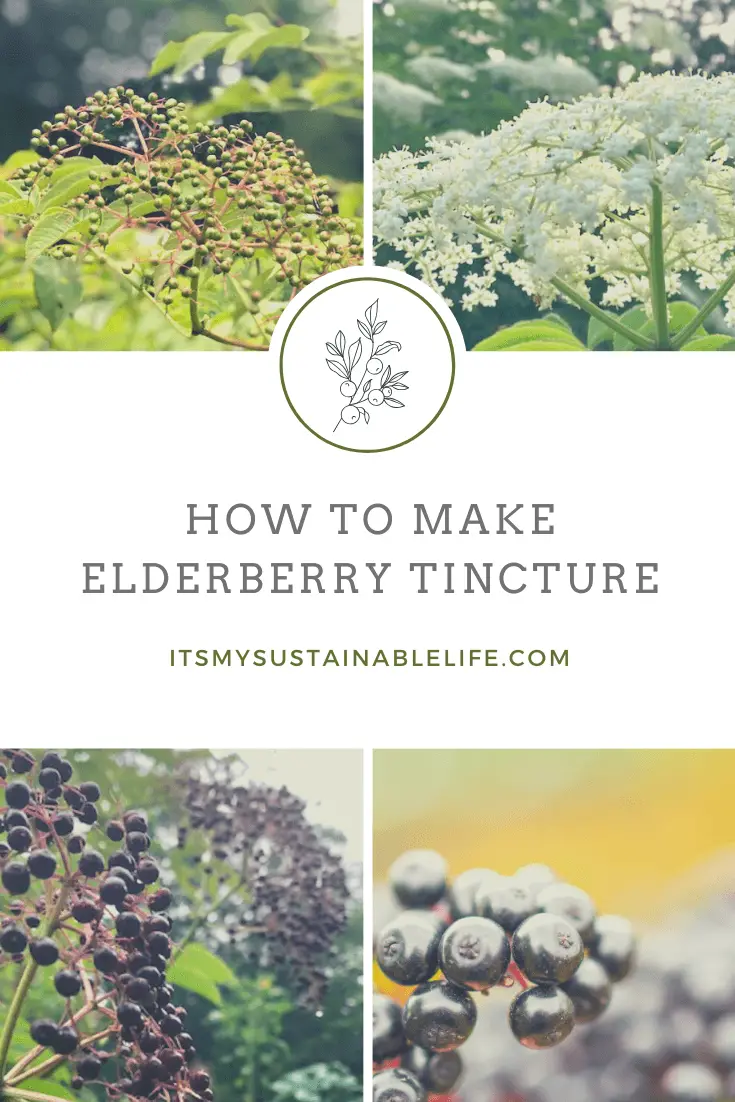 Once completed, strain into another jar.  Squeeze all the goodness you can from the berries, removing and discarding them once completed.  Your tincture is now ready for use.
For some, using alcohol to tincture is not an option.  This can also be made using glycerin.  I personally have not used this method before, but the process is very similar.  Simply substitute the alcohol with a 1:1 ratio of glycerin and water (I would recommend distilled water), cover your berries as described previously and place in a dark cabinet as stated prior.
HOW TO USE ELDERBERRY TINCTURE
Whichever method you prefer, you can be sure of having a steady supply of elderberry tincture that lasts throughout the winter with this recipe.  When you feel a bit off, begin taking this tincture 1-3 times per day, one full dropper-full or one teaspoon under the tongue if tolerated or dilute in a bit of water or juice.
SHELF LIFE OF ELDERBERRY TINCTURE
When elderberry tincture is made using alcohol as it's base, the shelf life of elderberry tincture is pretty much indefinite. Many claim alcohol based tinctures remain viable for 5 years. We've never had any last that long to test the viability quite honestly 🙂
When making your tincture with a glycerin base, the shelf life is greatly reduced to approximately one year as opposed to the alcohol base method.
No interest in making your own?  Click the button below for a full listing of organic products & preventatives grown, harvested, & made here on the hill and available to you.
Love to hear about your tincture process!  Be sure to join the conversation below and follow us on all social media channels!
Love, Light, & Laughter ~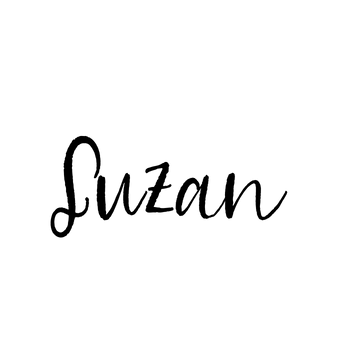 FDA Disclaimer
*Recommendations and or suggestions made by this blog regarding husbandry and or herbal remedies etc. are not meant to replace solid advice from qualified professionals.  None of the information on this blog has been evaluated by the FDA.  Products or remedies mentioned are not intended to diagnose, treat, cure or prevent disease.  Please do your due diligence.  Research, talk to qualified professionals and proceed at your own risk.  See my full disclosure for further information.  **Photo courtesy of Pixabay.com
This article was featured at the Homestead Hop!