Making kombucha using the continuous brew method is not as hard as you may think.
This post may contain affiliate links at no additional cost to you.  By making your purchases through the links on this website, IMSL may make a small percentage at no direct cost to you. IMSL only promotes products we use & truly believe in. Please refer to my Privacy & Disclosures for further information. IMSL thanks you for your support!
Kombucha, a trendy fermented pro-biotic rich fizzy drink, full of health benefits can now be found readily at your local grocer. Why buy when you can learn how to make this effervescent microbial drink yourself for a fraction of the cost!  Why would you want to do that? 
WHAT EXACTLY IS KOMBUCHA?
Kombucha is a carbonated beverage comprised of fermented tea, sugar, and yeast.  It is made using a "scoby" or mother along with "starter tea".   After the fermentation process, the tea's flavor is somewhat sweet (that can vary) and somewhat fizzy (that can vary).  The carbonation is created during the fermentation process.
Many will refer to the "scoby" as a mushroom.  It is in fact, not a mushroom at all.  Then what is it?  According to Wikipedia, a scoby is as follows:
A GOOD indication that the culture is viable, alive and healthy, it should have the following qualities:
Good Size/Growth of "baby" or new scoby

Rubbery In Texture

Develops new "baby" quickly

Taste of Kombucha Tea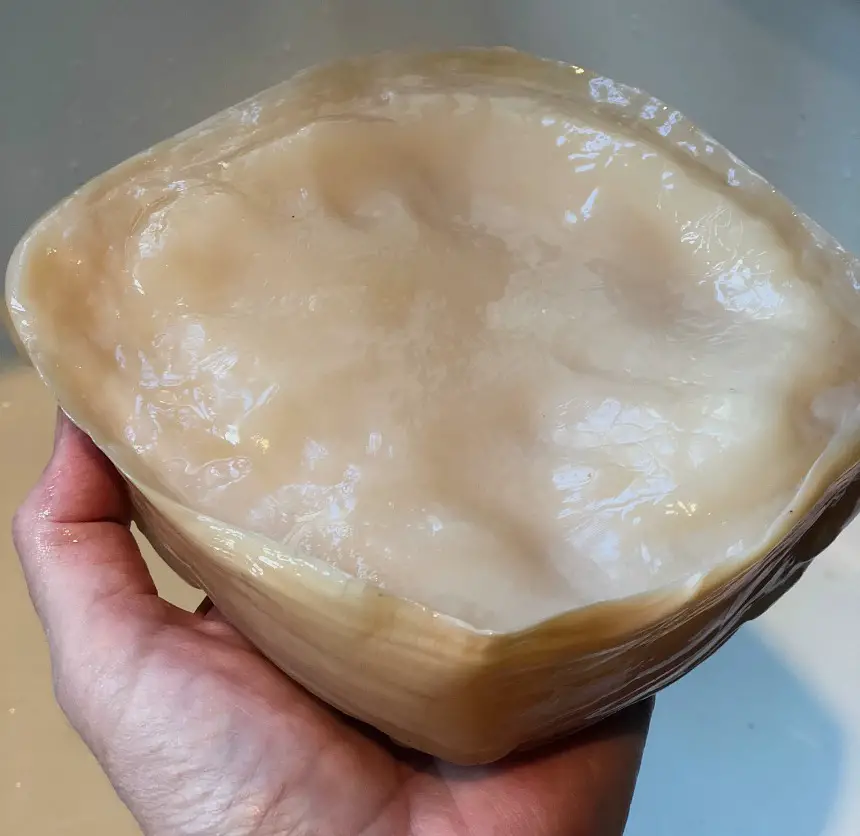 KOMBUCHA SCOBY SIZE DIFFERENCES
A healthy "scoby" culture that is thick just means it is able to produce a "scoby"  with strong cellulose tissue.  If your scoby has thin pancake-like layers like in the picture above, it is still a healthy, viable culture.  It just did not bind together as with a smooth thick one. 
KOMBUCHA SCOBY TEXTURE
The mushroom or "scoby" should have a rubber-like texture.  As the culture ages, it may feel a bit softer and maybe even a bit slimy.  This is not an indication that it's not healthy.  This just means that it's aged and may not be quite as viable or full of life anymore.
KOMBUCHA SCOBY GROWS QUICKLY
Temperatures while fermenting can play a large roll in how quickly your culture grows.  The time factor in the viability of the culture, therefore, is not a hard and fast rule.  If your culture is growing a new one quickly, however, that is wonderful!  This means that the microbes are strong and fast acting.
ULTIMATE KOMBUCHA TASTE TEST
Taste is probably the most important factor in determining if your culture is healthy.  If the fermentation is producing at an extremely slow pace, there is most likely something off with the culture.  If, however, it is fermenting at a rapid pace, something is off between the bacteria and yeast.  Channeling a little Goldilocks is needed when fermenting.  You want the symbiotic process to be "just right".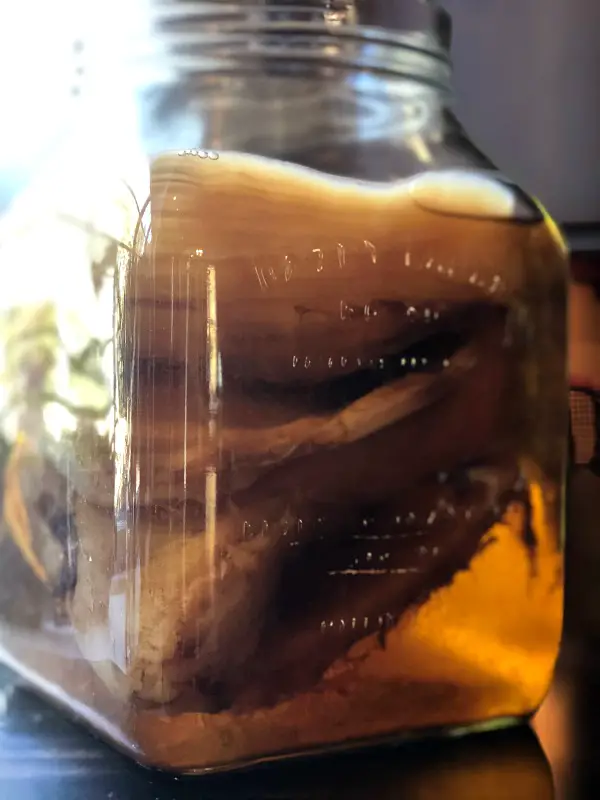 Some cultures may be a clear white'ish color.  Others, as you can see from the bottom layers above, can have brown spots or striations/strings, discolorations, and brown spots.  These are completely normal and although can look rather, well, disgusting, they are a wanted sign of healthy yeast growth.
KOMBUCHA FAILURE SIGNS
The major sign of culture failure:  mold.  You will know if the culture is now unusable when you see the dreaded mold growth on top of the scoby.  The mold will be very identifiable.  Furry carpet, little "hairs" standing on end, odd coloration.  Should this happen, the culture, as well as any starter tea, need to be thrown away and not re-used immediately.  This has only ever happened to me one time in the course of my 6-7 years of brewing.
HOW TO BREW KOMBUCHA
The brewing process could not be any easier.  If you are a new brewer with a fresh scoby and starter tea, follow the recipe below.  If you are a seasoned brewer wanting to shift to continuous brew method, follow from this point on.  Most importantly, NEVER use any metal other than stainless steel to brew.  Use only a glass container.  Make sure any spigot you use does not have metal as well.  Long-term, constant contact with metal, other than stainless steel, will cause irreparable damage to your brew and scoby.

First, draw off the amount of tea you want to refrigerate for consumption.  For my brew, this time I drew off roughly 8 cups of tea as well as several of the new scoby babies as my brewing jar was getting too full of cultures.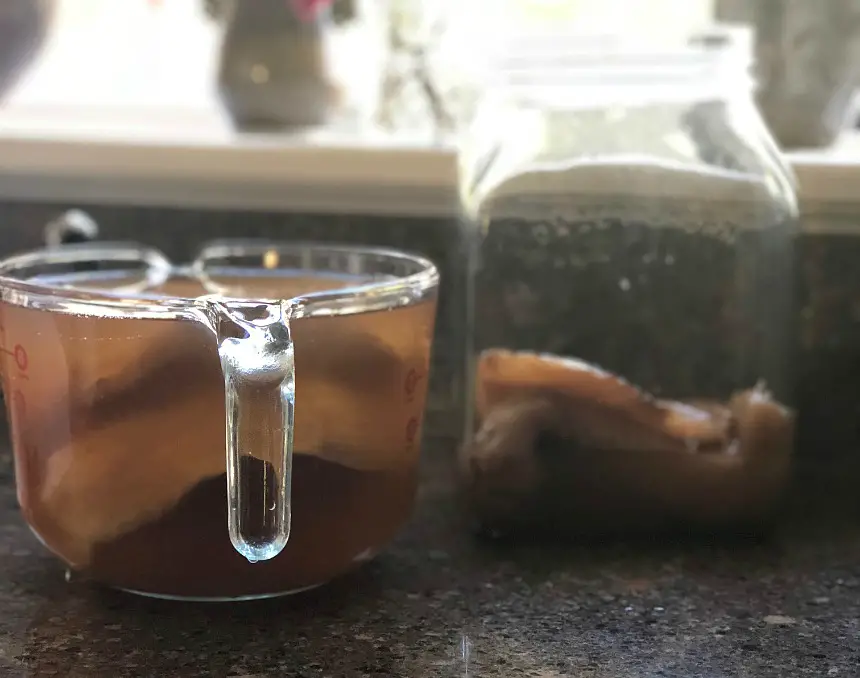 As you can see from my brewing jar, actually an antique butter churn jar,  I presently do not have a spigot.  I just haven't gotten around to setting one up.  My plan is to use one similar HERE eventually.  I will replace any spigot with a Tomlinson plastic spigot as the acidity of the brew can eat through any metal or metal lookalike surface.  For now, I just pour off the desired amount into my pyrex measure.  Adjust the recipe according to the amount of tea you remove and replace the tea with the same amount you draw off.
Once you determine the amount of tea you need to brew to replace what's been drawn off, for me 8 cups, bring that amount to a boil in a stockpot.  
I recommend using organic black tea only for the brew.  I have tried decaffeinated teas, green tea and changing up with a combination of teas.  I find the culture to remain more viable and strong using black tea.  If you are worried about the caffeine, please note the amount of tea used to brew is for a large amount of kombucha tea.  The caffeine will be much less than a cup of tea brewed normally.

Once you have the desired amount of water boiling, add your tea and sugar, turn the heat off, give a good stir with a wooden spoon and let set covered for 15 minutes.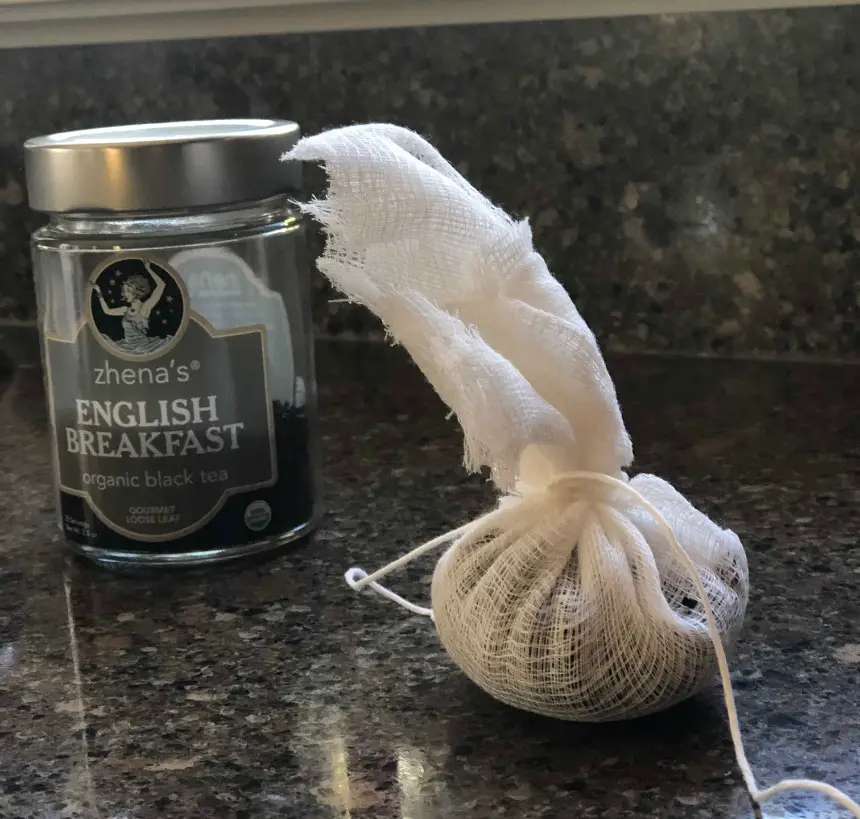 After 15 minutes, remove the satchel, cover the pan and let cool to room temperature.  Once at room temperature, add the tea to your scoby and starter.  Cover loosely with a breathable fabric and place out of direct sunlight.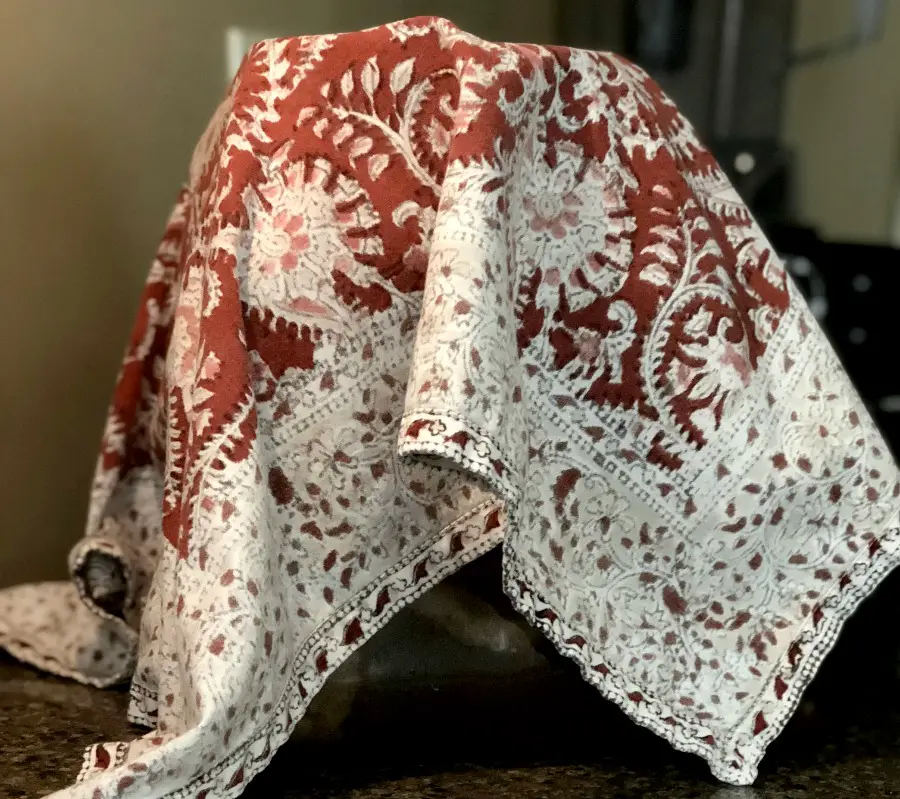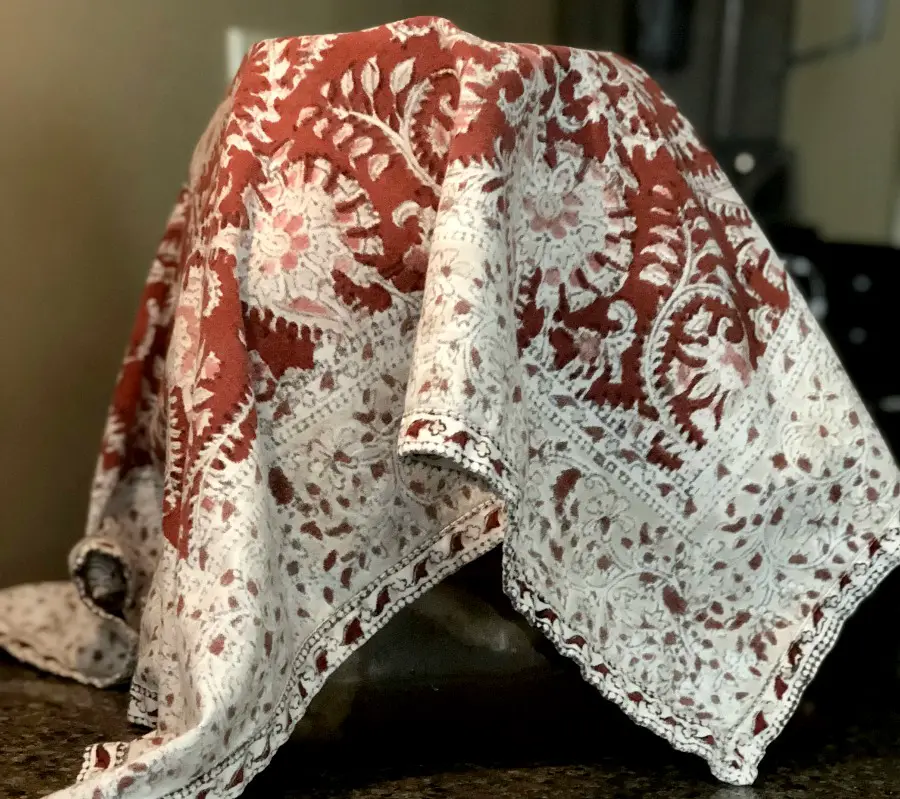 Wait at least 5-7 days (you can sneak a bit to taste) and begin the process again.  I actually like mine a bit more fermented and have success between 7-14 day period.  Trial and error will get you the results you like and prefer.
HOW TO CLEAN KOMBUCHA BREWING VESSEL
Cleaning of the brew vessel and or spigot is only necessary if the vessel develops too much yeast (scoby) or the spigot becomes clogged. To clean, simply remove a scoby and starter fluid, placing both into a safe, clean, glass container. *Additional scoby and starter fluid can be placed into mason jars as well.
Clean both the vessel and the spigot with clean, warm, soapy hot water. Rinse completely & well. If needed, additional cleaning can be done using distilled white vinegar & warm water.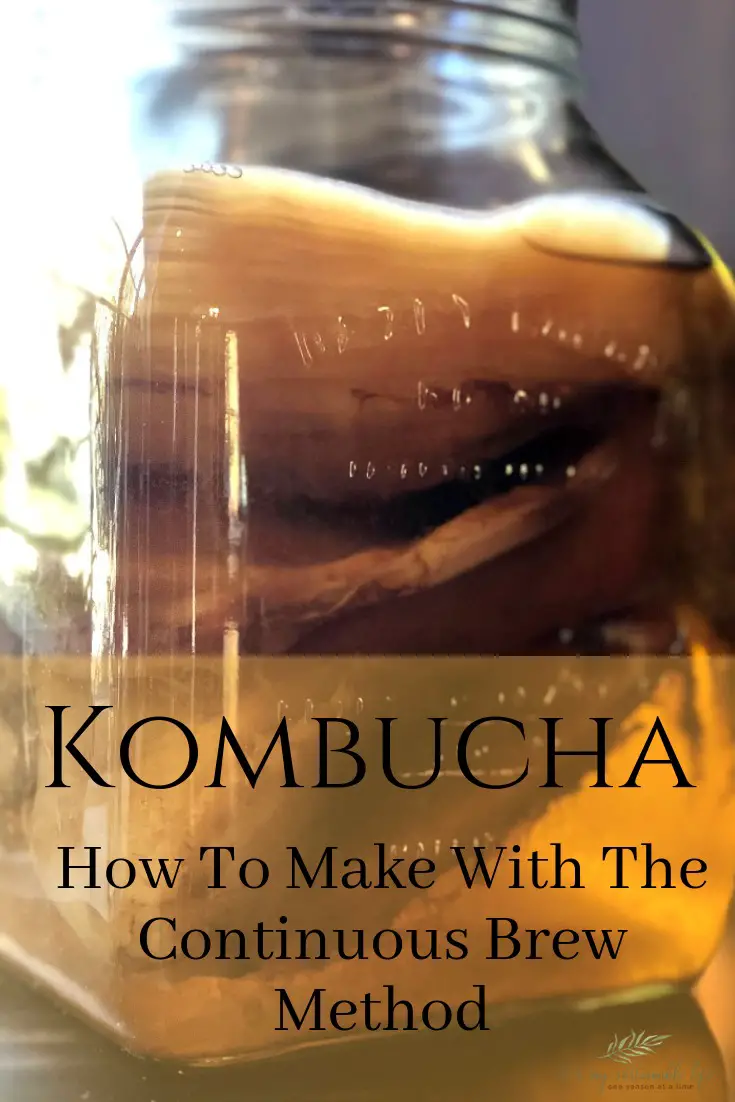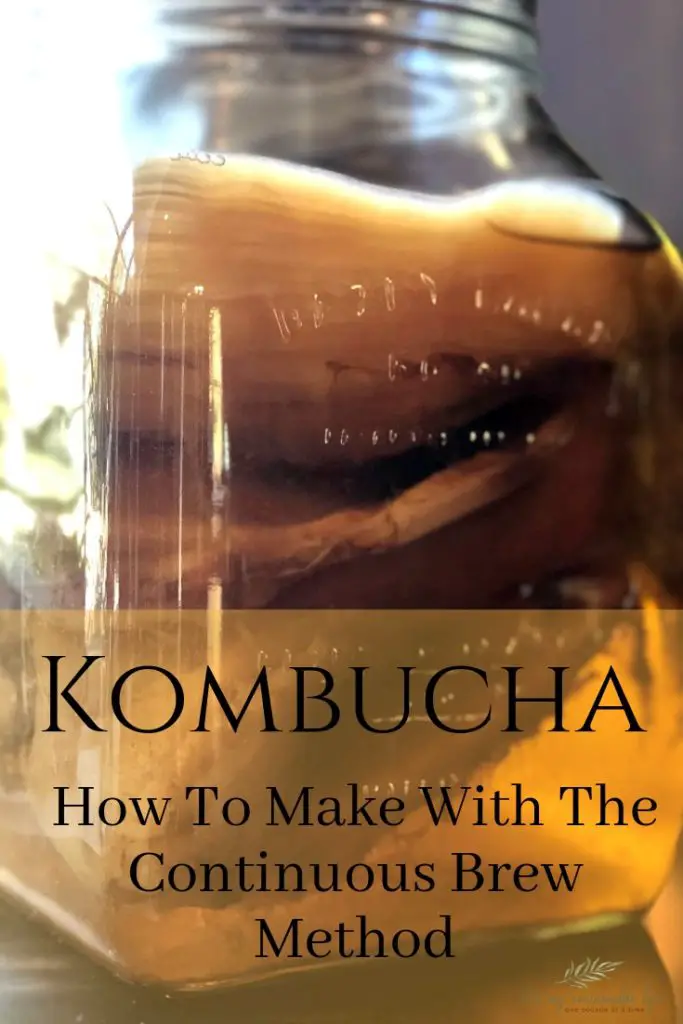 Once the vessel and spigot are clean and dried, add the scoby, starter fluid, and starter tea back to the vessel to begin the brewing process once again.
WHERE TO SOURCE YOUR SCOBY
If you have friends who brew their own Kombucha don't be afraid to ask for a mother scoby!  Most will have plenty to share and will be happy to give to you along with the cup of starter tea.  If you don't have anyone available, a good source is Joshua Tree Kombucha.  Another option is to purchase an entire brewer starting kit if you don't want to have to source all the supplies needed.
Once you begin the brewing process, you will have a lot of scoby.  DO NOT throw them away!  These are nutrient-rich wonder patties!  Share with friends and family (make your own starter kit and give away as gifts), feed them to the chickens if you have them, lastly add to your compost.
Kombucha
 A trendy fermented pro-biotic rich fizzy drink, that is full of health benefits.  
Ingredients
1

cup

Starter Tea

1

Kombucha Scoby Mother

1

cup

Organic Cane Sugar

3.5

qts

Water

Distilled/Bottled or Untreated
Instructions
Add to boiling water, tea and sugar

Remove from heat and cover.  Let steep for 15 minutes.

Remove tea.  Bring to room temperature

Add room temperature sweet tea to kombucha mother and starter.

Cover loosely with breathable cloth out of direct sunlight.  Let ferment at least 5-7 days or longer.
Are you a Kombucha brewer already?  What are your tried and true methods that you favor?  Love to hear from you!
Enjoy!
Suzan
FDA DISCLAIMER
Recommendations and or suggestions made by this blog regarding husbandry and or herbal remedies etc. are not meant to replace solid advice from qualified professionals.  None of the information on this blog has been evaluated by the FDA.  Products or remedies mentioned are not intended to diagnose, treat, cure or prevent disease.  Please do your due diligence.  Research, talk to qualified professionals and proceed at your own risk.