Homemade yogurt is easy to make, healthy and deliciously thick!  It may sound like making your own is intimidating, but it's really very easy. 

With these simple ingredients, you will enjoy a thick, Greek-style yogurt filled with probiotic richness without all the unwanted added additives.
This post may contain affiliate links at no additional cost to you.  By making your purchases through the links on this website, IMSL may make a small percentage at no direct cost to you. IMSL only promotes products we use & truly believe in. Please refer to my Privacy & Disclosures for further information. IMSL thanks you for your support!
This failproof method of making homemade yogurt takes little time, uses few ingredients, and results in a thick, greek like yogurt.  It all starts with quality ingredients.  I highly recommend using local, organic ingredients whenever possible, but any storebought brand of whole milk will work.  I am blessed to have access to organic raw milk at a local farm that we purchase every week.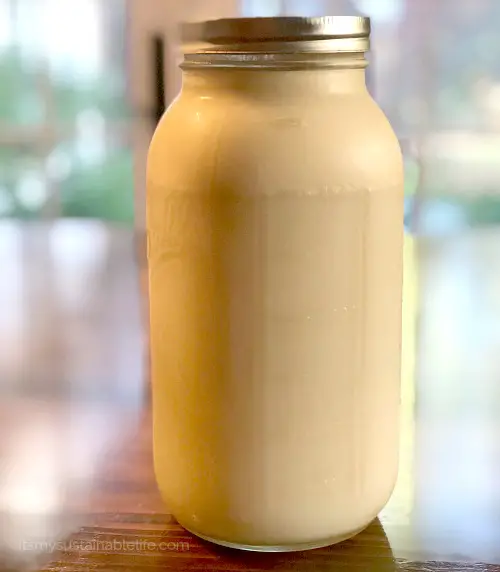 HEALTHY INGREDIENTS FOR HOMEMADE YOGURT
See that wonderful heavy cream line on the top of the jar?  YUM!  The cream adds to the end result of the yogurts thickness as well as wonderful rich flavor.  I know, many of you are like "whole milk"?  What about the calories?  What about eating a low-fat diet?  There are numerous studies recently that have debunked the theory that low-fat is the way to go.  In fact, just the opposite.  One 22 year study published in "The American Journal of Clinical Nutrition" showed that:
Long-term exposure to circulating phospholipid pentadecanoic, heptadecanoic, or trans-palmitoleic acids was not significantly associated with total mortality or incident CVD among older adults. High circulating heptadecanoic acid was inversely associated with CVD and stroke mortality and potentially associated with higher risk of non-CVD death.
What does that mean?  Basically, the people in this long-term study that had high circulating levels of dairy-related fatty acids were less likely to die of heart disease than those with lower levels.   Personally, I have found that by eating whole foods as well as whole-fat foods, I eat less as it takes little to satisfy me.
Don't have access to organic raw milk?  You can use store-bought whole milk.  Caution!  By using any milk other than whole will work but will make a much thinner end result.  This can also be made without using powdered milk.  But, again, the end result will not be as rich tasting.
HOW TO MAKE HEALTHY HOMEMADE YOGURT
There are many methods of making yogurt.  This is the method I have used for many years and is an easy one to follow without having to purchase any additional equipment.  So how to make this wonderful and easy homemade yogurt?  Here we go and enjoy!
Turn your oven on to 200°F to preheat while making the yogurt mixture.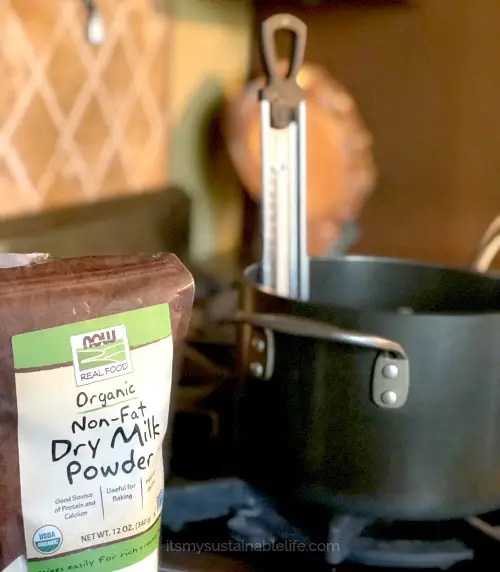 In a medium-sized pan, add 2 Qt of whole milk and dissolve 1/2 cup of non-fat dry milk powder if using (I recommend it).  I have doubled the original recipe for this tutorial.  Heat slowly on medium heat to 180°F, using an instant-read thermometer or a candy thermometer as I am using,  without disturbing the mixture.  Turn the burner off and let set to cool to 120°F again without disturbing.
While the mixture is cooling (this normally will take approximately 15-20 minutes, less if making only a single batch), I take 2 Qt jars along with 3-4 kitchen towels and placed them on a cast iron pan (optional but recommended as the pan will hold heat longer).  Place in the oven to preheat.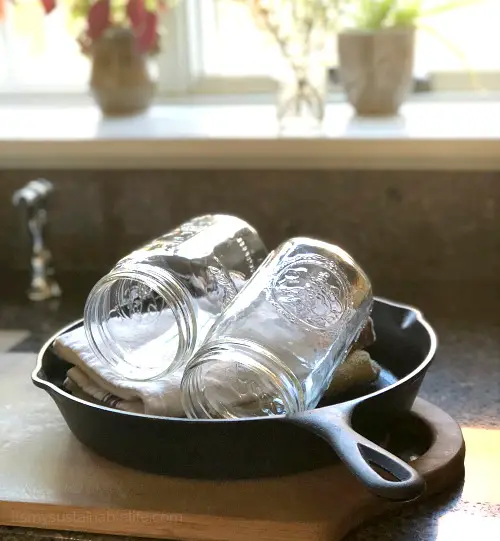 Once the mixture has reached 120°F, remove 1 Cup of the mixture and place into a bowl along with 1/2 Cup of yogurt starter.  I recommend a plain organic whole fat yogurt of good quality (one with a high count of active cultures) if this is the first time making this recipe.  Stonyfield makes a wonderful organic plain whole fat yogurt.  Again, low-fat versions of yogurt tend to create a thinner end product and also tend to be very high in sugar and additives.  Temper the starter yogurt with the cup of the mixture by mixing well.  Pour back into the mixture in the pan and stir well to combine.
Remove the jars and towels from the oven.  Pour the mixture from the pan and fill both quart jars, screw lids on tightly.  If you don't already have any of these re-useable storage lids for your mason jars, I highly recommend them!  I snuggly wrap each individual jar with a warmed towel and place back on the warmed cast iron pan.  Cover both jars with 1-2 towels until completely covered and no air can circulate around the jars themselves.
Place back in the oven toward the back where the light is.  Shut the oven OFF and turn the light on.  Leave undisturbed for 8-9 hours.  Remove from the oven and unwrap.  Leave on counter to cool completely prior to placing in the refrigerator for storage.  This yogurt will keep for up to one month.  I can pretty much guarantee it will be long gone before then!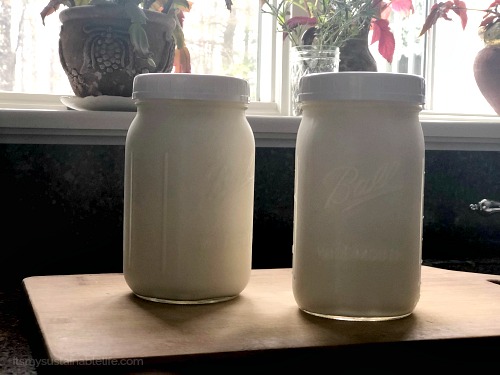 Once completely cooled to room temperature, open a jar up and enjoy a taste of the most creamy, thick yogurt that you just made for pennies in comparison to store bought brands!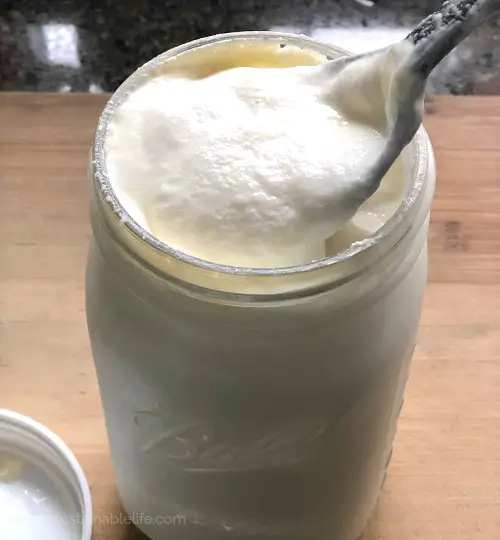 When making this yogurt with my raw organic whole milk, there will be a cream line on the top as well.  Just stir this cream into the rest of the jar (much to the chagrin of my husband) and you are ready to enjoy!  If using homogenized milk, it will be an even consistency throughout.
HOW TO USE HOMEMADE YOGURT
If you are not accustomed to eating plain homemade yogurt, you may find this yogurt to be a bit tart at first.  Simply add a little honey, jam or fruit to slightly sweeten to taste.  I personally find that I cannot eat store bought yogurts any longer as there is simply too much sugar.
We love to enjoy over our homemade granola, recipe can be found in our article, "Homemade Healthy Granola",  with a bit of added fruit and drizzled with our honey. 
Made it?  Love to hear how you are enjoying it!  Feel free to comment below and please be sure to follow on any social media to stay up to date with all the happenings here on the hill!
Love, Light, & Laughter~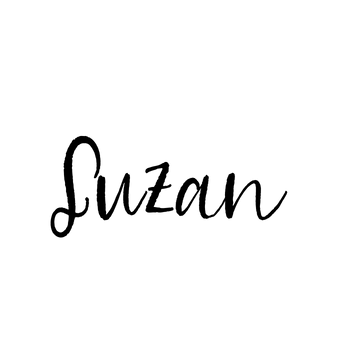 Easy To Make Homemade Greek Style Yogurt
A thick, creamy, healthy Greek-style yogurt recipe.
Ingredients
1

Qt

Whole Milk

raw organic if possible

1/4

Cup

Non-Fat Dry Milk Powder

1/4

Cup

Yogurt Starter

from previous batches or plain yogurt
Instructions
Preheat Qt jar and 2-4 towels in oven while preheating.

Combine first two ingredients in pan.  Heat slowly on medium heat to 180 F without stirring or disturbing.

Turn Heat off.  Without disturbing, cool to 120 F.

Remove 1/2 cup of milk mixture from pan and place in bowl.  Add 1/4 cup yogurt starter and mix.  Return mixture to pan and stir to combine.

Remove jars and towels from oven.  Pour mixture from pan into jar and seal closed with lid.

Wrap filled jar with several towels and place back in oven in back corner by light.

Turn the oven off and turn the oven light on.

Leave undisturbed for 8-9 hours.  Remove, unwrap and let cool.

Store in refrigerator for up to 1 month