This garlic scape pesto recipe is a favorite to make each year, perfect for taking advantage of the short garlic scape harvest season.  Garlic scape pesto is easy to make, using simple ingredients that make a flavorful substitution for garlic cloves in any dish!
This post may contain affiliate links at no additional cost to you.  By making your purchases through the links on this website, IMSL may make a small percentage at no direct cost to you. IMSL only promotes products we use & truly believe in. Please refer to my Privacy & Disclosures for further information. IMSL thanks you for your support!
If you have never heard of these curly delicacies, you are not alone.  I've seen many pass on by these alien looking vegetables at farmer's markets, specialty food shops, and even CSA's, not knowing what they are & how to use them.
If this sounds familiar, I have just the thing, my friend.  All answers to your garlic scape questions are addressed here in my "Garlic Scapes – What Are They And How to Use Them" article.  Trust me, you will thank me later 😊
WHAT THE HECK ARE GARLIC SCAPES?
In a nutshell, garlic scapes are a flowering shoot which grows from the center stem of the hardneck variety of the garlic plant.
Easy to harvest, should you grow your own crop.  Easy to prepare, you can view the short video below on how to prepare your own.  And simple to transform into a favorite here on the hill …. garlic scape pesto!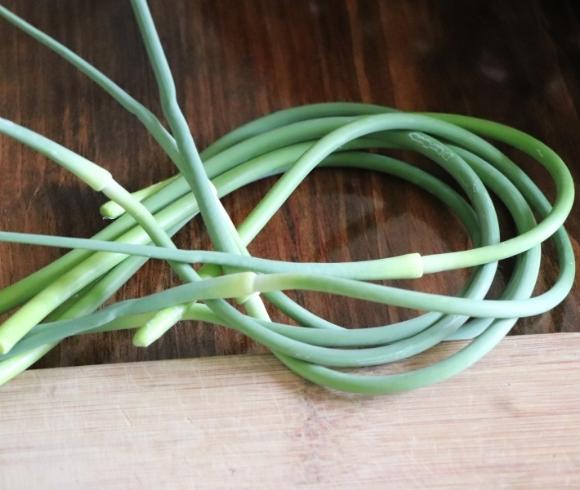 AND when this fleeting crop comes on, it comes on!  You may be scratching your head and wondering, "what can I do with a lot of garlic scapes"?
Well, wonder no more.  Here are a few uses for our garlic scape pesto we are fond of.
SHARING IS CARING ❤️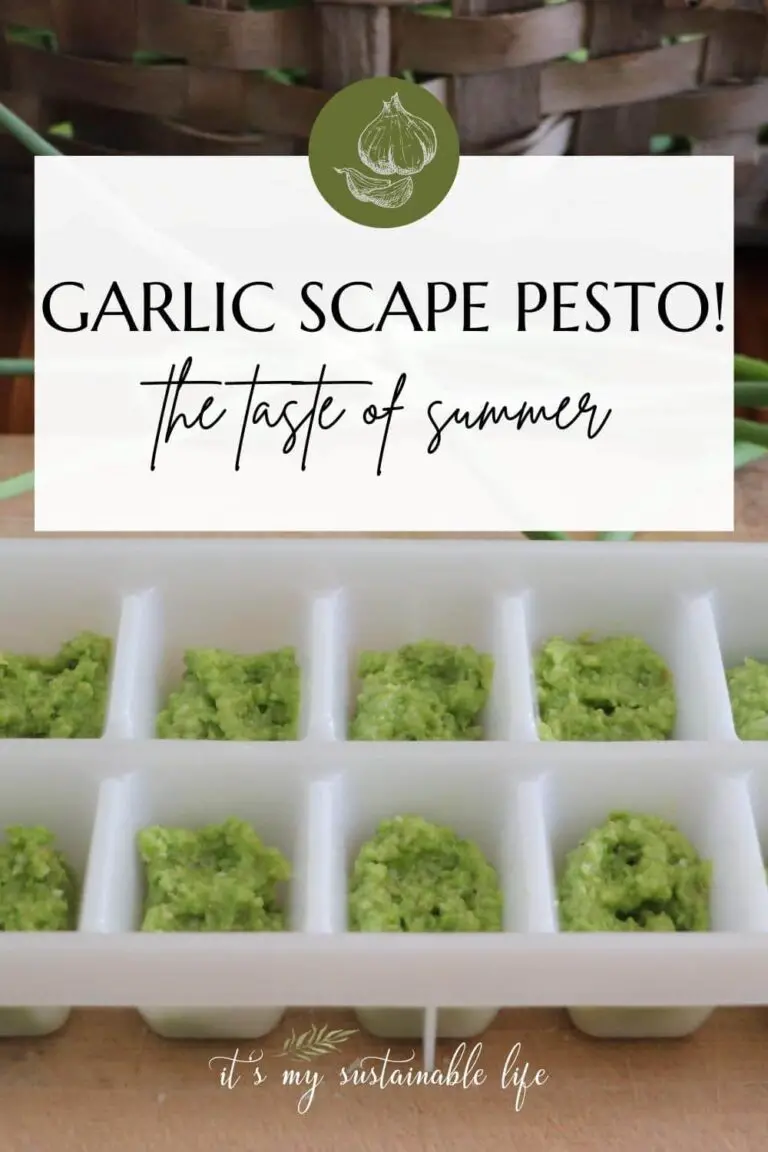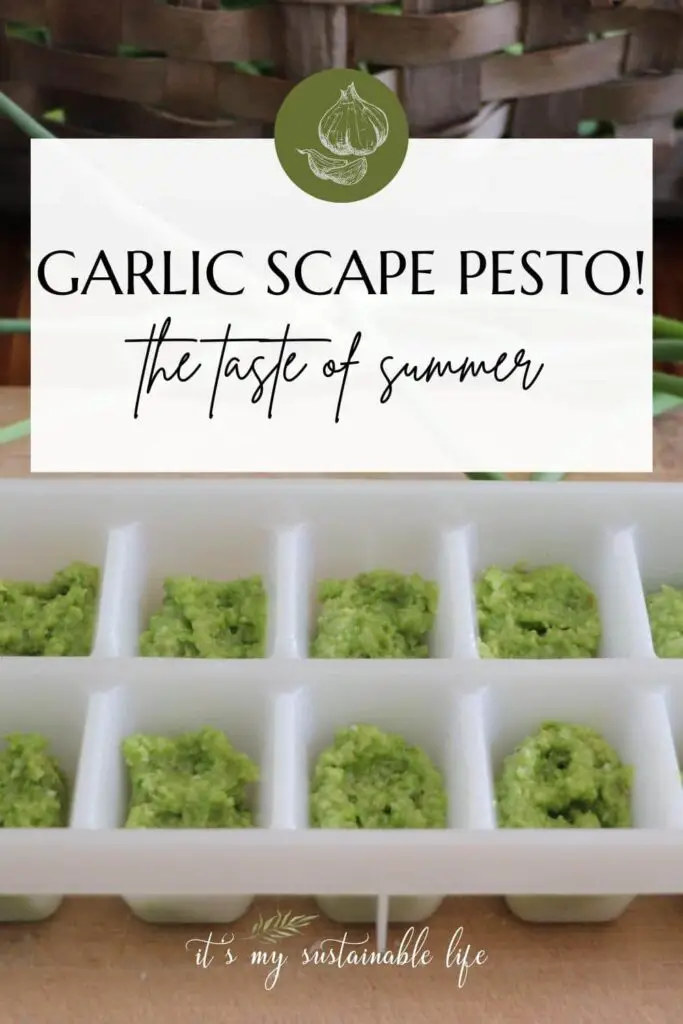 GARLIC SCAPE PESTO USES
Scapes can easily be pickled, fermented, used either fresh or frozen in soups and such, and even made into a delicious hummus (recipe coming).
MAYBE OF INTEREST
Harvesting, Drying, & Storing The Garlic Harvest
The beauty of making this garlic scape pesto recipe is that a little goes a long way.  

Many have said that the scape of the garlic plant is milder in flavor.  Not as far as I'm concerned!  High in garlicky goodness, it takes few garlic scapes to replace traditional garlic cloves.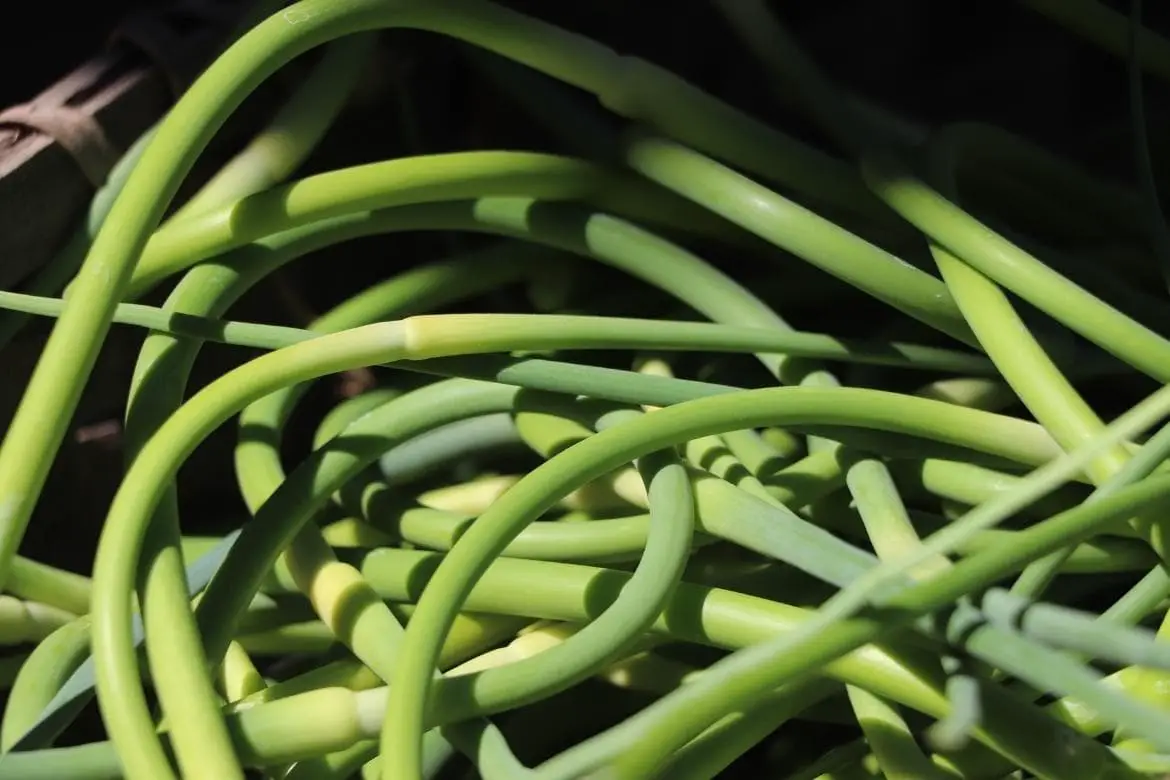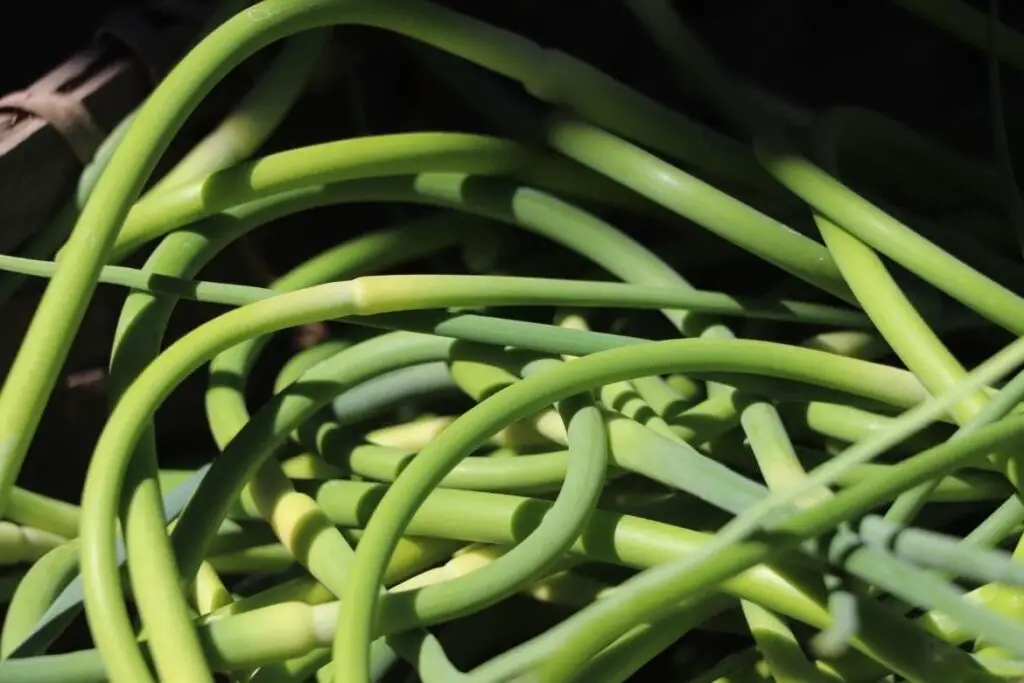 In fact, it only takes about 2 scapes to replace one regular size garlic clove!
Robust, fresh & vibrant in flavor, it takes only a few scapes to create a highly flavored pesto that is the perfect addition to many a dish(es) 😊
HOW TO USE GARLIC SCAPE PESTO
What are my favorite uses?  Here are just a few idea's …
Grilled Fish
Grilled Chicken
Grilled Veggies
Stir-fries
Breads
Pasta 
Pizza
Eggs
Hummus
Sandwiches
Aioli
Substitute this delicious garlic scape pesto in (or on) any dish you would normally add garlic, onion, or leek!
HOW TO MAKE GARLIC SCAPE PESTO
To make this simple & easy garlic scape pesto, I simply broke out my food processor & added about 10 roughly chopped garlic scapes (enough for about 1 Cup of chopped scapes), sunflower seeds as I didn't have any pine nuts on hand, fresh parmesan cheese, olive oil, and pepper.
Watch the video below or follow the recipe directions.  Don't forget to print the recipe card found below or bookmark it!  Guaranteed you will want to make it again.  Just sayin' 😊
This recipe can easily be changed up!  
GARLIC SCAPE PESTO VARIATIONS
Make your favorite pesto recipe and simply substitute the basil for garlic scapes!  Miss the basil?  Add a bit as well!
Don't like sunflower seeds?  Use any seed or nut you like.  Think walnuts, roasted almonds, or keep it traditional, and use pine nuts.
Like lemon in yours?  Add it! Don't like it so much?  Leave it out as I did. 
Don't prefer so much oil in your pesto?  Reduce it!
Need a vegetarian or vegan option?  Simply sub the parmesan cheese with your favorite "cheese" option!
Add your favorite fresh herbs to the mix!  Think parsley, cilantro, dill, or tarragon here.
You get the picture here.  Make it yours.  
HOW TO CUT THE GARLIC SCAPES FOR PESTO
Preparing these curly wonders is really very simple.  Remove the "tip" (the narrow pointy end) as it can be fibrous, down to where the scape is bulbous.  This is the garlic "flower", aka, seed head.  
Many will remove the garlic flower, however, I waste not, want not, and utilize the flower as well unless I am pickling them.

The thicker end of the scape (where it actually grows from the garlic plant) can become woody, kind of like a spear of fresh asparagus.  
I recommend doing the bendy test to see where the scape becomes more pliable, and cut the tough or woody end from the scape.
Roughly chop your remaining scape and you are good to go!
Confusing?  Not really.  However, the video below shows exactly what part(s) of the garlic scape to use!
NOTE:  Don't throw away the woody ends!  These can be frozen and added to soups and other dishes as an additional flavoring!
PRESERVING, STORING & FREEZING GARLIC SCAPE PESTO
Trust me.  When you make this pesto, I highly recommend making more than you will be using!
There is no doubt in my mind that garlic lover's will want to have this available year round.
Thank goodness, we have several options of storing our pesto for an extended amount of time.
CAN YOU CAN GARLIC SCAPE PESTO?
Unfortunately, no.  No pesto's are safe for canning.  Period.  There is no canning method that is considered safe to preserve pesto's.
Sad I know, but we have other options!
STORING GARLIC SCAPE PESTO
Store your prepared garlic scape pesto in the refrigerator in an air-tight container.  It should keep well for about a week as is.
Alternatively, add a thin layer of olive oil on the top of the pesto and refrigerate until you're ready to use it!
FREEZING GARLIC SCAPE PESTO
Looking for a long-term storage option for your garlic scape pesto?  Freeze it!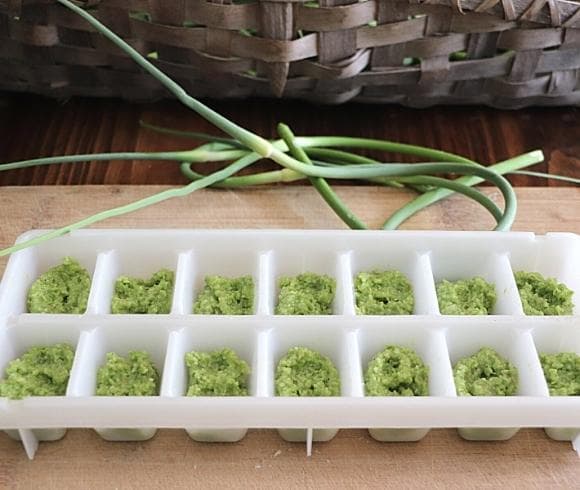 Adding a few tablespoons to an ice cube tray is a favorite method here on the hill.  Freeze thoroughly, remove the pesto "cubes" from the tray, and store in a freezer container or reusable freezer bag.
Don't forget to label and date your containers no matter which you use!  Properly frozen, your garlic scape pesto will last at a minimum of 6 months in the freezer.
Grab & save your copy of how to make garlic scape pesto below!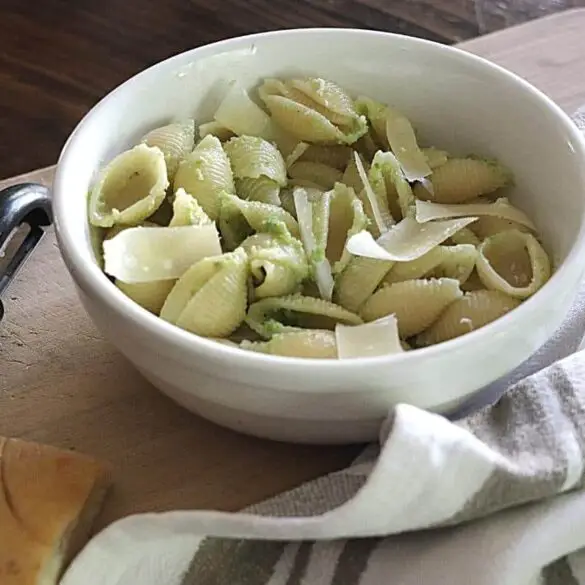 Ingredients
1 C Prepared Fresh Garlic Scapes

1/4 C Sunflower Seeds

1/4 C Parmesan Cheese

1/2 C EVOO

Salt & Pepper To Taste
Instructions
 Prepare the fresh garlic scapes by roughly chopping 1 C total or about 10+ scapes and add to a food processor
 Pulse the scapes for about 30 to 40 seconds
 Scrape the sides of the bowl down
 1/4 C Sunflower seeds, add to the bowl
 Pulse 30 to 40 seconds again.  Scrape the bowl down the sides
 Add 1/4 C Parmesan Cheese broken up to the bowl
 Drizzle slowly as you process, 1/2 C EVOO, stopping when halfway complete
 Add salt and pepper to taste, your choice
 Continue processing and slowly add the remainder EVOO
 Store the prepared garlic scape pesto in the refrigerator or freeze and store in an air-tight freezer storage container
Be forewarned!  Garlic scape pesto can be addicting.  Your welcome 😊
Have you made this garlic scape recipe yet?
Love, Light, & Laughter ~

SHOP THIS POST
Enjoy this article? Please consider sharing it on your favorite social media channel! Want more? Subscribe below for the occasional update with all the "happenings on the hill"!