Garlic! In my opinion, garlic is one of the most used "flavorings" in our kitchens.  And one of the easiest crops to learn how to grow, harvest, dry, & store for year-round use.
This post may contain affiliate links at no additional cost to you.  By making your purchases through the links on this website, IMSL may make a small percentage at no direct cost to you. IMSL only promotes products we use & truly believe in. Please refer to my Privacy & Disclosures for further information. IMSL thanks you for your support!
Garlic is technically not an herb or a spice, but instead should be considered a vegetable. Who knew? Garlic is part of the Allium (onion) family, and the bulb itself grows in the ground.
BENEFITS OF GROWING GARLIC
Here in the Northeast, planting season for next springs garlic crop is coming upon us quickly (post forthcoming).  Weather dependent, I will be planting around the second week of October for harvesting on or about mid-July 2019. 
This year's harvest was an amazing one.  Big strong heads of both hardneck and softneck varieties.  What is the difference?  Basically, the softneck variety is what you normally purchase in the stores.  This variety stores well can be used for braiding and is mild in flavor.  Hardneck garlic is intense in flavor with larger individual cloves, and stores reasonably well.  I am able to keep both varieties easily through the winter months until next years harvest.  

The beauty of growing your own garlic is it is normally a one time purchase, as you save the biggest and the best heads from each harvest for planting in the fall for next years harvest.  For a complete tutorial on how to plant this amazing vegetable, be sure to stop by "Amazing Garlic How To Plant For Next Years Crop".  It truly is the crop that keeps on giving!
If you are considering planting a crop this year, I suggest purchasing your heads soon!  Suppliers run out fairly quickly this time of year if you are in the Northeast.  There are many great suppliers out there. I suggest finding a local organic grower to get your supply from.  If that is not possible there are many organic online suppliers available.  Johnny's Seeds has several organic varieties as well as Territorial Seed company, both of which I have used and would highly recommend.
HARVESTING GARLIC
Harvesting the garlic could not be easier.  It's the knowing "when" to harvest that some find a bit tricky.  It's all in the leaves, and you don't have to be a fortune teller to be able to read these!  Most experts agree that the ideal time to harvest is when several lower leaves turn brown yet you have a remaining five or so green leaves left at the top still.  Waiting too long to harvest can result in the garlic head splitting or separating resulting in a shorter storage period.  Harvesting too early will result in smaller heads, the garlic not reaching its full maturity as well as a diminished storage period.
To harvest, simply loosen the dirt surrounding the bulb area gently with a pitchfork, being careful not to stab your bulb in the process (yes, I do speak from experience, unfortunately).  Pull from the base of the leaves toward the ground to release the bulb itself.  Once harvested, unlike its close cousin, the Allium or onion, do not let the bulbs rest in the sun!  Move the harvested bulbs to a dry, well-ventilated area to cure/dry.  No need to wipe off the dirt or clean in any way.  Once cured or dry, you can clean them up a bit.
DRYING OR CURING GARLIC
Curing or drying your bulbs is an easy task.  Simply hang or lay separated on a well-ventilated rack with the leaves and roots intact.  The bulbs will continue to utilize the energy from the leaves and roots while drying.  I like to hang my garlic in my garage to dry.  I have a clothesline which runs the length of my garage for just this purpose.  No need for using anything other than the garlic leaves for tying a tidy knot to hold the garlic in place for the next month or so to dry.
Depending on the humidity and weather, the bulbs should be dry within a month or more.  The leaves should be completely brown and brittle feeling and the roots completely dried almost like a stiff brush.  Once dried, the bulbs are ready to be cleaned up a bit for storage.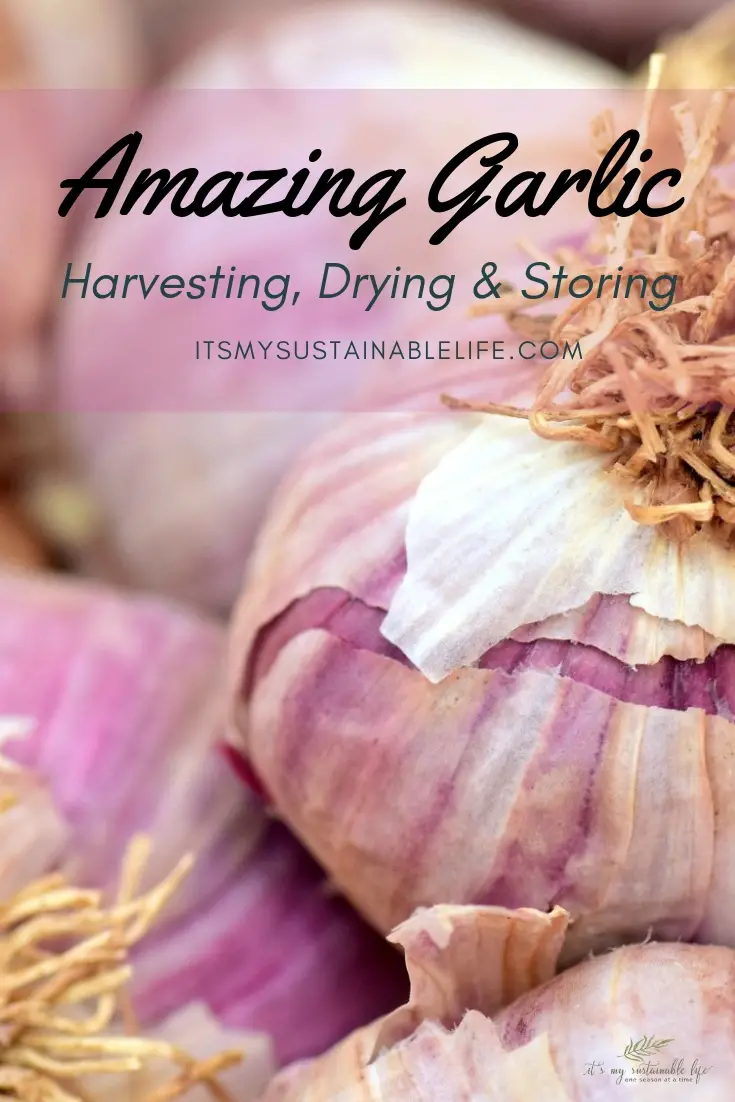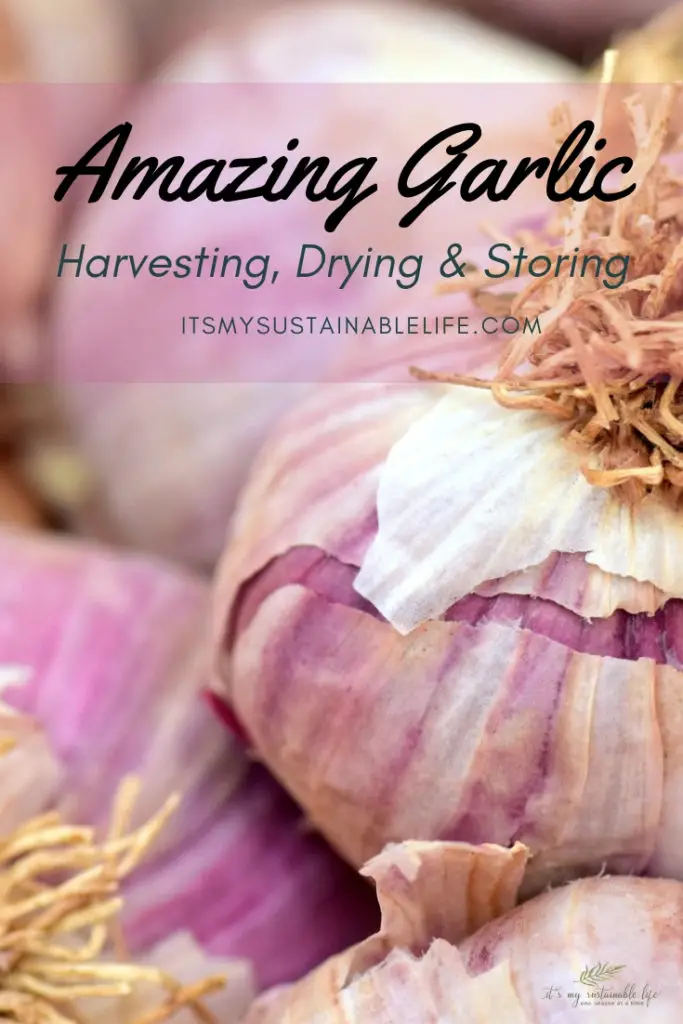 STORING GARLIC
To prepare for storage, simply take the bulb, trim the stem and roots leaving at least 1/4 to 1/2 inch of each.  I gently wipe away as much of the remaining dried soil as possible, being careful of the wrappers.  A wrapper or two may come off during the process, but I am always very careful not to remove too many to ensure long-term storage.  Personally, I feel when you have a beautiful white head of garlic remaining, you may have taken too many wrappers off the bulb. My bulbs sure may not be the most white or pretty, but they last until next years harvest time and sometimes beyond.

There are endless ways to store your cured garlic.  I like to store my garlic in a container that has good ventilation.  I have an old wire, three basket rack that I use.  Many like to store in mesh bags (you can re-purpose store-bought onion bags), loosely woven baskets or boxes, and even old pantyhose.  Anything that is breathable and allows for good ventilation.
Providing good storage is also key in keeping your garlic long term.  Ideally, garlic should be stored in a cool dark place.  Recommended temperatures range from 50°F all the way to 65°F.  I store garlic in a dark spot in the cellar (my pantry) where the temperatures average 50°F to 60°F in the cooler months.  Too warm of an area, the garlic will not last long-term.  Too cool, the garlic will begin to sprout once it warms up again.
Humidity plays a key roll in keeping garlic long-term as well.  Garlic should be stored in an area with moderate humidity  High humidity is not a friend.   Should the humidity be too high, the garlic will soften and rot.  Too low and the cloves themselves will dry up.

In a nutshell, garlic is one of the easiest crops to grow, cure and store long-term.  Following these simple steps will allow you to enjoy fresh garlic all winter and well into the spring growing season! 
Tried it or already grow it?  Love to hear your success stories!!
Love, Light, & Laughter ~