Freezing and storing the short-lived rhubarb harvest will have all rhubarb aficionados rejoicing when these tips are followed!
This post may contain affiliate links at no additional cost to you.  By making your purchases through the links on this website, IMSL may make a small percentage at no direct cost to you. IMSL only promotes products we use & truly believe in. Please refer to my Privacy & Disclosures for further information. IMSL thanks you for your support!
So you're are a lover of all things rhubarb. Me too! If you're at all familiar with this underrated perennial vegetable, you know that when it's in season, and a very short season it is, typically running from May through June here on the hill, we need to take full advantage.

How do we enjoy this tart vegetable year round with such a short growing season? Freeze it! By following these tips and suggestions for freezing your rhubarb harvest, you will be enjoying all you can make with it (rhubarb juice anyone?) all year long!
RHUBARB FUN FACTS
Rhubarb is one of those vegetables that may have many shaking their head's and wondering, what the heck is that? For us here on the hill, its a perennial native to Asia (comes back year-to-year, yay, free food!), that we look forward to every year.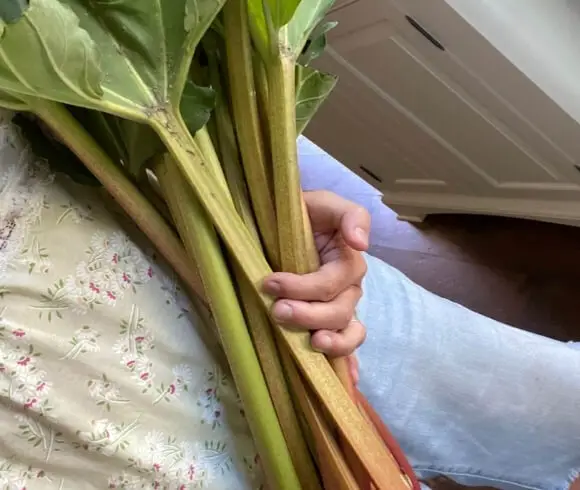 Rhubarb grows in long red & green stalks with leaves that grow at the top of the stalk, this vegetable, although typically used as you would a fruit, is easy to harvest & use. The stalk is the only edible portion of the plant. It's imperative that the leaves are completely removed as they are poisonous, no thank you!
The stalks themselves are crunchy when raw and have been described as sour or tart to the taste. Think a taste similar to that of unripe apples or grapes.
A fond memory of my Dad, a lover of all things tart, is of him going to my garden, grabbing a stalk during the height of the harvest season, salt it and munch away. A bit too strong a flavor for me!
Sharing Is Caring!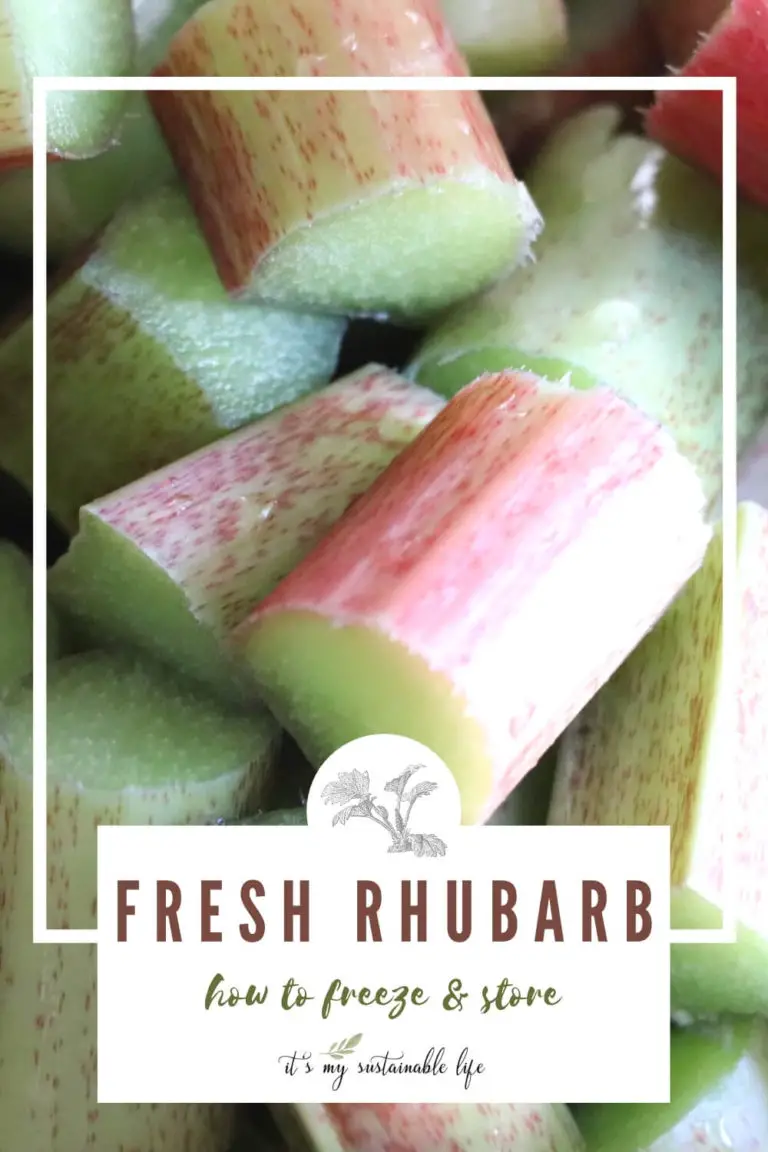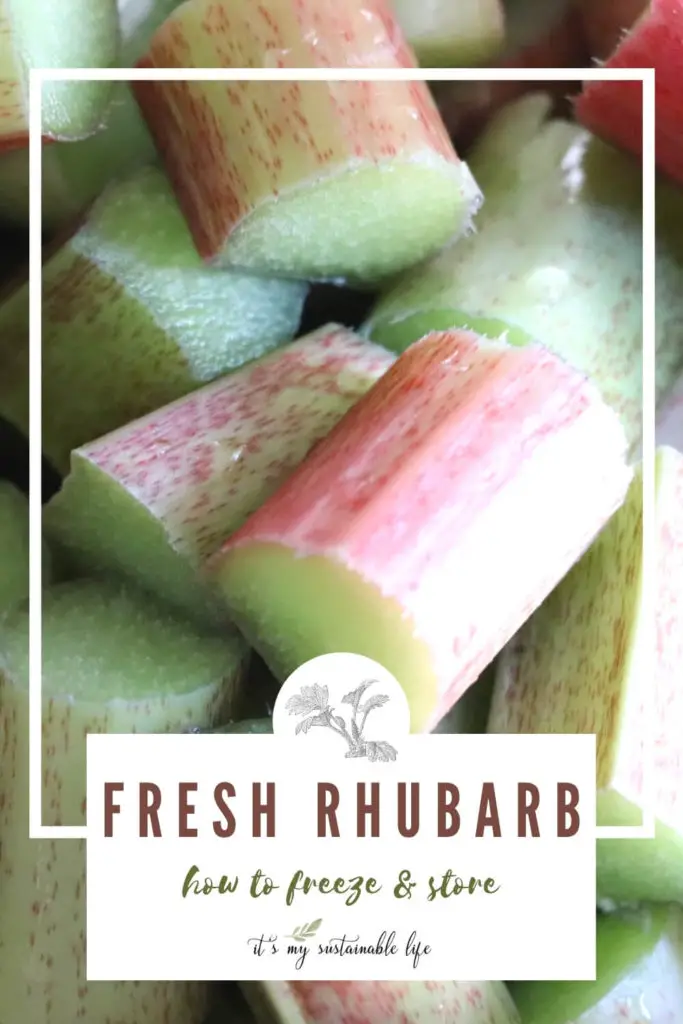 Although I may not be able to crunch my way through a raw stalk, rhubarb makes for a wonderful contrast when paired with sweetness. Think strawberry rhubarb pie or jam, crumbles, or your favorite dessert. After all, rhubarb is often referred to as "pieplant", and for good reason 😊
Rhubarb was used for its medicinal benefits in ancient times. Who knew? Rhubarb was used dry for its laxative properties as a purgative (bowel cleanse), as a carminative (gas reduction) and as treatment for ulcer issues.
According to Food & Wine, rhubarb was used as a slang word referencing a fight.
"Rhubarb" as slang for a fight was popularized by broadcaster Red Barber, the voice of the Cincinnati Reds, the New York Yankees, and the Brooklyn Dodgers from the 1930s through the 1960s. … Another of his famously quaint colloquialisms was "rhubarb," which he first used in 1943 to describe a heated dispute on the field.

Food & Wine
Rhubarb can grow to a whopping 5 plus feet tall! Especially in area's where the summer daylight hours seem to extend beyond the norm. Those in Alaska may be looking up to see the tops of those rhubarb plants 😂
DOES RHUBARB FREEZE WELL
Yes!! Rhubarb freezes exceptionally well and can be used direct from the freezer, no need to unthaw, right into your favorite recipe!
Rhubarb stalks can be frozen whole, with just the leaves and rough ends removed, or you can prepare your rhubarb for freezing by cutting into smaller pieces or even made into a sauce to freeze. Your choice.
Is frozen as good as fresh? Probably not, but is any food come to that? Fresh is always best, but frozen rhubarb plays a close second to that!
PREPARING RHUBARB TO FREEZE & STORE
It doesn't matter if you grow your own or purchase it from your local farmer, farmers markets, or grocery stores, following these simple steps to prepare your rhubarb and ready it for freezing takes just moments.
HARVEST GATHER OR PURCHASE RHUBARB
Should you be blessed to be able to take a short stroll to your garden to harvest your rhubarb, you are one of the lucky ones.
I've made a short video, which you can watch below, showing the best way I've found to harvest your stalks.
WASHING & CLEANING RHUBARB
Should your rhubarb come straight from the garden, remove the top leaves and discard. Trim the rough end (where the stem attaches to the root of the plant) of the stalk.
Wash the stems or stalks thoroughly, removing any particles of dirt or grit.
Pat or dry the stalks as well as possible with a clean kitchen towel.
CUTTING & PREPARING RHUBARB FOR FREEZING
Should you find that your stalks have any rough or tough strings, you can remove these prior to freezing. I find that rhubarb is somewhat stringy anyway, and it all cooks down in the end, so I'm not inclined to complete this step myself.
Cut the cleaned stalks into roughly 1 inch lengths. Place the cut pieces loosely, being sure to not over crowd, on a baking sheet. Optionally, you can line the baking sheet with parchment paper for easier removal of the rhubarb pieces once they are frozen. As I'm a bit frugal, I skip the parchment paper and plan on leaving the rhubarb, once frozen, on the counter for just a few minutes to help release them from the pan.
FREEZING RHUBARB OPTIONS
When it comes to how to freeze your rhubarb you have two options. Blanching or no blanching. Both will work fine, but by blanching it's said that the rhubarb will maintain is hue, a nice rosy pink and green in my case, as well as its texture.
As I find cooked rhubarb to turn in color & texture anyway, blanching is just another step, and one that I will be deleting in the future.
HOW TO BLANCH RHUBARB FOR FREEZING
Blanching is basically just boiling the product for a very short time period and then placing the product immediately into an ice bath to stop the cooking process.
To blanch rhubarb, place your prepared rhubarb pieces in boiling hot water and boil for 1 minute. Drain the rhubarb pieces or use a kitchen spider (I can then cool the water and use to water my plants) as shown below to lift them out and place them into a bowl filled with ice water. Allow them to cool for about 2 minutes before draining.
Alternatively, you can steam the rhubarb pieces for the same amount of time and place them into the ice water bath after 1 minute.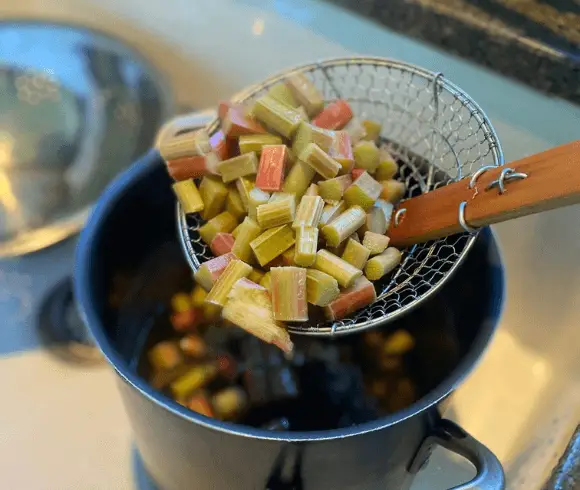 Drain the blanched rhubarb pieces well, allowing them to dry a bit. Once dry, place them, well spaced (don't crowd) in a single layer on a cooling rack as shown below or a cookie sheet, I allow them to dry even further at this stage before freezing.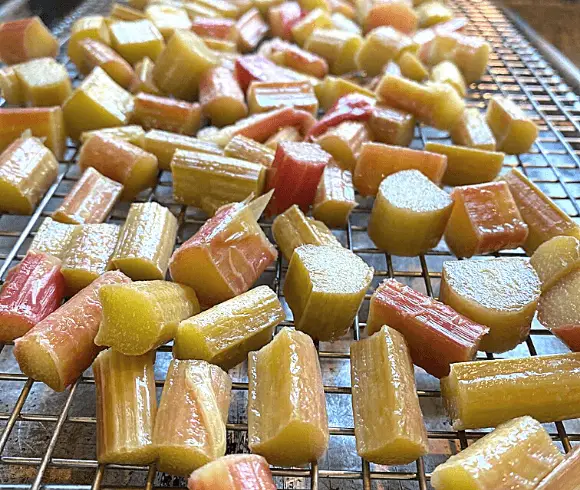 Don't want to blanch? Follow the simple directions below.
FREEZING RHUBARB-THE NO BLANCH METHOD
To prepare your rhubarb for freezing, follow the steps above for preparing. Cut washed prepared stalks into 1 inch size pieces, dry them completely, and lay them out on cookie sheet. Simple as that. They are ready to freeze.
HOW TO FREEZE RHUBARB
With your prepared & dried rhubarb ready to go on your cookie sheet (lined with parchment or not), place the entire sheet, uncovered, into the freezer. Allow the rhubarb to freeze at least 4 hours. I simply leave mine in the freezer overnight.
STORING FROZEN RHUBARB
If you are a lazy kitchen wench such as myself, to store frozen rhubarb simply remove the pan from the freezer, leaving it on the counter for several minutes to help ease of removal if unlined, remove the pieces and place into a freezer bag for long-term storage.

Alternatively, you can portion it out and store in freezer containers or freezer bags for individual use. I've found this to be another added step that's not really needed. By freezing the pieces individually and separately, they are easily removed from the gallon size freezer bag (which I re-use often) in any amount needed. The choice is yours.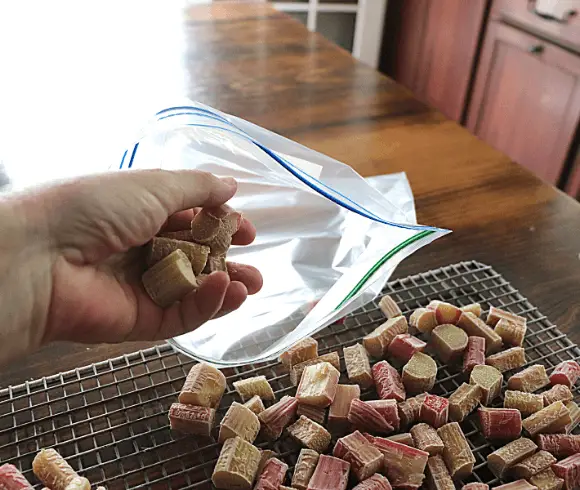 No matter what storage method or container you choose, don't forget to label and date the contents. Should you be utilizing my Kitchen Inventory & Meal Planning printable bundle set, don't forget to add the frozen rhubarb to the freezer inventory sheet!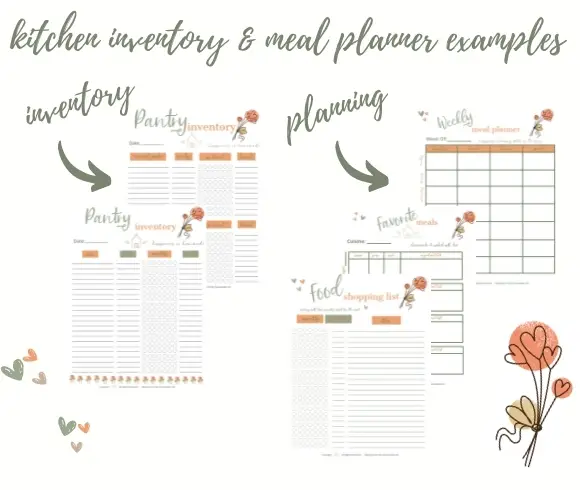 HOW LONG WILL RHUBARB KEEP IN THE FREEZER
You can plan on having frozen rhubarb ready to use from the freezer for up to 1 year. Although after the year is up, you can still use it, but plan on the quality declining any time over a year.
FROZEN RHUBARB EQUIVALENTS & CONVERSIONS
You can use the following equivalents & conversions for using your frozen rhubarb.
1 pound = 3 cups chopped
3 cups chopped fresh rhubarb = 2 cups cooked rhubarb
15 medium sized rhubarb stalks = approximately 6 cups chopped fresh rhubarb
HOW TO USE FROZEN RHUBARB
Use frozen rhubarb just as you would fresh. No need to thaw, just remove the desired amount and add to your favorite recipe! A few of my favorites can be found below 😊
AMAZING RECIPES USING FROZEN RHUBARB
At a loss as to what to make using your frozen rhubarb? One of my favorites is to make a rhubarb juice concentrate which I can then make into delicious beverages or a simple syrup.
Looking for a few baked goods? What about Strawberry Rhubarb Crumb Bars, or what about a gluten-free crisp by substituting blueberries & rhubarb for the apples?
Then there is always the classic rhubarb jam with either strawberries or blueberries to accompany it. Maybe make some rhubarb muffins to go along with the jam. Just sayin'!
No matter what you choose to make, by freezing your rhubarb you will be enjoying it's tart & refreshing flavors for the year to come.
How will you freeze your rhubarb?
Love, Light, & Laughter ~