Making a simple, homemade from scratch gluten-free apple crisp is easy, quick to put together, and will have your kitchen smelling heavenly.
This post may contain affiliate links at no additional cost to you.  By making your purchases through the links on this website, IMSL may make a small percentage at no direct cost to you. IMSL only promotes products we use & truly believe in. Please refer to my Privacy & Disclosures for further information. IMSL thanks you for your support!
Fresh, organic apples are synonymous with fall living in New England. Or just about anywhere for that matter. There may be nothing better on a cool fall day than whipping up a quick apple crisp. This dessert is second only to my cherry cheese pie from scratch.
Made using wholesome, organic ingredients, this easy to make apple crisp, boasts a slightly sweet, crisp struesel topping, but it's the apples that shine. Remaining slightly tart & tender, fresh apples are the star ingredient. And did I mention it's gluten-free to boot?
But what exactly is a crisp? Well, that will depend on who you're speaking with.
WHAT IS HOMEMADE APPLE CRISP
Apple crisp by definition is a baked dessert containing fresh fruit with a struesel'ish type topping. I just call it delicious 😉
Depending on your zip code, the term "crisp" or "crumble" may be used interchangeably when naming this dessert.
A crisp, especially revered in the US and Canada, typically uses rolled oats in the struesel topping, thus creating a "crisp" top. In locations such as England, "crumbles" are made very similarly, often foregoing the use of oats & instead making a more traditional "struesel" topping using only butter, flour, and sugar.
BEST APPLES TO USE FOR APPLE CRISP
What are the best apple varieties to choose when making this crisp? In my humble opinion, any type of crisp, crumble or pie benefits from using a variety of apples. There may be something about combining sweet & tart together that just lifts the flavors.
My favorites to use? A combination of sweet such as Cortland or Fuji and tart such as MacIntosh. For a further breakdown of apple varieties stop by my applesauce recipe, or better yet, make up a batch of this delicious sauce while your making your crisp 😊
HOW TO MAKE APPLE CRISP FROM SCRATCH
No matter if you are making this from scratch apple crisp gluten-free or not (you can easily substitute your favorite flour) for a simple family meal or for a large gathering, this is one dessert you will make often.
The following directions are for making a gluten-free apple crisp. I have created a recipe card that you can easily print and save for future reference if you like! You don't have to use only apples!! Substitutions will be noted and variations suggested after the recipe card.
STEP 1 – Preparing The Apples
Pre-heat the oven to 350 F & begin by peeling (optional), coring, and slicing your apples, enough to fill a 9 x 13 inch pan, and place them into a large bowl.
I am a willy nilly baker at best, & fly by the seat of my pants. My advance apologies for sure. I tend to eyeball the needed ingredients & flavor to taste, crazy right? My Grandmother would be proud tho'.
I believe I used about 8-10 medium sized apples to make what's pictured. Peeling the apples is optional, I prefer to peel using my favorite apple peeler & corer from Lehmans. However, DON'T throw those organic peels and cores out! You know me, I love to maintain a no waste kitchen! Instead, make an apple scrap vinegar out of them, just sayin' 😉
And did I mention that for my readers right now Lehmans is offering $10 off orders of $115? Use coupon code SAVE104U when checking out!
Deciding how thick or thin to slice your apples is up to you. Thicker slices will yield a firmer result, thinner less firm. I tend to go with a thicker cut as we like a bit of bite left in the apple when fully cooked.
Just be sure that whichever size you go with, you are slicing all the same way to allow for even cooking.
STEP 2 – Adding Sweetener & Spice To The Apples
Sprinkle the prepared apples with 1/2 Cup Sugar & 1/2 tsp Cinnamon (or to taste). I tend to dump, taste, and adjust here 🙂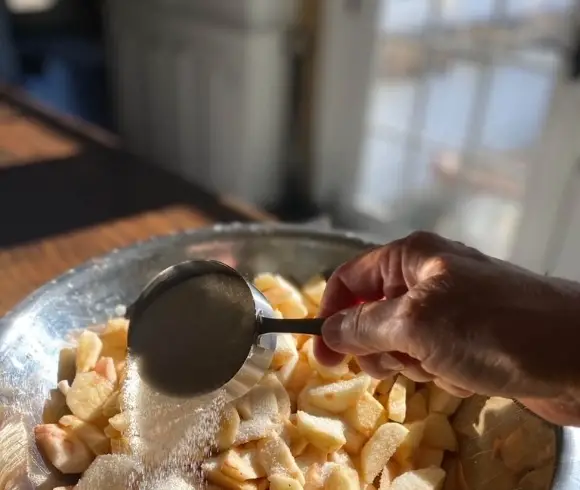 I love to further deepen the flavor of the apples and the topping by giving a good grating of nutmeg as well. I'm not talking about the ground nutmeg, but instead grated from the whole nut itself. If you haven't used nutmeg by freshly grating it, you are in for a magical taste surprise!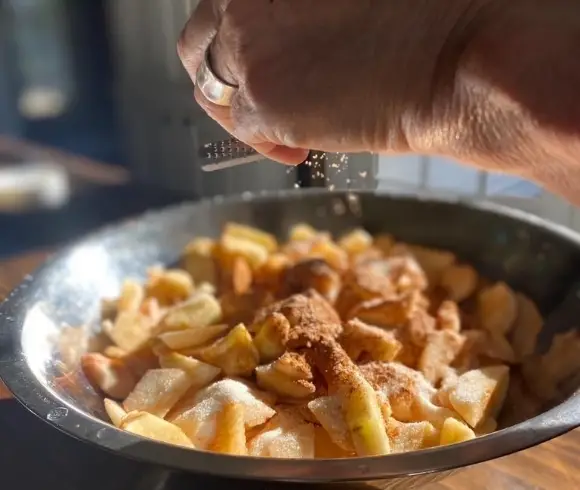 STEP 3 – Prepare The Topping
In a separate bowl, prepare the crisp topping. Combine 1 C Oat Flour (I simply used my Vitamix to grind 1 C of flour from whole gluten-free oats), 1/2 C Rolled Oats (whole/gluten-free), 1/3 C Sugar, 1/3 C Brown Sugar, 1/2 tsp Cinnamon, & 1/4 tsp Salt to 1/2 C Melted Butter. Combine until well blended, and the crumbs are evenly moistened.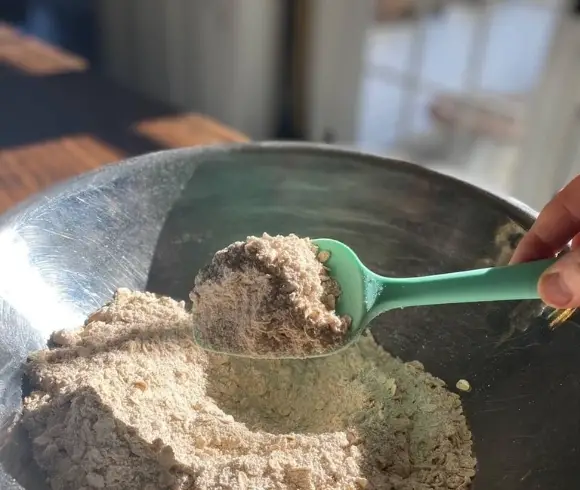 NOTE: This topping can easily be increased should you enjoy more sweetness to your crisp. I love it as is, as the sweet/tart flavors of the apples are enjoyed without being overly sweet.
STEP 4 – Prepare The Apple Crisp For Baking
Assemble the apple crisp by placing the "seasoned" sliced apples into a buttered 9 x 13 inch baking dish, I recommend using glass here.
Although not required, I add additional small pads or globs of butter to the top of the apples. This will create a thick apple juice "sauce" that is divine. How much or little to use is up to you. I added about 3-4 Tbl butter in total, breaking it up as you can see by the image below.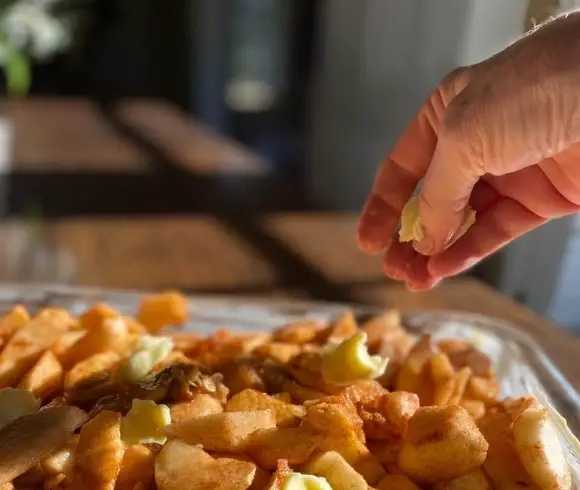 Again, this is an optional step, but one that once you try, I'm sure you will note the difference as much as I do.
STEP 5 – Add The Crisp Topping
Spoon the crumble over the apple filling, and spread evenly over the entire top. The crisp is now ready to bake.
STEP 6 – Bake The Gluten-Free Apple Crisp
Bake the gluten-free apple crisp at 350 F until the fruit is tender when tested with a toothpick, the juices from the apples are bubbling, and the crisp topping is golden brown or, well, crisp 😉 Typically about 35 to 40 minutes.
Once fully baked, transfer the crisp to a cooling rack and let it rest or cool about 10 minutes prior to serving.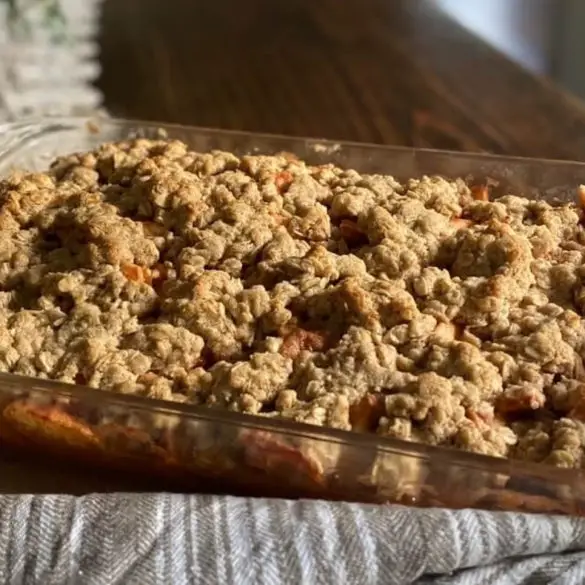 Ingredients
Evenly sliced apples, enough to fill a 9 x 13 inch baking dish (approx. 8 to 10 medium sized apples)

1/2 C plus 1/3 C Sugar (divided)

1 C Gluten-Free Oat Flour (or GF flour of your choice)

1/2 C Gluten-Free Rolled Oats

1/3 C Brown Sugar (firmly packed)

1/2 tsp Cinnamon (or to taste)

*optional: freshly grated nutmeg to taste

1/4 tsp Salt

1/2 C Melted Butter
Instructions
Prepare The Apples
Peel, core, & slice your apples, enough to fill a 9x13 baking dish Mix 1/2 C sugar & cinnamon to taste with the sliced apples  *optional:  add freshly grated nutmeg as well
Prepare The Crisp Topping
In a bowl, make the crumble topping. Combine 1 C Oat Flour, 1/2 C rolled oats, 1/3 C sugar, 1/3 C brown sugar, 1/2 tsp Cinnamon, 1/4 tsp Salt, 1/2 C Melted Butter and mix well
*optional:  place pads of butter on top of the sliced apples
Prepare The Gluten-Free Apple Crisp For Baking
Spoon the crumble evenly over the apples.
Bake at 350 F for 35-40 minutes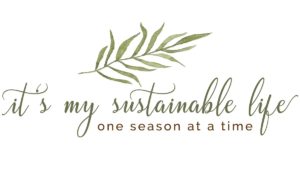 Notes
*Allow the baked gluten-free apple crisp to rest at least 10 minutes prior to serving **Substitute fruit(s) of your choice such as strawberry rhubarb, blueberry & apple, peach & apple
Speaking of recipes! Take a look at these adorable, farm inspired recipe cards available in our Etsy shop now! These 5 homestead designs are easily downloaded and reprinted as often as you need! Did I mention how cute they are?
APPLE CRISP VARIATIONS
Have I mentioned how versatile this recipe is? Don't wish to make this gluten-free? Substitute your regular flour instead of grinding or using oat flour. Need to use a different gluten-free flour? No problem! Use your favorite brand.
Not particularly a fan of apples? Change up the fruit, substituting at the same quantities as in the original recipe. Think strawberry/rhubarb, add blueberries along with the apples, use dried cranberries or cherries along with apples. There is no limit as to the variations you can explore. Use what's in season when the fruit is at it's freshest.
SERVING ALTERNATIVES FOR APPLE CRISP
As versatile as this recipe is to make, so it is to serve. Again, your options are only as many as you can think up!
Serving warm with a scoop of homemade vanilla bean ice cream may be our favorite way to enjoy. What? You don't make your own? Check out my recipe and I can guarantee it will spoil you for any other kind of ice cream 🙂
Or what about with a little homemade whipped cream or even heavy cream drizzled over the top? And then there is always the option to enjoy it straight up, right out of the baking dish 😉
Love this recipe? Your shares, likes, & follows on social media channels are so much appreciated! Or pin the image below if you love it! I thank you in advance for your support!!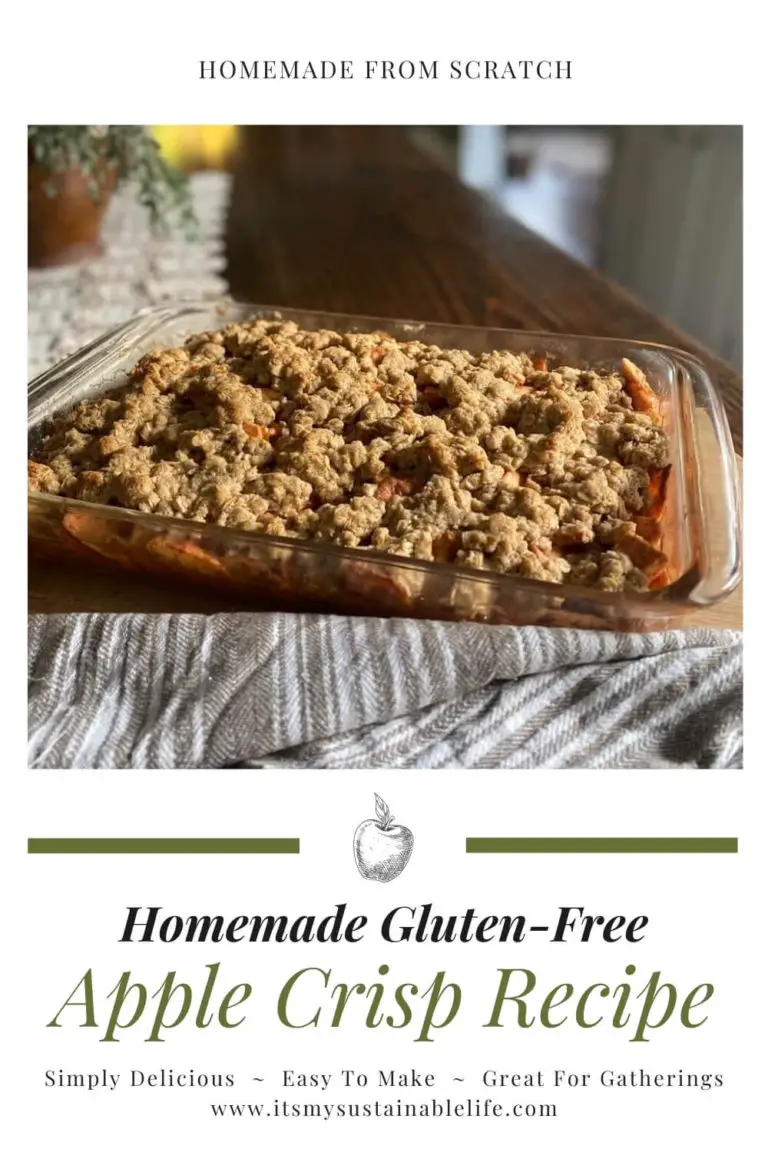 No matter how you plan to serve your homemade gluten-free apple crisp, I can assure you, it will be delish!
Do you love gluten-free apple crisp as much as we do?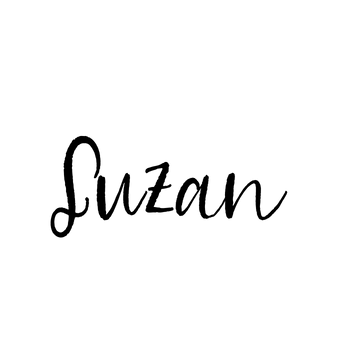 Enjoy this article? Please consider sharing it on your favorite social media channel! Want more? Subscribe below for the occasional update with all the "happenings on the hill"!