Whether you call it old fashioned ice cream, homemade ice cream, or frozen custard, I call it yummy! This classic vintage French vanilla bean ice cream, made with all the rich goodness from a few pantry staples will be one you can make & enjoy easily any time of the year.
This post may contain affiliate links at no additional cost to you.  By making your purchases through the links on this website, IMSL may make a small percentage at no direct cost to you. IMSL only promotes products we use & truly believe in. Please refer to my Privacy & Disclosures for further information. IMSL thanks you for your support!
Here on the hill, we make this custard-based ice cream monthly or when we have an abundance of milk. As with everything we make here on our homestead, we use whole foods as close to their original form as possible. Although being high in fat and calories, this recipe is sure to satisfy anyone even when eaten in moderation 🙂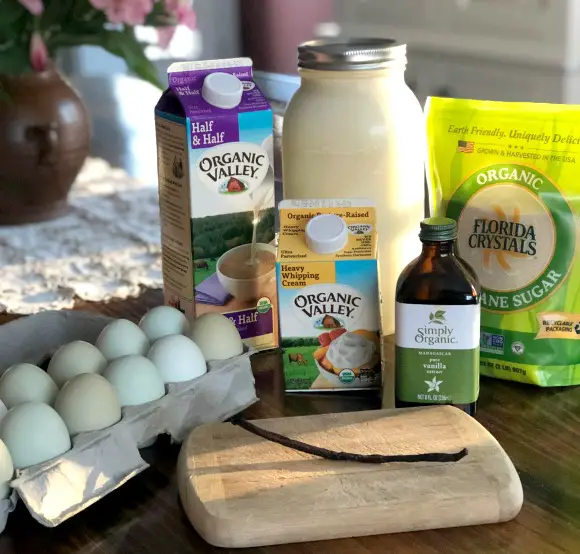 INGREDIENTS FOR OLD FASHIONED VANILLA BEAN ICE CREAM
The organic ingredient list is simple and short. A dozen eggs, vanilla bean, whole milk, sugar, cream, half & half (optional), sugar, and vanilla extract. A printable recipe card is available below for your convenience.
I know, your most likely seeing the half & half and asking, what? Cream AND half & half? The half & half is definitely optional. I love the result using just milk and cream with no half & half. R, however, likes it EXTRA rich and creamy. This time around, R wins the prize. This recipe will make 1/2 gallon of ice cream.
HOW TO MAKE VANILLA BEAN ICE CREAM
For this recipe you will need to gather the following:
One Dozen Eggs
Heavy Cream (2 cups)
Whole Milk (2 cups)
1/2 & 1/2 (2 cups)
Sugar (1 1/2 cups)
Salt (pinch)
Vanilla Beans (1)
Eggs (one dozen, yolks only) *save the whites for use in other recipes 🙂
Vanilla Extract (1 Tbl)
4 Qt Sauce Pan
Thermometer
Ice Cream Maker of Your Choice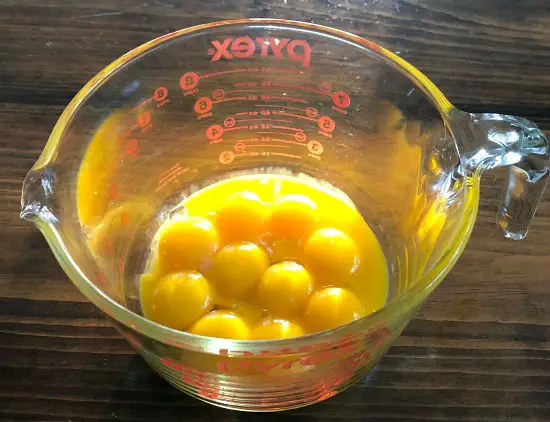 Heat milk, cream, and sugar on medium heat, slowly until the sugar melts. Add a bit of the warmed milk and cream to the egg yolks to temper the eggs, and then add the tempered egg yolks to the milk and cream. Mix together by whisking or stirring until combined well.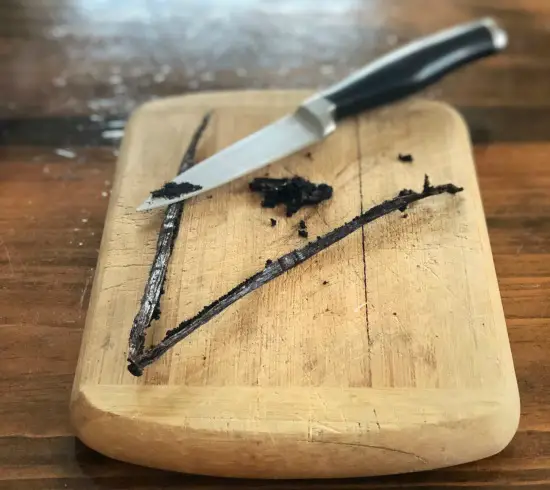 Slice one whole vanilla bean down the center and scrape the seeds from the pod. Add the seeds and the pod to the warming milk, cream & egg yolk mixture as well as a pinch of salt. Slowly, bring to between 170 F and 175 F.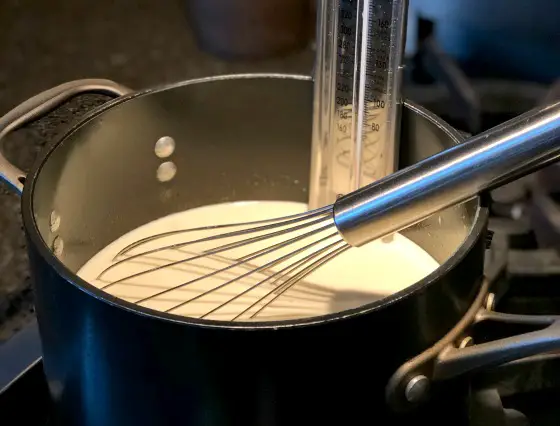 Once to temperature, immediately remove from the stove and place the pan into an ice water bath to cool quickly. When the mixture has cooled to room temperature, add vanilla extract and mix thoroughly.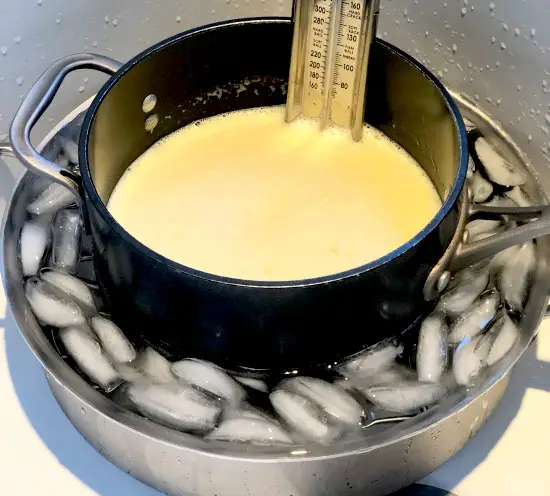 Place cooled mixture into a container, we use the stainless steel container to our electric ice cream maker (churn-style) and place into the refrigerator overnight. One similar to ours can be found HERE.
Churn the refrigerated mix the following day by your method of choice. We use an electric, churn-style maker along with rock salt. Quick, easy and does the trick. Pack into your freezer container of choice and enjoy!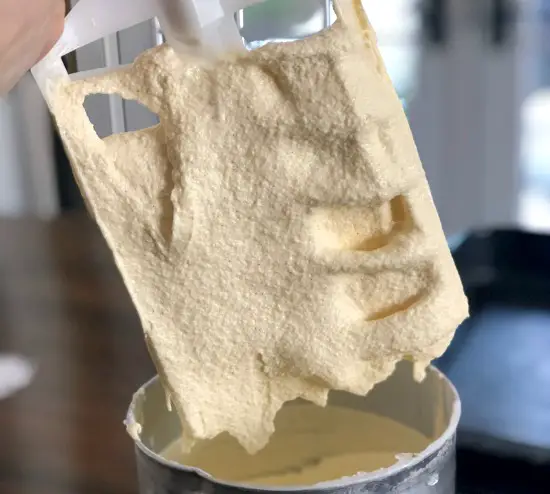 VANILLA BEAN ICE CREAM STORAGE SUGGESTIONS
Refrigerate your container for several hours prior to adding your custard mix for refrigeration overnight to keep it all nice and chilly.
Pack the churned ice cream firmly into a freezer storage container for long term storage. This reduces the likelihood of freezer burn…..should it last that long 🙂
HOW TO ENJOY HOMEMADE VANILLA BEAN ICE CREAM
Straight out of the container is always a good choice. Or you can add our wonderful hot fudge sauce, easy directions can be found on my post, "What Makes A Thing Better? Old Fashioned Hot Fudge Sauce", highly recommended :). Have extra homemade jam left? Make a banana split with jam(s) and hot fudge sauce, or just use the jam. Enjoy an ice cream cone plain or add the fudge sauce to the inside of the cone and freeze prior to adding the vanilla ice cream. Have a scoop over pie, buckles, or other desserts. The options are endless, the enjoyment guaranteed.
Tried this recipe? Be sure to share your results by commenting below! Have a different recipe you enjoy? Love to hear about it!
Love, Light & Laughter,

Old Fashioned Vanilla Bean Ice Cream
Rich, creamy old fashioned ice cream recipe using the classic French custard method.
Ingredients
2

Cup

Whole Milk

2

Cup

Heavy Cream

2

Cup

1/2 & 1/2

1.5

Cup

Sugar

Pinch

Salt

1

Vanilla Bean

sliced/seeds removed

12

Egg Yolks

1

Tbl

Vanilla Extract
Instructions
Heat first four ingredients on medium heat in 4 Qt saucepan until sugar dissolves.

Temper egg yolks with warmed milk and cream.

Add vanilla bean paste and pod along with the tempered mixture back to pan to heat to 170F to 175F.

Cool pan in ice water bath.  Add vanilla extract and mix.

Place in a container and refrigerate overnight.

Churn with your desired method the following day.  Pack into freezer container and freeze for long-term storage.