Wild violet vinegar is simple and quick to make, beautiful to look at, and flavorful to use.  Gather wild violet flowers and enjoy making your own artisanal wild violet infused vinegar to use in some unique ways!
This post may contain affiliate links at no additional cost to you.  By making your purchases through the links on this website, IMSL may make a small percentage at no direct cost to you. IMSL only promotes products we use & truly believe in. Please refer to my Privacy & Disclosures for further information. IMSL thanks you for your support!
When the sunny, yellow flowers of the dandelion plant begin to appear every spring, I know that the wild violets are soon to follow.
The wild violet is right up there with my other foraging favorites, calendula, yarrow, elderflower, and goldenrod to name just a few.

After all, wild violet is beneficial and just so darn beautiful to work with 😊
One of my favorite creations for these gorgeous flowers is to make an infused wild violet vinegar.  Not only does this vinegar look stunning with its deep purple hue, it also has so many beneficial uses!
But I get ahead of myself.  First let's forage these little beauties 🤗
FORAGING WILD VIOLET TIPS
With any foraging endeavor, it's imperative that you properly identify the plant and are 100% certain that it's properly identified prior to consuming!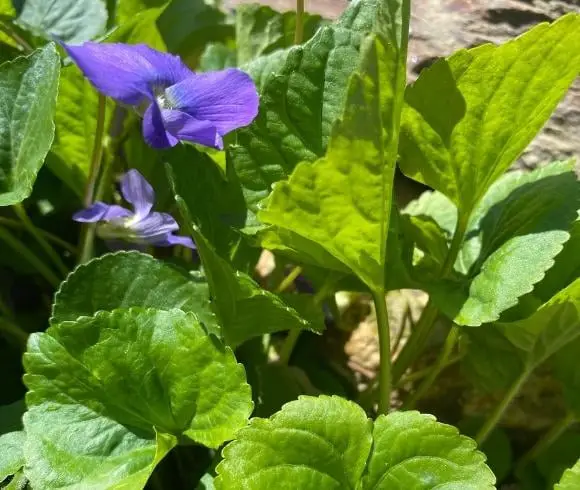 Here are a few foraging tips when searching for wild violets …
Here in the Northeast, the Viola sororia and the Viola odorata are most common
The wild violet has few look-alikes.  Lesser Celandine is definitely one that could be mistaken PRIOR to flowering.  The leaves are both heart shaped but the flowers look nothing alike with the lesser celandines yellow flowers resembling a spiky, daisy-looking blossom
The leaves of the wild violet are typically smooth, deeply green, and heart shaped that often curl inward
The blooms are 5 petals with a pair of petals on the top, one petal on each side and one petal pointing downward.  Typically violet in color, but do range in variations of violet and white, with streaks of contrasting tones coming from the center
When foraging take only that which you need, I recommend never taking more than half the blooms and 25% of the leafage 
Harvest the blooms on a day with no rain and wait for the morning dew to dissipate
Choose the freshest looking blooms, one's that don't have any browning or dried area's
Fortunately it only takes a couple handfuls of violet blossoms to create an amazingly deep violet vinegar!
WILD VIOLET VINEGAR RECIPE
Wild violet vinegar is easy to make.  You have choices when it comes to which type of vinegar base you will use.  
Violet blossom flavor is very delicate and can easily be overpowered by stronger flavored vinegars.  Choosing milder flavored vinegars is highly recommended.

Some good vinegar choices like those of white wine vinegar, champagne or rice vinegar work wonderfully.  I've also created some amazing versions using white balsamic vinegar and simple white vinegar.
Be adventurous in your vinegar base.  Experiment.  See which flavor you prefer!
GATHER EQUIPMENT
Gather a few simple items before harvesting the violet flowers.
Jar – Any size will do.  It's really dependent on how many blossoms you are able to collect
Lid – Should you be using a metal lid be sure to place a piece of parchment paper over the jar before screwing the lid on.  The metal can react with the vinegar.  When using acidic ingredients, I recommend using these reusable, leak proof storage lids made just for us mason jar lovers. They are definitely worth the small investment
Vinegar of choice
Wild violets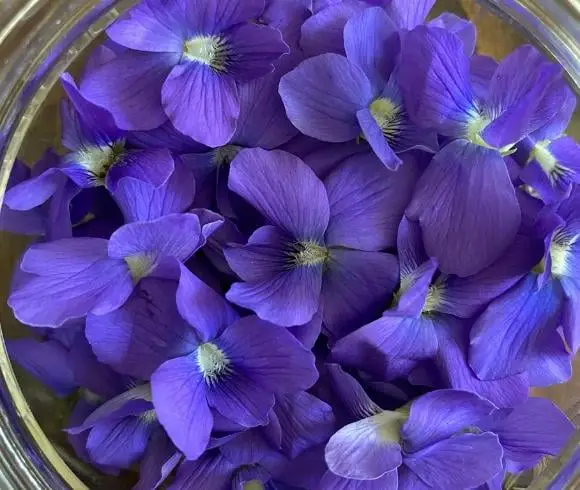 MAKING THE WILD VIOLET VINEGAR
Forage and gather your wild violet blossoms just before making this vinegar.   These delicate flowers will wait for no one 😊  As with any foraging adventure, always select from areas that are not sprayed or exposed to car exhaust or other harmful chemicals
Should your flowers have dirt or debris on them, rinse them and lay them out to dry
Place the blossoms in a clean, dry jar, filling the jar at least ½ way with the flowers
In a small saucepan add your vinegar and heat until just beginning to simmer
Pour the warmed vinegar over the blossoms in the jar, leaving at least 1 inch headspace and cover
Place the filled jar in a dark cupboard or area and allow the vinegar to infuse for a minimum of several days up to a week
Once completely infused, strain the used violet blossoms from the beautiful, violet colored infused vinegar.  Remember to compost those blossoms!
Store the wild violet vinegar in a covered jar and use at will
Your wild violet vinegar will be a lovely, deep purple color (when using violets like mine anyway 😊).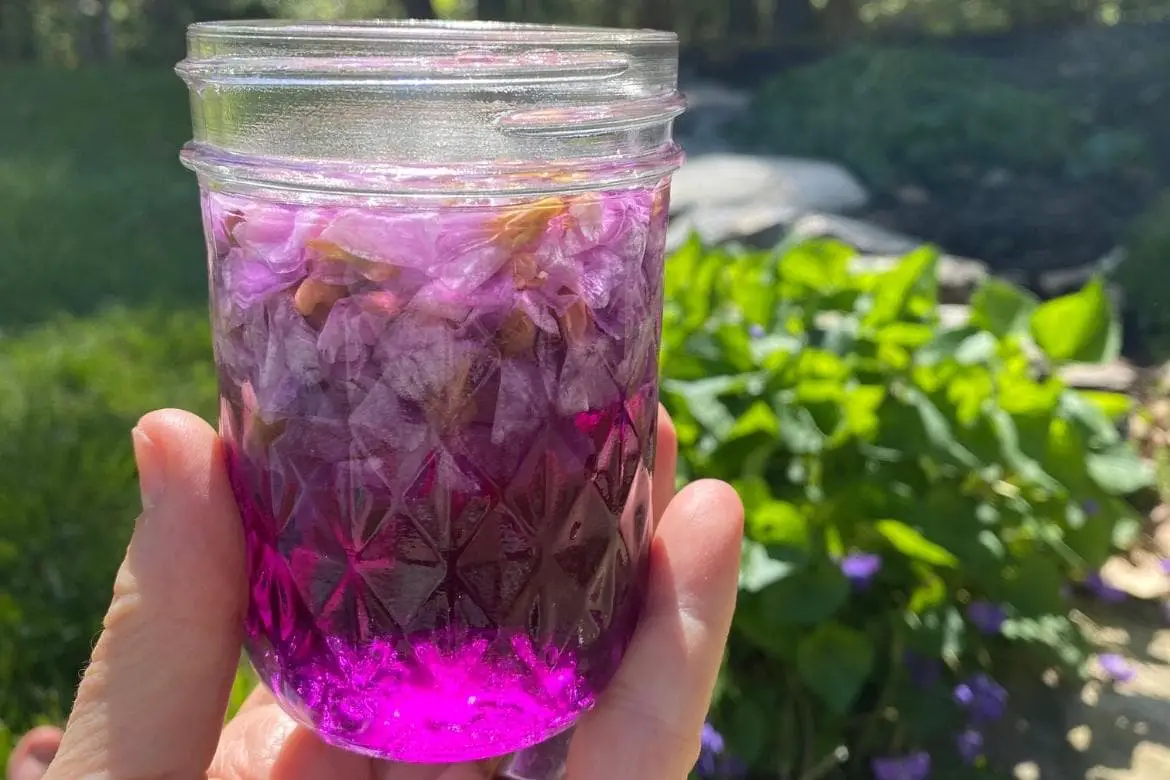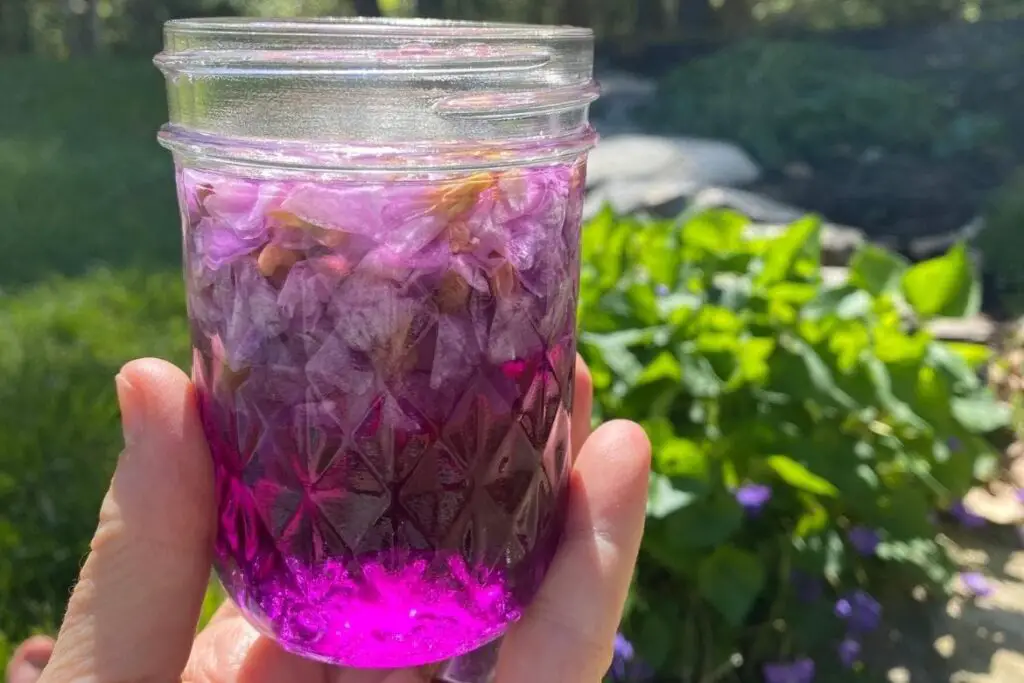 Notice the violet blossoms immediately begin to lose their color once the vinegar is poured over them!  Magical!!
Should you want to slowly infuse your vinegar without using the heat method simply follow the instructions above without heating the vinegar.   It may take a bit longer (up to several weeks) for the infused vinegar to reach the desired hue.
No matter which method of infusion you choose, you can be sure the end result is not only tasty, but gorgeous as well.
HOW TO USE VIOLET VINEGAR
There are a plethora of uses for wild violet vinegar other than just the kitchen.  Although there too it's enjoyed to its fullest 😊
Sharing Is Caring ❤️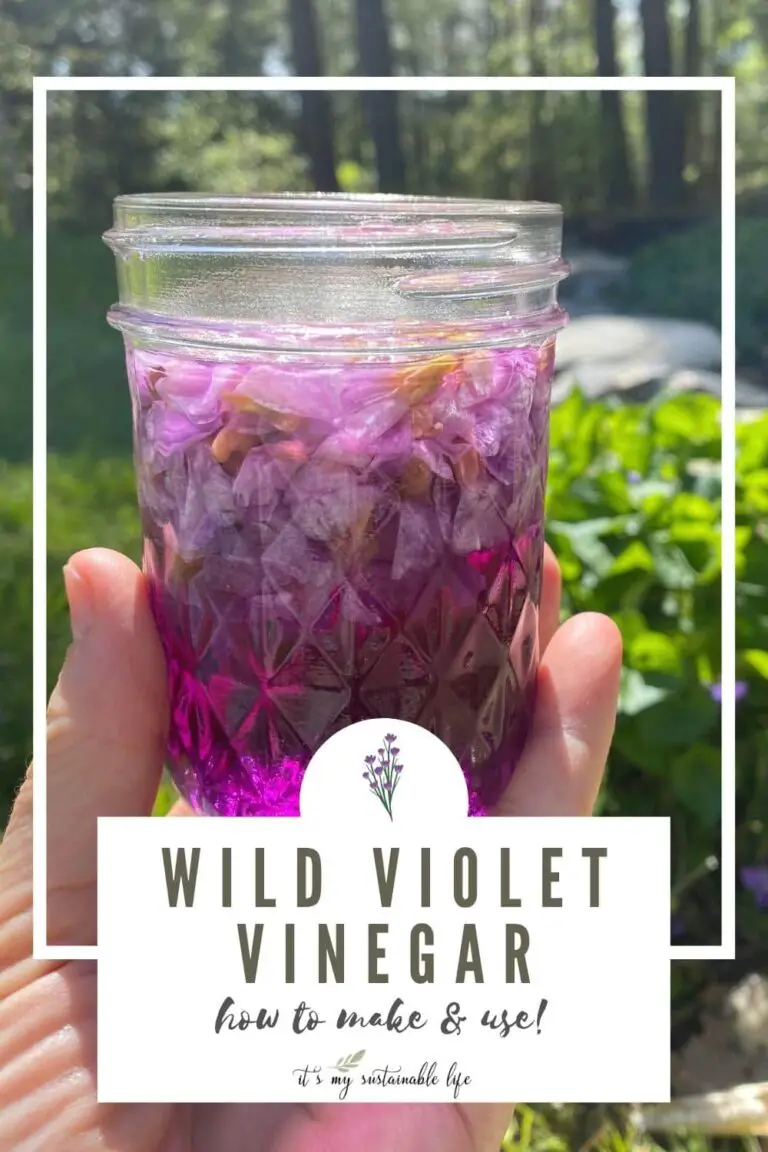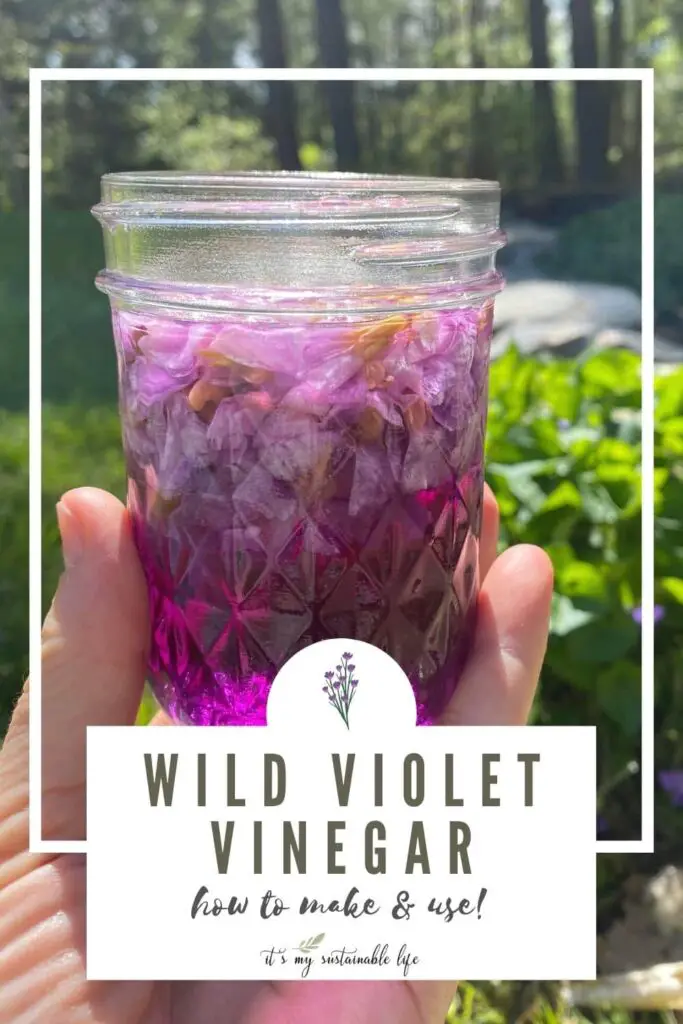 KITCHEN USES
High in vit C and A, using the violet infused vinegar in a multitude of kitchen dishes will not only add flavor, but give a nutritional boost.
Vinaigrettes and salad dressing may be the most popular uses for this vinegar in the kitchen.
One of my favorite vinaigrette to make is simple; a violet vinegar, garlic and honey mixture.
To make this vinaigrette combine ¾ C EVOO, ¼ C Wild Violet Vinegar, 1 Tbl White Miso paste, 1 tsp honey or make it Vegan and use ½ tsp agave (or more to taste), and salt and pepper.  Whisk to emulsify and use on your favorite green salad.  And don't forget to dress it up with a few fresh flowers on top!!
Utilize violet vinegar in marinades for both meats & vegetables, savory dishes or any other dish which calls for vinegar!
DISCLAIMER
Recommendations and or suggestions made by this blog regarding husbandry and or herbal remedies etc. are not meant to replace solid advice from qualified professionals.  None of the information on this blog has been evaluated by the FDA.  Products or remedies mentioned are not intended to diagnose, treat, cure or prevent disease.  Please do your due diligence.  Research, talk to qualified professionals and proceed at your own risk.
MEDICINAL USES
The violet's uses don't stop at just a flavorful addition to meals.  Utilizing the infused vinegar also brings with it some medicinal benefits and uses.
Use wild violet vinegar in the following ways …
FACIAL TONER – Vinegar makes for a natural facial toner due to its astringent acids.  Add wild violet which boasts salicylic acid and anti-inflammatory properties, and you create a nourishing and healing toner
BATH – Again, vinegar alone works wonders when used in baths to soothe tired & achy muscles.  Adding ½ C of an infusion of violet & vinegar only boosts it to a skin and muscle soothing soak for the whole body or just the feet (greatly aids in fungal infections)
HAIR RINSE – Dilute this infused vinegar with equal parts water and use as a hair rinse to help relieve itchy scalp, reduce dandruff, and remove soap residue 
IMMUNE STIMULATOR – Being high in vit C and A, violet vinegar is good for the immune system.  Adding this infused vinegar to an already amazing immune support such as Fire Cider or simply taking a shot of water & violet vinegar at a 1:1 ratio will give the immune system the support it needs 
BUG BITE RELIEF –  Bug bite's (think bee & wasp stings, bites from mosquitoes and chiggers, etc) are no joke.  Find relief from bites by simply soaking a cotton ball or tissue with the infused vinegar and press on the area until relief is felt
SUNBURN –  If you've ever treated a sunburn with vinegar diluted with equal parts water, you know how relieving it can be.  Add the healing properties of the violet to the mix and enjoy nature's relief
OXYMEL – An oxymel, be sure to visit the complete tutorial on herbal oxymels, is simply combining equal parts honey and vinegar.  When using an infused wild violet vinegar you are giving the oxymel a huge boost in helping out coughs and respiratory issues
So many uses and applications for making wild violet vinegar!  You can be sure of finding this infusion replenished in my cupboard every spring!
Hopefully you have been inspired to do a little foraging this spring for your own wild violets to make & use your own wild violet vinegar!
Have you made wild violet vinegar yet? Happy foraging 😊
Love, Light, & Laughter ~

SHOP THIS POST
Enjoy this article? Please consider sharing it on your favorite social media channel! Want more? Subscribe below for the occasional update with all the "happenings on the hill"!