These homemade mini baguettes are simple to make using only 4 ingredients, crusty on the outside, chewey and divine on the inside. Just how we like it.
This post may contain affiliate links at no additional cost to you.  By making your purchases through the links on this website, IMSL may make a small percentage at no direct cost to you. IMSL only promotes products we use & truly believe in. Please refer to my Privacy & Disclosures for further information. IMSL thanks you for your support!
Here on the hill we love our bread. Any kind of bread will do, but we especially love the crusty kind. The kind you crack open. One that boasts a good bite.
We love to make artisan breads. Particularly one made using beer, sourdough, and even simple sandwich breads, all of which I'll be sharing soon!
This versatile twist on our baguette recipe utilizes a base dough recipe that we love to make often. Our homemade hamburger bun recipe.
I know, you are probably thinking "for a baguette"? Yup. With a simple change when shaping the dough, we can make burger buns, baguettes, and as I'll be showing you here, sub rolls or mini baguettes.
And did I mention how delicious they are? Especially when served with our favorite homemade tomato sauce recipe (grown and canned here on the hill), provolone cheese, and homemade meatballs (recipe coming soon!).
OK. Now I'm hungry.
WHAT IS A BAGUETTE
Visit any bakery, local bread artisan, or if you are fortunate enough, France, you will see these long, crusty, rather thin loaves peaking out of their wrappers & baskets.
Traditional French baguettes boast extremely crunchy outer crusts. Our twist on the traditional baguette does not possess as thick an outer crust, but doesn't lack in the crunch factor. Nor the flavor.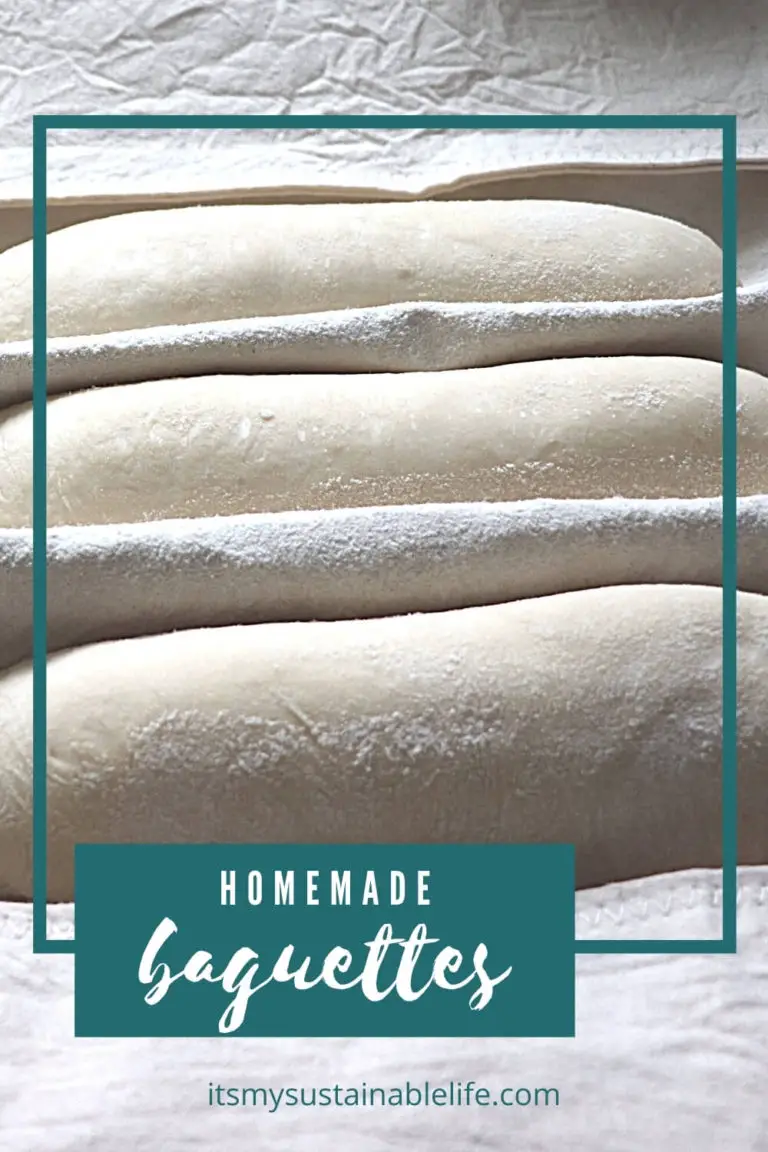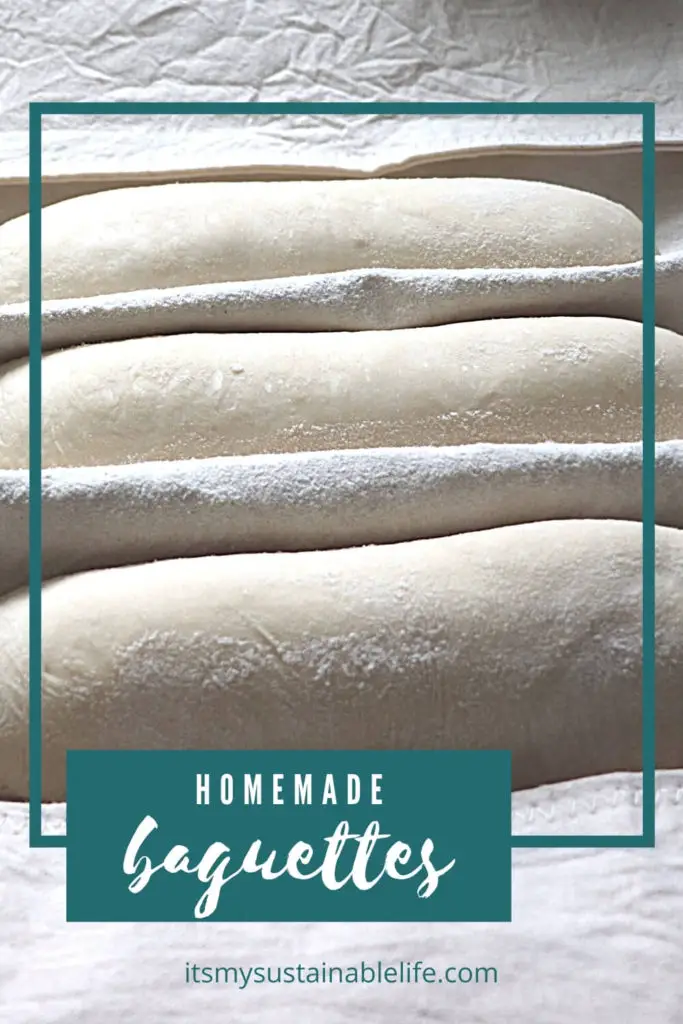 That's not to say this recipe could not be made into a traditional French baguette as well. It's all in the shaping, the amount of moisture you add to the loaf by spritzing or placing ice cubes in the oven when baking, and the amount of time baked.
Experiment! This dough is versatile and forgiving. I can guarantee no matter what shape you bake, it will be delectable!

HOW TO MAKE A HOMEMADE BAGUETTE
This recipe uses just 4 simple ingredients that most will have available in their pantry already. Only simple ingredients and bit of time. Yeast, sweetener, flour, and water. The good news on the time part? It's mostly down time! Simple right?
To make the dough follow the directions (1 through 7) found on our homemade hamburger bun recipe.
Follow the directions up to the shaping instructions.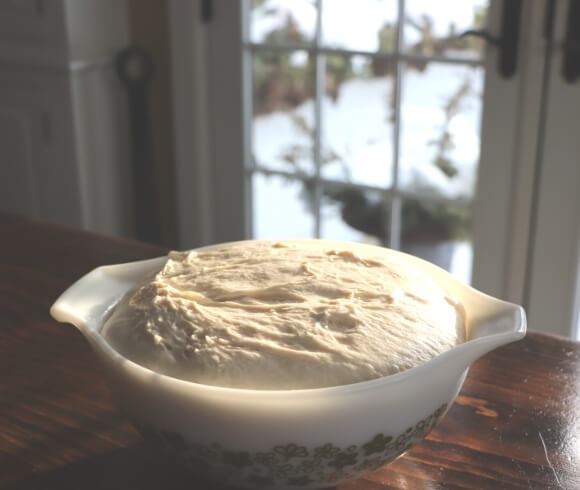 Once you have your dough ready it's time for the dividing & shaping of these mini baguettes. The hamburger bun recipe will make enough for 6 mini baguettes.
I. Divide the dough evenly into six portion sizes on a floured surface.
II. Take one portion size and shape into a rectangle like shown below. Begin shaping the baguette by rolling on long edge and taking your fingertips to crimp the edge down. Continue this until shaped into a complete roll, making sure to seal the end edge well.
This dough is very forgiving, so don't hesitate to make it do what you want here 😉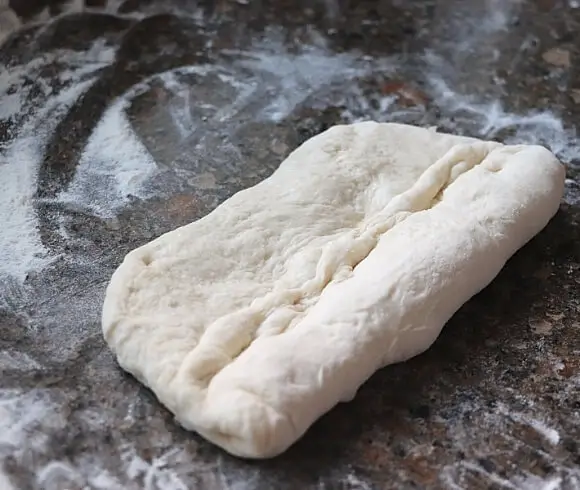 Curl the ends in and under to create a tube like shape, crimping the edges in.
NOTE: To hold this shape use either a baguette pan or a floured pastry cloth (as shown), aka a "bakers couche" or clean kitchen towel in a pinch, by creating ridges in the cloth as shown.
Don't be too concerned with being a perfect shape, kind of like the one on the right below 😉 They continue to rise when cooked & always seem to correct themselves pretty well.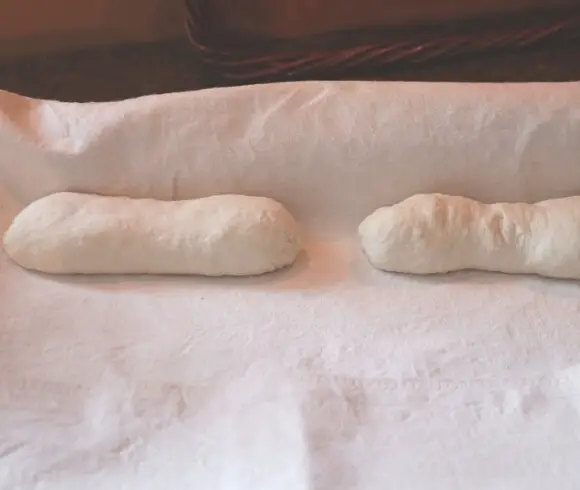 Another tool you may want to invest in when making bread is a "bread lame" or a scoring tool. Although I did not score these sub rolls or mini baguettes here, you will often be directed to do so when making a traditional baguette.
A serrated knife will work in a pinch, but the small investment in one of these tools can make the chore of scoring your breads that much easier.
Once you have all of your mini baguettes formed, cover and place in the refrigerator for up to 4 hours or overnight.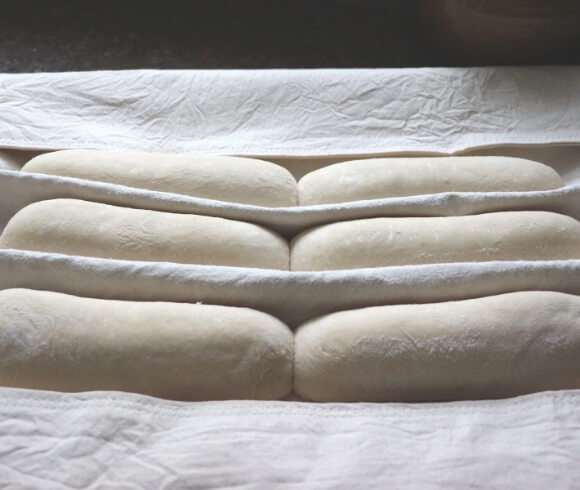 BAKING HOMEMADE BAGUETTES
To bake these baguettes, remove from the refrigerator and allow to rise to almost double in size while you set your oven to heating to 475 F.
For added crunchy crust, spritz your baguettes with water just prior to placing in the oven. Optionally, you can add a few ice cubes to the bottom of your oven or even a pan of water while they are baking to create a wonderful crunchy crust.
To bake these baguettes, place in the preheated oven at 475 F for ten minutes, reduce the heat to 400 F and cook for another 12-18 minutes, or until they sound hollow inside when tapped on the bottom.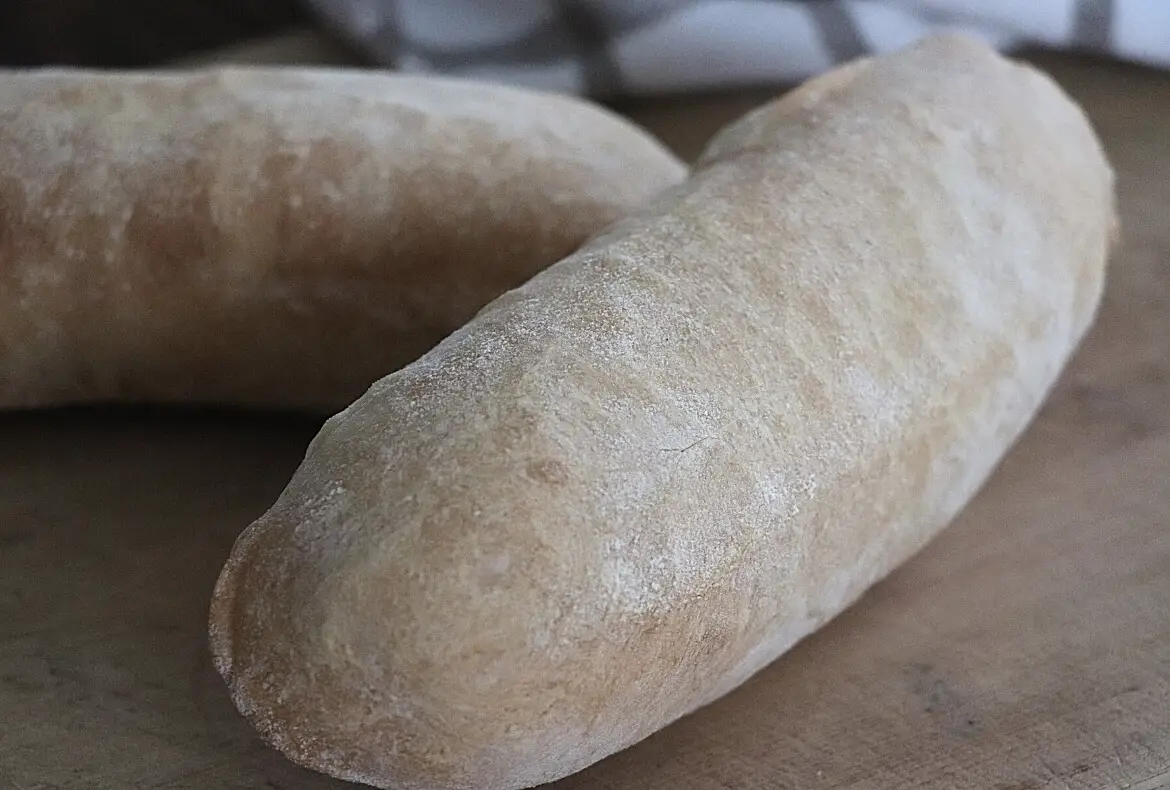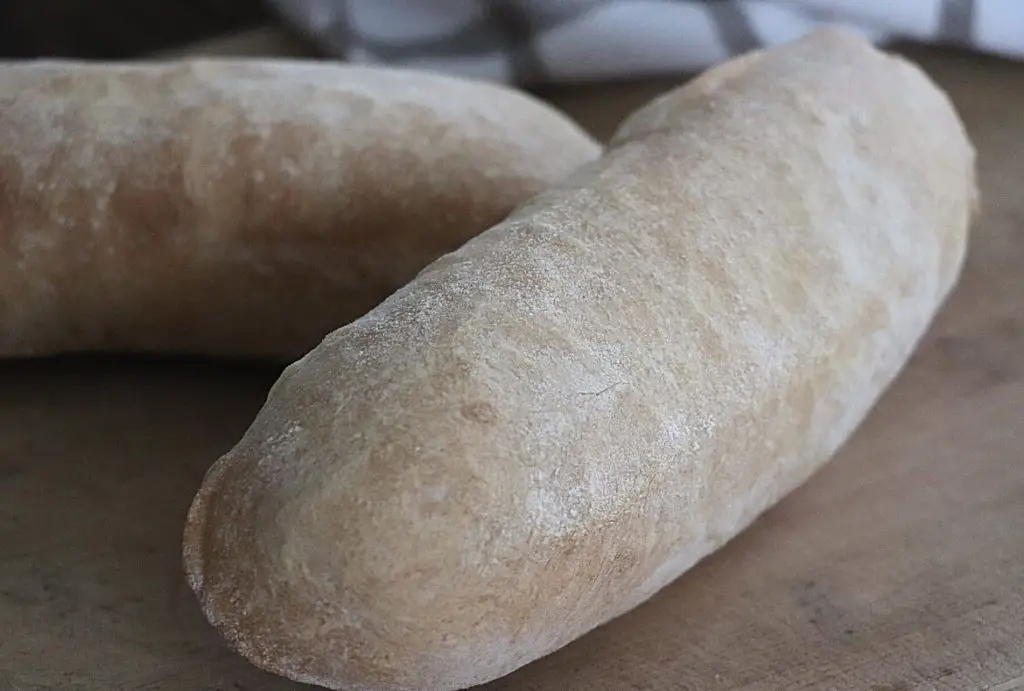 Cool, and enjoy!
HOW TO ENJOY BAGUETTES
Probably the easier question would be "are they any ways we can't enjoy baguetts" 🙂 There are so many wonderful ways to enjoy them!
KEEP IT SIMPLE – They are best when enjoyed simply. Crack them open & enjoy by dipping into a bit of EVOO (extra virgin olive oil), a bit of salt & pepper as an appetizer, with butter to accompany a bowl of stew or your favorite soup, or even with a slathering of raw honey as a sweet treat
SUB ROLLS – These mini baguettes make for the perfect sub or grinder roll to hold your favorite sandwich fillings! As stated, we love them filled with our homemade meatballs, sauce, and cheese, reheated in the oven to melt the cheese. So good
BRUSCHETTA | CROSTINI – Slice into rounds, spread EVOO on both sides and bake or grill to create an extra crunchy treat to be enjoyed with your favorite spread or as a dipper at any party
GARLIC BREAD – Spread with either butter or EVOO, add some garlic and bake for a delectable, garlicky side to any meal
HOW TO STORE HOMEMADE BAGUETTES
Should you have to store leftovers from your homemade baguettes (if you get my meaning), I've gone to the experts as we typically don't have any left to store 🙂
According to King Arthur's recommendations for storing a crispy crusted bread…
That being said, my favorite way to store our homemade breads is in a reusable linen bread bag! Learn how to make an easy & reusable linen bread bag with this simple tutorial!
CAN YOU FREEZE HOMEMADE BAGUETTES
In a pinch, yes. What do I mean by that? Well, freezing and thawing your homemade baguettes will most likely cause the outer crust to soften. That's not to say these don't freeze well, but if you are looking to enjoy that crust, freezing would not be your best option.
Should you need to freeze, I would recommend you pre-slice your baguette, place in a freezer bag, and remove slices to toast as needed. Toasting will recreate that beautiful crunch for sure!
Making homemade dough, breads, and pizza crusts (my fav way coming soon!) is easy & fun, and this homemade baguette recipe is no exception!
What's keeping your from making your own breads?
Love, Light, & Laughter ~