These homemade hamburger buns are unlike any you've had before. Crusty on the outside, soft & chewy on the inside. These easy to make, from scratch buns, using only 4 simple ingredients (with no eggs!), and are guaranteed to satisfy no matter the filling.
This post may contain affiliate links at no additional cost to you.  By making your purchases through the links on this website, IMSL may make a small percentage at no direct cost to you. IMSL only promotes products we use & truly believe in. Please refer to my Privacy & Disclosures for further information. IMSL thanks you for your support!
Here on the hill we grill year round. We thought we couldn't improve upon our homemade burgers, typically served using a store-bought hamburger bun. Boy, were we wrong! These from scratch, homemade hamburger buns have taken our burgers to the next level!!
We challenge you to find any crusty hamburger bun that rivals these easy to make versions, & that includes those from the bakery! Crusty on the outside with a bit of a chew (just how we like them) and so tender & soft on the inside, these burger buns will stay strong & hold any filling you choose!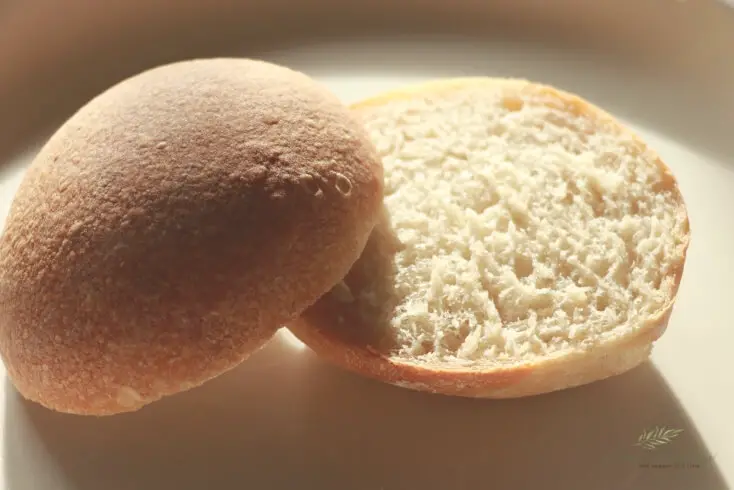 Have to admit, we never considered making our own homemade hamburger buns as they looked too involved & tricky to attempt. Were we wrong! Other than time, these burgers practically make themselves using only four ingredients & water!
And did I mention how versatile this dough is? We've used it to make small, crusty baguettes, aka sub-rolls as well! Worked like a charm and so tasty!
WHY THIS HOMEMADE HAMBURGER BUN RECIPE IS THE BEST
These burger buns beat out several other recipes for the best buns. Why?
The Crust! We love that this is a crusty version of a burger bun. The crunchy, chewey texture is not only delicious, but also hold up better to hearty fillings such as burgers, sloppy joes, & pulled pork.
The Tender Centers! The tender center creates such a wonderful contrast to the crusty exterior. Not to mention this tender center soaks up all the juicy goodness of your filling like our amazing Fermented BBQ Sauce!
Easy To Make! If you are anything like we were, a little intimidated to make these buns, don't be! They were super easy and so worth the effort.
They Freeze Well! These homemade hamburger buns freeze amazingly well. We will double the next batch(s) and freeze for convenience.
Easily Adjustable For Dietary Needs! Need GF? Be sure to take a look at our Easy Homemade Flatbread Cracker recipe for tips on substituting tradition flour with gluten free options. Vegan? Simply replace the honey with traditional sugar.
Control Of Ingredients! Making these from scratch allows you to control what goes into them. No unwanted, harmful chemicals or stabilizers in this recipe!
The reasons for making these buns are many. But the most important? The taste & texture! You will simply have to give them a try to see what we're taking about 🙂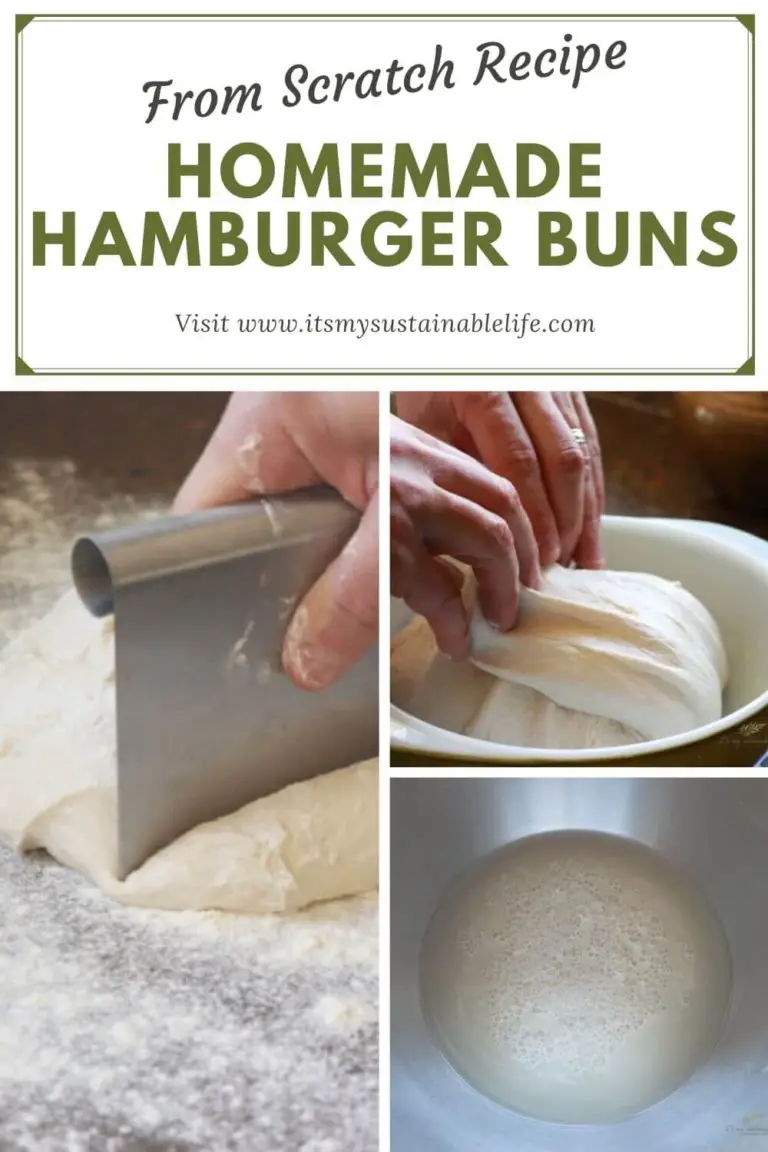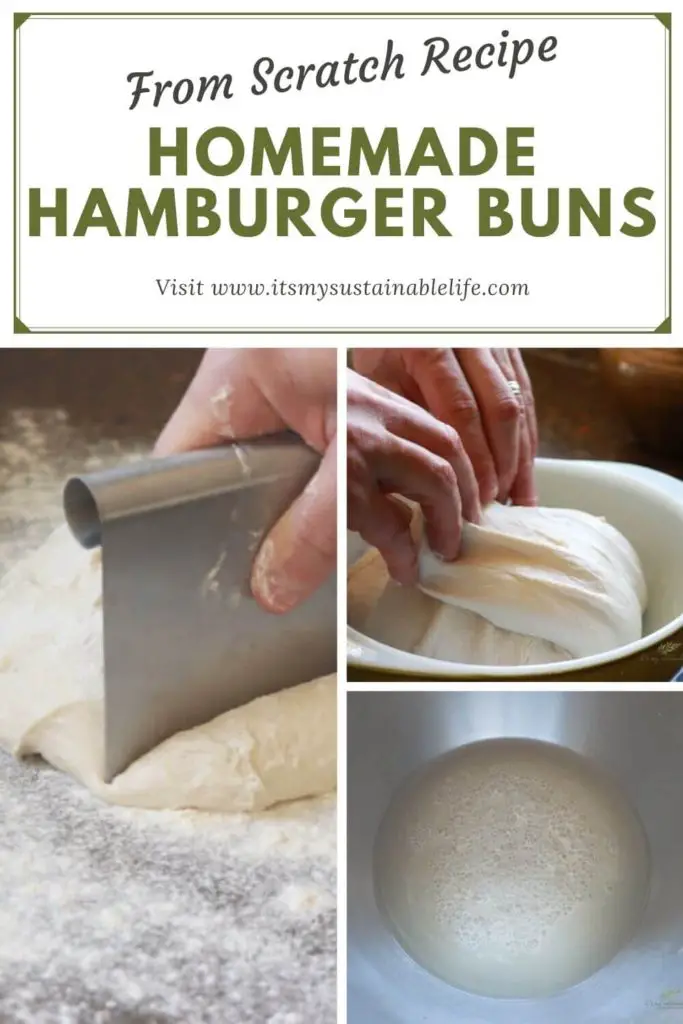 HOW TO MAKE HOMEMADE HAMBURGER BUNS FROM SCRATCH
Ready to make your own? Begin by gathering the simple ingredients. For this recipe you will need the following…
Warm water
Yeast
Honey or Sugar
Flour
Sea Salt
Stand Mixer (can be done by hand if need be)
Baking Sheet
Parchment Paper or Silpat

In the bowl of your stand mixer (pre-warmed a bit by filling with hot water, let sit, and then empty) mix warmed water (under 110F), yeast, and honey. Let sit until foaming, approximately 10-15 minutes.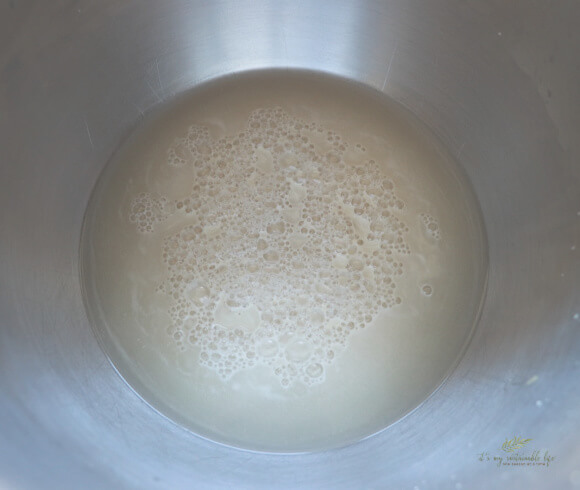 Placing the dough hook onto the stand mixer, add the flour and salt to the yeast mixture. Mix thoroughly and then knead until the dough pulls away from the sides of the bowl.
Continue to knead on medium speed until the dough becomes smooth & elastic. Place the dough into a greased bowl, cover, and let rise for 45 minutes in a warm area.
After 45 minutes, uncover the dough & fold the dough over itself on all four sides. This process realigns the gluten in the dough, allowing it to develop in both texture & flavor.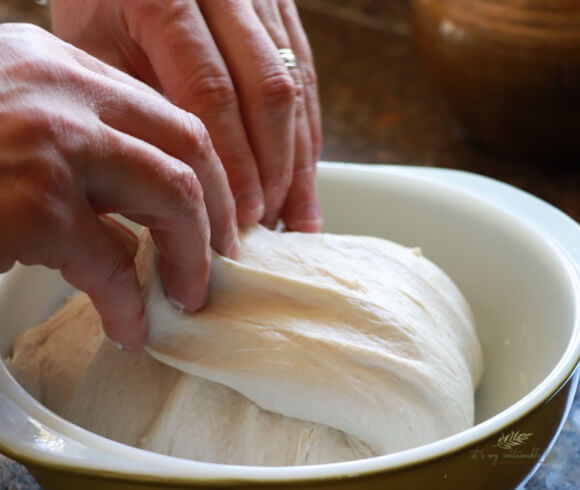 Cover the dough once again & repeat this same process in 45 minutes. Once the second folding has been completed move to the next step.
Cover the dough once again & allow the dough to double in size. This will take approximately 35-45 minutes in a warm space.
Turn the dough out onto a floured surface & divide into 6 even pieces.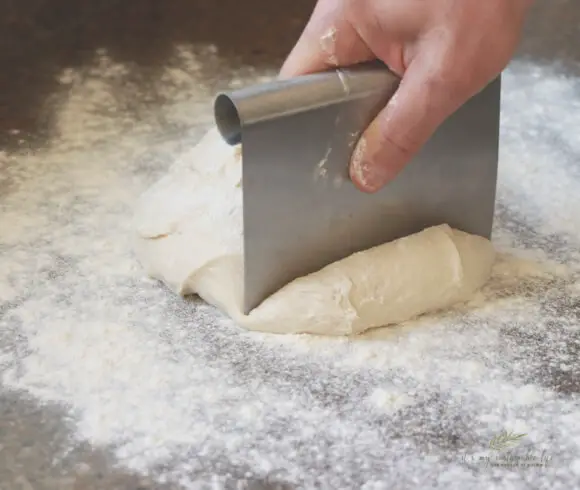 Form the individual pieces into a nice round ball by turning the edges under & using your hand to create a smooth round shape. Place them, seam side down, on a non-stick baking silpat or parchment lined baking sheet, evenly spaced.
Optionally, shape into baguette forms, using a dough cloth as shown below or a baguette pan if you have one available. Full tutorial on how to make baguettes coming soon!
UPDATE! For a complete tutorial on how I make this recipe into mini baguettes or baguettes, check out my Homemade Baguette article!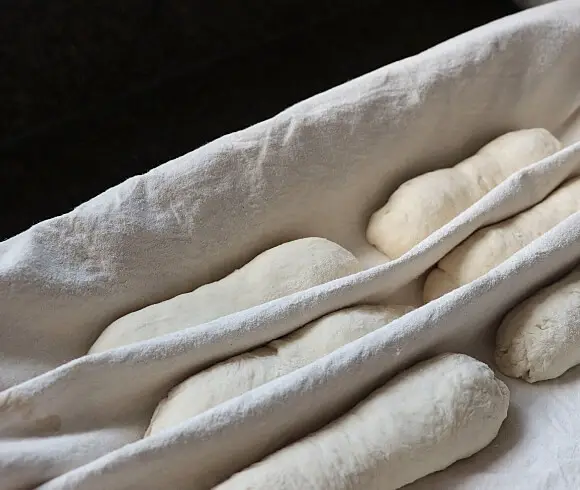 Cover the baking sheet with plastic wrap and place in the refrigerator for a minumum of 4 hours or up to several days before baking.
When ready to bake, remove the tray of buns from the refrigerator and pre-heat your oven to 475F. Allow the buns to rise while the oven is heating, until almost double in size.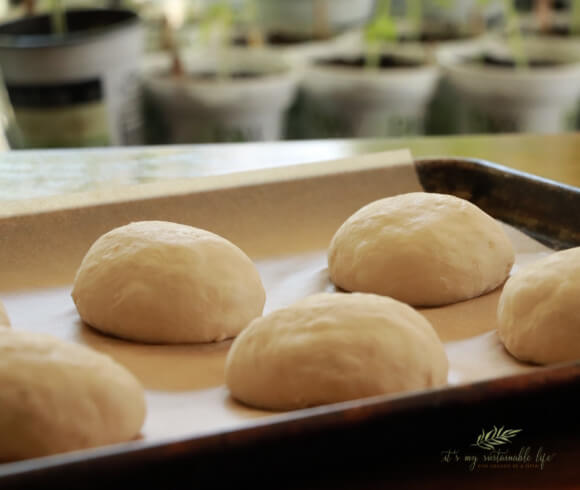 Just prior to placing the hamburger buns into the oven, mist the tops with water. This is by far the most effective method for creating that wonderful crusty top.
If you don't have a sprayer, you can simply wet a pastry brush with water & flick with your fingertips to dispurse water droplets.
Place the buns in the oven & cook at 475F for ten minutes. Reduce heat to 400F and cook for another 10-15 minutes more. The buns should be browned all around & hollow sounding when tapped.
Remove from pan and allow to cool at least 5-8 minutes prior to cutting in half. They are now ready to be filled with your favorite meal! Think BBQ Chicken, Burger (with bleu cheese & spinach, YUM!), Veggie Burger, or your favorite pulled pork!
HOW TO FREEZE HOMEMADE HAMBURGER BUNS
These burger buns freeze amazingly well. Simply slice in half (makes for easier thawing) and place in your favorite freezer container. These will last in the freezer for up to six months, ours didn't make it that long 🙂
To unthaw, simply remove the buns and place on a cooling rack to unthaw. In a hurry? Remove the bun(s) and place frozen right into your toaster. Works like magic!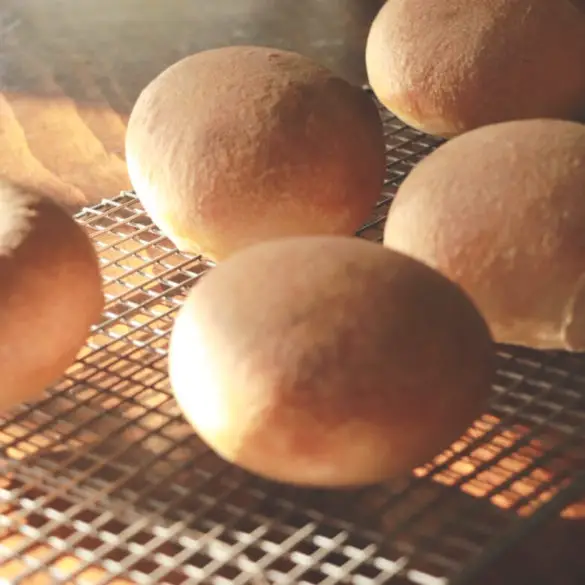 Ingredients
1.5 Cups Warm Water (under 110F)

1.5 Tsp Active Dry Yeast

1 Tsp Honey (or substitute with sugar)

3.5 Cups Flour

1.5 Tsp Sea Salt
Instructions
1. Mix yeast, honey, & water in bowl of stand mixer, let set until foamy 2. Add flour, & salt to the yeast mix 3. Slowly combine until mixture pulls away from sides of the bowl. Continue to knead on medium speed for 8-10 minutes until smooth & elastic 4. Place dough into a well greased bowl, cover, and let set for 45 minutes 5. Fold the dough onto itself on all 4 sides 6. Cover, let set for 45 minutes & repeat the folding process 7. Cover and let set til' double in size (between 35-40 minutes) 8. Place the dough onto a floured workspace. Divide into 6 even pieces 9. Turning the sides under begin to create a round ball 10. Place on a lined baking sheet, evenly spaced, cover with plastic & place into refrigerator for a minimum of 4 hours 11. Remove from refrigerator & let rise while heating the oven to 475F (allow to double in size) 12. Mist the bun tops with water 13. Bake at 475F for 10 minutes. Reduce heat to 400F and bake for another 10 minutes. Buns should be evenly browned & sound hollow when tapped. 14. Allow to cool at least 5 minutes prior to eating.
If you are like me, I really don't enjoy printing a full page recipe. Thus, I've created these cute farm inspired recipe cards which I can use in my standard 4×6 recipe card box! Grab yours in our Etsy Shop! Did I mention how cute they are 🙂
There you have it! Beautiful homemade, crusty, hamburger buns that you and your whole family will enjoy! Do you make your own hamburger buns already? Love to hear about your favorite way to make them.
Don't make them already? Why not? Give 'em a try & guaranteed you'll never use store-bought again 🙂
Love, Light, & Laughter ~