Victory garden resurgence is on the rise as uncertainty in our present food supply chain increases. By proactively planting a victory garden, we not only create food security, but enjoy it's therapeutic benefits as well.
This post may contain affiliate links at no additional cost to you.  By making your purchases through the links on this website, IMSL may make a small percentage at no direct cost to you. IMSL only promotes products we use & truly believe in. Please refer to my Privacy & Disclosures for further information. IMSL thanks you for your support!
Americans have notoriously been known for their resourcefulness & resilience. As we are faced with a new "war", an invisible war on our health, instead of letting feelings of despair & fear take hold, we say take control in whatever manner you can.
Food is one area we can all grasp hold of & be a bit more proactive by heeding the advice of the past. Growing your own food in what was termed as "victory gardens" became a patriotic duty during the world wars, and is a proactive project many can implement during this stay at home period.
Uncle Sam encouraged those on the homefront to "Sow The Seeds Of Victory" by planting vegetable crops. Today, many once again are bringing it home & planting their own versions of victory gardens in whatever space they have available.
HISTORY OF VICTORY GARDENS
Victory gardens, once referred to as "war gardens" & "food for defense" during both WWI and WWII, were gardens that were planted in an effort to relieve food shortages created during the war(s). Considered a morale booster (as well it should be), these homegrown gardens promoted a sense of empowerment.
Victory gardens became a patriotic duty. The US government encouraged ordinary citizens to grow tomatoes, peas, carrots, beets, & even introduced both kohlrabi & swiss chard to the average garden as they were easy to grow. Families were urged to plant, grow, & harvest these vegetables not only for themselves, but to share.
Governments provided gardening plans and even promoted planting excess produce that could be canned & shipped overseas to the troups. Those remaining on the homefront listened.
Home gardeners turned lawns, yards, flowerbeds, & vacant spaces into productive urban food production. With an estimated 20 million gardens grown, food produced from these backyards & open spaces comprised a whopping 40% of the countries fresh vegetables & produce!
Mothers, children, & the elderly began to "dig for victory", planting, tending, & harvesting vegetables as they were aware that "food is just as important a weapon of war as guns" according to this amazing footage made in 1941 by Ministry of Agriculture. Many thanks to the Imperial War Museum for sharing this footage via YouTube.
Today's modern victory garden is a wonderful way, filled with benefits, to source your own food. As we begin to distance ourselves from our corporate food systems, many are once again embracing the philosophy of victory gardens as a way to create their own food security.
These gardens are not only creating a sense of security with food, many are finding they can relieve stress, create exercise, & reconnect us with Mother Nature.
MODERN VICTORY GARDENS
Once again, those on the "homefront" are now taking notice & planting their own modern victory gardens. Seed companies are selling out, & nursery shelves are fast emptying of vegetable starter plants. People are beginning to look toward how they can create their own food safety & security.
With most being shut away in their home, ways to both relieve stress (both physically as well as mentally), increase overall sleep quality, and feeling productive are being sought. In our humble opinion, there is no better way to accomplish both than sinking those hands into earth's healing powers.
Although many take note of the term "victory garden" due to it's military references & reminders of Japanese-Americans (farmers themselves) that were interned during this time, no one can fault the intent behind them. To provide healthy, nutritious food to those at home & on the frontlines.
We welcome today's victory gardens as a way to accomplish healing of the mind, body, & soul. If nothing else, planting your own gardening space will reduce your overall grocery bill, create access to organic, healthy fresh fruits & vegetables, and medicinal herbs, & lessen our carbon footprint by "bringing it home".
WHAT TO GROW IN A VICTORY GARDEN
Historically, crops grown in these garden spaces consisted of traditional garden choices. Peas, carrots, potatoes, beans, beets, cabbage, kale, lettuce, tomatoes, turnips, & squash were all highly nutritious choices, many of which could easily be stored long-term.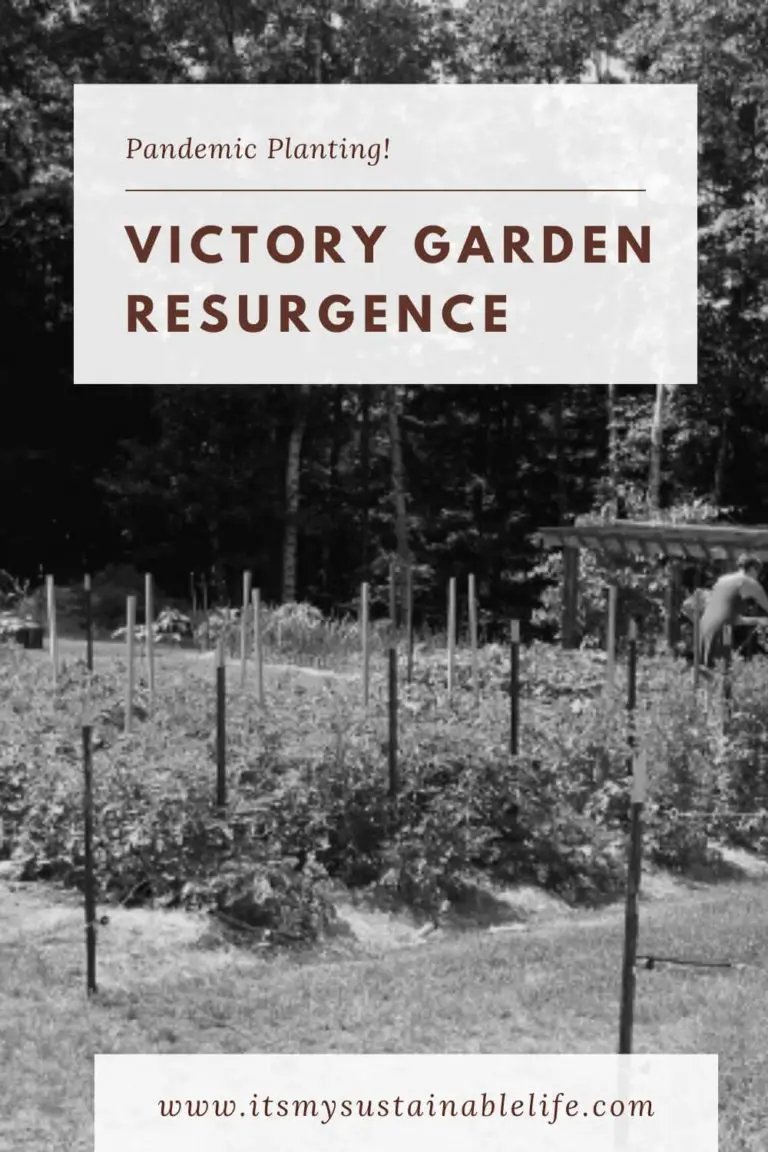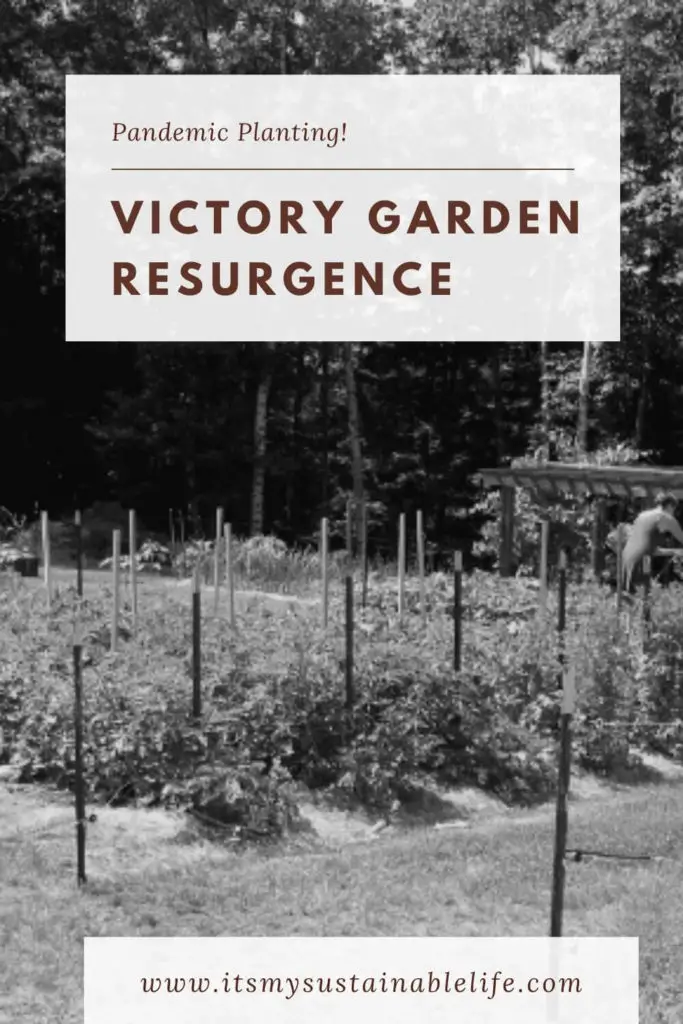 Today, the choices are wide & varied. If you are new to gardening, think easy to grow crops, and plant only ones that you and your family enjoy! A few choices that were typically found in victory gardens are as follows…
Lettuce
Spinach
Kale
Chard
Peas
Carrots
Love tomatoes? Add a few varieties that are easy to grow. Think a cherry variety such as "Sungold" for fresh eating or an heirloom such as "Brandywine", a beefstake variety that is to die for. Be sure to give our article "Growing Tomatoes From Seed" if you will be adding these to your garden space.
Looking to add a few medicinal herbs or flowers to your gardening space? Think calendula. Not only are they of medicinal value, they also make a wonderful companion plant to many vegetables such as tomatoes as they deter pests. Visit "19 Uses For Calendula" for a complete listing of this beautiful flowers benefits to both you & your garden 🙂
HOW TO PLANT A VICTORY GARDEN
No matter what your reasons for growing your own victory garden, growing your own food is rewarding. It's also a fun, educational family endeavor with an edible end result. Jowever, any gardener will tell you, it's not easy!
Gardening takes a LOT of ongoing work & can often lead to battling nature, disease, & uncontrollable elements. It takes patience, time, & effort. Trust me, despite all the challenges & sometimes complete garden failures, there is nothing like sitting down to a meal made entirely from your garden. The sense of pride & accomplishment is worth every effort made.
Ready to begin? As with any gardening adventure, you first need to decide on the where, how, & what's. Half of any successful project begins with the planning.
First determining your "Gardening Style & Method" is a highly recommended step. After all, you want to create a space you will enjoy being in!
Next, determine your space. Where will you be planting? Typically, most vegetables require full sun (12+ hours direct sunlight). However, a few varieties will tolerate partial sun (4-6 hours).
No sunny space in the backyard? What about turning those front lawns into edible gardenscapes? Or if your "yard" challenged, what about going in with your neighbor & begin a joint, social distancing, garden to share? Live in the city? Vacant urban lots, rooftop, patios, and even windowsills all make for great locations to grow something.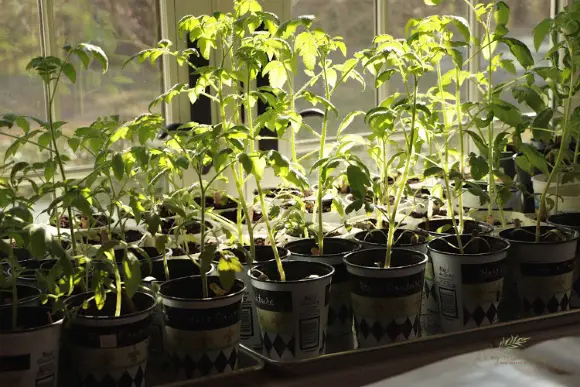 Determine how you will be planting your space. This falls back into the gardening styles & methods, aka, how you will approach your garden. Will you be planting organically or conventionally? If you aren't aware of the differences be sure to check out our article, "Vegetable & Herb Seeds – Know The Differences" as well as the garden method & styles article to familiarize yourself.
Do you have the proper tools to make your job easier? "Useful Gardening Tools" has you covered for all that you may need to get started.
At the bare minimum you will need…
Seeds or Starter Plants
Space (plot, yard, patio, or containers for patio/windowsill garden)
Compost/Fertilizer (and soil if using containers)
Shovel
Trowel
Source of Fresh Water
Love & Patience
Old & new gardens alike need preparation. The amount of work required will vary depending on your gardening style or method. Tilling or turning the soil & adding amendments are typical for in-ground gardens and raised beds. Container gardening is a bit less involved & easier than other options.
Choose your starter plants and/or seeds. To further our choices of what to plant in a victory garden break your options down.
FAST GROWING OPTIONS FOR VICTORY GARDEN
Looking to harvest as fast as possible? There are a few options that are ready to harvest within a 6 week time period and can be sown directly into your soil early spring & late summer.
Lettuce
Kale
Chard
Spinach
Arugula
VEGETABLES THAT GROW IN PARTIAL SHADE
Do you have access to only a partially shaded area to grow your produce? These options may work well for you.
Beets
Broccoli
Cabbage
Carrots
Cauliflower
Celery
Garlic
Green Onions
VEGETABLES THAT GROW IN FULL SUN
Have a full sun are to grow your vegetables? These options thrive in full sun & produce an abundant harvest for you all summer long.
Tomatoes
Potatoes
Summer Squash
Zucchini
Strings Beans
Onions
Cucumbers
Peppers
MEDICINAL FLOWER & HERB OPTIONS
Looking to grow medicinal herbs & flowers to eat or to create your own home apothocary? Look to these options.
Basil
Oregano
Thyme
Mint
Cilantro
Lemon Balm
Echinacea
Goldenseal
Feverfew
Valerian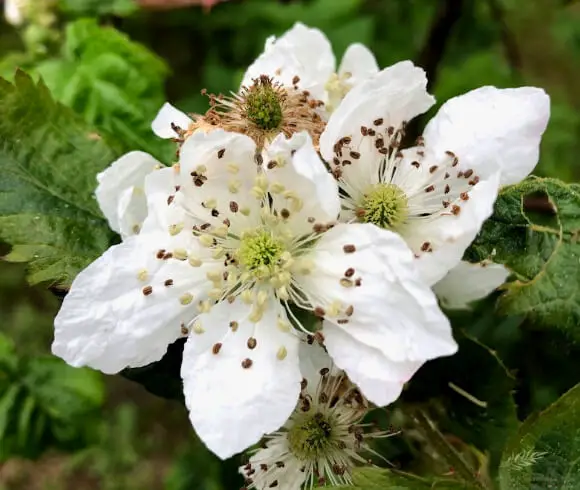 FRUITS & TREES
When you have the space, why not think long-term and plant a few fruit options. The following are wonderful options that continue to increase their yields every year. Trust us, they are worth the effort & wait period!
Prune
Apple
Peach
Pear
Fig
Strawberry
Blackberry
Elderberry
Blueberry
Apricot
Cherry
AVERAGE SIZE OF VICTORY GARDEN
According to a newspaper article from January, 1943 printed in "The Echo" (found courtesy of the"historian in the garden"), the following were the suggested size for creating your space.
This same publication continued to advise planting both spring & fall succession plantings, planting fruiting trees & shrubs, & preserving the harvest through canning procedures. It also went on to state that all were being "put on notice". Severe food shortages were predicted & "consequently, those of us who stay at home will either raise our own food or do without". Pretty harsh warning!
Fortunately, at present we are not in the extreme position of needing this dire warning! However, the need to take control & bring it home is being felt by many for sure.
To completely support a family of 5, one would need to plan on working roughly a 39′ x 61′ gardening space, according to this pamphlet. Here at IMSL, our garden can support our family of 3 for a full year utilizing roughly 35′ x 60 foot gardening space. An average number of plant per person chart (for a family of 4) can be found HERE.
This historical document taken from the "ABC of Victory Gardens: A Compilation of Facts, Figures, Tables and Charts to Make Backyard Gardening Easy", circa 1943 was distributed to the American public as a whole to encourage & educate on how to plant their own victory gardens. In it was this wonderful gardening layout, suggesting the planting layout for 2-4 persons.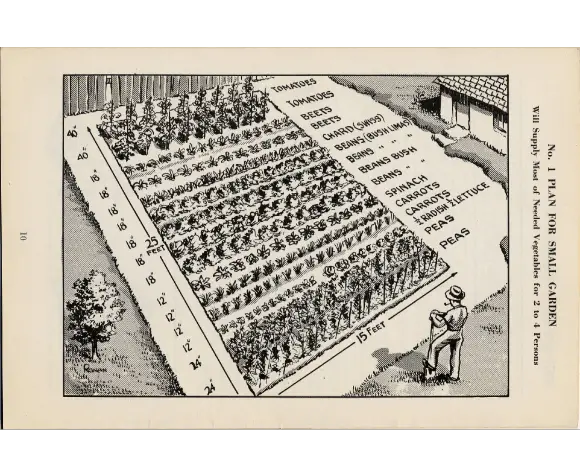 CONTINUE LEARNING
Learning to grow your own food is an ongoing process. We here at IMSL are still experimenting & learning new techniques to help us be as productive as possible. Familiarizing yourself with as much knowledge as possible before you invest & begin any endeavor will help save a lot of heartache & discouragement down the road.
For more information you may be interested in the following resources.
Reading & Understanding Seed Packets
How To Test Seeds For Viability & Seed Viability Chart
Altermatives For DIY Seed Planting Pots
Many of today's modern gardener's are often spatially challenged. As we always claim here on the hill, where there is a will there is a way. By utilizing all the suggestions we have mentioned & maybe a little personal ingenuity, the beauty is anyone can have access to grow something.
Even if we are not presented with food risks at present, creating your own pandemic planting or victory garden is a productive way to learn a new skill, channel negative energy & receive earth's positive energy, all the while easing the mind, reducing anxiety, and building morale.
What's not good about that? Are you already in the planning stages of your victory garden? IMSL loves to hear your success's, attempts, & yes, even failures by joining the conversation below. We can all continue to learn & support each other. Happy gardening!!
Love, Light, & Laughter~