Experienced gardeners will tell you having a few useful gardening tools at your disposal will make any gardening job easier & more productive. Our top 20 (plus) most common gardening tools will assist you in cultivating your green space a bit easier.
This post may contain affiliate links at no additional cost to you.  By making your purchases through the links on this website, IMSL may make a small percentage at no direct cost to you. IMSL only promotes products we use & truly believe in. Please refer to my Privacy & Disclosures for further information. IMSL thanks you for your support!
Every gardener has "those" gardening tools. The tools that they reach for first & know will get the job done. After all gardening is hard work. Weeding, pruning, trimming, digging, & planting are not easy tasks, & sadly, no easy way to accomplish them other than hard work.

On the bright side, we are happy to say that these laborious gardening chores are made easier when using the right gardening tools. Choosing the right garden tools will have you cultivating your garden & enjoying the fruits of your labor a little easier. You & your back can thank me later 🙂
Our top 20 (plus) most common gardening tools will assist you in deciding which will work in making your garden a bit greener this growing season. There are few considerations for determining which type of tool to purchase. IMSL has taken the leg work out for you and compiled a list of great additions to any gardeners toolkit!
Many of the listings make wonderful gifts for the gardeners in your life. To support IMSL, remember to click on any of the links or images provided, and as an affiliate, we receive a small percentage of the sale at no additional cost to you!
And these "tools" are not limited to the ones in your garden shed! My most important "tool" of all? My gardening organizational tool(s). For a complete list of all the homestead management tools I use, click the link.
My favorite for all my gardening endeavors tho? My Garden Management Planner. This planner includes 24 useful pages, plus a beautiful cover page, that allows me to plan, track, and manage every aspect of my garden. Grab yours by clicking the image below.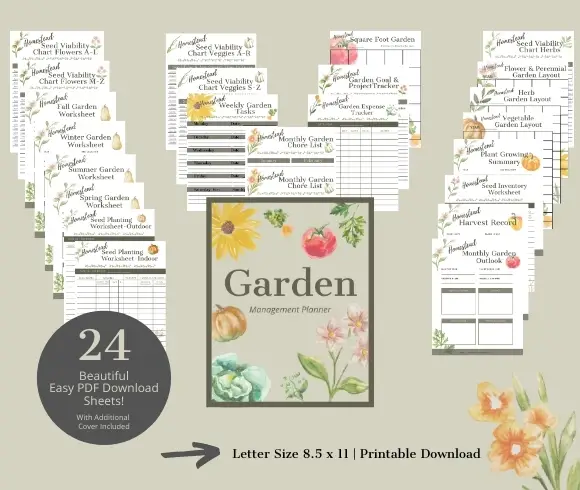 TIPS FOR CHOOSING THE MOST USEFUL GARDENING TOOLS
Although you won't be able to give the garden tools an actual spin in the garden to try them out, you may want to hold a few in hand to give them a dry run. When ordering online, be sure of any return policies.
Look for comfort in hand. Is the tool too long for your height? Is it too heavy or possibly not strong enough for its purpose? D-shaped handles on items such as pitchforks or shovels may be easier on the wrists & more comfortable to handle.
Gardening tools with wooden handles or coated metal handles are strong & durable choices. Ash & hickory are considered the most durable of woods with Douglas Fir being the inferior choice. When purchasing wooden handled tools remember that the closer the grain of wood, the stronger the wood. Beware of painted wooden handles, as this is often a way to disguise what type of wood is being used.

Terms used by manufacturers can often be confusing. We recommend looking for terms such as "single forged", "single socket", "tempered", "stainless steel", "carbon steel", and "epoxy coated". In doing so you can be assured your will be purchasing well made products.
TOP 20 MOST COMMON GARDENING TOOLS
Purchasing garden tools can be an expensive investment. Determining which tools would work best for you is a step worth taking. On the bright side, well made gardening tools last. The below gardening tools including the garden trug are 23+ years old. Making the investment in good quality, reputable tools is worth the additional investment for sure!
Below, in no particular order, are the tools we find are our "must-have" essentials here on the hill, with a few added considerations as well.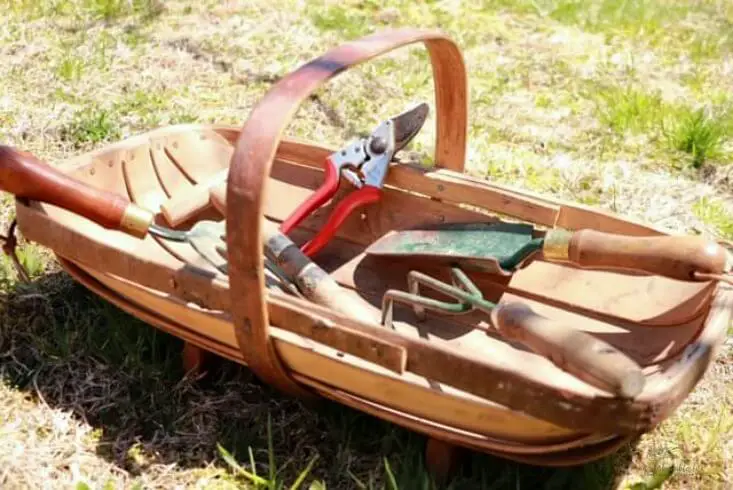 HAND TROWEL
This is THE gardening tool that you will find in our hand whenever we are in the garden space. This tool is wonderful for getting around the roots of the plants. This pointed hand tool, similar to a spade shovel, will have you covered for planting, filling, weeding, & so much more! It is absolutely a "must-have" for any gardener. Look toward a rounded blade if you need to move lots of soil, keeping in mind the narrow blade style will dig compacted hard soil a bit better.
Our absolute favorite? A hand held trowel made by Burgon and Ball. Botantical Interests states the following about this wonderfully made tool…
Made of stainless steel for durability and long life, this sturdy trowel is designed to last. A Burgon and Ball tool essential for digging, furrowing, and all general garden work, with an ergonomically shaped handle for gardening comfort. Leather strap included for hanging storage.

Botanical Interests
We couldn't agree more! This tool is made using a hardwood handle attached to a stainless steel blade. This tool will last and has been endorsed by Royal Horticultural Society, one of the world's leading horticultural organizations. Be sure to visit Botanical Interests & check this one out!

HAND CLAW RAKE
We utilize the 3 pronged style hand rake before planting anything. Also known as a hand cultivator (click to see), this tool works wonders for turning the soil, removing debris where we are planting, and for digging those weeds up easily without disturbing the root system of the plant we want to keep 🙂 Other options can be found below.
GARDEN FORK
Gardening forks are a sturdy option for breaking up compacted, hard packed soil, aerating clay soil, & even gathering hay. A great addition to any tool box.
PRUNERS
While gardening shears or scissors or snips are great for cutting stems and dead-heading flowers, like us, you will turn to pruners or garden secateurs (if you want to get a bit fancy here) when a bit heavier job needs to be accomplished.
Pruners are great for branches & stems 3/4 inches or less, scoring root balls, cutting larger flowers such as our favorites, the Sunflower, and cutting back perrenials.
We highly recommend two brands of pruners. Felco pruners and The Bypass Pruner. Both are wonderful products, however, The Bypass Pruner carries with it a lifetime guarantee from Darlac Of England. Can't go wrong there!
GARDEN SCISSORS OR SNIPS
No matter what type of garden you are working in, vegetable, herb, or flower, you will eventually turn to a good pair of gardening scissors (click to see) or snips. Perfect for deadheading, harvesting, pruning small & delicate plants, & even cutting twine, this tool is one you will want to have in your gardening toolkit.
Our favorite? Being all about comfort our first pick is the Ergo Snips. The curve of the ergonomically crafted handle fits wonderfully in hand, while the support notch for the index finger gives great control. This option has a lifetime guarantee from Darlac of England as well.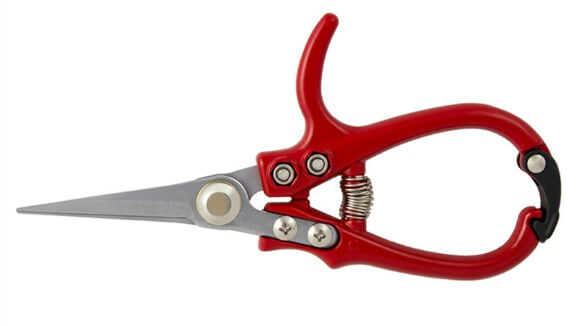 For more delicate work, we love to use bonsai scissors in our garden, or even kitchen scissors. Important to note, they should fit in hand well and provide comfort. Funny as it may seem, in order to create a flourishing garden, a lot of cutting needs to happen 🙂
GARDENER'S KNIFE
A gardener's knife, aka, a Hori Hori (a Japanese gardeners knife) is a well loved tool used by many professional gardeners. This knife makes quick work of digging, cutting through perrenial root balls & dividing, planting bulbs, and weeding. A great addition to your gardening toolkit. Click the image below for more information!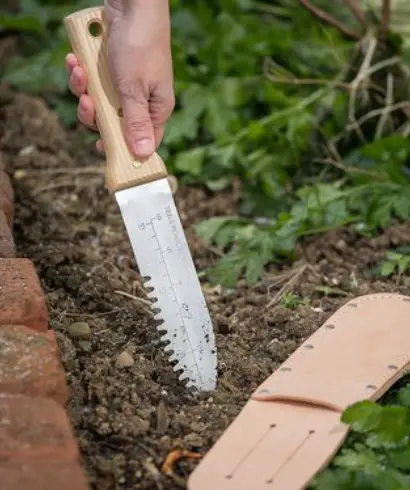 GARDENING GLOVES
A good waterproof pair of gloves come in handy to protect and keep our hands a bit warmer when working the cold spring, wet soil here in zone 5b. Typically, we go through a pair every few years and have found the new designs & options are lasting a bit longer now-a-days, thank you very much.
Below find some good waterproof options for colder climates…
Our absolute favorite gardening glove is a lighter weight, all purpose glove with a comfortable fit allowing us to grip even the smallest of seedlings. Click the image below to view the specifics.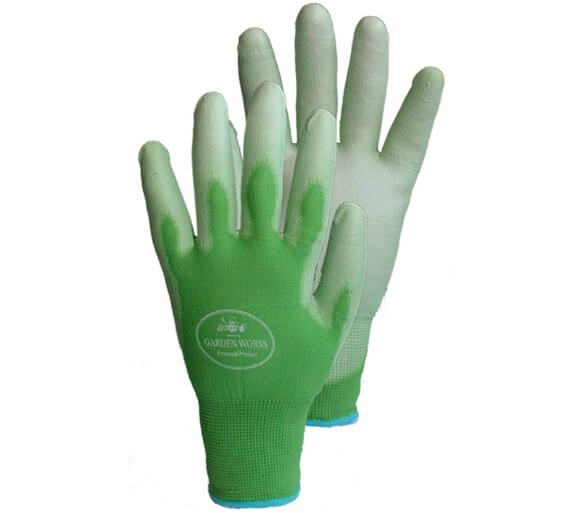 WATER BREAKER
You may be asking, what the heck is a water breaker (or maybe not) 🙂 A water breaker is basically an attachment you can place at the end of your hose to create a very gentle, aerated water stream. This attachment gently waters your tender plants without disutrbing the plant or the soil around them. Perfect for handwatering plants such as tomatoes that dislike water on their tender leafing systems, thus reducing damage & potential disease.
GARDEN HOSE & WATERING SYSTEMS
Every garden needs a water source. Choosing a good quality, durable gardening hose is a wise investment to make. The type of watering is your choice, but consider your options & what best for your gardening needs. Hose, drip irrigation, or sprinkler system are all viable options.
The expandable Gardguard 50ft hose option is our choice. Offering a durable, expandable hose (50′ worth), with brass fittings & a 9 pattern nozzle to boot, this hose has it all and is a favorite here.
Setting up a drip irrigation system in your garden? We utilize this method of watering for all our tomato plants, and we mean ALL 150 of them 🙂 This watering method reduces the laborious chore of watering such a big space as well as reducing risk of disease (tomatoes don't like to be wet other than their roots).
Complete systems are fairly reasonable to purchase, and the good news? They are easily reused yearly with care.
Sprinkler systems are wonderful for larger garden & lawn areas in which the plants don't mind overhead watering. There are many styles and options available. A bit of research will narrow your choices easily. Below are several different options to choose from. We use a similar one to the Aqua Joe model shown below as it is easily adjustable to different garden pattern styles & sizes.
And don't forget portable watering options, aka, watering cans! Our favorite here on the hill is a galvanized option similar to the one below sold through Lehman's Hardware. Galvanized options are sturdy, long-lasting, reminiscent of those used by grandma (which I love), and offer a gently watering spout to keep those tender flowers & plants safe.
Be sure to grab yours by clicking on the image below 🙂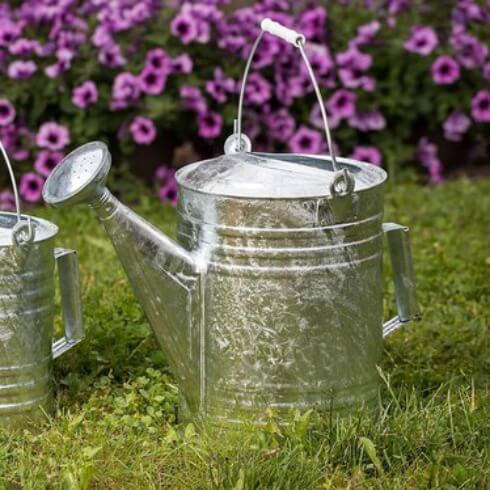 GARDEN SHOVELS (LONG-HANDLED)
All shovels are not created equal. Shovel options range from flat tipped digging shovels (aka edging spade) & typical spades (pointed ends), to elaborate ergonomically correct options especially good for those dealing with joint issues.
GARDEN FORKS (PITCHFORKS)
Most gardeners will tell you that one of their go-to garden tools is a simple long-handled pitchfork. This definitely is one of our must-haves and we use it often. This tool is wonderful for lifting up large perrenial rootballs, turning over compacted soil, and lifting/throwing loose materials such as leaves and hay.
When investing in a pitchfork as with any tool, again, look for a well made handle, comfort, and height. Below are some great options.
LONG-HANDLED RAKES
Where would gardeners, landscapers (both professional and homeowners alike) be without a long handled rakes. Used to gather leaves, hay, & other loose debris (leaf rake) as well as moving & leveling soil, compost, sand, & gravel and other heavier debris (bow rake). This is one that we use in our vegetable garden often, options for each can be found below.
GARDENING TRUG
Gardening trugs are an investment we recommend for any gardener. We have used the one pictured below for well over 20 years. Received as a gift, it's a gift that keeps on giving.
We primarily use it to "trug" our gardening tools into the garden space, but it can be used for so much more if you choose.
The picture below is the one we have used for many years and highly recommend. This is an amazing gift to give any gardener in your life as well!
CARTS & WHEELBARROWS
When working in the garden the last thing you want is to have to trudge back to your storage area for tools or containers. Having all you need within reach makes me a happy gardener 🙂
Options vary greatly for carts & wheelbarrows. We do not suggest choosing the option in our featured image, just sayin' 🙂 When you are in the market for a cart, consider what will last, is lightweight, and easy to manage.
IMSL's preference for ease of use and one that was purchased 24 years ago (it lasts with hard use) is the option shown below. Let's just say, 24 years ago we did not pay this price! Whew! Considering, we have had ours for 24 years, however, it puts the cost into perspective.
If we were to purchase today, we would consider the options listed below for both carts as well as wheelbarrows. Notice all consist of 2 or more tires. Single tire wheelbarrows are difficult to maneuver & are not recommended in my humble opinion!
GARDENING JOURNAL
Last but not least, anyone who has read any of IMSL's gardening articles know that we love our gardening journal/management planner & highly recommend every gardener has access to one. You can find many out there but none come close to the one we utilize.
Gardening journals are essential to remembering where, what, & how many you planted from year to year, harvest totals, weather influences for the year, and so much more. After a few seasons of growing, you will have a better idea of what works where or even if it's time to rotate planting options.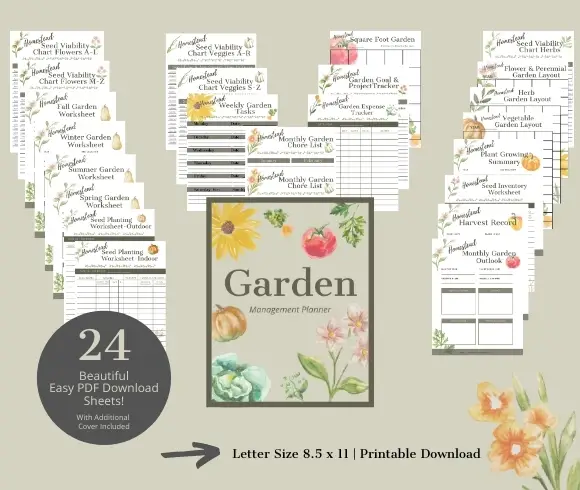 What is the best, most useful gardening tool of all time, however? Your hands! Get them into the soil. Get dirt under those fingernails & you can be assured of reaping the joy and benefits of every growing season. And there are many.
There you have it. Our favorite most useful gardening tools to give or to get. Be sure to join the conversation below and as always, IMSL thanks you for your continued support. Happy gardening!
Love, Light, & Laughter ~