Make the best chicken soup the old fashioned way, from scratch. This restorative, cold-busting, hearty chicken soup recipe using a whole chicken, homemade broth, fresh chunky vegetables, & herbs is a soup reminiscent of how grandmothers have made it for millennia. This old fashioned chicken soup recipe from scratch, the ultimate comfort food, is one that will surely satisfy.
This post may contain affiliate links at no additional cost to you.  By making your purchases through the links on this website, IMSL may make a small percentage at no direct cost to you. IMSL only promotes products we use & truly believe in. Please refer to my Privacy & Disclosures for further information. IMSL thanks you for your support!
Nothing satisfies & nurtures the body and soul, then a healing, homemade chicken soup made from scratch. Using only the best, organic ingredients, this delicious, flavorful soup is one that we crave during the cold winter months. It is also one that is so easy to make from scratch, it will have you feeling like a pro in no time. And the best part? It's all made in one pot 🙂
WHY IS CHICKEN SOUP HEALTHY & GOOD FOR COLDS
Don't deny it, we've all heard that when you're feeling under the weather it's best to drink plenty of fluids, get plenty of rest, and you guessed it, eat chicken soup.
We're not talking about the store-bought, pre-packaged varieties that are ladened with sodium and who knows what else. We're talking about the homemade kind. The kind that if you were fortunate enough, your mother or grandmother brought you when you were feeling down and out.
But what makes this soup so comforting & more importantly, healthy? What did our ancestors know intuitively? With a bit of research, this is what we found.
As with any healthy diet, the healing benefits in the dishes we make lay in its ingredients. So what's the healing benefits of chicken soups ingredients? Let's break it down.
SHARING IS CARING & I THANK YOU FOR IT ❤️
Chicken – Obviously the main ingredient, chicken, not only offers a good source of low-fat proteins, but is also a good source of selenium, phosphorus, Vitamin B6, and niacin
Chicken Broth – The benefits of chicken broth abound and are created naturally through the making of this recipe. Not only does the broth stimulate nasal clearance, but also hydrates the body. The option of increasing the nutrient levels when making your broth is available by adding additional bone broth. To find out how you can easily make your own from scratch, be sure to visit "Bone Broth How To Make It & Why You Should"
Carrots – Carrots bring tons of nutritional value as well as a bright pop of color to your soup. They are also good source of beta carotene, fiber, vitamin K1, potassium, and antioxidants
Onions – These globes of goodness containing antioxidants & anti-inflammatory compounds, may help decrease triglycerides & reduce cholesterol levels, reduce blood pressure levels & protect against blood clots
Celery – Rich in many vitamins & minerals, celery boasts of Vitamins A, K, & C as well as potassium and folate. This cleansing vegetable is low on the glycemic index, offering a steadying effect on blood sugar levels
Rosemary – Rosemary's antioxidant and anti-inflammatory compounds only add nutritional value to this soup
Adding to all the nutrients that this soup is packed with, is that when this soup is made from scratch, it may be the love with which it's made that is the most important ingredient 🙂
TIPS FOR MAKING THE PERFECT CHICKEN SOUP FROM SCRATCH
The beauty of making delicious hearty soup is that it's made in one pot. If your anything like me, cleaning up is not one of my favorite things about cooking. This homemade soup all cooked in one pot alleviates that issue!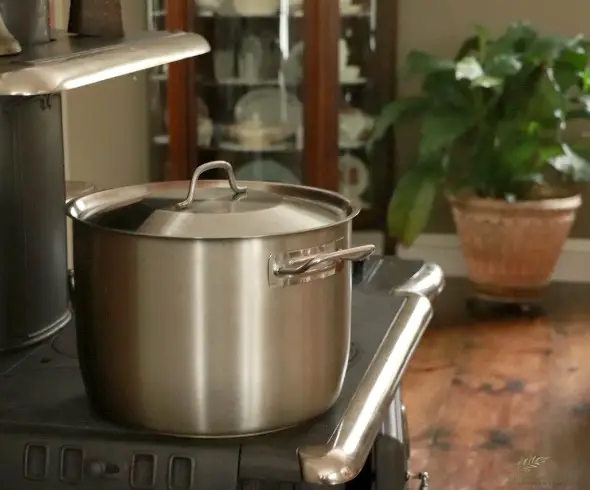 All you need to make this chicken soup recipe is a large pot and a little simmering time. The chicken will simmer for several hours allowing it to release all its wonderful nutrients and cook the chicken to a moist tenderness all at the same time!
Now is not the time to remove fat. Yes, you heard correctly, there is much benefit to eating healthy fats especially when talking about chicken soup. When you see recipes calling for the removal of skin or using only chicken breasts or even, gasp, pre-bought rotisserie chickens we can only say one thing …. RUN!!
There is much benefit if the healthy fats that are derived from the skin are left in to nurture and heal the body. The skin, unlike what most believe, consists of not only fats. It also contains a healthy dose of collagen, so important for healthy skin, muscles, tendons, and joints.
Start with selecting the best whole chicken you can source. In our opinion, nothing beats organic (how we raise everything here on the hill) and greatly reduces the need to skim as it simmers (impurities are greatly reduced if not completely eliminated), and locally sourced if possible (we are fortunate to be able to raise our own). You get the idea, choose the best quality bird you can afford.
Utilize & add EVERYTHING that comes with the chicken when purchasing organically raised birds. That includes the neck and internal organs. I know, offal (organ meats) has gotten a bad rap in today's society. Add them to the pot to release all their nutrients (Vit B12, folate, iron, & proteins). We even mush up the liver into the soup once cooked, you never even know it's there 🙂
Don't BOIL the whole chicken. In order to create a clear broth, you want a gentle to a bit stronger simmer for a long period of time. I have boiled the whole chicken before, and quite honestly, the taste is just as good but the broth will not be as clear and the shredded chicken will not be as tender and moist.
Use a large stockpot than you think you will need. If nothing else, you will have extra broth available to freeze and use in other recipes, or simply drink. I always add additional water than would be called for when making this soup from a whole chicken so I can enjoy the broth anytime.
No need to use store-bought chicken broths, instead use simple clean, filtered water in this recipe when using a whole chicken. The simmering will make the broth for you. The herbs and seasonings, as well as the other ingredients, will add the additional flavor needed.
HOW TO MAKE OLD FASHIONED CHICKEN SOUP FROM SCRATCH
Follow these simple directions and in a few hours, you too could be enjoying this wonderful soup. As I am the type of cook that tends to add a pinch of this and a glop of that and taste, my apologies for the lack of specific amounts 🙂 All efforts have been made to approximate how much of each ingredient is added.
Take your whole, rinsed, chicken along with your organ meats (only if organic) if you choose, and place into a large stockpot. I use a 24-quart stainless steel stockpot similar to the ones below. Again, use a larger one than you think you will need.
Cover the whole chicken with good, filtered water and bring to the boil. Cover (keep all that goodness in the pot & not evaporating!), reduce the heat and simmer for 3 plus hours, depending on the size of the bird. We have used an 8# bird for this soup and simmered ours for 3 1/2 hours. You will know it's cooked well enough when the skin begins to peel back from the leg bones and or you can twist the leg bone easily.
PRO TIP: Halfway through simmering time, roll the bird over in the water to evenly cook.
While the chicken is simmering, prepare your vegetables and gather your ingredients. The star(s) of this homemade chicken soup are carrots (we've used approximately 10 plus organic carrots of good size), celery (approximately 1 full organic bunch), and onions (2 large organic onions). Peel, chop (we like to leave a bit chunky) and slice to your liking and set aside. Additional and optional ingredients are listed below.
Remove the chicken, and organ meat if used, once all is completely cooked from the pot and cool. I find it helpful to peel back the skin while it's still hot and then allow the rest of the chicken to cool.
Add your vegetables, any herbs you choose (we've used 1 spring of fresh rosemary and 1 tsp dried thyme as no fresh was available) and any additional flavorings of your choice. We've added 1 cup of organic brown rice, 1/2 pound of mushrooms, swiss chard from our garden that was preserved last summer…keep your eye out how easy it is to do that in upcoming posts, as well as a big handful of baby spinach added at the end of the cooking process. Season with salt and pepper and begin the cooking process.
De-bone your whole chicken and add the shredded chicken to the pot as the vegetables are cooking. Do not throw away the remaining skin, bones, and tissues. These can be added to your next bone broth production! I place all in a freezer bag until enough is saved to make additional broth(s).
Cook all until the rice is cooked through and the vegetables are tender. Taste! Tasting is your best friend with any cooking endeavor. If the flavor is not as rich as you would like, add organic chicken bouillon if desired, a tablespoon at a time. A little can go a long way where bouillon is concerned. Our favorite bouillon is Better Than Bouillon Organic Chicken.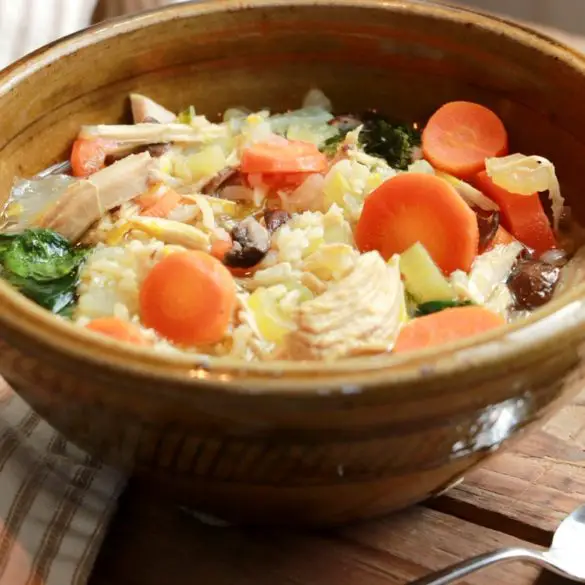 Ingredients
Whole Chicken (plus organ meats if organically sourced)

Fresh Filtered Water

Carrots

Celery

Onions

Herbs of Choice

Salt

Pepper
Instructions
Place rinsed whole chicken & organ meats in a large stockpot.  Cover with fresh, filtered water.  Bring to the boil.  Cover the pot and reduce heat to simmer.  Simmer until skin peels back from leg bones and the leg bone can be easily twisted.
Remove the chicken and organ meats.  Do not drain the water.  This is the broth for your soup.  De-bone & shred the chicken, placing the bones and skin aside.  Add the shredded chicken back to the broth.
Cut, dice, or slice your carrots, onions, and celery to your desired thickness.  Add to the stockpot in the broth.  Add rice if using, any desired herbs, salt and pepper.  Add any additional ingredients you may like (add spinach at the end of cooking) Bring to the boil, reduce the heat to simmer and cook until rice is done and vegetables are tender.
Taste and add any additional flavorings if needed.
Notes
Optional ingredients; Bone Broth, chicken bouillon, mushrooms, greens of choice (kale, swiss chard, spinach)
Voila! The best old fashioned chicken soup from scratch that you will ever have. We literally cannot leave this soup alone. Made too much? This soup freezes well and can be easily canned if you choose.
UNIQUE ADDITIONS TO CHICKEN SOUP FROM SCRATCH
Don't feel as though you need to keep to this recipe! Be adventurous! Make changes to suit your tastes and dietary needs. Here are a few suggestions you may want to add to create additional flavor and or healing components to your chicken soup.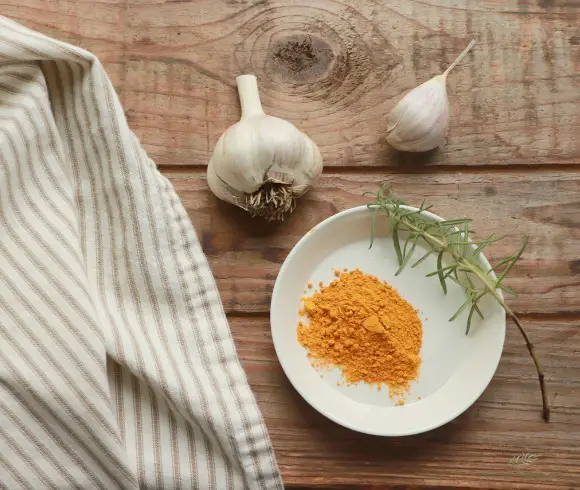 Garlic – High in vitamins & minerals, garlic has been used medicinally for ages. Studies are now confirming garlic's roll in preventing and treating the common cold
Turmeric – Turmerics health benefits are many, but none are better suited to chicken soup as a cold relief than it's anti-inflammatory and antioxidant compounds
Alternative Herbs – Adjusting the herbs used to suit your tastes is easy. Don't like the herbs we've chosen to use? Think basil, parsley, or even tarragon in its place
Ginger – Ginger contains a bioactive compound; gingerol, which is largely responsible for all of ginger's medicinal properties. It's anti-inflammatory and antioxidants make ginger the perfect addition
Bone Broth – If you are looking to add even greater depth of flavor and umami to your chicken soup, add your own homemade bone broth. Don't know how? Check out our tutorial on how to make bone broth and why you should!
Noodles – If rice isn't your thing, make noodles (keep on the lookout for an upcoming post on how we make our own!) and add to the soup once the vegetables are finished cooking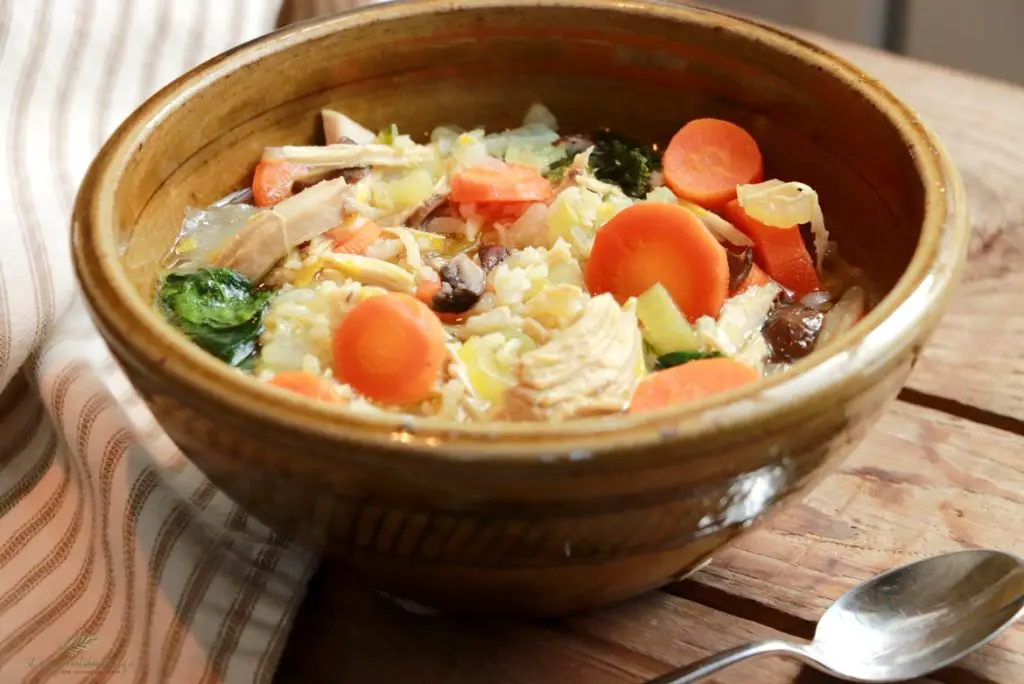 There you have it! Our recipe for what is in our humble opinion, the best chicken soup from scratch recipe made the old fashioned way! Already make your own? What are your favorite additions to add?
Be sure to stay up-to-date with all the "happenings on the hill" by subscribing to our monthly newsletter to receive exclusive content, tips, and freebies only available to our members!
Love, Light, & Laughter ~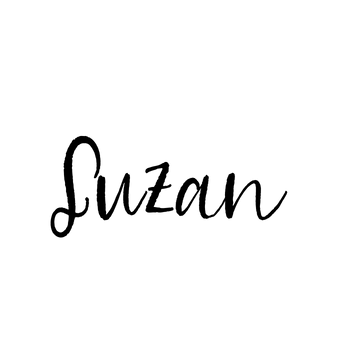 HERE ARE SOME MORE RECIPES THAT MAY INTEREST YOU
This post was featured at Tuesdays At Our Home!