Canning applesauce is one of our favorite ways to preserve the freshness of apples during the height of apple season. This easy homemade applesauce recipe is one you can enjoy eating fresh or can to enjoy later on!
This post may contain affiliate links at no additional cost to you.  By making your purchases through the links on this website, IMSL may make a small percentage at no direct cost to you. IMSL only promotes products we use & truly believe in. Please refer to my Privacy & Disclosures for further information. IMSL thanks you for your support!
As with most harvests, I am always looking at ways to can, preserve, and store as much as possible. Apples are no different. Their season is short, but their flavor can last when you make this simple applesauce and can it.
Not into canning & preserving? Make it & enjoy eating it fresh! Why applesauce? We love it & devour it by the jar fulls.
Never canned but interested in learning? Grab my FREE eBook "Beginners Guide To Canning" to get you started with safe canning procedures by subscribing to our once per month newsletter!
BENEFITS OF CANNING
I often get asked why I spend so much time canning & preserving our food. Oh, let me count the ways….
CONTROL – Yes, you heard correctly. Control. Control of what you are actually eating. Control over the ingredients being used. Control of reducing our overall chemical loads. Control of sugars. You get the idea. You have the control when canning & preserving your own food(s)
FOOD SECURITY – Never has it been more rewarding than looking in my pantry, seeing all the colors of my canned goods & knowing I can feed my family and myself in times of shortages
FLAVOR – When you open a jar of preserved, fresh harvests, no matter what they are, the flavor is almost like eating it fresh from the garden. The flavors are that amazing
SIZE – You determine the size jars that work best for you and your family
KNOWLEDGE – Learning to can is a skill no one ever said they regretted learning
Canning applesauce is easy to do & so flavorful you won't want store-bought again!
DO YOU WATER BATH CAN OR PRESSURE CAN APPLESAUCE
When it comes to applesauce you have choices of how to process it. You can either process the jars using a water bath canner or by pressure canning them. Steam canning is also a choice when it comes to applesauce processing. I used the water bath canner for my chunky applesauce recipe in this tutorial.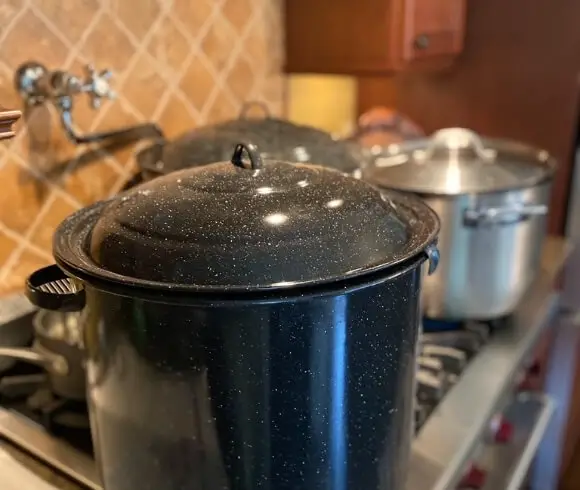 HOW TO CAN APPLESAUCE
My directions are for water bath canning are found below. As stated earlier, you can always adjust & utilize steam canning or pressure canning for this same recipe. Love it when the rare option for choosing which processing you want to use happens 🙂
For complete a water bath canning tutorial, refer to either the Free eBook you've taken advantage of 😉 or refer to my "Water Bath Canning For Beginners" tutorial.
As with any recipe, choosing the right ingredients can make or break the recipe. Applesauce is no different. The resulting taste will depend on the type of apples you choose.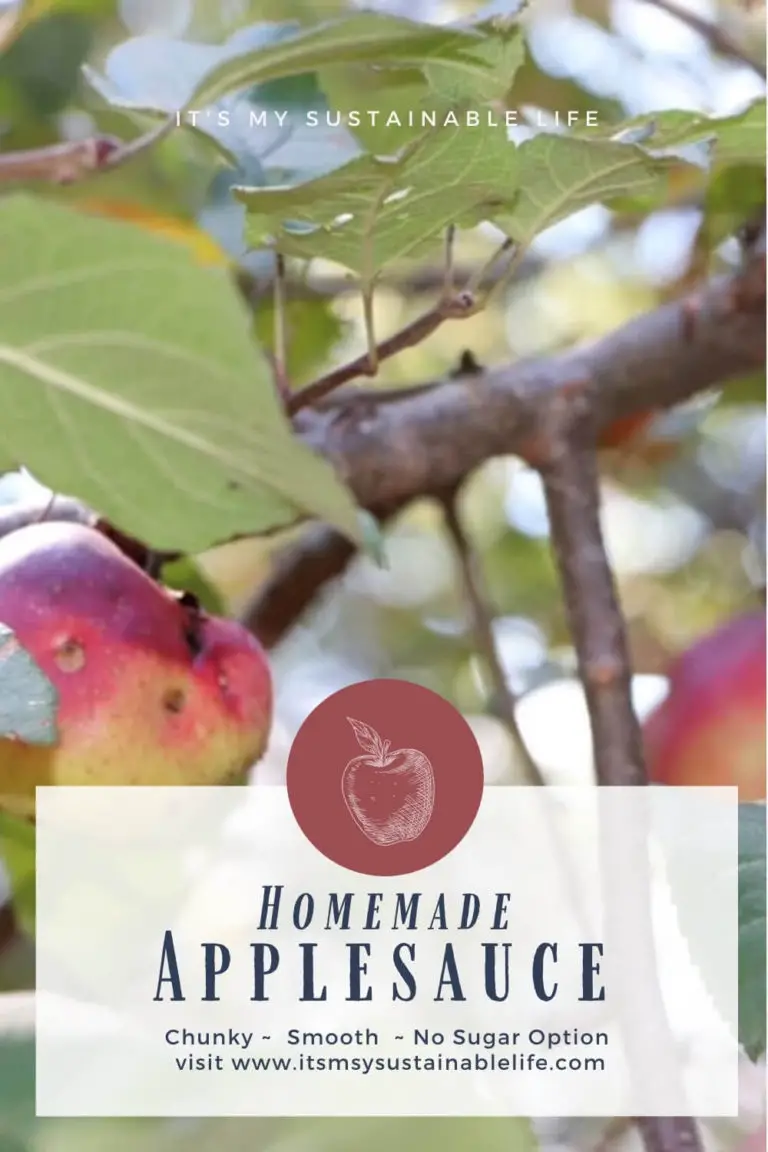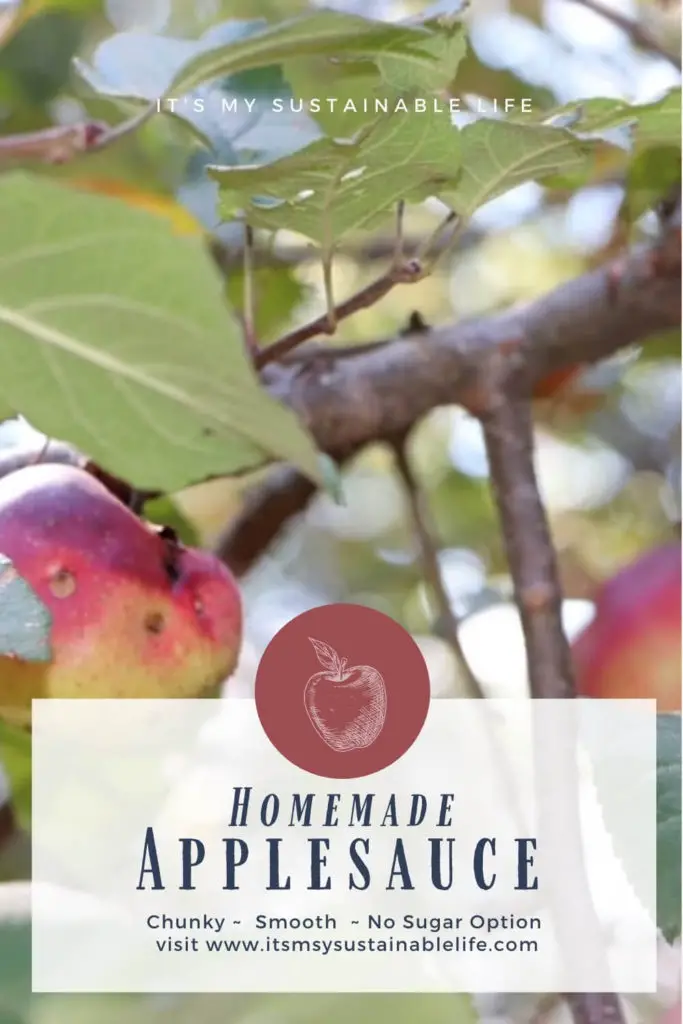 BEST APPLE CHOICES FOR CANNING APPLESAUCE
When choosing the variety of apple you will use in your recipe there are a few considerations. Personally, I find our applesauce is most flavorful when we use several varieties in each batch.
I've had best success when using any type of "saucing apple". The best in my opinion are those saucing apples that boast a hint of natural sweetness & allow me to reduce the amount of sugar needed if not leaving it out completely.
SWEET & SLIGHTLY SWEET APPLES
The sweetest of the bunch include varieties…
Cortland
Crispin (Mutsu)
Fuji
Golden Delicious
TART & SLIGHTLY SWEET
McIntosh
Gravenstein
Jonomac
SHARP, CRISP
Braeburn
Liberty
Ida Red
Rome
By choosing the right flavor base or mixing them up, you can create your own favorite applesauce version! The general rule of thumb when using tart apples for sauce making (especially when you are looking to reduce or eliminate sugar altogether) is mixing one pound of tart apples per every two to three pounds of sweet for a nice combination.
Being in the Northeast, Cortland & Mac's are readily found and make a tasty combo for this recipe. But simply using what you have and adjusting the sweetness levels by using a little sugar is always an option.
The choice of whether to peel & core (my preferred method using a convenient peeler & coring tool like the one that can be found here) first or skipping the peeling process altogether is yours. As we enjoy a very chunky applesauce with some bite to it, we peel and core our apples first.
When choosing to forego the peeling process (best when a smooth, consistent texture is wanted) consider first where you've sourced your apples. If you've enjoyed picking at a beautiful fall harvest or farm, do they spray their apples? Most do, organic farms are very difficult to find in our area. If so, wash, wash, & wash again to help remove the surface chemicals. Otherwise, they will leach into your cooked sauce!
You will then need to cook your sauce & run it through either a food strainer or a food mill to remove the peels & smooth the texture.
As an Amazon Associate, I earn from qualifying purchases at no additional cost to you.
STEPS FOR CANNING APPLESAUCE
STEP 1 – For my chunky version of applesauce for canning simply peel and core your apples, slicing into large chunks. They will cook down so don't be fearful of leaving them fairly large. You will need roughly 2.5 to 3.5 pounds of apples per quart. We used approximately 20-25#'s of apples from our orchard.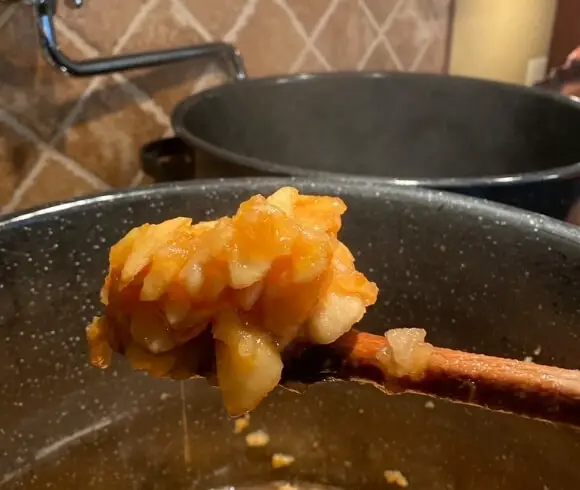 STEP 2 – Place all in a large stock pot. Add just enough water to prevent sticking.
*OPTIONAL – Depending on the tartness of your apples, you may want to add a bit of sugar to bring out their sweetness. Using a variety of apples in each batch will reduce the need for added sugars. When using sugar, for the roughly 20- 25 pounds of apples used, add 1/8 to 1/4 cup and go from there by taste.
STEP 3 – Bring applesauce to a boil slowly to prevent sticking & cook at a simmer for 5 minutes. Stir often to prevent sticking. The sauce is now ready to jar if you are looking for a chunky sauce like mine. Run the mixture through your mill or strainer, or use an immersion blender now for a smooth sauce, & bringing it back to a boil prior to the next step.
STEP 4 – Follow the safe water bath canning procedures as outlined in "Water Bath Canning For Beginners". Ladle the hot applesauce into sterilized, hot jars leaving a generous 1/2 inch headspace.
STEP 5 – Remove any air bubbles using a bubble remover tool.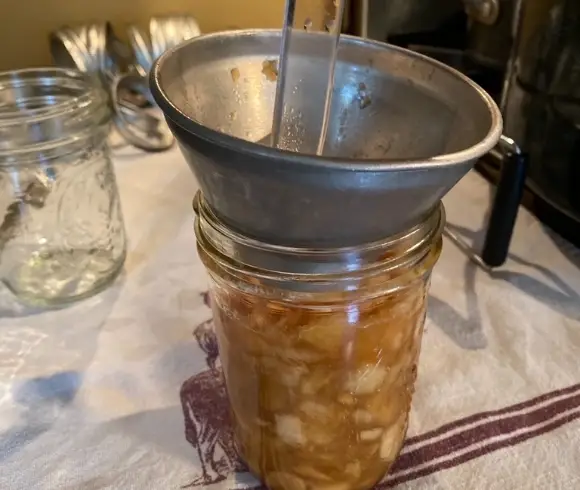 STEP 6 – Place & adjust two piece caps.
*NOTE: Refer to the video below for proper lid placement procedures.
STEP 7 – Process pints & quarts in a water bath canner or steam canner for 20 minutes (directions for up to 1000 ft atltitude, adjust accordingly). Pressure can pint size (8 minutes), quart size (10 minutes) at 5# weighted gauge, 6# dial gauge, again adjusting according to your altitude over 1000 ft.
*NOTE: If using smaller jars than pint size, utilize pint size processing times.
STEP 8 – Once your processing time is complete, remove the water bath canner lid and slide the canner to a cool burner to "rest" for 5-10 minutes. When using a pressure canner, allow the pressure to release to 0 pounds as per your canner instructions.
STEP 9 – Remove the jars and place on a cooling rack or towel and allow to sit un-touched until completely cooled or roughly 24 hours.
STEP 10 – Check the lids for proper seal. DO NOT PRESS DOWN ON THE LIDS! This can create a "false" seal.
To check your lids, gently run your finger across the top of the lid. There should be no give or "bubble" in the center. You know they are sealed safely when you remove the band, & you can easily pick the jar up by the edge of the lid without issue.
Refrigerate any unsealed jars & use first, or re-process them.
STEP 11 – Using a sharpie, write the product name, date, and year on top of the lid for easy reference, or utilize our cute labels available with our Canning Management Planner.
Store sealed jars in a dark, cool, pantry & enjoy!
IS LEMON JUICE NEEDED WHEN CANNING APPLESAUCE
Short and simple answer, no. It is not needed as apples are one of the rare products that are high enough in acids and natural sugars to make them safe for canning on their own.
As an added safety, can you add lemon juice to increase the acidity level? Yes. For each pint jar add 1/2 Tbl to each jar, and for quarts add 1 Tbl to each jar.
HOW LONG DOES CANNED APPLESAUCE LAST
When properly processed and sealed, canned applesauce can last up to one year for it's best quality & taste. In can certainly be eaten even longer than that, however.
Typically, with applesauce, I try to can only that which we will eat each season. This is where keeping accurate records of what you've canned & how much of each product you used comes in handy. You think you will remember, but I guarantee you won't.
CANNING MANAGEMENT TOOLS
Tools for canning go far beyond the equipment actually need to complete the process. Management tools are often irreplaceable for tracking and managing your canning efforts.
CANNING MANAGEMENT PLANNER PRINTABLES
Available in our Etsy Shop now is a complete Canning Management Planner. These beautifully crafted printable sheets will assist you in planning & preparing for the canning season, track all your inventory & processing, and even label each jar with date and product beautifully!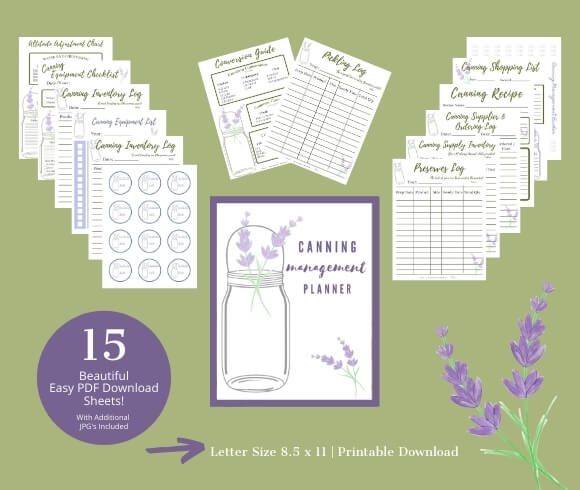 To grab your planner set simply click the button below! I hope you enjoy using them yearly as much as I do!
FREE CANNING CHECKLIST CHEATSHEET
Need a bit of help remembering all the steps for completing the canning process? I've got you covered.
To help you along with your processing efforts, I've created a unique FREE Canning Checklist cheatsheet listing all three methods of processing; pressure canning (article coming soon as well!), steam canning (instructional tutorial coming soon!), and water bath canning.
Print and laminate your copy of the Canning Checklist cheatsheet to use over and over again when processing! Simply use a washable marker to check off the list as you go! Once complete, wash the laminated list and you are ready for the next time you process!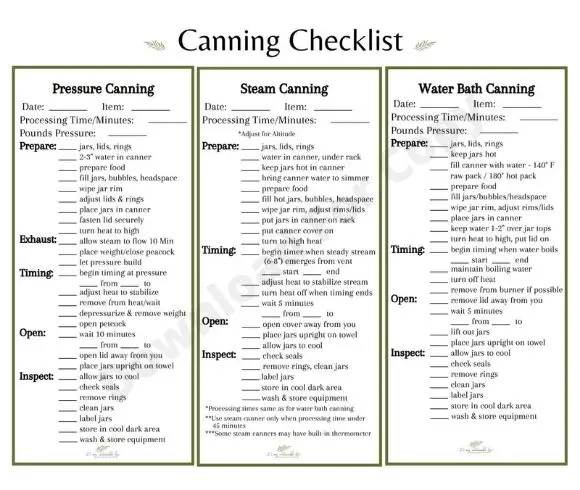 Be sure to grab your FREE copy by clicking the button below 😊
HOW TO TELL IF CANNED APPLESAUCE HAS SPOILED
Tell tale signs of spoilage include, odor (off smelling), mold, & slimey texture within the sauce. These are all sure ways to determine if its gone bad. Lastly, there is always the small taste test. Personally, I would use that test as the last resort 😉
TIPS & NOTES ON CANNING APPLESAUCE
~ When preparing homemade applesauce, canning to preserve its fresh flavors is not the only option. Applesauce freezes very well! Be sure to leave 1.5 inches of headspace for expansion in whatever container you choose to freeze it in!
~ A bushel of apples weighs in at roughly 48 pounds. This is enough to fill about 14-19 quarts of product. This is a great baseline when trying to determine how many jars you will need prepared when canning.
~ Once you've completed the processing, the applesauce may "separate". This is normal, especially when using apples with higher juice content. This sauce is safe to eat as long as they are sealed properly.
~ At times "siphoning" or leakage may occur during processing. I have found this especially true when canning applesauce. There may be several reasons for this occurance.
Not leaving enough headspace in the jar
Not allowing the jars to "rest" for the 5-10 minutes prior to removal from the processing pot
Should siphoning or leakage occur, be sure to check for proper sealing, that you haven't lost half the liquid in the jar, and that the product remains fresh looking and unchanged in color. Should you say yes to any of those issues, I would not store the product, but instead use up immediately.
~ As with any canning project, cleanliness cannot be overstated. Sterilizing jars, warming lids, and even starting with a completely clean kitchen is important.
~ Apple texture in this sauce is up to you. It's all a matter how you prepare the apples. After peeling & coring the apples (unless you are using an apple strainer or mill), & cooked, they can then be mashed with a potato masher, use and immersion blender, or simply cooked down to your desired texture.
~ Too thick? Not enough juice? Add a bit more water!
~ When using a sweetener, the choice is yours! Maple syrup, organic sugar, or even honey all make great additions to raise the sweetness. Remember, however, that the sauce will naturally sweeten more over time AND hot sauce is more tart than cold sauce. I recommend UNDER sweetening and adding more if needed when you open the jar.
~ Can you add additional flavors to your sauce? Absolutely! Again, I like to make a plain sauce, can it, and then flavor as I open the jars and my mood strikes. Cinnamon, nutmeg, cardamom, & even vanilla all make uniquely flavored sauces. Additional spices should be added during the last 5 minutes of cooking time. Start in small increments, like 1/4 tsp, taste, and go from there.
*NOTE: Adding any additional product other than spices to your sauce will change canning & processing requirements.
~ It is common for air bubbles to develop within the jar when canning applesauce. This is nothing you've done wrong, and the sauce remains viable to consume as long as proper sealing has occurred.
Lastly, be sure to create a no-waste kitchen by utilizing the apple core's and peel's by turning them into an amazing Apple Scrap Vinegar!
There you have it! A simple, chunky, homemade applesauce that you can eat fresh or can!
What is your favorite way to make homemade applesauce?
Love, Light, & Laughter ~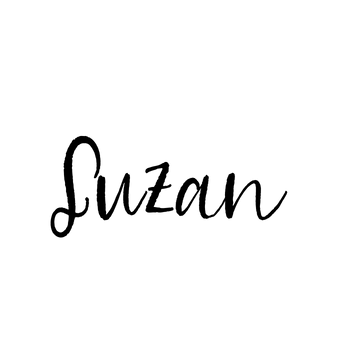 As an Amazon Associate, I earn from qualifying purchases at no additional cost to you.
MAY BE OF INTEREST
The Ultimate Pumpkin Bread Recipe
Old Fashioned Chicken Soup From Scratch
Enjoy this article? Please consider sharing it on your favorite social media channel! Want more? Subscribe below for the occasional update with all the "happenings on the hill"!