Blackberry jam without pectin, is a quick & simple way to capture blackberries summer's flavor. Requiring only two simple ingredients, this old-fashioned recipe for blackberry jam is practically fullproof to make.
This post may contain affiliate links at no additional cost to you.  By making your purchases through the links on this website, IMSL may make a small percentage at no direct cost to you. IMSL only promotes products we use & truly believe in. Please refer to my Privacy & Disclosures for further information. IMSL thanks you for your support!
Picking fresh berries may be the most pleasurable activity many, including ourselves, look forward to every growing season. Blackberries may be one of our most favorite berries to pick here on the hill. We are fortunate to have them readily available, both cultivated & growing wild, and put them to good use making this jam.
Preserving these deep, black, sweet berries are always high on our list of "chores". There are so many ways to enjoy & preserve these berries, it's hard to choose which method to use at times.
They freeze amazingly well (simply lay cleaned, dry berries on a sheet, freeze, and store using your favorite freezer container), make amazing syrups & desserts, and of course our favorite, making blackberry jam without pectin.
DO BLACKBERRIES CONTAIN PECTIN
Many jams are easier to make with the use of pectin such as our "Red Raspberry Jam" recipe. After all, making this jam without the assistance of added pectin will require a LOT of time spent at the stove stirring to achieve the best gelled jam result and not just syrup. However, we have options when it comes to blackberry jam.
Although you can make blackberry jam with your favorite pectin, we choose not to. Why? Because blackberries contain a fair amount of pectin naturally! Why not save $$$ and keep it as simple as possible. And, oftentimes, no matter how much preparation we think we have in place, we find ourselves not so prepared for our canning endeavors, with no pectin to be found 🙂
CAN YOU CAN JAM WITHOUT PECTIN
Simple answer? YES! You can "can" jam without the use of pectin. It simply takes a bit longer standing at the stove. There are berries more suited to preserving without pectin, blackberries being one of them.
A favorite resource for all things canning related, in addition to IMSL 🙂 , is the National Center For Home Food Preservation. Can't find the answers you need in regard to canning jams without pectin here on IMSL? When in doubt or unsure, refer to this wonderful resource.
First time canning? Be sure to grab your copy of "A Beginner's Guide To Canning", our FREE eBook created just for our subscribers! This eBook will be available for a short time only, so subscribe today!
Canning blackberry jam without pectin is only as easy as the berries you choose.
CHOOSING YOUR BLACKBERRIES
When it comes to jamming without pectin, choosing the right berries can make or break your end product. As we mentioned, blackberries are naturally high in pectin. However, there are a few tips to guide you when choosing the ripeness of the berries needed for this jam.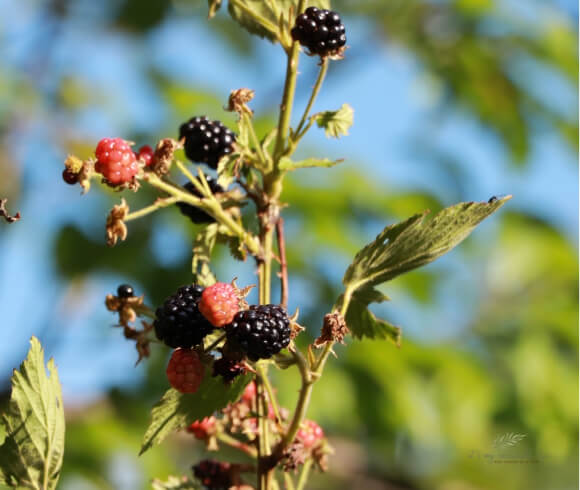 As you can see in the above image, there are stages of ripeness in berry growth. When picking your berries fresh off the vine for making jam, always adding a few unripe (the reddish berries shown) is always a good idea as these berries contain the most amount of pectin. This applies to any type of berry you will be using for jams.
Picking your berries in their "just right" stage will ensure a gelatinous jam, even without the use of pectin. Refrain from over-ripe berries as these will contain the least amount of pectin and the largest amount of moisture. Your berries should be black in color, somewhat firm to the touch, but easily removed from the stem.
Don't have access to picking your berries fresh off the vine? No worries! This recipe can be made with frozen or purchased berries, just realize it will add time spent at the stove during the cooking process.
HOW TO MAKE BLACKBERRY JAM WITHOUT PECTIN
We are traditionalists here on the hill when it comes to canning. What do we mean by that? We like to stick to the old-fashioned methods & recipes, but always keeping up-to-date with canning safety guidelines. Traditional jam is made with equal part berries & sugar both weighed.
This jam is no different. Meaning we don't change the recipe. At all. No reduced fat, reduced sugar, reduced anything. This tried and true method of making jam results in a sweet, but not overly sweet, jam that is delicious, safe, and long-lasting.
Sugar plays an extremely important role in jam making. Not only does it provide added sweetness, lifting the berries naturally sweet flavor, but it also increases the volume, aids in gel formation, and helps prevent long-term spoilage.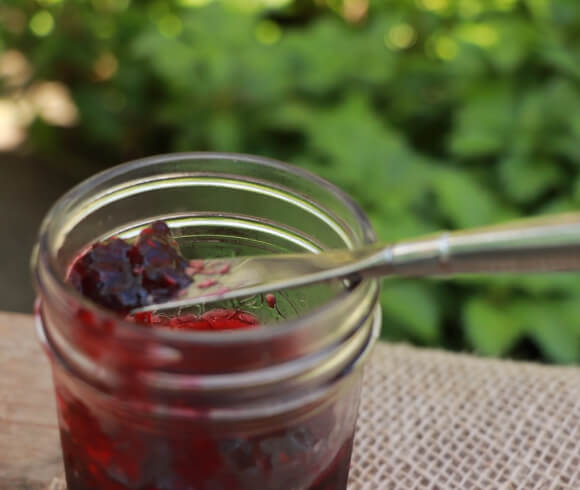 To make this blackberry jam recipe, place your berries in a stockpot & mash them using a potato masher to your desire consistency. Realize, the berries will continue to "dissolve" somewhat during the cooking process, so they don't need to be completely mashed. We actually prefer our jams with a bit more "texture", so we refrain from overly mashing. Some may wish to utilize the food processor for this step & reduce the amount of "arm power" needed 🙂 Just remember to not puree them when canning!
There are two optional ingredients which you can add to your jam. Lemon juice and butter. The lemon juice helps to lower the pH of the jam, aiding in the jam "setting". The butter is said to aid in reducing any amount of foaming.
If you are adding the optional lemon juice (we recommend it to bloom the flavors), now is the time to add it. The lemon juice will not only act as a flavor enhancer, but will also add a bit of moisture to the mix helping with the cooking process. The butter should be added now as well if you are choosing to use it.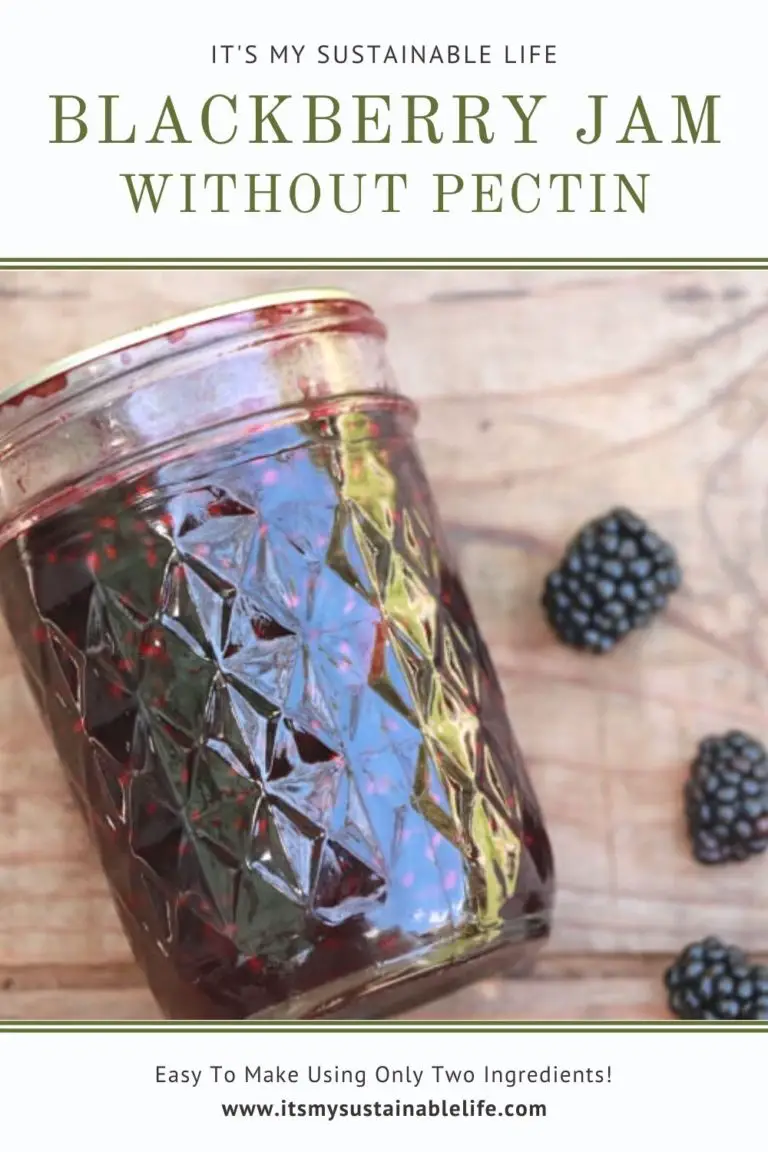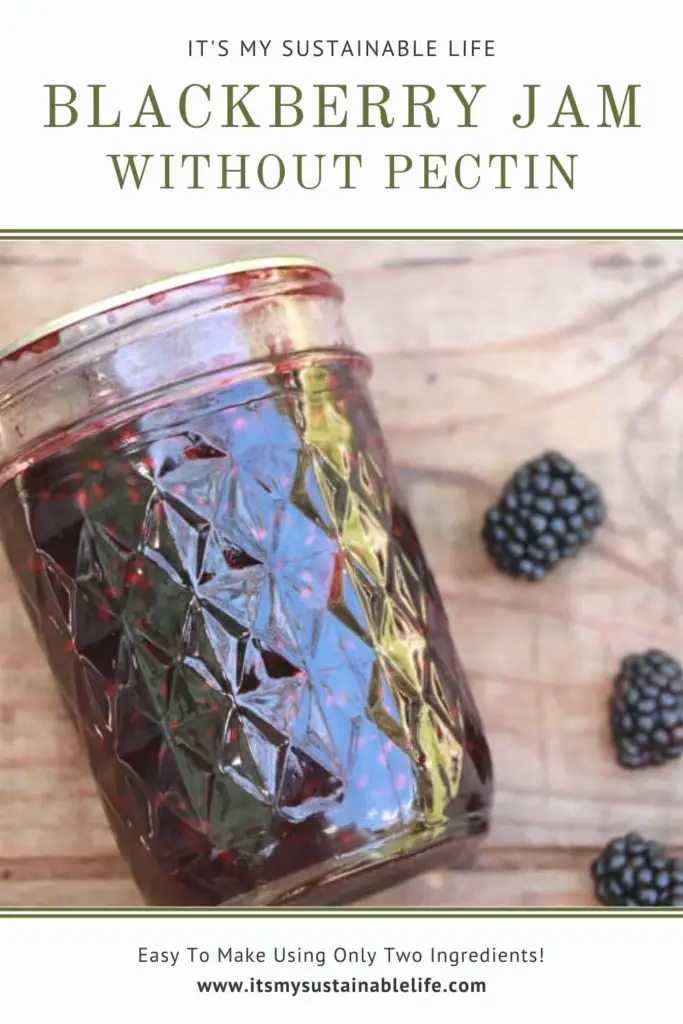 Add equal amount of sugar. Good old plain cane sugar here. Mix in well with the berries. Over medium heat, slowly bring the mixture to a boil. The sugar will dissolve & the berries will release their juices rather quickly here. Stir often to prevent sticking.
NOTE: Blackberry jam will foam. Quite a bit. You have two options here. Skim the foam off (some believe these are the impurities releasing & may hinder the flavor) or simply stir it back in. We have not tasted any difference between skimming the foam off or leaving it in when using organic berries. We do, however, recommend skimming the foam when using conventional products.
THICKENING BLACKBERRY JAM WITHOUT PECTIN
As the mixture begins to thicken, the foaming will cease. The jam will take on a glossy look as it develops into the gel stage. There are several ways to check if your jam has reached the gelling point.
TEMPERATURE TEST – Utilizing a candy thermometer or jelly thermometer, boil the mixture until it reaches the appropriate temperature for your altitude according to the chart below.
| | | | | | | | | |
| --- | --- | --- | --- | --- | --- | --- | --- | --- |
| Sea Level | 1000 Ft | 2000 FT | 3000 Ft | 4000 Ft | 5000 Ft | 6000 Ft | 7000 Ft | 8000 Ft |
| 220 F | 218 F | 216 F | 214 F | 212 F | 211 F | 209 F | 207 F | 205 F |
CHILLED TEST – The chill test for determining the gel stage of jams and jellies can be done by spooning a small amount of the boiling mixture onto a chilled plate & placing it into the refrigerator or freezer for at least one minute. When removed, if the mixture has reached it's gel state, it will not be runny but instead feel, well, like jelly 🙂 Proofing it with the "wrinkle" test means to push the chilled jam, the jam should look like it's wrinkled. Tilt the plate, if the jam runs, it's not set.
SPOON TEST – To test for the gel stage using a spoon, dip it into the hot jam. Tilt the spoon. The jam should look like its "sheeting" off the spoon in one large lump or sheet. You can also do the "wrinkle" test on the spoon as well.
Once the jam has reached the gel stage, turn off the heat, jar according to your preferred method (options below), label and store in the appropriate area.
PROCESSING BLACKBERRY JAM
When it comes to the actual process of how you will store your homemade blackberry jam, once again you have options. All three options listed below will require the use of sterilized jars with appropriate lids.
CANNING – This method requires processing in a hot water bath canner (5 minutes for both half pints and pints) or steam canning to process, a great option for small batches. Ladle hot jam into sterilized jars & place into the water bath canner for processing. Remove jars, let cool, label/date, and store in cool dark pantry. These jars will last for at least 18 months or longer. For in-depth, complete instructions on how to jar, process, and store your canned jam, refer to our "Red Raspberry Jam" tutorial or visit my "Water Bath Canning For Beginners" tutorial.
REFRIGERATOR JAM – Ladle hot jam into sterilized jars, leaving at a minimum 1/2 inch headspace, adjusting two-piece caps, and allow to cool completely. Label & date and place in refrigerator. Refrigerator jam will last up to two weeks, largely depending on how much sugar you opt to use. NOTE: Reduced sugar jams may not last as long.
FREEZER JAM – Same directions as refrigerator jam, only place in freezer for up to 6 months or longer.
Be sure to grab your copy of this recipe by simply hitting the print button below!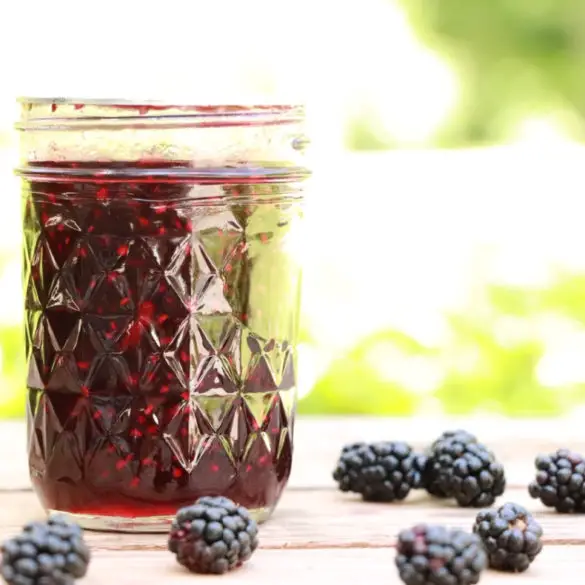 Ingredients
9 C Crushed Berries

6 C Sugar

*Optional

2 Tbl Lemon Juice

1 Tsp Butter

**Adjust this recipe to small batches using equal weight of both berries & sugar
Instructions
Place mashed berries & sugar into stockpot
Add *optional ingredients
Bring to a slow boil, stirring often.
Cook rapidly to the gelling point, continuing to stir often to prevent sticking
Skim foam if necessary
PROCESSING OPTIONS
Canning  -  Ladle jam into sterilized jars leaving 1/4 inch headspace, secure 2 piece lids, place into water bath canner, process for at least 5 minutes for both half pints and pints.  Cool jars, label with date & product.  Store in dark, cool area for up to 18 months or longer
Refrigerator  -  Follow canning procedure through placing & securing lids.  Cool completely and refrigerate.  Not long lasting, typically for 1-2 weeks
Freezer  -  Ladle jam into sterilized jars leaving a minimum of 1/2 inch headspace for expansion.  Place & secure 2 piece lids and let cool completely.  Label with date & product, place into freezer for up to 6 months or longer
SEEDLESS BLACKBERRY JAM WITHOUT PECTIN
For many, seeds in any type of jam is a no go. Making a seedless blackberry jam is an option. To make the seedless jam is simply a process of straining the seeds out.
Follow the directions for how to make blackberry jam with only a couple variations. To make this recipe seedless…
Place the berries into a stockpot, mash. Add the sugar and slowly heat until soft, stirring often
Using either a food mill or seive, over another pan, ladle the softened berries into either your mill or seive. When using a seive, press down with the back of the ladle to push only the "juice" of the berry through
Discard/compost the seeds and repeat until all the softened berries have been through this process, leaving no seeds
Bring to a slow boil & cook until at the gel stage
Process (using your choice of method) as directed above
TIPS FOR MAKING BLACKBERRY JAM WITHOUT PECTIN
Should your jam not gel (say that three times fast 🙂 ) or it's still runny, it simply means it was not cooked long enough. Patience is a virtue when making jam with no pectin. Reduce your heat to prevent scorching, and keep on cookin'.
Too thick? This means the jam was overcooked. As long as it wasn't scorched or the flavor affected, this thick jam is wonderful to use in baking. Think thumbprint cookies, berry jam bars, or even cakes or muffins.
Doubling the recipe is NOT recommended for any jam or jelly recipe. Greater success can be had when making small individual batches at a time.
No special equipment is needed for this recipe! A well stocked kitchen will suffice nicely. Should you have canning equipment, all the better & more convenient for you.
HOW TO USE BLACKBERRY JAM
A better question would be is there any uses I can't use blackberry jam. Let me count the ways to enjoy this sweet, scrumptious jam.
This jam is a perfect companion to our "Homemade Vanilla Bean Ice Cream". Add a dollop of jam on top, and can we say, YUM! Make it even more delicious? Add a dollop of jam along with a spoon of our "Old Fashioned Hot Fudge Sauce" and you now have a party in a bowl 🙂
Breakfast of champions. Toast (what's better than buttered toast with a spread of jam?), bagel (layer cream cheese and jam, so good), or even on our from scratch, "Homemade Biscuits"
Baked goods, including angel cake, baked sweet bread, and even apple muffins
Marinades for pork or tofu dishes
Don't forget or discount a good old fashione PB & J sandwich here. Just sayin' 🙂
Hopefully this has given you many options for making this blackberry jam without pectin recipe! Made it already? Which was your preferred method? Have other suggestions we may have missed? Love for you to join the convo below! While your down there, be sure to follow us on all social media channels by simply clicking the icons 🙂
This recipe was featured at Thursday Favorite Things & Farm Fresh Tuesdays!
Love, Light, & Laughter