Steam canning, a simple and sustainable method of preserving foods.  Get steam canning with this complete guide and learn what it is, how it compares to other canning methods, and how to steam can safely!
This post may contain affiliate links at no additional cost to you.  By making your purchases through the links on this website, IMSL may make a small percentage at no direct cost to you. IMSL only promotes products we use & truly believe in. Please refer to my Privacy & Disclosures for further information. IMSL thanks you for your support!
WHAT IS STEAM CANNING?
So what is steam canning?  Steam canning, aka "atmospheric steam canning", in the simplest of terms, is a method of preserving foods (produce) using steam.
Using hot steam to sterilize and seal jars of foods (produce) which have been properly prepared.
Whereas the water bath canning method processes jars which are submerged in boiling water, steam canning processes the filled jars using steam which reaches a sterilizing temperature of 212 F (100 C), mimicking that of boiling water.
WHAT IS A STEAM CANNER?
A steam canner is just that.  A canner or a piece of cookware made for the specific purpose of canning using the steam method.
Consisting of a deep top or lid (typically domed or cylindrical looking), a shallow bottom, and a rack to hold the jars above the water in the bottom, these large capacity pots are designed to trap hot steam within and release excess steam slowly through a small hole or vent.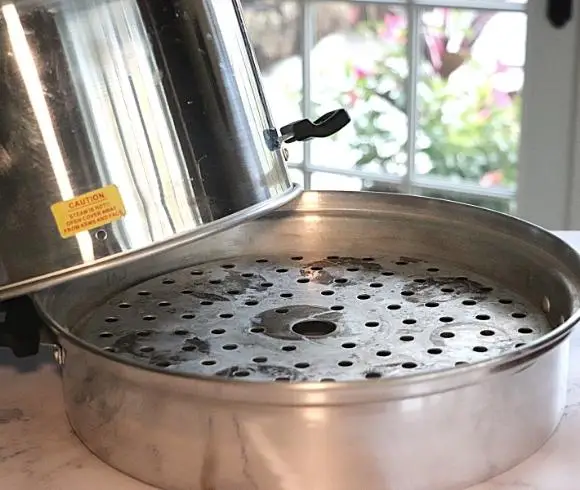 The look has been likened to that of an old-fashioned cake carrier 😅
Some brand names, such as the Victorio Steam Canner, now known as the Harvest Stainless Steel Canner, will come with a built in temperature indicator and some brands do not.  Price obviously varies due to those differences.
There is also a stainless steel canner which can do double duty for processing with either the water bath method or the steam canning method. Image from Lehman's shown above.
My steam canner is a rather older brand & very inexpensive, thus, no temperature guide.  Whichever brand you decide to use is totally up to you.  In my opinion, they both work just fine 😊
THE INNER WORKINGS OF A STEAM CANNER
How does the steam canner actually work?  Pretty simple and straightforward for sure.
A small amount of water, typically only a quart or two roughly, is brought to the boil in the bottom of the pan.  
Once the filled jars are loaded & placed on a rack, which hovers over the water and the cover placed, the pot is brought to a temperature where pure steam is created.  This steam is the same temperature as boiling water, making it just as effective in preserving foods as water bath canning.
This pure steam heats the jars contents to a temperature high enough to kill any microorganisms & bacteria within the jars.
HISTORY OF STEAM CANNING
Steam canning is not a new method of food preservation.  
Dating back to the early 1900's, steam canning was termed "atmospheric" to distinguish the steam canning method (normal atmospheric temperature) from the pressure canning method (artificially created pressure).  
This term was instituted in hopes of reducing any confusion between the two methods.
At that time & until just recently, the biggest concern for utilizing the steam canning method was lack of testing for both the method and the recipes used.
IS STEAM CANNING CONSIDERED SAFE?
Little evidence-based research has been available throughout the years until now.  The University of Wisconsin published an extensive guide to atmospheric steam canning along with the University of Georgia indicating that this method is now considered safe when following a few guidelines.
CONSIDERATIONS FOR USING THE STEAM CANNING METHOD
There are a few considerations you should be familiar with when choosing to use the steam canning method.
FOODS – Any and all high in acid foods (must have a pH of 4.6 or lower) are safe to steam can.  Below find a more comprehensive list
RECIPES – Any recipe should be a tried and true recipe which is safe for canning.  All tested recipes which are considered safe for water bath canning are also safe to use when steam canning. Do NOT rely on any books or recipes you may have received when purchasing your steam canner
JARS – Only canning jars in the following sizes are safe to use when steam canning: ¼ pint, ½ pint, pint, and quart size jars.  
PROCESSING TIME – As steam canners hold only a limited amount of water, only foods requiring a processing time of 45 minutes or less are safe to steam can.  These include time adjustments made for altitude
TEMPERATURE – Filled jars must be processed in pure steam at a temperature of 210°F to 212°F which has been monitored closely or by placing a thermometer in the vent port, or via the built in temperature monitor
LID – The canner lid should never be lifted at any time for any reason during the processing time
PACK – Jars should be sterilized and heated prior to filling & filled with hot liquid (for raw or hot packed foods)
HEAT – Monitor & regulate the heat so that the steam temperature remains stable.  Boil too vigorously and you run the risk of the canner boiling dry within 20 minutes or less
IS STEAM CANNING APPROVED?
It seems the debate still goes on as to who has approved this canning method and who has not.  Is steam canning an approved method?  You be the judge.
The USDA, as of the date of this writing anyway, does not recommend the use of steam canners due to lack of research as far as I know.  I could find nowhere that they mentioned it being an approved method of preserving.  
That being said, according to the NCHFP (National Center for Home Food Preservation)
"Sufficient studies and peer review have been completed that we are now able to say that as long as certain critical controls at various steps in the canning process are achieved, USDA and NCHFP process times for canning acid or properly acidified foods (pH of 4.6 or below) at home with properly research based recipes and procedures can be used."

NCHFP
The FDA has approved it as being a safe method when all the guidelines have been met.  In addition, several Universities (University of Wisconsin &  Utah State University) have studied and researched the matter and approved the method as well.
The biggest differences between the University findings …
University of Wisconsin states that only foods with high acid including pickled foods and salsas are good to steam can
Utah State University states that the only foods which should be preserved using a steam canning method are jams, jellies, and fruit
Both agree that it is unsafe to use the steam canning method of preservation for any foods low in acid such as meats and/or vegetables
You are sure to find contradictory information in regard to this burning question of steam canning approval.  Do your due diligence, research to the best of your ability.  Whether you feel comfortable using this canning method or not is ultimately your decision.
STEAM CANNING, WATER BATH CANNING, AND PRESSURE CANNING DEFINED
Still unsure as to the differences between steam canning, pressure canning, and water bath canning?
Here's a bit of a breakdown of each safe canning method.  All three methods, when used properly, will inactivate C. botulinum spores which can cause serious harm, aka botulism …
STEAM CANNING (ATMOSPHERIC STEAM CANNING) – Steam canning utilizes very little water to process properly filled jars using steam heat to sterilize & seal.  Foods which are high acid with a pH of 4.6 or lower are safe to steam can.  An in-depth list can be found of foods safe to can below
WATER BATH CANNING – A traditional form of preserving which uses large quantities of water to submerge properly filled jars into boiling water to sterilize and seal the jars while destroying spoilage organisms
PRESSURE CANNING – Pressure canning is sometimes referred to, albeit confusingly, as steam-pressure canning.  Although similar to water bath canning & steam canning where heat from either water or steam is utilized to destroy spoilage organisms, pressure canning is just that.  A sealed system that puts the properly filled jars under pressure in order to increase the internal heat of the jars.  When this pressure is vented for ten minutes, the air is pushed from the canner and the jars are then surrounded by steam.  Traditional pressure canning should not be confused with steam canning in any way
STEAM CANNING VS WATER BATH CANNING 
Both steam canning and water bath canning methods are pretty much the same in that they both can safely process high acid foods & acidified foods such as salsa or pickles.
The biggest difference really boils down to time.  
Sharing Is Caring ❤️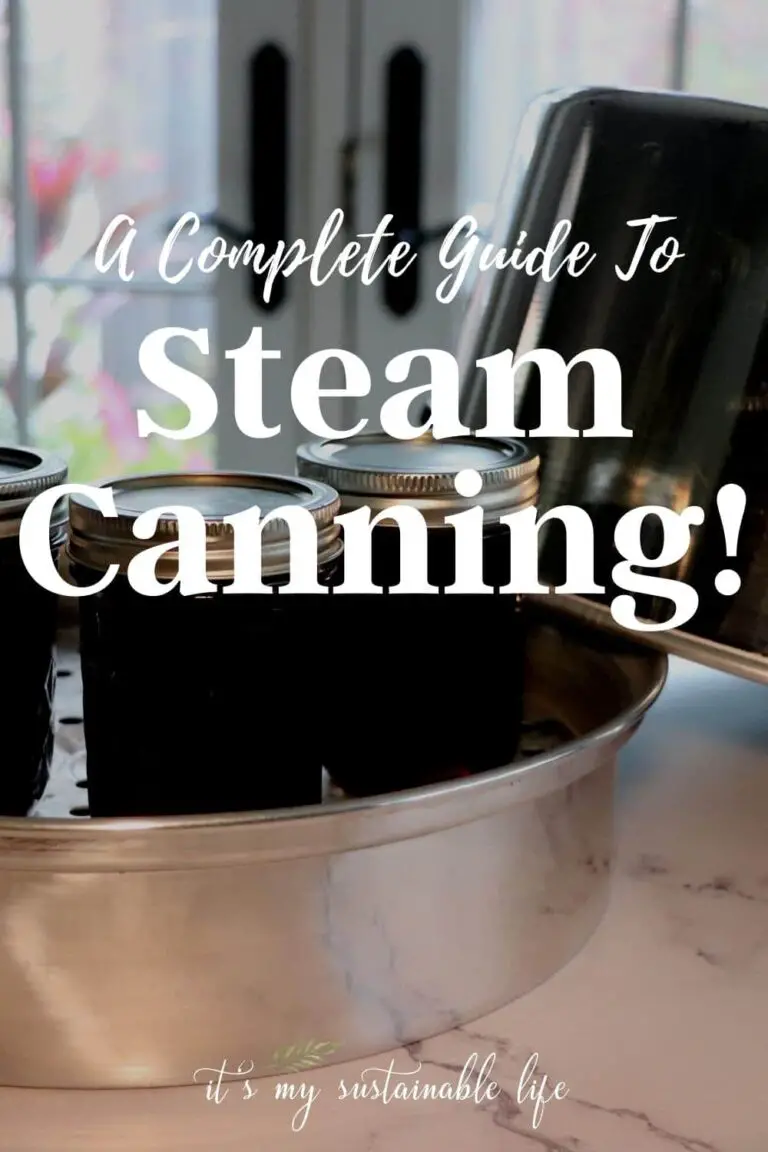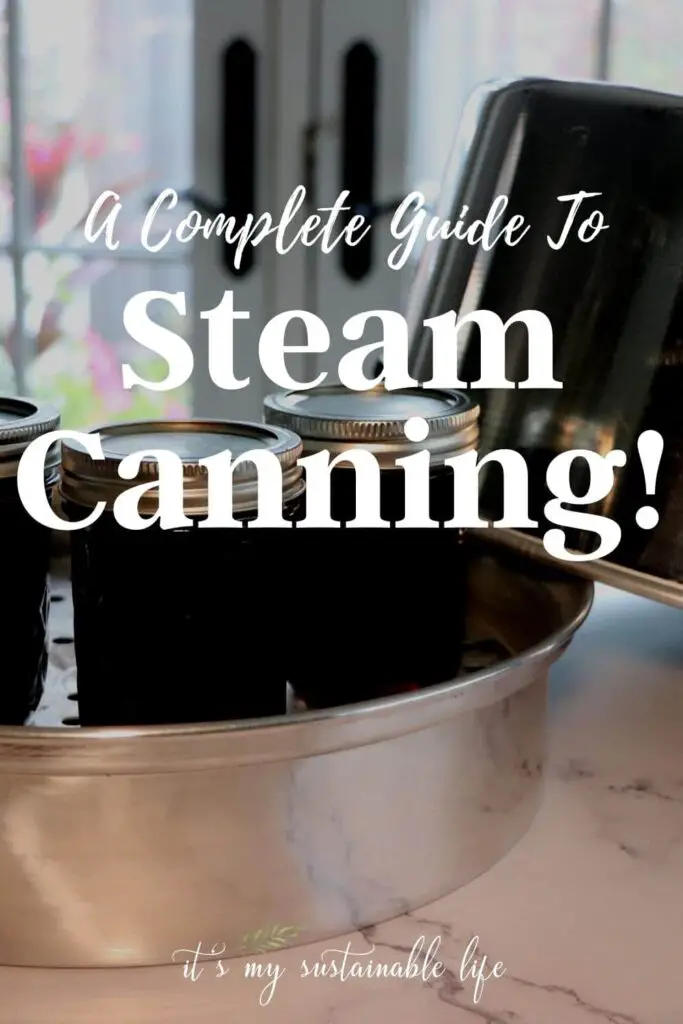 Steam canning can only be used when the processing times for the product you are preserving is under 45 minutes.  Anything over that time, it's important that you revert back to the water bath method as the canner may boil dry, not maintain the perfect temperature for safe canning, and create possible seal issues.
STEAM CANNING VS PRESSURE CANNING
Steam canning & pressure canning have little in common, other than they both can ultimately process foods.
The biggest difference between these 2 canning methods is just that.  Foods. 
Steam canning is recommended ONLY for foods which are naturally high in acid & some which have acid added such as pickles & salsas.
Pressure canning allows the home canner to process low acidic foods such as meats & vegetables safely.  To that list, pressure canning can safely preserve soups, stews, broths, beans & more.  It's not recommended that any dairy products, milks, flour, starchy foods, eggs and the like be preserved.
As mentioned, both steam canning & pressure canning use steam to heat the foods to the appropriate temperature, destroying harmful bacteria and organisms which may linger.  
Where steam canning uses ONLY pure steam to get the job done, pressure canning puts that induced steam under PRESSURE to do so.
There are major differences in these canning methods, and one should not be confused with the other.  They are not the same and are not interchangeable. 
PRO'S AND CON'S OF STEAM CANNING
As with anything in life, there are pro's and con's to steam canning.
PRO'S OF STEAM CANNING
SUSTAINABILITY – Using mere cups of water instead of gallons per processing load, AND reducing the amount of energy expended per batch, steam canning may be the most sustainable method we have available as canners
TIME – Taking only minutes to bring the minimal water to the boil as opposed to the water bath canner which can take what seems like hours, steam canning saves tons of time in the kitchen
MONEY – Not sure about you, but propane is not cheap.  Nor is electricity.  Steam canning reduces the amount of expensive energy being used per processing batch, largely due to the greatly reduced amount of water needed
ENERGY – Not to be redundant here, but not only are you saving on fossil fuel expenditure in energy savings by steam canning, you are also saving your own energy expenditure as steam canning reduces the amount of time spent in the kitchen processing, making it a small, casual endeavor instead of an all day one
EASE – For many canners, the thought of schlepping the heavy equipment needed in order to process your favorite foods can be daunting.  Steam canners are small in stature, light, and easily moved & used
SAFETY – I don't know about you, but moving a heavy pot filled with hot water can be downright dangerous.  Especially for those who need to utilize an outdoor propane burner for their processing.  Never mind the boiling over issues.  Steam canners are safe to use on any stovetop, including glass top, smooth top, or induction stovetops, there is a steam canner for your needs and have none of the safety issue problems mentioned. Refer to each canner manufacturer for use on your particular cooktop
WEIGHT – Steam canners are small in stature and very light weight.  Mine is made from aluminum (be sure to place a bit of vinegar or lemon juice into the water to reduce the risk of pan discoloration, which as you can see from my images I neglected to do 😊) and easily moveable even when filled
SMALL BATCH CANNING – Should you be like me and not want to break out the time consuming water bath canner for only a few jars of product, steam canning to the rescue
CONS OF STEAM CANNING
EQUIPMENT – Obviously should you be in need and want to steam can you will need a steam canner made specifically for this purpose at an additional cost to you
PROCESSING TIME LIMITS – You are limited to processing times of 45 minutes or less
LIMITED SPACE – Depending on what size jars you will be processing, the steam canner averages 2 to 4 less jars per batch than water bath canning
SUSTAINABILITY COMPARISONS BETWEEN STEAM CANNING AND WATER BATH CANNING
It's worth delving into the issue of sustainability when it comes to canning.  Let these comparisons between steam canning and water bath canning bring a bit of light to some of the issues.
Let's compare the sustainability of canning salsa, an accepted acidified food for steam canning,  with a processing time of 15 minutes between the two methods of canning.
STEAM CANNING SUSTAINABILITY
WATER USAGE – 1 to 2 Quarts of water
PRE-TEMPING – Roughly 8 to 10 minutes to bring to the boil, largely dependent on your burner
PROCESSING – 15 min (adjusting accordingly for altitudes over 1000 feet)
COOL DOWN – 5 minute cool down; burner off
TOTAL PROCESSING TIME:   30 minutes
TOTAL ENERGY USAGE TIME:  25 minutes
TOTAL WATER:  1 to 2 quarts
WATER BATH SUSTAINABILITY
WATER USAGE – Average size canner can hold 21 quarts, large canners can go up to 33 quarts.  Typically on average you fill the canner with ⅓ its capacity of water.  So when using the jumbo canner, plan on adding 11 quarts of water to process
PRE-TEMPING – Depending on your burner, it can take 20 to 40 minutes to bring to boil.  Taking the middle ground, let's estimate 30 minutes for pre-temping the water
PROCESSING – Plan on an additional 10 minutes to bring the water back to boil once the jars are added plus the 15 min processing time (adjusting for altitudes) for a total of 25 minutes
COOL DOWN – 5 minutes
TOTAL PROCESSING TIME:   60 minutes at sea level
TOTAL ENERGY USAGE TIME:  55 minutes
TOTAL WATER:  11 quarts
Overall savings when steam canning:
TOTAL PROCESSING TIME SAVINGS:  35 minutes
TOTAL ENERGY USAGE TIME SAVINGS:  30 minutes
TOTAL WATER SAVINGS:  A minimum of 9 quarts of water
In my opinion, steam canning is by far the more sustainable method for preserving high acid foods.  Money is saved, time is saved, water is saved. 
Win, win, win on all levels of sustainability when looking to reduce the overall carbon footprint.
FOOD'S SAFE TO CAN USING A STEAM CANNER AND THOSE THAT AREN'T
As stated prior, but worth repeating, steam canning is a safe method of food preservation when preserving foods which are high in acid with a pH of 4.6 or lower when the above mentioned criteria are met.  Always use tested recipes that are safe for water bath canning.
FOODS SAFE TO CAN USING A STEAM CANNER
FRUITS – Think peaches, pairs, apples
ACIDIFIED TOMATOES – Sauce, whole, diced and the like are safe to steam can when additional acidification is added
JAMS & JELLIES – Consider our jam recipes; Elderberry Jam, Blackberry Jam Without Pectin, Hot Pepper Jelly, and Red Raspberry Jam
PICKLES – Any tested pickle recipe can be steamed canned.  Check out our Bread & Butter Pickles, Dill Pickles recipes
SALSA – Our favorite of all time, Salsa For Canning Recipe 
FOODS THAT AREN'T SAFE TO CAN USING A STEAM CANNER
MEATS
STEWS
SOUPS
FISH
DAIRY PRODUCTS
DRY GOODS
STEAM CANNING – HOW TO USE
Steam canning high acid foods successfully boil down to just 12 tips.  No pun intended 😅
Fill the bottom with water to the level recommended by the manufacturer of your steam canner.  For mine, it was 2 inches
Place the canning rack into the base with water
Turn the heat on med-high to pre-temp the water while you are filling sterilized jars (to the recipe levels) & capping the jars, always finger-tight only
Place the filled jars onto the heated rack 
Once the canner is filled, allow them to remain as is for 1 to 2 minutes and then place the domed cover/lid on
Increase the heat and allow the internal temperature to slowly rise until a steady, full column of steam begins venting (between 8 to 10 inches in length) or until the appropriate temperature registers on the dial (consult manufacturer instructions for your canner)
Begin your processing time, adjusting for elevation as you would when using the water bath canning method
Adjust the heat as needed in order to maintain temperature (212°F) or a consistent steam flow
Turn the heat off once the processing time has completed.  Allow to set as is, cover remaining, for 5 minutes
Lift the cover off, making sure to aim it AWAY from you to prevent burning, remove the jars with your jar lifter and place onto a thick towel or wooden board to completely cool
Test the seals by removing the metal bands and taking hold of the lid by the edges and gently lift the jar from the counter.  If it holds it's sealed.  Any unsuccessful seals, place the jars into the refrigerator to be used immediately  
Label the sealed jars with the product name and date and store in a dark, cool pantry
HOW TO MONITOR STEAM CANNING TEMPERATURE
Monitoring & maintaining the ideal internal steam canning temperature of 212°F (100 C) is a matter of trial and error.
Run the burner too hot and you risk the canner running dry of water and can result in seal failures.  Too low, and it can be difficult to maintain the internal temperature needed for safe results and often cause seal failures.
Finding the goldilock point or the "just right" temperature can take a bit of experimentation as each burner may run hotter or cooler than others.  The ultimate goal is to find the point where there is just enough heat to maintain the ideal internal temperature.
The University of Wisconsin recommends placing a thermometer in the vent hole "port" to check the internal temperature when using a canner without a temperature dial.
The more expensive steam canner models offer a convenient gauge in the lid which takes the guesswork out of this issue.
COMMON STEAM CANNING QUESTIONS
CAN YOU MULTI-LAYER OR DOUBLE STACK WHEN STEAM CANNING?
Unfortunately, not only does the steam canner itself not allow for multi-layering, aka double stack or stacking of jars in any way while processing, but it is not a researched or recommended practice.
So no go when it comes to multi-layering or stacking the jars in my opinion.
CAN A PRESSURE CANNER BE USED AS A STEAM CANNER?
I would say no.  This has not been tested or researched, at least that I'm aware of.
CAN STEAM CANNERS BE USED TO STERILIZE CANNING JARS?
According to Dr. Barbara Ingham, steam canners can indeed pre-sterilize canning jars just as you can in water bath canning.
Just as with the water bath canning method, adjust sterilization times for your altitude.  Don't know yours?  Find it HERE.
SHOULD I GET MY STEAM CANNER TEMPERATURE SENSOR TESTED?
Yes.  If your steam canner comes with a temperature sensor it should be tested at a minimum, yearly.  
Any change in elevation use and it should be tested as well.
To test the sensor, according to the Victorio or Harvest steam canner company using the stainless steel VKP canner …
Fill the steam canner with 11 quarts of water
Place the canning jar rack into the pot so the handles are resting on the lip of the pot
Place four 1 Qt jars filled with water (no lids) onto the rack and then lower the rack into the water
Cover the jars with at least 1 full inch of water
Place the lid on the pot with the vent holes facing toward the back so you can easily read the temperature sensor
Turn the heat on high and bring to a vigorous boil
Lower the heat if water begins to spit from under the lid until this stops
Watch the sensor until it stops rising.  It should reach anywhere in the green area for your altitude zone.  This is the safe boiling point of which to start any processing times
You can mark the sweet spot for future reference
Repeat this test yearly or if location or elevation changes have occurred
HOW TO CHOOSE A STEAM CANNER
When looking to purchase a steam canner you have choices.  However, you should first look to the surface you will be using the steam canner on.
Stove-top surfaces are not created equal, nor are all steam canners.  There are some considerations to take note of when in the search for your perfect steam canner.
STOVE-TOP SURFACE CONSIDERATIONS
Sadly, not all steam canners work on all stove-top surfaces.  Why?  Because many steam canners don't have flat bottoms.  Instead, some have wavy bottoms which don't allow full contact with the cooktop.  
Full contact is vital to ensuring the heat from the burner to the water to the jar contents remain at a stable and consistent level.  Bottoms which are not flat have an uphill climb to meeting the appropriate criteria for safe canning.
The good news?  Steam canners of all kinds are safe to use on and work well with all gas stoves as well as electric stoves which utilize regular coil systems.
Stoves which have a smooth top, glass top, or induction stove top, there seems to be only one steam canner which works appropriately, safely, and is certified by the powers that be for those stove-tops, The Victorio Stainless Steel Canner.  The Victorio Stainless Steel Canner is appropriate for use on all cooktops.
Those with induction burners may want to look into purchasing an adapter plate which acts as a conduit between the burner and the canner.  An adapter plate will allow the magnetic waves created from the burner to be absorbed into the metal of the plate which in turn converts into heat and then transferred to the pot. 
Ultimately, ALWAYS look to the manufacturer of your cooktop for guidance on canning of any kind before doing so.
STEAM CANNER PURCHASING OPTIONS
With many steam canner options out there, how do you choose?  
First, determine your cooktop.  Research the manufacturer's recommendations for canning if you don't have a gas stove-top or a coil electric stove.
Next, determine your budget.  There is a surprisingly wide array of price points for steam canners, ranging from $60 to over $100.
Sadly, the bare bones model, Back To Basics, that I have is no longer available.  A very simple aluminum model with no temperature guide that was extremely cost effective.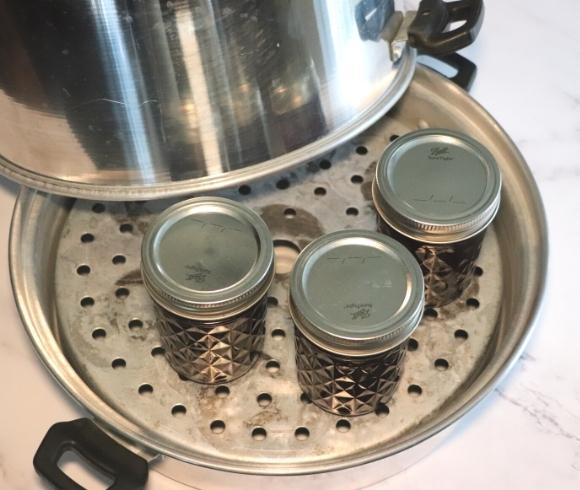 The absolute best steam canner in my humble opinion?  A multi-purpose stainless steel canner which can be used for both steam canning as well as water bath canning, the VKP (Victorio Stainless Steel Steam Canner) which is now known as the Harvest steam canner.
A mid-priced unit, the VKP stainless steel steam canner not only does double duty, but it also boasts a flat bottom (good for smooth-top stoves) and is stainless steel (good for induction burners).  And bonus!  You can also use the pot as you would any other large stockpot!
STEAM CANNING SAFE RECIPE RESOURCES
There are notable resources for gathering tested recipes other than those found here under our Grow It Eat It section, but please check there first 🤗 
University of Wisconsin Extension
University Of New Hampshire Extension
National Center For Home Food Preservation
I hope this complete guide to steam canning, a more sustainable method for small batch canning, has answered your questions & encouraged you to give steam canning a try!
Love, Light, & Laughter ~

SHOP THIS POST
Enjoy this article? Please consider sharing it on your favorite social media channel! Want more? Subscribe below for the occasional update with all the "happenings on the hill"!