Mason jar sizes can be confusing for the home canner. With so many choices, selecting the right one for the job at hand is vital to safe canning practices.
This post may contain affiliate links at no additional cost to you.  By making your purchases through the links on this website, IMSL may make a small percentage at no direct cost to you. IMSL only promotes products we use & truly believe in. Please refer to my Privacy & Disclosures for further information. IMSL thanks you for your support!
Any experienced home canner and food preservationist will tell you, mason jar sizes matter. When selecting the right one for the job at hand, it's imperative that the right jar size is selected for maintaining canning safety.
It's kind of like Goldilocks, too large a jar for the job and you risk not creating appropriate headspace in your jar, a big no-no when it comes to safe canning practices. Too little a jar for the job and you run the risk of filling multiple jars instead of just a few, a big inconvenience in the long run. Like Goldilocks, you need to find the "just right" size mason jar for the job at hand.
That being said, no matter what you may call them, mason jars, canning jars, or ball jars, it's no wonder beginner canners can easily get confused over selecting the right one for the job! After all, the sizes, shapes, brand names, and other decorative options can seem endless!
So when I curated my canning safety series on just that, beginner canning, creating appropriate headspace, canning methods (which to use when), and which foods are safe to can and those that aren't, it came as no surprise that the questions came rolling in.
I knew I had to write a short, informational post on mason jar sizes and more importantly, how to select the right size.
Read on for the answers to the most common questions including but definitely not limited to:
What are considered "safe" canning jars?
Which mason jar size is appropriate for which foods?
What's the difference between a regular mouth mason jar and a wide mouth mason jar?
Does the shape of the mason jar matter?
What are the mason jar sizes in ml?
What are the Ball® mason jar sizes?
What are the mason jar lid sizes?
Do you have a mason jar lid size chart?
What size labels should I use for mason jar lids?
Are all mason jar brands in the same size increments?
All that with a few tips and suggestions along the way.
Not interested in reading? View the video below for common questions and answers of all things mason jar 😊
WHAT ARE CONSIDERED SAFE CANNING JARS?
Glass mason jars made specifically for food preservation such as those made by Ball®, Kerr®, and Bernardin®, are jars that are made to withstand high heat and high pressure conditions such as those made during the canning process.
Sharing Is Caring ❤️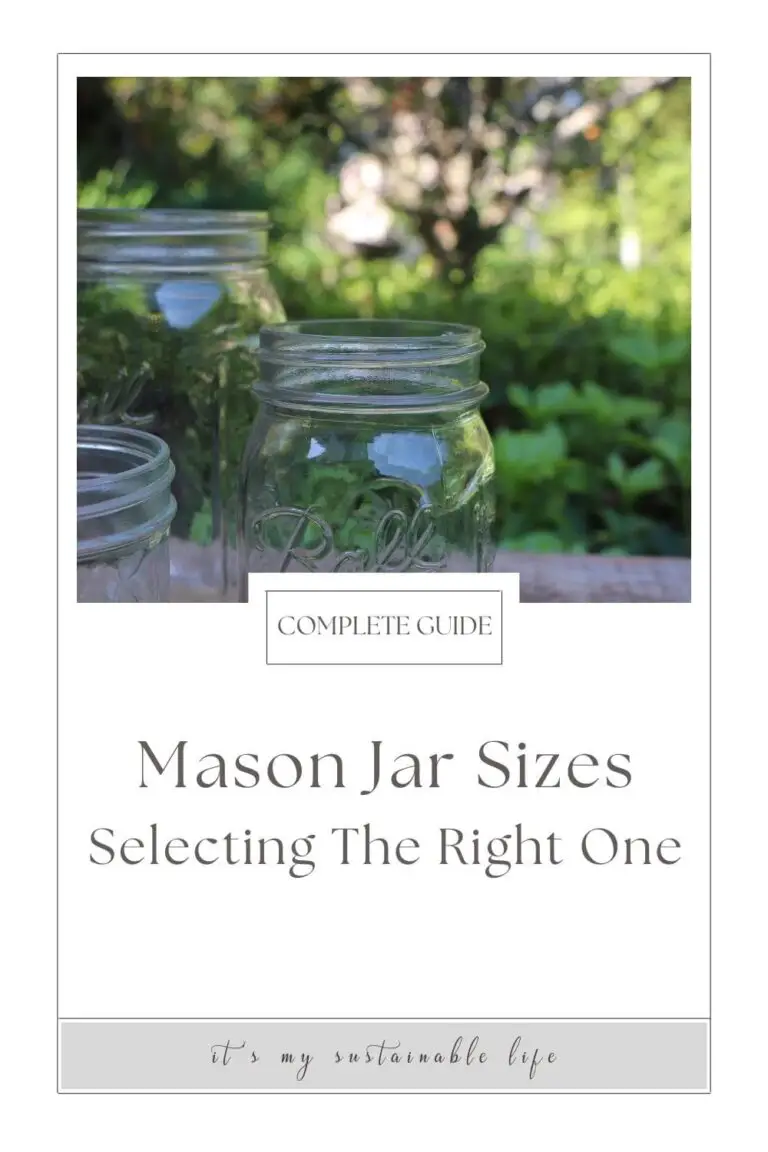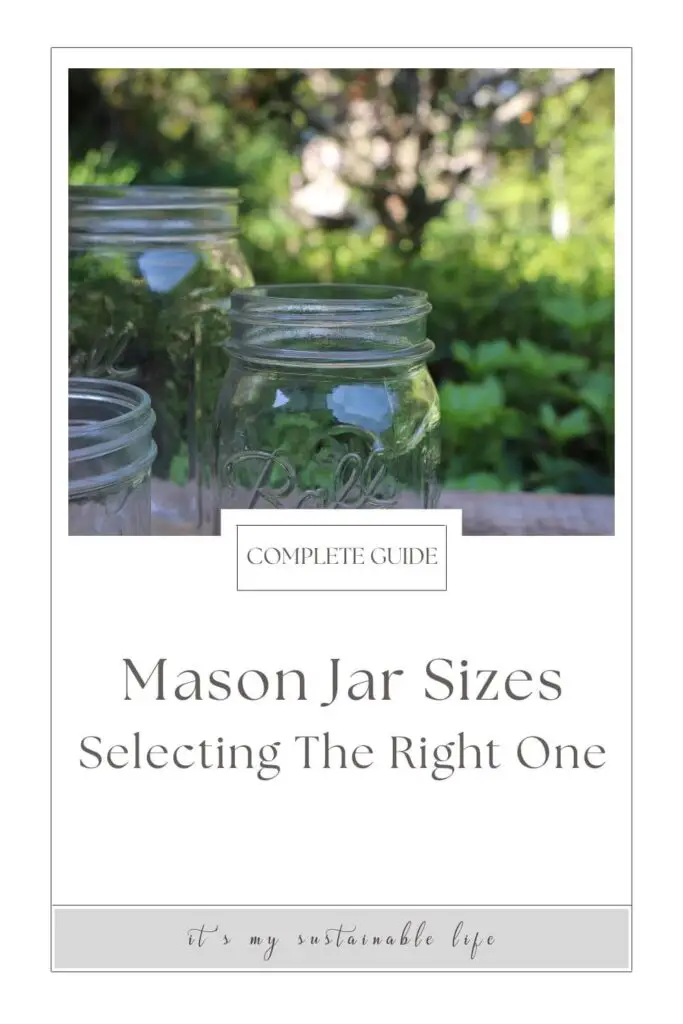 Although you may be easily tempted to reuse the glass jars from store-bought products, The National Center for Home Food Preservation (if you've not already familiarized yourself with this site, as a home canner you should) has this to say about safe canning jar choices…
"Regular and wide-mouth Mason-type, threaded, home-canning jars with self-sealing lids are the best choice."

NCHFP
There are a few exceptions to that rule. Aren't there always 😅 ? According to NCHFP…
Most commercial pint- and quart-size mayonnaise or salad dressing jars may be used with new two-piece lids for canning acid foods.

NCHFP
Should you choose to utilize those type of jars for water bath canning acidic foods, you can expect to see more seal failures & jar breakage though.
The key words here are water bath canning only! These jars are never safe to use when pressure canning.
Although un-damaged mason jars can be re-used many times, the lids cannot. With each new canning process, use only fresh, new lids to ensure processing safety.
Don't throw away those used lids, however!! Re-purpose spent lids & rusted rims in crafts such as making pumpkins to display, or as homemade markers for your garden! Be sure to keep an eye out for a future post on how to create these!
ARE ALL MASON JAR BRANDS THE SAME SIZE INCREMENTS?
Although there are many mason jar brands throughout the world, here in the States the most popular mason jar brands are Ball®, Bernardin® (Canadian Ball® brand), and Kerr®. All these brand names come from the same manufacturer, Newell Brands, ensuring that the majority of mason jars sold remain consistent is size and options!
You may be saying at this point, aren't there enough choices with just one company alone? There sure are. That's a LOT to remember, especially when first beginning. However, fortunately both of these companies are owned by the same manufacturer and have the same sizes to offer!
Win, win for the beginner canner! Less to remember and consider 😊
Fortunately, there are really only a few important points to remember when it comes to choosing mason jars.
CAPACITY – Mason jars are measured in ounces and are easily converted to cups and ml increments should you choose
MOUTH – The "mouth" of the mason jar is the opening circumference and are referred to as "regular" or "wide".
HOW TO SELECT THE BEST SIZE MASON JARS
Selecting which size mason jar best suits your families needs really boils down to what your family consumes and which jar size is most convenient.
In other words, should you select half gallon jars to process your apple juice and are feeding only one small child said apple juice, you can be sure you will have a bit of wasted apple juice on your hand before it can all be consumed.
Keep your jar size close to the sizes your family uses. Using too large a jar results in lots of food waste. Using too small a jar results in having to use too many jars, lids, and rims.
That being said, it's helpful to stick to the recipe and the jar sizes listed within the trusted, safe canning recipes such as those listed in the Ball® Blue Book of Preserving. By choosing the recommended jar size for the recipe you can be certain of utilizing the correct processing times for that product.
Using a slightly smaller jar than called for is safe in most cases. Beware, however, of the temptation of increasing the jar size from what's recommended in the recipe as the processing times can be greatly effected and may result in questionable food safety.
Ball® and Kerr® recommend the following when it comes to selecting the best size mason jars…
"If you choose to process the recipe in a jar smaller than a quart but larger than a pint, follow the processing time given for quarts. If your jar selection is smaller than a pint, follow the processing time given for pints."

FP
WHAT'S THE DIFFERENCE BETWEEN A REGULAR MOUTH MASON JAR AND A WIDE MOUTH MASON JAR?
The "mouth" of the jar, as described above, is the opening circumference of the jar.
Why is the opening or mouth size important? Because certain foods, like whole tomatoes, whole fruits, larger pickle sizes and the like need a larger opening size when filling the jars themselves.
It's the width of the mouth opening & what you can do with that width that's the important part. It's also important to note that the lid sizes fit ANY corresponding jar size.
In other words, ALL regular mouth (opening circumference) lids will fit ANY size (capacity) regular mouth mason jars, and ANY wide mouth lids will fit ANY size wide mouth mason jars.
According to Ball® and Kerr® when choosing the "mouth" size of your jars…
"Regular Mouth work best with pourable foods such as jams, jellies, salsas, sauces, pie fillings, and vegetables. Wide Mouth allows for easier filling and works best with whole fruits and vegetables."

FP
DOES THE SHAPE OF THE MASON JAR MATTER?
When choosing the best mason jar for the job at hand, there are a few shapes that are available. Generally, the more decorative & shapely the jar, the more expensive it is.
I keep any uniquely shaped or colored mason jars for my handmade & homemade gift giving.
Of note, shaping really only matters when you are wanting to freeze your product. Keep to mason jars with straight sides & no shoulders for freezing.
Below is more on freezing in mason jars.
STRAIGHT VS SHOULDER MASON JARS
A bit more on the straight vs shoulder shapes of mason jars. Straight jars are just that. Jars that are straight from the base of the jar to the top of the rim. Mason jars with shoulders have a slight curving inward (toward the center of the mouth opening).
Straight sided mason jars tend to be easier to fill & pack when processing time comes around. They are easy to clean with no curves or crevices to deal with. They also tend to be a bit more costly.
Mason jars that are shouldered are easy to pour out of and to hold onto. They tend to be a bit less pricey than their straight sided counterparts. Shouldered jars also assist keeping foods below the liquid level, which equals better looking canned products in the end.
MASON JAR LID SIZE CHART
Below is an easy to read mason jar lid size chart for your convenience.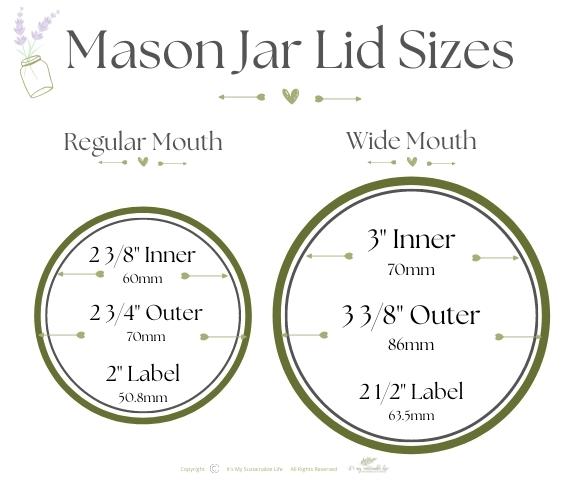 As you can see by the image above with the sizing listed for both regular mouth and wide mouth lids, there is really on about a .63″ difference between the two.
Although the size of the mouth is not huge, again, it's what you can easily fill those jars with that's the big difference. Below is an image showing both wide mouth mason jar lids and rims & regular mouth mason jar lids and rims.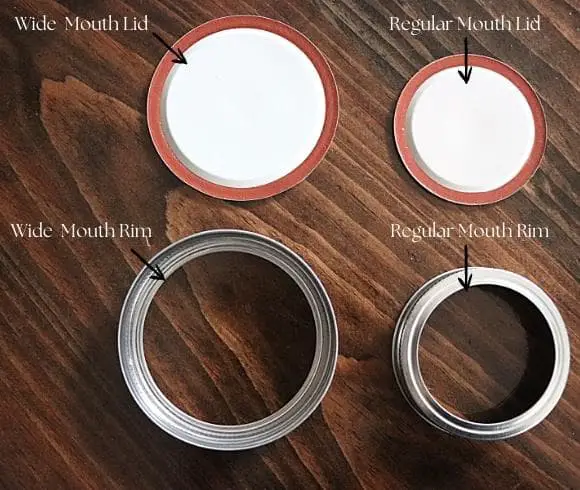 CAN YOU REUSE CANNING JAR LIDS AND BANDS?
Canning jar lids are a one-time use item. That is for canning & processing. Obviously, spent lids can be re-purposed.
Why only one-time use? To ensure proper sealing when processing. By re-using your lids more than once can and will often result in your processed jars not sealing properly increasing risk of spoilage.
That being said, you can experiment with reusable canning lids such as Tattler 2 piece and Steig Tattler 1 piece lids.
Fortunately, the screw bands used for single use lids are reusable. Simply repurpose any that are showing signs of rust or dents.
AND you really only have to have on hand enough screw bands to process your haul at any given time as processed jars that have sealed properly can be stored without the bands on. This greatly reduces the items that need purchasing during canning season, saving money!
WHAT ARE THE DIFFERENT SIZES OF MASON JARS?
When is comes to mason jar sizes, there are a few that are more common than others, but we will break them all down for you in the mason jar chart below.
My favorites that I am always sure to have on hand for each canning season are shown below. These are the mason jar sizes that I use most often and can't do without.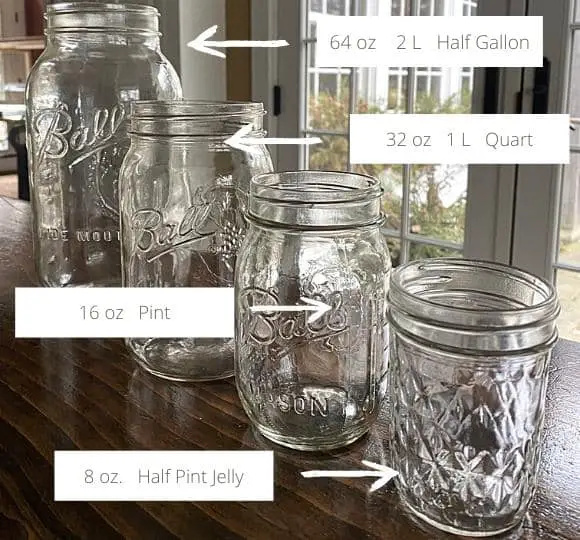 I've created this mason jar sizing chart for ease, but be sure to continue reading to see which sizes are best to use for which purposes!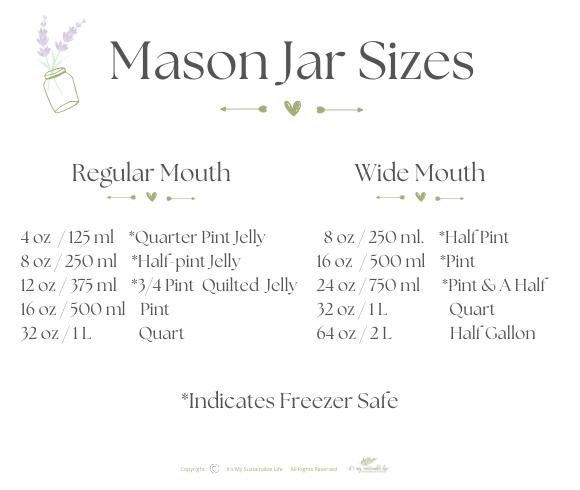 MASON JAR LABEL SIZES
For many of us, especially when giving your homemade goods away as gifts, creating or using pretty labels is a must!
What are the standard label sizes for mason jars? Here you go….
Regular Mouth
Mason Jar Size
Regular Mouth
Lid Label Size
Regular Mouth
Jar Label Sizes
Qtr Jelly
2″ Round
1.5″ Round (top only)
Half Pint Jelly
2″ Round
1.5″ Round
3/4 Half Pint Jelly
2″ Round
2″ Round
Pint
2″ Round
2″ Round
Quart
2″ Round
2.5″ Round
Wide Mouth
Mason Jar Size
Wide Mouth
Lid Label Size
Wide Mouth
Jar Label Size
Half Pint
2.5″ Round
1.5″ Round
Pint
2.5″ Round
2″ Round
Pint And One Half
2.5″ Round
2.5″ Round
Quart
2.5″ Round
2.5″ Round
Half Gallon
2.5″ Round
2.5″ Round
2.5×1.35″ Oval
Not interested in creating your own canning labels? I have some pretty cute 2″ round labels (I use on both my regular and wide mouth jars) available HERE.

WHICH MASON JAR SIZE IS APPROPRIATE FOR WHICH FOODS & USES?
Now that you have an idea of the mason jar sizes available & what the different mouth offerings are, how do you determine which mason jar size is appropriate for which foods and uses?
Hopefully the comparison charts below will help you determine which mason jar size to select and which is best to use for certain foods & uses!
MASON JAR SIZES CHART
Refer to the below mason jar sizes chart for capacity and sizes:
Regular Mouth
Mason Jar Size
Ounces/Cups/ML
Height
Width At
Center
Qtr. Jelly
4 oz / 1/2 c / 125 ml
2.25″
2.75″
Half Pint Jelly
8 oz / 1 c / 250 ml
3.75″
2.375″
3/4 Pint Jelly
Quilted
12 oz / 1.5 c / 375 ml
5.25″
2.375″
Pint
16 oz / 2 c / 500 ml
5″
2.75″
Quart
32 oz / 4 c /
1000 ml (1 L)
6.75″
3.375″
Wide Mouth
Mason Jar Size
Ounces/Cups
Height
Width At
Center
Half Pint
8 oz / 1 c / 250 ml
2.5 "
2.875″
Pint
16 oz / 2 c / 500 ml
4.625″
3″
Pint & One
Half
24 oz / 2.5 c / 750 ml
6.625″
3″
Quart
32 oz / 4 c /
1000 ml (1 L)
6.5″
3.25″
Half Gallon
64 oz / 8 c
2000 ml (2 L)
9.125″
4″
MASON JAR SIZES CHART – FOODS AND USES
Use the following mason jar sizes chart to determine which food and other uses are applicable.
Regular Mouth
Mason Jar Size
Ideal Foods & Uses
Use Possibilities With Accessories
Freezer
Safe Y/N
Straw Size
Length
Qtr. Jelly
Jams, jellies, mustards,
dipping sauces, vinegars, small
portions
Snacks, dips, organizational purposes, crafting supplies, small portion sizes good for kids
Yes
N/A
Half Pint Jelly
Half Pint
Jams, jellies, conserves,
preserves, fruit syrups, chutney, pizza sauce
Hot/cold foods especially good for kids size portions, crafts, holders, candles
Yes
Short
Length
3/4 Pint Jelly
Quilted
Jams, jellies, conserves,
marmalades
Candles, storing dried herbs & spices, holders
Yes
Medium
Length
Pint
Salsa, sauce, relish, pie
filling
Drinks both hot/cold, vase, soaps
Yes
Medium
Length
Quart
Sliced fruits, sliced
vegetables, pickles, tomato
juices, tomato sauce
crafts, farmhouse lights, fairy lights, banks, dry storage
No
Long
Length
Wide Mouth
Mason Jar Size
Ideal Uses
Use Possibilities With Accessories
Freezer
Safe Y/N
Straw Size
Length
Half Pint
Jelly, salsa, sauce, relish, and
fruit butters
Snacks. dips, ramekins, small candle
Yes
N/A
Pint
Asparagus, pickles, sauces,
soups, and stews
Hot/cold glass/cup, small mason jar salads, leftovers, organizers
Yes
Medium
Length
Pint & One
Half
Longer vegetables, asparagus, cucumbers, long beans
Smoothies, drinks, hot/cold beverages, to-go mason jar meals
Yes
Long
Length
Quart
Pickles, tomatoes, tomato products, whole or halved fruits & veggies, fermentations
Cold brew coffee, juices, soups, dry storage, crafts
No
Long
Length
Half Gallon
Apple juice, grape,
juice, fermentation, very acidic juices
Kombucha scoby hotel, sun tea, dry good storage
No
Extra Long
ARE ALL MASON JARS FREEZABLE?
You'll note in the charts above that some mason jar sizes are freezable and some are not. So how do you know which is which other than the size?
In a nutshell, if the jar size is listed in the above chart as yes, then it's freezable. Another way to determine if your jar is safe to use in the freezer is the shaping.
Should your jar have completely straight sides with no tapering on the shoulders, than you are good to go and freeze away.
On certain jars you will find a line marked indicating the "headspace" you need to leave when freezing. Generally, this headspace is roughly 1/2″ of "open" space left at the top of the jar to allow for any expansion.
HOW MANY MASON JARS SHOULD YOU HAVE ON HAND?
For the beginner canner, purchasing canning jars is an investment. The number of jars of each size largely depend on your family size, what you are canning, and how much do you plan on canning?
A few considerations to ponder…
Determine what & how much you are canning, look at safe recipes, and utilize the appropriate size mason jars and estimations
Factor in how many you will be feeding, how often you eat that product (weekly), estimate year's needs
How long are you able to eat fresh? Cooler climates will equal more canning
Will you be utilizing other food preservation methods for that product? Freezing, drying, dehydrating, fermenting?
For example, if an average family of four consumes canned corn twice a week, plan on canning approximately 100 quarts of corn in order to carry you through an entire year!
Obviously, factoring in fresh eating during the growing months will help reduce those numbers.
Should you be canning just for fun or to give a few jars away as gifts, purchasing just a dozen or two decorative jars would get you going. You can always add on thereafter.
After several canning seasons you will have firmer numbers of what's needed.
By keeping and maintaining a good canning log right from the start of what you use and how many you use in one year will help determine future canning projects.
CANNING MANAGEMENT PLANNER & TRACKER
With 15 beautifully crafted printable pages, it's easy to keep track of your canning and preserving efforts year after year! I created this printable set with the home canner (that's me!) in mind.
Create an effortless binder year-to-year, tracking all your canning efforts, including some pre-made 2″ round labels!
Grab your copy HERE or click the image below.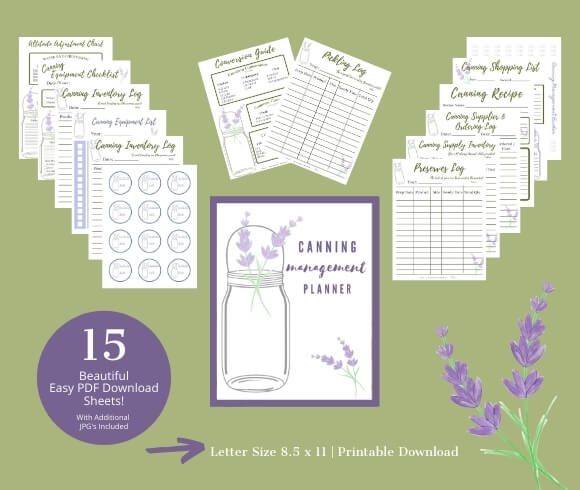 FREE CANNING CHEATSHEET
To help you along with your processing efforts, I've created a unique FREE Canning Checklist cheatsheet listing all three methods of processing; pressure canning (article coming soon as well!), steam canning (instructional tutorial coming soon!), and water bath canning.
Print and laminate your copy of the FREE Canning Checklist cheatsheet to use over and over again when processing! Simply use a washable marker to check off the list as you go! Once complete, wash the laminated list and you are ready for the next time you process!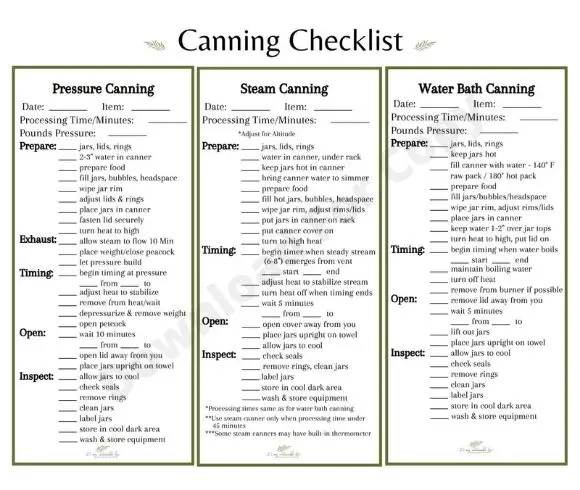 Be sure to grab your FREE copy by clicking the button below 😊
For beginners, canning can be an overwhelming mystery, and a daunting one at that. These mason jar size charts and canning jar guidelines for selecting the right ones for the job, and the FREE Canning Checklist cheatsheet will hopefully demystify the process a bit.
Which mason jar size will you be selecting?
Love, Light, & Laughter ~

SHOP THIS POST
Enjoy this article? Please consider sharing it on your favorite social media channel! Want more? Subscribe below for the occasional update with all the "happenings on the hill"!