One pot thai beef curry. When the temperature outside drops, this hearty, warming dish is one that delivers. Delivers in flavor, is simple and versatile to make, and is one you will be craving time and again.
This post may contain affiliate links at no additional cost to you.  By making your purchases through the links on this website, IMSL may make a small percentage at no direct cost to you. IMSL only promotes products we use & truly believe in. Please refer to my Privacy & Disclosures for further information. IMSL thanks you for your support!
What makes a go-to recipe here on the hill? You know, the kind of recipe that's quick to put together, but packs a powerful, satisfying punch? Well, an easy one if you get my meaning 😉
And this thai beef curry dish delivers just that & more! I make this dish in one pot, using a slow cooker. I'm fortunate that my slow cooker has a removal pan that I can use on my stovetop as well! You can easily substitute your favorite method of one pot cooking, however. Your favorite stock pot, dutch oven, one pot, or slow cooker can all be used.
No matter your cooking method of choice, making this coconut based curry results in tender beef smothered in a creamy curry sauce with just the right amount of spice. YUM! And did I mention its versatile?
THAI BEEF CURRY VERSATILITY
Any dish that can easily be made to suit our tastes and dietary needs in one pot is a keeper in my opinion! Need some option inspiration? Here you go!
NO BEEF? – Don't eat beef? Substitute the protein of your choice. Use pork tenderloin, chicken, and even duck. Or make it vegetarian & use tofu and add a myriad of vegetables. Into seafood? Think about adding shrimp during the last minutes of cooking!
SET DIETARY NEEDS? – For those following specific diets, you can dance a little happy dance here. This recipe can easily be made with your diet in mind. My recipe as is gluten free, my daughter loves it! Following a grain free diet? Sub cauliflower rice for the rice itself, making this dish Paleo & aip friendly. Leave out the sugar as well as the rice and this dish is appropriate for Whole 30.
Further yet, you are in control of the spice level here! Like more? Add a bit more curry paste and be sure to add the whole jalepeno, seeds and all. Less spice? Take the seeds out when finely chopping the jalepeno and reduce the curry paste.
WHAT MEAT GOES BEST WITH THAI CURRY
Our household really enjoys the flavor and tenderness of beef when used in this curry. When using a slow cooker, I choose a beef tenderloin as we prefer a lean cut to shred, but other cuts of beef would work just fine. Chuck roast, stew beef and other cuts of beef work.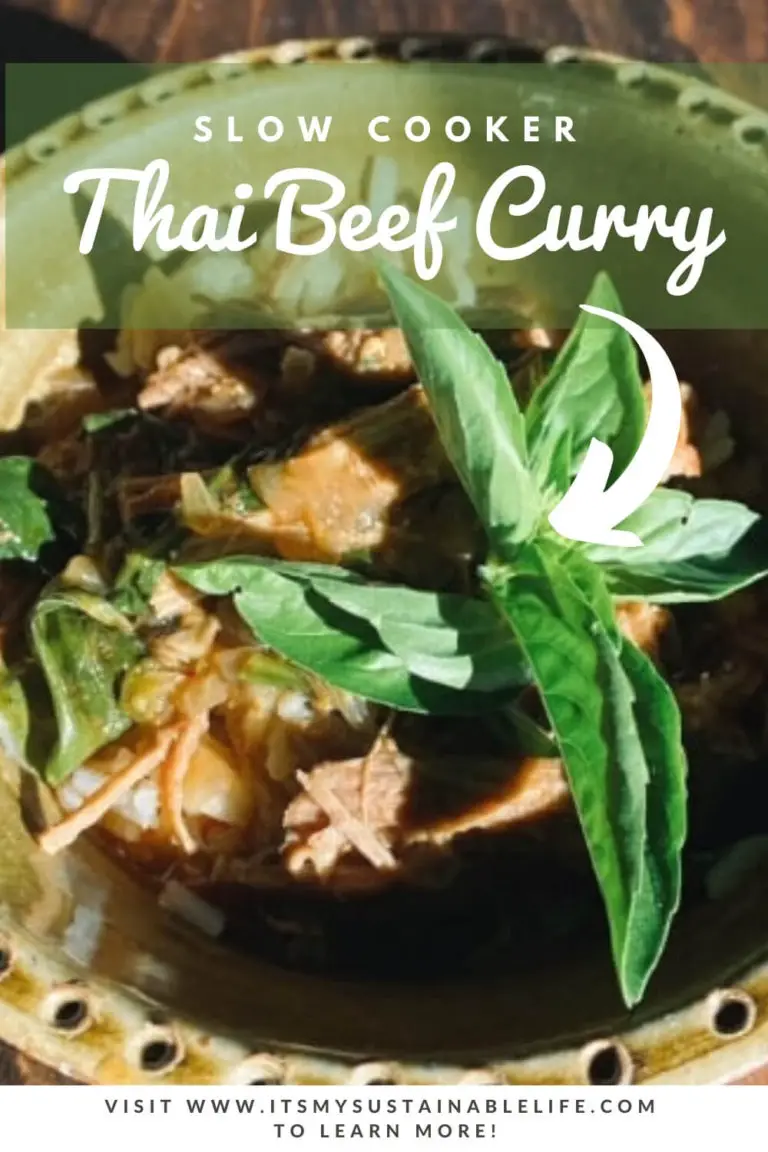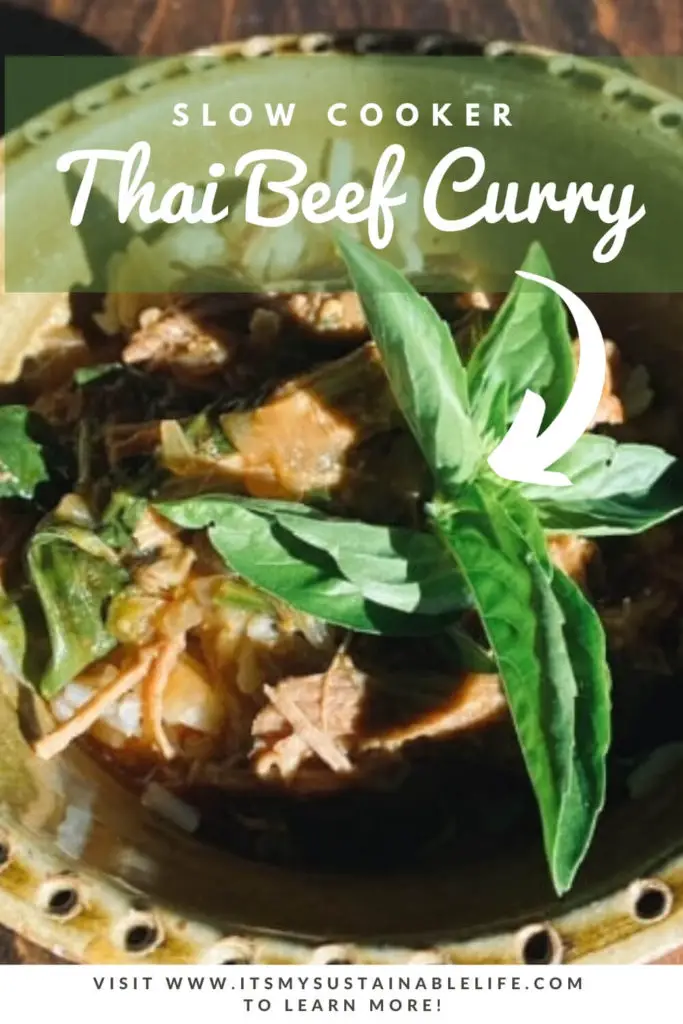 I have made this dish beautifully using a pork tenderloin as well. The most common meats for all you carnivores out there are beef, chicken, and pork.
CAN OTHER CURRIES BE SUBSTITUTED
Simply put, yes. This is an extremely versatile recipe! The most commonly known curry variations would make wonderful substitutes for the red curry paste..
We prefer red curry paste when making this, but you could also make using yellow or green curry paste, with green typically being the mildest as far as the fiery spice level.
As an Amazon Associate, I earn from qualifying purchases at no additional cost to you.
This recipe could also be made using massamam curry, which is mild in the heat but filled with commonly used Indian spices such as cardamom and cinnamon.
Don't forget Panang curry which contains the nutty textures of ground roasted peanuts and boasts a mild, mellow flavor.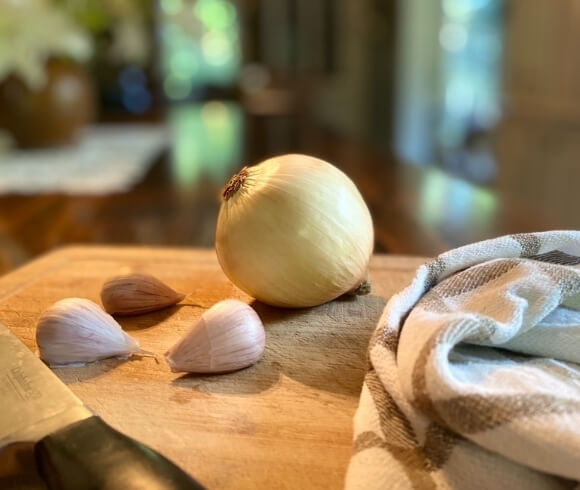 MAKING ONE POT THAI BEEF CURRY
The following instructions are for making this thai beef curry dish in a slow cooker, but as stated, it can easily morph into using other cooking methods, many which I will try to list as I go.
Should you not want the text tutorial version, simply scroll down to see the full recipe card.
STEP 1 – Add 1 Tbl of EVOO and sear all sides of the beef you have chosen on fairly high heat. Place the beef aside on a plate.
STEP 2 – In the same pan add an additional 1 Tbl of EVOO. Dice 1 medium to large onion and saute on medium heat until almost translucent.
STEP 3 – Mince 3-4 cloves of garlic and add to the onions to saute for a moment.
STEP 4 – Finely mince 1 medium to large jalepeno pepper, leaving the seeds & ribs in for the strongest heat. For a milder spice level, remove the seeds and ribs. Add to the garlic and onion mixture and cook for 1-2 minutes.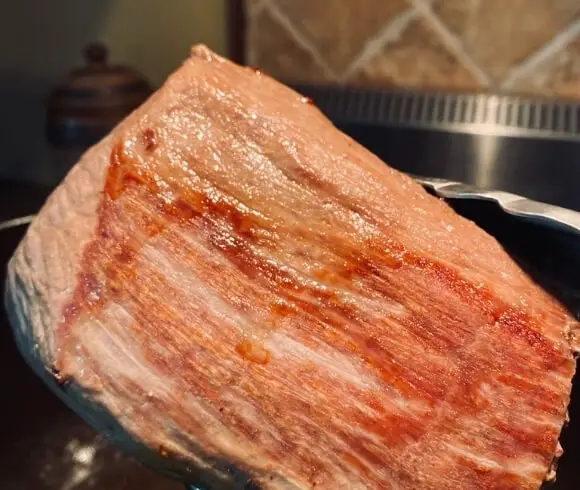 STEP 5 – Place the pan seared beef and the onion, jalapeno, & garlic mixture into a slow cooker or the vessel of your choice.
STEP 6 – In a bowl combine the following ingredients…
1 13.66 oz can Un-sweetened Coconut Milk. Light or regular, it's up to you. I prefer to use the regular
3/4 C Beef Bone Broth or Stock
3 Tbl Red Curry Paste
2 Tbl Fish Sauce
2 Tbl Fresh Lime Juice
1 Tbl Brown Sugar
Salt & Pepper to taste
Mix the above together well and pour over the top of the beef, onion, jalapeno& garlic mixture.
As an Amazon Associate, I earn from qualifying purchases at no additional cost to you.
STEP 7 – Turn the slow cooker to low/medium heat and cook for 4-6 hours depending on the size of your meat cut. The smaller the cut, the less time to cook. Adjust accordingly.
NOTE: If you prefer a thickened curry, before you return the beef to the curry broth, thicken with either corn starch, flour, or arrowroot that's been dissolved into water.
STEP 8 – Once cooked, remove the beef loin and shred to your desired consistency. Return the beef to the curry broth.
STEP 9 – Add 2 C baby spinach leaves and 1 cup torn fresh basil leaves to the mixture. Stir to combine and wilt.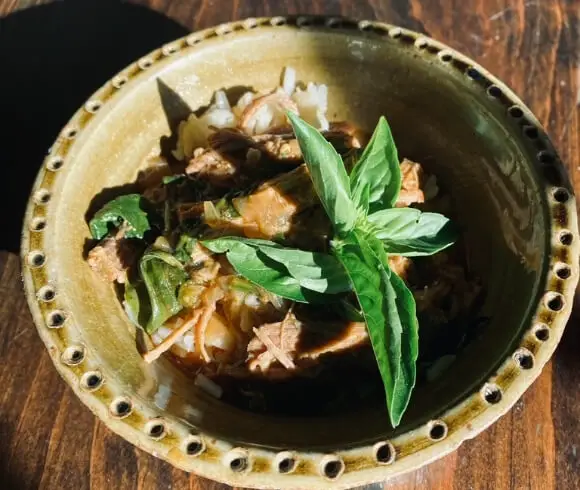 SERVING UP THE ONE POT THAI BEEF CURRY
This recipe is not only versatile in how you prepare & cook it, but also in how you serve & eat it! Our favorite way to serve this delicious curry? Over jasmine or basmati rice, sprinkled with a few additional fresh basil leaves.
Are there other options? YES! Serve over cauliflower rice, or over a bed of steamed or stir-fried vegetables. Think broccoli, cauliflower, carrots, and snow peas. Or what about over a bed of fresh microgreens that you may have grown yourself for a unique, fresh flavor!
Need a heartier version? Add some homemade biscuits or sliced bread to soak up all that curry goodness. The options are endless.
Looking for an alternative way to add this recipe to your recipe card file? Check out our farm insipired recipe cards now available in our Etsy Shop! Did I mention how cute they are?
Give this easy to make one pot thai beef curry a try & be sure to let me know how you like it!
Tried this recipe already? Be sure to give the recipe card your star rating!
Love, Light, & Laughter ~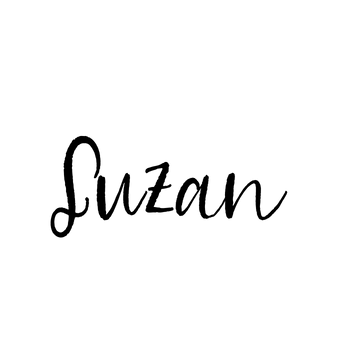 As an Amazon Associate, I earn from qualifying purchases at no additional cost to you.
ADDITIONAL FROM SCRATCH RECIPES
Old Fashioned Chicken Soup From Scratch
Ingredients
1-2 Pounds Beef Loin (or meat/protein of your choice)

1 Lg Onion (diced)

3-4 Cloves Garlic (minced)

1 Lg Jalapeno Pepper (diced/minced)

1 13.66 oz can Un-sweetened Coconut Milk. Light or regular, it's up to you. I prefer to use the regular

3/4 C Beef Bone Broth or Stock

3 Tbl Red Curry Paste

2 Tbl Fish Sauce

2 Tbl Fresh Lime Juice

1 Tbl Brown Sugar

Salt & Pepper to taste

2 C Baby Spinach Leaves

1 C Fresh Basil Leaves (torn)
Instructions
STEP 1 - Add 1 Tbl of EVOO and sear all sides of the beef you have chosen on fairly high heat. Place the beef aside on a plate. STEP 2 - In the same pan add an additional 1 Tbl of EVOO. Dice 1 medium to large onion and saute on medium heat until almost translucent STEP 3 - Mince 3-4 cloves of garlic and add to the onions to saute for a moment. STEP 4 - Finely mince 1 medium to large jalepeno pepper, leaving the seeds & ribs in for the strongest heat. For a milder spice level, remove the seeds and ribs. Add to the garlic and onion mixture and cook for 1-2 minutes STEP 5 - Place the pan seared beef and the onion, jalapeno, & garlic mixture into a slow cooker or the vessel of your choice STEP 6 - In a bowl combine the coconut milk through the salt & pepper, stir well to combine STEP 7 - Turn the slow cooker to medium heat and cook for 4-6 hours depending on the size of your meat cut. The smaller the cut, the less time to cook. Adjust accordingly STEP 8 - Once cooked, remove the beef loin and shred to your desired consistency. Return the beef to the curry broth STEP 9 - Add 2 C baby spinach leaves and 1 cup torn fresh basil leaves to the mixture. Stir to combine and wilt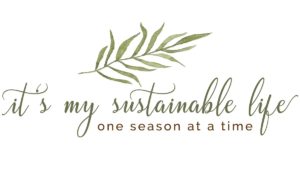 Notes
If you prefer a thickened curry, before you return the beef to the curry broth, thicken with either corn starch, flour, or arrowroot that's been dissolved into water