Learning how and why you should wash your fruits and veggies, no matter whether you buy organic produce or conventional, with the best natural options to clean your fruits and veggies, may help you on your way to creating a truly clean eating lifestyle.
This post may contain affiliate links at no additional cost to you.  By making your purchases through the links on this website, IMSL may make a small percentage at no direct cost to you. IMSL only promotes products we use & truly believe in. Please refer to my Privacy & Disclosures for further information. IMSL thanks you for your support!
Although the majority of our produce is grown here on our homestead organically, washing all our fruits and veggies is the first thing we do when returning from the garden or the grocery store. Think about it, where does food grow? How is it grown? How many pesticides have been used in the growing & harvesting process? How many hands have touched that apple or celery bunch prior to reaching yours? What dirty machinery has packaged that food product? Food is dirty…literally 🙂
THE DIFFERENCE BETWEEN ORGANIC & CONVENTIONAL
When most begin to consider washing their fruits and vegetables they are thinking about pesticide residues. Knowing the difference between how organic and conventional foods are farmed is the first step in making informed decisions about where you will be spending your purchasing dollars.
Both organic and conventional fruits & veggies are produced using some method of pesticides. WHAT??? Yes, you heard right. According to the Rodale Institute regarding organic farming practices, organic product in the US does not use synthetic pesticides…
"If you purchase a product with the USDA Organic seal, you can be assured that item was produced without synthetic pesticides, herbicides, or fertilizers, and that it is GMO-free. Organic also prohibits dozens of other chemical additives and preservatives"

Rodale Institute
The National Organic Standards Board and the National Organic Program both maintain a comprehensive list of approved "substances" allowed in the food production process. The keyword in the allowable pesticides for organics is "synthetic". The majority of man-made, aka synthetic, pesticides are not allowable in the organic world. According to the Mayo Clinic, materials and practices that are not permitted in organic farming include…
– Synthetic fertilizers to add nutrients to the soil

– Sewage sludge as fertilizer

– Most synthetic pesticides for pest control

– Irradiation to preserve food or to eliminate disease or pests

– Genetic engineering, used to improve disease or pest resistance or to improve crop yields

– Antibiotics or growth hormones for livestock

Mayo Clinic
Typical pesticides used in organic farming (including 25 approved synthetic, we did say the majority 🙂 ) tend to include substances such as soaps, neem, alcohols, hydrogen peroxide, and lime sulfur as ingredients and are not genetically modified. According to the Non-GMO Report, "Most pesticides allowed for use in organic farming are derived from plants or bacteria. "They have their roots in nature," says Charles Benbrook of Benbrook Consulting Services, an organic consulting firm".
Conventional farming, on the other hand, utilizes a LOT of synthetic sources for pesticide treatment(s), over 900 have been approved, and include nasties such as neonicotinoids and glyphosate, both of which are largely being banned throughout the EU.
When it comes to farming or growing food, it's also helpful to get to the root of it. Knowing the differences between seed. As in seed stock. Not all seed is created equal.
UNDERSTANDING LABELS
All those annoying little stickers on every piece of produce you purchase? Seems as though they do have a purpose after all! They can be a useful tool when determining how your produce was grown. Each piece of produce has a sticker listing the PLU code, aka price look-up code. The PLU code is a four or five-digit code reflecting the produces origination.
Conventionally grown produce has a four-digit code, generally beginning with a three or a four. Organically grown produce has a five-digit code and begins with a nine. Genetically modified produce code is a five-digit code as well but will begin with an eight.
EXAMPLE: PLU for conventionally grown apple would be 4015. An organically grown apple would be 94015 and a gentically modified apple would be 84015
THE DIRTY DOZEN
If you are on a tight budget and cannot purchase entirely organic, it's best to be armed with the knowledge of what is considered to be the "dirtiest" and what is the "cleanest" produce available. The Environmental Working Group, aka EWG, and Food News has comprised the list, "the dirty dozen" the most pesticide & herbicide laden produce as well as a "clean 15" list listing the least contaminated.
The ones containing the highest levels of pesticide residues, or the "dirty dozen", many of which may be genetically modified, are the ones you most likely would like to stay away from. They are the following….
Strawberries
Spinach
Nectarines
Apples
Peaches
Pears
Cherries
Grapes
Celery
Tomatoes
Sweet Bell Peppers
Potatoes
THE LEAST CONTAMINATED – CLEAN 15
The list of the least contaminated produce known as the "clean 15", is considered to be the least contaminated with pesticide residues and is comprised of the following produce…
Avocados
Sweet Corn
Pineapple
Sweet Peas
Onions
Papaya
Eggplant
Asparagus
Kiwi
Cabbage
Cauliflower
Cantaloupe
Broccoli
Mushrooms
Honeydew Melon
NOTE: consideration of the clean 15 includes several of which may be derived from genetically sourced seed. Always buy organic if your goal is to avoid GMOs.
Feel free to pin the below infographic made just for you for future reference!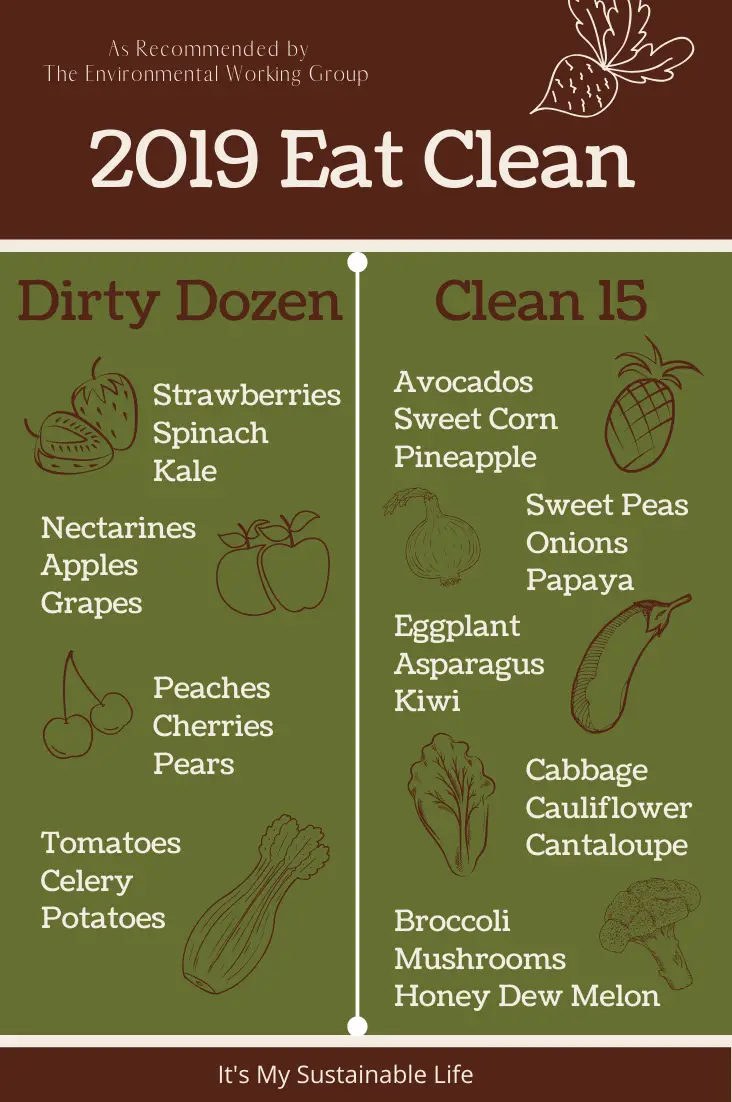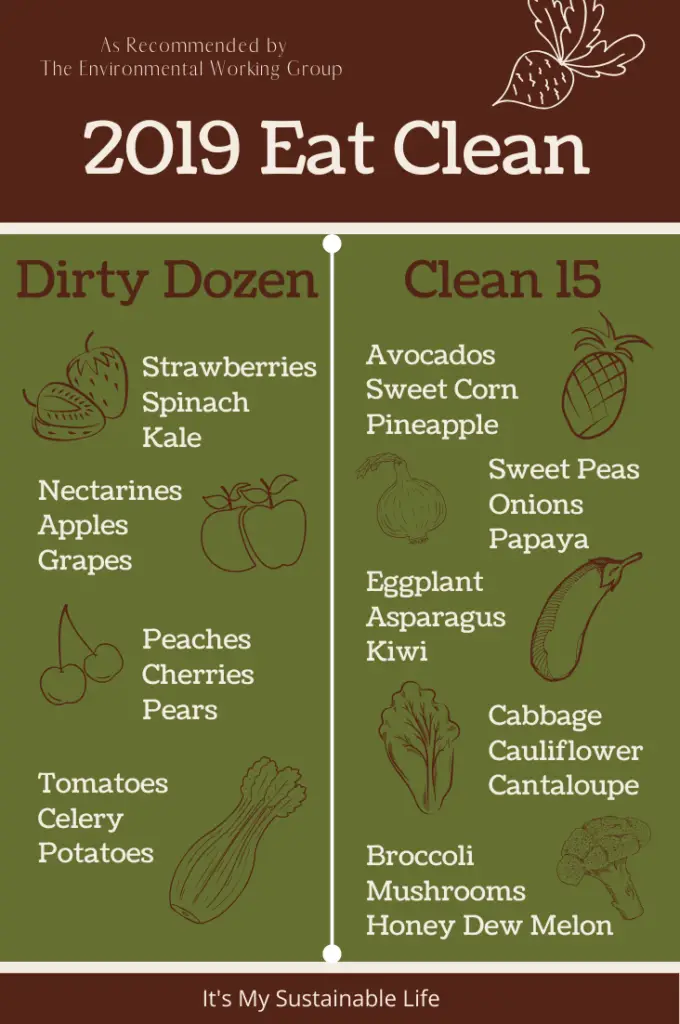 WHY MAKE HOMEMADE FRUIT AND VEGGIE WASH
Whether you choose to eat organic or not, washing your produce no matter where the sourcing should be on your to-do list. The University of Maine completed a small study on store-bought fruit and veggie washes and found that many contain chlorine and most were no more effective in removing microbe and bacteria than distilled water! According to the Center For Food Safety, these costly commercial washes have not been approved by the FDA and the residues they leave behind have not been researched.
Although no washing method will remove ALL residues, there are a few homemade fruit and veggie washes that work better than others for certain purposes.
WASHES FOR FRUITS & VEGGIES TO REMOVE PESTICIDE RESIDUE
A three-year study by The Department of Analytical Chemistry at the Connecticut Agricultural Experiment Station (CAES) concluded that the simple act of washing your produce with water "significantly reduced residues of nine of the twelve pesticides" that were researched.
To wash with water the Center For Food Safety recommends the following:
Wash your hands with hot soapy water before and after preparing food.
Do not wash produce with soaps, washes, or detergents.
Use clean, cold tap water to wash produce.
For produce with thick skin, use a vegetable brush to help wash away hard-to-remove microbes.
Produce with lots of nooks and crannies such as broccoli and lettuce should be soaked for 1 to 2 minutes in cold, clean water.
A promising study published in the Journal of Agricultural and Food Chemistry determined that a mixture of baking soda and water removed surface pesticides more readily than plain water or bleach.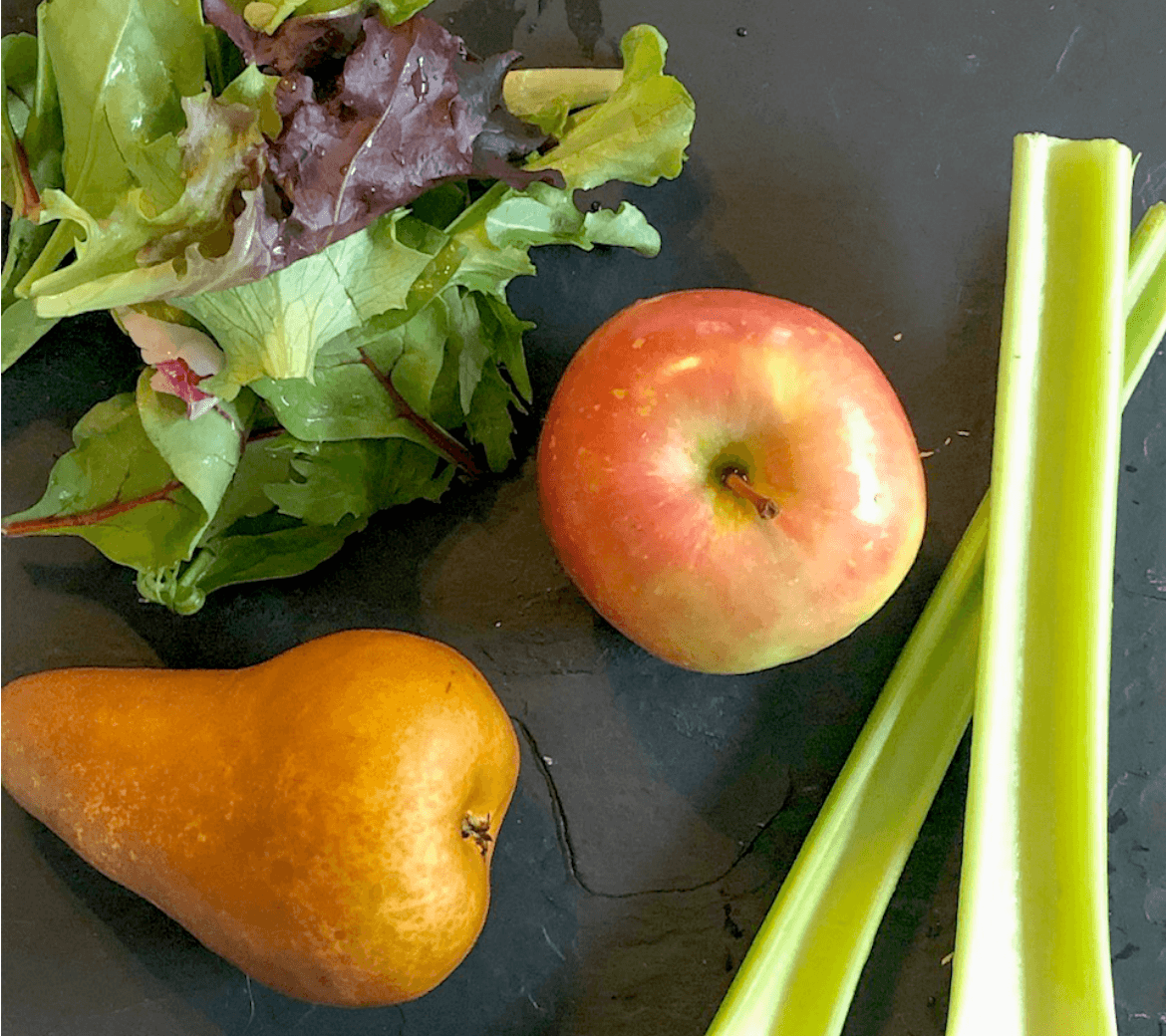 HOMEMADE FRUIT & VEGGIE WASH RECIPES
Cleaning and washing your produce is not difficult and can be done effectively using supplies you most likely already have in your pantry! Here are a few ways to keep it clean, ones that we have used effectively here on the hill…
WATER – A good soak and scrub using a brush like this one HERE can go a long way in reducing bacteria and pesticides on the surface of your produce.
WHITE VINEGAR – To use white vinegar as a wash simply combine the vinegar with room temperature water at a 1:3 ratio. Soak the produce for 5-10 minutes, scrub, and let air dry completely before storing.
APPLE CIDER VINEGAR – Using ACV with a mother, my favorite brand can be found HERE, is a favorite method by many. Dr. Oz displays his method and claims it effectively removes bacteria and pesticides. He recommends using 1 part ACV to 10 parts water, soak for at least 5 minutes, scrub if necessary, rinse, and dry thoroughly.
SALT – Dr. Michael Greger recommends using salt over vinegar, stating "A 10% salt solution appears to work as good or better than full-strength vinegar. To make a 10% salt solution, you just have to mix up about one-part salt to nine-parts water (though make sure to rinse all of the salt off before eating!)".
Baking Soda – The University of Amherst suggests that soaking your produce in baking soda and water has shown great results in removing surface pesticide residues. Simply soak in baking soda and water for 12-15 minutes, scrub if necessary, rinse, and dry thoroughly.
Peel & Trim – Probably one of the most effective ways to remove any surface residues is to peel or cut away the surface of the produce. Although, technically not a wash, by removing the outer layers when possible obviously will remove much of the surface residues. Highly recommend at least rinsing your produce prior to peeling to reduce any contamination that may occur from knife to flesh of the product.
Other options that many use, but have not been tried here on the hill, are a hydrogen peroxide/water blend (1 Tbl 3% peroxide to 1-gallon water), bleach (most produce is sanitized prior to shipping especially in countries where the risk of disease is increased). To sanitize using bleach add 2 teaspoons bleach to one gallon of water.
Some will also utilize citrus essential oils and castile soap. To use this method simply add to 1 gallon of water 7 drops of citrus essential oil such as lemon, grapefruit, etc, and 1 tsp castile soap. Soak, scrub when necessary, rinse, and dry well. Castile soap may also be used using the prior method by just omitting the essential oil.
Bottom line? No matter if you choose organics or conventional fruits and vegetables, they should be washed, rinsed, and dried. Experiment which method you prefer. Do you already wash yours and have a favorite method? Share in the comments below!!
Love, Light, & Laughter ~