When it comes to finding an amazing, easy, & healthy homemade granola recipe, look no further! This crunchy granola recipe, naturally sweetened with raw honey, is one any granola lover will want in their recipe box. Once you try homemade granola you will never want store-bought again!
This post may contain affiliate links at no additional cost to you.  By making your purchases through the links on this website, IMSL may make a small percentage at no direct cost to you. IMSL only promotes products we use & truly believe in. Please refer to my Privacy & Disclosures for further information. IMSL thanks you for your support!
If you and your family are anything like ours, granola is a staple in our cupboards. Eaten with yogurt, fruit, as a cereal with milk, or straight out of the container, this is one food that is healthy for us. This homemade version is made with whole grains and naturally sweetened, unlike store-bought brands that may contain questionable ingredients.
What are some ingredients to keep an eye out for when purchasing granola? Here are a few:
Sugars – Granola may be loaded with sugars, some from unwanted sources. Always be on the lookout for high-fructose corn syrup, but you may want to have a keen eye out for evaporated cane juice, molasses, brown-rice syrup, & oat syrup solids, all sugar sources, as well. This granola recipe contains one sugar source…organic raw honey, a healthier source of sweetness in our humble opinion.
Fats – Many purchased granola items are made using palm oil (not such a sustainable choice) & hydrogenated oils, both considered to contain high saturated fat levels…not so great for your or your heart. This recipe contains no oils…period.
Fillers – Many brands may contain fillers such as inulin, a soluble fiber that causes digestive issues in many, & soy protein isolate, a highly-processed soy "powder" that may contain questionable residues such as aluminum and hexane. For further information on soy protein isolate, be sure to check out what our friends over at Well and Good have to say about soy protein isolate. The only "fillers" you will find in this granola are the organic & natural ones such as nuts or dried fruits you may want to add to suit your flavors.
WHAT IS GRANOLA?
"Granola is a breakfast food and snack food consisting of rolled oats, nuts, honey or other sweeteners such as brown sugar, and sometimes puffed rice, that is usually baked until it is crisp, toasted and golden brown. During the baking process, the mixture is stirred to maintain a loose breakfast cereal consistency", according to Wikipedia. This sounds about right to us 🙂 .
WHY MAKE YOUR OWN HOMEMADE GRANOLA
Well, for the obvious reasons. Not only to keep it as healthy & organic as possible at the lowest cost possible but also to make it according to you & your family's tastes. Don't like walnuts? Leave them out! Love apricots? Add them in! Are you gluten-free? Just add gluten-free oats and your set to go! You get the picture, this recipe is versatile & easily made to suit your needs.
By making it yourself, $$$ is saved (have you priced out store-bought options lately?) it can be made in large quantities & stores extremely well, making it a perfect gift to give any time!
WHY HOMEMADE GRANOLA IS GOOD FOR YOU
Granola has gotten a bad rap in recent years as being high in fat, sugars, and unwanted ingredients. This is absolutely true when purchasing many store-bought brands of granola and granola bars. Who wants the added sugars, fats, and fillers from suspect sources in any of the food we eat or feed to our families? We don't!
Here is why we feel our organic homemade granola is healthy for you.
Oats – Prized for their nutritional & health benefits oats are high in fibers (both soluble & insoluble), Phosphorus, Thiamine, Magnesium, and Zinc. They are associated with heart health benefits, help control blood sugar & insulin levels, are a great food to assist with weight control, and helps maintain digestive health according to Harvard Nutrition Source.
Nuts & Seeds – According to Harvard Health Publishing, "Mounting evidence suggests that eating nuts and seeds daily can lower your risk of diabetes and heart disease and may even lengthen your life". Although nothing has changed concerning nuts, they are still high in fat & calories, recent studies have proven that a balanced diet consisting of nuts & seeds may improve cholesterol levels, prevent arrhythmias, reduce blood clotting, relax blood vessels, & raise levels of glucagon-like peptide 1. All this while increasing satiety…meaning you eat less and feel full 🙂 .
Natural Sweetener – By using organic raw honey as the sweetener, we feel the health benefits far outway the concerns over sugar content. Raw honey is known to be a good source of antioxidants, full of phytonutrients (the reason why honey has been shown to possess immune-boosting and anticancer benefits), and helps assist with digestive issues as a potent prebiotic.
Dried Fruit – Dried fruit is high in fiber and contains many antioxidants, especially polyphenols. Polyphenols have been linked with improved blood flow, better digestive health, and reduced risk of many diseases according to Healthline.
Unsweetened Coconut – High in fiber with a multitude of minerals and vitamins, unsweetened coconut offers a multitude of health benefits including improved heart health, digestion, and weight loss.
WAYS TO EAT & ENJOY HOMEMADE GRANOLA
This granola recipe is not only versatile in the many ways it can be made, but also in how you can enjoy it! A few of our favorites are as follow:
By the handfuls 🙂 . Just saying…
With yogurt! One of our favorites. Be sure to see how we make our own easily and you can too HERE.
With fruit
With ice cream
As a parfait
Create a mason jar meal to go layering fruit, granola, and yogurt
Mix with hot oatmeal to add crunch
As a substitute for croutons on a salad
HOW TO STORE HEALTHY HOMEMADE GRANOLA
Store your granola in an air-tight container. As only honey is used as a sweetener and binder, this granola recipe does not have to be refrigerated. Concern over long-term storage, quite frankly, has never been an issue here at IMSL as this recipe is made on a weekly basis. Should you want to store for an extended period, store in the refrigerator or freezer until needed.
CREATE A CHUNKY GRANOLA VARIATION
There are several methods to make this recipe into a more "chunky" variation.
During the "mixing" stage (when combining the toasted oats & remainder of the ingredients in your pan) be sure to crowd the mix. The goal is to have the oats & ingredients stick together well.
Optional is to coat the oats with the honey prior to toasting to create a "crunchier" oat.
Leave the completed granola in the pan, gently press down with a spatula, and let "air dry" for an extended period of time (overnight).
Don't break up the clumps when transferring your granola to your storage container.
OPTIONAL ADD-INS TO YOUR GRANOLA
As mentioned before, this recipe is just a base recipe. Feel free to make it your own to suit your tastes. Some variations? Here you go 🙂
Chocolate chips or Carob chunks to make more of a trail mix style granola (reminder to add in after the mix has cooled a bit)
Cacao (read about the amazing benefits of cacoa here) powder along with the cinnamon or without
Add a bit of zest…literally. Orange zest to the final product would be sure to add a zing
Mix up the nuts…instead of sliced almonds add walnuts, hazelnuts, or peanuts. A nice way to get a mix is to purchase premade trail mixtures as shown in the picture. We love Trader Joe's organic cashew, almond & cranberry mix
Mix the dried fruit up a bit. Add apricots (a favorite), banana chips, or cranberries
Change up the spice….add cinnamon or candied ginger & cardamom for an exotic twist
HOW TO MAKE YOUR OWN HOMEMADE HEALTHY GRANOLA
Gather your ingredients together as well as a sheet pan. Preheat your oven to 300 F.
*Optional step: add parchment paper to line your sheet pan. We have found this not to be a necessary step and just creates more waste.
To make the granola:
1. Lay the oats of your choice on a baking sheet. *Optional (but recommended) lay your coconut flakes on a baking sheet as well as your nuts to toast. Toast in the oven, stirring often until they become slightly browned and are fragrant. Timing is everything. The coconut will take a shorter time, then nuts, then oats. The total time is about 8-12 minutes in the oven for all.
For crunchier granola, consider coating the oats with your honey prior to toasting. We prefer adding the honey after toasting the oats as we enjoy a bit more chewy texture to our granola.
2. Using kitchen shears, cut your dried fruit into small pieces.
3. Add your seeds, nuts, coconut, and dried fruit into your container.
4. Add your cinnamon or any spices of your choice and mix well.
5. Add the oats to your mix. Begin drizzling honey over all the ingredients, coating each piece well.
6. Let air-dry for as long as you like. The longer you let air dry (overnight for example) the more "chunky" you can make it.
NOTES
Be sure to toast at a low temperature. Slow and steady win the race with this recipe!
Be sure to coat as much of the granola bits and pieces as possible with the honey. Mix, mix, mix is the key 🙂 .
Should you prefer a crunchier texture, lay the prepared granola out on a cookies sheet and let air dry until your desired consistency has been achieved.
Be sure not to over mix when transferring your granola to your storage container if your goal is to make it clumpy.
This recipe can easily be adjusted to suit gluten-free (use gluten-free oats) or vegan diets (use an alternative sweetener such as maple syrup in lieu of honey).
If you are using nuts, either leave whole (as we prefer) or chop to create smaller bits.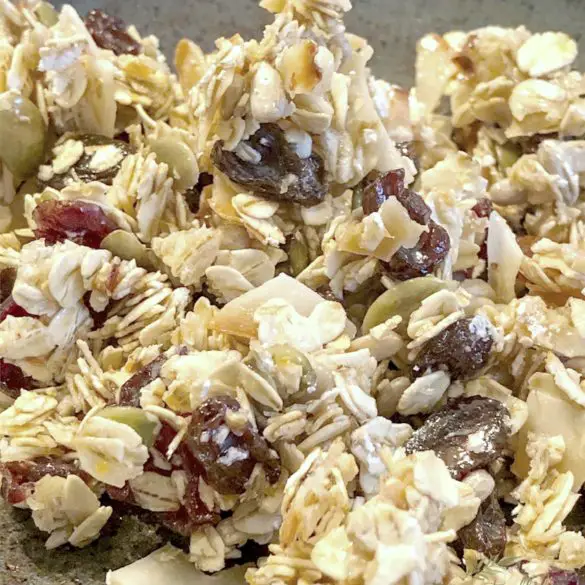 Ingredients
4 cups old-fashioned rolled oats

1/2 cup toasted nuts (leave whole or chop)

1/2 cup dried fruit (raisins, apricots, cranberries, etc)

1/4 cup seeds of choice (pumpkin, sunflower etc)

1/2 cup coconut flakes (unsweetened)

1/2 cup honey (or to taste)

1 Tbl Cinnamon (or spice of your choice to taste)
Instructions
 Pre-heat oven to 300 F
Lay oats onto baking sheet for toasting
Lay coconut flakes and nuts onto baking sheet for toasting
Toast the above, stirring frequently, until fragrant and slightly golden
Remove from oven and add to a large bowl or container for storage, & mix well
Sprinkle mixture with cinnamon and mix
Drizzle with honey and coat all well.
Let air-dry to your desired consistency
Store in an air-tight container and enjoy!
Notes
You may need more or less honey depending on your tastes. Oats will take the longest time to reach a golden brown, nuts next, and coconut flakes the shortest time.
This recipe is one that IMSL has loosely based on the recipe found in the book, "The New Laurel's Kitchen", one of our favorite vegetarian cookbooks of all time! Over time, we have adjusted the original recipe to suit our tastes. Our favorite add-ins include, cranberries, apricots, raisins, sunflower seeds, pumpkin seeds, dates, oats, and honey. Yum!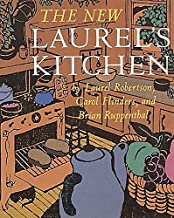 Be sure to pin on Pinterest for easy referral! No Pinterest account? A free printable recipe card is available above. Enjoy!
Love, Light, & Laughter ~