No cook refrigerator pickles, aka quick pickles, take minutes to make, are crispy, tangy, and are full of garlicky dill flavor! Once you try making refrigerator pickles there is no going back.
This post may contain affiliate links at no additional cost to you.  By making your purchases through the links on this website, IMSL may make a small percentage at no direct cost to you. IMSL only promotes products we use & truly believe in. Please refer to my Privacy & Disclosures for further information. IMSL thanks you for your support!
If you've never had no cook refrigerator pickles then you are in for a treat. Taking literally about 5 minutes of prep time, a few hours of marinating time, you'll be savoring these amazing pickles in the blink of an eye!
This easy to make, simple refrigerator quick pickling recipe may be the most uncomplicated recipe ever. Using only a few simple steps to create a cucumber fast ferment full of flavor. Oh, and did I mention, this easy fridge fermented pickle recipe does all this without having to break out your canner? You're welcome 😉

When my pantry is full & canning the never ending supply of end of season cucumbers or vegetables is just not an option, this is the recipe I turn to.
Oh! And this recipe is not just for cucumbers! Pickle those veggies that seem to trickle in by the handful using this quick pickle recipe as well. YUM!
QUICK PICKLE DEFINITION
A quick pickle or refrigerator pickle, in this case no cooking required, is just that. A quick, literally about 5 minutes, method of preserving most fresh vegetables using a simple brine, a few spices & herbs, and your refrigerator!

The downside? It takes a short bit of time before the flavors truly come to life. Although these no cook refrigerator pickles can be enjoyed in as little as a few hours time, I find that letting them marinate in the refrigerator for at least 24 to 48 hours allows the flavors to really bloom!
WHY MAKE REFRIGERATOR PICKLES?
In a nutshell, so you can use up fresh vegetables, especially the plethora of cucumbers when in the growing season, in a flavorful way!
Are they as intense a flavor or last as long as those that are fermented like my Lacto Fermented Dilly Beans? No. Are they as easy & quick like I claim? YES!
Making your own quick pickles also allows you to get creative as well as a few other positives….
MAKE IN SMALL BATCHES – As I mentioned, if you grow your own food or are looking to put up some seasonal produce, have leftovers or extra veggies from your weekly CSA, or your not looking to stock a pantry full of canned pickles, making no cook refrigerator pickles is something that can be done in a single jar or two!
GET CREATIVE – You can easily make this recipe as is, or make it sweeter (or less sweet), spicier or not spicy at all, add more garlic or leave it out completely. Use them up! This recipe can be used as a base and adjusted to suit your tastes.
USE UP ODD ENDS – Only have a handful of veggies waiting to be used? You got it! Add it to a quick pickle jar!
SAVE TIME – No time to break out the canner? These refrigerator pickles solve that problem in no time flat!
ADD AS YOU GO – Odds and ends of veggies are added to my existing batch when I have one going, always being sure to keep an eye on my prepared date!
BRING AS GIFTS – Going to a cookout or dinner party? These refrigerator pickles will wow all who have a taste!
NO COOKING REQUIRED – Too hot to heat up your kitchen? This recipe requires no cooking!
You get the idea. Refrigerator pickles are just that. A quick answer to making a tasty treat out of fresh veggies.
COMMON NO COOK REFRIGERATOR PICKLE QUESTIONS ANSWERED
I find many have a few common questions when making no cook refrigerator pickles or quick pickles and thought I would answer them quickly.
WHAT ARE THE DIFFERENCES BETWEEN REFRIGERATOR PICKLES AND CANNED PICKLES?
Refrigerator pickles are preserved in vinegar and stored in the refrigerator as they are not shelf stable. Canned pickles are processed using a water bath canner (be sure to take a look at Water Bath Canning For Beginners as well as all my all my canning safety series and canning recipes if it's of interest) and are shelf stable.
CAN YOU CAN THIS NO COOK REFRIGERATOR PICKLE RECIPE?
I would not recommend using this recipe for canning as it is not a tried & true tested recipe. Instead enjoy them with no cooking required!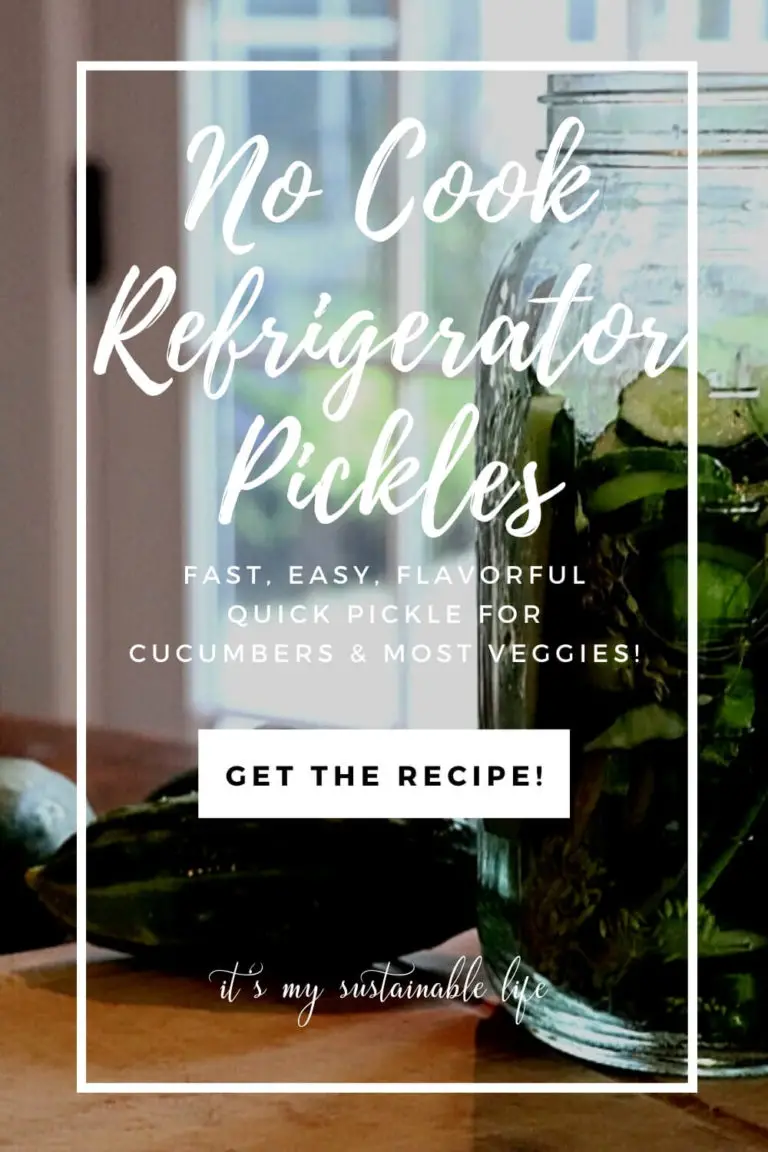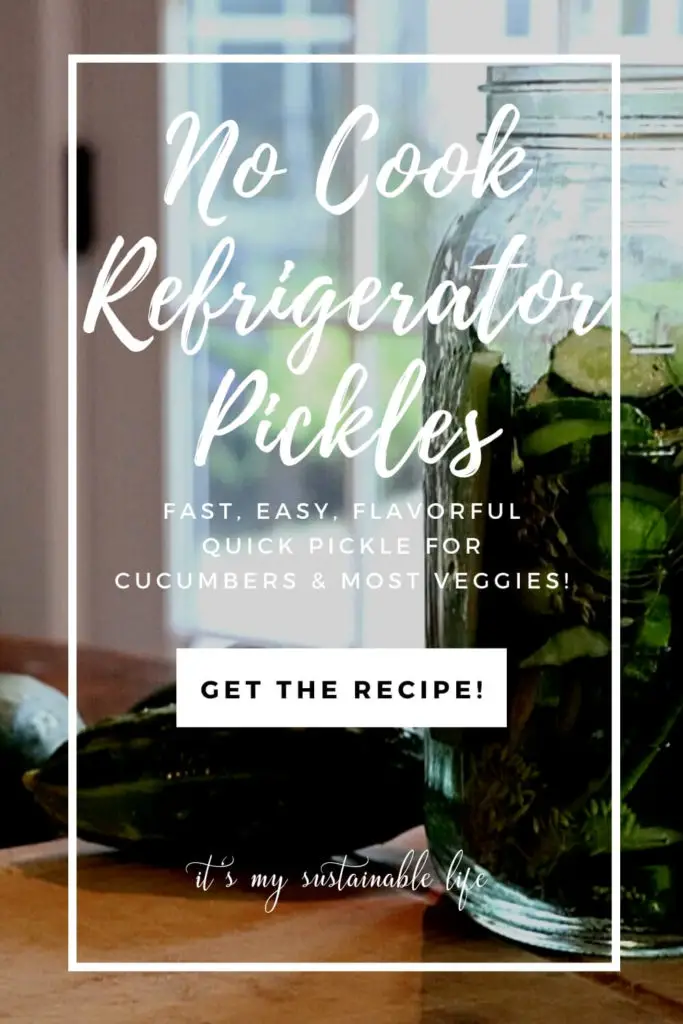 DO YOU HAVE TO BOIL BRINE FOR REFRIGERATOR PICKLES?
Although boiling the brine will help in melding the flavors & completely dissolving any sugar and salt you add, boiling the brine is not a required step.
I find that by dissolving the sugar & salt into hot water, or creating somewhat of a simple syrup, works just as well as boiling the brine. Once the pickle has marinated, the flavors all meld together just fine in my humble opinion 😊
In addition to removing an entire step, by not boiling the brine you can be sure that your refrigerator pickles remain as crunchy as possible!
CAN YOU PICKLE WITHOUT BOILING WATER?
Yup. I prefer the no cook refrigerator pickle method as I find the veggies remain much crisper and firmer for longer periods of time. I do use hot water to "melt" my sugar & salt, however, so it does not remain grainy in the brine.
HOW LONG DO REFRIGERATOR PICKLES LAST?
Well, if your house is like mine, not long 😂. I've never really had a jar left uneaten for an extended period of time. In researching this question a bit, I found the recommendation to be anywhere between 4-6 weeks.
DO REFRIGERATOR PICKLES NEED TO BE SEALED?
This really depends on what you consider sealing. As a canner, sealed jars of pickles will remain shelf stable for well over a year. As refrigerator pickles are not processed using a water bath canner, they simply need to be covered and stored in the refrigerator.
I use a mason jar to make my no cook refrigerator pickles. Once made to store them safely in the refrigerator, I like to use these mason jar re-useable screw top lids for easy access.
EQUIPMENT NEEDED TO MAKE NO COOK REFRIGERATOR PICKLES
Well, that's the beauty of making these quick pickles. You really don't need any special equipment or supplies to make them yourself!
Other than the ingredients you choose to use, you will need a mixing bowl, access to very hot or boiling water, and a jar with a lid to store them in as well as a sharp knife, cutting board, measuring cups & measuring spoons. As I have access to mason jars, they always seem to be my go to, but any jar with a lid will work fine.
HOW TO MAKE NO COOK REFRIGERATOR PICKLES
Gather the ingredients, bowl and jar to have at the ready. First create your basic brining liquid, adjusting according to your taste.
Take a peek at the video made on how to make easy refrigerator pickles 👇🏻👇🏻👇🏻
NO COOK REFRIGERATOR PICKLE BASIC BRINE
To make the brine for your refrigerator pickles using the base ingredients below, combine the following ingredients…
VINEGAR – 1 C vinegar (distilled white or ACV)
WATER – 1 C water.
SALT – 1 Tablespoon
SUGAR – 1 Tablespoon
Again, this brine is just a base. It can be easily increased as needed and adjusted with other flavorings to suit. Read on to find some great additions below!
Remember, the flavor of the brine will translate over to the taste of your pickles so be sure you like the flavor before adding the prepared veggies!
PREPARE THE VEGETABLES FOR MAKING NO COOK REFRIGERATOR PICKLES
To prepare your vegetables of choice, in my case simply freshly picked pickling cucumbers (I find the pickling cukes to work best like the knobby, prickly kind like my "Little Leaf" ones shown below as they remain crisp longer in the brine) that have been washed are sliced both lengthwise (spear slices) and into rounds.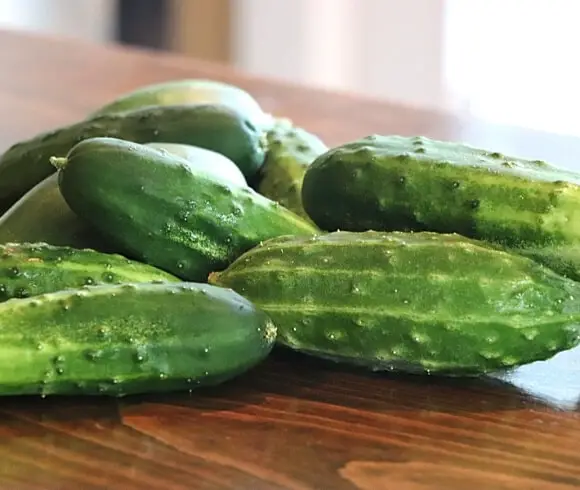 I began with about 1 pound of fresh pickling cukes or enough to fill the jar to the desired level.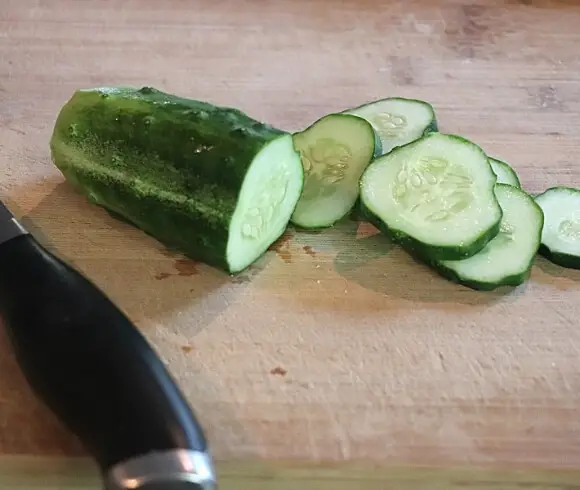 Add the prepared veggies to your jar and cover with your prepared brine. Cover the jar and place into the refrigerator. A mere 24 to 48 hours later enjoy!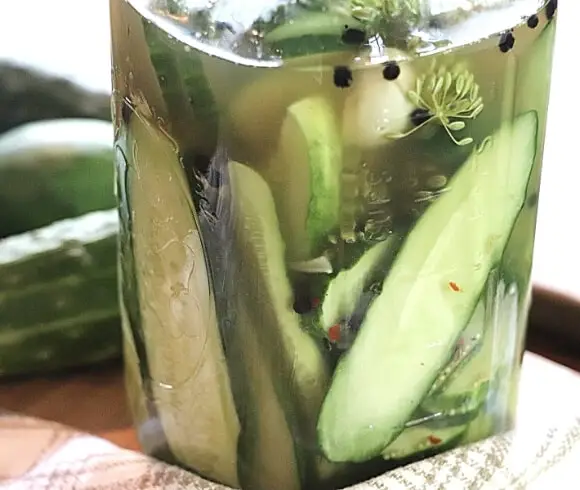 My complete brine included 2 batches of the basic brine as shown above with the addition of the following ingredients…
ADDITIONAL SWEETENER – As we enjoy a bit of the "bite" taken out of the basic brine, I add an additional scant 1/4 c of sugar that has been dissolved into hot water
4 LARGE GARLIC CLOVES – Peeled and smashed a bit
1/2 Tsp CRUSHED RED PEPPER
4 FRESH DILL HEADS – I include the dill leaf as well from my fresh herb
2 Tbl WHOLE PEPPERCORNS
1 Tbl MUSTARD SEED
Feel free to print a copy of the recipe out for future use (or just come back for a visit 😊)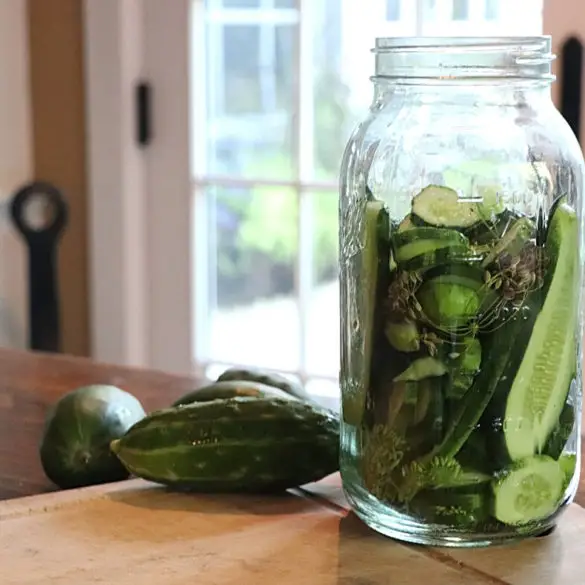 Ingredients
BASIC BRINE:

VINEGAR - 1 C vinegar (distilled white or ACV)

WATER - 1 C water.

SALT - 1 Tablespoon - Dissolved in hot water

SUGAR - 1 Tablespoon - Dissolved in hot water

OPTIONAL INGREDIENTS USED:

**Remember: the following optional ingredients are for a double batch of the above basic brine.

ADDITIONAL SWEETENER - As we enjoy a bit of the "bite" taken out of the basic brine, I add an additional scant 1/4 c of sugar that has been dissolved into hot water

4 LARGE GARLIC CLOVES - Peeled and smashed a bit

1/2 Tsp CRUSHED RED PEPPER

4 FRESH DILL HEADS - I include the dill leaf as well from my fresh herb

2 Tbl WHOLE PEPPERCORNS

1 Tbl MUSTARD SEED
Instructions
Prepare clean, washed vegetables and add them to your jar
Prepare your basic brine, adding herbs and spices as desired
Cover your prepared vegetables with the brine
Cover your jar and place into the refrigerator
Enjoy 24 to 48 hours later!
ALTERNATIVE ITEMS TO PICKLE
As stated, using this quick pickling method, you are not limited to using just cucumbers. Most any edible vegetable & even some fruits, yes you hear correctly, fruits (think peaches, apples, crab apples, pears, plums, & grapes here) are able to be pickled.
How delicious would a fruit pickle with the addition of a vanilla bean & a bit heavier on the sweetener be? Or what about in season watermelon with the addition of fresh mint. YUMMY!
Vegetables to consider pickling include, cauliflower, peppers, beets, carrots, onions, broccoli, cabbage, tomatoes (use up those cherries!), summer squash, radish, and even olives can all be pickled. This is by no means a complete list! Let your imagination and what you have on hand be the determining factor.
The only items which you should probably stay away from adding to your pickle would be tender greens such as chards, kales, and lettuces!
NO COOK REFRIGERATOR TIPS & SUGGESTIONS
Adjusting the flavor of your basic brine is easy, and there are a few tips & suggestions for making your pickles.
INGREDIENT SUGGESTIONS FOR THE BRINE
Here are some suggestions of what we love to add here on the hill and a few that we will be trying in the future!
GARLIC CLOVES – Use fresh, peeled garlic cloves
PEPPERCORNS – Whole peppercorns that is
SPICES – Turmeric, mustard seed, celery seed, pickling spice or other spice blends, cumin, & even cloves
HERBS – Fresh herbs to consider are dill, bay leaf, tarragon, thyme, oregano, marjoram
VINEGARS – Distilled vinegar will result in a very sharp, vinegar base. For a milder flavor, choose apple cider vinegar
OPTIONAL CHOICES – Whole hot peppers that have been sliced open or minced, dried red pepper flakes, onions, grated fresh horseradish, alternative sweeteners such as maple syrup, agave nectar, or honey
NO COOK REFRIGERATOR PICKLE TIPS
Obviously the brine is where you bring the flavor & spice, but it also creates a safe product to consume. The biggest point to remember when increasing or decreasing your brine amounts is to maintain a 1:1 ratio of vinegar to water.
Although the most common types of vinegar to use when creating the brine for your refrigerator pickles is distilled white vinegar or apple cider vinegar, you can always choose to get creative with your vinegar choices however. White or red wine vinegars, or rice vinegar (both white & red) or even a combination of several different ones would make for uniquely flavored pickle. Aged vinegars such as balsamic should not be used in quick pickling.
Not all salt is created equal when it comes to pickling. Instead of iodized salt, or table salt, which will leave you with a cloudy, discolored brining liquid due to additives within the salt as well as alter the flavor of the pickle, choose instead kosher salt, sea salt, real salt (my favorite) or pickling/canning salt.
When it comes to water, as with most recipes avoiding tap water that is highly chlorinated or treated would be my advice. Choose instead filtered water when possible.
When it comes to choosing your sweetener, the base brine recipe calls for a meager 1 Tbl of cane sugar. In our house, we up this amount to taste when making our refrigerator pickles. I would recommend adding your sweetener (as stated above you are not limited to cane sugar here!) slowly, taste, and add more if needed.
Any ingredient beyond what's mentioned above, vinegar, water, salt, & sugar/sweetener is up to you. I would recommend thinking about what you will be using your quick pickles for. Are you looking for an addition to rice bowls? Be sure to utilize rice wine vinegar and add a bit of Asian flair by using cilantro, lemongrass, or even star anise. Or what about a side to your favorite Mexican dish? Think cumin, garlic, and a dried chili. The possibilities are endless!
I hope you can take advantage of what's in season and local to you, pickle them with your own unique no cook refrigerator pickle recipe! Enjoy!!
Love, Light, & Laughter ~

Enjoy this article? Please consider sharing it on your favorite social media channel! Want more? Subscribe below for the occasional update with all the "happenings on the hill"!