Blanching tomatoes is an easy way to peel your fresh garden tomatoes. Learning to blanch and shock them makes quick work of this process. Using this method will have your whole fresh tomatoes ready for use in no time!
This post may contain affiliate links at no additional cost to you.  By making your purchases through the links on this website, IMSL may make a small percentage at no direct cost to you. IMSL only promotes products we use & truly believe in. Please refer to my Privacy & Disclosures for further information. IMSL thanks you for your support!
Ever crave a fresh garden tomato in the middle of the winter? Not a store bought, hot-house tomato that lacks, well, flavor. But instead the kind you can only get during the height of the growing season when tomatoes are at their peek? So do we 🙂
That's why we preserve as many of these full-flavored fruits as we possible can when they are at their best. By the bushels. And let me tell you, nothing, and I mean nothing can be harder & more laborious than trying to peel a fresh tomato!
Whether you are processing bushels of fresh whole tomatoes or just a few for use in your salsa's, sauce, & favorite recipes, blanching & shocking them turns a painful process into one done in minutes. This quick tutorial will hopefully show you how easy it is in just a few simple steps.
WHAT IS BLANCHING
Blanching in cooking is the process of which vegetables are boiled for a predetermined length of time. This prepares and ensures your product will then be safe & last while freezing, canning, or preserving.
WHY BLANCHING IS NECESSARY
The process of blanching prior to processing or preserving is a must for most vegetables. According to our favorite canning & preserving resource, National Center For Home Food Preservation,
For our beloved fresh whole tomatoes, the blanching method makes quick work of removing those tough to peel skins!
IS AN ICE BATH AFTER BLANCHING TOMATOES NECESSARY
Yes. Yes. And, you got it, yes. Don't skip this important step when blanching your whole tomatoes! An ice bath, or better known as "shocking" them, stops the cooking process. Skip letting the tomatoes hang out in a cold water bath for 30-60 seconds after blanching and you will have one mushy tomato on your hands.
SHOULD I CORE TOMATOES AFTER BLANCHING
The core of a fresh tomato is tough, woody, and will not cook down like the flesh of a tomato. So, yes, definitely cut the tomato core out when getting them ready to concassee or use the tomato in your favorite recipe.
WHAT TO USE BLANCHED TOMATOES FOR
As tomatoes that are blanched are peeled & cored, they are ready for use in just about any favorite tomato based recipe you enjoy!
We use our blanched tomatoes primarily for canning. Canning whole tomatoes, salsa, soup, & sauces. Not into canning? No problem! Tomatoes that have been blanched also make freezing them for use later a wonderful option!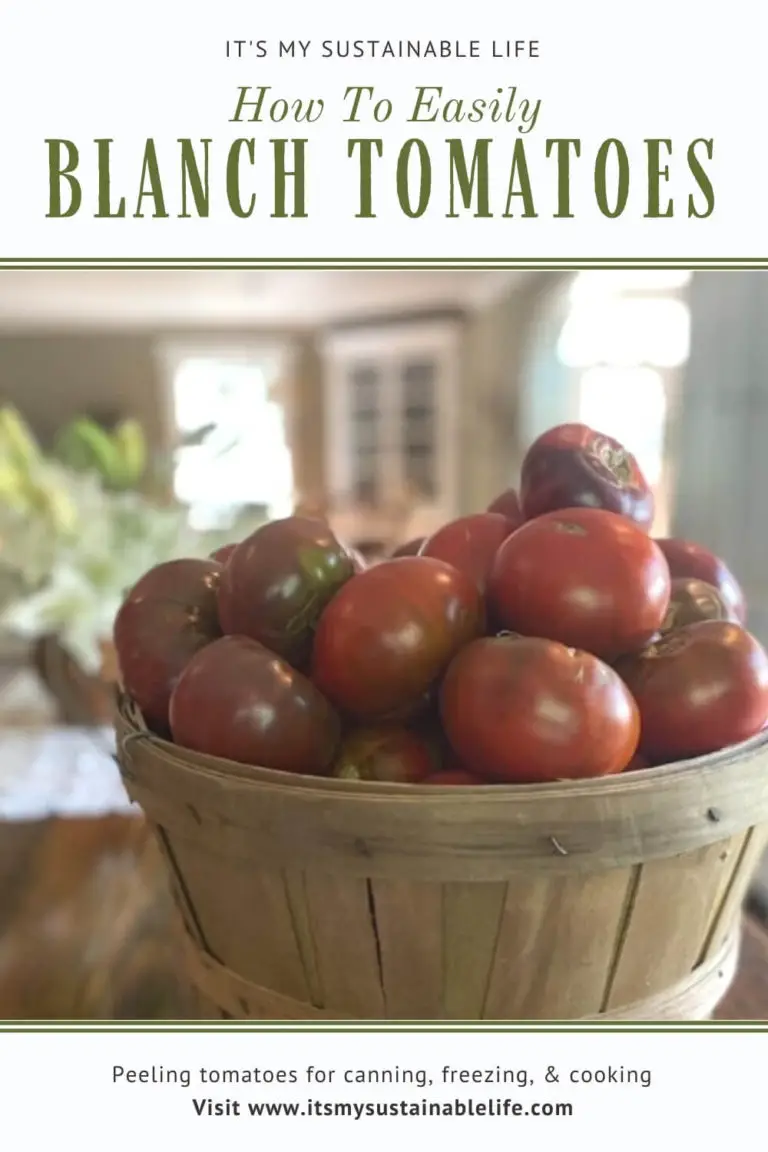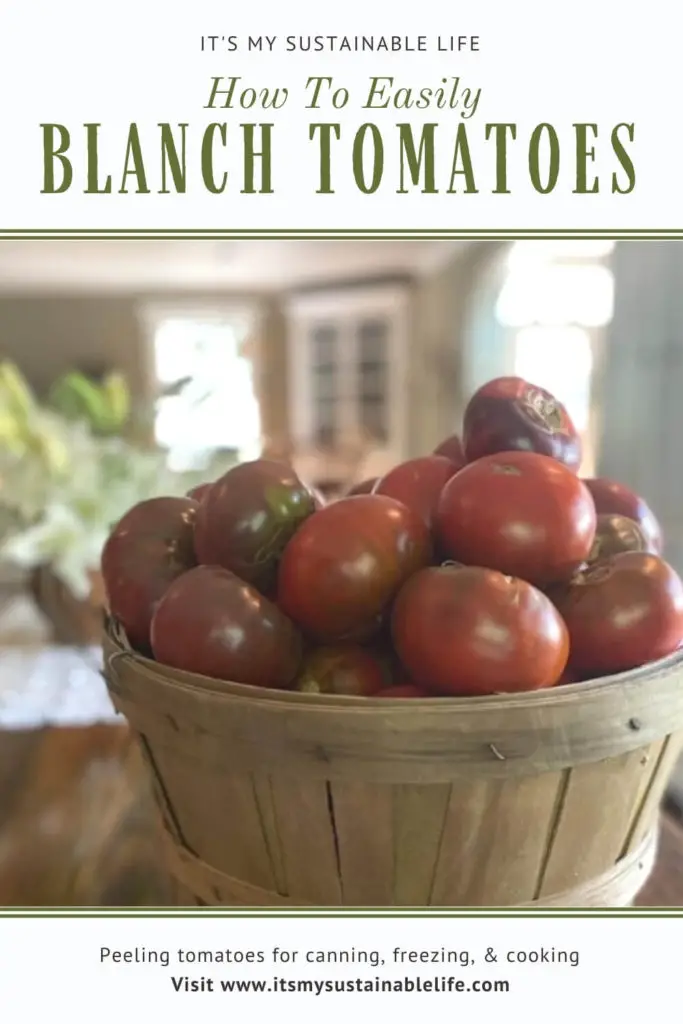 And don't forget fresh eating!! Blanched tomatoes are wonderful to chop up and use in pico de gallo, tomato based soups like minestrone (our favorite recipe coming soon!), and any other recipes using your fresh garden ingredients!
HOW TO BLANCH TOMATOES
STEP 1 Prepare an ice bath for shocking the tomatoes after blanching. Simply fill a large pot, bowl, or vessel of your choice with cold water and add a few ice cubes.
STEP 2 Bring a large stockpot filled 1/2 to 3/4 way full of water and bring to a boil.
STEP 3 Rinse your tomatoes. Score each tomato on the blossom end (not the stem end) with an "X" using a sharp knife. I find using a serrated knife works especially well.
NOTE: This "X" marking does not need to go deeply into the flesh of the tomato. Marking it by just scoring through the skin is all you need here.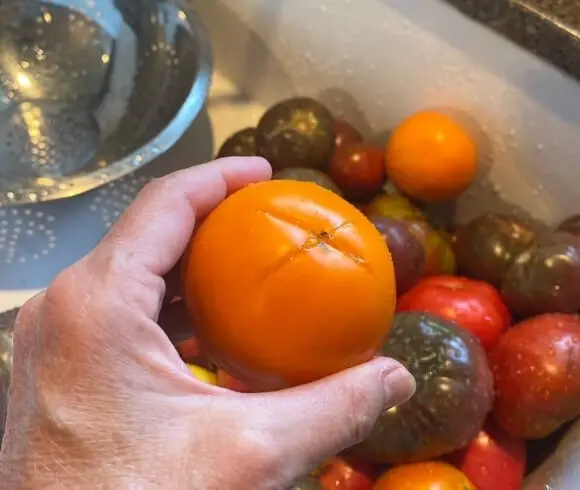 STEP 4 Add 8-12 tomatoes to the boiling water and leave in the boiling water for 30 seconds and up to 60 seconds. I find the 30 to 40 seconds time frame to be the perfect amount of time for the skins to easily be removed, but the flesh of the tomato remain firm.
STEP 5 Quickly remove the tomatoes that are blanched from the boiling water. You will know they are ready when the skin begins to peel back. Using a "spider" makes quick work of this, but tongs or a large spoon or ladle with drainage holes will work as well.
NOTE: I typically keep to the 30 second time frame even if the skin is not peeled visibly back. I have had tomatoes that don't display any signs of peeling skin but are ready, yet if blanched longer will be a mushy mess.
STEP 6 Place the blanched tomatoes directly into the ice water bath to "shock" them. Leave the tomatoes in the ice bath until cooled. Typically this only takes 30 seconds but can take up to 60 seconds. Place the cooled blanched tomatoes in a colander in the sink to be cored & peeled.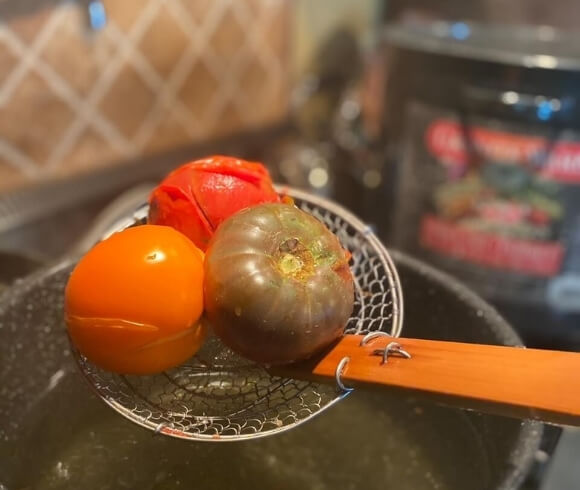 STEP 7 Core the tomato (the stem end) of all woody, fibrous portions and peel the skin from the tomato.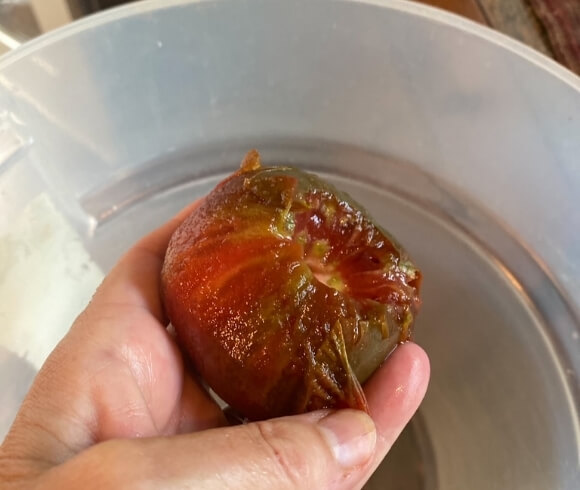 STEP 8 Place the cored and peeled tomatoes into another vessel. I have placed mine into a large stockpot as I will be canning these as whole tomatoes.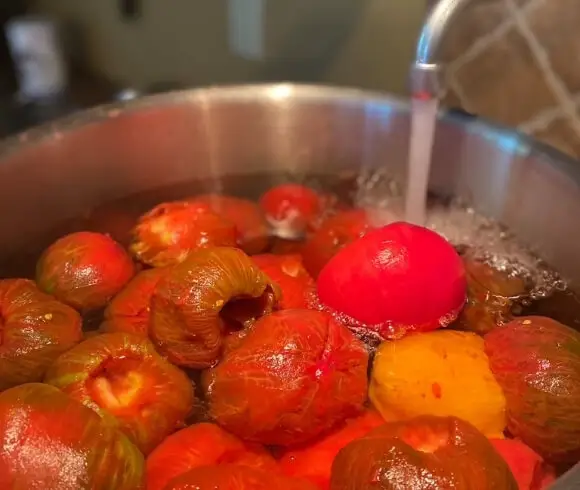 STEP 9 Repeat the process until all your fresh whole tomatoes are blanched and processed.
These blanched, shocked, cored, and peeled tomatoes are now ready for whatever use you have in store for them!
No matter if you are in need of 2 fresh whole tomatoes or 100, this blanching method has you covered!
What is your favorite way to blanch tomatoes?
Love, Light, & Laughter ~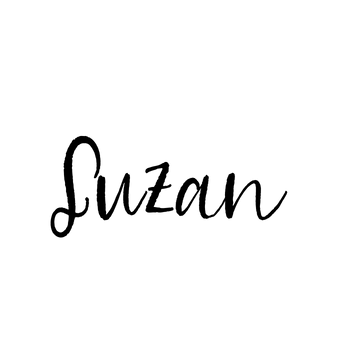 This tutorial was featured at Saturday Sparks!