Learning how to harvest, dry & store your fresh basil harvest is a great way to have access to your basil throughout the year. Fall herb harvesting is one of my favorite times of the gardening season.  My absolute most favorite?  Harvesting my organic basil plants!  There is nothing like nutrient-rich, aromatic, fresh basil leaves.
The scent is powerfully unforgettable, with a strong anise smell. 
I plant basil all along the base of my tomato plants as they make wonderful companions in your garden.  Definitely a topic for another day!  Come time to gather the basil in the fall, I have quite the substantial yield.
This article may contain affiliate links.  Please refer to my  Privacy & Disclosures.  All recommendations expressed are my own.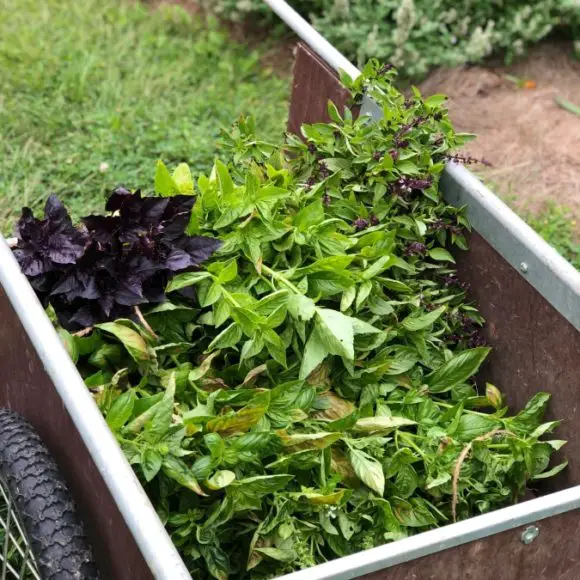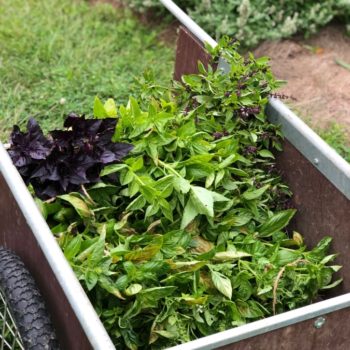 The taste of fresh basil from your garden is just as aromatic and notable as the scent.  A taste you will crave and be looking forward to experiencing fresh, garden-grown again all winter long.
Basil is part of the Lamiaceae family or mint family.  This culinary herb hails from the tropics, from central Africa to Southeast Asia, but can easily be grown outdoors in your gardening zone season or indoors (or so they tell me).  The USDA Plant Hardiness Zone Map is a great resource to find your specific gardening zone if you're not sure of yours.  To be completely transparent, I have the best results direct seeding my basil in when I plant my tomato plants in the spring.  I have not had success growing indoors as humidity plays a large roll in being successful.  I hail from cold winters and heat with wood.  Thus, have had many a failure at trying to grow this beloved herb indoors!  I have TOTAL envy for those who are able to have kitchen plants throughout the year!
Herbs are one of the easiest crops to grow and utilize all year.  Most pests don't bother with them and many are pest deterrents!  Whoo-hoo!  Love the added bennies.  Basil is no exception.  Not only is it considered a culinary herb, but it is also known for its medicinal properties.  Dr. Axe has a wonderful article which goes into all the medicinal uses for this great herb, 12 Benefits of Basil + Recipes.  Definitely worth a read if you are interested in all of its additional benefits!
My absolute favorites and must-haves when planting basil?  Of course, the traditional, Sweet Basil which can be found here.  Wonderful for use in pesto, sauces and storing.  Thai basil is also on the must-have list and can be found here. This is the MOST aromatic of all the basil that I have come across.  I also absolutely love Purple Basil found here.  This basil makes the most beautiful tomato & mozzarella caprese salad with its vibrant colors!  Finally, I love for many reasons, Tulsi Basil (aka Holy Basil) and seeds can be found here.  This basil I keep separate when drying and storing so that I may use for my tea in the winter. YUM!

To harvest, I wait until the end of the season, for my zone 5b, weather permitting, this is usually the end of September.  This gives me nice large stocks of basil with plenty of large leaves, which is great for drying.  As I grow everything organically, no need to wash or rinse before bundling.  Cut the stocks as low to the ground as you can and make bundles tying around the cut stock ends.  The smaller the bundle, the faster it will dry.
I use twine, but feel free to use whatever you have on hand, culinary twine, twist ties, rubber bands, to bind the bundles tightly (they tend to shrink as they dry).  If you use twine like me, make sure to leave a long tail once you tie the bundle as shown.  Depending on the length of the bundle, I usually leave 8-12 inch tail.  This we will use to hang the bundles' upside down.
Once you have all your bundles tied, time to bring in to hang to dry!  I have a clothesline hung in my garage just for this purpose.  I call it my processing station during the growing season.  I use this line to dry all my herbs and garlic.  This area remains pretty undisturbed and I can allow my herbs to dry in a well-ventilated area without worry.
Remember the "tail" we left on the twine during the binding process?  Use this to tie upside down your bundles where you will be drying.  Avoid the kitchen (although they look so romantically beautiful) as this room has a lot of foot traffic and high humidity.  Think low traffic, low humidity (prevent mold), with good ventilation.  Hang from pegs, laundry rack, rafters, curtain rods or whatever you have on hand!
Don't have space to hang your fresh herbs to dry? A small investment of a good dehydrator will do the work for you!
The drying process varies according to your weather, but plan on several months hanging time.  Enjoy this time!  Your space will have the most heavenly scent during this process!  You will know when the herbs are ready to process to store when you squeeze a few branches and the leaves crumble easily (think crunchy).
To process and store, untie the bundle, squeeze or crush the leaves and flowers (good flavor!) on each branch over a large bucket or bag and let the crushed herb release.  You may have small stems that you can remove by hand.  Once you have your herbs crushed, store in a large, airtight container in a cool, dark area.  I use something similar to this for my storage.
As you can see by my hanging basil bundles, I harvest and store a large amount of basil.  I find that since this was freshly grown and harvested at its peak, it remains good to use for a year or more.  Thus, I don't have to process each year!  Win, Win!!
Love to hear what your favorite basil of all time is!  I hope you enjoy your basil as much as I do mine!
Love, Light, & Laughter ~
Suzan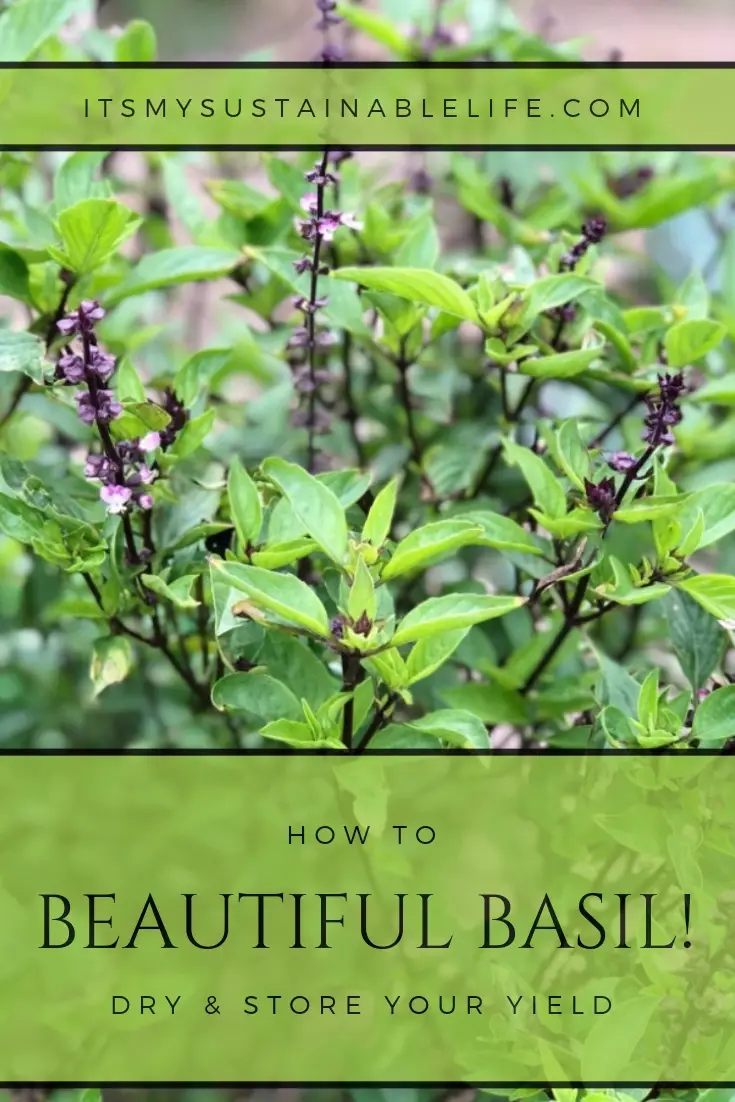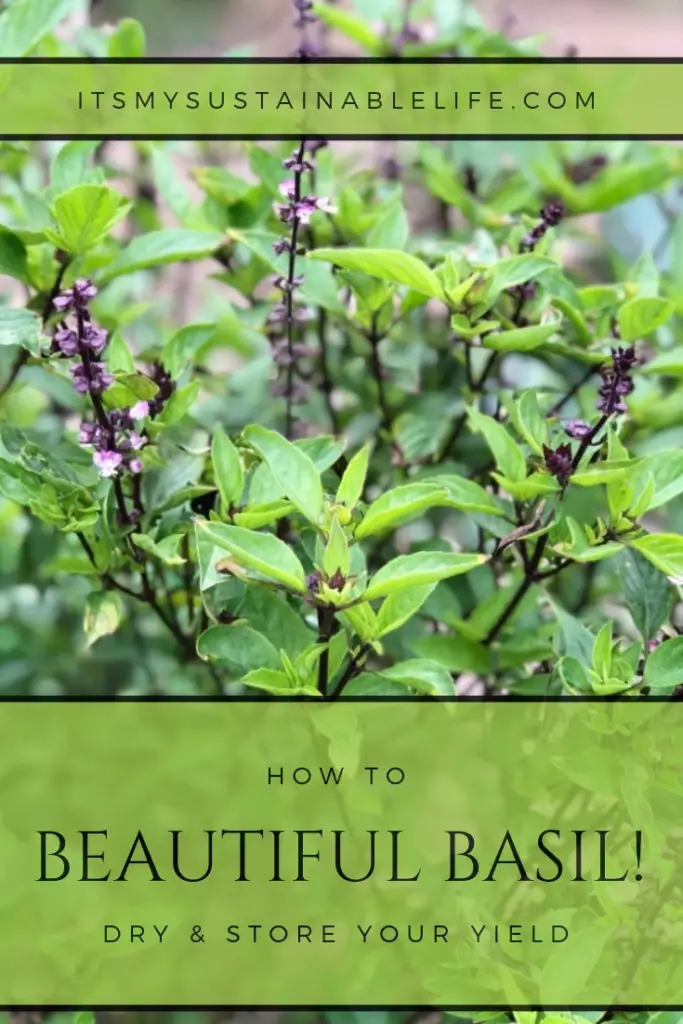 This article was featured at To Grandma's House We Go, Thursday Favorite Things, & Busy Mondays!