Store those fresh garden carrots! This is by far the BEST method for long-term storage that I have tried, and will keep your carrots from the garden available, crisp and sweet til spring!
This post may contain affiliate links at no additional cost to you.  By making your purchases through the links on this website, IMSL may make a small percentage at no direct cost to you. IMSL only promotes products we use & truly believe in. Please refer to my Privacy & Disclosures for further information. IMSL thanks you for your support!
There is nothing better than eating a fresh carrot in the middle of the winter, tasting like it just came from the garden!  I was told about this way to store carrots a few years back by my wonderful gardening mentor.
Carrots are crunchy, sweet and healthy for you!  What's not to like about that?  They are rich in fiber, minerals and vitamins, especially beta-carotene which converts to vitamin A in the body, anti-oxidants, and are considered a low glycemic food source.  All this adds up to one healthy food source!
One study suggests that the beta-carotene (converts to Vitamin A), will actually increase in the first few months of storage.  All the more incentive to keep these beauties healthy long-term.
Carrots are made up of essentially two things:  fiber (healthy carbohydrates) and water.  The water content in carrots will vary between 86% to 95%.   The KEY to long-term storage is to lose as little moisture as possible during storage.  I store my carrots beginning from mid to late October and enjoy crunchy fresh carrots all the way until April/May.  The secret?  Sphagnum Moss.
THE BEST WAY TO STORE CARROTS
Fresh Sphagnum Moss is also known commonly as "Peat Moss".  It is, however, not the peat moss one can easily buy in the big box stores. It is made up of 16-26 times more water than their dry weight, making it a wonderfully hydrating bed for any root vegetable needing long-term storage.  It is foraged & abundantly found in wet boggy areas and along streams, usually in thick, dense clumps.
I harvest Sphagnum Moss the same day as my carrots.  This ensures complete hydration and no drying out.  When harvesting, be sure to leave a good amount to ensure next years moss growth.  This safeguard assures you have plenty of moss available when you need it yearly.
PREPARING CARROTS FOR COLD STORAGE
The preparation of your carrots for storage could not be more simple.  Loosen the carrots from the earth with a pitchfork, being careful to not cut through or stab the carrots.  Remove the greens as close to the carrot as possible without removing any of the carrot itself.  As you can see below, I'm not too fussy with this process.  As long as you have the majority of the greens removed, they are fine.  I simply grab the greens near the root and give a good twist to remove.
Place a good inch or so layer of the moss on the bottom of a large barrel.  I have no drainage holes in my bucket.  Brush any excess soil from the carrots.  I only concern myself with any large clumps of soil.  Begin laying the carrots in a SINGLE layer with no overlapping.  Continue until you have a complete layer of carrots.  
Add a good thick 1-2 inch layer of moss atop the first layer of carrots and continue with this process until all of your carrots are stored in the bucket.  Finish the top layer with another thick layer of moss.
Lastly, I lay a plastic bag loosely over the top of the bucket.  This helps to retain moisture but still allows it to breathe freely.  
BEST STORAGE FOR GARDEN FRESH CARROTS
Where do you store your bucket of carrots?  If you are fortunate enough to have a root cellar, store the bucket there.  Ideal root cellar conditions are a stable temperature of 34° to  40°F (0° to 4.5°C) with humidity at a level of 85% to 90%.  These temperatures slow the release of ethylene gas and inhibit the growth of microorganisms that cause decomposition.

If not, you will need a cool, dark area for storage.  Unfinished cellars, crawl spaces, garages or anywhere that does not experience a deep freeze, will be good areas for storage.  Hopefully, any area you choose will be able to mimic the conditions of a root cellar as closely as possible.  Realize the warmer the area, the shorter length of storage time you will have before they begin to decompose.  
What are the best kinds of carrots for long-term storage?  Any carrot that has a thick core seems to store the longest.  I've had wonderful success with Danvers, Napoli, and Scarlett Keeper for winter storing.  The flavorful and colorful carrots, Purple Haze, Atomic Red, and White Satin will store for a much shorter time.  If you are planning on storing these,  I recommend placing them on the top layers so they will be used first.
It should be noted that this storage method works with most of your root vegetable storage.  I use the moss method for my rutabaga/turnip as well as my beets. 
Normally, by using this method it is not a matter of the product not lasting long enough, but instead, will we be able to utilize all the produce before next season!  Not a bad issue to have.  I know my chickens love it when we need to clean out the root cellar early summer!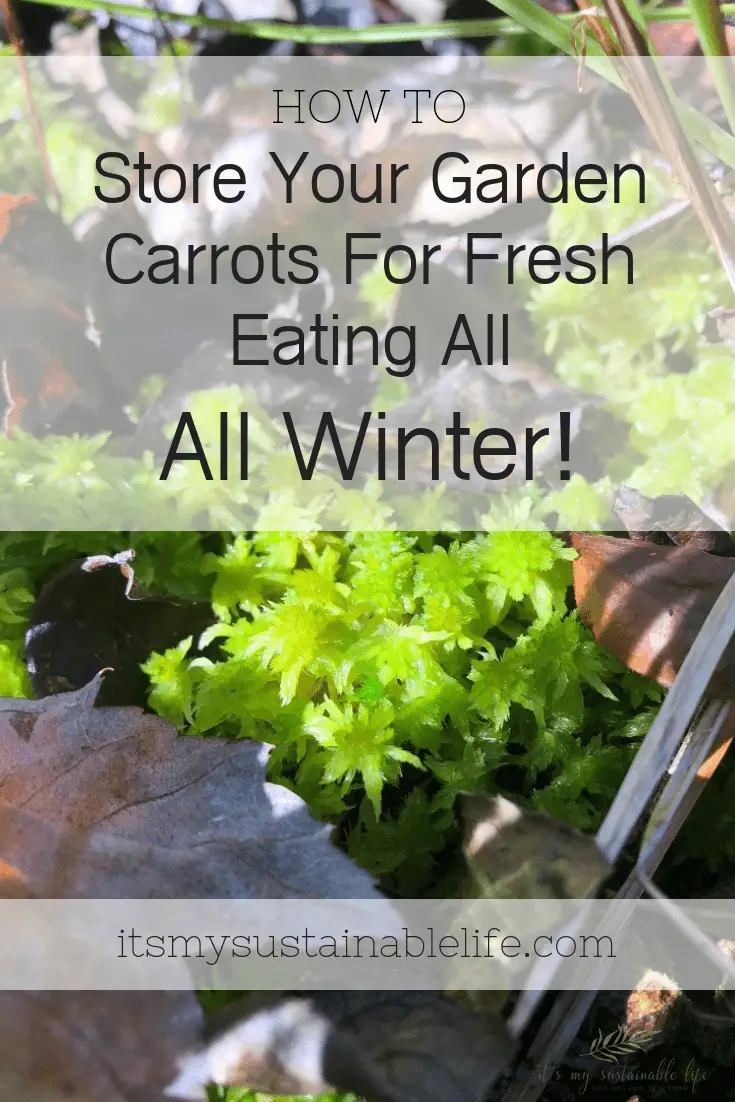 When cleaning out your bucket, don't throw away the dried moss!  It can be repurposed in a few ways.  Dried moss is a great tinder for those who heat with wood or have a wood burning fire pit.  I use it yearly in my outdoor flower hangers to replace any moss lost during the winter months instead of buying the traditional coco liners.  Keep your eye out for my seasonal post on outdoor hangers!  Throw it in your compost pile or garden.  
By following these simple steps, you will be enjoying fresh carrots all year long!  What is your preferred method for long-term storage of root vegetables?  Love to hear from you!
Love, Light, & Laughter ~