By building a fire pit, stone patio, and an inviting entry, we have created an outdoor space to enjoy all year.
This post may contain affiliate links at no additional cost to you.  By making your purchases through the links on this website, IMSL may make a small percentage at no direct cost to you. IMSL only promotes products we use & truly believe in. Please refer to my Privacy & Disclosures for further information. IMSL thanks you for your support!
This is the year for simplifying my outdoor projects, gardening, & upkeep. By turning this outdoor perennial bed into a low-maintenance, fire pit, we have created a space that we can enjoy all year long. Finally, our DIY fire pit is ready for a complete reveal.
When embarking on this project, we certainly did not expect to have to re-visit, re-do, and re-vamp our space. After all, we chose "deer resistant" shrubbery options that we felt would be visually interesting year round. Who knew that last year we would experience a phenomenon in nature, fondly dubbed squirrel-geddon in our parts.
The wildlife, including deer, were on a rampage for food sources. Squirrels were swimming across ponds & lakes, yes, swimming! Who knew? Porcupines were devouring anything they could, including the top of my cherry tree 🙁 . Deer chomped down to the nubs all of my newly planted shrubbery. I guess "resistant" doesn't mean they still won't enjoy 🙂 .
Although the deer demolished all the new leaf growth on these, they are beginning to come back with new growth this year. We chose to replace them around the fire pit with the only specimen the deer did not touch, Spirea. I could certainly have left the Japanese Holly where they were, but impatient that I am, did not want to wait two years for their beauty to return 🙂 . I did transplant them to create a hedge in a spot that I can be a bit more patient with.
PLANNING THE FIRE PIT
From the beginning, we wanted to create a space where we could entertain or enjoy quietly. The space originally was one that although beautiful when manicured, required a LOT of back-breaking work.
The amount of time, energy, & effort put into weeding that area was beginning to become overwhelming. Time to simplify. I transplanted, gave away, and, yes, got rid of many of the perennials on the hill to prepare the area for the heavy work of sourcing the stone needed to create our space.
THE FIRE PIT STONE WORK
Fortunately, we live in the Granite State. In short, that means our property has stones, field stones. You know the kind used in building stone walls. We, and by "we" I mean my ever so talented man, began our process doing just that. Building a stone wall.
Next came sourcing the larger stones for the stairway which we have leading up to the fire pit. These we did make an investment on as we could not source from our property. This was definitely a two person job, and thank goodness for our trusty Kubota tractor!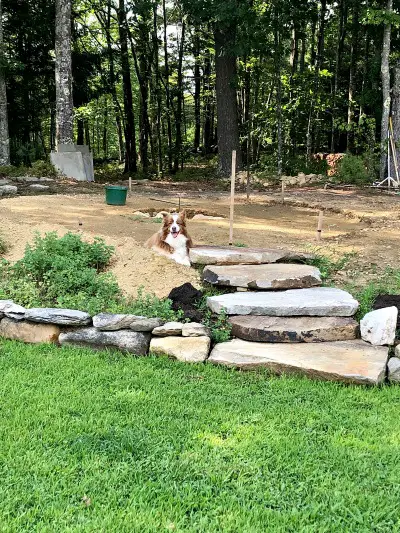 Building the pit & laying the patio stone surrounding the area came next. This was a week long process, sourcing the stone for free on our property, piecing the stone like a puzzle to create a round area, took time, muscle, & patience. The end result was worth it all.
Once the puzzle was in place, the pit itself created & surrounded with additional stone, we filled the gaps with stone dust we had left over from a previous project to ensure the stones stayed in place and were not overly affected by our winters here in the Northeast.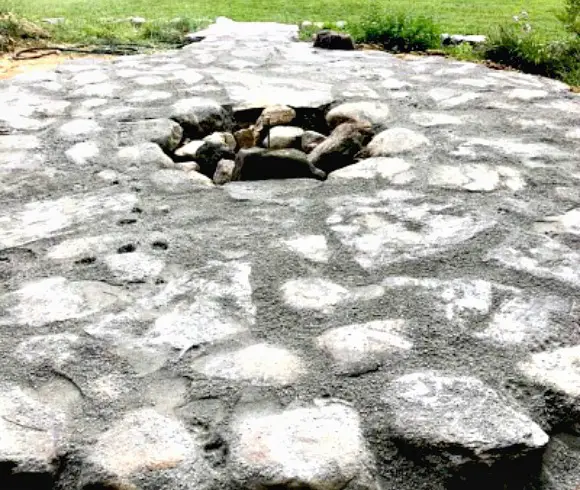 LANDSCAPING THE FIRE PIT – FIRST TIME AROUND
Choosing the right plants to landscape, zoned for our area, easy maintenance, specific for their purpose (creating visual interest and/or privacy), we planted in the fall of 2018 thinking we would have a gorgeous spring with our choices. The only thing left to complete in the spring was to add a thick layer of mulch over a weed barrier cloth.
LANDSCAPING THE FIRE PIT – THE SECOND ACT
Needless to say, when early winter arrived with our plants chewed to the nub, we knew we would need to re-plant & re-place most of what we had planted come spring.
Replacement shrubs were chosen with the hope of them lasting through the winter :), weed barrier placed and a thick layer of mulch added to complete the space. I decided to keep a few hearty, self-sown perennials & shrubs. They decided their spot…who was I to argue?
THE FIRE PIT FINAL REVEAL
We think the final result, although not perfect, is beautiful. It was worth the physical effort, re-do, & quite frankly, hassle of completing the space. It is calling for some Adirondack chairs for sure 🙂 Maybe I will very gently "suggest" this to my talented man….after a breather.
There you have it, our DIY outdoor fire pit. Now where's the smores? Want to see more of our outdoor revamps? Check out our new herb bed space!
Have you created an outdoor space? Love to hear about your process by commenting below! Be sure to subscribe to receive our once per month newsletter "happenings on the hill" as well as a FREE ebook, Canning 101 as our thanks to you!
Love, Light, & Laughter ~