It's not often that I toot my own horn, but this potato salad recipe based on my family's classic potato salad recipe is one of the most requested salads at any family or holiday gathering. Filled with fresh veggies to add the right amount of crunch along with real mayonnaise & several "secret ingredients", make this our go-to salad, especially at Fourth of July and holiday BBQ's!
This post may contain affiliate links at no additional cost to you.  By making your purchases through the links on this website, IMSL may make a small percentage at no direct cost to you. IMSL only promotes products we use & truly believe in. Please refer to my Privacy & Disclosures for further information. IMSL thanks you for your support!
The number of variations on potato salad recipes never cease to amaze. It is definitely one of those recipes that we love to make just how our mothers did. The variations of how to make this salad seem to be regional. Southern variations call for sweet pickle relish and/or juice, while many mid-western versions call for whole pickles to be added. No matter your preference, it can be agreed that this may be one of the most versatile recipes we have.
Many potato salad recipes call for very few ingredients, some with just potatoes & eggs, others that use the "kitchen sink" approach & add whatever fresh veggies you may have on hand. This is the version I grew up with & prefer…filled with as many veggies as possible. After all, it is a salad 🙂 .
My version has somewhat morphed from the original recipe using just Miracle Whip. When transitioning to a more whole food, organic & holistic way of eating, obviously this "mayonnaise" did not fit into our dietary choices! I changed to a whole, organic mayonnaise, one that I could easily buy if time was an issue, or make myself. Keep an eye out for how I make my own organic mayonnaise!
It is a recipe that can easily be altered for 1 or be made to feed large gatherings. We serve this salad alongside our BBQ of choice, using our homemade fermented BBQ sauce. The recipe for how to make this sauce can be found in my article "Amazing BBQ! The Secret Is In The Fermented Sauce". The combination of the two make for a mouth-watering meal anytime!
INGREDIENT OPTIONS
This easy to make recipe is versatile. You can add as much or as few veggie options as you choose. I find, the more the better 🙂 . I will have a printable recipe card available below for your convenience.
3 lbs Potatoes (I prefer thin-skinned varieties as I leave the nutritious skins on)
Onion
Green Pepper
Celery
Cucumber
Boiled Eggs
Peas
Mayonnaise
Mustards (Spicy Brown & Dijon)
Celery Seed
Salt & Pepper
HOW TO MAKE IT
As stated earlier, I leave my potato skins on. This is the healthiest part of the potato, so why discard it? The skins are filled with fiber, B vitamins, vitamin C, iron, calcium, potassium and other nutrients. I would recommend this only if you grow your own without pesticides or choose to purchase certified organic options.
I prefer a chunky salad but this recipe can be made to your preferences in "chunk" sizes. Simply cut your potatoes to your desired size and boil until just fork tender. I add my frozen peas to the potatoes at this point and turn the heat off allowing the peas to cook briefly (about 1 minute). Drain the peas & potatoes. I apologize for the not so great photo here for sure! Not sure how I could have made this photo any less appetizing 🙂 .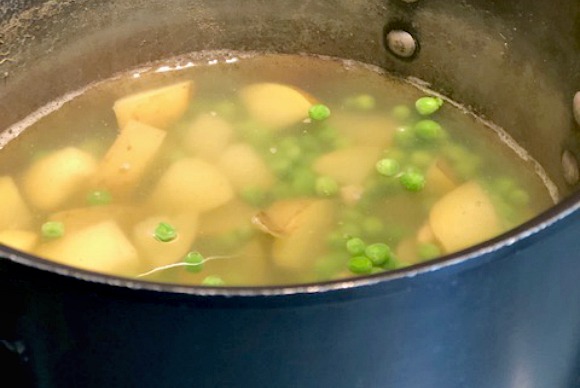 Put 6 or more eggs on to boil. I cook my hard boiled eggs for 7 minutes. We enjoy them a bit soft in the middle. While the potatoes & eggs are boiling, I chop the veggies up and add to a bowl.
I season the veggies with celery seed, salt, & pepper to allow them to marinate for a bit prior to the potatoes finishing up.
Once the potato & peas are finished setting for about one minute, drain. I rinse them thoroughly with cold water to stop the cooking process and cool down so I can add to the veggies sooner. Do the same with the boiled eggs when completed. Fill the pan with cold water to cool down & peel once cooled.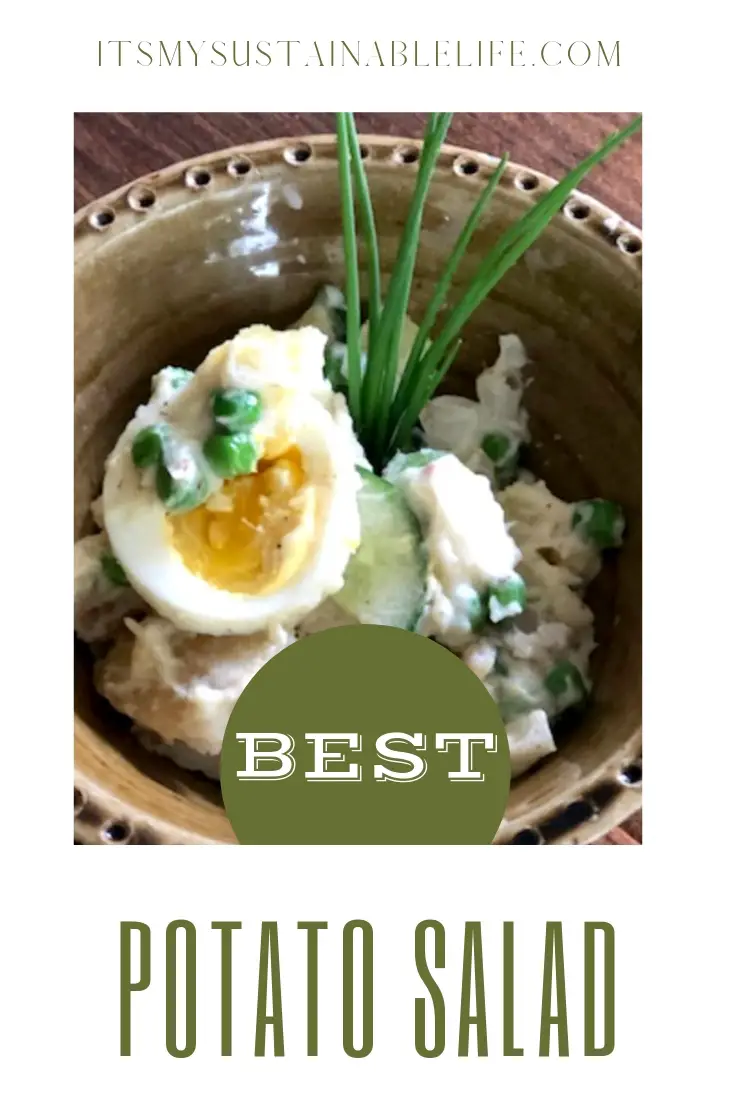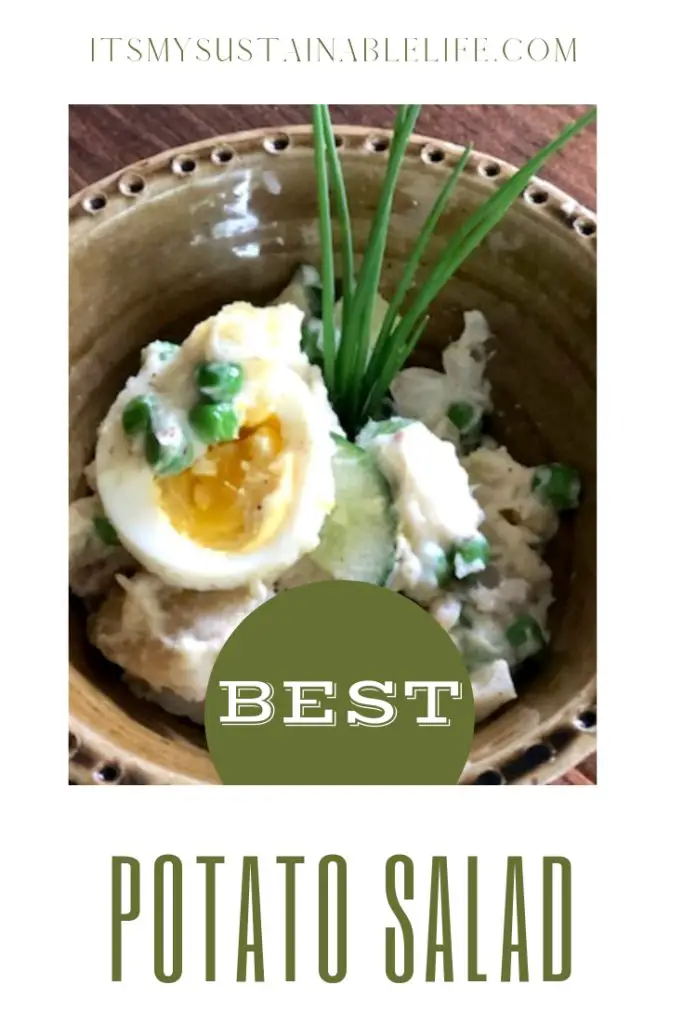 Add cooked peas & potatoes to veggies and lightly mix together to spread the seasonings. Slice boiled eggs to your desired thickness and add to mixture as well.
To save on dishes, I don't mix my "sauce" in another bowl, but feel free to do so if you like. I simply add my mayonnaise, mustards, salt & pepper, to the top of the vegetable & egg mixture in a pile. I swirl the mixture to combine prior to mixing everything together. You may think lazy, but I prefer the term efficient 🙂 .
I like to make this potato salad in advance so that it has time to set and the flavors marinate. The challenge with this approach is keeping everyone, including myself, from "tasting" prior to the meal. I love to serve this salad on a rib of romaine lettuce (additional crunch factor here) alongside with just about anything.
I hope you give this a try, and please let us know if you do! What is your favorite way of making potato salad? Love for you to share your variations by commenting below.
As always, be sure to subscribe & receive IMSL's monthly newsletter filled with tid-bits of all that's homesteading.
Love, Light, & Laughter ~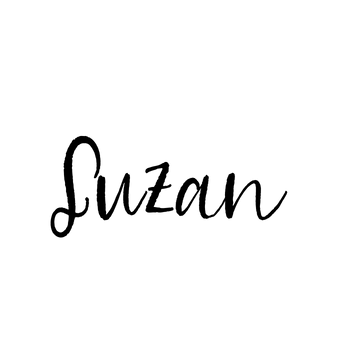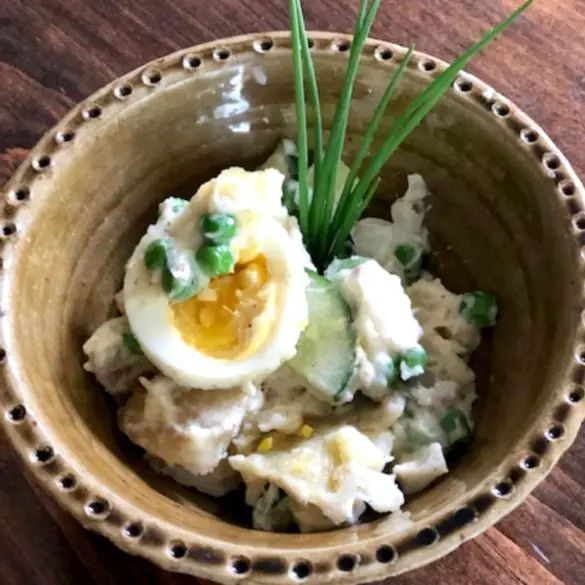 Ingredients
3 Lbs. Potatoes

1 Medium Onion

1 Medium Green Pepper

3 Ribs Celery

1 Cup Peas

1 Medium Cucumber

6 Boiled Eggs

2-3 Tbl Celery Seed

1 Cup Mayonnaise

2-3 Tbl Spicy Brown Mustard

1-2 Tbl Dijon Mustard

Salt & Pepper to taste
Instructions
Prepare potatoes to your desired size.  Boil until fork tender.  
Add peas to boiled potatoes & turn off heat.  Let sit 1 minute.  Drain
Boil & peel eggs.  Slice into desired thickness.
Cut the remainder of veggies into desired size for salad.  Season with celery seed, salt & pepper and let set to marinate.
Combine potatoes, peas, and marinated veggies together.
Add mayonnaise & mustards in separate bowl or on top of salad mixture.  Stir to combine sauce.  Mix gently into salad mixture.
Season to taste with salt & pepper and add additional mayonnaise/mustard as needed.
This recipe was featured at Centerpiece Wednesday, Scraptastic Saturdays, & Saturday Sparks!