Time to make my favorite DIY moisturizer for my dry winter skin.  Learning to make your own

homemade moisturizer for dry skin is so simple you may never want another store-bought option again!
This post may contain affiliate links at no additional cost to you.  By making your purchases through the links on this website, IMSL may make a small percentage at no direct cost to you. IMSL only promotes products we use & truly believe in. Please refer to my Privacy & Disclosures for further information. IMSL thanks you for your support!
It's the time when my skin begins to feel tight, dry and flakey.  As soon as the house is closed up and the wood stoves are cranking out the heat, I know I need to break out my favorite recipe for the best homemade body lotion and moisturizer I've come across.
If you are like I am, I am always looking for ways to limit our exposure to chemicals, preservatives, and additives.  I also seek out products that are organically sourced to limit our exposure to pesticides and other unwanted ingredients such as dyes and fragrances.  By making my own, I control what is added and from where it's sourced.
WHY MAKE YOUR OWN MOISTURIZER?
Our skin is the largest organ in our body.  It's alive, breaths and absorbs all it comes into contact with.  It protects us.  It's an organ worth noting and taking the best care of possible.  Keeping your skin healthy and supple, with as limited additional chemical exposure as possible, is the least we can do for our hardworking epidermis!  
Skin acts as a waterproof, insulating shield, guarding the body against extremes of temperature, damaging sunlight, and harmful chemicals. It also exudes antibacterial substances that prevent infection and manufactures vitamin D for converting calcium into healthy bones. Skin additionally is a huge sensor packed with nerves for keeping the brain in touch with the outside world. At the same time, skin allows us free movement, proving itself an amazingly versatile organ.
This lotion recipe absorbs very quickly, unlike other recipes I've tried which can leave a greasy residue.  My skin remains soft and supple all winter. 
It makes a great hand lotion throughout my day during the cold months.  I find that I do not develop the deep hangnails when using this lotion as compared to others. 
I also apply this to the soles of my feet.  I don't know about you, but my feet become very "scaley" during the winter months, especially on the heels.  By applying this after my shower my feet remain soft and my heels don't crack.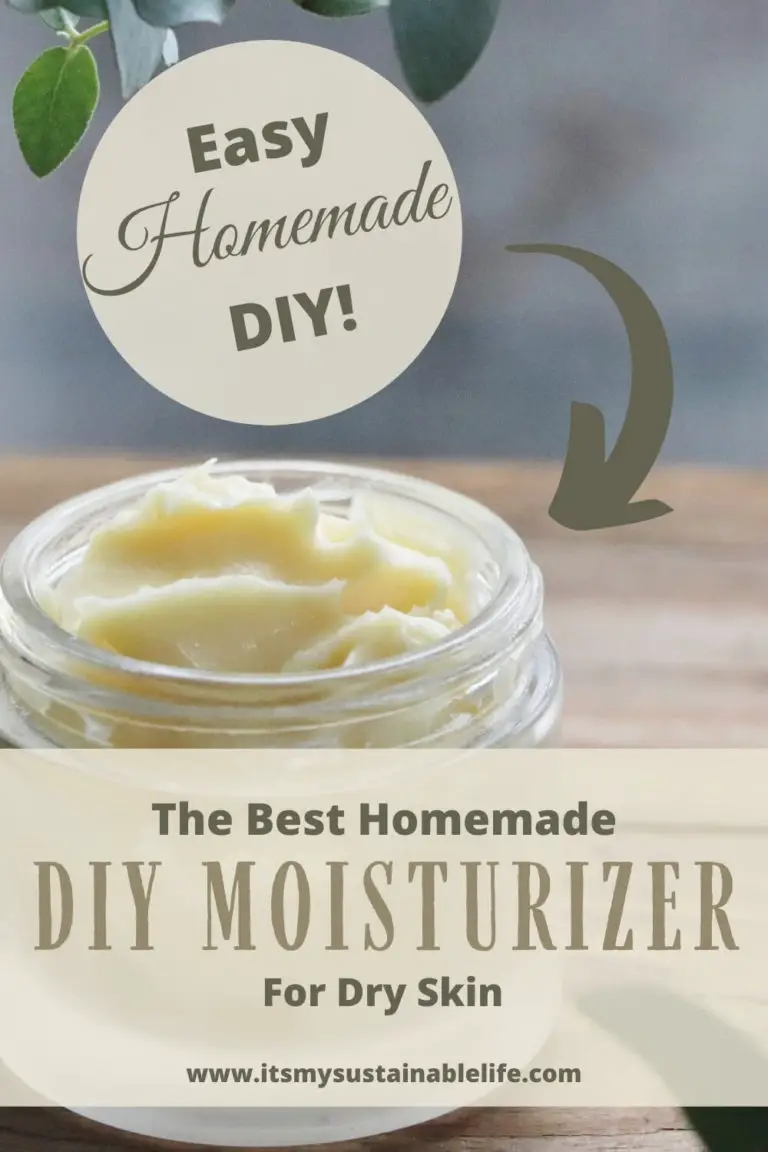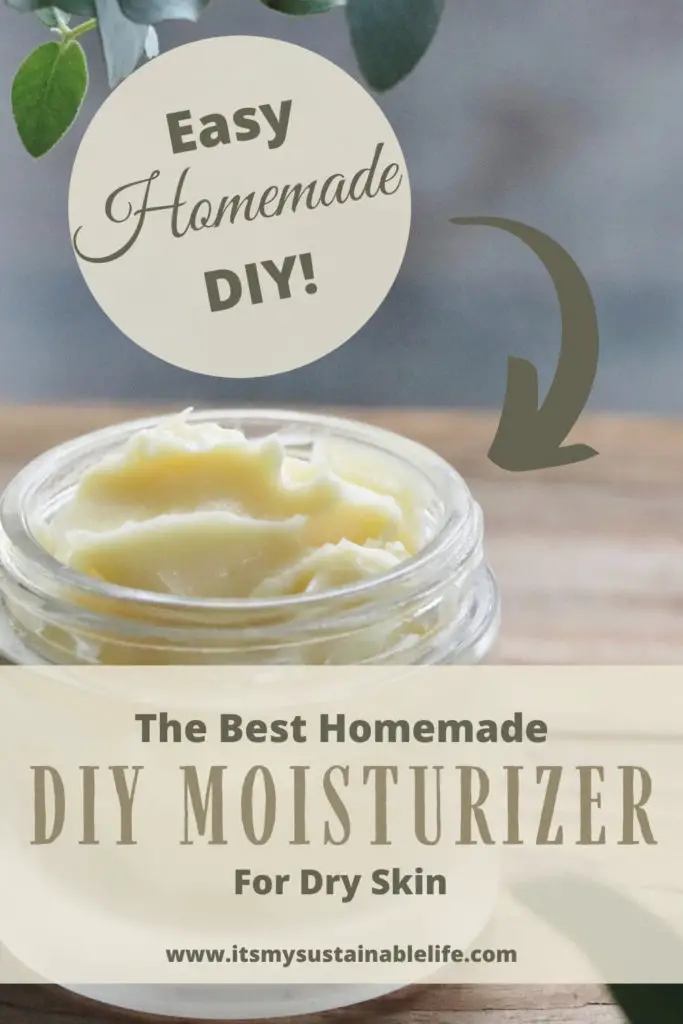 HOW TO MAKE THE BEST HOMEMADE MOISTURIZER
To save time, I have my "Lotions & Potions" basket that I can just grab on the go which has all the supplies I need to whip up some fantastic brews.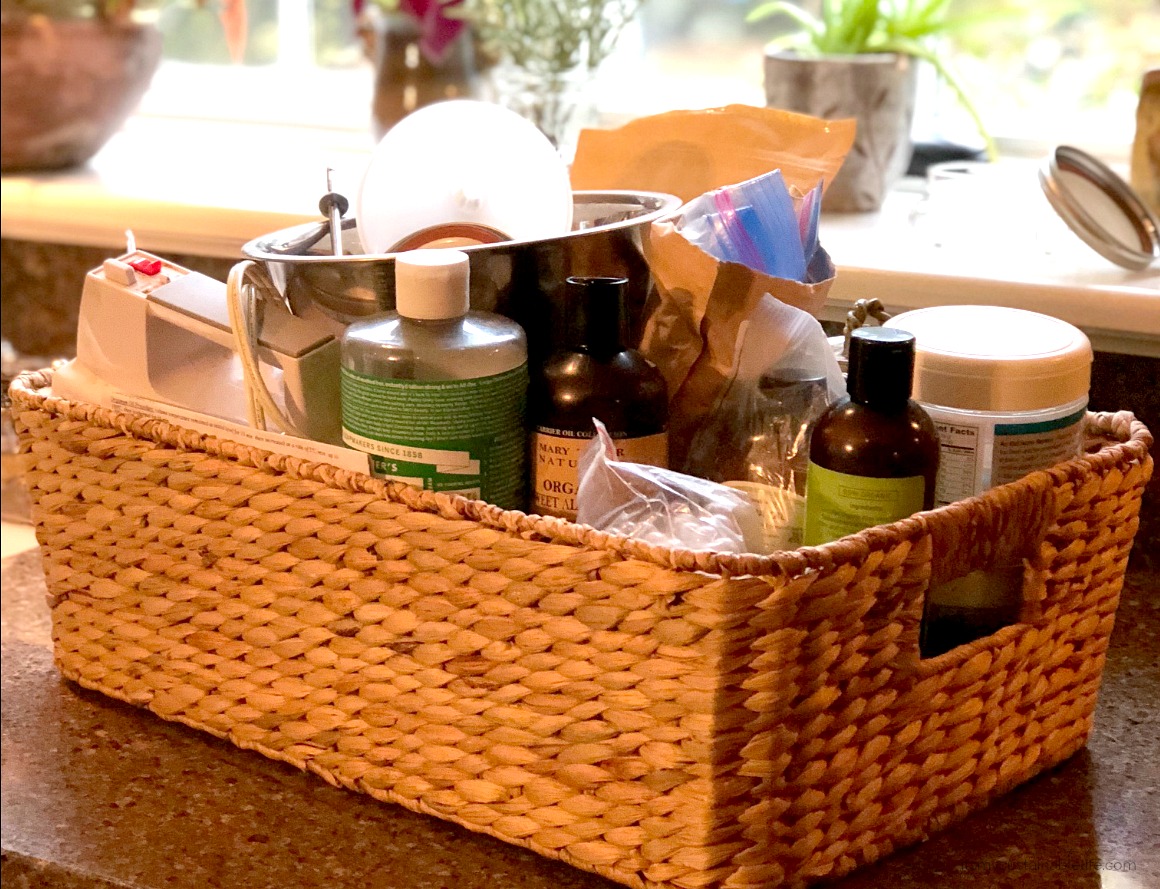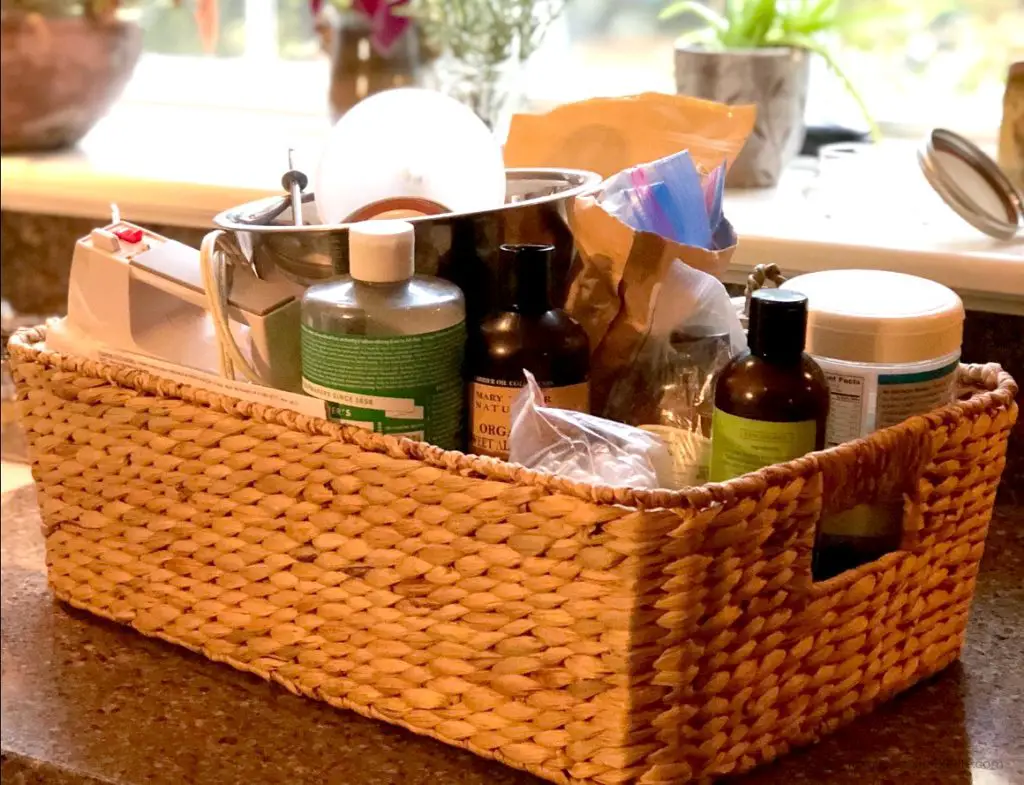 Making lotions is quick, easy and saves money as well as being eco-friendly.  As always, choose your ingredients carefully and note where they are sourced from and how.  Below are the ingredients used for making this homemade body lotion recipe.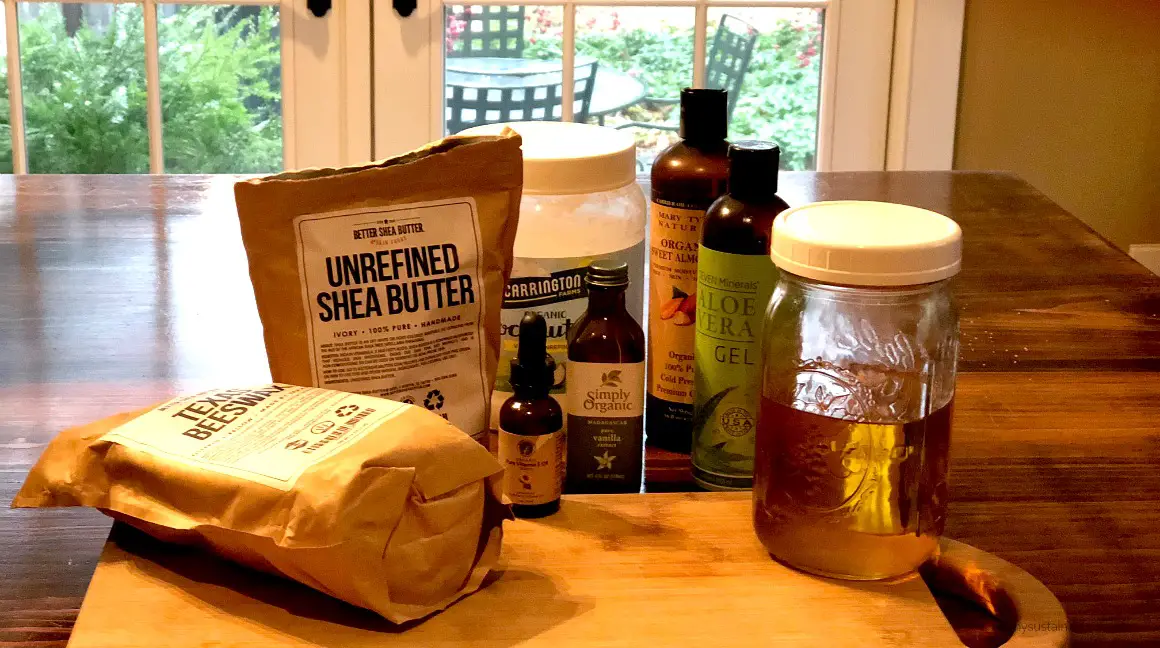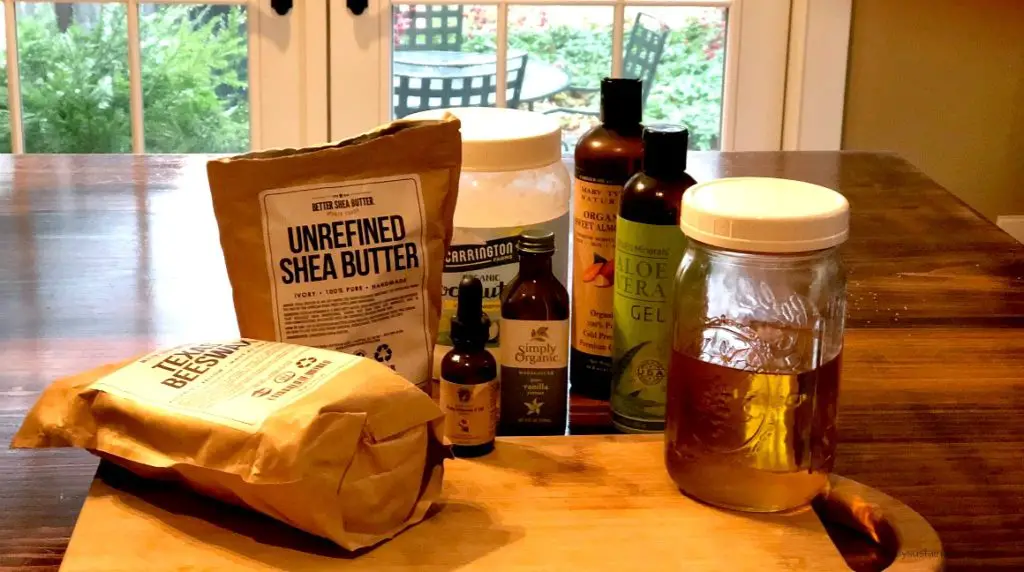 For this batch, I chose to mix the oils used up a bit, as well as I have added Aloe Vera Gel which allows me to emulsify it into a butter.  The printable recipe listed below is for a base recipe and one you can easily change up to suit your needs.  I will describe how I made this batch for you just as an option for you.  The following ingredient list is what I have chosen for my batch.
STEP 1 – You will need a Bain Marie or double boiler to make this easy.  I just place a bowl that fits over a medium-size stock pot with about 2-3 inches of water.  I have a designated bowl that I use only for this purpose, but you can easily use any heat resistant bowl.  Don't have the right size bowl?  Many use a pyrex measuring cup or something similar and place right in the water as well.  I find the double boiler method easier.
Slice approximately 1/2 Tbl beeswax and put in a bowl along with your butter and place over your stock pot.  Melt over medium/low heat until the beeswax is entirely melted.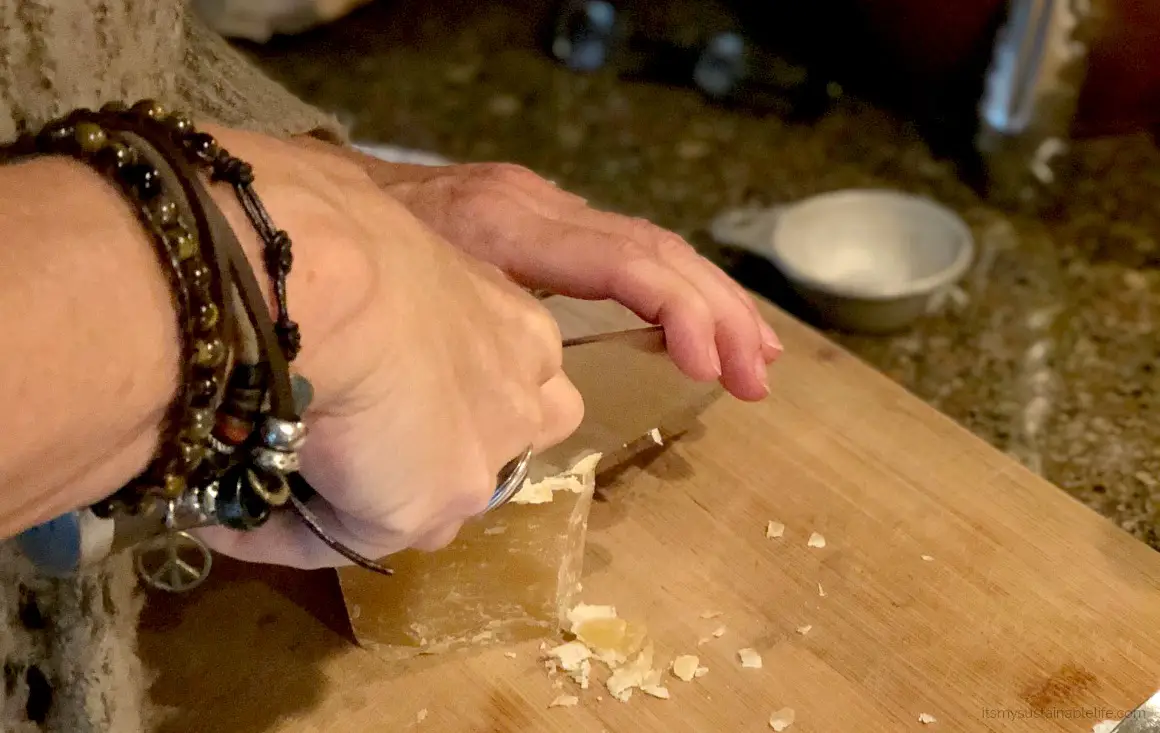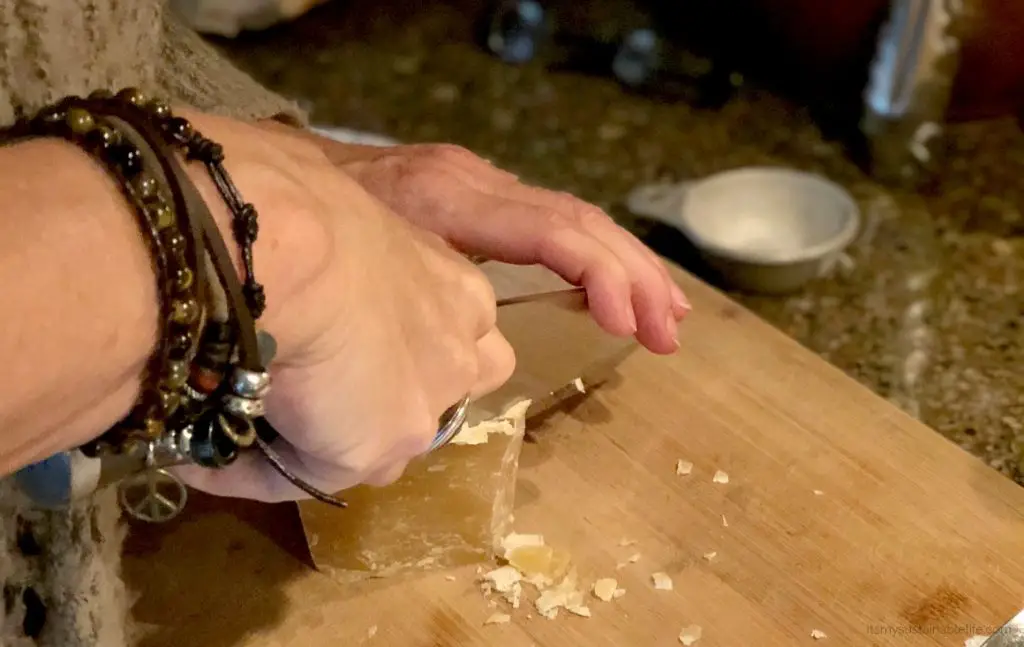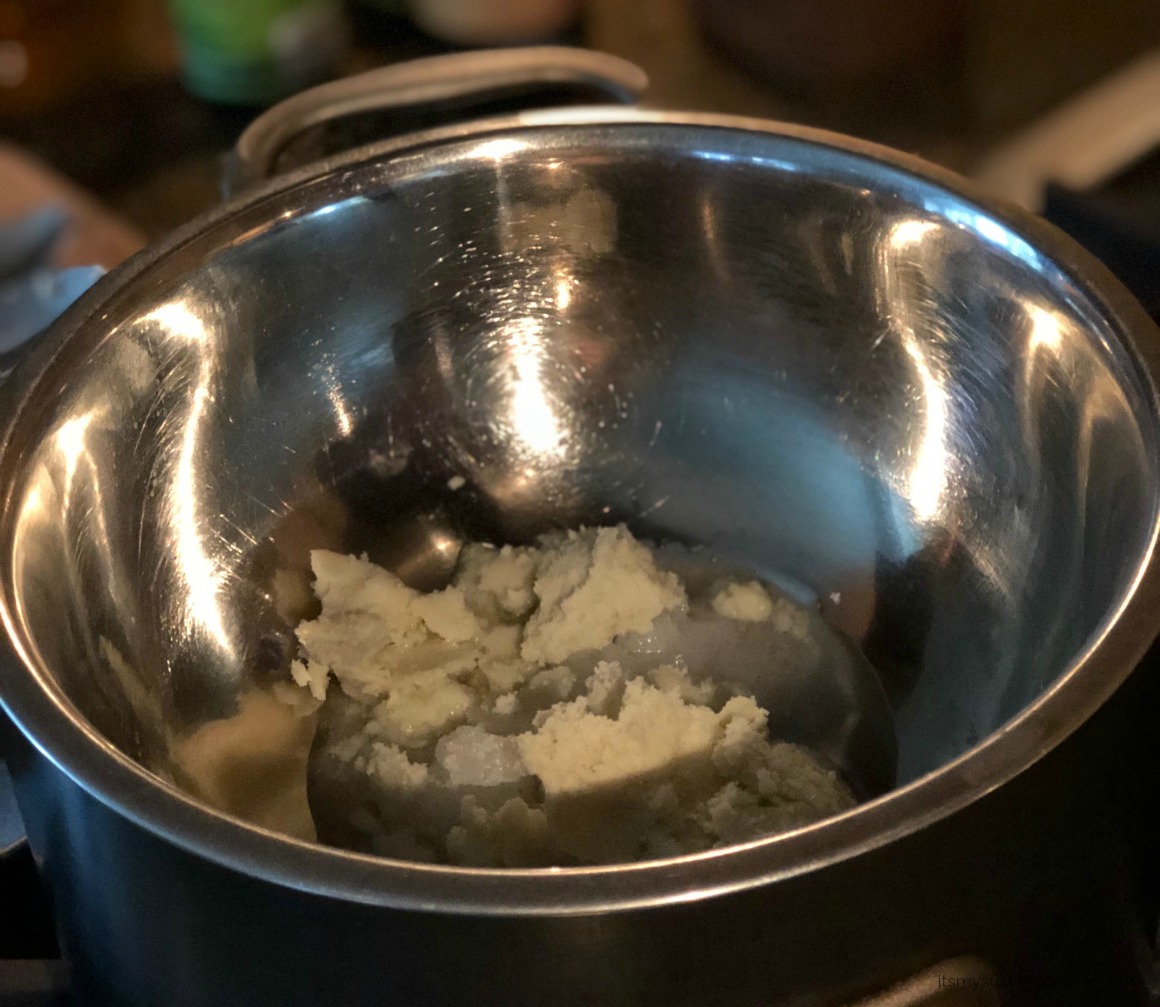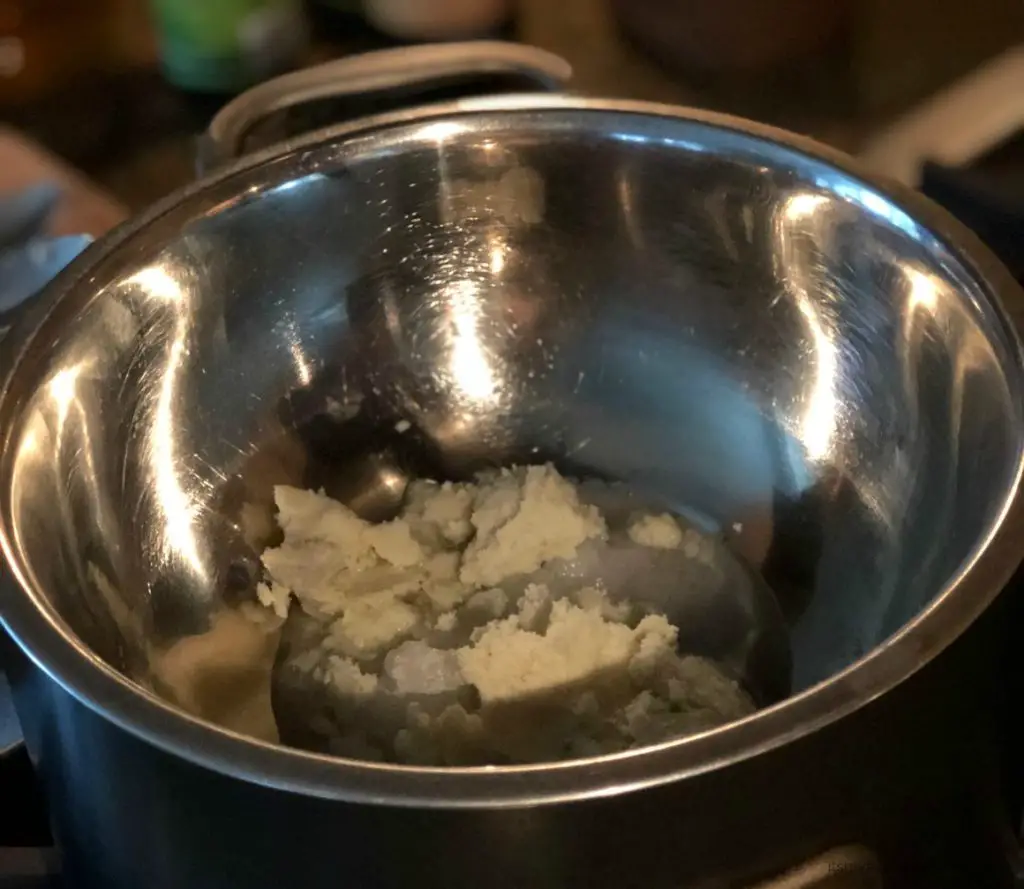 STEP 2 – Once all melted completely, remove the bowl from the heat and let cool for about five minutes.  Add your oils of choice. 
Note: the oils may be added to the butter and beeswax when heating instead if desired.  I usually add the oils after all is melted, just less to have to bring to temperature. 
I've added 2 Tbl Sweet Almond Oil and 2 Tbl Calendula Oil as well as roughly 1/2 tsp Vitamin E Oil and 1/2 tsp of Vanilla Extract or 15-20 drops of your favorite essential oil to scent.  Stir well to combine.  Let cool.  The moisturizer may be placed into a glass container as is or you can whip your body butter up as I have.   
If you choose to whip the butter, place the bowl on a hot pad and put it in the refrigerator for about an hour to cool as well as firm up a bit. 
Once firm, I use an old handheld blender but feel free to use whatever you have on hand to blend.  Blend on medium speed and VERY slowly pour about 1 tsp Aloe Vera Gel (or more as needed to reach your desired consistency) a little at a time until the desired consistency is reached.
UPDATE: Having received so many inquiries about how I blend and whip my moisturizer, I've created a short video below just for you 😊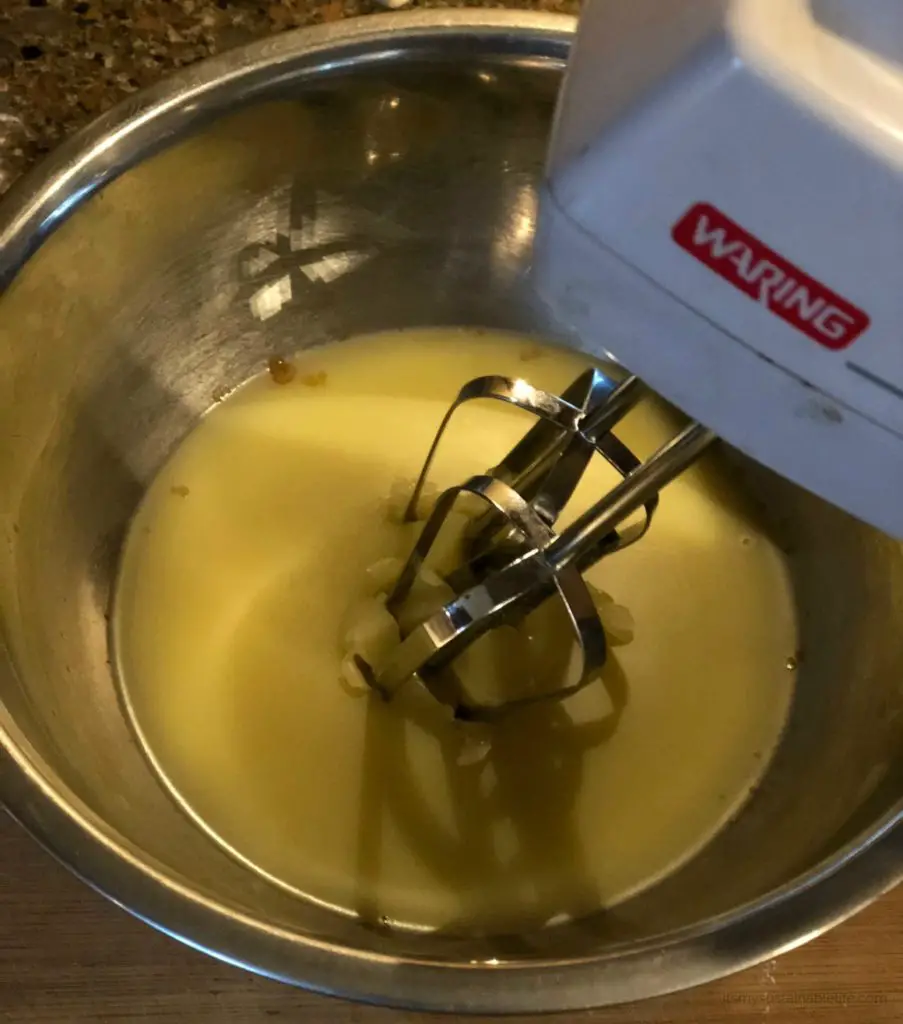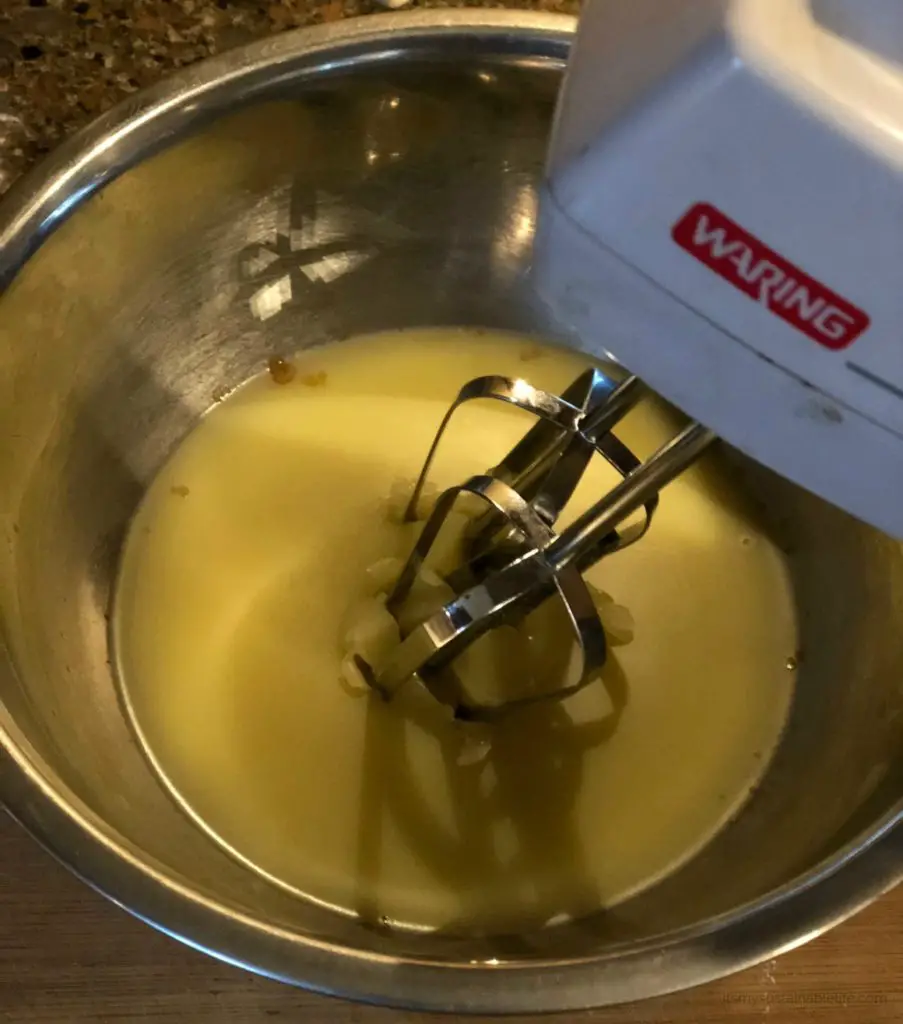 Whip The Firmed Mixture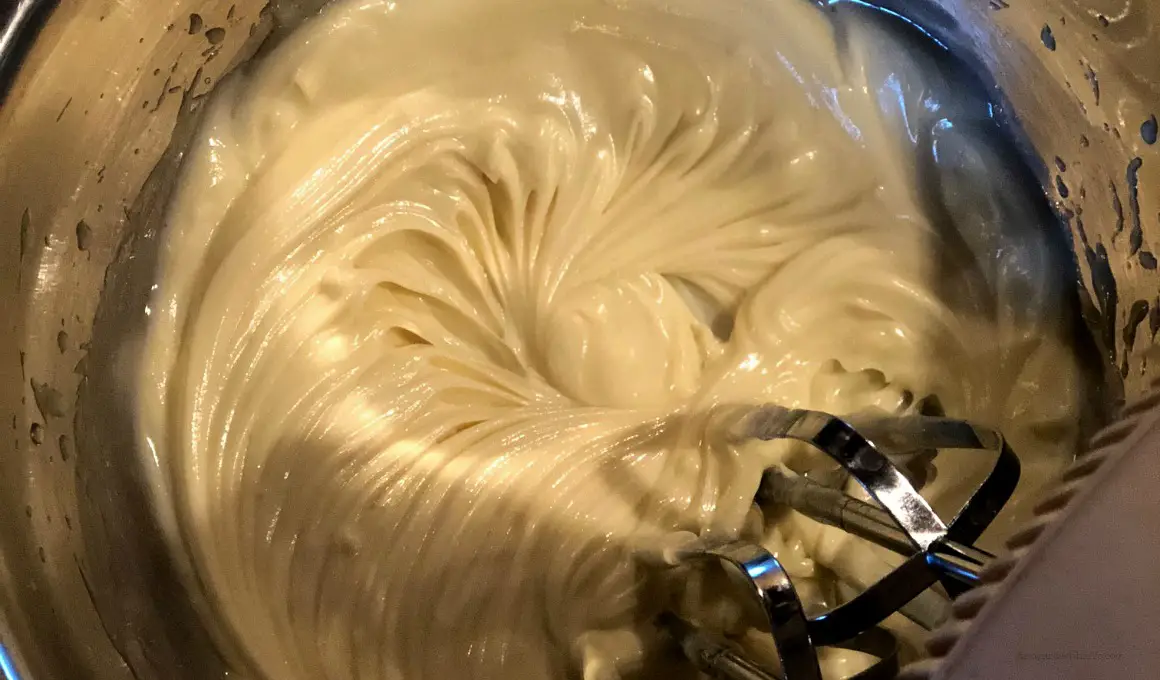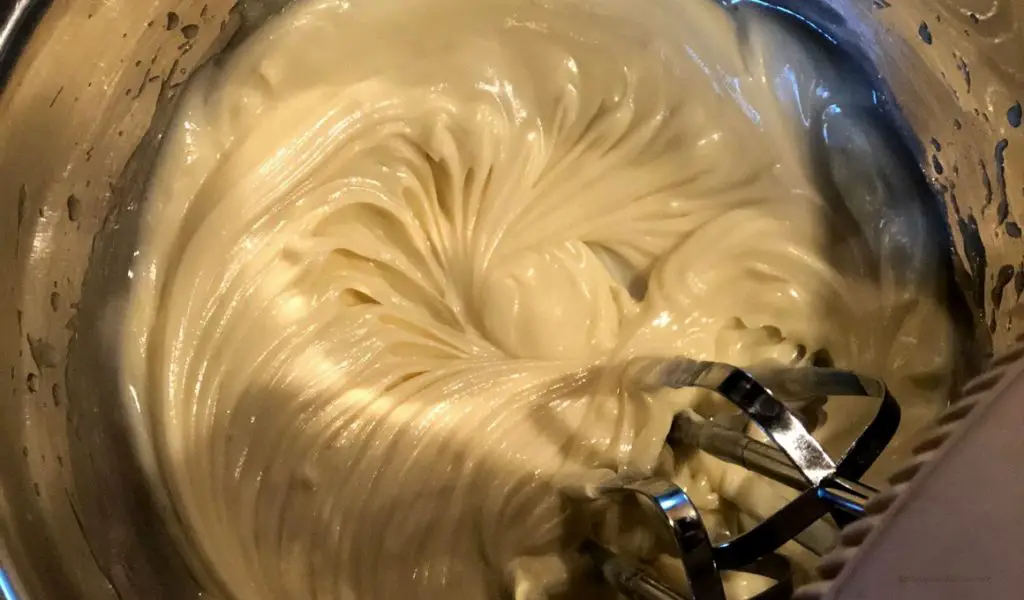 Once you've reached your desired consistency, use a rubber spatula to get all that creamy goodness into a glass jar for storing.  This recipe makes a pretty small batch, so I always double the recipe as we go through this rather quickly in the winter.  Should you opt to make more at the same time, store additional jars in the refrigerator and they will keep for up to six months.  I use dark colored jars (can be found here) if I am planning on storing long-term.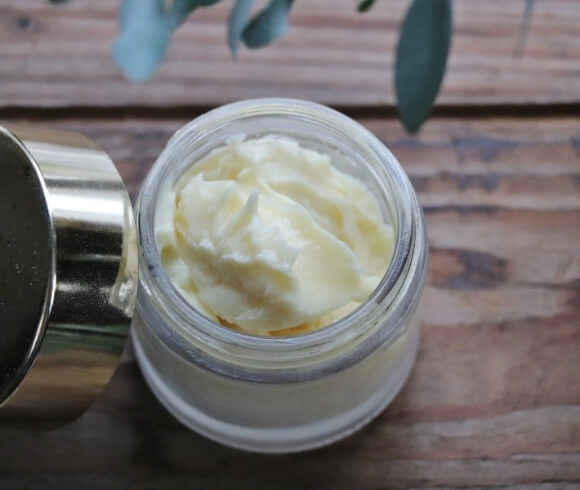 This versatile recipe is my absolute favorite base recipe to use.  I adjust as needed.  For example, summer months when I want something a bit lighter, I will add 1/2 shea butter and 1/2 mango butter (can be found here).  If I need a bit heavier lotion, I add cocoa butter (can be found here) along with the shea butter.
Although the initial outlay is a bit of an investment, the amount of lotion which can be made is substantial.  I have never actually added up the ounces that can be made but will make for an interesting experiment and will surely update this post with results. 
I can state, that as of the date of this post, the last order I made for shea butter (the one butter I always include when making lotion) was on February 10, 2018.  So the supplies needed last!
One last note, I combine making my lotions along with my other homemade toiletries.  Check out my posts for making homemade deodorant, "How To Make The Best Natural Deodorant & Why",  as well as my homemade toothpaste, "How To Make The Best Homemade Toothpaste"!
Have a favorite recipe to share?  Love to hear from you!  Want to hear more?  Be sure to join us below to receive ISML's monthly "Happenings On The Hill"!
Love, Light, & Laughter ~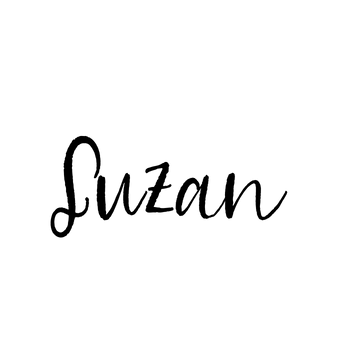 How To Make The Best Homemade Moisturizer For Dry Winter Skin
This vanilla body lotion is rich, deeply moisturizing and perfect for dry winter skin!
Ingredients
2

Tbl

Coconut Oil

Recommended organic, unrefined oil

2

Tbl

Shea Butter

4

Tbl

Sweet Almond Oil

1/2

Tbl

Beeswax *optional

1/2

Tsp

Vitamin E Oil

1/2

Tsp

Essential Oil

optional

1

Tsp

Aloe Vera Gel (may need more as needed)
Instructions
Place the first 4 ingredients into bain marie or double boiler.  Melt over medium heat

Remove from heat and cool for approximately 5 minutes

Add essential oil of choice and vitamin E oil.  Stir to combine

For whipped butter, place in refrigerator for one hour

Remove from refrigerator and blend with hand held mixer adding aloe vera gel very slowly until desired consistency is reached
Notes
 Vanilla Extract can be substituted for the essential oil
 Any oil of choice may be used.  I like to mix Calendula Oil and Sweet Almond
 Double the batch.  Store additional lotion in the refrigerator for up to six months
 Those in warmer climates may wish to add 1 tsp beeswax during the melting process          
FDA DISCLAIMER
Recommendations and or suggestions made by this blog regarding husbandry and or herbal remedies etc. are not meant to replace solid advice from qualified professionals.  None of the information on this blog has been evaluated by the FDA.  Products or remedies mentioned are not intended to diagnose, treat, cure or prevent disease.  Please do your due diligence.  Research, talk to qualified professionals and proceed at your own risk.