Calendula oil may be one of the easiest products you can make and use from this versatile and medicinal plant.
This post may contain affiliate links at no additional cost to you.  By making your purchases through the links on this website, IMSL may make a small percentage at no direct cost to you. IMSL only promotes products we use & truly believe in. Please refer to my Privacy & Disclosures for further information. IMSL thanks you for your support!
Making our own calendula oil is quick, easy, and something we use readily here on the hill.  Its fresh flower petals have been widely used in ornamental gardening, culinary, cosmetic, and medicinal uses for centuries.
It is one of the easiest annually flowering plants to grow in your garden, beautiful amongst the veggies and is known for its pest repellant qualities. 
Calendula, Calendula officinalis, is of the daisy family, Asteraceae, and is readily known as Pot Marigold.  With the plants powerful antioxidant, antiviral, astringent and anti-spasmodic properties, this plant has a multitude of uses.  
WHAT IS CALENDULA OIL USED FOR
For a complete listing of Calendula Flower Uses be sure to check out my post on just that!
In the meantime, the flowering petals can be used fresh, adding to salads and dishes, having a similar taste to that of saffron. They can be dried and used in teas, wonderful for menstrual issues.  The dried petals can be tinctured, easing gastrointestinal issues as well as promoting oral health in homemade toothpaste and mouthwashes.  Infused into an oil it can be used for skin issues ranging from diaper rash, eczema/psoriasis, acne, and dry/chapping skin. 
WHAT IS CALENDULA OIL
Calendula oil is the oil which is extracted from the flowers petals and used in a wide variety of ways.  I use my oil during the summer months straight out of the bottle.  During the winter months, I make an amazing butter moisturizer using the calendula oil as one of the carriers.  You can find the tutorial here at "How To Make The Best Homemade Moisturizer For Dry Winter Skin".
The oil makes for a skin nourishing, strongly hydrating moisturizer with anti-aging properties.  Sign me up for that!  In an anti-aging study, it was concluded that:
Calendula officinalis is a herbal plant whose
effects on the skin have not been studied extensively.
Our study has shown that a cream containing
Calendula Officinalis can produce some valuable
effects on the skin. In this study it was found that the
formulation had the ability of inducing skin tightness
which prevents the damage of skin and also
delays the aging process.
GROWING CALENDULA
My Calendula grows steadily throughout the growing months here in New England.  I never have to re-seed, unless I find a variety that I presently don't have growing, as it self-seeds like a weed! 
I have to thin my plants every spring as they are so prolific.  If you don't want the plant to go to seed, you will need to remove the seed heads before they die back.
HOW TO HARVEST CALENDULA FOR MAKING OIL
To harvest for the oil, I wait until the flower is half to fully open and dry from any moisture/dew.  Simply pluck the full head of the flower from the stem.  I always dry my harvest and store for my favorite uses.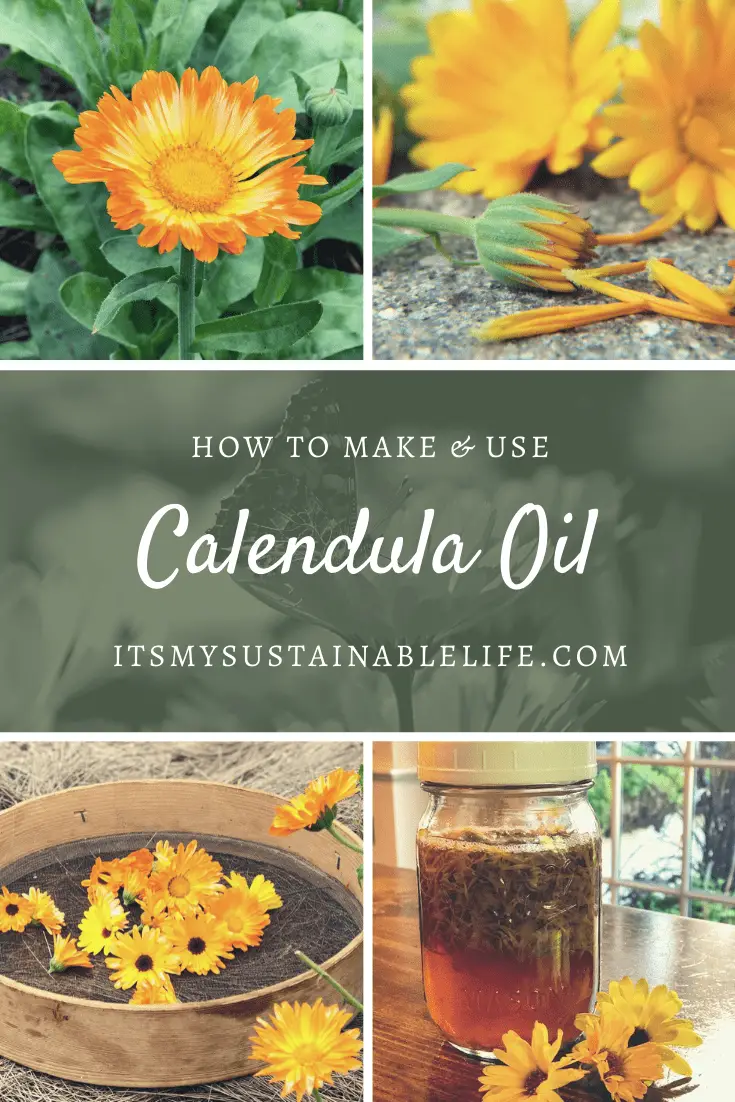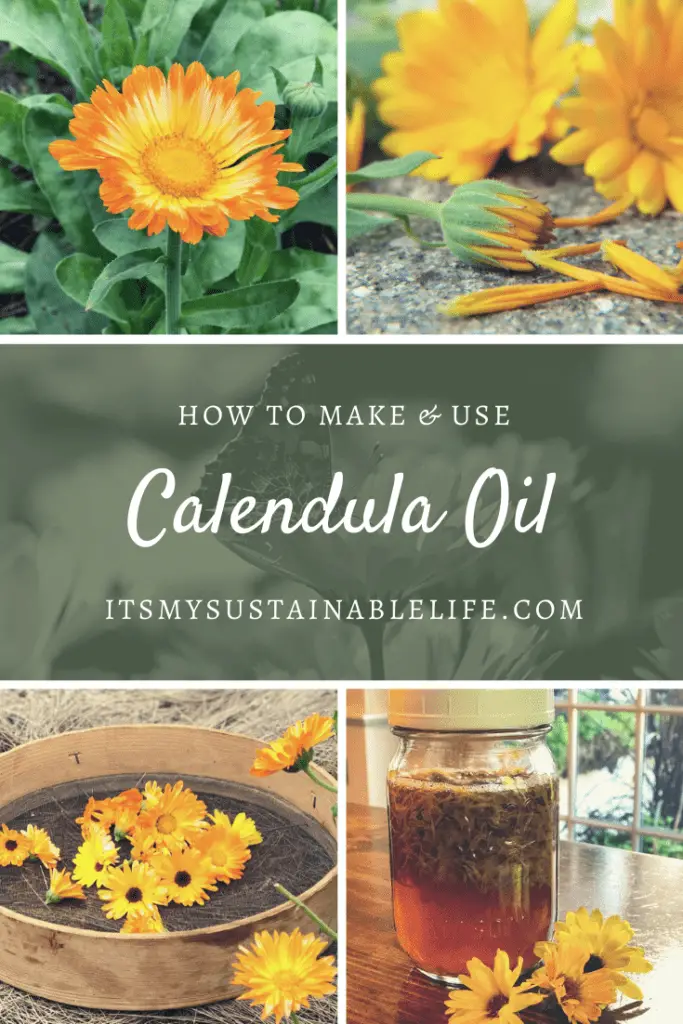 To dry, simply place flower heads on any surface that will get proper air circulation, warm/dry area out of the sun.  I have an antique garden sifter that I use for just this purpose. 
You could use an old window screen or even a dehydrator if your area is excessively humid.
Seen above is my second crop of Calendula, flowering in October, for the season.  My partner in crime, Yogi, assisting me as usual in hopes that something yummy would magically fall into his mouth 🙂 .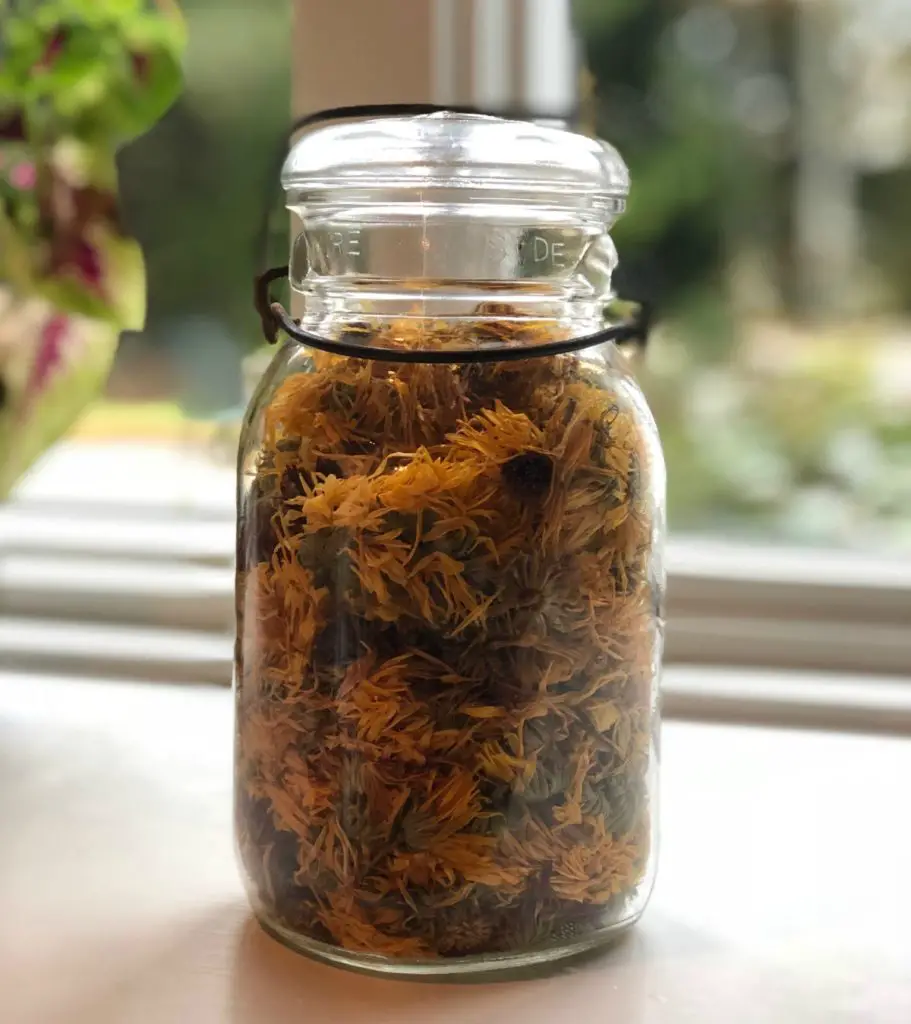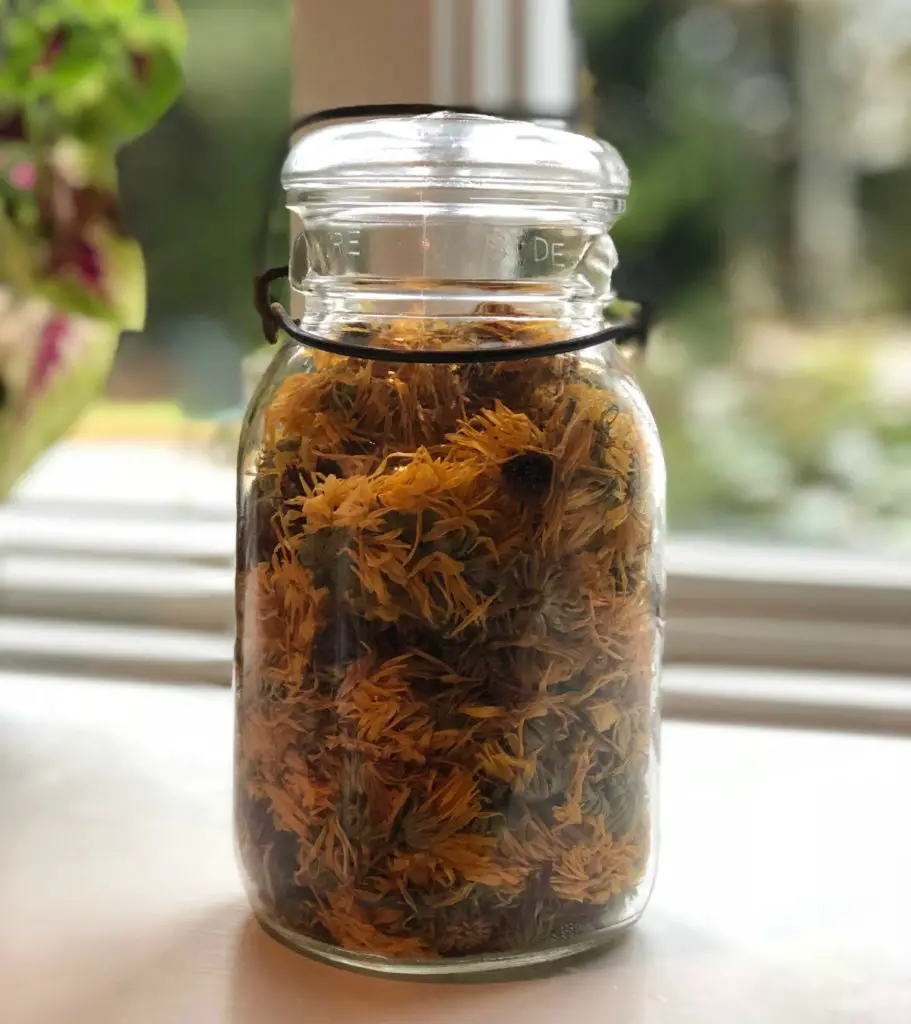 I let the flowers dry in my garage for about a week.  The dried flowers can then be stored in a glass container or even a paper bag and will remain viable until used.

HOW TO MAKE CALENDULA OIL
To make the oil, simply fill a sealable glass jar about 3/4 way full of your dried calendula flower petals (I use the whole flower).  If aren't able to dry them yourself, you can go here to find them. 
Cover with your carrier oil of choice, making sure all the petals are covered by about an inch.  I always use Braggs Extra Virgin Olive Oil as I love the added bennies of what true extra virgin olive oil does for my skin. 
Seal the jar, give it a good shake and place in a sunny window for 4-6 weeks.  Some believe that the oil should be placed in a paper bag to prevent a breakdown of the viable properties due to UVA.  I, however, believe the opposite.  I believe the energy from the sun empowers the oil even further.  This is by far my preferred method.
HEATING METHOD FOR MAKING CALENDULA OIL
Should you need oil quickly, there is a quick method for infusing the oil.  Simply follow the directions listed above and instead of placing in a sunny window, place a kitchen towel in the bottom of your crockpot and place the jar inside.  Add water to cover half the jar.  Set to lowest setting and let run for 2-6 hours.
Once the infusion is complete, strain the oil into another glass container.  Let this set for a bit to allow as much of the golden oil to be released from the flowers as possible.
I like to give the petals a good "squeeze" to get all the oil released when using the solar method of infusing.  My hands are never softer and well hydrated as after this process!
NOTE: When making herbal oils or other herbal concoctions, squeezing should only be done when using dried herb material. When using fresh, moisture remaining in the herbs will be released and can lead to the product becoming rancid.
STORING CALENDULA OIL
Pour the Calendula Oil into your container of choice for storage. When not storing in a dark cabinet, I would highly recommend using dark amber glass jars as it may help with keeping that oil fresh longer.
I love to store mine in my Ball Canning Jars as I have a lot of them available and love these covers for convenience.  The oil should be kept in a cool, dark place for storage until needed.
Aren't able to grow your own calendula?  A great source of dried calendula flowers and petals can be found HERE.
Voila!  Calendula Oil ready for use!  
Follow me for more natural recipes to make for yourself!  Love to hear if you made it yourself and what uses you have found!
Love, Light, & Laughter ~