What's blooming here on the hill? Roses! Making our own DIY rose oil & rose water is how we harness this intoxicating blooms scent for use throughout the year. After all, who doesn't love the aroma of roses?
This post may contain affiliate links at no additional cost to you.  By making your purchases through the links on this website, IMSL may make a small percentage at no direct cost to you. IMSL only promotes products we use & truly believe in. Please refer to my Privacy & Disclosures for further information. IMSL thanks you for your support!
How many times do I stop in the midst of my outdoor chores to smell the roses? Literally. Smell them. Take a moment, stop, and inhale their beauty? If you asked me that question I would answer, often! When my roses are in bloom, they are a draw to my senses.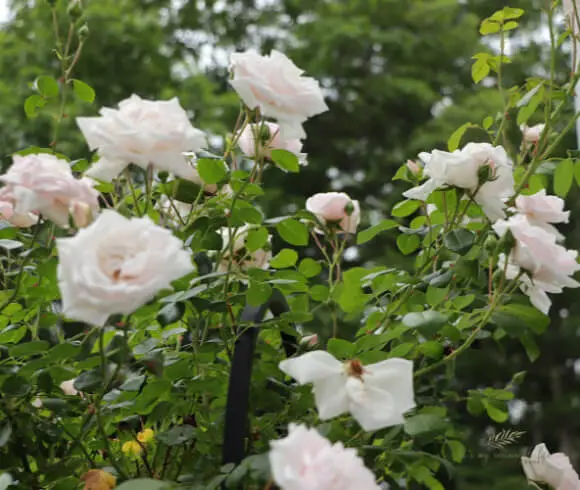 The problem with roses is that they are fleeting. How can we capture all that delicate beauty & aromatherapy that roses have to offer? By creating an infused oil or water preparation that is simple to make.
Will your homemade diy rose oil be as potent as those expensive store-bought options? Not likely. This is not a rose essential oil. But will it be a delicately scented rose oil? Yes.
DIY ROSE OIL VS ROSE ESSENTIAL OIL
To understand the differences between a diy rose oil and rose essential oil, we first need to understand what essential oil is.
Essential oils are derived by distilling plant parts (flowers, leaves, roots, & other parts) into oil. This process is far beyond the capability of most home diy'ers unless expensive equipment is purchased.
Used for centuries for their medicinal properties, essential oils have recently made a comeback for their aromatherapy benefits, and this is what we are aiming for.
HOW MANY ROSES DOES IT TAKE TO MAKE ROSE OIL
Rose essential oil is extremely expensive to purchase. Why? Because it takes only certain rose varieties to make (damask, cabbage, & the white rose of York) … and a lot of them. According to dO-Terra, a popular essential oil company that most are familiar with, it takes a ton. Literally 🙂
Although diy rose oil will not carry the therapeautic, medicinal qualities of the essential oils, it will carry a mild rose scent, great for capturing the aromatherapy of the rose.
CAN YOU MAKE ROSE OIL WITH DRIED ROSE PETALS
In a nutshell, yes. You can make diy rose oil using dried rose petals. Will it be as potent a scent? I don't believe so. When blossoms are dried much of their scent & oils are dried as well, leaving an even more faded scent behind.
We recommend using fresh for making your infused oil, capturing its scent at its highest point, & harnessing the petals natural oils to boot.
USES FOR DRIED ROSE PETALS
If you hate to see anything go to waste during the growing season like us, gather those rose petals as the bloom fades, dry them by simply laying them out on a screen or use a dehydrator, and put them to use.
Here are a few ideas of what to do with organic dried rose petals.
Homemade Potpourri
Add To Relaxing Bath
Create Sachets
In Lieu Of Rice At Weddings
Add To Homemade Paper
Decorate Cakes & Cupcakes
HOW TO MAKE DIY ROSE OIL & ROSE WATER
When it comes to making your diy rose oil you have several options. The quick method or the slow. Both are easy to do & will result in a mildly aromatic oil that is beneficial.
INGREDIENTS NEEDED
As with any project, your end result will only be as good as the ingredients or supplies you use. DIY rose oil is no different. Anyone who knows IMSL knows that we are strong proponents of living an organic & sustainable lifestyle. So when choosing your ingredients, we strongly feel organic is best.
When making your own personal care products such as our lotions, oils, toothpastes, deodorants, & infusions, only the finest organic ingredients will do. Choose your products & supplies wisely. Your body & the earth will thank you.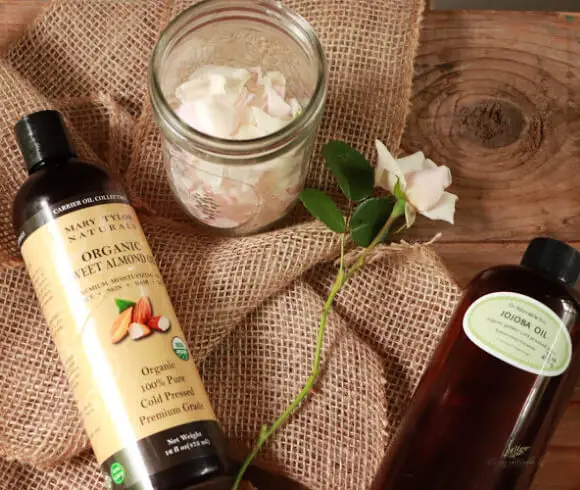 To make your own infused rose oil you will need the following:
HARVESTING ROSE PETALS
To harvest we recommend picking the rose blooms in the morning once the dew has dried. Remove any unwanted visitors, or debris from the bloom.
Should you be blessed and have access to freshly grown, rose petals, ones with no harsh chemicals used, harvest away!
Remove the petals, one-by-one, and gently pat dry. The petals are now ready for use in your diy rose oil.
DIY ROSE OIL – COLD METHOD
Some things just get better with age. DIY rose oil is no exception. We love to make our infused oils via the cold method, or a sun method. If you have 4 weeks time, cold maceration is an option.
For the slow method, simply take your petals, slightly crush to release the natural oils, and place them into a jar of choice. Cover the petals with oil & place a cover on the jar. Store the jar in a bright or direct sun location for 3-4 weeks, gently shaking the jar every few days. Strain the petals from the oil using either cloth or cheesecloth, leaving only the pure, scented oil for use.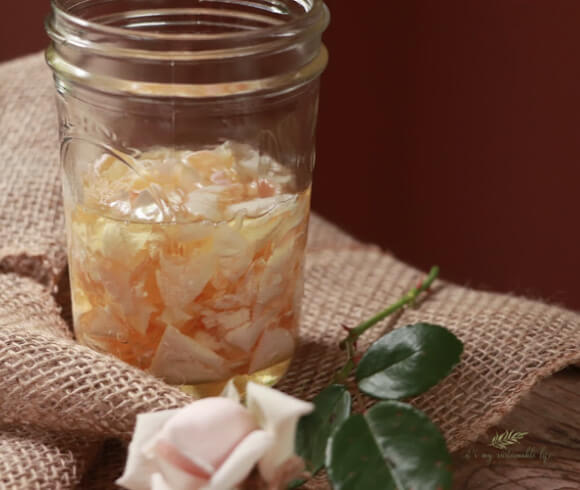 DIY ROSE OIL – HEAT METHOD
Looking for a faster option? Use the heat method for extracting beneficials from the rose. Using a double boiler your rose oil will be complete within a matter of hours.
Place the slightly crushed rose petals into a jar, cover with oil & place in a double boiler (you could also utilize a slow cooker). Bring to a slow simmer. Heat the mixture to about 125 F to 140 F (50-60 degrees celsius) and continue to heat slowly for 5-6 hour time period. Remove the oil from the petals, place fresh petals into the oil and repeat the heating process once again.
Complete this process 3 to 5 times to fully release the roses benefits, or until the desired scent & color of your oil is achieved.
We recommend letting the oil & petal mixture remain intact for several days after using the heat method to further intensify in scent. Strain one last final time & your oil is now ready.
DIY ROSE WATER
Not looking to make an infused oil? Rose water is another option that is easy & quick. To make, simply place your petals as in the previous methods into a jar & cover with boiling water. You will need approximately one part rose petals to two parts water.
Another option is to make a rose hydrosol (aromatic water). Keep a look out for an upcoming article on how to do just that!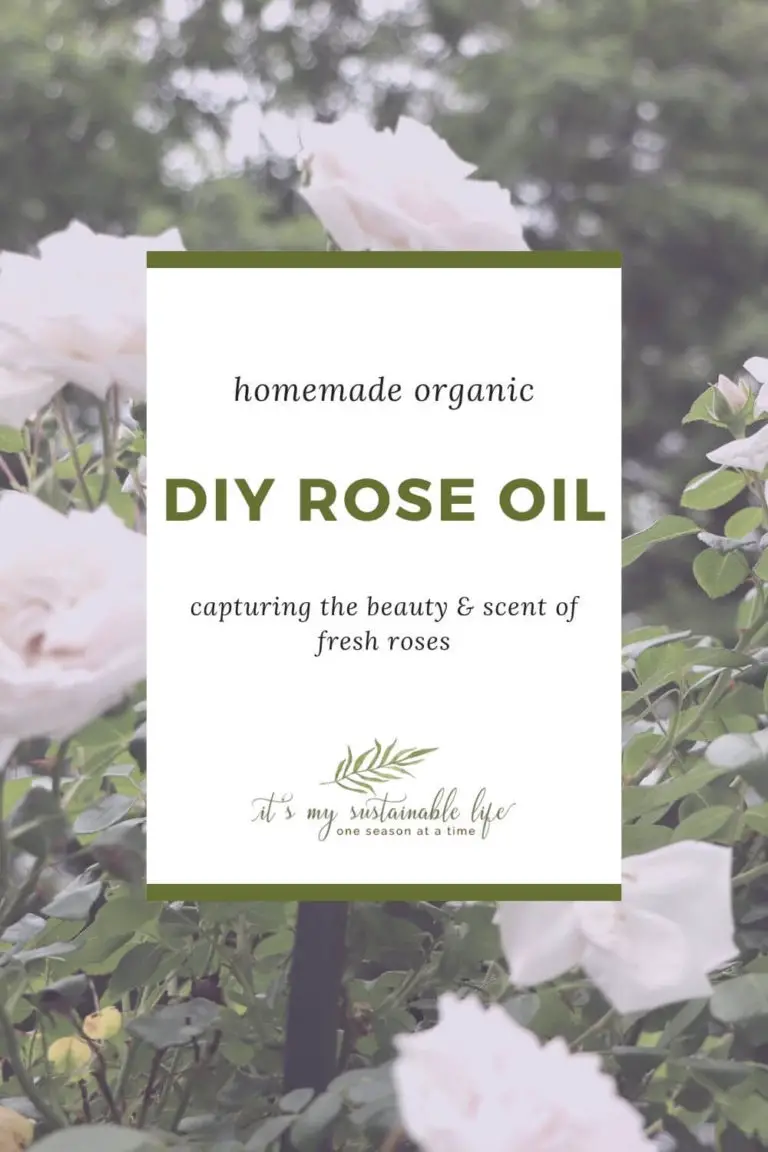 Strain when water has cooled, resulting in a very mildly scented, less potent water which can be used in cooking as well as a refreshing spritzer for the face. Store in the refrigerator for up to one month.
HOW TO STORE DIY ROSE OIL
As with all our beauty & personal care products we make here on the hill, we recommend storing in a darkly colored jar in a dark area (light & sunlight will quickly degrade the product) for best results.
USES FOR DIY ROSE OIL
You now have a scented oil ready for use. How do you use it? Here are a few options of how to use directly or to add to your homemade products…
Massage Oil
Lotions
Face Serum (recipe coming soon!)
Balms
Soaps
Bath Bombs
Foot Soaks
Baked Goods
Aromatherapy
Perfume
BENEFITS OF DIY ROSE OIL
Due to the stunning scent of roses, the oil derived from them works in a multitude of ways, satisfying the senses on many levels.
Rose oil & rose water help with all things skin related. Used by Cleopatra herself for its beautifying benefits, rose is known to improve skin tone, calm irritated skin, moisturize, and help keep a youthful glow.
Added to our homemade products, rose is a welcomed, beneficial ingredient. One that my face will love.
Give it a try! We would love to hear from you! Join our conversation below & be sure to follow IMSL on all social media platforms.
Love, Light, & Laughter ~