This healing gardener's hand and skin salve that you can easily make yourself, will have your rough dry skin breathing a sigh of relief.
This post may contain affiliate links at no additional cost to you.  By making your purchases through the links on this website, IMSL may make a small percentage at no direct cost to you. IMSL only promotes products we use & truly believe in. Please refer to my Privacy & Disclosures for further information. IMSL thanks you for your support!
There are many benefits of sinking your hands into the soil. Keeping your skin smooth & hydrated is not one of them 😂
There is something about working with soil that seems to wick any moisture whatsoever from my hands. For the life of me, I cannot wear gloves in the garden. There is such healing to be had from touching and immersing hands in the soil. And because of that my hands suffer.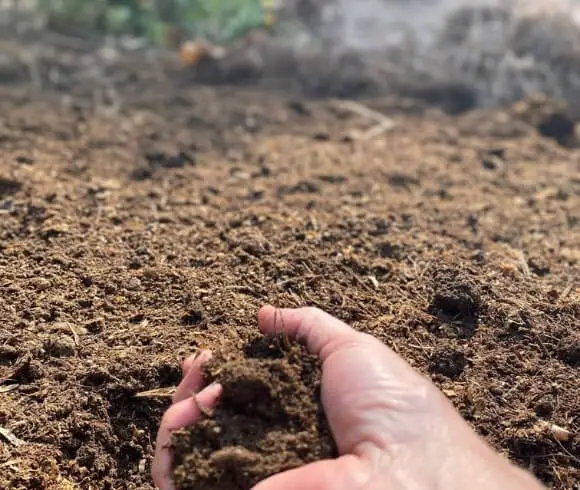 But no matter if you are a gardener or not, if you suffer from dry skin, rough and cracked hands, elbows, and heels of the feet, then making this healing hand and skin salve is just the thing for you! Or as an amazing gift for a friend! Just sayin' 😊
And I love that this base is so versatile. It can easily be adjusted to meet any criteria you may need in a salve! The base recipe as I offer will help to cleanse, nurture, heal, and protect those hands no matter what they may be immersed in.
And do so better than anything you can purchase over the counter if I may say so myself 😊
CHOOSING INGREDIENTS FOR YOUR HERBAL SALVE
As with anything you make, your end product will only be as good as the ingredients that go into it. So too is the case when making your own herbal salves and balms. Therefore, I will only offer you organic options.
As many of you already know, here on the hill we have been on a mission for the past, cough, cough, many years to reduce our overall chemical exposures. And that goes for over-the-counter, petroleum based products such as balms and salves as well as our personal care products such as deodorant, body moisturizers, oils, and toothpaste.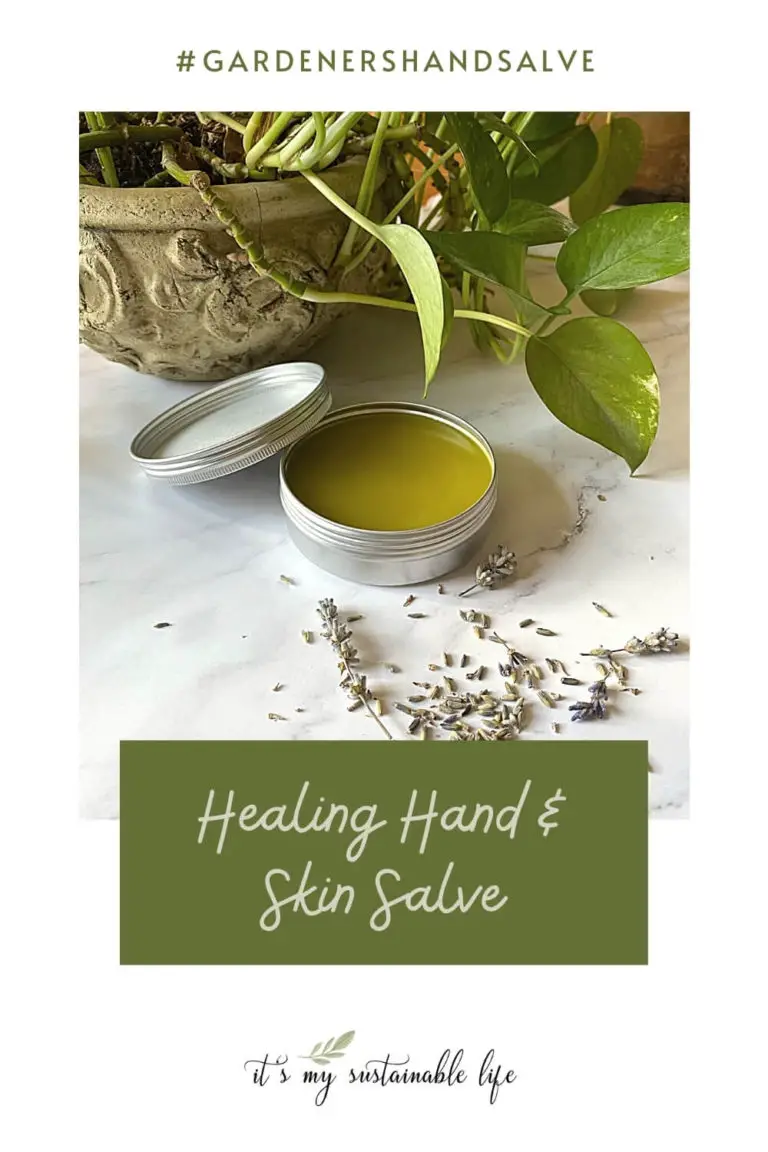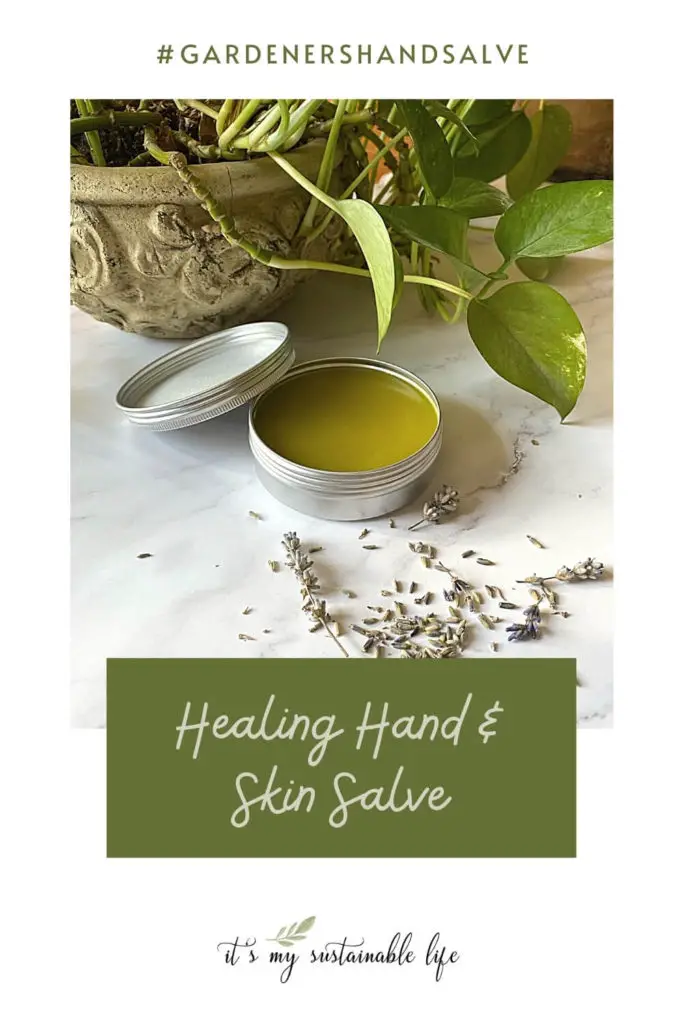 The beauty is, you get to choose exactly what ingredients go in! With a little understanding of the ingredients and their properties, you can adjust the recipe as you need.
THE DIFFERENCE BETWEEN BALMS AND SALVES
I often get asked the question, "what is the difference between balms and salves"? Honestly? I needed to research to find the answer myself, LOL!
And research I did. Take a look at my in-depth article "Balms, Salves, & Butters Knowing The Differences" for a complete look at what makes them unique.

Don't have time to read through? In a nutshell, there really is little difference between balms and salves. They both are nourishing to the skin & have healing properties.
Balms tend to be of a thicker consistency, think lip balm here, that offers a protective barrier for the skin.
Salves on the other hand are a softer consistency and are absorbed more readily into the skin making them a wonderful choice for just that. Healing.
BASE RECIPE FOR THE GARDENER'S HAND AND SKIN SALVE
Before you can alter your recipe, it may be helpful to understand the base recipe for the healing hand and skin salve.
Basically to make a salve you will need the following few ingredients.
OIL(S) – Your choice here. I will go into further options below and their benefits. But as a base, many choose organic EVOO or your choice of herbal infused oil, more on that below
WAX – You will need some sort of binder or thickener for your oils of choice. Wax is a good option. More on this topic below of your wax choices
HERBS AND/OR ESSENTIAL OILS – Your choice of which herbs and/or essential oils to use will largely depend on the issue you are looking to address. Some good options will be listed below
That's it! Simple ingredients can lead to amazing results. Let's dive into the options a bit further.
CHOOSING HAND AND SKIN SALVE OILS
Who knew there were so many options when it came to choosing oils? Some of the best options in my opinion? EVOO (packed with antioxidants and vitamins), Sweet Almond Oil (full of vitamin E and A and boasts antifungal properties), and Arnica Oil (anti-inflammatory & antibacterial properties) are all choices you can't go wrong with.
My favorite oils of choice, however, are those are infused with herbs from my garden each year.
DANDELION OIL – Dandelion oil boasts of an amazing list of properties. However, for the healing salve, you can bet you will be on the receiving end of an oil that is "known for its pain relieving qualities (anodyne) as well as it's moisturizing (emollient) benefits"
CALENDULA OIL – Hopefully you've already read my article "Calendula Flower Uses" and become familiar with the many uses of this amazing, medicinal flower! For the salve, adding your own calendula oil will offer an "oil (that) makes for a skin nourishing, strongly hydrating moisturizer" 
PLANTAIN OIL – The option of adding an oil infused with plantain will bring strong anti-inflammatory and antimicrobial properties to your salve
COMFREY OIL – Comfrey roots and leaves contain allantoin and rosmarinic acid. It's the allantoin, a regenerative substance that promotes new skin cell growth, as well the rosmarinic acid, which has strong anti-inflammatory properties that help to relieve pain and inflammation
VITAMIN E OIL – Probably the most well known oil for skin health, vitamin e oil. Adding a few drops to your salve will add to the overall efficacy of your salve. Vitamin e oil is a fat -soluble antioxidant that has been used for "more than 50 years in dermatology"
CHOOSING HAND AND SKIN SALVE WAX
As stated, you need something to hold or bind your oils and other ingredients together. Thus, the wax. Even in wax, however, you have options.
WHY CHOOSE BEESWAX FOR YOUR HAND AND SKIN SALVE
The most common choice of wax is beeswax. Why? It has an amazing amount of healing properties and works amazingly as a binder.
Beeswax offers anti-inflammatory & antimicrobial properties and is often used to treat wounds and heal skin.
No wonder it's a first choice for many when making their own products!
HOW TO MAKE A VEGAN VERSION HAND AND SKIN SALVE
That being said, there are many who are just not willing to delve into the use of beeswax in their products. Making your salve without beeswax is an option. Thankfully, you have an alternative choices of wax for your salve! Unfortunately, with a few concerns.
CARNAUBA WAX – Carnauba wax is used quite prolifically in the making of over-the-counter products and acts as an emulsifier for many products. It is made from the Brazilian palm, Copernica prunifera, which has come under scrutiny for over harvesting and having a negative ecological impact on the Amazonian Rainforest
It should also be noted that there are rare occasions when some have developed negative side effects or allergic reactions from ingesting & using carnauba wax products.
SOY WAX – Soy wax, a softer & creamier version of beeswax. It should be noted, that if soy wax is chosen, I would recommend researching where you source your product. Unfortunately, here in the States, only a very small amount, about 2%, of soybeans are grown organically and not from GMO's (genetically modified organisms)
As you can see, weighing all the pro's and con's for each and making your decision of which wax is appropriate for you is definitely a personal one.
CHOOSING APPROPRIATE HERBS FOR YOUR SALVE
Oh, where to begin! There are so many herbs, too many to mention, which can be utilized in the creation of a healing hand and skin salve that it's difficult to know where to begin.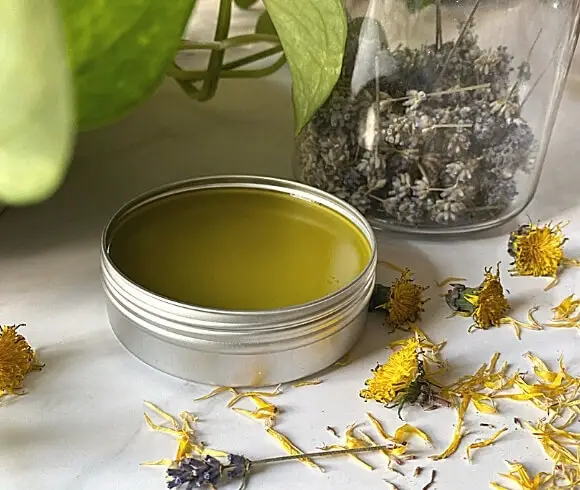 Let's just go over the favorites that I haven't already mentioned. Well, ok, I'll re-mention some of them in brief only just because they deserve a second mention.
DANDELION – Not only are these sunny flowers pretty to look at as well as in scent, but dandelion offers so many healing benefits as mentioned above.

Use as an infused oil that you make yourself or
Add 10 to 20 drops of essential oil = Helichrysum

CALENDULA– Another gorgeous bloom that has amazing healing properties as mentioned

Use as an infused oil option or
Add 10-20 drops of essential oil

PLANTAIN – One of Mother Nature's premiere healers as mentioned

Use an infused oil option

COMFREY – Should you be looking for anti-inflammatory and pain relief then this is definitely a go to herb for your healing salve

Use as an infused oil option

LAVENDER – Not only will the addition of either lavender infused oil or lavender essential oil add an amazing scent to your salve, it will also bring with it a plethora of anti-inflammatory, antimicrobial, and anti-septic properties, making it a great addition for healing dry, chapped skin

Use as an infused oil option or
Add 10-20 drops of organic lavender essential oil

CHAMOMILE – A powerhouse choice for a healing salve. Chamomile's anti-inflammatory, anti-fungal, antibacterial, antiseptic properties as well as it's essential oils and antioxidants make this a no brainer in my opinion

Use as an infused oil option or
10-20 drops of organic essential oil

ARNICA – Arnica is well known for treatment of bumps and bruises. But this herb is also a superstar when it comes to caring for the skin. Arnica's anti-inflammatory, analgesic, anti-bacterial, and antiseptic properties make this a go-to for a healing balm

infused into oil or
Add a squirt of arnica gel

GINGER – Yup, you heard right. Ginger as in ginger root. Ginger is filled with "gingerols", naturally occurring oils, that work to reduce pain and inflammation. Ginger can be infused into oil, used as a dry powder addition, or as an essential oil addition

Infuse into oil or
Add 10-20 drops of essential oil or
Add 1/4 to 1/2 tsp of dried powder

ROSEHIP – Containing a naturally occurring vitamin E, rosehip make for a nourishing and deeply moisturizing addition. Rosehips also contain omega's 3, 6, and 9 fatty acids and vitamin C which all work to repairing damaged skin

Infuse into oil

ROSEMARY – A powerful herb with many healing benefits including anti-inflammatory properties which make it a potent choice for those with chronic skin issues

Infuse into oil
Make into a hydrosol (post coming soon on this process)
Add 10-20 drops of essential oil
Don't grow your own herbs? You can source organically grown herbs from my go-to when I'm out, Mountain Rose Herbs.
ESSENTIAL OIL CHOICES FOR YOUR SALVE
Quite a few have already been mentioned above. They all make great choices and are mentioned to invoke your curiosity and research.

And I highly recommend researching. Essential oils are powerful in their own right, are not all created equal, and are certainly not for everyone. So research and determine which is best for you if any.
Here are a few more I'm listing as food for thought.
OREGANO – Both anti-fungal and anti-bacterial
TEA TREE – Anti-microbial and anti-inflammatory
SWEET ORANGE – Anti-bacterial, filled with Vitamin C, and boosts circulation to the skin
LEMON – Contains all the anti-oxidants and vitamin C your skin may need
PEPPERMINT – A cooling oil meant to reduce inflammation of the skin. Contains both antiseptic and antibacterial properties
These are only a few additional essential oils to choose. Research and I have no doubt you will come across so many more 😊
TIP: When using essential oils I highly recommend to test your product on a small area of the skin first to test for any reactions prior to applying fully.
MAKING YOUR OWN GARDENING SALVE SAVES MONEY
That got your attention, right? Generally speaking, making your own anything will save you money. But that is not the only benefit for making your own.
Control. Control over the ingredients used is a big one for me. Control over waste created, keep it local (reducing miles needed to create the product/carbon emission reduction), and even control over the scent.
I choose to use only recycled containers, choosing the most unique when giving it as a gift. In doing so I'm creating no additional packaging or waste. Who wouldn't feel good about doing that?
HEALING HAND AND SKIN SALVE INSTRUCTIONS
Follow these simple steps to make your own DIY hand salve. Adjust as needed for therapeutic needs and for scent.
HINT: Making this balm for the hardworking hands of men in your life will be welcomed, especially when you don't add feminine scents 😂 Mens favorite scents? Pine, patchouli, sandalwood, vetiver, ginger, and yes, vanilla to name a few.
EQUIPMENT NEEDED TO MAKE GARDENER'S SALVE
You will need very little to make your homemade salve, but a few items make it that much easier.
Bain Marie – A pretty term for a double boiler. I simply use a stainless steel bowl over a saucepan with about 2 inches of water in the bottom. Alternatively, you can use a pyrex measuring bowl and hook the handle over the edge of the pan so the bottom of the bowl is submersed in the water. This makes it easy to pour into your container once completed
Measuring Spoons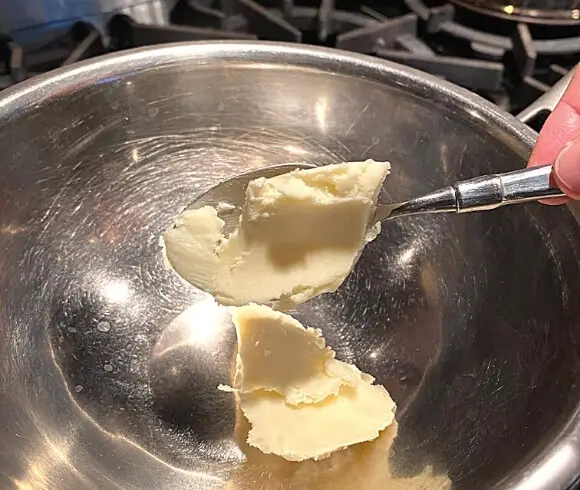 Follow the direction in the recipe card for my unique blend that I love to use.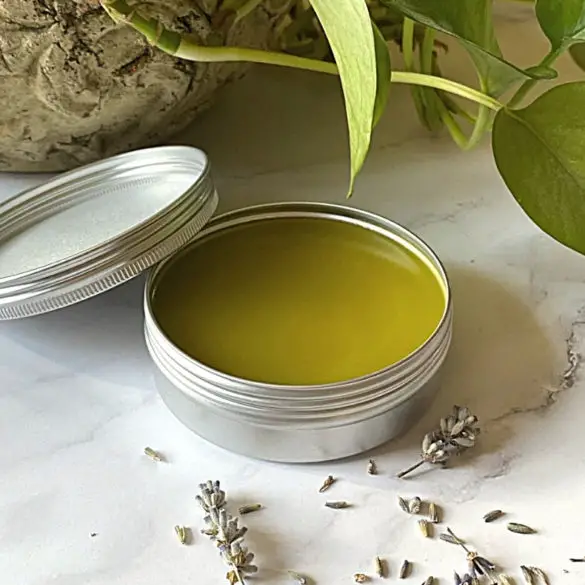 Ingredients
1 C Dandelion Oil

1 Tbl Shea Butter

2 Tbl Coconut Oil

3-4 Tbl Beeswax

1 Tbl Vitamin E Oil

10-20 (I use 20 of each) drops each of the following essential oils: rosemary, lavender, ginger, (or your own special blend)
Instructions
STEP 1 - Gather all your ingredients and equipment
STEP 2 - Using a ban marie or double boiler, add several inches of water in the bottom and place your bowl or pan on top. Turn the heat to low-medium
STEP 3 - Add the following ingredients 1 cup of dandelion oil (or oil of your choice), 1 tablespoon shea butter, 2 tablespoons unrefined extra virgin coconut oil, and 3-4 tablespoons beeswax to the double boiler to melt
STEP 4 - Stir gently until all is well melted
STEP 5 - Remove the top pan using potholders or hot mitts and wipe the bottom dry using a clean kitchen towel.
STEP 6 - Add to the melted mixture the vitamin e oil and the essential oils of your choosing
STEP 7 - Placing your salve container unto a hot pad, trivet or board (it will get a bit hot) pour the hot mixture into it to set.  Alternatively, you can let the mixture cool for a few minutes and then transfer to your container of choice
STEP 8 - Label and store container in a dark cupboard that remains cool and dry 
Notes
WAX - For a silky, softer consistency use 3-4 tablespoons, for a stiffer salve increase to 5-6 Tbl OIL - Mix it up! Experiment! Combine 2 oils like calendula & dandelion, or EVOO and calendula etc. HERBS - Again, experiment. Up the healing game by adding plantain, comfrey, or chamomile infused oils MAKE IT PRETTY - When giving as gifts, I love to add bits and pieces of dried beneficial herbs, such as lavender, calendula, or even dandelion petals
HEALING HAND AND SKIN SALVE NOT JUST FOR GARDENER'S
This nourishing, healing salve is not just for gardener's! Hard working hands of all kinds will benefit from the use of this herbal salve!
If you or someone you know suffers from dry, cracking, and chapped hands, making, using, & sharing this salve will a benefit to all.
I hope you give this healing gardener's hand and skin salve a try! I know you will love it as much as I do 😊
Will you be giving this healing salve a try?
Love, Light, & Laughter ~