Creating a pantry inventory will help save time, money, space, & waste! Learning to track your food stores by utilizing a pantry inventory will have you shopping what's already at hand in your pantry, refrigerator, and freezer first!
This post may contain affiliate links at no additional cost to you.  By making your purchases through the links on this website, IMSL may make a small percentage at no direct cost to you. IMSL only promotes products we use & truly believe in. Please refer to my Privacy & Disclosures for further information. IMSL thanks you for your support!
We've all been there.  The realization when you take a hard look at your pantry and kitchen stores that you really don't even know what you have hiding in there! And when I mention pantry, I'm not speaking about the cupboard which holds your appliances! We're talking food storage here 😊 
Taking stock and learning to track the food you have available with a simple pantry inventory system will have you shopping for your groceries right in your own cupboard, fridge, or freezer first & stop the over-purchasing of items which you already have!
And the idea of saving money? WIN! Saving money AND reducing waste? WIN WIN!!

After all, food serves no one if it ends up in the landfill or the compost pile because it has gone to waste!  So what's the solution?  Organization, my friend.
DO YOU KNOW WHAT'S IN YOUR PANTRY?
Knowing what we have on hand for food here on the hill is vital to keeping food purchases at a minimum. It's vital that we know what needs to be replaced, when item's are about to expire, how much we need to add or subtract to our garden efforts for next year's storage, and how much we need to plan on canning, freezing, and preserving for the upcoming season.
KEEPING TRACK OF IT ALL – CAN IT BE DONE?
Whew! It can be overwhelming to say the least when trying to keep track of it all! Fortunately, with a bit of time invested, keeping it all straight with a simple system of organizational planner's and printable's make the task easy, ultimately saving lot's of cash in the process!
Personally I don't know how my ancestor's accomplished it all. Tracking all they needed to without the use of the convenient methods we have available to us today. Fortunately for us, we do have access to these tools for tracking all the area's in your pantry. And a few options are available.
PANTRY INVENTORY AREA'S TO TRACK
There are basic area's of your pantry & kitchen that needs regular updating when it comes to keeping up with your pantry inventory.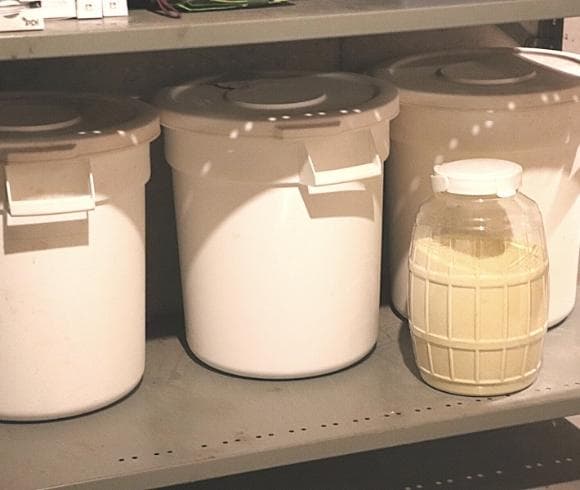 For the typical home you will need to track these area's of your kitchen stores…
PANTRY CUPBOARDS
REFRIGERATOR
FREEZER(S)
For others including larger homes, farms, and homesteads, what you track in addition to the area's listed above may include …
CANNING PANTRY
ROOT CELLAR
ADDITIONAL FREEZER(S)
HOME APOTHECARY
That's a lot to keep track of! I know of no one who can remember everything they have in ALL those area's of storage!
Fortunately, there are pantry inventory tools to assist you in your efforts & stay on top of what's in your kitchen & stores! And why re-invent the wheel when we have perfect examples of pantry inventory tracking systems that work!

Take it from the professionals. The restaurateurs. The professionals whose responsibility it is to keep track of every bit of produce & food stores they have on hand. Keeping accurate and precise records for them boils down to keeping their jobs and maintaining customer satisfaction!
Sharing Is Caring ❤️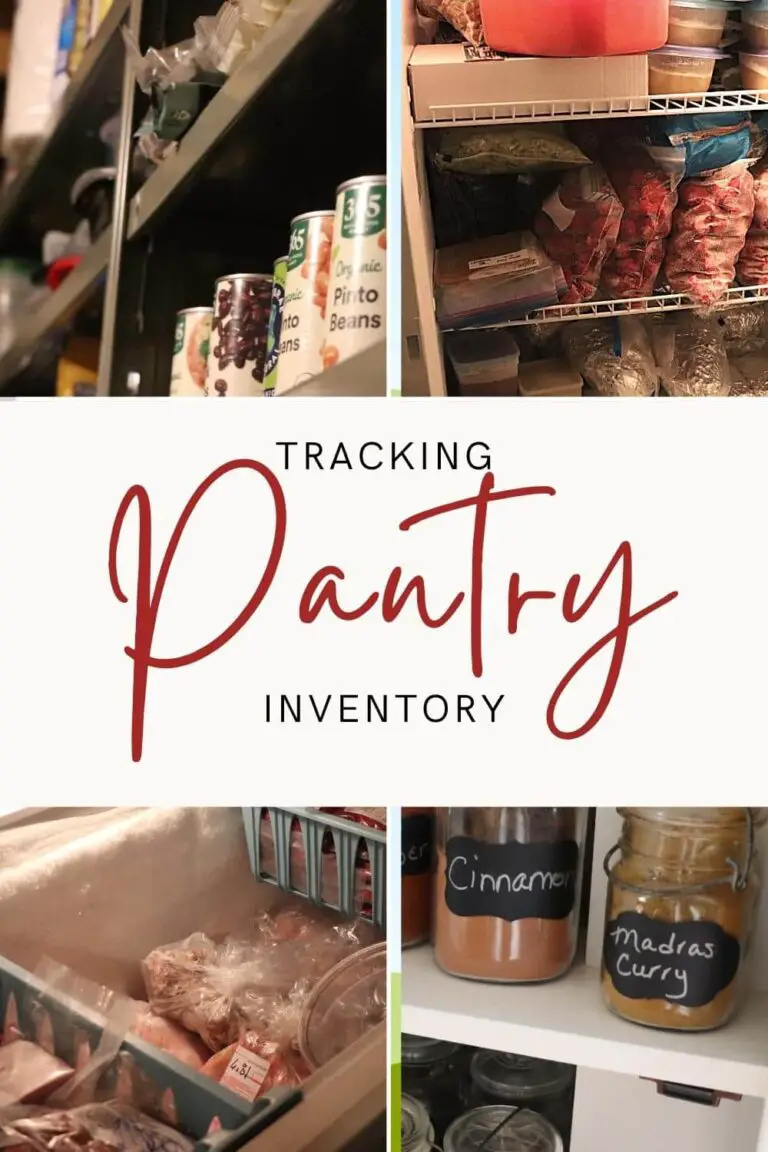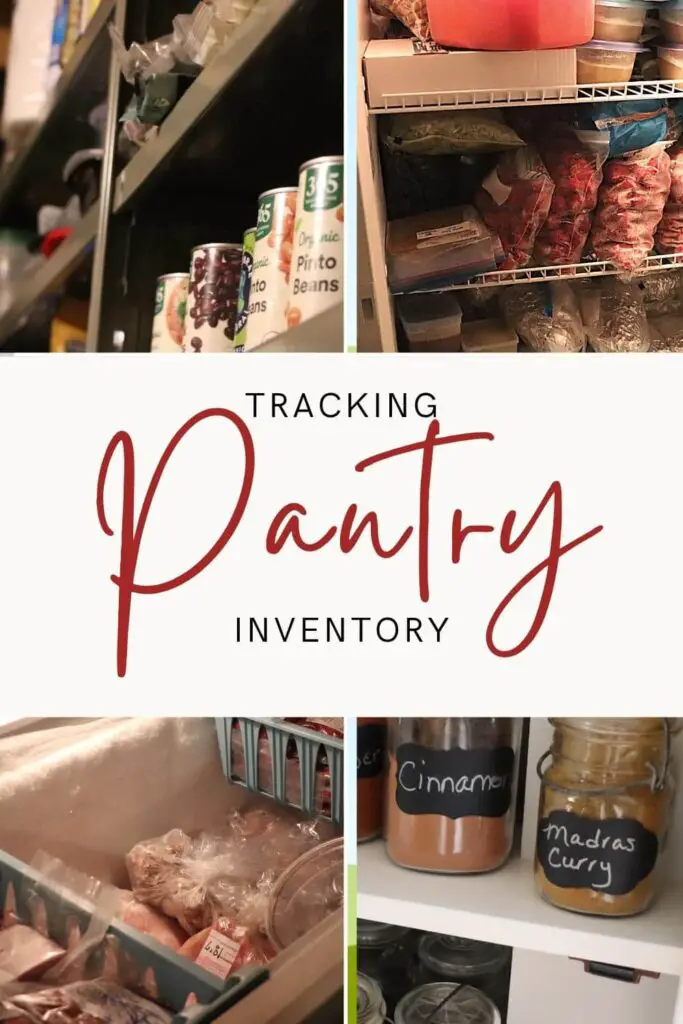 Although they have access to high-tech digital systems that are often custom made, we can take from their example of how to maintain a smooth running kitchen by utilizing a few simple tools. A kitchen & pantry that has little to no waste, does not over spend, yet allows for a bit of spontaneity in producing creative dishes.
Keeping the typical home pantry inventory, although a bit easier than that of a restaurant, is made pretty straight forward once put into place.
PANTRY INVENTORY TRACKING OPTIONS
There may be a pantry inventory system that suits every organizational style. From apps specifically created to track food inventory, to stylized kitchen & pantry sheets, to a simple notebook or spreadsheet, there is something available for everyone.
The choice is yours. I do find there are pro's and con's to each and have tried several methods throughout the years. A few choices for pantry inventory tracking are …
PRINTABLES – Ultimately, printables specifically for kitchen & pantry inventory are my preferred tracking option. Why? Because they are thorough in design & purpose. They can easily be printed out year-to-year, allowing you to keep an on-going binder of year's inputs, amounts used, as well as what was not used. They can be printed & placed on a clipboard, hung on the fridge, or pantry door. In other words, placed in close proximity to where its need along with a pen/pencil attached for convenience. No more forgetting to add an item or two to a digital tracker! Alternatively, they can be printed, laminated, and hung along with an erasable marker to use over and over should you not need to keep past sheets for ongoing records. And did I mention how pretty they are to use?
APPS – You can easily google for apps created just for the sole purpose of tracking & maintaining a pantry inventory. Personally, they are not my preferred tracking option as quite honestly, I don't always have my phone on me. I know, shock, right? I also don't have a great memory 😅 So by the time I get to my phone or laptop to update, I typically will be asking myself what it was I needed to do 😂
DIGITAL – You can create your own spreadsheet in programs like Excel or Google Sheets if you like. By creating your own you will have it exactly as you need, covering all the points specific to your pantry.
HAVE YOU SEEN IMSL'S PANTRY INVENTORY PRINTABLES?
Should you not want to create your own spreadsheet for keeping track of your pantry inventory, I'm offering a FREE, simple pantry inventory sheet for your use! This simple sheet can certainly be utilized for tracking any area in your kitchen & pantry food stores.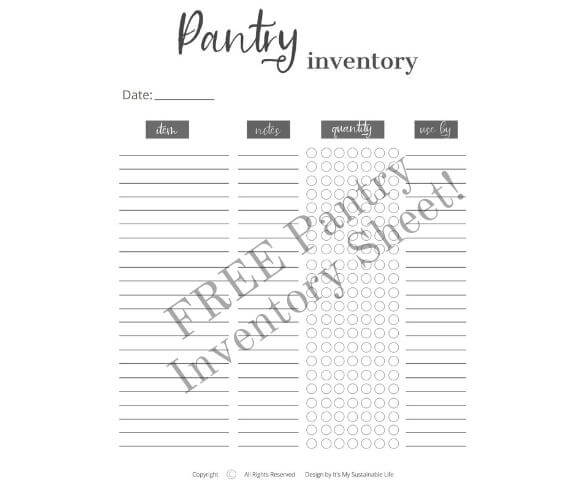 Be sure to grab your copy by clicking the button below 😊
Looking for printables that are more detailed to suit every area you may need to track? Be sure to take a look at my Kitchen & Pantry Inventory & Meal Planner set! Should you need specific tracking for your canning & food preservation efforts, take a look at my Canning & Food Preservation planning set!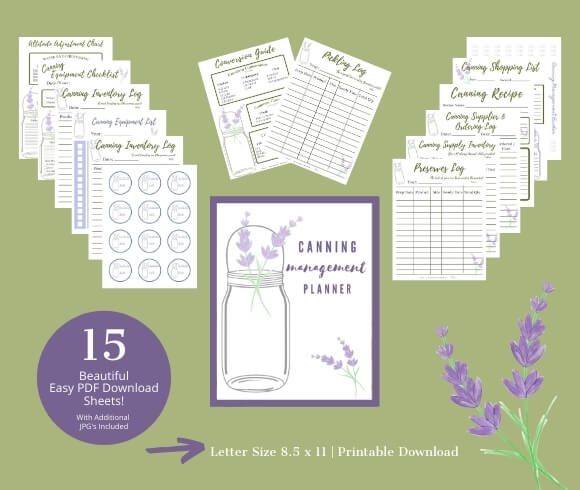 Both of these printable sets are ones that I utilize in my own home, are thorough & efficient, and are beautiful to look at. After all, we all enjoy a bit of eye candy once in a while 😉
Should you be look for a more
HOW TO TAKE PANTRY INVENTORY
Right about now you may be thinking, you mean I actually have to go through all my pantry cupboards, refrigerator(s), freezer(s), and any other hidey holes you may have your food stored in?
Well, yes. But the good news? When you set up an on-going pantry inventory system, it should be the last time you'll have to do it 😊. That and did I mention you most likely will create more available shelf space as you clean out unwanted, expired items, and give your space(s) a bit of organization!
If you're feeling a bit overwhelmed at this point, don't be. By breaking the task down in area's first and then even further into what needs to be done in each area will ease the stress overall. Hopefully 😳
PANTRY INVENTORY – THE REFRIGERATOR
As with any area of your home that you are cleaning out & organizing, it's best to plan on a good cleaning in the process.
For inventorying the refrigerator, remove everything. Liquids, foods & produce. I prefer to remove all the shelving as well so that the walls and floor of the refrigerator can be given a good wipe. The drawers and door holders can be taken to the sink and washed thoroughly and wiped dry.
As you begin to replace the items back into the fridge, write your items on the inventory sheet. Rearrange as needed to assist you in finding your stores a bit more easily.

Customize your pantry inventory as needed. For example you could color code your items into categories such as perishables, leftovers, and staples. Or you could utilize a numbering system instead for each category. Or you could code each shelf and area of the refrigerator. You get the idea. It's totally up to you what will work best and what will not!
PRO TIP: When taking your inventory be sure to mark expiration dates as well as the date it was placed into the fridge. During the course of your week or while meal planning, pay close attention to both those dates and plan your meals accordingly to reduce all waste or plan on placing that item in the freezer for future use if possible!
PANTRY INVENTORY – THE FREEZER(S)
Here on the hill, we have not one, not two, but three freezers. Yes, you heard right. When you grow, freeze, and process the majority of your food plus want to add items you purchase when on sale, the total number of freezers being used is justified.
The freezer in the fridge is used for items used often or have very little of. Ice, frozen banana's & fruit can be found in the main floor fridge. Items that are used daily and require easy access to other than running up and down the stairs.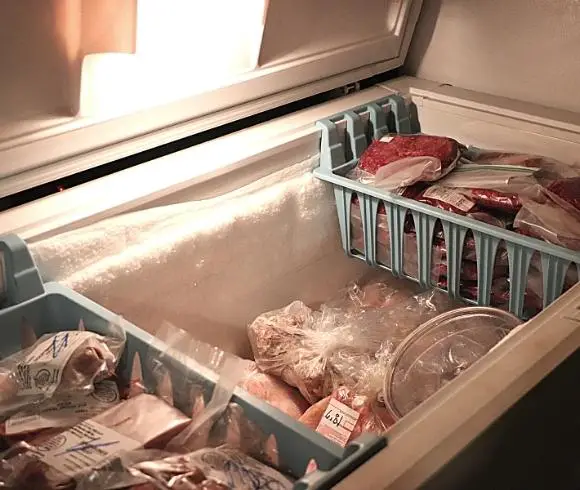 The upright freezer holds fruits and vegetables that have been harvested and frozen. The chest freezer, our meats which we've processed here on the farm & those we purchase from our local farmer friends.
Needless to say, I couldn't keep it all straight without using a freezer inventory sheet!
To inventory your freezer(s) is much like that of the refrigerator. It's a matter of removing all the items (you can place them into another freezer if available or a cooler to maintain temperature), cleaning the interior thoroughly by removing ice build-up, stuck on spots, and scrub/dry until sparkling (be sure not to skip this nasty bit!), throwing out those items you have no idea either what they are or how old they are (you know you have them too 😅), and taking detailed inventory (organizing as you go) as you begin to replace the items back into the freezer.
PRO TIP: Certain styles of freezers are harder to maintain a sense of organization in; like chest style freezers. To aid in the organization of these types of freezers, note the section you are placing your items in. For example in our chest freezer which holds our meats:
pork is on the bottom left section
whole chicken in the bottom center
turkeys in the bottom right
beef products in the drawers at the top.
Should your freezer area not have enough sections or bins, add some! There are some available at very reasonable cost as shown below.
These type of bins and wire racks work wonders for organizing all your storage area's!
PANTRY INVENTORY- BULK STORAGE AREA'S
We purchase many items which cannot be grown or produced here in bulk. Why? Because typically it's much cheaper than purchasing in lower quantity.
Items which we go through quickly such as organic flour. When making just about everything you consume from scratch, think maintaining sourdough, baguettes, biscuits, hamburger buns, and even homemade crackers here, you tend to go through a lot.
Fortunately, maintaining a proper pantry inventory for bulk storage area's is rather simple. As with any other storage area, remove your items, clean thoroughly, mark the product's information on your pantry inventory sheet as well as any expiration dates or date of purchase, and replace.
By keeping a pantry inventory for bulk storage year-to-year, you will begin to notice the amounts consumed will be similar each year. This allows you to plan, order, and purchase your bulk items when on sale, saving you even more $$$!
PANTRY INVENTORY – FOOD PRESERVATION AREA'S
Should you need to maintain, track, and inventory any area's with other food preservation goods, the method is as simple as those area's above.
CANNING PANTRY – For all you canner's out there, you know how important it is to keep track of what you have on hand, the dates those items were processed (expiration date), how much you used for the year, and how much you will need to put up & prepare for the coming year. My Canning Management printables were created with maintaining organization and inventory of all your canning efforts. These were born out of necessity in my own canning pantry & are utilized today here on the hill. No matter where you are in your canning journey, just beginning or having year's experience, take inventory. Like now. As with inventorying the refrigerator & freezer area's, clean up, take your inventory as you replace items by noting product, date it was processed, and leave an area for keeping tallies as you remove items. When returning your items to your clean shelves, be sure to organize by placing the oldest items in the front for use first. When you use a jar or product, mark it down to maintain a running tally of how many you have on hand. As you create year-to-year records, transfer those numbers to your new year's sheet and you are off and running with maintaining your canning pantry inventory!
ROOT CELLAR – I have to say, this is one area that I don't enjoy maintaining. No matter how hard I try, it gets dusty & dirty each year. Maintaining a proper root cellar pantry inventory is probably the easiest job to accomplish in this area however. Like the canning pantry inventory, it's a matter of cleaning out thoroughly first. Unlike the other pantry inventory area's, however, I don't count the numbers so much. After all, who wants to count & track the number of carrots on hand 😅. Instead, either track by estimating the number of pounds, bushels, or pecks on hand. For the larger items, such as winter squash etc., you could certainly keep track of the number on hand. As you place the items back into the root cellar pantry, mark them down in your pantry inventory sheet.
HOME APOTHECARY – For many today, a home apothecary is maintained. For me, my home apothecary is filled with essentials and an area where I keep both my home remedies such as tinctures, herbal oxymels, fire cider, and medicinal herbs that I've grown in my home medicinal herb garden. In addition, I also store my culinary herbs & spices in this cabinet as well. It's a lot to keep track of unless a home apothecary pantry inventory is utilized. As with any other pantry inventory area, clean, organize, list all pertinent information on your pantry inventory tracking sheet, and replace.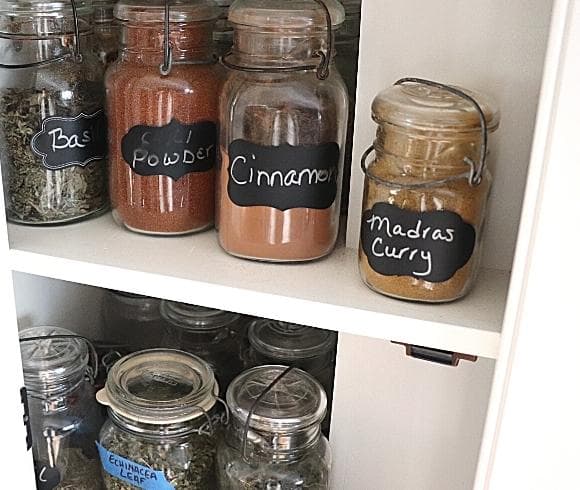 As you can see, keeping an on-going pantry inventory, one that is easily maintained once set up properly from the get-go, is not difficult. But the rewards of having what you need when you need it on hand & the money saved from food going to waste is great.
Will you be keeping a pantry inventory?
Love, Light, & Laughter ~

Shop This Post
Have You Seen The Latest?