Elderberry is fast becoming popular for its myriad of health benefits. Referred to in European folk medicine as "natures medicine chest", this small berry packs a punch with its versatility in dealing with a multitude of health issues. The benefits of taking elderberry go far beyond just treating cold & flu symptoms.
This post may contain affiliate links at no additional cost to you.  By making your purchases through the links on this website, IMSL may make a small percentage at no direct cost to you. IMSL only promotes products we use & truly believe in. Please refer to my Privacy & Disclosures for further information. IMSL thanks you for your support!
Black elderberry, the fruit from a flowering shrub formally known as Sambucus nigra is in the genus Adoxaceae family. This medicinal berry has been used for millennia as prevention & treatment for many ailments. Commonly known today as a cold & flu preventative, the benefits of elderberry far exceed treatment of this virus alone.
Elderberry bushes are found readily near boggy areas and at the forest edge, but can be grown easily in any sunny backyard environment. This bush/tree can grow up to 20+ feet tall and is related to the honeysuckle. Flowering here in zone 5a mid-July, these berries are ready for harvest late August. Although the flowers and berries of the Elder plant are commonly ingested, it's important to note that the roots, stems, leaves, & seeds are toxic to humans as they contain a high amount of certain alkaloids & cyanidin glycosides.
Further, ingesting in excess, elderflowers and berries may cause issues with vomiting, nausea, and diarrhea. Due diligence in researching is always recommended prior to beginning any course of action.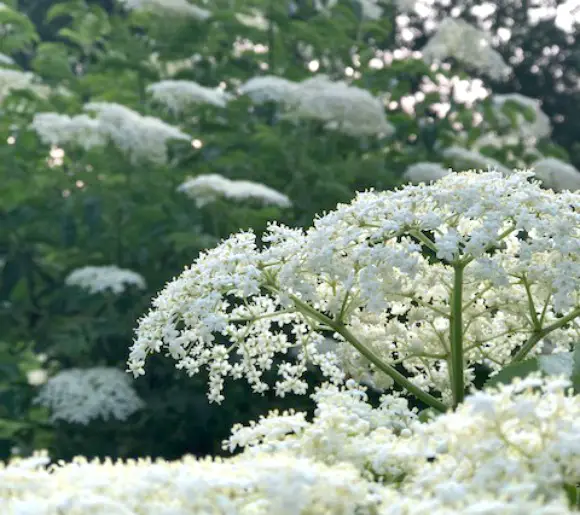 ELDERFLOWER
The elderflower, growing in a beautiful cap-like formation, can be used medicinally to treat ailments (sinusitis, bronchitis, diabetes, & constipation), used in culinary dishes (fritters, vinegars, & savory dishes), infused into teas & oils (skincare, acne, & sunburns) and made into cordials (wine & adult beverages). The flowers may be used fresh or dried & stored for future use.
Highly nutrient-dense, the elderflower is packed with vitamins and antioxidants that may give our immune systems a boost while assisting with the reduction of many inflammatory issues. In addition, these flowers contain 0.3 percent of essential oil containing free fatty acids & alkanes, making extracts from this flower a potential component in the treatment of diabetes according to NCBI.
The flavonoids and phenolic acids contained therein were potent stimulators of glucose and fatty acid uptake in a dose-dependent manner. Most of the phenolic constituents and several of the metabolites showed high antioxidant activity and showed considerably higher α-amylase and α-glucosidase inhibition than acarbose. Elderflower might therefore be valuable as a functional food against diabetes.

NCBI
ELDERBERRIES
From the elderflower comes the actual elderberry. Like the elderflower, the berries nutritional value is immense. Raw elderberries possess high vitamin & mineral content & make this a go-to plant for many home apothecaries.
The dark ripe almost black berries, are made up of 80% water, contain 18% carbohydrates, and less than 1% of both protein & fats. They are naturally high in vitamins, C, A, & B6, and contain iron, potassium, and several other essential nutrients.
ELDERBERRY RIPENING & HARVESTING
The stages of ripening are a wonder to observe. The clusters of elderflower quickly begin to form the berries themselves. Initially green, the berries need to remain on the vine until they are ready for harvest mid-summer.  They will become heavy and appear to hang upside down on the bush. 
Only harvest the ripe, dark berries as the leaves, stems, roots, and raw berries (both green & ripened) can be toxic (cooking/processing negates the cyanide inducing glycosides).  Elderberries will ripen in stages, usually within a few days of each other.  When they begin to ripen you may need to harvest every day or so.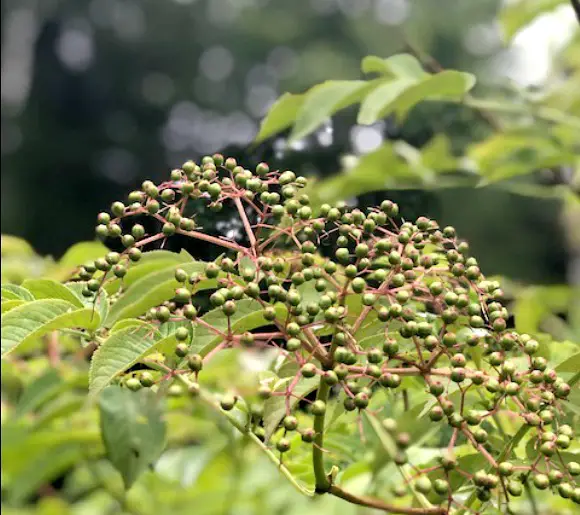 To harvest these nutrient-dense berries couldn't be more simple. Should you have access to fresh ones, choose the darkest most ripened clusters and cut them from the bush at the base of the grouping. Processing immediately is encouraged as they will begin to ferment within 12 hours of harvesting.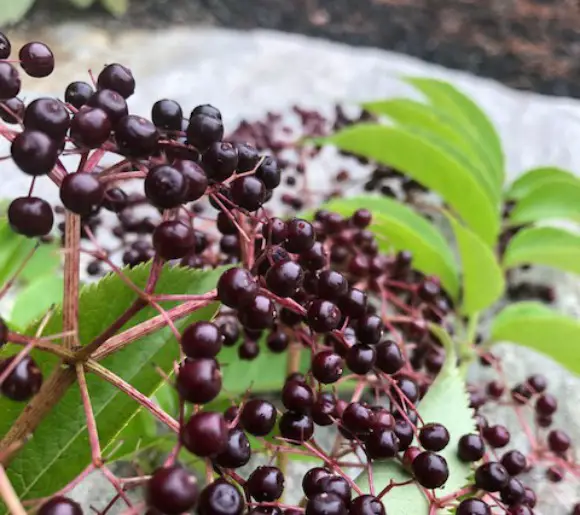 To process or remove the berries from the stems, the fork method is preferred. Simply run the berries through the tines of the fork to remove. Be sure to remove any small stems remaining on the berries as well as any unripened berries from the processed ones. The video below demonstrates how easy this process is to complete.
Once removed from the stems, the berries than can be made into syrups, tinctures, jams, frozen or dried for future use. To dry, either dehydrate with a dehydrator such as this one HERE or simply let the power of solar do its work. Leave the berries on a fine-mesh sieve like the one below (allows full air movement) in the sun for 4-6 days, shaking periodically, until completely dried. Store the dried berries in a glass jar and seal until ready to use.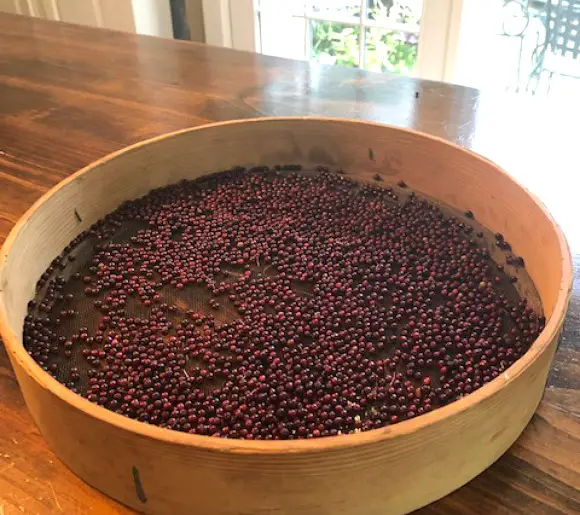 ELDERBERRY BENEFITS
The most common benefit and one that the majority are familiar with is for prevention & treatment of the common cold & flu virus. Elderberry syrup has regained popularity recently as well as elderberry tincture, and for good reason…it works! If you've not heard of the tincture before be sure to take a look at "How To Prepare For Cold & Flu Season With Elderberry Tincture" for instructions on how to make and use.
Amazingly the benefits of taking elderberry don't stop at just a wonderful option for preventing and shortening colds & flu! The benefits of these berries reach far beyond using them for just this natural remedy. Here are 14 surprising benefits uncovered in the writing of this article.
14 ELDERBERRY BENEFITS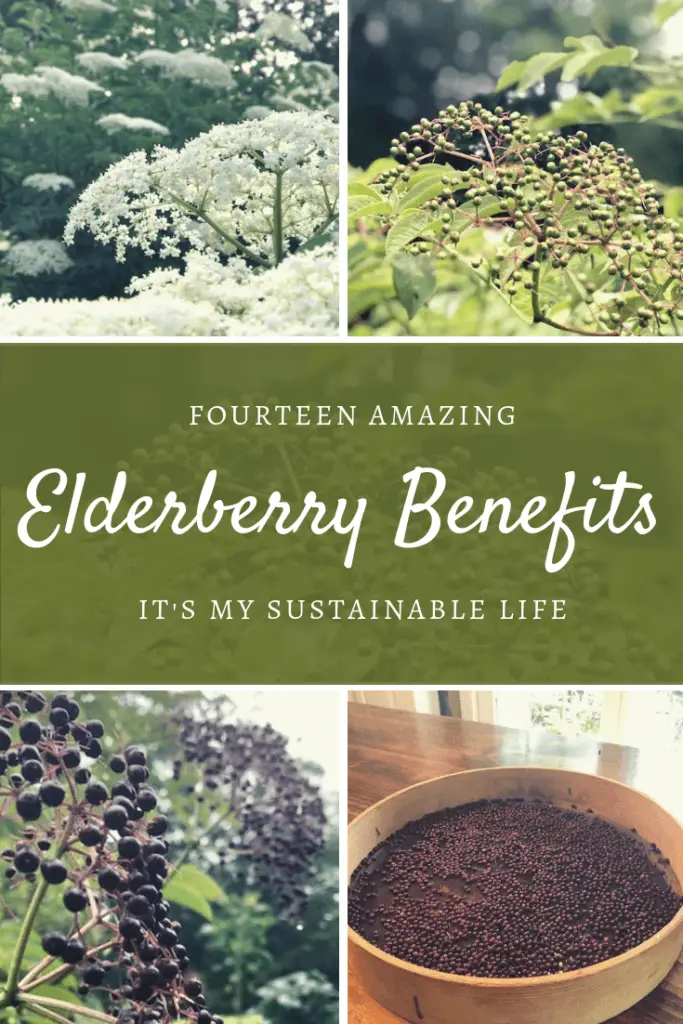 ELDERBERRY CAUTIONS
As with any of Mother Nature's healing gifts, caution should be considered prior to beginning any new regimen as negative interactions & side effects may occur. Consulting your health care provider is encouraged before taking elderberry. A few precautionary notes:
do not ingest uncooked or raw berries as they contain traces of lectins and may cause digestive issues.
Raw berries contain "cyanogenic glycosides" which can in turn release cyanide in certain circumstances (the cooking process safely removes this threat).
Small children & pregnant or lactating woman are discouraged from ingesting elderberry due to lack of research confirming it's safety.
Those with auto-immune issues such as lupus or rheumatoid arthritis should seek counsel from their health care provider prior to taking as elderberry products will stimulate the immune system.
Taken from Penn State Hersey, the following interactions are possible:
If you are being treated with any of the following medications, you should talk to your health care provider before taking elderberry.
Diuretics (water pills). Diuretics help the body get rid of excess fluid and increase the amount of urine your body makes. Elderberry may also act as a diuretic, so taking it along with a diuretic could make that drug stronger and raise your risk of dehydration. Diuretics include:
Hydrochlorothiazide
Bumetanide (Burinex)
Furosemide (Lasix)
Amiloride (Midamor)
Metolazone (Zaroxolyn)
Diabetes medications. Elderberry may lower blood sugar levels. If you are also taking drugs for diabetes, taking elderberry may increase your risk of developing hypoglycemia, or low blood sugar.
Chemotherapy. Elderberry may interact with some chemotherapy drugs. If you are undergoing chemotherapy, ask your oncologist before taking any herb or supplement.
Laxatives. Elderberry may act as a laxative and should not be taken at the same time as other laxatives.
Theophylline (TheoDur). Elderberry may reduce levels of theophylline, a drug taken for asthma and other respiratory conditions. That could make the drug not work as well.
Drugs that suppress the immune system. Because elderberry may stimulate the immune system, it could interfere with medications taken to suppress the immune system. These medications include corticosteroids (prednisone) and medications used to treat autoimmune diseases. People with organ transplants should also avoid elderberry."
There you have it! 14 elderberry benefits, many of which were surprising and unexpected. What are your favorite uses for elderberry? Be sure to subscribe to stay up-to-date with all the happenings here on the hill!
Love, Light, & Laughter ~