Planting tomatoes and vegetables from heirloom seeds is an easy & economical way to get a head start on your growing season. With some simple equipment, appropriate light, & a few wonderful seeds, growing a wide variety of organic vegetable & herb plants indoors is satisfying, & will provide your garden with healthy, productive plants.
Thank you True Leaf Market for sponsoring this blog post. This post contains shared product for review. All opinions are my own. This post may contain affiliate links at no additional cost to you. Please refer to the Privacy & Disclosures for further information.
For the last 14 plus years, I have been planting a very large, organic vegetable garden from which I preserve, can, freeze, and store a large portion of our food for consumption throughout the year. It was a difficult decision to take a "step back" and plant only what we will be eating fresh this summer. A decision that I am positive we will come to regret when we have no food stores to choose from this winter. However, a well deserved "rest" is needed for our garden beds (and me) 🙂 as well. We will be planting in only our 3 raised beds and instead work to build our soil by planting a cover crop, amending our soil and letting it rest.
I could not refrain this February/March from planting what few seedlings we will need for the raised beds. These little green nubs of life always make me happy, a sign that Mother Earth is re-awakening. And by a "few", I mean VERY little compared to what I normally grow. In a normal year, I would be starting 150 tomato plants from seed alone, not counting the hot peppers, sweet peppers, eggplant, herbs, and anything else I am giving a try.
PLANTING & GROWING FROM SEEDS
My cellar is normally turned into a nursery for 2 plus months. Grow lights, tables, and seed meeting soil, transform this dark space into one of light and life. Take notice of my daughter's rendition of our garden layout which resides on our wall from when she was in 3rd grade 🙂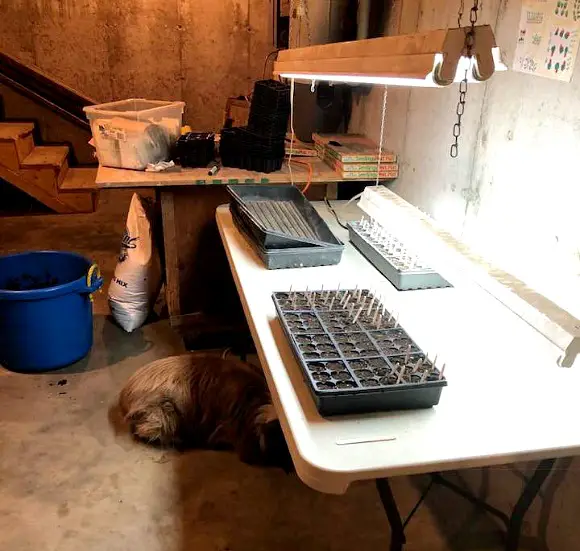 This year, I believe we planted only a few tomato plants (15), hot peppers (10) (have to have my dried hots for the winter), sweet peppers (4), a few special herbs and some lettuces. Mostly just fresh eating staples. The exciting part of this year's plantings is that I am trying some new varieties of heirlooms that I have not before given a try thanks to True Leaf Market and the organic seeds they so generously shared with me!
TRUE LEAF MARKET HEIRLOOM SEEDS
In early February, I was excited to receive 3 different bundles of their Organic & Heirloom Seeds. I received the following:
ORGANIC HEIRLOOM SLICER TOMATO COLLECTION – 7 PACK
ORGANIC HERB COLLECTION – 8 PACK
ORGANIC HEIRLOOM VARIETY – 16 PACK
By purchasing their collections, it greatly reduces the cost per seed package down to as little as $1.34 per pkg. Not too shabby for organic seed!
Their Organic Heirloom Slicer Tomato Collection contains 7 different varieties including: Pineapple Tomato, Hillbilly Tomato, Black Krim Tomato, Beefsteak Tomato, Brandywine Pink Tomato, Cherokee Purple Tomato & Golden Queen Tomato, four of which I have never tried before this year.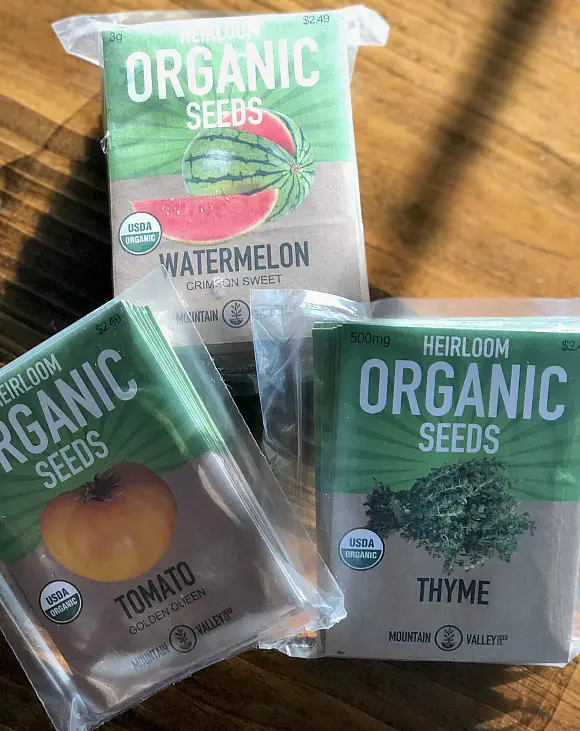 Their Organic Herb Collection consists of eight different herbs including:
Arugula
Basil
Chives
Cilantro
Dill
Oregano
Sage
Thyme
Many I will be direct seeding into my new herb garden area we are completing this spring! Keep an eye out for that update (June edition) in our monthly newsletter, "happenings on the hill"! If you haven't already, be sure to subscribe below to receive it in your inbox!
Their Organic Heirloom Garden Seed Collection contains 16 packets of organic, heirloom seeds (middle pic above) including the staples of carrots, cucumbers & tomatoes to onions, watermelons, and cantaloupe.
I love that their seed packets are made with sturdy, cardboard-like material and include all the normal pertinent information needed for planting. Including but not limited to:
Spacing Requirements
Germination Times
Maturity (approximate days)
Hardiness & Light Requirements
Growth Expectations
PREPARATIONS FOR GROWING FROM SEED
Growing from seed does require a bit of preparation. Mostly in the cleaning up kind. I highly recommend sterilizing whatever pots/cells you will be using to germinate your seeds. This prevents the spread of any disease from seasons prior.
PREPARING & STERILIZING THE POTS
Simply wipe out any residual soil/dirt from the pots/cells, place in a tub of hot water and add a few glubs of bleach. I let mine soak for about a couple of hours.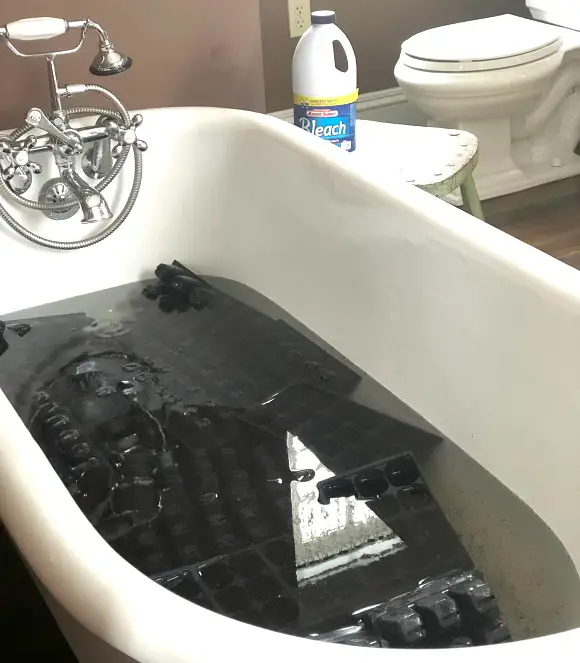 Once soaked thoroughly, rinse well and turn upside down to dry. I bring mine down cellar and lay them out on the top of our water tank (part of our heating/hot water system) where they can dry quickly.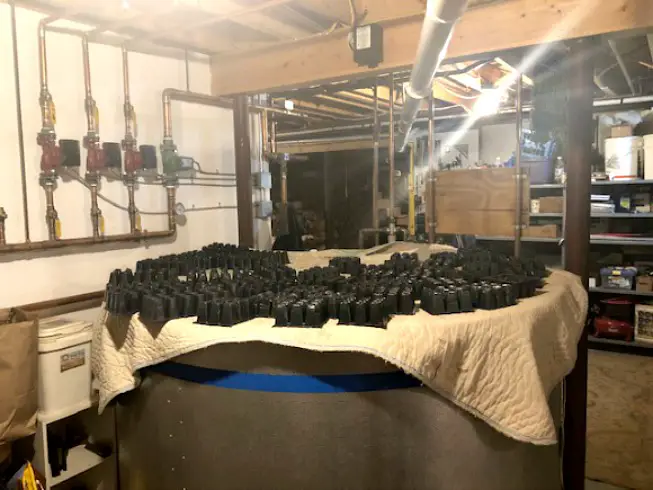 PREPARING THE SOIL
To prepare my growth medium, I use an organic seed starter mix and mix that with organic potting soil, a ratio of about 3:1. Mix the two together and moisten until a handful can be picked up and held together loosely by squeezing it in your palm as shown below.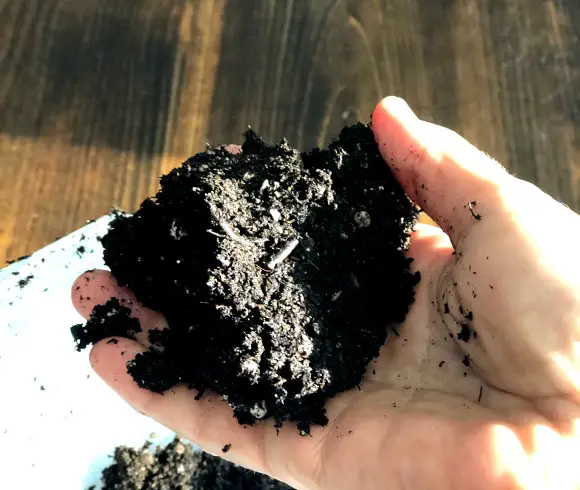 GROWING HEIRLOOM VEGETABLE & TOMATO FROM SEEDS
Since I decided to not grow an abundance of plantings this year, I decided to give my normal germination methods in the cellar a rest as well. I decided to germinate using the "greenhouse" method and instead of using grow lights and heat mats, brought the whole kit & caboodle up into the light. Literally.
I have a rather large island that I set up for planting right next to the kitchen sink. I fill my cells/pots down in the cellar and bring them up to the kitchen where I can easily work. Shown below are a few of my choices that True Leaf Market shared with me.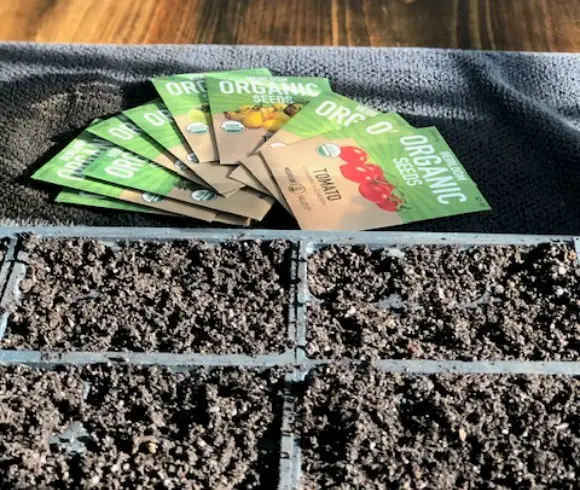 HOW TO PLANT VEGETABLE & HERB SEEDS
Follow the instructions on each seed packet for depth needed. A general rule of thumb is to not plant the seed any deeper than the diameter of the actual seed.
Be sure to stay organized with all your seed plantings! I have created a beautiful Garden Management Planner now available in our Etsy Shop! This beautifully crafted printable planner consist of 25 reuseable pages that are as functional as they are gorgeous. Click the image below to grab yours!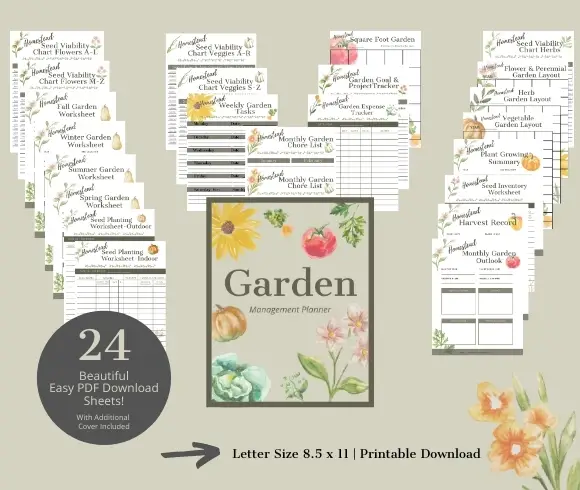 PLANT MARKERS & JOURNAL
Don't forget to mark your individual cells with the plant type & name. I use craft popsicle sticks that I cut in half and write on with a pen. Easy, cheap, and compostable. I also make a note in my gardening journal about how many seeds planted along with the variety name. I make special note of any new additions not previously planted before.
Once completed, this year I covered and placed in front of a south-facing window to germinate.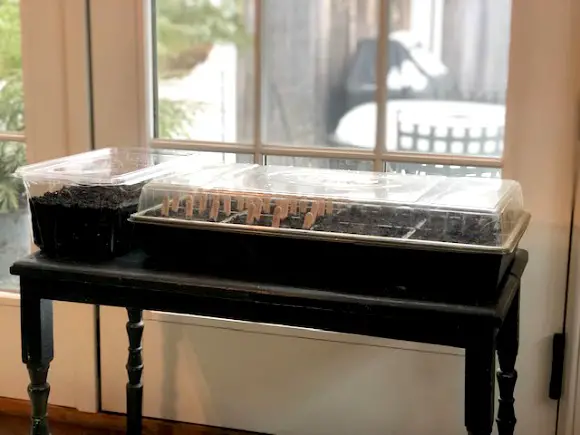 Within less than one week, all but my slower-growing options like peppers germinated without issue. Once germination occurs, I removed the "greenhouse" cover to allow proper air circulation.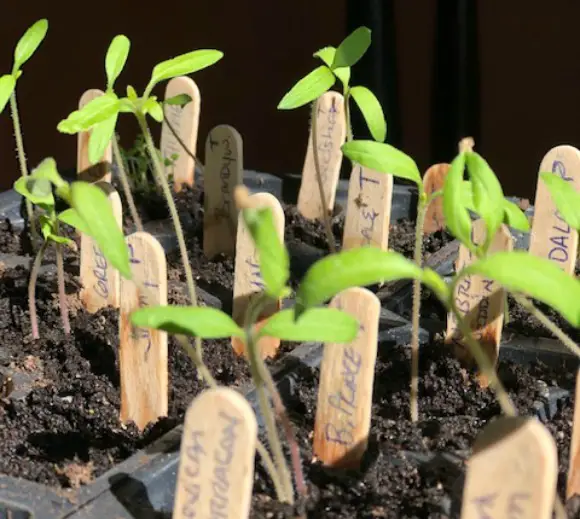 IMPRESSIONS OF TRUE LEAF MARKET HEIRLOOM SEED
Having planted these seeds for the first time, I can say without a doubt that I was truly impressed with the germination rate. Normally, I have to re-seed at least a few cells. With these seeds, I experienced 100% germination. Personally, I will be ordering these seeds again in the future growing seasons!
I also love the seed packets themselves. They are made of a sturdy material that will hold up in my seed storing container and can be easily opened and resealed to store. The ONLY drawback to the packaging was that the collections arrived in plastic. As an avid activist, I hope that consideration in the future is made to move away from the use of plastic.
Without hesitation, I would recommend you give these Heirlooms a try. The only thing left to do is to re-pot the germinated seedlings….another day 🙂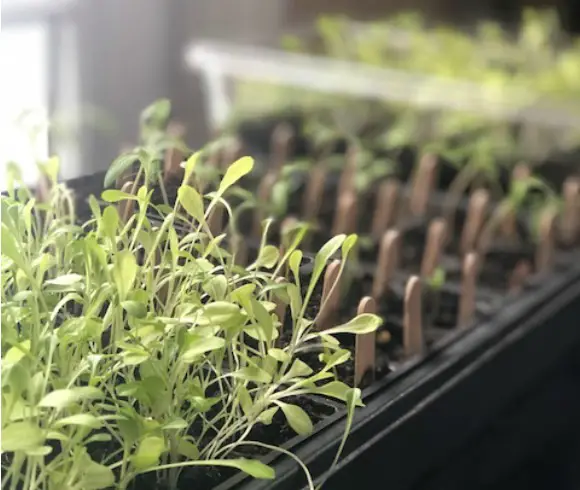 I would love to hear what you are planting! Be sure to stay up-to-date with us here at IMSL and follow on all social media. See you in the garden soon!
Love, Light, & Happy Sprouts ~