It's My Sustainable Life is proud to be nominated and accept the Sunshine Blogger Award. Being a "new kid on the block" can often bring up feelings of uncertainty, self-doubt, & insecurities. These feelings are definitely those that I felt often (& still feel at times) while developing my blog & website. I can firmly state that if it were not for a plethora of amazing bloggers & their support, encouraging words, and assistance, IMSL would not be what it is today.
Therefore, it is with great honor that I accept the nomination for The Sunshine Blogger Award. IMSL received the nomination from one of those outstanding bloggers, Akiko Wall. Akiko is the founder and creator of a wonderful site, The Japantry.
This visually appetizing website is filled with delectable simple, easy to read & make recipes such as Spicy Miso Ramen or her Favorite Chicken Pad Thai, cocktails, & travel. What I most love about her site is she educates on Japan's culture & cuisine. A favorite is her article Basic Ingredients For Everyday Cooking.
THE SUNSHINE BLOGGER AWARD
What exactly is the Sunshine Blogger Award? It is an acknowledgment award extended from one blogger to fellow bloggers. It is an award honoring those bloggers who are "creative, positive and inspiring while spreading sunshine to the blogging community" according to Akiko. This nomination from Akiko certainly brought an uplifting ray of sunshine to my day!
HOW IT WORKS
There are a few rules that come along with this nomination in order to continue spreading those lovely rays. They are as follows:
Thank the blogger who nominated you and provide a link back to their website.
List the Sunshine Blogger Award Rules and display the logo (there are many versions!) available.
Answer the 11 questions asked by the blogger who nominated you for the award.
Nominate 11 other bloggers and ask them 11 new questions.
Notify the nominees of their nomination.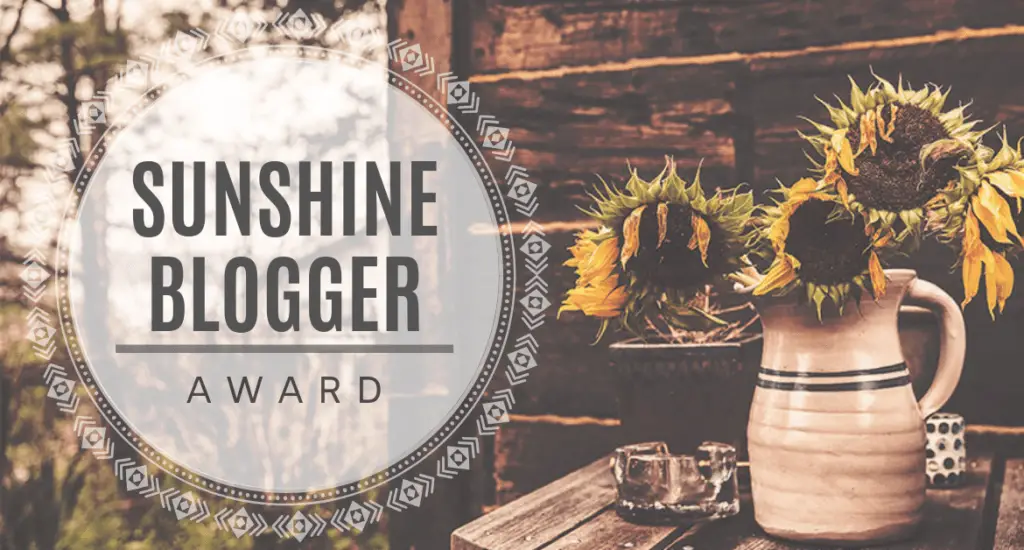 QUESTIONS FOR THE NOMINATED BLOGGERS – ALL 11 OF THEM
How long have you been blogging?
IMSL is coming up on their first year Anniversary in August 2018! Thinking back to almost a year ago, it is hard to believe that much time has passed already. The official "launch" occurred in November 2018, so IMSL is still in the infant stages, very new to blogging & all that it involves.
What motivated you to start blogging?
It wasn't until several people continued to mention they would love to have what we do here documented as a resource for them while talking with me about our homestead. The proverbial, "you should start a blog" comment came up & after hearing this repeatedly, you could say it finally sunk in. My happy place comes from creativity, so this fit in nicely.
What is the best part of being a blogger?
Hands down the connections I've made over the last year from all parts of the world. They truly are an inspiration & support source. In addition, as a former PT and Yoga teacher, I grew to love teaching. This platform allows me to continue that by sharing what we have learned over the years.
What has been the hardest part of being a blogger?
Being a self-proclaimed "tech dummy", the technical end of creating a website has been & continues to be the most difficult.
What's your inspiration for the content for your blog? (i.e., How do you come up with your content?)
The homestead! There is a never-ending supply of content being created on a daily basis as things change continually. New critter additions happen often, weather shifts & effects on gardening outcomes, new projects always in the works. Life changes here on the hill often & seasonally…never a shortage of topics!
What's your favorite blog post that you are most proud of and why?
Beginnings is my favorite. It is not my best written or received blog post, but it is the one I'm most proud of. It was, obviously, my first post & the one that was most difficult to push that publish button. Getting over the fear of putting it all out there was & is one of my best accomplishments.
What does a "success" for your blog look like?
The success of IMSL is only a reflection of the success others may experience from any information they glean from our site. Whether they make a lifestyle change of reducing the chemicals their bodies are exposed to on a daily basis by making their own personal care products or instituting a new gardening technique mentioned, the joy we experience from having a positive impact on others lives is why we blog.
What is one place that should be on everyone's bucket list to visit?
Born & raised in New England, we are a bit partial to our area, especially NH. We have it all within an hours drive…coast with beautiful beaches, lakes including Lake Winnipesaukee, & mountains (the gorgeous White Mt region), all beautiful any time of the year with our seasons.
Which place is at the top of YOUR bucket list?
Europe…especially Italy (Almalfi coast), Austria, Switzerland. Yes, please 🙂 .
What is the strangest food you've ever eaten?
Our household is of the mindset…"try it, you might like it". That being said, I tried chocolate covered crickets once…not a fan. I couldn't get over the thought of actually eating an insect.
What is the best advice you've ever received about how to overcome difficult times?
Breathe. Just breathe.
MY NOMINATIONS FOR THE SUNSHINE BLOGGER AWARD
This is my list of bloggers who I find inspire me, are creative, and are fun to read and learn from. Below are my 11 nominations for The Sunshine Blogger Award.
Karla, a single adoptive & foster parent of 7 children, and founder of More On My Plate is truly an inspiration. I could think of no one more deserving of having some sunshine extended her way.
Lisa from The Self Sufficient HomeAcre, runs a small scale homestead. Her site is filled with useful information on all things homesteading (animals, gardening, recipes, & general homestead info) as well as a complete category on homesteading green. A woman after my own heart.
Kelly is another blogger whom I feel an affinity toward as her focus on her site, Simple Life Mom, is all about creating a simple, sustainable life through real food, natural beauty, and "homemade everything". Sounds a bit like someone I know 🙂 .
Leigh Ann of Nans Daily Dose Of Life shares daily life on a rural farm raising Morgan horses along with sharing recipes & self-improvement tips. Her positive approach to life shines through with every new gray hair & smile she wears proudly.
Joanne & her husband John are another New England based couple sharing Real Life Real Issues. As a former bartender, this is the place to go for some amazing cocktail recipes as well as a bit of real life challenges & topics.
Shelby from Farminence, a homesteading agricultural-based site, shares her knowledge of modern farming practices as well as being a contributor to Mother Earth News. Her well-known site is beautifully laid out & provides straight forward information on all things homesteading.
Lori shares "practical ideas to shape a life you love" on her site Circle Square Oval. Her insights on home management (decorating, organization, & entertaining) as well as eco-friendly living are just some of the topics she covers…and covers well.
Eva's mission to live a sustainable life through creating & sustaining her urban farm is what drew me to her site, Green Bella Journey. Her pick up your bootstraps & try it attitude made me smile from the first article on.
Christa, the creator of The House That Never Slumbers, is a self-proclaimed "night owl" and mother of 4 and is one busy woman. With a home housing seven individuals, frugality & self-sufficiency are the focus.
Sarita, a homesteading & lifestyle blogger living in the northwest territories of Canada, created their site, An Off Grid Life in order to share their self-reliance, homesteading, & off the grid frugal living skills.
Marilyn, from Marilyns Treats, is all about the kitchen. Her tips, recipes, & favorite things are shared in a clean, modern, & beautiful layout. Her love of all culinary delights certainly brings a ray of sunshine to my day.
11 QUESTIONS FOR MY NOMINEES
The following is my list of 11 questions for all those nominated for The Sunshine Blogger Award.
What inspired you to begin blogging?
If you could go back to your launch date, what is one thing you would do differently?
List one thing most don't know about you.
In another life, what would you be if you weren't blogging?
List 5 of your favorite foods.
What is a hobby you wish you had more time for?
What is your favorite season & why?
Name one sustainable lifestyle you practice daily.
What is your "secret" talent?
Where is your special place? The special place when you visit you completely decompress & just exhale.
A big thank you, once again to Akiko for the nomination! Thank you to all my mentors & fellow bloggers who continue to inspire & spark a ray of creativity within me. Hopefully, the sunshine will continue to be spread & shared 🙂 .
Love, Light, & Laughter ~