Making your own Kahlua or Coffee Liqueur with a few simple ingredients including vanilla extract or vanilla beans & given the time to age results in a smooth rich Kahlua that will rival any store-bought brand for pennies on the dollar.
This post may contain affiliate links at no additional cost to you.  By making your purchases through the links on this website, IMSL may make a small percentage at no direct cost to you. IMSL only promotes products we use & truly believe in. Please refer to my Privacy & Disclosures for further information. IMSL thanks you for your support!
Kahlua or coffee liqueur may be one of the easiest adult beverages to make homemade, and one that has been made & enjoyed here at IMSL for many years. Whether making it to be savored straight as a sipping liqueur, added to mixed cocktails, or bottled in a decorative container & given as gifts (one of our favorites to give), this Kahlua coffee liqueur recipe will be one you will want in your recipe box.
WHAT IS KAHLUA
Anyone who enjoys adult beverages has tried or at the very minimum heard of Kahlua. An adult beverage with roots steeped in Mexican history, Kahlua is a coffee liqueur made in Mexico & a staple in any well-stocked bar. It's creamy, rich sweet coffee flavor continues to be enjoyed world-wide, and even hails its own celebratory day on February 27th…National Kahlua Day! Who knew?
Originally made with a combination of coffee, rum, corn syrup, and vanilla, a typical bottle can take up to 7 years to make, largely due to the length of time it takes to grow the coffee beans themselves. This is especially true of Kahlua Especial, a less sweet version than the original with a far stronger coffee flavor from utilizing 100% Arabica coffee beans. In addition, Kahlua Especial contains 36% alcohol as opposed to the original Kahlua which contains only 20%.
A BIT OF KAHLUA HISTORY
Kahlua, is a word with Arabic ties & is said to be slang for "coffee", found its start in 1936 in Veracruz Mexico & was imported to the USA in 1940. Interestingly, what brought Kahlua to the media's attention in the 1960's was not so much the beverage itself, but the fact that there was an all women's leadership within the company!
Kahlua's continued to gain popularity from the 1970's to present day. It continues to be enjoyed not only in many cocktail recipes but in culinary recipes as well. To this day, Kahlua remains the #1 coffee liqueur worldwide.
IMSL'S HOMEMADE KAHLUA RECIPE
Our homemade Kahlua recipe, although not steeped in as much history as the original, is somewhat varied by using vodka in lieu of rum. It happily boasts a rich, slightly sweet coffee flavor, & can easily be adjusted to use traditional rum instead if preferred.
KAHLUA RECIPE – HOW TO MAKE IT
For this recipe, you will need the following ingredients. No need to write it down, a printable recipe card will be provided at the end of this post. This recipe card will make 1 batch of homemade Kahlua. **NOTE: I make a double batch of this recipe as quite frankly, it doesn't last the winter here on the hill 🙂 . Directions will be listed assuming a double batch is being made.
Sugar
Water
Instant Coffee
Vanilla Extract (or vanilla beans)
Glycerin
Vodka
Begin by mixing in a medium size pan, 2 vanilla beans if using instead of vanilla extract (sliced open, seeds scraped from pods and add both seeds and pods) 4 cups of sugar with 4 cups of water. The preferred vanilla is from extract here on the hill for this recipe. Bring to a boil, reduce the heat & simmer 2-3 minutes.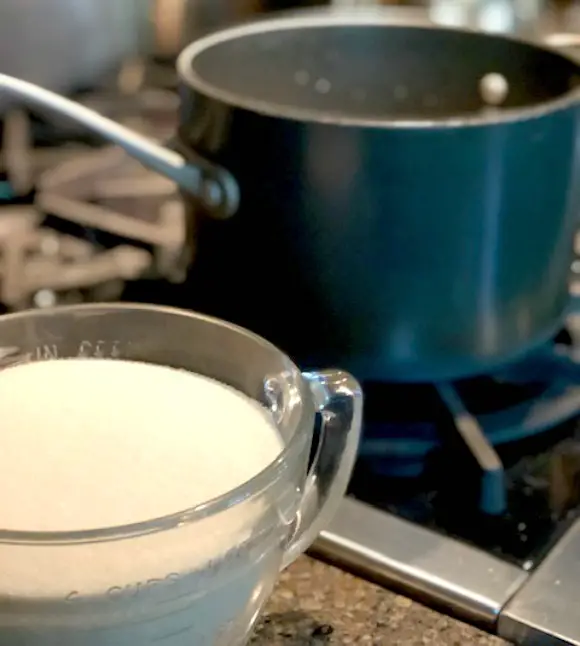 Dissolve 12 Tbl instant coffee in 1/2 cup of boiling water.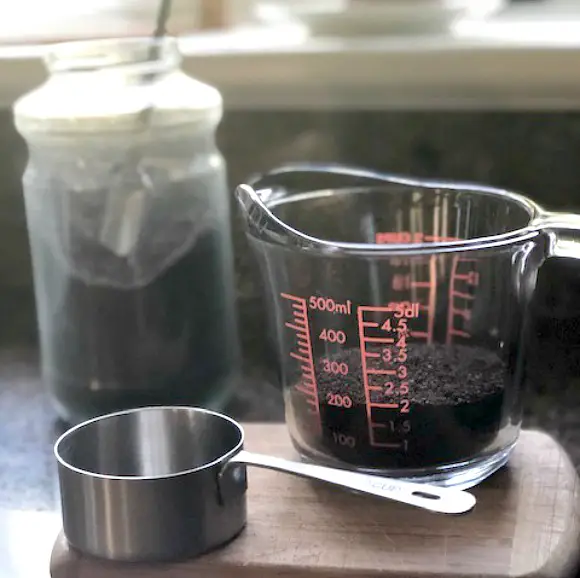 Add the dissolved instant coffee to the pan with sugar/water mixture & cool to room temperature.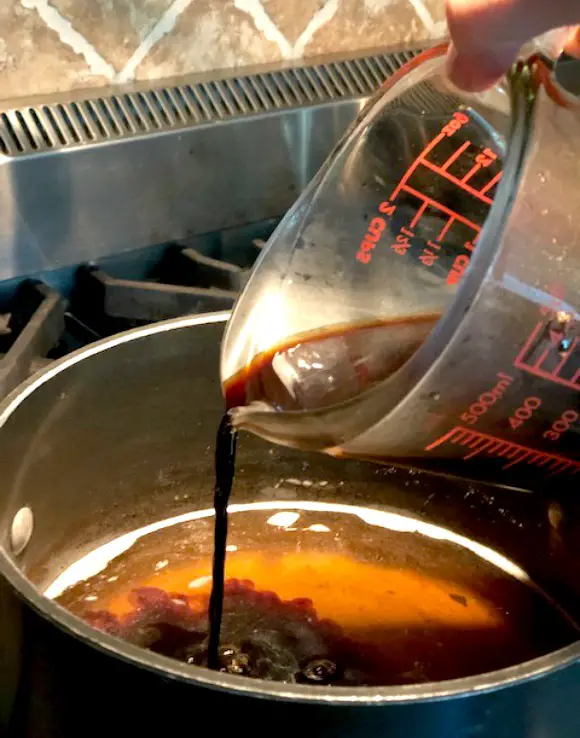 Add 4 Tbl of vanilla extract (our preferred ingredient) if not using vanilla beans & 4 Tbl Glycerin to the cooled sugar/coffee mixture. Stir all the ingredients until combined well.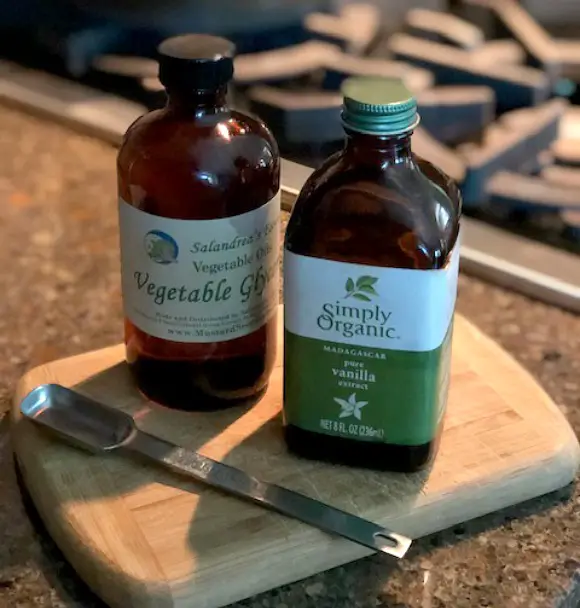 Add 1.75 ml vodka (double batch here) to the mix and combine well.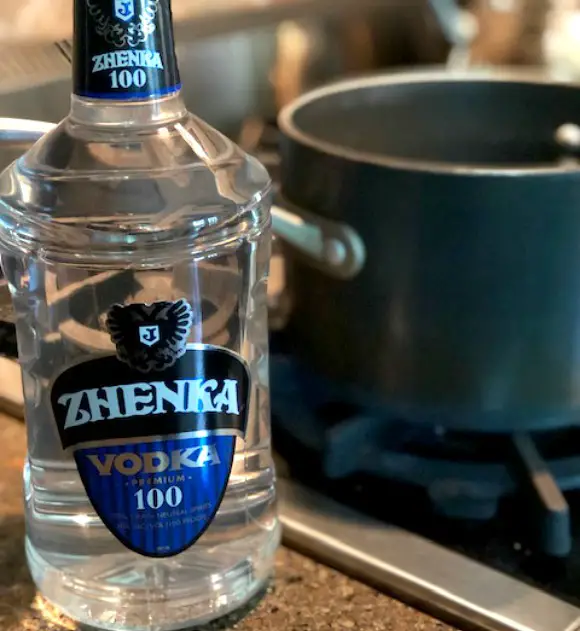 Bottle and store in a dark cupboard for a minimum of 3-4 weeks. Save your 1.75 ml bottles for this purpose. The end product will be equal to approximately double the amount of vodka used. We may have made this a few times before 🙂 .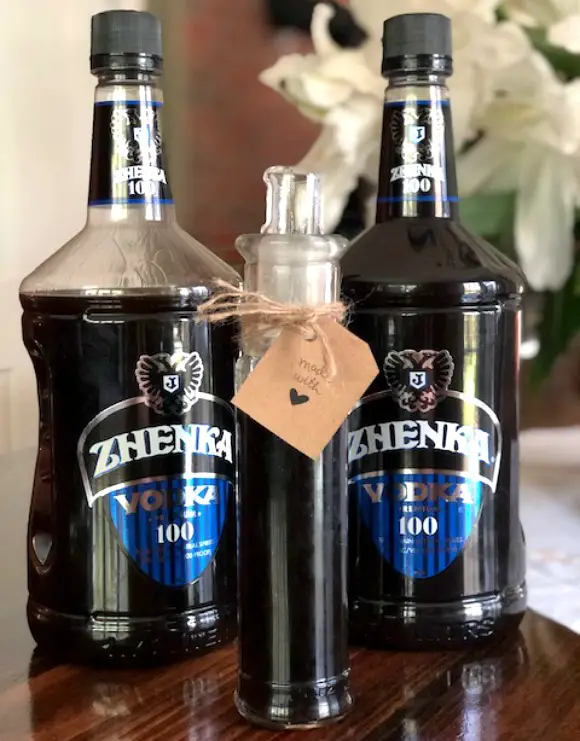 We prefer to let this age upwards of six months. The longer it ages, the richer & smoother the end product. Of course, if you feel the urge, taste tests along the way are always allowed 🙂 .
KAHLUA – SUGGESTED USES
There are many ways to enjoy Kahlua. Cocktails are always a hit and here are a few of our favorites.
On The Rocks with just a splash of half & half or even for the daring a bit of heavy cream
Sombrero made with milk or cream with an added shot of Kahlua
Black Russian made with 5 parts vodka and 2 parts Kahlua or coffee liqueur
White Russian 2 oz vodka, 1 oz Kahlua, 1/2 oz whole milk or cream
B52 1/2 oz each of Kahlua, Baileys Irish Cream, & Grand Marnier orange liqueur in that order…yummy!
Expresso Martini combine 1 oz brewed expresso, 1.5 oz vodka, 1.5 oz Kahlua, 1 oz white creme de cocao in shaker with ice
These are just a few of the delicious ways to enjoy Kahlua the adult way 🙂 . Kahlua, however, is versatile in that it can be added to a few culinary dishes as well. Here are a few recipes shared.
Making your own Kahlua or coffee liqueur is simple & quick. Whether you make it to enjoy yourselves or give as gifts, it's sure to be a hit. The challenge is not using it up until Father Time has done his magic 🙂 .
Do you make your own Kahlua already, or just enjoy it? Love for you to share your preferred way of making or using yours! As always, be sure to subscribe to stay up with the latest happenings here on the hill!
Love, Light, & Laughter ~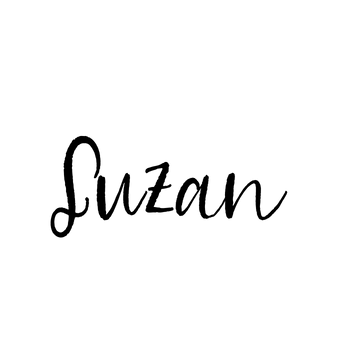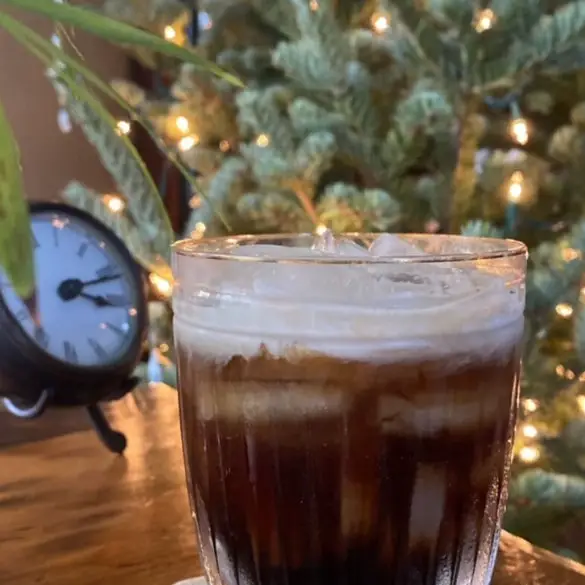 Ingredients
1/5 Vodka

2 C Sugar

2 C Water

6 Tbl Instant Coffee

1/4 Boiling Water

2 Tsp Vanilla Extract

2 Tsp Glycerin
Instructions
Mix together sugar & water in a medium size pan
Bring mixture to boil, reduce heat & simmer for 2-3 minutes
Add to this 6 Tbl of instant coffee that has been dissolved in 1/4 cup boiling water and mix together well.
Cool to room temperature
Add 2 Tsp Vanilla Extract and 2 Tsp Glycerin, mix well
Bottle and store in cupboard for a minimum 3-4 weeks
Notes
Allowing the Kahlua to age upwards of 6 months or longer encourages a rich, smooth, and less bitter coffee flavor.