Chocolate turtle clusters, made with either pecans, walnuts, or cashews, are a confectioners nirvana. Possessing the perfect balance between crunchy & sweet, these clusters are made only better when homemade. Learning how to make your own turtle clusters is easier than you may think!
This post may contain affiliate links at no additional cost to you.  By making your purchases through the links on this website, IMSL may make a small percentage at no direct cost to you. IMSL only promotes products we use & truly believe in. Please refer to my Privacy & Disclosures for further information. IMSL thanks you for your support!
What chocolate or sweet lover has not given turtles a try? These small, tasty delights have been around for decades. Originating from the early 1900's, this chocolate candy consisting of caramel, chocolate, & pecans, was created by a candy chef, Louis Gordon Hooper, hailing from the Golden Gate City, San Francisco.
Today, the chocolate candy is now a trademarked candy owned by DeMet's Candy Company, a food company based in Connecticut. No matter its origin, these treats are easy to make & are often the star of any homemade gift basket!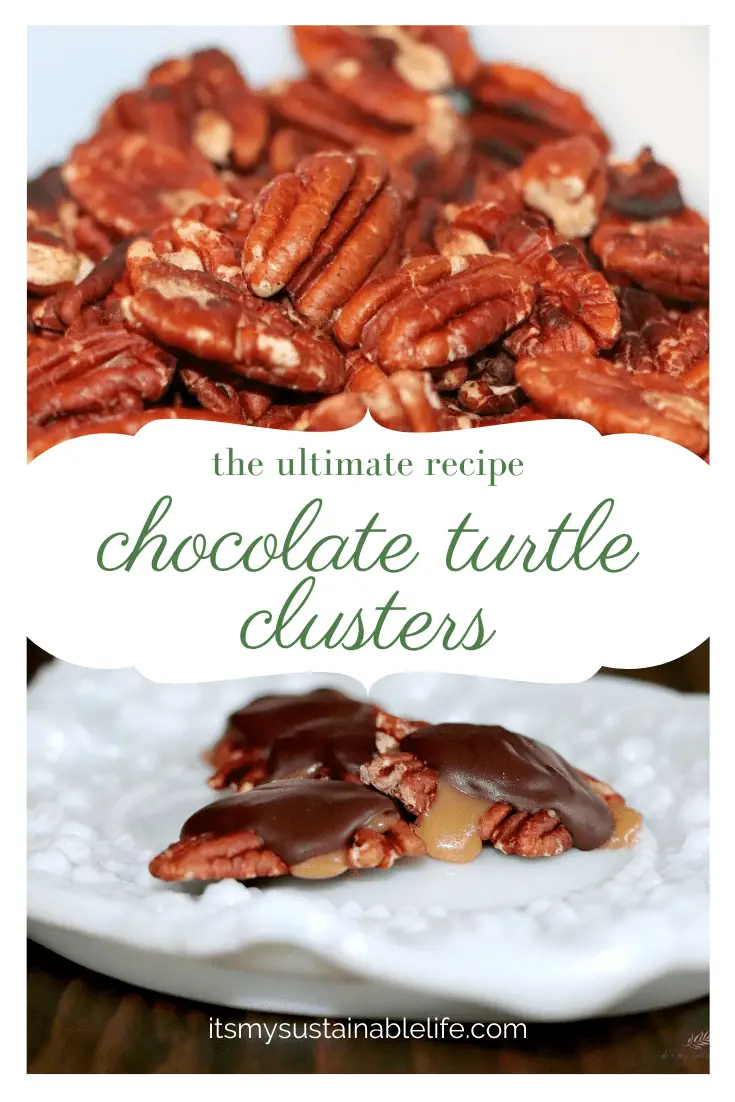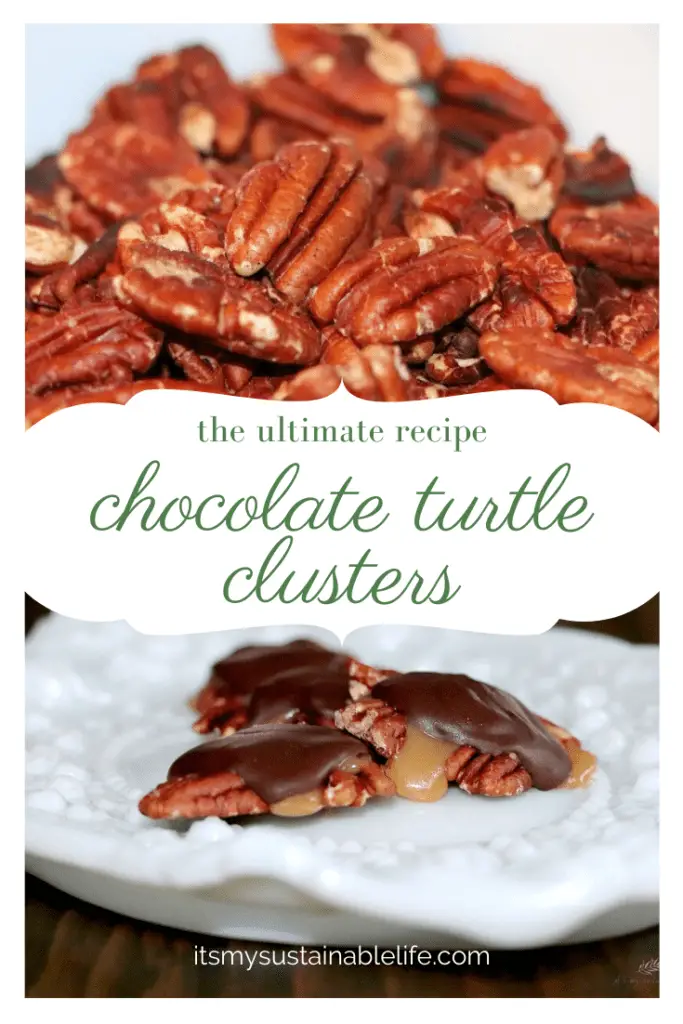 PECAN TURTLE CLUSTERS – WHAT ARE THEY?
These tasty morsels are comprised of a base of nuts. Our preferred nut to use are pecans, but they can also be made using your favorite nut; think walnuts, cashews, & even peanuts.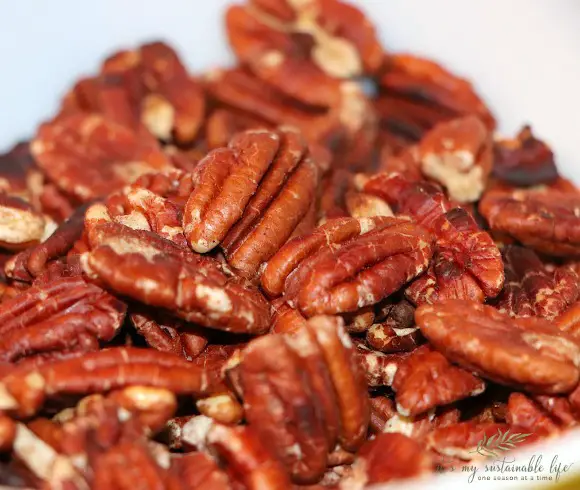 To create the "shape" of a turtle, simply lay out the nuts in the following format creating the image of head and legs.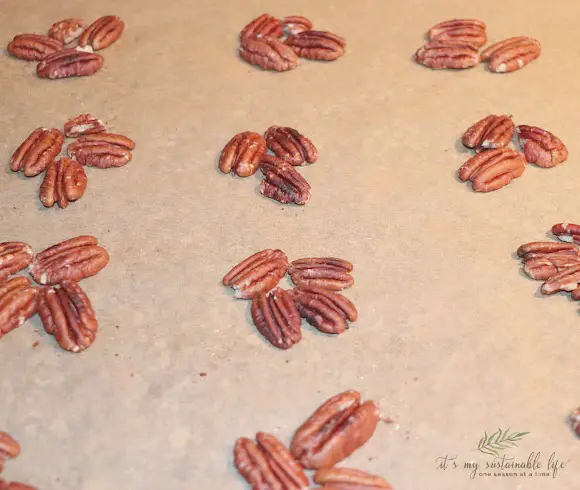 Topped with a creamy, homemade caramel … so easy to make & worth the effort 🙂 … and a "shell" of melted chocolate, all to create the image of a turtle. Chocolate options abound when making these clusters. Chocolate options matter when choosing a healthier approach. Why not reap the benefits when indulging?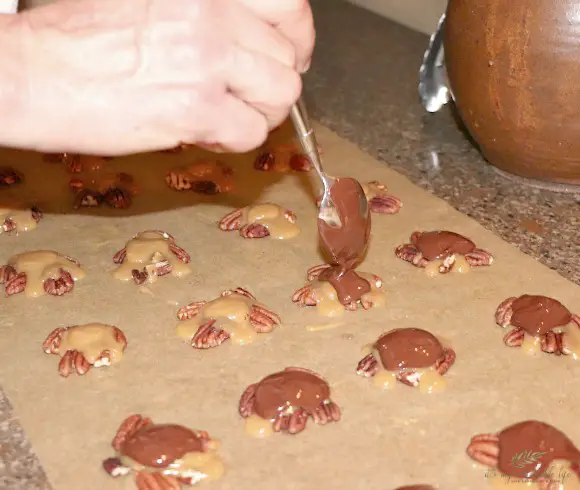 CHOICE OF CHOCOLATE MATTERS
Why choose dark chocolate or cacao over the more popular milk chocolate options? For the HEALTH of it!  According "Love Your Valentine! Choose Dark Chocolate" when dark chocolate is eaten in moderation you can expect to partake a healthy dose of antioxidants & many other health benefits!
A few of our favorite organic sources for chocolate are Anthony's cacao nibs, Pascha Dark Chocolate Chips (85%), and Equal Exchange Chips.
BEST CARAMEL RECIPE FOR TURTLES
What is the best caramel to use when making homemade chocolate turtle clusters? Your own!! Although this recipe can be made with purchased caramel, in our humble opinion, the homemade caramel is what brings these candies to another level altogether.
Making your own caramel is easier than you may think. By simply combining, brown sugar, corn syrup, butter, sweetened condensed milk, and vanilla to a large saucepan, & bringing the mixture to a candied "softball stage" (235 F), you will have an amazingly rich, creamy homemade caramel to die for 🙂 . Complete instructions are included below in the tutorial as well as the supplied recipe card.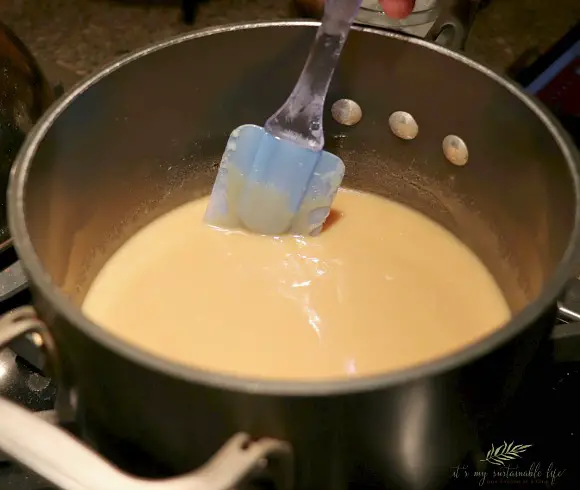 EQUIPMENT NEEDED TO MAKE TURTLE CLUSTERS
No special equipment is needed to create your own chocolate turtle clusters save one. A candy thermometer. These thermometers range from the simple to the more technical and can make the difference between success & failure. A top few recommendations are found below.
Here on the hill, we use the simplest of thermometers, the Polder option with pot clip.
CHOCOLATE TURTLE INGREDIENTS
When choosing your ingredients, nothing beats organic in our opinion. We take time to source the best organic ingredients whenever possible, no matter what we are making. We realize this is a personal choice & one that not everyone will opt for.
For your convenience, we have listed our favorite organic options below.
Pecans – We prefer the taste and texture of pecans, but as stated any nut you choose can be used
Butter – Your choice of salted butter or unsalted. Quite honestly, we can not really determine the difference, so we always have salted on hand
Chocolate Chips – Your choice of cacao, milk chocolate or even white chocolate can be used
HOW TO MAKE CHOCOLATE TURTLE CLUSTERS
This recipe will make approximately 40 chocolate turtles. Note: we made a double batch of caramel as we wanted to make chocolate covered caramels as well. If you are looking to make the turtles only, reduce the caramel recipe by one half.
I. Place 2 1/2 Cups of pecans into a large skillet to toast. Toast on high heat, stirring occasionally for just a few minutes. You will know when they are well toasted when they become fragrant and have darkened.
II. Take 2 large cookie sheets and line each with parchment paper. Spray the parchment with non-stick cooking spray. Arrange your toasted pecans as shown below. Filling in any gaps or using up any extra pecans at will.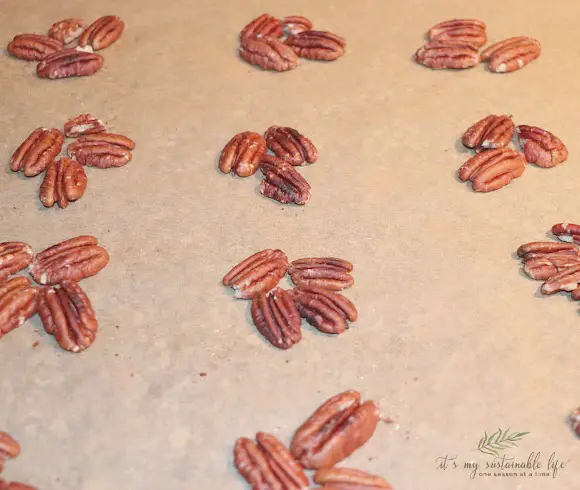 III. To make the caramel (recipe for a full batch), melt 1 cup butter in a medium-sized saucepan. Add 2 cups of brown sugar, 1 cup light corn syrup, and 14 ounces of sweetened condensed milk. On medium heat with the thermometer either attached to the side of the pan or at the ready, cook, stirring continually. Continue this process until the mixture reaches a temperature of 235 F.
PRO TIP: Remove the caramel from the heat once the temperature reaches 234 F as the mixture will continue to rise with the retained heat in the pan.
Stir in 1 teaspoon of vanilla, mixing well.
IV. Drizzle approximately 3/4 teaspoon or more of caramel over each cluster of pecans, making sure that the caramel is covering at least a bit of each of the nuts as shown below.
NOTE: If making a double batch of caramel, read below for instructions on how to make additional caramels below.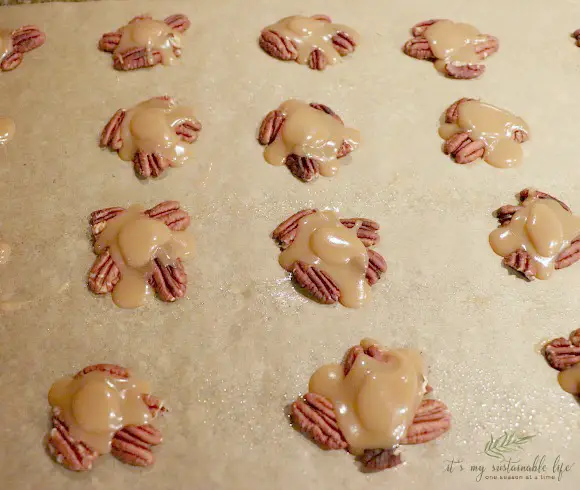 PRO TIP: Work quickly with the caramel as it will begin to set and firm quickly.
V. In a bain-marie (a bowl over a saucepan with several inches of water in the bottom), place 12 ounces of chocolate bits of your choice. On medium to medium-high heat, melt the chocolate bits. Stir in 1/2 teaspoon of shortening to the melted chocolate, combining well.
VI. Drizzle 1-2 teaspoons of the melted chocolate over the caramel & nuts as shown above. Allow all to cool well and set up to a firm consistency.
ADDITIONAL CARAMELS: Remember that double batch of caramel that we made? To make our additional caramels, simply take a cookie sheet and generously grease the pan with butter. Spread the remaining caramel evenly over the pan. Let it cool. Any remainder chocolate spread on top for an added flavor!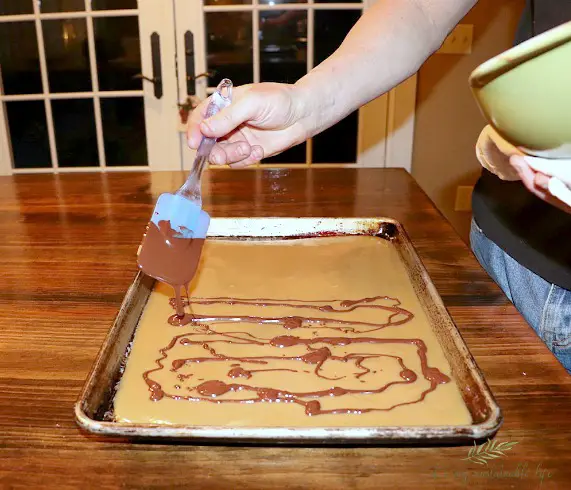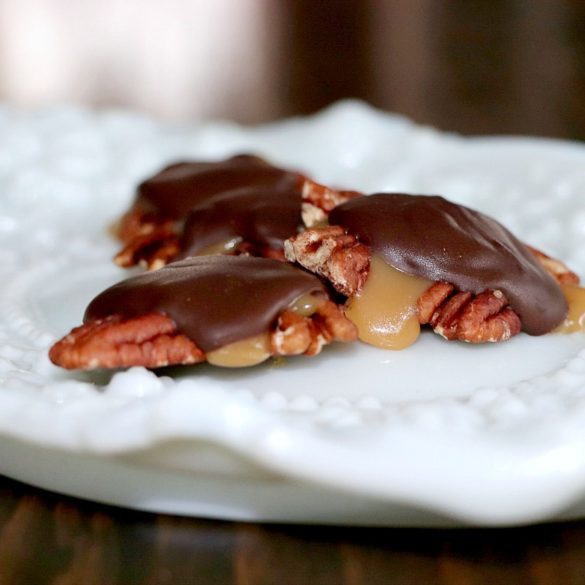 Ingredients
2 1/2 C Pecans

1 C Butter

2 C Brown Sugar

1 C Light Corn Syrup

14 Ounces Sweetened Condensed Milk

1 tsp Vanilla

12 Ounces Chocolate Bits

1/2 tsp Shortening
Instructions
 Toast the pecans until fragrant & darkened
Arrange the pecans on a cookie sheet lined with parchment paper & sprayed with non-stick cooking spray
  Make the caramel with the following steps:
Melt 1 C butter in a saucepan
Add to the butter; 2 C brown sugar, 1 c light corn syrup, 14 ounces sweetened condensed milk 
Place your thermometer to the side of the pan or have at ready.  Heat the mixture, stirring continually until the mixture reaches a candy "softball stage" of 235 F  
Stir in well 1 tsp of Vanilla
Continue by;
Drizzle caramel over the pecans
Over bain-marie;
Melt 12 ounces of chocolate fully.  Add 1/2 tsp shortening to chocolate, melt and mix well together.
Drizzle chocolate over the caramel
Allow all to cool and set up
HOW TO STORE YOUR CHOCOLATE TURTLE CLUSTERS
To store your chocolate turtle clusters, place in a sealable container lined with parchment paper (turtles can be sticky) in a single layer, parchment separating each layer. For long term storage place the air-tight container in the refrigerator or better yet, do as we do, and store in the freezer. Nothing beats frozen nuggets in our eyes 🙂 .
There you have it! The best chocolate pecan turtle clusters to personally enjoy or give as gifts! Do you already make your own? What is your favorite way to make them? Be sure to join the conversation below! We love hearing from you.
Love, Light, & Laughter ~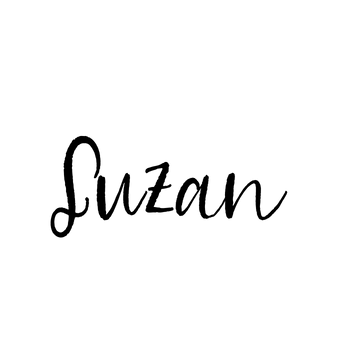 Shared on Farm Fresh Tuesdays and featured at To Grandma's House We Go, Friday Feature, Scraptastic Saturday, and Encouraging Hearts & Home!