Setting goals. No matter if you've been homesteading for decades, are looking to begin your own homestead, or a looking for ways to incorporate homesteading into your urban lifestyle, planning, organizing, and setting attainable goals can mean the difference between failure and success.
This post may contain affiliate links at no additional cost to you.  By making your purchases through the links on this website, IMSL may make a small percentage at no direct cost to you. IMSL only promotes products we use & truly believe in. Please refer to my Privacy & Disclosures for further information. IMSL thanks you for your support!
Homesteading is hard. Period. Hard work, both physically and mentally. This stark truth was not something that was told to us when we began our homesteading journey over 16 years ago. Would it have changed our minds? Definitely not. Would we have planned a bit more on certain details? Absolutely.
SETTING GOALS ON THE HOMESTEAD
With not only a New Year fast approaching but a new decade beginning (where did the last one go?), the time to be more intentional in our approach to living on the hill is upon us. Intentional in our choices, our decisions, and our approach to homesteading…that means setting goals.
Although we excel in our organizational skills, setting goals has never been something we sat down and devoted time to. The use of vision boards, check-ins, and time-consuming lists have never been our "thing". To-do, honey-do, and daily planning, yes. Goal setting…not so much.
Isn't goal setting the same thing as daily planning? Nope. Not even close. Project or daily to-do lists are just that, a list of things that need to be accomplished. Goals are a vision of what you see your homestead & life look like within a given time frame.
By setting goals, we not only can create the ideal version of our future, but it also sets an INTENTION. An intention that motivates & encourages us to actually implement and complete those goals. Making those dreams a reality…literally!
HOW TO SET GOALS FOR THE HOMESTEAD
Setting pen to paper is a daunting task. Where do I begin? How do I create an actionable plan when the tasks seem overwhelming? How can I narrow it down to workable tasks? It all begins with a word.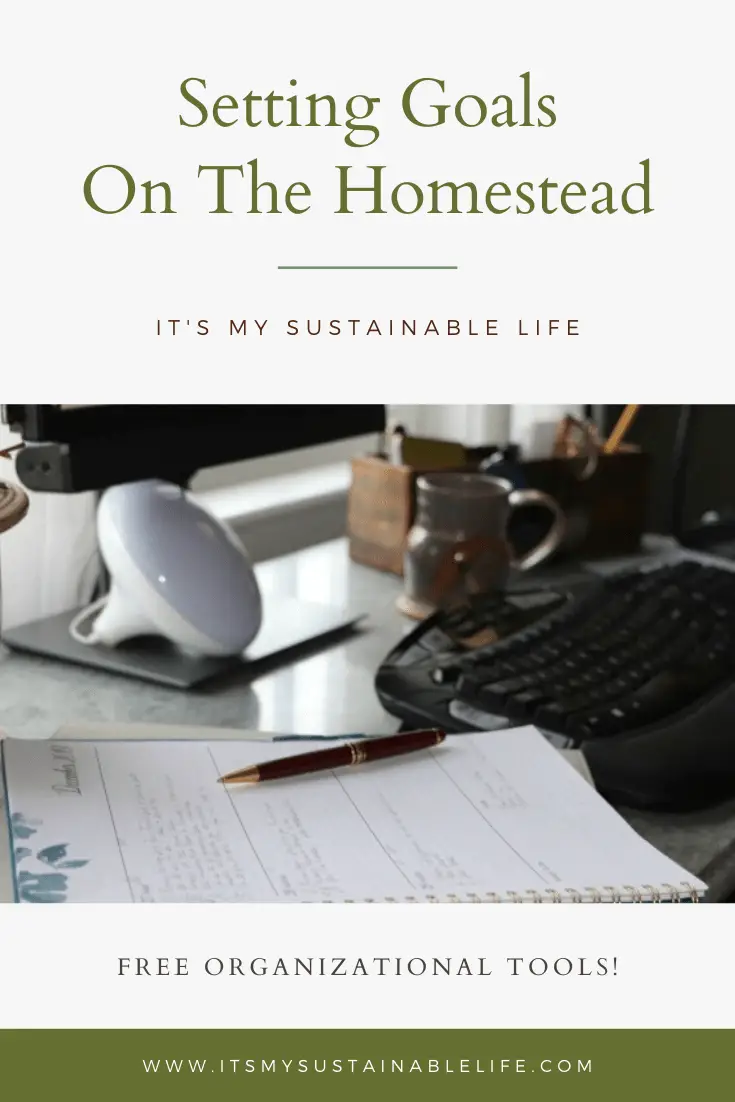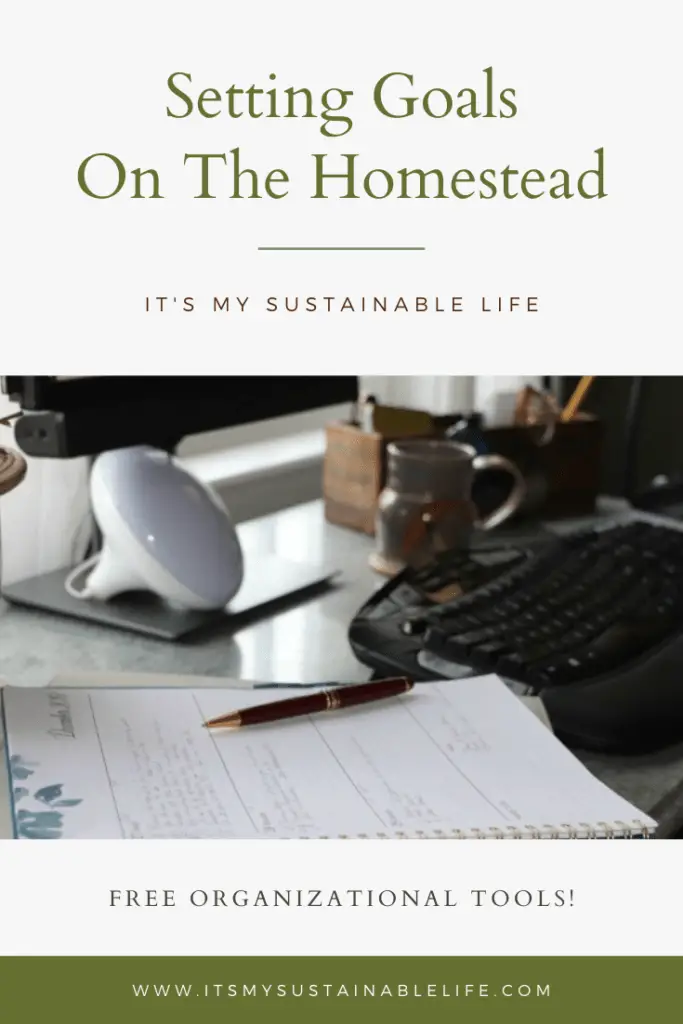 Start With A Word
You may or may not have heard about word intentional goal setting, also known as "word of the year". In our opinion, words matter. They have power. By defining what matters to you, it will have purpose. And a goal with purpose is a goal that will get done!
How do you find that one special "word" that has purpose & meaning to you? By simply brainstorming. With a vision of what you want your homestead to look like & ultimately "be", begin brainstorming words that encompass that vision. Don't overthink it. Let the words come that bests describe your ideal life.
Using our "tree of life" organizing the homestead in a word printable, available to you in our Etsy shop to use in your brainstorming session. So be sure to grab your copy & brainstorm words that fit your vision. What words resonate with you? What encapsulates all that you hope to achieve or be in the coming year(s)? What single word encompasses all you envision?
This exercise is meant to be a fast-paced one. Again, don't overthink it. Brainstorm, refine, and decide on your special word. IMSL's word is INTENTIONAL.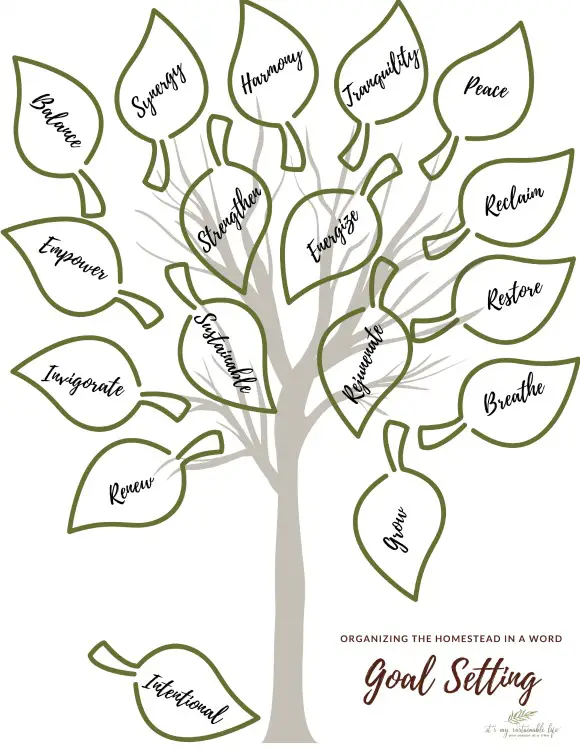 It is our goal this year to be intentional with our time & energy, allowing us to accomplish that which we need to, but also learning to balance work & play more efficiently. To live more INTENTIONALLY.
SETTING GOALS ON THE HOMESTEAD – THE BIG PICTURE
Setting goals for your ideal homestead doesn't have to be difficult. Begin with "the BIG picture". Ask yourself a few questions, "what would it take to make me happy with the homestead in the next year?", or "what's the one thing that would bring with it a sense of satisfaction or a feeling of success?".
Identifying that "one thing" doesn't mean you need only one main goal for the year 🙂 . Many have multiple goals for the year. At some point, however, further steps in prioritizing are needed as you add goals. We highly recommend prioritizing which goal is most important to the least important & work from there when you have multiple goals.
Having multiple goals also does not mean that you cannot have "main" goals for different aspects of your life. Many will set goals not only for the homestead, but also for personal, family, & finances to name a few. All should be approached in the same manner…most important goal and then work to the least important, prioritizing as you go.
Again, putting pen to paper always aids in making your goals seem "real". Well thought out & written goals are the foundation for success.
SETTING GOALS ON THE HOMESTEAD – BREAK IT DOWN
Once you have your set of specific "big picture" goals, now the fun begins. Breaking those goals down into measurable steps that are attainable & workable.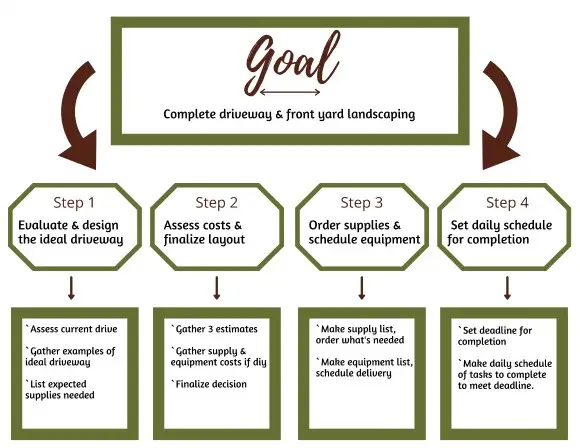 KEEP IT S.M.A.R.T. – OR NOT
Once the steps are created, we then get to the nitty-gritty of creating our "to-do" or task list. This is where the devil is in the details. Some like to refer to the S.M.A.R.T. method (aka, specific | measurable | attainable | realistic | trackable) when making goals. We, however, just like to be plain practical. Asking ourselves, is this a realistic, attainable goal that can be met in the expected time we have given ourselves?
Be sure to grab your download for your blank copy of the above goal setting sheet we have created and can be found in our Esty shop by clicking this highlighted text.
GOAL SETTING – ACTION FOR SUCCESS
Now take action. Take those well thought out lists of to-do's and plan them out. Literally. Schedule the tasks in your daily or monthly planner or calendar or even in an online app. Have in mind a deadline of when each should be fully completed.
Don't have a planner that suits you? Grab IMSL's Homestead & Farm Goal Setting & Tracker Planner Pages now in our shop! This printable set offers 12 sheets to guide you in creating & tracking your goals throughout the year. After all, goal setting, planning, and tracking doesn't just happen in January, just sayin' 😉
Be realistic here. Speaking from experience, Rome was not built in a day. Heavy tasks ALWAYS take longer than you think, and nine times out of ten something unexpected will happen. By being flexible, we can "go with the flow" of unexpected events and still remain true to our goals.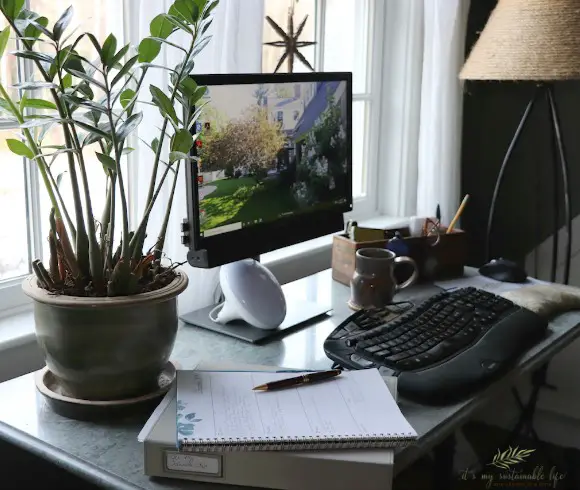 GOAL SETTING ON THE HOMESTEAD – DON'T SET IT & FORGET IT
Writing down goals is a powerful step in achieving them. But the work doesn't stop at creating them. They need to be implemented and re-visited. Often! A weekly check-in and update to the planner is often accomplished here to stay on top of our goals.
When a goal is being overlooked, or procrastination sets in, a revisit to that goal to re-assess the importance of it is made. Maybe the goal is no longer viable, or maybe the tasks are too broad and are in need of an adjustment. Remember…go with the flow and be flexible.
Goals setting doesn't have to be overwhelming. By taking small steps, writing them down, and then scheduling them out, gives them power. The power to be achievable.
HOMESTEADING GOALS HERE ON THE HILL
So what are a few of the goals we have set here on the hill for the coming year? Well, you've already seen one of them and a big one at that. The completion of our driveway. Yes, we have a driveway, a very steep, unpaved driveway that has never been completed, at least to my satisfaction.
So this year, it is our goal to complete that driveway. Replacing the original mailbox (now leaking and still attached to a stump of all things) with a newer version surrounded by plantings and hopefully a small stone wall that will welcome guests to our space. We will be sure to create a post either here or in the newsletter to keep you updated. Be sure to subscribe if you are not already!
On a smaller scale, our raised beds are in need of being moved to a sunnier location. We have a plan to move 3 of the beds (keep an eye out for a post on how we accomplish this) and turn at least one of them into a cold frame for an extended growing season. New growing space…one can never have enough 🙂
Hopefully, this will assist you in making your goals for the year. Already have your word? Set your goals? Love to hear what you have in mind for the coming year! Join the conversation below and/or subscribe to stay up-to-date with how we are accomplishing ours!
Love, Light, & Laughter ~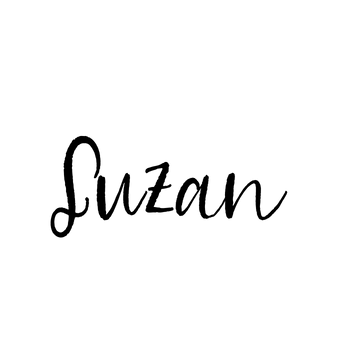 HAVE YOU SEEN THE LATEST?